Opera is not a grass-roots, lemonade-stand sort of enterprise. With its acrobatic musical scores, thoroughbred performers and lavish production requirements, it's a notoriously high-maintenance art form. As the 18th-century French dramatist Molière put it: "Of all the noises known to man, opera is the most expensive."
But it's also arguably the most fun, with its over-the-top characters and often melodramatic plot-lines. That's especially true of Opera Orlando, which wrings every note of humor, pathos and drama out of its Opera on the MainStage productions, held at the Dr. Phillips Center for the Performing Arts. 
The 2020-21 season — the company's fifth — promises to be particularly memorable, in part for reasons having nothing to do with music. Like most performing arts groups, the opera has had to think outside the proverbial box when considering how to reach its audience during the COVID-19 pandemic.
That's why some opera offerings — primarily those planned for the summer and early fall — have been moved online. Hopefully, says executive director Gabriel Preisser, his performers will be singing for live audiences when it's time for the MainStage series to begin in November.
"We've had to rethink some things," says Preisser, a Grammy-winning baritone whose extensive resumé includes more than 40 operatic and musical theater roles. "But I feel good moving forward."
Here's what will be different this year. The Opera on Park series, which is usually held at the University Club in Winter Park, will now be streamed live on Facebook. Although anyone will be able to watch, the opera is asking for donations of $30 for each individual show or $75 for the three-show series.
Performances are slated for successive Sundays — August 23 and 30 and September 6 — at 2 p.m. Obviously, it will no longer be necessary for the participating artists, who hail from far-flung locations across the U.S., to travel to Winter Park. Next year, Preisser expects to return the series to the University Club.
Presumably, during the pandemic many music lovers have become somewhat accustomed to watching their favorite performers deliver online concerts. In any case, Opera Orlando is offering an impressive lineup for the virtual Opera on Park.
Featured on August 23 is tenor Carlos Enrique Santelli — a graduate of Orlando's Freedom High School — and his wife, mezzo soprano Ashley Dixon, both of whom are 2018 winners of the Metropolitan Opera National Council Auditions.
Santelli is an in-demand guest artist with operas and choral organizations across the U.S., while Dixon is in her second year as a San Francisco Opera Adler Fellow and most recently appeared in the company's operatic adaptation of the beloved Frank Capra film It's a Wonderful Life.  
Tenor Nathan Granner and his wife, soprano Jamie Chamberlain, both from Los Angeles, follow on August 30. The San Francisco Chronicle recently described Granner's singing as possessing a "sinewy, ringing tone; splendidly flexible," while Chamberlain, a frequent performer with the Los Angeles Opera, has been praised for her "shimmering tones" and "star struck vulnerability" by Opera News.
Wrapping up the series on September 6 is bass-baritone Gregg Baker, who made his Metropolitan Opera debut in 1985 as Crown — a role he has reprised many times — in a landmark production of George Gershwin's Porgy & Bess. Baker has performed with operas and orchestras around the world and appears on cast recordings of Carmen Jones and Sweeney Todd. 
Baker, Granner and Santelli will return later in the season — this time in person — for MainStage productions of Die Fledermaus: The Revenge of the Bat (Santelli) and Carmen (Baker and Granner).
Another major change is to the opera's annual fundraising gala, held at the Alfond Inn. Originally, the pandemic forced postponement of the event from May to October. Now, though, the black-tie gathering — meant to celebrate Opera Orlando's anniversary — will also move online and be held on Sunday, September 20, at 2 p.m.
It's a Grand Night for Singing, as the event was dubbed, would have been a grand night indeed, with dining, dancing and hobknobbing with renowned artists from the world of opera. But the virtual version will still be packed with performances, surprise guests and even de rigueur fundraising activities such as a silent auction.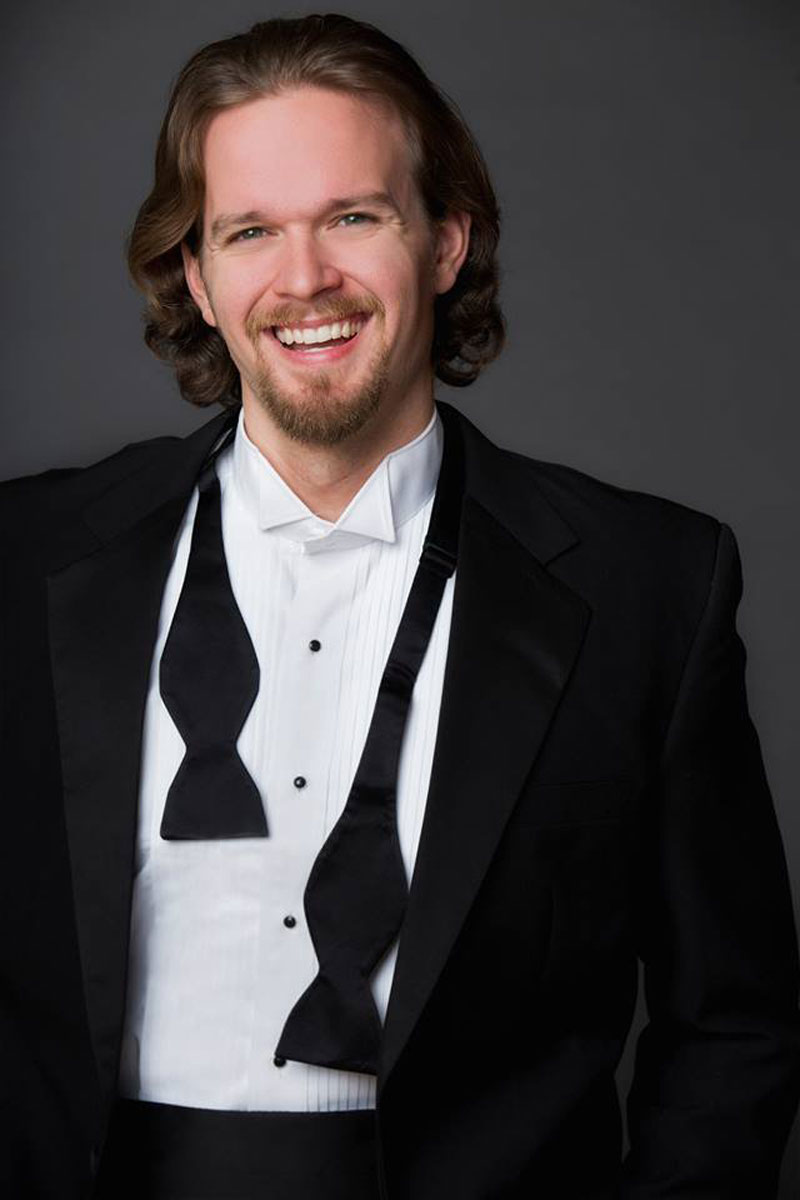 Best of all, guys, you don't have to wear a tux.
Tickets — which, in this case, means access to a link — will be $100. And if you bought tickets to any Opera on Park shows, whatever you previously spent will be applied toward a gala admission. You can make all the arrangements through the opera's website, operaorlando.org.
Next May, Preisser says, the opera expects to resume its traditional gala — tuxedos and all — and to belatedly pay tribute to philanthropists and patrons of the arts Mary and Frank J Doherty, who were scheduled to be this year's honorees.
Some degree of normalcy should return when the MainStage season opens with Johann Strauss II's Die Fledermaus: The Revenge of the Bat. The famous farce swoops into the Dr. Phillips Center's Walt Disney Theater on Friday, October 30 at 7:30 p.m. and Sunday, November 1 at 2 p.m. Tickets start at $19.
Sung in English, Die Fledermaus "is a party not to be missed," says Preisser, who also appears as Eisenstein, the less-than-faithful husband of the captivating Rosalinda, sung by Abigail Rethwisch in her debut with the company. 
Die Fledermaus, which follows an escalating series of misadventures resulting from a drunken practical joke, was considered scandalous when it debuted in 1874 and remains delightfully naughty today.
Grant Preisser, the opera's artistic director (and Gabriel Preisser's brother) helms the bawdy spectacle, with accompaniment by musicians from the Orlando Philharmonic Orchestra under the baton of Argentinian-born maestro Jorge Parodi.
Following Die Fledermaus is a season add-on, Hansel & Gretel, Engelbert Humperdinck's 1891 adaptation of the Brothers Grimm fairy tale about two lost siblings who encounter a cannibalistic "nibbling witch" who lives in a house made of gingerbread, licorice, cake and many other sweet treats.
Sung in English and reduced to a kid-friendly 75 minutes, Hansel & Gretel is slated for four shows — staged in the round — at the Alexis & Jim Pugh Theater on Friday, Saturday and Sunday, December 18, 19 and 20. The shows are at 7:30 p.m., with 2 p.m. matinees on Saturday and Sunday. Tickets start at $39.
Grant Preisser again directs, with musicians from the Orlando Philharmonic Orchestra providing accompaniment and members of the Opera Orlando Youth Company playing gingerbread children brought back to life when the evil witch is outsmarted.
The MainStage season will conclude with Georges Bizet's Carmen — which will mark Opera Orlando's first performance in the newly completed Steinmetz Hall — on Friday, March 26, and Sunday, March 28, 2021. The Friday show is at 7:30 p.m. and the Sunday show is at 2 p.m. Tickets start at $19.
Sung in French with Creole-infused French dialogue and English supertitles, Carmen is presented in partnership with the Greater Haitian American Chamber of Commerce of Orlando. Although originally written in 1874, this version of the frequently adapted opera is set in Haiti in the politically turbulent 1960s.
Making their Opera Orlando debuts, maestro Kelly Kuo, artistic director of the Oregon Mozart Players, conducts musicians from the Orlando Philharmonic Orchestra, while Sara E. Widzer, a faculty member at the Lee Strasberg Theatre Institute in Los Angeles, directs the production.
Carmen is played by mezzo-soprano Briana Hunter, described as "radiant" by The New York Times and as "a mesmerizing Carmen" by Opera News. Members of the Opera Orlando Chorus and Youth Company round out the cast.
Also look for more details to come about the Opera on the Town series, and special workshop performances of Opera Orlando's first commissioned work, The Secret River, based on the book by Marjorie Kinnan Rawlings.
For Opera on the MainStage, save $15 with a two-show season package of Die Fledermaus: The Revenge of the Bat and Carmen. The package also means 20 percent off when you add Hansel & Gretel. For all three shows, that's a savings of up to $30.
For more information about all the opera's activities, visit operaorlando.org or call 407.512.1900. Visit drphillipscenter.org for Opera on the MainStage tickets.
IN BRIEF
WHAT: Opera on the MainStage
WHEN: Die Fledermaus: The Revenge of the Bat (Friday, October 30 and Sunday, November 1); Hansel & Gretel (Friday, Saturday and Sunday, December 18, 19 and 20); Carmen (Friday, March 26, and Sunday, March 27, 2021)
WHERE: The Dr. Phillips Center for the Performing Arts (the Walt Disney Theater, the Alexis & Jim Pugh Theater and Steinmetz Hall)
NOTES: Opera Orlando's usual Opera on Park, held at Winter Park's University Club, is moving online, as is its annual gala, previously scheduled for May and then October at the Alfond Inn.
FOR MORE: Visit operaorlando.org for information about the online events. For tickets to the MainStage series, visit drphillipscenter.org. Individual tickets are available, but season packages offer the best value. 
---

NOTE: Due to COVID-19 prevention efforts, venues may be closed or offering limited hours. Also, events are subject to cancellation and attendance capacities may be reduced. The dates and times in these listings are those of normal operation, and will likely still be different by the time this issue of Winter Park Magazine reaches homes. Some, in fact, had not yet reopened at press time, although they were planning to do so in the coming weeks. So please use the contact information provided and check in advance before making your plans. We also encourage you to anticipate that masks may be required, as well as observance of social distancing protocols.
VISUAL ARTS
Albin Polasek Museum & Sculpture Gardens. This lakeside museum, open since 1961, is dedicated to preserving works of the famed Czech sculptor for whom it was both home and studio for more than a decade. The museum offers tours of Polasek's home Tuesdays through Saturdays. And it offers tours of the adjacent Capen-Showalter House three times weekly: Tuesdays and Thursdays at 11:30 a.m., and Saturdays at 10:15 a.m. Built in 1885, the Capen-Showalter House was saved from demolition several years ago and floated across Lake Osceola to its current location on the Polasek's grounds. The museum's summer exhibition is The Puerto Rican Artist Collective, Keepers of Heritage: Evolving Identities, which includes paintings, mixed media and sculpture by artists honoring their cultural roots as members of the Puerto Rican diaspora. Admission is $10 for adults, $8 for seniors, $3 for students and free for children. 633 Osceola Avenue, Winter Park. 407-647-6294. polasek.org.
Art & History Museums — Maitland. The Maitland Art Center, one of five museums that anchor the city's Cultural Corridor, was founded as an art colony in 1937 by visionary artist and architect J. André Smith. The center, located at 231 West Packwood Avenue, Maitland, is Central Florida's only National Historic Landmark and one of the few surviving examples of Mayan Revival architecture in the Southeast. Admission to the art center's galleries is $6 for adults, $5 for seniors and students (ages 5 to 17) and free for children age 4 and under. Maitland residents receive a $1 discount. The Cultural Corridor also includes the Maitland Historical Museum and Telephone Museum at 221 West Packwood Avenue, and the Waterhouse Residence Museum and Carpentry Shop Museum, both built in the 1880s and located at 820 Lake Lily Drive. Current exhibitions at the art center and history museum, respectively, are Building Maitland (through August 16), which examines the architectural evolution that the city has undergone in the last century. Opening August 14 at the art museum is a collection of abstract and experimental works by Orlando artist Cicero Greathouse. Then on August 28 Growing Up Maitland debuts, which explores how the city has changed for young people over the past century. 407-539-2181. artandhistory.org.
Charles Hosmer Morse Museum of American Art. With more than 19,000 square feet of gallery and public space, the Morse houses the world's most important collection of Louis Comfort Tiffany creations, including jewelry, pottery, paintings, art glass and an entire chapel interior originally designed and built for the 1893 World's Columbian Exposition in Chicago. The museum's latest exhibition is Portraits of Americans from the Morse Collection, featuring works by John Singer Sargent, Charles Hawthorne, Cecilia Beaux and others. As photography made romanticized depictions of well-known figures obsolete, these artists guided portraiture into the 20th century with compelling works that captured not only the physical likeness of their subjects, but their innate character as well. Continuing through September is a major exhibition, Earth into Art — The Flowering of American Art Pottery. The displayed objects, which date from the 1870s to the early 1900s, are drawn from the museum's collection of American art pottery — one of the largest such collections in the U.S. Also on view is Iridescence — A Celebration, which runs through September 2021. The dazzling display features works in enamel, pottery and art glass that replicate the shimmering optical effects previously only found in nature. Regular admission to the museum is $6 for adults, $5 for seniors, $1 for students and free for children younger than age 12. 445 North Park Avenue, Winter Park. 407-645-5311. morsemuseum.org. 
Cornell Fine Arts Museum. Located on the campus of Rollins College, the Cornell houses one of the oldest and most eclectic collections of fine art in Florida. Continuing through September 6 are: African Apparel: Threaded Transformations Across the 20th Century, a celebration of the artistry, diversity and symbolism of the continent's garments; Multiple Voices/Multiple Stories, which features an array of portraits that ask the viewer to consider the relationship between subject and artist; 2020: Action, Freedom, Patriotism, which contrasts Norman Rockwell's original Four Freedoms with contemporary interpretations of those themes; and The Place as Metaphor: Collection Conversations, an examination of the multiple meanings of place through diverse representations across time and region. Two new exhibits debut September 18: E Pluribus Unum, featuring works by contemporary painter Marcus Jansen, who seeks to document the human condition critically, socially and politically; and What Women Want, a collection of self-portraits by female artists who seek to construct new definitions of women in society. Both run through January 3, 2021. Finally, continuing through December 31 is Ruptures and Remnants: Selections from the Permanent Collection, which offers material manifestations, from antiquity to the present day, of ruptures ranging from personal crises to nation-state upheavals. Opening on January 15, 2021 is Rania Matar: On Either Side of the Window, Portraits During COVID-19, which features images of individuals in quarantines caused by the pandemic. Guided tours take place at 1 p.m. on Saturdays and Sundays at the nearby Alfond Inn, where a selection of more than 400 works in the museum's Alfond Collection of Contemporary Art are on view. Happy Hour tours of the Alfond Collection are also conducted on the first Wednesday of most months at 5:30 p.m. If you prefer historic works, Throwback Thursday tours are offered at the museum from 12:30 to 1:30 p.m. on the third Thursday of most months. Admission is free, courtesy of PNC Financial Services Group. 1000 Holt Avenue, Winter Park. 407-646-2526. rollins.edu/cfam.
Crealdé School of Art. Established in 1975, this not-for-profit arts organization on Winter Park's east side offers year-round visual-arts classes for all ages, taught by more than 40 working artists. Visitors may take a self-guided tour through its lakeside sculpture garden, which includes approximately 60 three-dimensional pieces of contemporary outdoor art and educational panels that describe the diversity of expressive styles and durable media. Current exhibits are Emerge (through August 1), in which members of the Crealdé Fellowship Program display their talents; and the 39th Annual Juried Student Exhibition (through September 5). Admission to the school's galleries is free, although there are fees for art classes. 600 Saint Andrews Boulevard, Winter Park. 407-671-1886. crealde.org.
Hannibal Square Heritage Center. Established in 2007 by the Crealdé School of Art in partnership with residents of Hannibal Square and the City of Winter Park, the center celebrates the city's historically African-American west side with archival photographs, original artwork and oral histories from longtime residents that are collectively known as the Heritage Collection. Also ongoing is the Hannibal Square Timeline, which documents significant local and national events in African-American history since the Emancipation Proclamation. The center also offers a walking tour of Hannibal Square, Now and Then, with Fairolyn Livingston, chief historian. The tour, offered on the third Saturday of each month from 10 to 11:30 a.m., requires reservations; the cost is $10, or $5 for those with student IDs. Historic sites include the Mount Moriah Missionary Baptist Church, the Welbourne Avenue Nursery & Kindergarten and the Masonic Lodge, all built in the 1920s. 642 West New England Avenue, Winter Park. 407-539-2680. hannibalsquareheritagecenter.org.
PERFORMING ARTS
Annie Russell Theatre. "The Annie," in continuous operation at Rollins College since 1932, will kick off its 2020-21 season this September. Titles have yet to be announced. Curtain time for the shows are 8 p.m., 4 p.m. or 2 p.m., depending upon the day of the week. Individual tickets are $20. 1000 Holt Avenue, Winter Park. 407-646-2145. rollins.edu/annie-russell-theatre. 
Winter Park Playhouse. Winter Park's only professional, nonprofit theater opens its 2020-21 mainstage season with Book of Merman, which runs October 1 through 25. Direct from a successful off-Broadway run, the show is a clever and heartfelt farce about two Mormon missionaries who happen to pay a call on the legendary Ethel Merman. Up next, from November 12 through December 10 is Christmas My Way: A Sinatra Holiday Bash, a musical that combines Rat Pack classics and holiday favorites. The rest of the season includes A Grand Night for Singing (January 22 through February 20, 2021), Respect: A Musical Journey of Women (March 19 through April 24, 2021), Five Course Love (May 14 through June 13, 2021), and Crazy for Gershwin (July 30 through August 22, 2021). Performances are Thursdays through Sundays, with evening performances at 7:30 p.m. and matinees at 2 p.m. Tickets range in price from $20 for students to $45 for evening shows. Meanwhile, the theater's Spotlight Cabaret Series will feature soloist crooner Kevin Kelly on October 21 and 22, as well as Noel Marie Matson (April 21 and 22, 2021) and Dustin and Courtney Cunningham (date to be determined). General admission is $20 plus a one-drink minimum (with $10 standing-room-only tickets available once general seating is sold out). 711 Orange Avenue, Winter Park. 407-645-0145. winterparkplayhouse.org.
HOLIDAYS
Earth Day in the Park. This free (and slightly belated) event in Hannibal Square's Shady Park, slated for September 12 at 10 a.m., features a kids' zone with games, tie-dye T-shirts, do-it-yourself art with help from Crealdé School of Art staffers, a "quick draw" art competition organized by the Albin Polasek Museum & Sculpture Gardens, live music, yoga for children and adults (bring a mat), and composting and recycling education. Of course, there'll be food and beverage vendors. Certified arborists from Winter Park's Urban Forestry Division will also give away young trees in one-gallon containers for city residents to plant at home. The fun starts at 10 a.m. Pennsylvania Avenue at New England Avenue. 407-599-3364. cityofwinterpark.org.
FILM
Enzian. This cozy, nonprofit alternative cinema offers a plethora of film series. Tickets are usually $12 for regular admission; $10 for matinees, students, seniors and military (with ID); and $9.50 for Enzian Film Society members. Children under age 12 are admitted free to Peanut Butter Matinee Family Films, shown the fourth Sunday of each month at noon. Other series include Saturday Matinee Classics (the second Saturday of each month at noon), Cult Classics (the second and last Tuesday of each month at 9:30 p.m.), and Midnight Movies (every Saturday night). FilmSlam, which spotlights Florida-made short films, takes place most months on the first or second Sunday at 1 p.m.; the next scheduled date is August 9. At press time, however, Enzian was only offering access to streaming films, which range in price from $5.99 to $12, as plans were being formulated to reopen. 1300 South Orlando Avenue, Maitland. 407-629-0054 (information line), 407-629-1088 (theater offices). enzian.org.
Popcorn Flicks in the Park. The City of Winter Park and the Enzian collaborate to offer classic, family-friendly films free in Central Park on Park Avenue. These outdoor screenings are typically held on the second Thursday of each month and start at 8 p.m. At press time, it had not been determined when this series would resume. When it does, don't forget to pack a picnic and blankets or chairs. 407-629-1088. enzian.org.
HISTORY
Casa Feliz Historic Home Museum. This stunningly restored Spanish farmhouse-style home, designed by acclaimed architect James Gamble Rogers II, is now a community center and museum. Free open houses are hosted by docents on Tuesdays and Thursdays from 10 a.m. to noon. Also, live music is featured in the large downstairs parlor most Sundays from noon to 3 p.m. 656 North Park Avenue (adjacent to the Winter Park Golf Course), Winter Park. 407-628-8200. casafeliz.us.
Holocaust Memorial Resource & Education Center of Florida. The center is dedicated to combating anti-Semitism, racism and prejudice, with the goal of developing a moral and just community through educational and cultural programs. It houses permanent and temporary exhibitions, archives and a research library. The museum's ongoing exhibition, Tribute to the Holocaust, is a presentation of artifacts, videos, text, photographs and other works of art. Admission to the center is free. 851 North Maitland Avenue, Maitland. 407-628-0555. holocaustedu.org.
Winter Park History Museum. Travel back in time to the city's earliest days with ongoing displays that include artifacts dating from its beginnings as a New England-style resort in the 1880s. The freshly refurbished museum will soon debut a new exhibition, Rollins College: The First 50 Years, which will feature vintage photos of campus life, a re-created dorm room and other collegiate memorabilia. The date for the new exhibition had not been determined at press time, but in the meantime Wish You Were Here: The Hotels and Motels of Winter Park, had been extended. Admission is free. 200 West New England Avenue, Winter Park. 407-644-2330. wphistory.org.
Zora Neale Hurston National Museum of Fine Arts. Eatonville is strongly associated with Harlem Renaissance writer and folklorist Zora Neale Hurston, who lived there as a girl and recorded her childhood memories in her classic autobiography, Dust Tracks on a Road. The museum that bears her name provides information about the historic city, sponsors exhibitions featuring the works of African-American artists and is an integral part of the annual, weeklong Zora! Festival each January. Admission is free, though group tours require a reservation and are charged a fee. 227 East Kennedy Boulevard, Eatonville. 407-647-3188. zoranealehurstonmuseum.com.
LECTURES
University Club of Winter Park. Nestled among the oaks and palms at the north end of Park Avenue's downtown shopping district — a block beyond Casa Feliz — is another historic James Gamble Rogers II building, this one home to the University Club of Winter Park. Members are dedicated to the enjoyment of intellectual activities and socializing with one another. The club's various activities, including lectures, are open to the public, although nonmembers are asked to make a $5 donation each time they attend. (Some events include a buffet lunch for an added fee.) A full schedule of events and speakers is available online. 841 North Park Avenue. 407-644-6149. uclubwp.org.
MUSIC
Blue Bamboo Center for the Arts. This eclectic venue is part concert hall, part recording studio and part art gallery. It offers live performances most evenings, with an emphasis on jazz, classical and world music — although theater, dance and spoken-word presentations are sometimes on the schedule. Admission generally ranges from free to $25. 1905 Kentucky Avenue, Winter Park. 407-636-9951. bluebambooartcenter.com.
Central Florida Folk. This Winter Park-based not-for-profit is dedicated to promoting and preserving live folk music, primarily through concerts usually held on the last Sunday of each month (unless a holiday intervenes). The group's primary venue is the Winter Park Public Library, 460 East New England Avenue. Upcoming acts include "trop rock" pioneer Del Suggs (August 30) and acoustic Americana duo The Sandspurs (September 27). Performances start at 2 p.m. A donation of $15 for nonmembers is suggested. 407-679-6426. cffolk.org.
Music at the Casa. The Casa Feliz Historic Home Museum presents acoustic performances on most Sunday afternoons from noon to 3 p.m. in the museum's cozy main parlor. Past selections include opera, jazz guitar and flamenco dancers. A $5 donation is suggested. 656 North Park Avenue (adjacent to the Winter Park Golf Course), Winter Park. 407-628-8200. casafeliz.us.
Opera on Park. The first official performances of Opera Orlando's 2020-21 season are its three-part Opera on Park series, which takes place at the University Club of Winter Park, 841 North Park Avenue. The artists and dates or the series, which is usually held in August and September, had not been announced at presstime. Tickets are $30 each or $75 for all three recitals, which will take place at 2 p.m. 407.512.1900. operaorlando.org.
Performing Arts of Maitland. This not-for-profit group works with the City of Maitland and other organizations to promote performances for and by local musicians. It supports various groups, including the Maitland Symphony Orchestra, Maitland Market Music, the Maitland Stage Band and the Baroque Chamber Orchestra. A full schedule of events is available online. 407-339-5984, ext. 219. pamaitland.org.
MARKETS
Maitland Farmers' Market. This year-round, open-air market — held each Sunday from 9 a.m. to 2 p.m. — features fresh produce, seafood, breads and cheeses as well as plants, all-natural skin-care products and live music by Performing Arts of Maitland. The setting on Lake Lily boasts a boardwalk, jogging trails, a playground and picnic areas. 701 Lake Lily Drive, Maitland. itsmymaitland.com.
Winter Park Farmers' Market. The region's busiest and arguably most popular farmers' market is held every Saturday from 7 a.m. to 1 p.m. at the Central Park West Meadow in downtown Winter Park. The open-air market offers baked goods, produce, plants, honey, cheese, meat, flowers, crafts and other specialty items. After shopping, make a morning of it with a stroll along nearby Park Avenue. Dogs are welcome to bring their people. 200 West New England Avenue, Winter Park. cityofwinterpark.org.
WRITING
Florida Writers Association. Join fellow scribes for lectures by guest speakers and discussions led by local authors. The Orlando/Winter Park-Area Chapter meets on the first Wednesday of each month from 6:30 to 8:30 p.m. The next scheduled event is slated for September 7 at the University Club of Winter Park, 841 North Park Avenue, Winter Park. Another chapter, the Maitland Writers Group, meets on the second Thursday of each month from 6:30 to 8:30 p.m. The next scheduled event is slated for September 10 at the Maitland Public Library, 501 South Maitland Avenue, Maitland. floridawriters.net.
Orlando Writers Critique Group. Writers gather under the guidance of author and writing coach Rik Feeney to review and critique their current works on the third Tuesday of every month from 7 to 8:30 p.m. at the Winter Park Public Library. The next scheduled event is September 15. 460 East New England Avenue, Winter Park. usabookcoach@gmail.com, wppl.org.
Storytellers of Central Florida. Experienced and fledgling storytellers gather to share stories and practice their craft on the first Tuesday of each month from 7 to 8:30 p.m. at the Winter Park Public Library. The next scheduled event is September 1. Meetings are hosted by professional storyteller Madeline Pots. 460 East New England Avenue, Winter Park. 321-439-6020, madeline@madelinelpots.com, wppl.org.
Wednesday Open Words. One of the area's longest-running open-mic poetry nights happens every Wednesday at 9 p.m. at Austin's Coffee, 929 West Fairbanks Avenue, Winter Park. 407-975-3364.
austinscoffee.com.
Writers of Central Florida or Thereabouts. This group offers various free programs that attract writers of all stripes. Short Attention Span Storytelling Hour, a literary open-mic night, meets on the second Wednesday of most months at 7 p.m. at Stardust Video & Coffee (1842 Winter Park Road). It's for authors, poets, filmmakers, comedians, musicians, bloggers and others. The next scheduled event is September 9. Orlando WordLab, a workshop that challenges writers to experiment with new techniques or methods, meets at 7 p.m. on the fourth Wednesday of each month at the Winter Park Public Library (460 East New England Avenue, Winter Park). The next scheduled event is September 23. stardustvideoandcoffee.wordpress.com, wppl.org, meetup.com/writers-of-central-florida-or-thereabouts.
BUSINESS
NOTE: Many Winter Park Chamber of Commerce events went virtual over the summer. The following events are still scheduled, according to the chamber's calendar of events, but may go online depending upon the COVID-19 situation.
Good Morning Winter Park. Hosted by the Winter Park Chamber of Commerce, these monthly gatherings attract business- and civic-minded locals who enjoy coffee and conversation about community issues. Scheduled for the second Friday of most months, the next scheduled events are August 7, September 4, October 2, November 6 and December 11. Networking begins at 8 a.m. followed by a 45-minute program at 8:30 a.m. Admission, which includes a complimentary continental breakfast, is free. Winter Park Welcome Center, 151 West Lyman Avenue, Winter Park. 407-644-8281. winterpark.org/good-morning-winter-park.
Winter Park Professional Women. Hosted by the Winter Park Chamber of Commerce, these gatherings — held on the first Monday of most months from 11:30 a.m. to 1 p.m. — feature guest speakers and provide networking opportunities for women business owners. Topics revolve around leadership development, business growth and local initiatives of special interest to women. The next scheduled events are August 3, September 14, October 5 and November 2. Tickets, which include lunch, are $25 for chamber members and $50 for nonmembers. Reservations are required. Winter Park Welcome Center, 151 West Lyman Avenue, Winter Park. 407-644-8281. winterpark.org/winter-park-professional-women.
Hot Seat Academy. Hosted by the Winter Park Chamber of Commerce, this quarterly business-oriented series puts local executives in the spotlight as they offer advice and discuss entrepreneurism, leadership and sales-and-marketing techniques. The next scheduled gathering is August 19 from 11:30 a.m. to 1 p.m.; check the chamber website for information about the featured speaker. Tickets are $15 for members, $30 for nonmembers. Reservations are required. Winter Park Welcome Center, 151 West Lyman Avenue, Winter Park. 407-644-8281. winterpark.org/hot-seat-academy.
CAUSES
Keep Winter Park Beautiful. Volunteers who help the City of Winter Park collect litter around lakes Killarney, Bell and Wilderness on September 5 receive breakfast, a T-shirt, a snack and bottled water. Litter grabbers, safety vests, gloves and garbage bags are also provided. Kayakers and paddle boarders are welcome to participate; everyone is asked to bring a reusable water bottle. The 8 a.m. assembly point is 1050 West Morse Boulevard. 407-599-3364. cityofwinterpark.eventbrite.com.
Run for the Trees: Jeannette Genius McKean Memorial 5K. This popular foot race, rescheduled for August 29, begins at 7:30 a.m. at Ward Park, 250 Perth Lane. But the last mile and the finish are through the privately owned Genius Preserve, which is open to the public only for this annual event. Shuttle buses return runners to the starting line and parking lot; all finishers receive a young tree to plant. Registration, which ranges from $33 to $40 per person, is limited to 1,800 people. Proceeds support the Winter Park Tree Replacement Fund. 407-896-1160. trackshack.com.