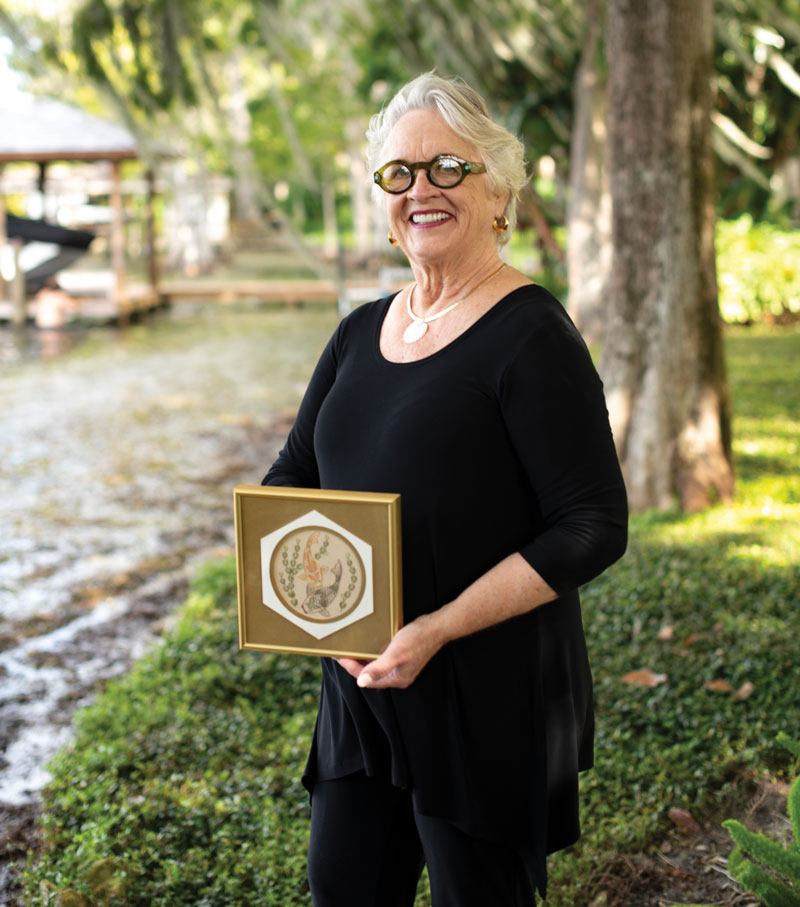 A form of Japanese embroidery known as nihon shishu uses strands of silk and metallic thread to form intricate patterns that are meticulously stitched onto canvases of luxurious silk fabric. In ancient times, the technique was used to decorate religious artifacts and later adorned the kimonos of Japanese noblewomen.
Nihon shishu — which means "Japanese painting" — is considered to be one of the most challenging forms of embroidery in the world, and the results are indeed stunning when the creators are true masters — of whom there are very few in the United States.
 One of those masters, it so happens, lives in Winter Park. Karyn Plater isn't Japanese, however. She's a proud Midwesterner who grew up in Manitowoc, Wisconsin, where her frugal mother — an accomplished seamstress — taught Plater and her two sisters to make their own clothes. 
"I had my first store-bought dress in eighth grade," she recalls. "We couldn't afford to go shopping. Anyway, my mother always said that idle hands were the devil's workshop. We always had to be doing something with our hands."
Although she began as a painter, she found herself increasingly drawn to embroidery. A former cardiac nurse, she assisted with open-heart surgeries and developed an even deeper appreciation for the life-or-death implications of precise incisions and suturing intricate stitches. 
"I actually held a human heart in my hand," recalls Plater of her stint in the cardiac unit. "It was a serious honor to be there."
Plater, 76, also teaches nihon shishu and is one of only 15 certified senseis in the U.S. Her students, usually six or seven at a time, travel from all over the world to learn at her home studio along the shores of Lake Maitland. She has also taught nationwide as well as in England and Scotland.
"Practice, practice, practice," is the mantra of this sensei, who started at a disadvantage — she's left-handed and nihon shishu tradition requires holding the needle in the right hand. Rather than stitch backwards, which many lefties do, she learned to use her non-dominant hand.
You have to see these works in person to truly appreciate their extraordinary beauty and intricacy. And you can do just that at Japanese Embroidery: A Journey of Tradition and Innovation, now on view at the Albin Polasek Museum & Sculpture Gardens.
The exhibition, which runs through December 3, explores the 1,000-year-old art form and showcases about 50 of Plater's pieces and another 10 by her students. "It's magically mystical," says Plater of nihon shishu. "Everything is symbolic and has meaning. It speaks to a higher understanding of the beauty of life."
So how do you become a nihon shishu sensei? For Plater, the journey began after she graduated from the University of Wisconsin Columbia School of Nursing. By 1969, she was in Florida, married to anesthesiologist Richard Plater — who died in 2017 — and working at Florida Hospital (now Advent-Health) in Orlando. 
Plater became active in the local chapter of the Embroidery Guild of America, serving as president and reaching the level of Master Craftsman in Canvas. She also befriended Audrey Francini, then a resident of Winter Springs and known nationally as the doyenne of crewel embroidery. 
But Francini had given up crewelwork in 1983 — she found working with thick wools unappealing — and eventually devoted herself exclusively to more delicate and complex nihon shishu with its traditional symbolic motifs that are usually inspired by nature.
Francini learned from Suji Tamara and his wife, Masa, who traveled to the U.S. from Japan twice yearly to hold classes in California and New York. Francini attended their sessions for five years and passed through all 10 "phases" required to become a sensei.
The Tamaras had trained with the legendary Iwao Saito, who founded a school called Kurenai-Kai in Japan. In 1989, following Saito's death, the couple founded a permanent affiliate — the Japanese Embroidery Center — an educational nonprofit in Atlanta where they continued the master's teaching.
"I got to sit at Audrey's knee at every opportunity," says Plater who, like most stitchers of her caliber, usually creates her own designs. "She was beloved all over the world and it was great bonding time." Francini was more than 100 years old at the time and died in 2020 at age 103. 
Plater, her eager student, later achieved sensei status at the Tamaras' permanent facility and has continued to hone her skills in the U.S. and Japan at Kurenai-Kai. To maintain her sensei status, she must routinely train and submit finished pieces to be judged by instructors at the Japanese Embroidery Center.
While Plater contends that anyone can learn nihon shishu with enough tenacity and a good sensei, there is clearly more than mastering the technical skills. 
"Hands are the exit of the spirit," said Saito, who popularized nihon shishu worldwide while adhering to its venerable technical and spiritual underpinnings. "Whatever you have in your heart shows up in your embroidery. To become a good stitcher is to look back and then improve your heart."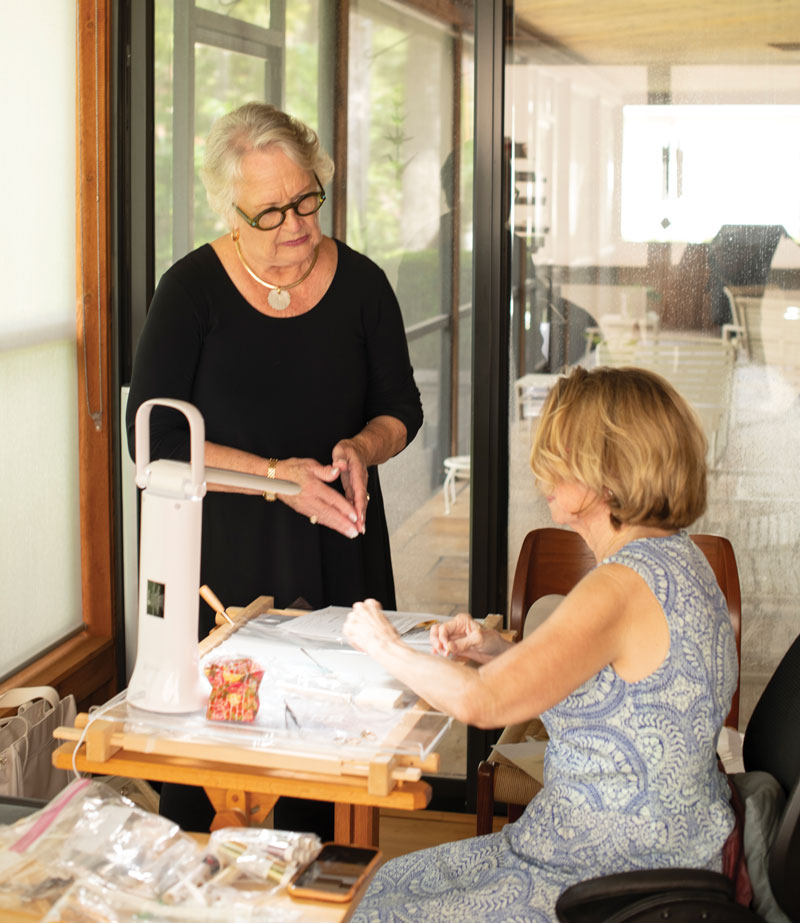 LET A SENSEI SHOW YOU HOW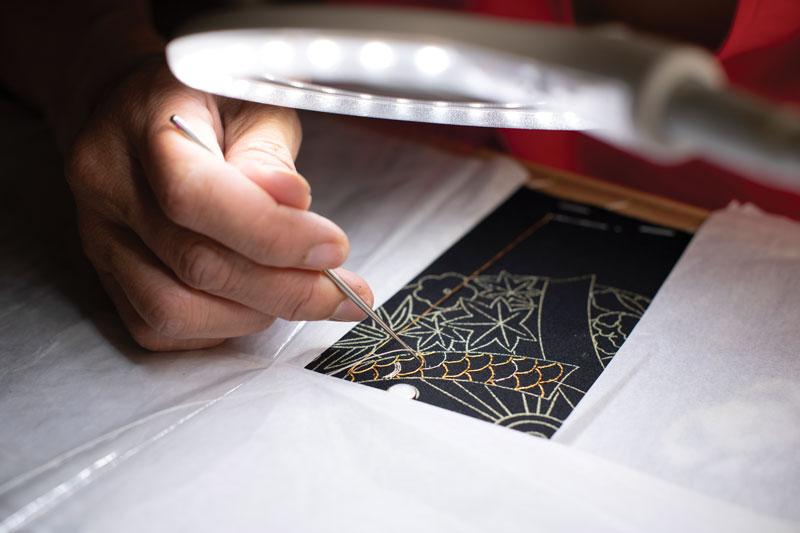 No one who has read this story and viewed the accompanying images likely thinks: "Hey, this nihon shishu stuff looks like a cinch!" But Karyn Plater, one of the most skilled practitioners of the art form, believes that regular people like us can at least learn the basics.
Plater is, after all, a sensei and knows what she's talking about. So if you enjoy embroidery but your greatest achievement is a framed aphorism like "Kiss the Cook" hanging in your kitchen, why not see if you can kick your skills up a notch?
The Albin Polasek Museum & Sculpture Gardens is hosting a Japanese Embroidery Workshop on Thursday and Friday, November 15 and 16, from 10 a.m. to 3 p.m.
No prior experience is necessary. Plater herself will guide you through each step of the process as you immerse yourself in the intricate art and explore its centuries-old traditions.
Be sure to bring a notepad, a pen, stitching supplies, scissors for fine threads, tweezers and, if needed, light and magnification. And you'll need a bag at least 16-by-14 inches to carry your project home. 
The $175 cost includes an embroidery kit containing a frame, silk fabric, silk and metal threads, laying tools, needles, wheat paste, tissue paper, clamps and instructions. 
Space is limited, so register today on Eventbrite or call the Polasek at 407-647-6294.
IN BRIEF
What: Japanese Embroidery: A Journey of Tradition and Innovation
When: Now through December 9
Where: Albin Polasek Museum & Sculpture Gardens, 633 Osceola Avenue, Winter Park
407-647-6294 • polasek.org
A partial portfolio of Plater's work follows.