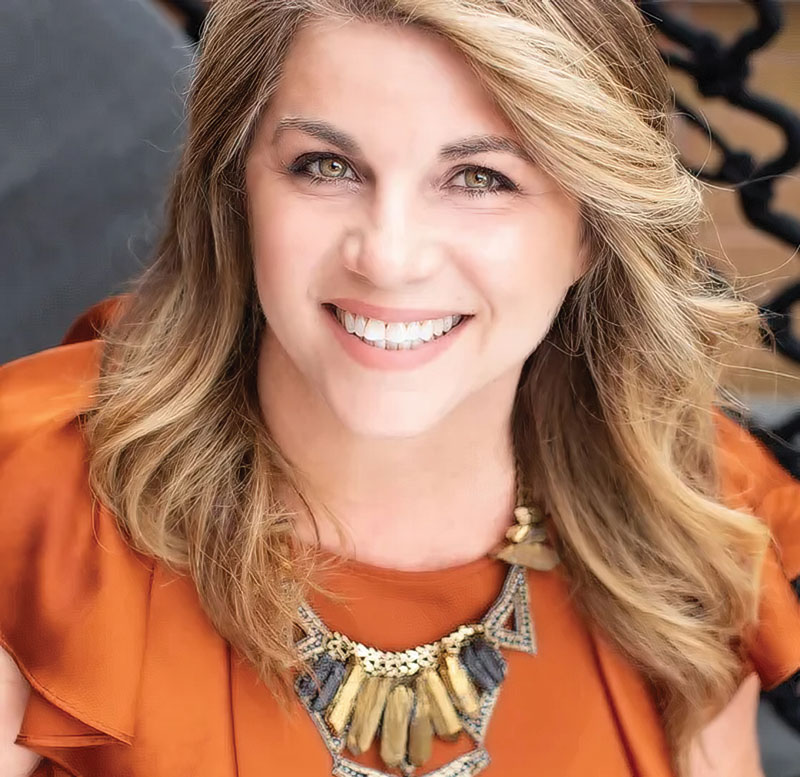 Carolyn Moor lost her husband, Chad, in a car crash on Valentine's Day in 2000. At age 37, the longtime Winter Park resident who ran a local interior design business could have patched her life back together for her then-2-year-old and 4-year-old daughters and stopped there. 
But Moor gradually found a larger calling. First, she said "yes" — despite hesitations — to discussing her difficult widowhood journey on TLC's Shalom in the Home, hosted by inspirational author and media personality Rabbi Shmuley Boteach. 
That appearance brought Moor to the attention of Oprah Winfrey, whose syndicated Oprah Show was the world's biggest platform for personal exposition well before the likes of TikTok and Instagram. A call from Winfrey's Harpo Productions came shortly after the TLC show aired.
Boteach guested on the Oprah Show alongside Moor, who was at first reluctant but came to believe that sharing her story with a larger audience might help others in similar situations. Besides, who can say no to Oprah?
"Promise me that you will do something with this experience for others," the empathetic host told Moor after the taping, which struck a chord with viewers and brought with it everything from random hugs on the street to out-of-the-blue proposals of marriage. 
Five years later, after what Moor describes as "the Oprah Effect" had dissipated, the Modern Widows Club was born. It started modestly as Moor — who today describes herself as a "widow revolutionist" — and two other women began meeting at her house. Says Moor: "I started with zero funds, and only a willingness to help lessen someone's suffering."
Now an in-demand speaker, Moor — a graduate of the University of Arkansas at Little Rock and Pace University in New York — has been featured in the Wall Street Journal, among other national media outlets.
She has participated in the United Nations Commission on the Status of Women and the Global Leadership Network, a Chicago-based nonprofit whose mission is "to inspire and equip leadership that ignites transformation." 
Moor advocates for widowhood to be treated and researched as a health issue rather than simply a natural consequence of aging. 
She has a podcast: Healthy Widow, Healthy Woman. And she has written several books, including Inspire Connect Lead: Empowering Your Widow Mentoring and Leadership Gifts and Legendary Widows: Story of Legacy, which spotlights renowned women from diverse backgrounds who were widowed but renewed themselves and continued to change lives.
The Modern Widows Club — which operates out of Moor's home near Baldwin Park — has several specialized virtual communities (including one for widowers, Spanish-speaking widows, Black widows and survivors of suicide) and chapters in 18 states, including three in Florida.
There are also chapters in such further afield locales as India, Israel, Kenya and Nigeria. Worldwide, thousands of women who call themselves "wisters" (widows + sisters) have linked arms to walk through a journey of grief and growth together. 
The burgeoning nonprofit is seeking funding to grow as it holds workshops and conferences around the country and provides online resources and special-interest clubs related to books, dating, parenting and travel. And it supports research into the physical and mental health of widows, who now number about 12 million just in the United States.
The Modern Widows Club also presents an annual MWC Legacy Award "to one extraordinary person annually who goes above and beyond in serving to empower widows and their families around the world." (Last year's recipient was Heather Ibrahim-Leathers, founder of the Global Fund for Widows, the world's largest nonprofit organization dedicated to economically empowering widows.)
I happen to be one of the many women who can relate to Moor's experience. My husband died last year from brain cancer and, at age 44, I also found myself piecing life back together for our two children. Moor and I sat down to reflect on our experiences, the needs of widows and where she hopes to take the Modern Widows Club next.
For more information about Moor's organization, visit modernwidowsclub.org. Following is our conversation, lightly edited in places for clarity and space considerations.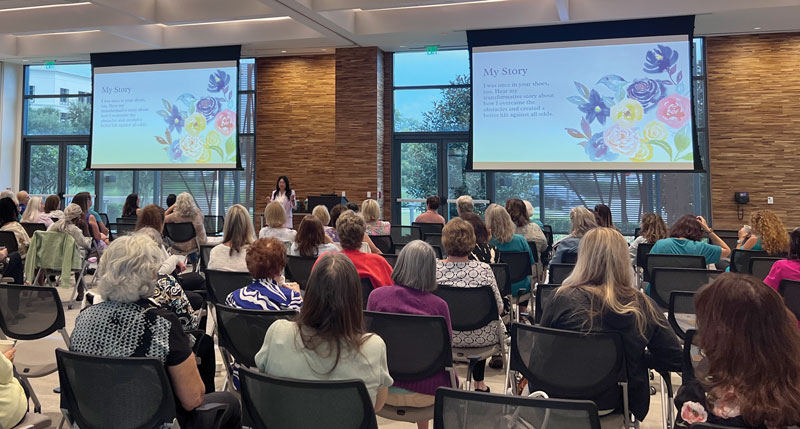 Beth Kassab: What's the biggest misconception about widows?
Carolyn Moor: If I say, 'Domestic violence victims are survivors,' you know it's true because there's so much public awareness. If I say, 'Human trafficking victims are survivors,' it's the same situation. But if I say, 'Widows are survivors,' there's hesitation. Sure, the government calls widows 'survivors' for Social Security purposes. But people often think widows are wealthy or they're older and it's to be expected. They don't know that the No. 1 most stressful life event is losing a spouse — for anybody, no matter what age. 
BK: The death of a spouse is at the very top of the list on the Holmes and Rahe Stress Scale, which predicts how life events can contribute to physical health problems. Being widowed ranks higher than a divorce, a prison sentence or a job loss. What do you find most lacking about programs aimed at widows?
CM: This is my dilemma with a lot of the programs at places of worship or elsewhere: They only focus on the grief part and want women who have become widowed to reassimilate into singles groups. Yet widows are more than single women again. They are full of wisdom, having come full circle in their marriage vows and promises. They possess knowledge through life, death and then life again that many can learn from.
BK: Right. And I've noticed with U.S. Census data and other studies, if people are ever remarried then they're no longer counted as widowed. Yet this experience never leaves you. 
CM: Two of our staff members at Modern Widows Club are remarried. They know that getting remarried doesn't wipe away your grief.
BK: There are almost two side-by-side tracks: the love for the person and the life you lost, and the love you slowly find for the life you want to build going forward.
CM: Right. Grief and growth are parallel journeys. That's why our mission statement is that we provide compassionate support to move through grief to growth. And growth can go back to grief and grief can go back to growth.
BK: You've talked with so many people in this situation. What's the right thing to say to someone who has just lost their spouse? So many people are afraid to say the wrong thing.
CM: Usually, the fewer the words, the better. Put on your active listener hat. Say, 'Tell me more.' The other thing to remember when talking to widows is that they've lost their champion. They've lost the person who believed in them and who had their back. Letting them know that their loved one would be proud of them is, a lot of times, what they want to hear.
BK: Sometimes I catch myself and think, 'This person probably feels I'm talking about him [my late husband] too much,' or I realize that I'm the one always bringing him up.
CM: Get used to it. Because that's going to be forever. In the beginning you hesitate because you're like, 'I'm talking about a dead person all the time.' And you are. And that's OK. 
BK: You were 37 and I was 44 when we lost our husbands. That's not common at our ages. So, it's not a frequent topic among our friend groups. It's even less common for men who are widowed at a young age. 
CM: But guess what? Now we're like Barbie, who's having the dance party and says, 'Do you guys ever think about dying?' Then the music grinds to a halt. Thank you, Barbie, for bringing that up! 
BK: Exactly! What a perfect scene to describe that feeling. 
CM: We can relate to how the room just shuts down. That's why Modern Widows Club is so popular. Because those topics are not strange at all in that environment.
BK: You've had a few pivotal moments along the way building Modern Widows Club into what it is today — the Oprah Show and a few years after that you were invited to attend an event at the United Nations as a widow advocate. How have those moments shaped where you are now?
CM: I think that's the difference between seeking a career and being surprised by a calling. But I thought, 'This is so big, I can't fix it. I'm an interior designer.' It took about a year, but I came back and said to myself, 'Are you going to commit to this or not?' Since then, I've connected with widow leaders and advocates all over the world. 
BK: You've talked about some of the policy changes you'd like to see for widows, such as bereavement leave. Most employers' policies only require that they provide three days, though many are compassionate and provide far more. Do you see a lot of women returning to work before they're ready?
CM: When you talk to tens of thousands of widows, you start seeing where they're getting stuck. And a big part of where they get stuck is the systems that are forced upon them. The tax system, bereavement policies, the healthcare system, the legal system. A large majority of women are forced to go back to work right away because if they lose their job, they lose their healthcare. I hear a lot about women who lose their jobs in the first two years [of being widowed] because they simply can't function due to brain fog. Our research shows this can negatively impact her decision-making for up to two years. 
BK: Over the summer, the Winter Park Center for Health & Wellbeing hosted more than 100 widows for a program led by the Modern Widows Club. How did that go and what kind of reaction did you receive?
CM: Women drove from out of state to be here. Most people want to come to these events because they have no support locally. That's why our global virtual communities are blowing up. People immediately think we're a grief organization, but we are focused on holistic health for widows. We had a functional doctor talk about the impact of anxiety and depression on the body. We talked about nutrition and mindful eating. We had a tai chi instructor. We even had an organizer who discussed how to sort through papers. Research shows that our programs reduce depression, anxiety and feelings of being overwhelmed. We're more than a club, we're a healthy widowhood movement. 
BK: You recently published a book called Legendary Widows that features the stories of people ranging from Corretta Scott King, who championed her husband's dreams of freedom nd equality, to Madame Veuve [which means 'widow' in French] Clicquot, who became a champagne magnate after she was widowed at age 27 and took over her husband's wine business. You've also noted that in Winter Park we have our own legendary widows, such as Edyth Bush [namesake of the Edyth Bush Foundation]. What do you hope people get from the book?
CM: Widows have made this town. No one wants to become widowed, but when they do I want them to be able to step into a world where they see stories of inspiration and find role models. That was critically missing for me.