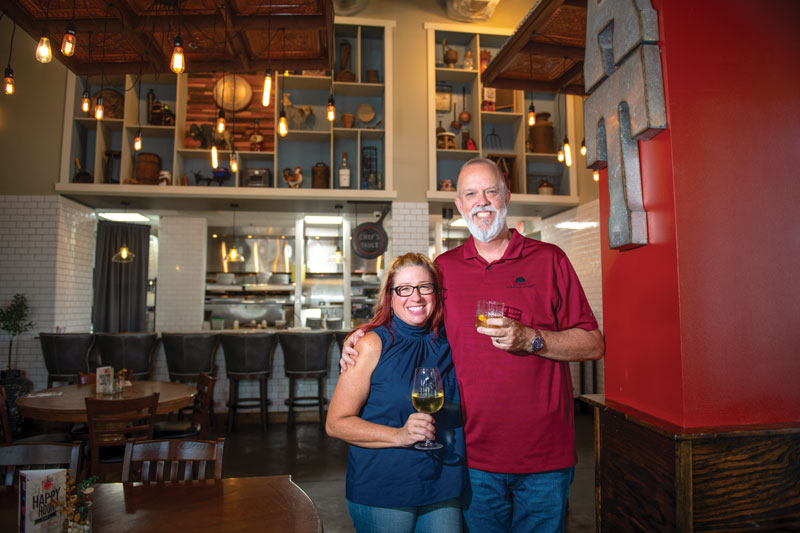 One summer evening at Outpost Kitchen, Bar & Provisions, retired restaurateur Manny Garcia dined on chicken Vesuvio and Nutty Cheesy Salad. Both dishes had been staples at his fondly remembered Orlando-based chain, Pebbles. 
Maybe he was dining at a table that once belonged to the late Allen Trovillion, a former mayor of Winter Park, whose loved ones honored his memory by finding this unlikely new home for his furniture.
Local history blends seamlessly with modern Deep South cuisine at Outpost, a neighborhood restaurant where the "neighborhood" descriptor really means something. You'll know it as soon as you step inside.
If you're driving by, Outpost looks like any restaurant along Maitland's nondescript stretch of Orlando Avenue. Yet, since its January 2021 debut, the family-owned eatery has attracted growing numbers of, well, neighbors, who are eager to enjoy a hearty meal, hobnob with friends and catch up with Julie and Kevin Casey, the personable couple who run the place with the help of their teenaged children. 
All that folksy feel-goodness is by design. Before opening the original Outpost in College Park back in 2015, Julie chose the name, the cuisine and even some dishes based on input from potential customers whose opinions were solicited through an online community newspaper. Now she's seeking similar input from Maitlanders and Winter Parkers. 
"I kind of define Outpost as a community-driven scratch-made kitchen," says Julie. "We involve the guests in a lot of decision making, even when it comes to the wine list."
While Outpost is located in a brand-new building, its interior feels homey in the way your beloved great-aunt's house might have felt — if your great-aunt had stocked a large selection of bourbons behind a long wooden bar, as the Caseys do. 
Also inside the restaurant — which is illuminated by bare Edison bulbs — are two old-fashioned credenzas and a sofa more likely known as a divan. A circa-1930s wooden mail sorter adds to the mix-and-match, anything-goes coziness that exudes welcoming vibes.
Julie calls the ambiance "post-Prohibition," which is as good a description as any. Servers wearing suspenders and upbeat live piano-plunking will have you tapping your feet in spite of yourself. She even had a local artist paint a mural depicting the area around Horatio Drive and Maitland Avenue back in the 1920s. 
The milk truck in the painting? Look closely and you'll see that the uniformed driver is really delivering booze. On another wall, a photograph shows lakes Faith, Hope and Charity long before development transformed once-rustic Maitland into the quintessential suburb.
The meals at Outpost will seem familiar, especially to Southerners whose moms (OK, maybe their dads as well) were great cooks. "My goal for each dish is to trigger a response," says Julie. "I want people to think, 'I've got to come back and have that again.'"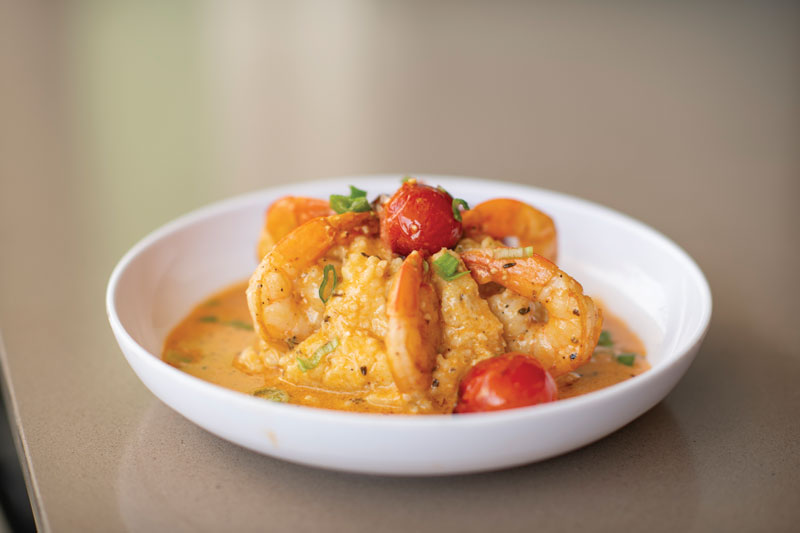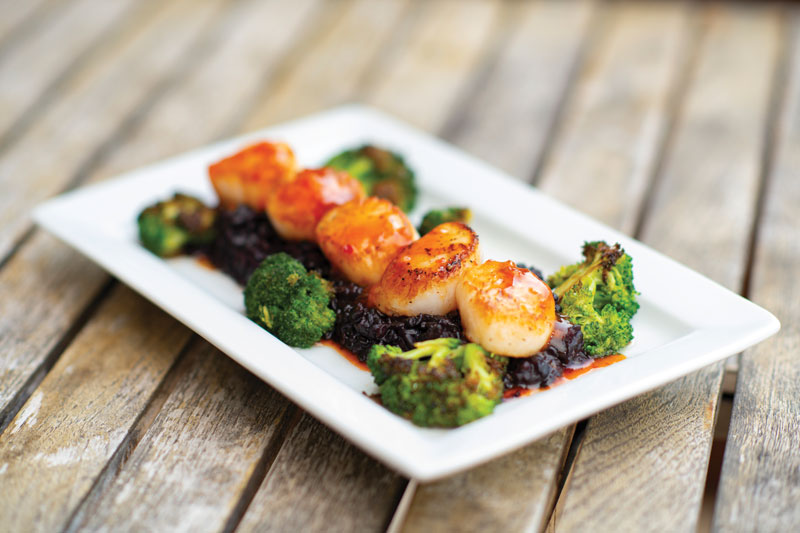 The meatloaf here is called "Maitland Avenue." Like many other Outpost specialties, the recipe came together following exhaustive research on the iconic dish. Julie studied marketing, not culinary arts, so now that she has taken on the role of chef, she aggressively analyzes how the experts go about it.
Regarding meatloaf, she gleaned several crucial lessons. One: "People love it or hate it." Two: "The best recipes have caramelized onions, not raw, and those caramelized onions should be soaked in butter." Outpost tops this old-fashioned feast with house barbecue sauce, which the staff concocts from more than 25 ingredients.
Mastering shrimp and grits required a longer-
term effort. "I played with that recipe until it was perfect, and now people tell me they want to bathe in the sauce," Julie says with a chuckle. She won't reveal specifics, but rest assured — order it and you'll feel coaxed into a dreamy dairy coma induced by ample butter and cream.
A rogue "Outpost Sauce" is drizzled on or served alongside several dishes. Julie makes the sauce using a blend of several popular condiments — wing sauce, barbecue sauce and Cajun seasonings. Ask for extra; you'll dip, dip, dip whatever you order into it repeatedly.
Even without the special sauce, the endearingly misshapen "Outpost Tots" are truly addictive. Julie first saw them on a Food Network show about a restaurant in Colorado, and found that re-creating them involved shredding partially steamed potatoes — a "labor nightmare" that led her to remove them from the menu.
Now, though, these tantalizing tots are back on the bill of fare thanks to a commercial version of hash browns that Julie enhances with an egg batter and a proprietary seasoning blend. You'll receive yours in a blue enamel dish reminiscent of camping service ware and accompanied by a cool blast of avocado-ranch sauce.
That same avocado-ranch makes an appearance on the fried green tomatoes, an appetizer that has undergone some changes. After a period of experimentation with different batters and crab salad or poached shrimp toppings, Julie now simply dusts the unripe slices with cornmeal and fries them into golden disks. I see no need for anything more.
"Too many people screw it up," Julie says of fish dip, another starter. "People who don't necessarily eat fish will entertain the idea of a fish dip at the table if other people are eating it." So she developed a version that both devotees and detractors might enjoy.
The day's fresh fish — often mahi — has not only the expected celery, mayo and lemon, but also a lively lemon zest. The liveliness comes from drizzles of Louisiana hot sauce as well as a bit of homemade "cowboy candy" (pickled jalapenos). More of each topper would have made this dish better, so every scoop benefited from that added voltage.
At Outpost, good-old chicken-fried chicken hasn't changed. The luscious bird is served with collards so tender and sweet that they're like candy. Not that the mashed potatoes hurt, but those collards are such a hit that Julie had to figure out how to make them when a previous chef departed without sharing the recipe.
"I got online, researched every single recipe under the sun, bought cookbooks on collard greens, took them all and created my own recipe," she recalls.
As for the mashed potatoes, a similar online immersion resulted in a recipe for spuds mixed with a béchamel-like sauce of sour cream, garlic, heavy cream and butter. Conclusion: One entrée is satisfying enough to last you through three meals.
Although proven favorites tend to hang around, evolution is the essence of Outpost's menu. The new orange-ginger scallops, for example, are a welcome fresh option inspired by leftovers from zesting citrus for Old Fashioneds. Julie again turned for ideas to her old friend, Chef Google.
"I searched 'best scallop entrée ever,' seriously," Julie says. "I wanted inspiration from other restaurants or consumers." Fusing all the bits and pieces gleaned from the internet, she devised a sunny, orange-ginger infused seafood specialty surrounded by charred broccoli and plated over chewy purple rice. The rice was inspired by a favorite "secret roll" at nearby Fuji Sushi.
Julie's career has always been in food service. Yet she never, ever thought she'd own a restaurant, much less become its chef. After graduating from Florida State University with a marketing degree, she started a kid-friendly online restaurant guide and later became a consultant known as "The Restaurant Mom."
A client proposed partnering with her to open a restaurant in College Park, but ultimately bailed out. Instead, family members chipped in and the business was launched. It was successful, but the need for a more reliable air-conditioning system led to the relocation to Maitland.
Julie's husband had owned a pet magazine. After stepping in to fill the gap while Julie dealt with a medical issue, Kevin ended up acting as general manager — and stayed. Son Ryan, 16, assists on the prep line, and daughter Regan, 19, is a server and bartender.
Outpost's customers are faithful. Yet, since they're also frugal, Julie is reworking the menu yet again. "We're tweaking the brand to make it a little more casual," she says. Lower-priced options, such as classic club and Monte Cristo sandwiches, are now offered as well. Entrée prices range from $15 for most sandwiches, salads and burgers to $32 for bourbon-braised short ribs and that inventive orange-ginger scallop dish.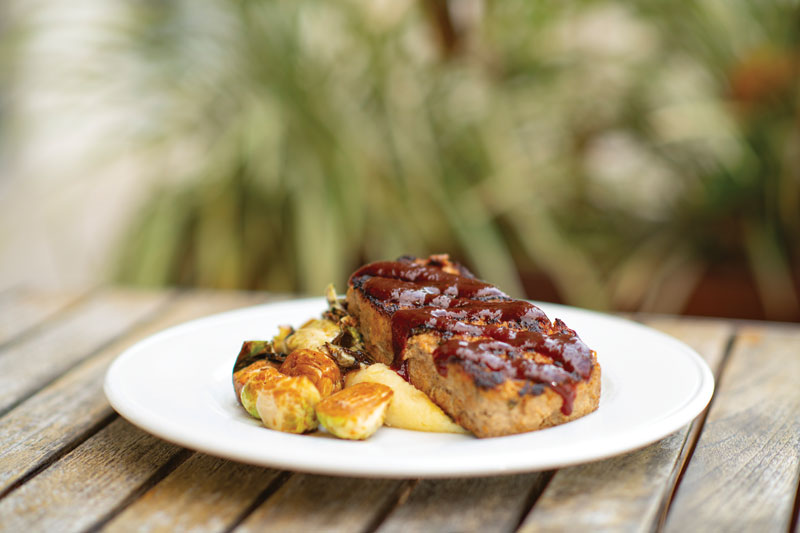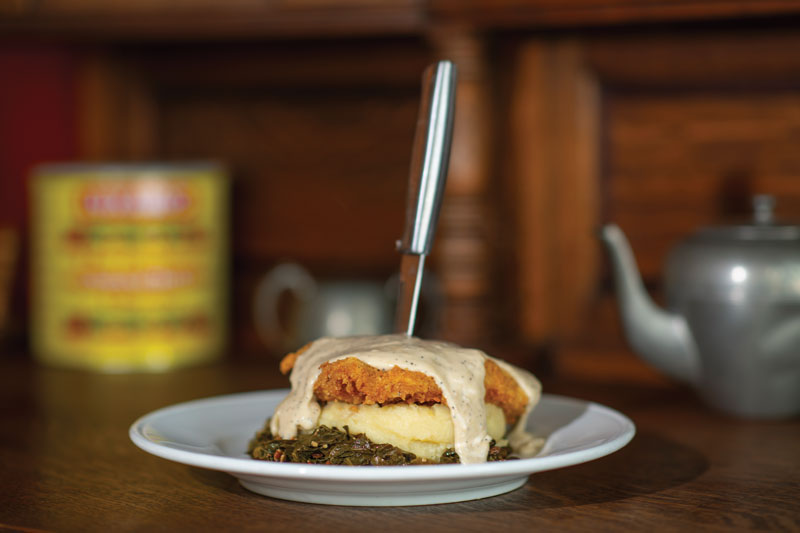 Fearful of a summer slowdown, Julie recently added a series of small "Memory Lane Menus" that offer iconic dishes from now-gone (but not forgotten) local restaurants. 
That's how Manny Garcia came to enjoy Pebbles food at Outpost. Items from Gary's Duck Inn (the precursor to Red Lobster) and Ronnie's (the quirky deli with delicious food and draconian rules) have also been featured. 
When Memory Lane Menu themes are announced, community members, as they always do, step up. Long-time locals in the know offer memories and insights — and some former insiders even share vintage recipes from these old favorites. 
At Outpost, as your meal ends, the fun continues. Our bill came inside an aged Exploring Science hardcover book that was highlighted by fun scribbles from the original middle-school owner. (I wonder if Johnny, who scribbled his love for Julie on the book's opening page, ever asked Julie on a date?)
Even The Restaurant Mom — who, with her family, has created one of the region's most charming (and thematically sweet yet uncontrived) dining destinations — probably can't answer that question.
Outpost Kitchen, Bar, & Provisions
111 South Orlando Avenue, Maitland
407-930-6282 • utpostkbp.com