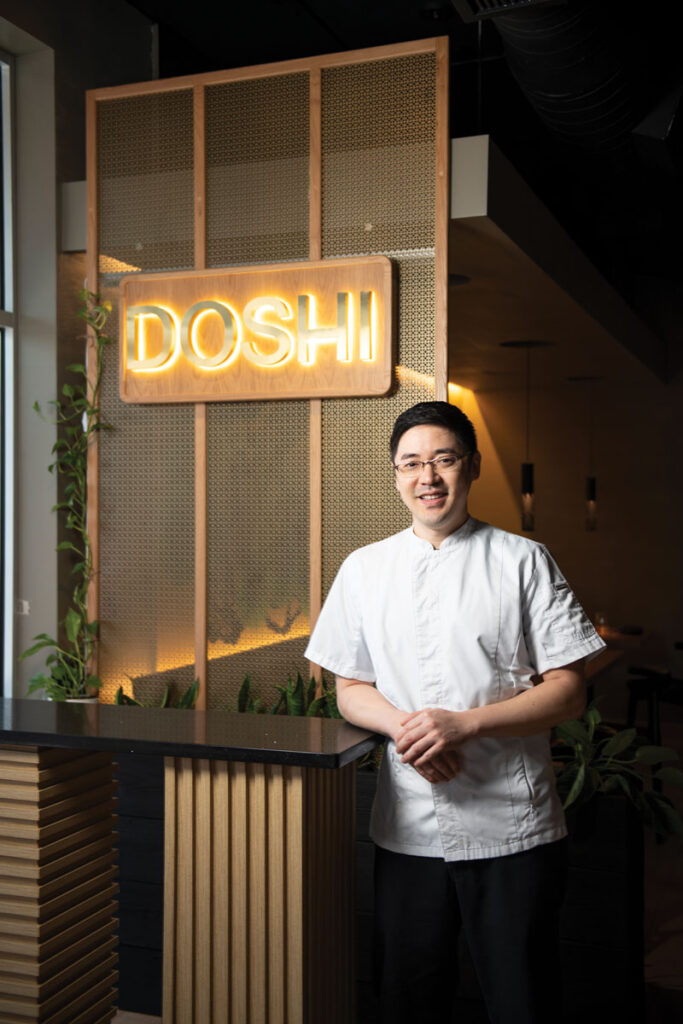 Remember eating Chinese food as a kid? You knew wonton soup, spareribs, egg rolls and fortune cookies, right? Let's face it: Most of us were clueless about such treasures as pan-seared pork dumplings, peanutty cold sesame noodles and steamy build-your-own hot pots.
And so it goes with Korean food today. Bulgogi, the tasty marinated and grilled meat, is so popular that it has made its way into mainstream menus. And we've collectively become aware of kimchi, a crunchy-soggy fermented cabbage known not for its flavor but for its ability to promote gut health.
Plus — particularly if you have a Gen Z living in the house — you might be aware of the oh-so-current (and humorously demented) Samyang Fire Noodles Challenge.
Beyond that, however, not many of us have ventured outside our comfort zones.
In Winter Park, however, Doshi aims to remedy the situation with a chef-driven, 35-seat restaurant where the team consists of perfectionists, says co-owner Gene Kim, a second-
generation Korean American who emphasizes scratch cooking while putting contemporary twists on classic flavors from the country of his ancestry.
The ingredients alone speak to the culinary hoop-jumping required for the creation of each dish. Look for glass jars lined up along the back wall of the open kitchen that contain such chef-made ingredients as compressed, fermented fruit syrups — generically called cheyong — made from blueberry, kumquat or Meyer lemon.
Out of view are larger quantities of items that take days or weeks to create, including danmuji — crunchy, tangy beet-cured radishes — and such flavorings as a house-made gojijong, the red pepper paste popular in Korean cooking.
Before we get into the Doshi dining experience, let's jump into its short history. The concept started in 2021 as DoshiBox, a takeout-only ghost kitchen on Curry Ford Road. Next came Doshi, in its current location in the plaza with Nordstrom Rack and Whole Foods, which previously served only multicourse chef's selections at $175.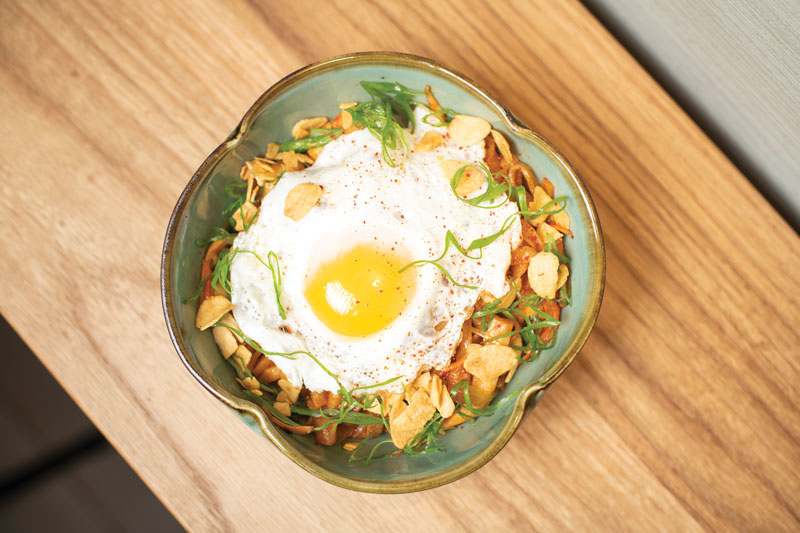 Now the restaurant has broadened its appeal. As of last November, it had adopted an a la carte menu — which means two people can make their own selections and enjoy a full meal for about $100. (You can still get the tasting menu at the six-seat food bar for $75.)
Pricey? Yes, a bit, but worth the tab for this kind of quality.
Despite its brief and transformation-heavy existence, Doshi is one of only three dozen or so Orlando-area restaurants listed by the prestigious Michelin Guide, which describes it as "a fine dining restaurant that surprises with a modern and understated flair." OK, no arguments from me.
Through several iterations, Kim has maintained a single goal: to introduce locals to more flavors from Korea. "My strongest tie to Korea is through my mother's cooking," he says. "I started DoshiBox as a way to explore my heritage a little bit."
In the style of a handful of other modern Korean restaurants — especially a handful of trendy ones in New York City — Kim does so with a daring culinary attitude and, at times, a sense of humor. And he does it all without intimidating guests.
Here's some guidance: Take a seat and note the wall-sized mural of a tiger and a magpie (symbols of good fortune and protection) painted by local artist Boy Kong. Sip a chilled Chablis — or a saké or a Korean wine — and listen to the sounds of Asian vocalists from the Korean Café Music Spotify station in the background.
As you review the menu, don't freak out. Although you'll see Korean and American descriptions for each dish, you'll likely not be familiar with most of them. Don't cave to anxiety; simply start asking questions.
Your server will answer — with respect. Doshi's small team is all about welcoming guests, not shaming them. You'll receive detailed information with no hint of impatience or, frankly, snootiness — which we've all experienced at various restaurants not usually frequented by the blue-plate-special crowd.
In addition to answers, you'll receive opinions. We laughed when our knowledgeable server insisted that we pass on the cheesy tteokbokki appetizer, a classy version of a classic street food that tempted us with truffle mozzarella and pumpkin seeds together with a rice cake.
"It's too many carbs!" she insisted, especially since we'd already chosen Fire Shrimp Noodles as an entrée. We obeyed and got down to business.
First, you'll be brought three complimentary small bowls that are referred to collectively as "banchan." Doshi changes them regularly, but if you're lucky you'll receive one that contains kimchi — that pickled cabbage so inherent to cuisines from Korea.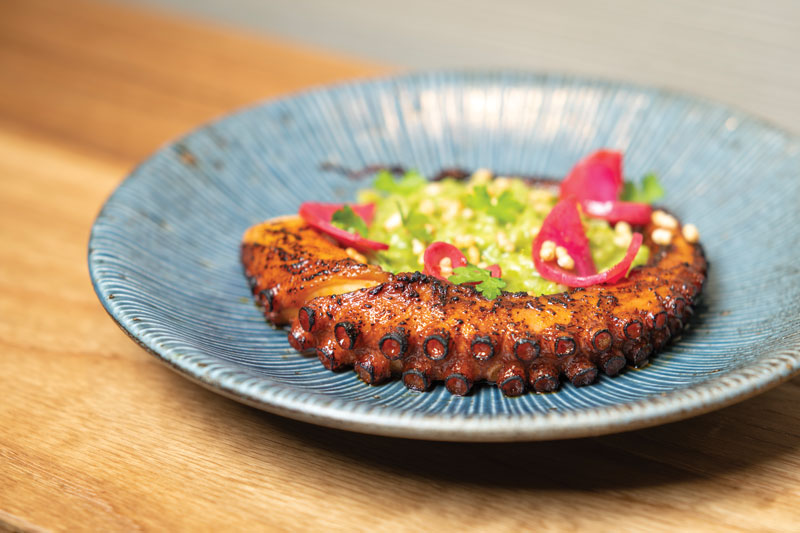 "It's a recipe that we've been developing for two years, and take a lot of pride in," notes Kim. "The whole process takes several days, followed by a fermentation period." Another delicious banchan offering is seasoned cucumber pickles in a sweet and spicy gochujang sauce. Ours resembled freshly made bread-and-butter pickle slices.
If you're sharing, choose from various sections on the limited menu. The "Banchan Bites" include a half-dozen shareable small plates. We opted for Big Glory Salmon Crudo, with slices of raw fish imported from Australia that had been cured with a two-to-one ration of salt and sugar — like Jewish lox.
The dish was layered with snappy slices of Korean pear. Dashed on here and there was a lacto-fermented strawberry gochujang — a red chili pepper paste — as well as a citrusy ponzu sauce and a bright sweet-and-sour habanero-blasted "shrub" called "cowboy candy." So, there was plenty going on, flavor-wise.
"Kkochi" refers to skewers. Yet these offerings are far more than grilled-on-a-stick items. The eggplant was a line of toothy veggie chunks flavored with a salty soybean paste, glazed with doenjang — a Japanese-style sweet-and-savory glaze — and topped with ovals of crispy garlic.
The beet-cured radishes on the side were so scrumptious that I had hoped more would come with every dish. A dollop of green puréed scallion-garlic sauce made a fitting dip.
The Fire Octopus best demonstrates what Kim calls an "elevated" skewer. The tender sliced mollusk is glazed with a jolt of buldak — a Korean barbecue glaze — and encircled with a bright green risotto, which consists of creamy, vibrant al dente rice flavored with parilla, which is a minty Korean herb.
As for entrée-sized "For the Table" options, check out the Wagyu Galbi Jjim. For our purposes, it's a Korean beef stew — and the closest thing to bulgogi on the menu. Here the meat is a mound of ultra-tender short rib strips served in a sweet, rich soy-based brown gravy. It's surrounded by roasted root vegetables and topped with golden slivers of crispy burdock root — a root vegetable also called u-eong.
Once we polished that off, we received our second entrée, Shrimp Fire Noodles. The prettiest of a parade of attractive courses, this one included a pile of roughly hand-cut "kal guksu" flour noodles that had been mixed with Gulf shrimp and a spicy golden sauce. It arrived covered by an insanely perfect fried egg, more garlic chips, wisps of green scallion and a sprinkling of fiery red gochugaru chili powder.
Here's where the humor comes in. This exceptional dish is a playful nod to Samyang Fire Noodles, the consumption of which has become a pop culture phenomenon. Across TikTok, young people have shared videos of themselves scarfing down massive platefuls of the commercially processed spicy ramen.
Oh, the suffering! Doshi's version is a spectacular mix of flavors and textures — but there are no hot sweaty faces involved. Order it.
Dessert was simple. There was one choice: A shallow bowl of creamy panna cotta laced with that cheong syrup — which tasted boozy even though it's not — and topped with three kinds of berries.
Kim, an unassuming 40-year-old with a short haircut and nondescript glasses, is the mastermind behind this trend-forward restaurant concept, but he's not alone. Twin brothers Ray and Mike Gillette created DoshiBox with him and initially manned the kitchen at Doshi. The Gillettes departed in mid-June, and their replacements had not been announced at press time. Chef Mike English, however, still heads up the counter menu. Also behind the scenes are investors Jimmy and Johnny Tung, who own the regional Bento Asian Kitchen + Sushi chain that has a busy location in Winter Park. Kim previously worked for the company as corporate sushi director — yes, there is such a job as corporate sushi director — and in data analysis and finance.
While choosing foods to feature on Doshi's menu, Kim took an expansive view of what Korean cuisine could be. "I really wanted to explore a lot of the things that you don't necessarily see in the U.S." he says. "One of my biggest fears is Korean or other Asian guests thinking, 'It's just not Korean' instead of noticing what the team is trying to accomplish."
Yet he wants non-Asian guests to like the food and experience, too. "I just want everyone to feel welcome, to have a good time and to enjoy what we're creating," Kim adds.
Based on that Michelin nod, we'd say his efforts are working. I don't see an upcoming TikTok challenge inviting teenagers to gobble fists full of his Fire Shrimp Noodles — yet grownup diners with adventurous palates are finding their way to Doshi nonetheless.
Doshi
1040 North Orlando Avenue, Suite 104, Winter Park
407-571-9264
oshiorlando.com