Photography by Carlos Amoedo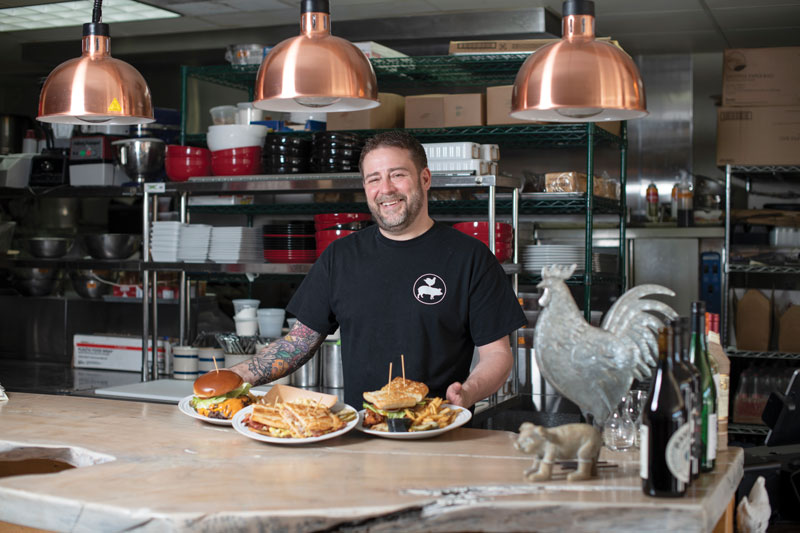 When he was in his 20s, A.J. Haines and his pals gathered at a lakefront home in Ohio. The young men set up smokers and set to work slow-cooking fish that they caught, such as sturgeon and catfish, or "basically anything that flew," including goose and pheasant, that his friends hunted,
"We were making stuff and enjoying it," says Haines. While most other twentysomethings in the late 1990s scooted around big cities and pursued starter office jobs, or buckled down in classrooms and earned advanced degrees, these post-college dudes were focused on the joys of carcasses and wood chips.
That shows passion — the kind of passion you want in the person who's preparing your meal. At Hen & Hog — located on Fairbanks Avenue, where Manzano's Deli used to be — when you swipe a fried Gulf shrimp into remoulade sauce and take a bite, you might even be startled. "Wait, it's just fried shrimp," you'll think. "Why is it this good?"
Ask for a side of slaw and you'll discover so much flavor that you'll question whatever long-held beliefs you've espoused about the ubiquitous cold cabbage salad until that moment.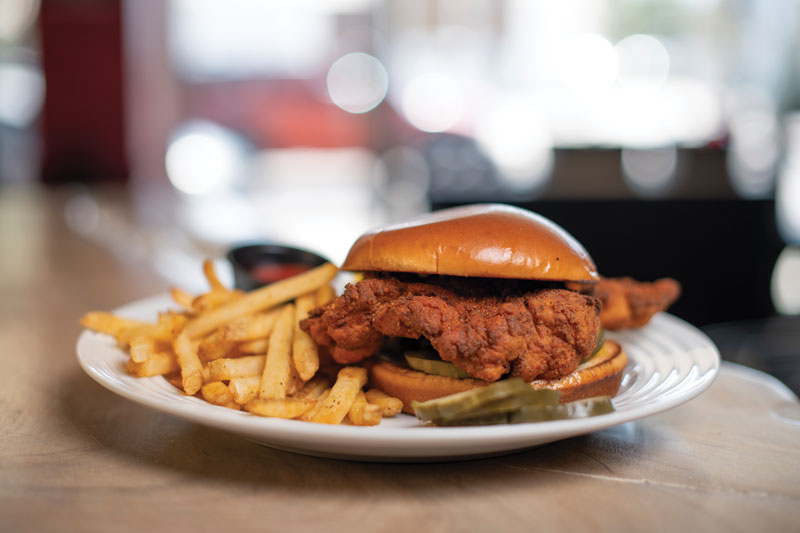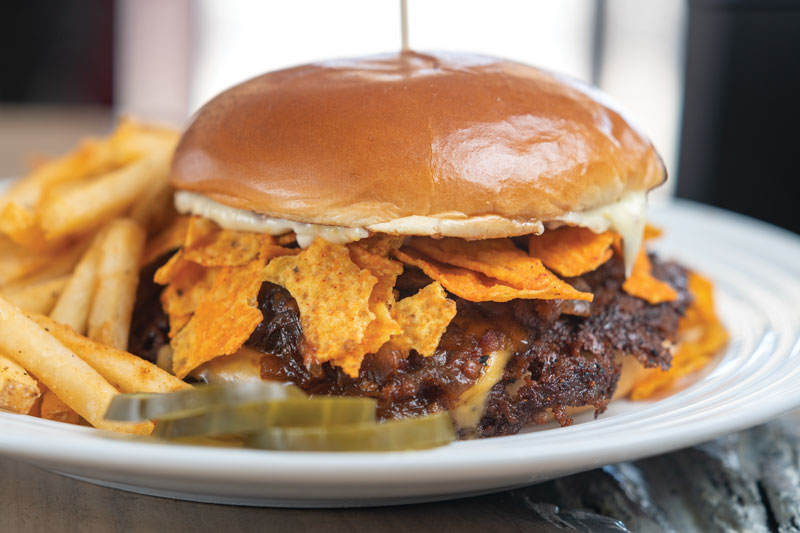 Like the pickled relish called chowchow, the coleslaw is a sweet-and-sour concoction involving cabbage bits, vinegar and sugar along with green and red tomato, green and red bell pepper, and crunchy carrots and onions.
Everything you try at Hen & Hog — where you order at the counter, then take your seat — is so good mainly because Haines has been cooking his entire life and has never stopped learning. His Italian family in and around Oshkosh, Wisconsin, had him rolling pasta and simmering sauces since childhood.
Plus, their friends and neighbors were Thai, Japanese and Egyptian. The youngster eagerly ate at the kitchen tables in all these homes and developed an eclectic palette.
While a seafood dinner meant frozen fish sticks reheated in a toaster oven to other kids, Haines was with his grandparents hauling in fresh salmon from Lake Michigan. During fishing tournaments, he and his friends would catch walleye and perch, then host down-home fish frys.
After graduating from the University of Wisconsin-Stout with a degree in graphic arts and working as a printer and a welder, Haines moved to Central Florida and notched two years of training at the Le Cordon Bleu College of Culinary Arts – Orlando. Then he was off and running and cooking for a living.
Fast forward to October 2022, when Haines opened the doors to Hen & Hog and began to offer his signature scratch cooking in a bare bones setting that hinted — but scarcely more than that — at a farmhouse theme.
With food this good, a thematic hint is plenty. It's what comes out of the kitchen that counts in my book.
So what does scratch cooking mean? "I put a little more time and effort into stuff like butchery and rubs," Haines says. "All of our chicken, for example, sits in a herbaceous lemon brine for three days. We use a Cryovac [air-tight plastic pouches]system so it's held fresh."
Ribs are another example. First, Haines rubs on a house combo of spices and lets the meat sit for four or five hours to absorb the flavors. Then he smokes it (the meat, that is) for another few hours.
Next up is a visit to the cooler, where the ribs sit in a vegetable stock to remain moist. Later they're braised for a couple of hours and cut to size after you order them. And they're plenty tender and yummy, glazed with a housemade barbecue sauce and heated to 165 degrees before being brought to your table.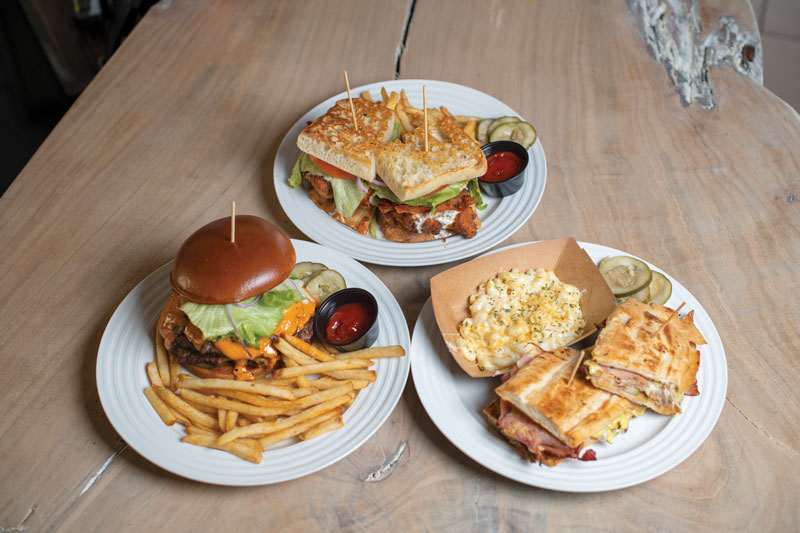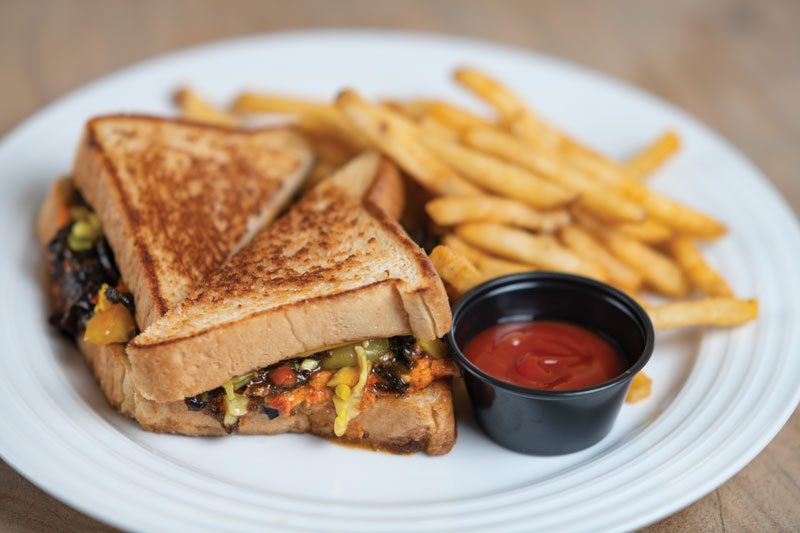 That kind of elaborate multistep process explains why nothing is as it seems when you read the electronic menu by the front door.
Consider the case of the pecans. On the menu, they're called "bourbon-candied pecans." I thought they tasted like granola with a supersonic dose of cinnamon.
As it turns out, Haines does indeed toss the pecans with bourbon that contains "secret ingredients," then seals them up to soak for 24 hours. Only then does he add brown sugar, vanilla bean, cinnamon and a pinch of salt. He slow-roasts the combo until the sugars caramelize over the nuts.
Pimento cheese is a fine test of any Southern-ish restaurant. If the spread is decent, the rest of the fare almost certainly is, too. At Hen & Hog, the pimento cheese has a great taste — but not the flavor profile to which you've probably grown accustomed.
That's Haines being inventive again. "I pack it with cheese," he says, including aged cheddar but also Parmesan and even cottage cheese. He roasts red peppers and caramelizes onions, then whirs them all together in a powerful French-made food processor. Oh, and let's not forget the pickled jalapeños. "I have to give it an acid side," he adds.
As for that shrimp with remoulade, the "house dredge" has flavorings Haines won't name, although buttermilk is key. And that remarkable remoulade mixes mayo with a relish made from Haines's signature garlic dill pickles along with roasted garlic, caramelized onions, smoked paprika, and lemon juice and zest.
That long-brined chicken shows up in several dishes, including the hot chicken sandwich. After the poultry is dredged, breaded and seasoned, it gets a sprinkling of Nashville-style hot spice powder and a swipe of brown butter. In a town known for chicken restaurants, you won't find anything like this on another menu.
Hen & Hog may be named for poultry and pork, but, hey, this is America — so burgers have their place, too. Whatever your choice, know that the twin patties are a blend of brisket, short rib and ground chuck. Haines layers the patties on a brioche bun that's toasted with a schmear of not just butter, but browned butter. If you get cheese, it's a Wisconsin cheddar blend.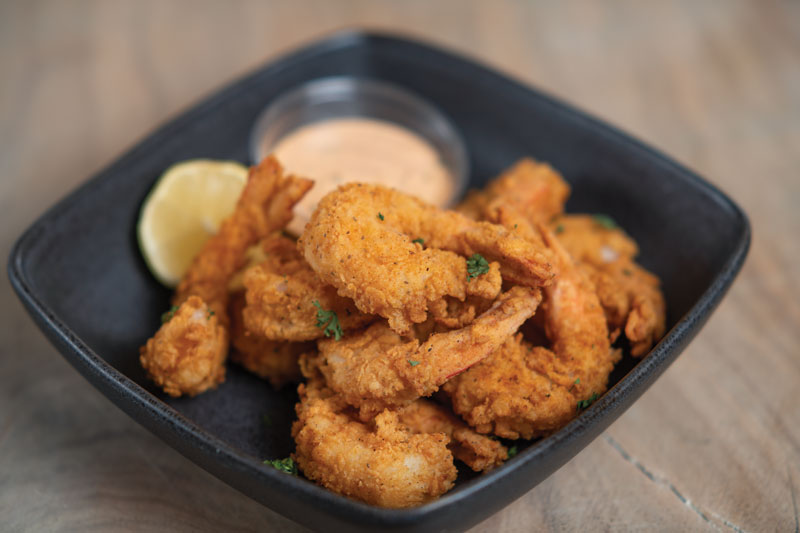 The word "Doritos" drew my troupe to the nacho burger, a Haines favorite since his culinary school days. The meaty concoction is spread with a jam made using bacon from Nueske's Hillcrest Farm near Green Bay. The bacon is ground up with brown butter and caramelized onions plus other flavors, then mixed with a mustard-bacon aioli sauce.
The crumbled Dorito shards on top give the dish a pleasing pop-culture kick — but there's some serious cheffiness between those buns.
If you're of the veggie variety, know that even the most virulent greens-hater in our party enjoyed the collard melt. Combine leafy greens with pimento and cheddar cheese, top it with chowchow, pour on a mustard-laced "potlicker" and then grill the whole thing on sourdough Texas toast — well, you've got a veggie sandwich that any carnivore will love.
Haines has certainly paid his culinary dues. He has served stints in a variety of Central Florida kitchens, including Cask & Larder, Luma, Prato, Via Napoli, The Parkview and Wolfie's Pizzamia. Most recently, he was chef/owner of Mason Jar in Thornton Park. That restaurant, known for its elevated comfort food and pub grub, was closed last summer with an announcement that something even more ambitious was in the works.
"I had 20 different restaurant concepts written down in my notebook," notes Haines of his time creating Hen & Hog. "I was watching food prices. Chicken and pork were not rising to seven, eight, nine dollars a pound. So I decided to serve chicken and pork."
Yet Haines didn't completely shrug off that hard-
wired Italian-food education. Tuesday at Hen & Hog is Pasta Night, when gnocchi with sausage and spaghetti carbonara might be served. (The offerings change every three weeks.) Haines has been making pasta for four decades and wants to continue doing so even though it doesn't fit the concept, thank you very much.
Desserts come from the neighboring Choulala bakery. We tried the massive chocolate chip cookie with brown edges and a chewy interior. It's just as it should be. For Saturday and Sunday brunch — served from 11 a.m. to 3 p.m. — try the elaborate cinnamon-roll bread pudding and ignore your calorie-counter app.
When you're ready to visit Hen & Hog, think ahead about parking and don't count on snaring a spot on the street in front of the restaurant or in the small lot behind it. But there's plenty of parking around the block and across New York Avenue. Take my word for it: You'll be in hog (and hen) heaven.
Hen & Hog
221 West Fairbanks Avenue, Winter Park
407-637-2862
henandhogorlando.com
---
CORRECTION
In "Reimagining the Ravenous Pig," in our winter issue, we inadvertently labeled the chicken confit as roasted butter chicken in a caption — and then described the whole roasted truffle chicken instead of chicken confit in the text. The burger photographed is the Beer Garden's Smash Burger. We regret the errors.