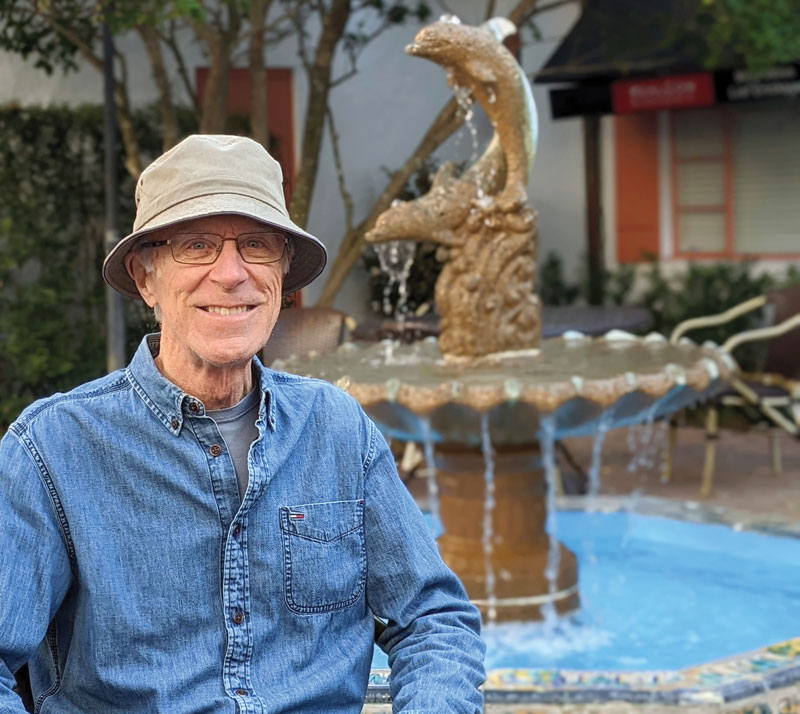 Robert Ross says he has spent countless hours in coffee shops with friends or sitting alone writing and sketching. "Artists are observers, and coffee shops are the perfect place for people-watching," he adds. "When I moved to Winter Park, I fell in love with Barnie's. They make a great macchiato and the baristas know my name. What's not to like?"
What indeed? Recently remodeled Barnie's Coffee & Tea Co., located on Park Avenue in Green-eda Court, is a local institution and has been at the steamy center of coffee culture for 40 years in Winter Park. Now, in addition to java, you'll find shakshuka and huevos rancheros, and a lunch menu including Cuban sandwiches and salads.
"We're naturally attracted to human figures in a painting," continues Ross. "We wonder: 'Who are these people? What are they doing?' In my paintings, I generalize the features to keep the figures from looking like someone recognizable. I want the viewer to feel represented."
Morning Coffee, Barnie's, was painted on a rainy day, notes Ross, when people were crowded inside. He sought to capture the vibe in his muted modernist style. The painting is a departure for the artist, who is known primarily for his images of buildings and their surroundings.
Another Ross painting, Striking the Sails, was featured on the cover of the Summer 2022 issue of Winter Park Magazine. Many readers praised the selection as a bold stylistic departure for the publication as well. "Best cover ever," wrote one correspondent. "Refreshingly light blue outdoors. More Robert Ross would be nice."
We're glad to oblige. Ross, a native of Flint, Michigan, who majored in English and worked for 30 years in public relations, had always loved art. But he was determined for years to become an author. That changed when he found it difficult to sell poems and short fiction.
A life drawing class with Rima Jabbur at the Crealdé School of Art — where Ross is now an instructor — and landscape painting workshops with Philadelphia-based modernist Stuart Shils persuaded him to become an artist full time in 2013, after he retired from his job as an editor at Embry-Riddle Aeronautical University in Daytona Beach.
Since then, collectors have discovered Ross's distinctive, often geometrically themed images at festivals and galleries throughout Florida, including this year's highly selective Winter Park Sidewalk Art Festival. He's also a regular at the Winter Park Paint Out and has been an award winner at the Winter Park Autumn Art Festival.
In 2020, Ross's paintings were featured in an exhibition, Unique Perspectives: Paintings by Robert Ross, at the Museum of Arts and Sciences in Daytona Beach. That same year, the Polk Museum of Art in Lakeland displayed two of his works during a pandemic-themed online exhibition entitled Hindsight 2020: Art of This Moment.
Ross has maintained a studio at McRae Art Studios in Orlando for the past decade. You can buy his paintings while the canvases are still wet at the Paint Out, slated for April 23 to 29 at the Albin Polasek Museum & Sculpture Gardens. Or, for a larger sampling of Ross's plein air and studio works, visit robertrossart.com.