One of the first VIPs my dad met when we moved to Central Florida in 1967 was Hugh McKean, then president of Rollins College. Worrell Newspapers, a chain of medium-sized dailies located mostly in the Southeast, had bought the Winter Park Sun Herald, and had plucked my dad from a position as advertising manager for the daily newspaper in Florence, Alabama, to move south and become the long-established weekly's publisher.
Having made several exploratory trips to Winter Park with other Worrell executives in the months leading up to the purchase, my dad quickly realized that earning a thumbs-up from Dr. McKean should be among his first priorities. So, before we were even fully unpacked, he had made an appointment to visit the sophisticated artist-turned-administrator at his campus office.
Dad was determined to make an important ally, and to prove that Winter Park's hometown newspaper had not been taken over by hillbillies — the parent company's Alabama roots notwithstanding.
But a garish cowboy shirt threatened to undermine those efforts. The morning of his meeting with Dr. McKean, my dad could not find the wardrobe box that contained his suits. In fact, the only shirt he could locate in all the mess was a horrific western-cut garment fashioned from some shiny, chemical-based substance such as rayon.
A scene of cacti, tumbleweeds and cowpokes with lassos twirling adorned the front above each pocket. The images weren't even properly embroidered — they were screen-printed on the shimmering white fabric. The shirt looked like something that Roy Rogers's ne'er-do-well cousin might have worn.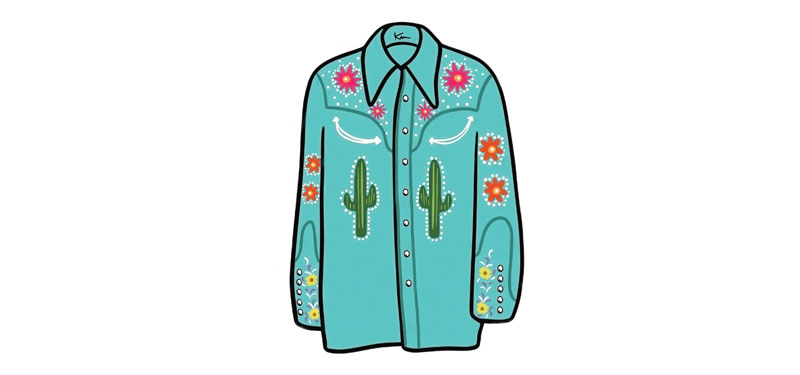 Decades later, my dad vowed that he had never before even seen this ghastly garment. It was certainly not something he would have ever worn, even as a joke or as a pretend cowboy at a costume party. Yet, he was due to arrive at Dr. McKean's office in 15 minutes. And, because the appointment was early in the morning, no stores were open where he could buy something more suitable for the occasion.
My dad felt that it would have been rude to call and cancel his appointment at the last minute (although perhaps not as rude as showing up bare chested). So he resolved to keep the appointment, wear the cowboy shirt and make the best of it. He would simply tell Dr. McKean the truth — that we hadn't finished unpacking, and that he unexpectedly couldn't locate his suits. At least he would find out whether or not this particular pillar of the community possessed a sense of humor.
I recall hearing later that the meeting went well, and that Dr. McKean was greatly amused by this sartorial snafu. In years to come, he would visit the Sun Herald offices on Park Avenue and drop off essays that he had written — which were usually featured on the front page — about an array of topics.
One essay, I recall, was a prescient prediction about offering college courses on educational television or otherwise delivering them electronically, making higher education accessible to everyone.
I thought about that fraught first meeting recently when writing the Winter Park Hall of Fame profiles in this issue of Winter Park Magazine. One of the inductees is Eve Bacon, the region's most prominent historian and the pioneering editor and publisher of the Winter Park Sun, which later merged with the Winter Park Herald to the become the Winter Park Sun Herald — the newspaper that brought my family here.
All or which is a long way of saying that the Hall of Fame is back in these pages after an absence of several years. Maybe we'll have a party to celebrate — but I'll be sure to check my closet before attending. Just one of many lessons my dad taught me. 
Randy Noles
CEO/Editor/Publisher
randyn@winterparkpublishing.com
---
IN MEMORIAM: PAT SCHROEDER INSPIRED A NEW GENERATION 
Patricia Schroeder, the first woman from Colorado to be elected to the U. S. Congress, died at age 82 just as this issue of Winter Park Magazine was going to press. Schroeder, who might well have been the first woman elected president had she opted to run in 1988, lived in Celebration, not Winter Park. However, her ties to this community and to Rollins College were strong. She — along with Rollins President Emeritus Rita Bornstein and former Orange County Mayor Linda Chapin — formed a triumvirate of powerful women who chose to be defined by their intellects and the causes that they championed. "I have a uterus and a brain and choose to use both," Schroeder famously shot back to a reporter who asked how she could juggle the responsibilities of elective office with those of rearing a family. In 2001, Schroeder was awarded an LLD (Doctor of Laws) from Rollins when she was the commencement speaker at the Hamilton Holt School. She later participated in a college-sponsored conference, "Still Moving That Mountain: Feminism, Past & Future," which also featured Gloria Steinem. Schroeder subsequently co-taught classes on feminist theory and equity issues in legislation with Associate Professor of Philosophy Ryan Musgrave, for whom Schroeder had been a personal hero. The woman who coined the phrase "Teflon president" to describe Ronald Reagan leaves a formidable legacy from her 24-year stint in office, including her role in passage of the Pregnancy Discrimination Act as well as the Family and Medical Leave Act of 1993, which guarantees people up to 12 weeks of unpaid leave to care for a family member. "Her long-game life and career really helped students trace the modern trajectory of women's opportunities and progress in the United States," says Musgrave.