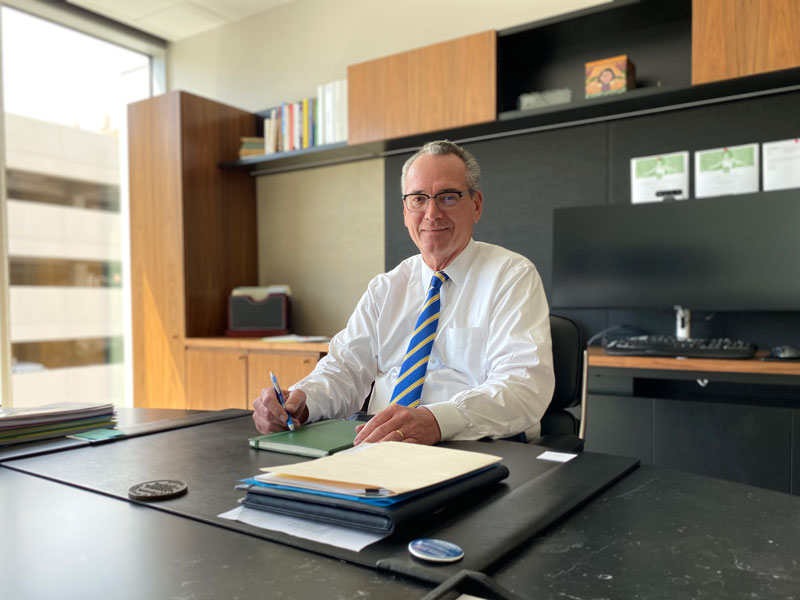 Since its completion last June, the new headquarters of the Edyth Bush Charitable Foundation in Winter Park — known as "The Edyth" — has been as busy as a beehive while fulfilling its promise to become yet another of the venerable institution's instruments for civic good.
In addition to housing the foundation's administrative offices, the 16,934-square-foot building — designed by SchenkelShultz Architecture — has provided showcase space for the Alzheimer's and Dementia Resource Center, and plans to host meetings for the Bach Festival Society of Winter Park and the Second Harvest Food Bank of Central Florida.
Also on the schedule is a staff training session for IDignity — the Orlando-based nonprofit that helps those in need to navigate the complex steps required to obtain government-authorized personal identification — and a summit of executive directors from arts organizations convened by United Arts of Central Florida.
The Winter Park Arts & Cultural Alliance — a city-sponsored consortium of local museums, galleries and performing arts venues — will convene at The Edyth, as will the Chartered Advisor in Philanthropy Study Group, part of the American College of Financial Services, which offers a philanthropy-specific training and a certification program. 
In fact, through November of last year, the $8.2 million facility — located next to Cocina 214 at 199 South Knowles Avenue — had been the site of more than 30 meetings, workshops and training sessions for nonprofits of every kind imaginable, and the annual calendar is rapidly filling up.
"This is an inspiring space for people and their big ideas," says President and CEO David Odahowski, who has led the foundation for 32 of its 50 years. "There's only so much you can do in writing a check. But if you can bring people together so they can share ideas, it becomes much more powerful."
The sleek three-story building, which is surely a model for Louis Sullivan's architectural maxim "form follows function," is meant to serve as a gathering place, a creative hub and a connection point for nonprofits, their leaders, patrons and clients. 
"It'll take several years to see the full potential of this," adds Odahowski, 66, who considers the foundation and its state-of-the-art headquarters to be a major impetus in transforming downtown's quaint historic district into much more than a charming shopping and dining destination. "We may have to start calling Park Avenue 'The Avenue of Ideas.'"
If the name catches on, it won't be hyperbole.
The Edyth will ultimately be joined by the Innovation Triangle, which is planned by Rollins College on what's now known as the Lawrence Center — a city block owned by the college and bounded by New England, Interlachen, Lyman and Knowles avenues. The site sits just a block south of the foundation's headquarters.
According to college officials, the 40,000-square-foot building now occupied by Valley National Bank and other tenants would remain on the northwest corner. Two new buildings — one housing the Roy E. Crummer Graduate School of Business and one housing the Rollins Museum of Art — would be built on the southeast and northwest corners, respectively. 
The third component of the triangle is the 112-room Alfond Inn, also owned by the college, which is adding a new wing that will encompass 71 guest rooms, more meeting rooms, a four-story atrium and new spaces to showcase rarely seen pieces from the museum's Alfond Collection of Contemporary Art.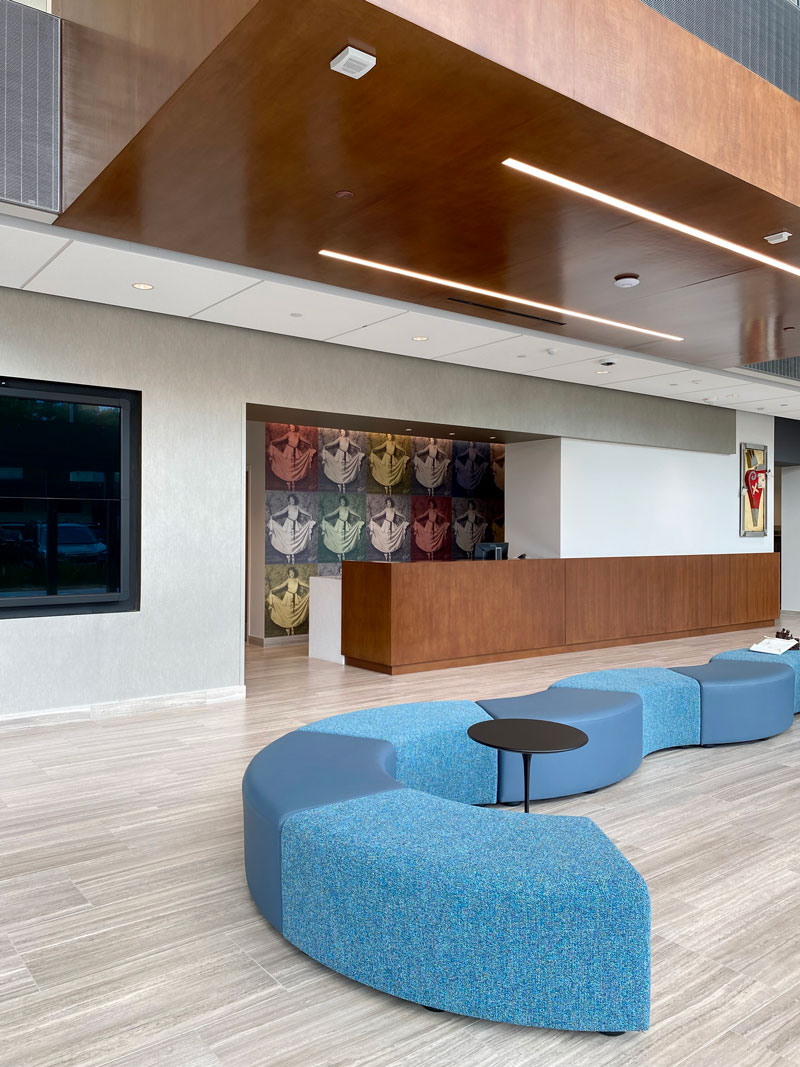 The Alfond expansion will be finished by next summer. But each of the Innovation Triangle's other components is dependent upon fundraising, which was temporarily upended by COVID-19. Planning for the project is again proceeding apace — although no firm timeline for its completion has been released.
"Between our project and the Innovation Triangle, downtown Winter Park will be buzzing," says Odahowski. "I think these projects will have a real placemaking effect on Winter Park. We'll be talking with the college about ways we can work together with completion of the Innovation Triangle."
In the meantime, the Edyth Bush Charitable Foundation hasn't slowed down. Since its launch in 1973, it has awarded more than $114 million to almost 900 organizations, many of which are involved in education, healthcare and human services. 
But the foundation casts a wide net — and was the first and largest contributor to the Winter Park Library and Events Center in Martin Luther King Jr. Park. The $750,000 matching grant gave the project — which was controversial in some quarters — a seal of approval from one of the region's most respected philanthropic organizations.
Another part of the foundation's mission is to provide management assistance for nonprofit leaders, which it does through the Edyth Bush Institute for Philanthropy and Nonprofit Leadership at the Crummer School of Business. About 3,000 nonprofit executives and board members from around the country participate in the program every year. 
The foundation's educational component has been further bolstered, says Odahowski, by The Edyth's ability to bring together organizations that are doing good in the community and "to provide the tools, space and resources that many nonprofits would not have access to otherwise."
As a homage to Edyth Bassler Bush, the actress-turned-philanthropist who started the foundation, the building's front elevation suggests a stage and its side wings. The dramatic, three-story glass façade symbolizes a giant curtain and signals transparency. 
"We want people to see us working," Odahowski says. "We want to see the community and its needs."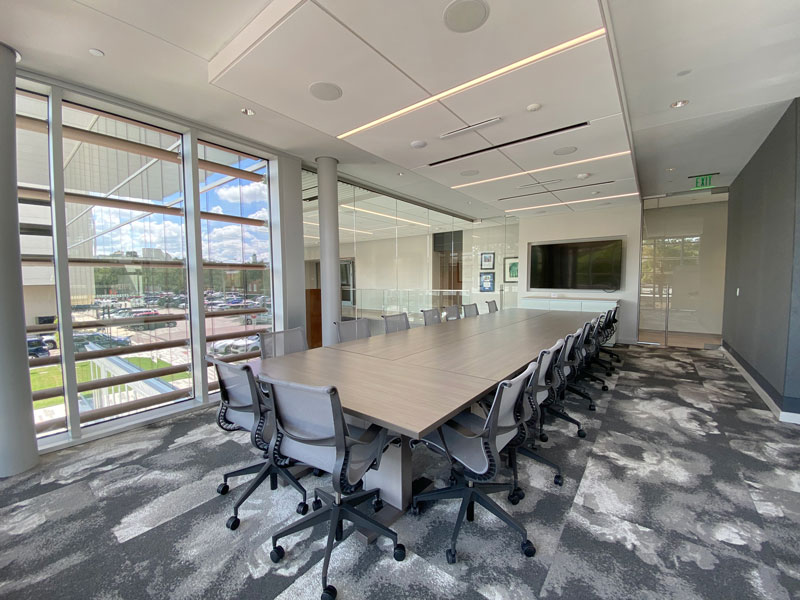 The first floor, dedicated to Mrs. Bush, has meeting rooms and open space for receptions, exhibitions and performances. The second floor is called "The Archibald" in honor of Mrs. Bush's husband, Archibald Granville Bush — "Archie" to his friends — who made his fortune by investing in "a little sandpaper company" that would become 3M.
Archie's floor contains space for tenants with symbiotic goals — currently the Alfred I. duPont Charitable Trust — and a high-tech community meeting room with access to a kitchen and a collaborative space.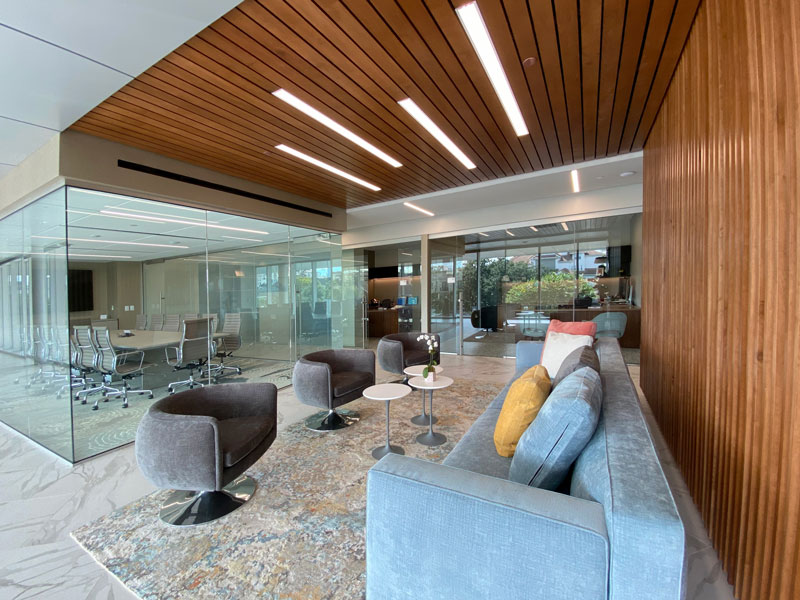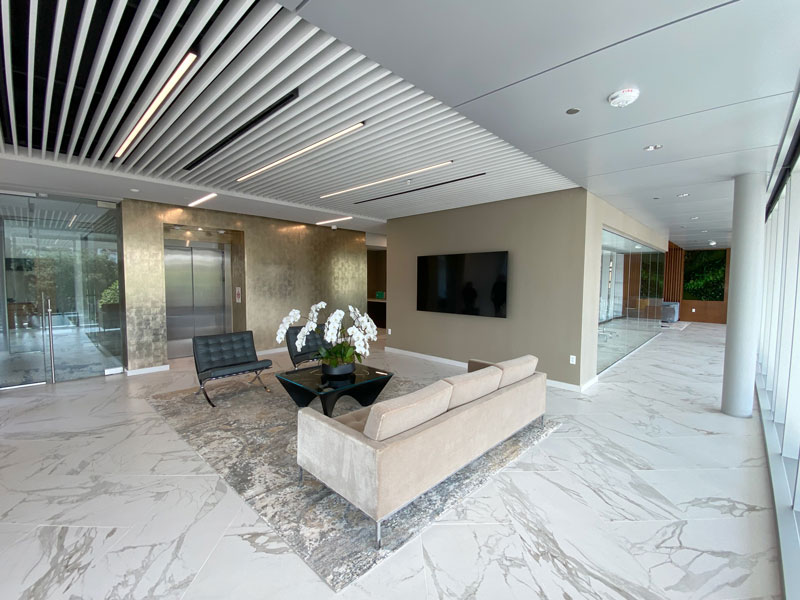 Administrative offices are on the third floor. Works that have won the foundation's Art of Philanthropy awards at the Winter Park Sidewalk Art Festival are prominently displayed throughout the building.
Odahowski, who prefers to keep a low profile, has nonetheless come to be known as "Mr. Winter Park" for his scrupulous stewardship and his personal embodiment of the foundation's slogan: "We're Here for Good."
The epitome of "Minnesota nice," Odahowski
earned a law degree from Hamline University School of Law in St. Paul. He likes to point out that as a student, he studied in Hamline's Bush Memorial Library — named for Mr. Bush — never dreaming that one day he would run a foundation that carried the Bush name in far-away Florida. 
Odahowski — who with his wife of 40 years, Heather, has three adult children and two grandchildren — doesn't see completion of The Edyth as the culmination of his career with the foundation. 
For one thing, he plans to work another five years as president and CEO before transitioning into an advisory role on the foundation's board. There's plenty of good work yet to be done.
That's not a surprising stance from Odahowski, the Winter Park Chamber of Commerce Champion of the Year in 2020 and the organization's Lydia Gardner Citizen of the Year in 2022, who often cites as his personal philosophy a quote from theologian John Wesley: 
"Do all the good you can, by all the means you can, in all the ways you can, in all the places you can, at all the times you can, to all the people you can, as long as ever you can."
And for another thing, Odahowski views the building — impressive as it may be — as merely a means to a more important end. 
"The building is something physical; it's only a tool for bringing people together," he says. "It's not for ourselves, but for the future of Winter Park and its tradition of philanthropy. We will have failed if we have just built a pretty building. It has to be useful; it has to be imaginative." 
---
MEET THE ORIGINAL ARCHIE AND EDYTH
Edyth Bassler Bush (1887–1972), whose name would one day become synonymous with philanthropic giving in Central Florida, was a successful actress, ballet dancer and playwright until she gave up her stage career in 1919 to marry Archibald Granville "Archie" Bush, sales manager for the then-struggling Minnesota Mining and Manufacturing company. 
Archie was not wealthy at the time — but later became chairman and largest individual shareholder of the company now known worldwide as 3M. The couple moved to St. Paul where, in 1941, Edyth funded The Edyth Bush Little Theatre, which still stands today. She managed the theater, and directed and performed in many of its productions.
The Bushes first visited Winter Park in 1949, and were greeted at the train station by then-Rollins College President Hugh McKean and his wife, Jeannette Genius McKean. The snowbirding midwesterners bought a winter home and began immersing themselves in civic life. 
Most notably, the Bushes helped found Winter Park Memorial Hospital (now AdventHealth Winter Park). After Archie's death in 1966, Edyth settled in Winter Park permanently and focused her giving on education and the arts. 
In 1967, for example, she funded construction of Loch Haven Cultural Park's Central Florida Civic Theater, which was renamed the Edyth Bush Theater following her death. (It's now known as Orlando Repertory Theater.) In 1968, a musical she had written in St. Paul, Old Man Moon, was performed by the Rollins Players.
In memory of her husband, Edyth also gave an $800,000 gift for construction of the original Archibald Granville Bush Science Center at Rollins. The year following her death in 1972, her foundation — first formed in 1966 as the Edyth Bush Foundation — was reincorporated as the Edyth Bush Charitable Foundation.