PHOTOGRAPHY BY CARLOS AMOEDO AND BLAKE JONES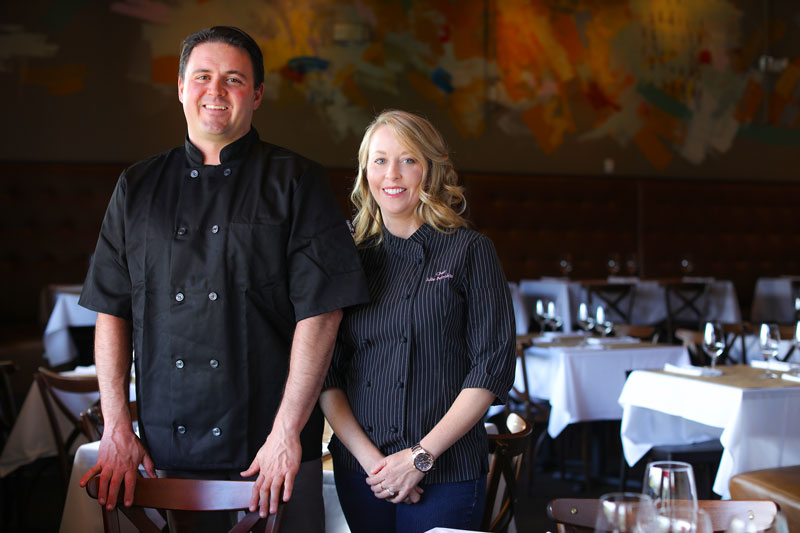 Celebrity cook Julia Child famously said, "The real test of a good chef is a perfectly roasted chicken." I concur. Like many determined home cooks, I've taken on the whole-bird challenge whether pan-seared or convection-heated.
I've turned out tasty dishes aplenty — but perfect? Never. A perfectly roasted chicken is hard to achieve. So, I would have snickered when James Petrakis described the confit chicken at The Ravenous Pig as "just a perfectly roasted chicken." 
Only I couldn't muster up even a snicker. This plateful of poultry is so special that Petrakis, who co-owns the Fairbanks Avenue restaurant with his wife, Julie, deserves bragging rights.
Still, Petrakis deflects the kudos to someone else. "It's one of Clay's signatures," Petrakis says, generously giving credit to Clayton Miller, another longtime Orlando culinarian and currently The Ravenous Pig's executive chef. 
Here's the gist of it, described by Petrakis:
"Clay mixes butter, bread, truffle and mushrooms and rubs them under the skin. Then he roasts the whole thing. The butter and bread seep into the chicken, while the truffles keep it all super moist. On top, he has a pretty serious chicken reduction truffle sauce. The dish is an ode to his classical training."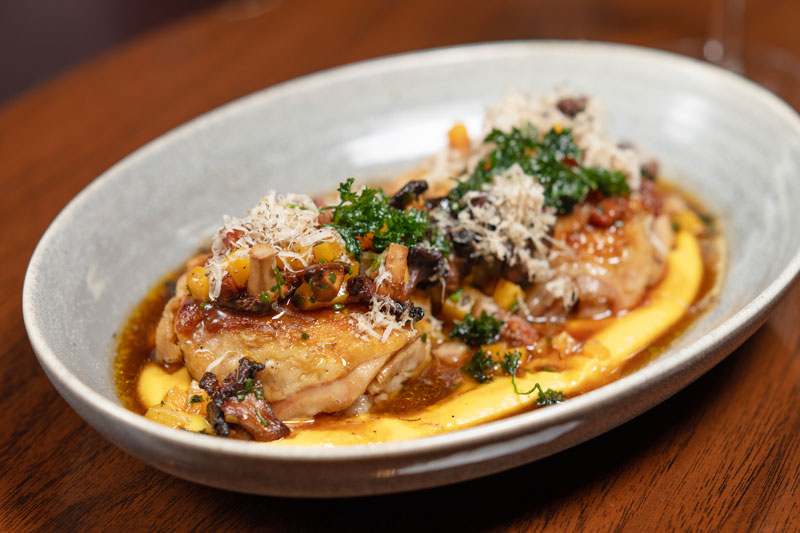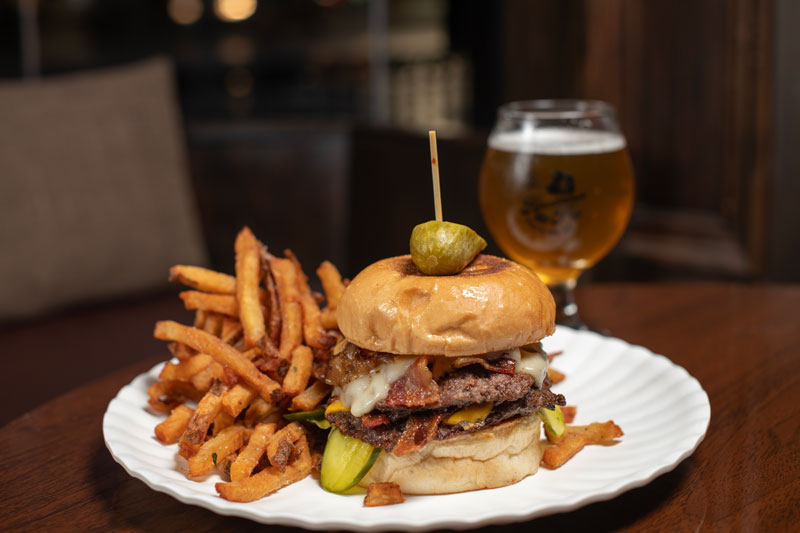 Indeed it is. This roasted chicken — a too-pedestrian description for such a remarkable dish — is also made with pancetta, an Italian ham, and chunks of just-sweet butternut squash. It arrives at the table on a hearty stoneware plate. The hues hover in the ochre range, glowing like the warmth of a fireplace. 
I would go so far as to say the roasted chicken represents what The Ravenous Pig is today: a restaurant that specializes in elevated versions of familiar favorites, a collaboration of top talents and, as it turns out, a fertile training ground for future chefs. 
Of course, the restaurant was always good, but spotty. Now it offers a tempting menu filled with excellent, well-executed options. And it's a bargain to boot! Most entrees are priced in the $20s. No wonder so many locals visit several times weekly.
Miller's presence has been a boon. While the Petrakises were running the original Ravenous Pig, which opened on nearby Orange Avenue in 2007, Miller was working at such renowned restaurants as the Michelin three-star French Laundry in California's Napa Valley.
He also served stints at Daniel, a Michelin two-star eatery owned by celebrity chef Daniel Boulud, and at the original Norman's at the Ritz-Carlton Orlando. Food and Wine listed Miller among its "Best New Chefs" in 2010 for his work at Trummer's on Main, in Clifton, Virginia.
Now he's part of the Pig's dream team, balancing James and Julie's rustic twist-on-comfort-food shtick with a detail-oriented classical French orientation. "Clay has evolved us to something new," Petrakis says. 
He continues: "Clay saw that people today want sophisticated, upscale food but not the fuss," he continues. "So, we married our skills and changed our menu. If you're complacent, you're going to die. With all the talent we have in Orlando right now, we've got to be ever evolving."
The Petrakises and Miller back each other up personally, too, stepping in if one or the other needs time with their households full of little boys.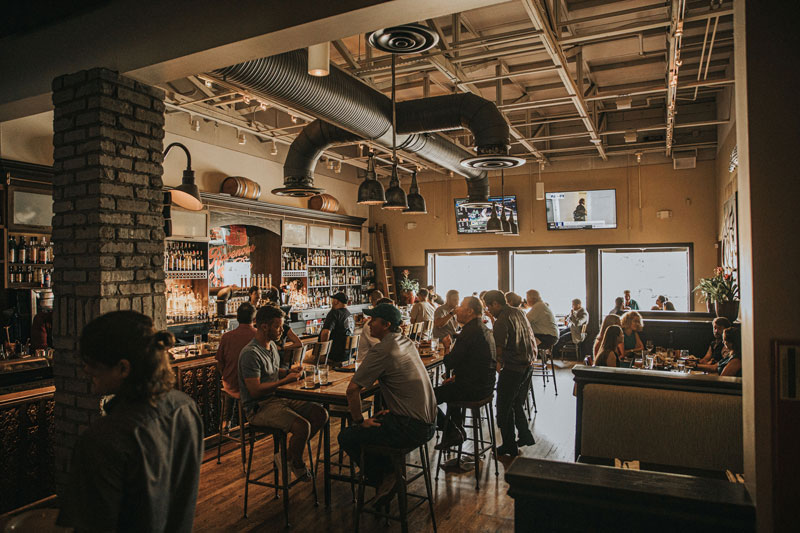 The wood-spoon-wielding staff includes two additional highly regarded pros. General Manager Scott Geisler polished his skills at the service-serious Norman's before overseeing restaurant operations at Barnie's CoffeeKitchen in Winter Park. 
And Brian Cernell, a specialist in the sweet science — we mean dessert, not boxing — is remembered for his creative confections at the now-defunct Luma on Park. Cernell bakes bread every day, too. So, as you might expect, it would be hard to go wrong with an all-star team like this one.
Unless, of course, there wasn't a shared vision and plenty of personal chemistry. However, that's clearly not the case at the Pig, where this group seems to be having a ball. "This is the best team I have ever had here," Petrakis says. "We're really clicking."
That perfect roasted chicken was far from the only home run hit by the kitchen during a recent visit.
Let's start with the beignets. They're named for the sugary squares of fried dough iconic in New Orleans' French Quarter, but here they're made with mushrooms and Gruyère cheese along with three mounds of tarragon aioli (herb-flavored mayo) and dollops of Romanesco sauce — a robust blend of tomato, almond and red bell pepper. 
If that isn't an exciting enough way to start your dining adventure, complement your first course with chilled octopus. The soft-bodied, eight-limbed sea creatures are sliced into bite-size pieces, then plated with chickpeas and jalapeño slices that are served over pureed pickled cauliflower and topped with a light cumin vinaigrette. 
"A la vodka" sauce with pasta evokes nostalgic Italian classics "from an imaginary Mario and Luigi's place," as described by Petrakis. Housemade potato gnocchi, tooth-tender logs, are tossed with plump snails and cauliflower bites in a frothy creamy sauce and served in a shallow bowl.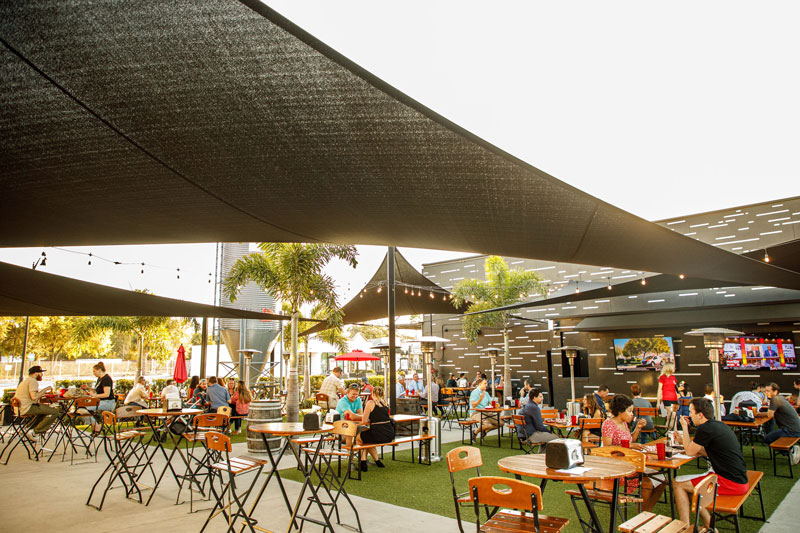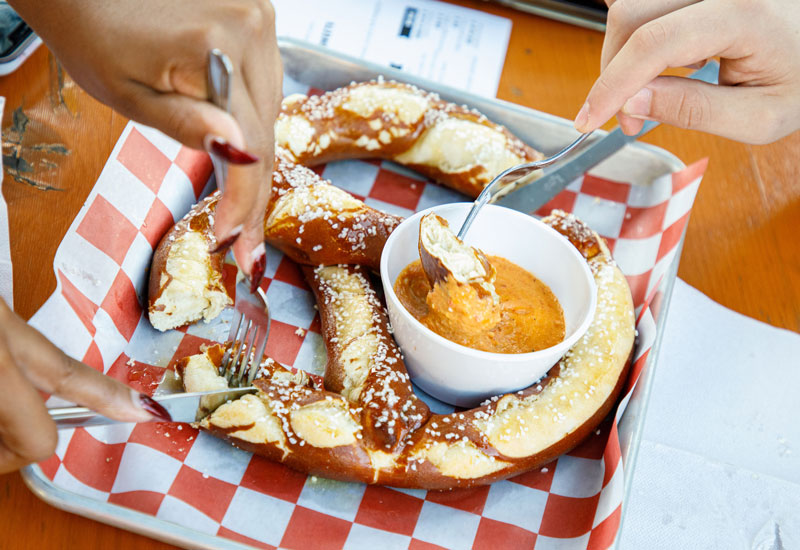 With appetizers and pastas like these, many customers now forgo entrées in lieu of mix-and-match smaller dishes. A list of eight a la carte vegetables, such as charred broccolini and cheesy potatoes with Mornay sauce, are tempting, as are housemade charcuterie options such as bresaola salami and guava-glazed bacon.
Still, we went old-school and tried full-plate entrees. One was the chicken we've been clucking about, a blessing priced at $28. 
Another was the moules-frites (mussels and french fries). The Belgian-style dish encompasses a huge portion of steamed mussels in an orange-fennel sauce. Chunks of (too) mild housemade sausage, rugged oversized crispy croutons and tender jumbo garlic cloves add texture and dimension. Beautifully browned fries served on the side are meant for dipping.
"This dish is 100 percent Clay," Petrakis says. "He takes the time to make mussel stock to create the sauce. Then he steams the mussels in the sauce, so you get a double-mussel flavor."
It would take a dozen people, or visits, to try out today's Ravenous Pig menu. Meats are now dry-aged in house and, even at $95, a 30-ounce dry-aged bone-in angus ribeye with bordelaise sauce and béarnaise butter sounds like the meal of the year. 
Or a dry-aged duck crown with Chinese five-spice and celery root puree. Or milk-and-honey-
marinated pork collar with glazed root vegetables. Or whatever is on the menu, which changes frequently.
I only tried one of Cernell's desserts, but I'd get it again — even though the restaurant's forever-popular Pig Tails donuts beckon, too. Simply called s'mores, the dessert-in-a-jar consists of gentle, meringuey, homemade marshmallow fluff along with a spoonable graham streusel bottom and dark chocolate ganache. Scratch-made, every bite.
I'm so busy gushing that I'll gloss over the rest: In addition to a carefully curated wine list, you can sip small-batch craft beers made at an on-site brewery, the Ravenous Pig Brewing Company. Within the brewery space, you can also dine with a private group.
Outside, the Beer Garden opened in 2021. It's a super-chill expanse with bar foods such as smash burgers and a fried chicken sandwich that rivals those at our city's multitudinous chicken-only outlets. Here, chicken sandwiches — among other offerings — are made in a custom food truck parked to one side of the building. 
We experienced some inconsistencies dining outdoors, such as a so-so mushroom quesadilla that looked entirely different when served twice during one meal. And the service on a recent visit ranged from excellent to absent.
But, especially now that more of the beer garden seats have backs, this is an enticing (and inexpensive) go-to for everyone. Children play, dogs romp (it's a pet-friendly space), fans watch football (or whatever), and Rollins College students and parents meet up.
Elsewhere, the Petrakis enterprise — the Swine Family Restaurant Group — is behind The Polite Pig at Disney Springs and Cask & Larder restaurants and markets in two Orlando International Airport terminals. 
Not bad for a couple of Winter Park kids, eh? James and Julie both grew up right here, then met as students at the Culinary Institute of America in Hyde Park, New York. They've been semifinalists for the James Beard Foundation's "Best Chef-South" for four consecutive years and have authored a cookbook, The Ravenous Pig: Seasons of Florida.
"The most exciting thing is we can teach kids to be culinarians," James says. "Just recently, two people came to us with no experience, and now they're going to the Culinary Institute of America. The Ravenous Pig is a fun place to be right now."
As for all that innovation — it's just taking a break. Petrakis confides that he and Julie are working on a new project within the borders of Winter Park. I get ravenous just speculating on what it might be. 
The Ravenous Pig
565 West Fairbanks Avenue, Winter Park
407-628-2333  heravenouspig.com