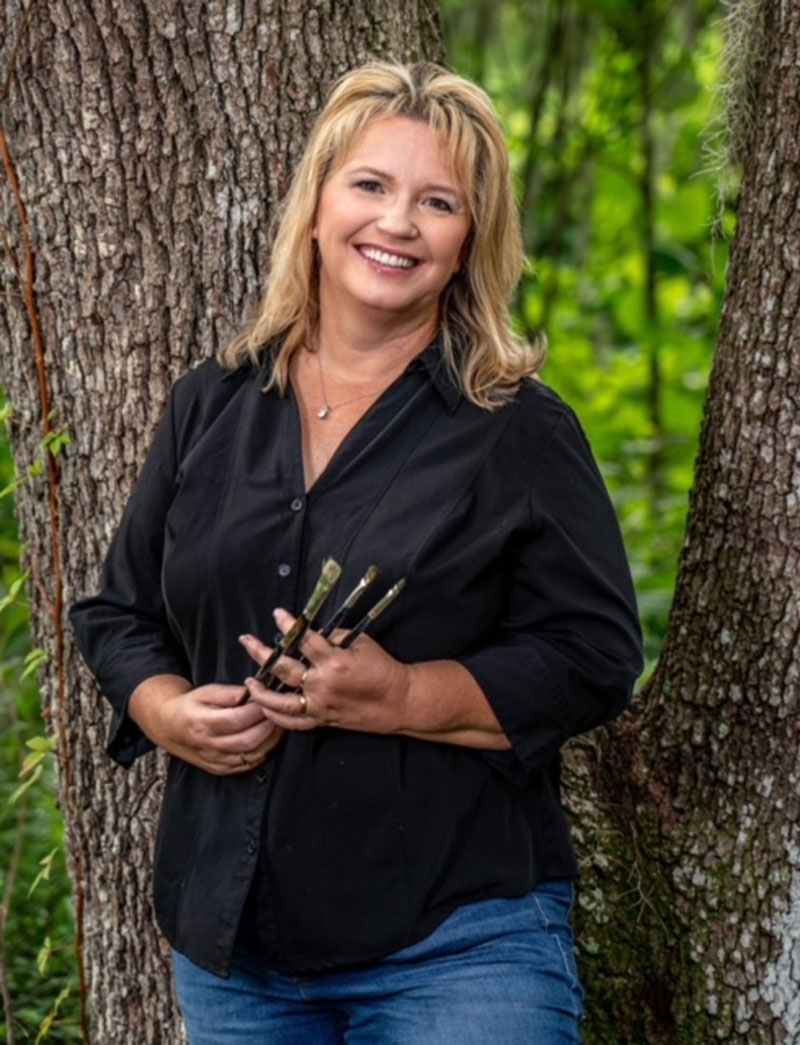 This is, after all, Winter Park Magazine. So there's no way that too many issues would pass without our featuring a peacock on the cover. After all, a peacock anchors the city's logo.
The problem is, how do we ensure that each image of the iconic bird that we use is so unique stylistically that it doesn't look like we're just being lazy?
Sarasota-based artist Michelle Held solved that problem at the 2022 Winter Park Paint Out, held by the Albin Polasek Museum & Gardens. 
Held's vibrant painting of a peacock — which she encountered in the Windsong neighborhood, where most of the city's preening peafowl call home — seemed to almost jump off the canvas with a signature screech.
Held, a Paint Out regular whose subjects often include birds and other wildlife, usually stays with a friend who lives on Genius Drive in Windsong during her annual sojourns to Winter Park. 
So, naturally, she had encountered numerous peacocks strolling through the upscale neighborhood as though they owned the place. Which they sort of do. 
Hugh F. McKean and his wife, Jeannette Genius McKean — artists, philanthropists and civic leaders — once lived on the then-undeveloped property in an estate called "Wind Song." 
The McKeans brought the first peacocks to town in 1950 and gave them free reign to roam the woods and groves where custom homes now stand. For decades, the couple invited anyone who wished to visit their property and have a look at the colorful creatures. 
Today, 48 acres of the Windsong property, called the Genius Preserve, is owned by the Elizabeth Morse Genius Foundation. The lush acreage encompasses the McKean home — now unoccupied — as well as prides of peacocks descended from those that the McKeans unleashed more than 70 years ago. 
"I see peacocks all the time when I'm staying here," says Held, who's a muralist and a specialist in creating faux finishes in addition to being a fine-art painter. "Sometimes, they bring their babies. So I did this painting from life."
Visit artbymichelleheld.com to see more of Held's work.
—Randy Noles