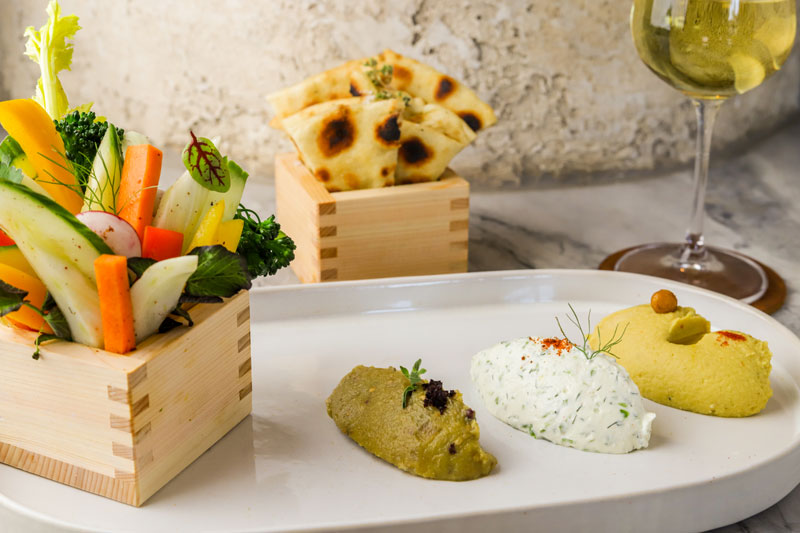 Is this Winter Park, or Miami? Step into Ava Mediterr-Aegean and you're seemingly transported 250 miles south. The youngish crowd sizzles with energy, and everyone in sight — from employees to dining guests — is stylishly clad. It's not your typical laid-back Park Avenue crowd.
Perhaps that's because the restaurant has a "smart-casual" dress code that prohibits gym wear and flip-flops. You don't see dress codes too much anymore — but you do see people wearing shorts and tank tops in places where they ought not to.
Ava, which opened in February where Luma on Park used to be, is one of those places where you ought not to — even if there were no formal policy describing acceptable dress.
The upscale Greek-inspired eatery — like its swanky predecessor more than a decade ago — has introduced a magnified trend-forward vibe to the city's historic retail-and-restaurant strip.
The food is inspired by Aegean flavors — and yes, hummus is offered. The décor honors that region of the Mediterranean with arches and white stucco. The vibe, though, somehow melds Latin-American dynamism with South Beach panache. Such fun people-watching!
As you'd hope for in a restaurant with entrées priced from $26 to $90, Ava has a chef-driven kitchen as well as serious handcrafted cocktails. It also infuses branding savvy into every aspect of its operation.
For example, Ava has its own scent that subtly wafts through the dining room via diffuser machines — and makes restroom products smell nice, too.
You may not notice the aroma, yet its presence will, in theory, shift your sensibilities to the summertime "Mediterranean and Cycladic coasts," according to the restaurant's marketing materials. Among the signature scent's key elements are "sun-kissed musks," "cashmere woods" and "milky fig sap," the latter of which contributes "clean green limpidity to the heart notes."
I couldn't have said it better myself.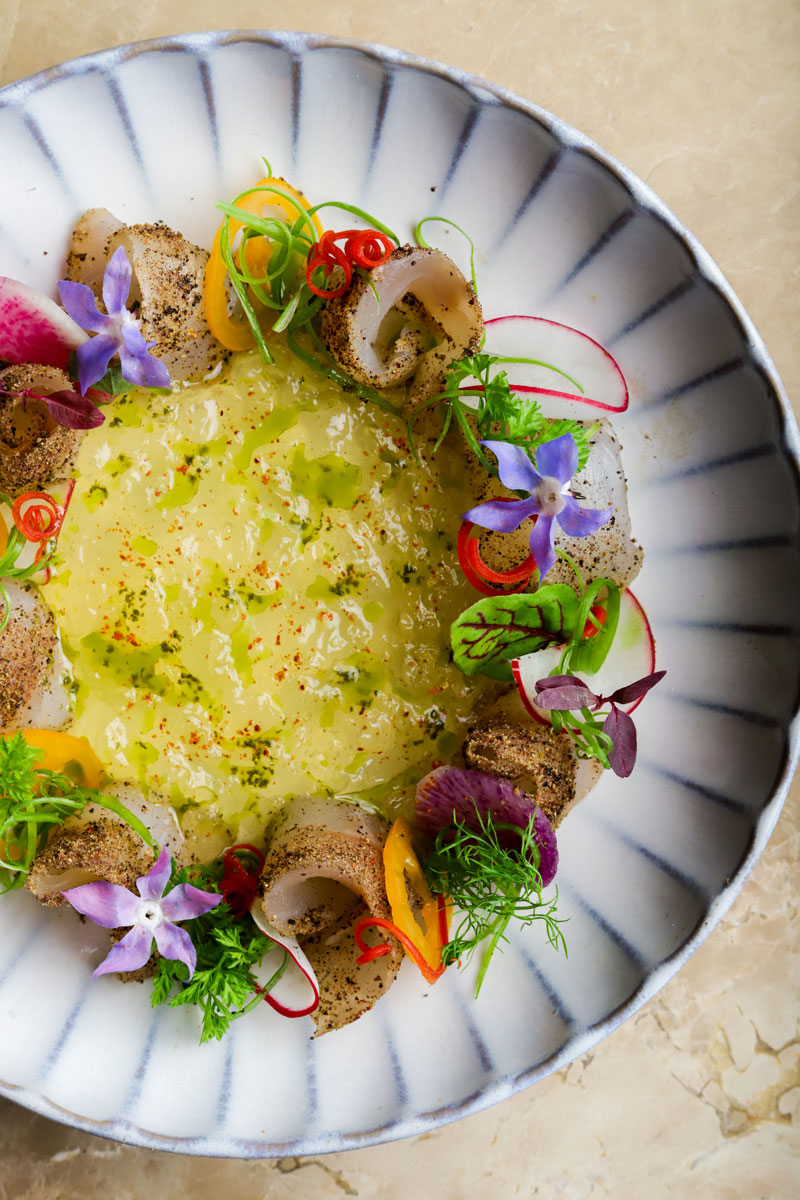 Ava has a chief branding officer, Marine Galy, with whom I had a lengthy phone conversation after my anonymous dinner at the restaurant, which I paid for, as per magazine policy. Joining us on the call were heads of the culinary and marketing departments along with a media relations representative.
I later learned that Galy is co-owner and co-founder of Riviera Dining Group, which runs Ava as well as Mila, a "MediterrAsian" concept in Miami. Another restaurant, Casa Neos, is also under development in South Florida.
An additional example of Ava's dedication to branding: The restaurant, after agreeing to a photo shoot, abruptly backtracked and insisted on providing its own images for this story. That's highly unusual. Most restaurants are thrilled to host a photo shoot. Just sayin'.
Of course, that's all inside baseball and important only to a reviewer (who's unaccustomed to such a tight message-control operation) and her inconvenienced photographer. You want to know this: How's the food? Is it worth wearing long pants and closed-toe shoes for?
We'll get to that. Ava — as its operators will be the first to tell you — is all about the experience, of which food is a key component but not the only component.
Along those lines, I can say that the restaurant provides a thought-out experience geared toward pleasing all the senses. For example, a curated repertoire of global music plays in the background.
"You're not going to dance, but you'll feel transported," says Galy, who notes that the carefully curated (and, I'm sure, market tested) soundtrack includes both Balkan downtempo beats and traditional Greek instruments. Duly noted, but the tunes were a bit loud for my taste — especially in an already noisy environment.
For a decidedly less subtle visual treat, the chefs finish dishes in an exhibition kitchen and the servers theatrically present several of them on oversized dishes, under smoky domes or set ablaze at the table. Your guests, if they like dinner and a show, will be suitably impressed.
So, here's how an Ava evening might play out. Upon arrival, you'll be greeted at a small stand with a bar behind it. The lounge, with another bar, is to your left. A stairway down to a private club is in front of you. And the dining room, with its grand kitchen view, is to your right.
I suggest that you dine indoors. I chose an outdoor table, which was amply sized and covered with a white linen cloth. But sidewalk seating simply can't provide the full-on Ava ambiance.
Indoors, you'll note that limestone plaster, gray-tone stone and natural fabrics cover the surfaces in an homage to Greece. Chef Michael Michaelidis, however, is quicker to use the terms Aegean and Cyclades. Are those terms branding-dictated?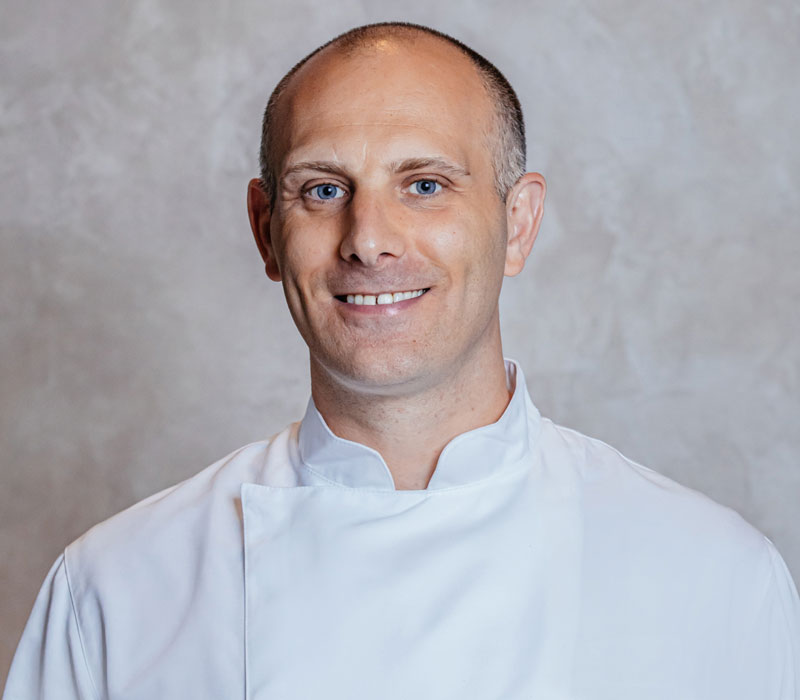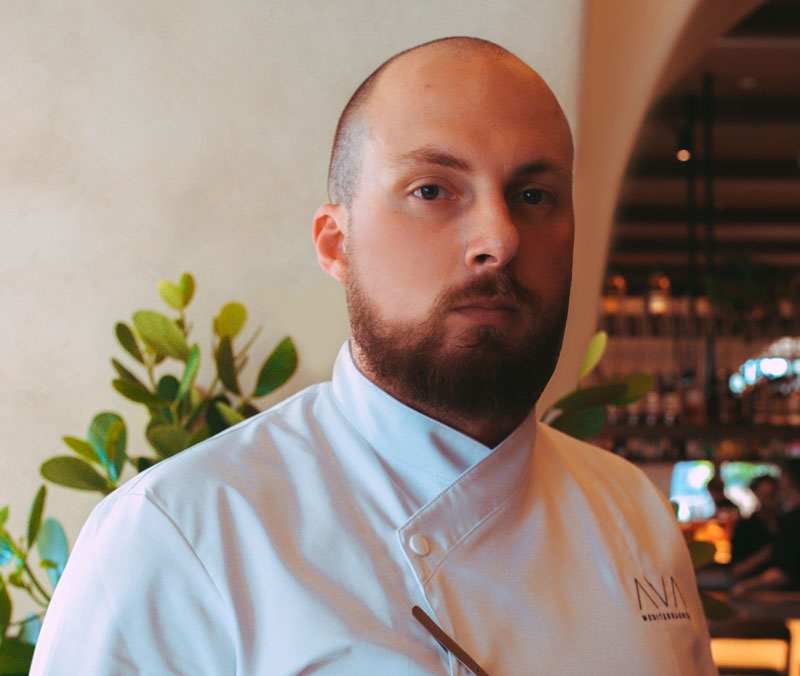 Oh, it doesn't matter. Either way, the décor is beautiful and elicits the intended feel in a classy way. A wooden sculpture along a main dining room wall is by up-and-coming artist Etienne Moyat. Winter Park-area artists will be invited to display their creations, on a rotating basis, near the front door.
And then there's the food. You've likely already thought: "Is she ever going to get to that?" Well, here we go.
In addition to his Mediterranean roots, Michaelidis has culinary cred. As a kid, he fished for octopus with his dad. As an adult, he notched stints at Michelin-rated restaurants around the world.
While Michaelidis works primarily from the restaurant's Miami base, he visits Winter Park regularly to consult with on-site Executive Chef Keith Bombaugh, whose resumé includes a stint at Grant Achatz's Alinea in Chicago.
The kitchen team partners with local farms to buy fresh fruits and vegetables. For (clearing my throat) Cycladese dishes, they import specialties from the source. For example, extra-virgin olive oil from Messenia in Greece's Peloponnese region is a pantry staple.
So much work goes into Ava's cocktails that it's worth beginning your adventure with a spirited starter. "A Toast to Amalfi" is a gin and Campari combo with limoncello, vermouth, Cynar bitters and toasted pistachio.
The use of porcini mushroom as an ingredient drew my attention to the "Onassis Old Fashioned." The mushroom was subtle enough to make the drink better. Brown butter, chamomile and apricot were among the other ingredients. Differently shaped ice cubes were thoughtfully paired with each cocktail.
From there, delve into the appetizers. The flaming cheese, called "saganaki" at pedestrian Greek restaurants, here is grilled halloumi. A server sets the licorice-flavored liqueur ouzo aflame atop the cheese, which is firm yet fork tender. The dish is also served with honey and sesame seeds along with imported caraway, fennel, cumin and coriander seeds.
From the raw bar, we tried the seared branzino crudo. It's a refreshing dish that features bite-size slices of European bass, radish and tomato that surround a tomato consommé jelly. A basil emulsion jacks up what would otherwise be a mild flavor. Salt from the Macedonia Sea and French red chili pepper powder (espelette) add dimension.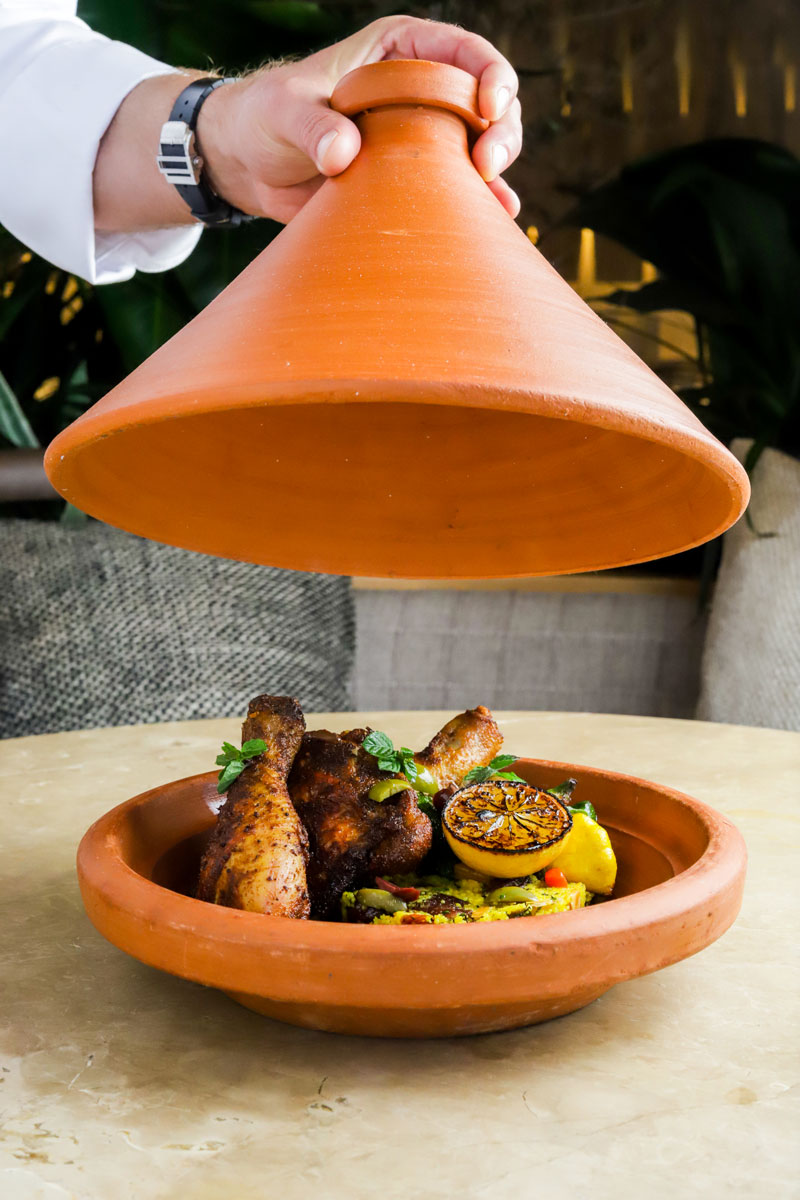 For more familiar flavors, share "The Greek Spreads," which comprise a hearty hummus, a thick and tangy yogurt-base tzatziki and a smoky eggplant caviar. Piping hot lavash bread would have enhanced this starter — instead we received a few wedges of pita that weren't particularly special.
For entrées, it's all but required that you order the octopus. Two long, plump tentacles were served over waves of a roasted tomato romanesco sauce together with red pepper coulis, dollops of Kalamata olive purée and a wedge of grilled lemon.
The chicken tagine, as the name suggests, arrived in a conical Moroccan-style earthenware cooking vessel. With the top lifted, we saw three wee pieces of moist, flavorful bone-in dark meat chicken swimming in a luscious sauce.
The poultry, which had been slow cooked with seven spices, shared a plate with a scoop of saffron-laced couscous and chunks of al dente vegetables. The dish is finished with fresh mint, preserved lemon, and green and black olives. Were the portion larger, I'd have pronounced this entrée perfect.
Equally spectacular, the rack of lamb arrived under a glass cloche. As the server lifted the dome, the smoke — enhanced by dried fennel and wild oregano — danced its way over through our olfactory glands.
The meat, which had been seared over fire and swiped with thyme oil, delivered superb flavor and texture. The half rack was small for $48 — four little chops with a bowl of a saucy thyme demi jus. You might opt for the full rack at $85. It's so flavorful that you'll want to eat double the portion.
Kudos, too, for the barigoule, a side dish in which artichoke hearts are slow cooked in olive oil with citrus zest, oranges, thyme and coriander seeds and served with olives, herbs, garlic crisp and fried Kalamata olive chips.
Overall, the food is impressive — and extra enjoyable in the ambitious setting. One service snafu, however, colored my experience. Ava encourages family-style communal dining by serving dishes in the middle of the table to encourage sharing. Which turned out to be a bit of an ordeal.
The appetizers were, indeed, shareable. The entrées, though, were not. First, they were of standard size, not the larger portions one associates with family-style dining. Second, sharing required my group to reuse our small appetizer plates, which were already smothered in sauces from the first course.
If "parea" (Greek for dining with family and a group of friends) is, in fact, the goal, then servers should have either removed the plates and served the entrées individually or provided fresh small plates and flatware. Still, we polished everything off and still had room for dessert.
Of the three desserts offered other than ice cream, we chose the mille-feuille tart. It's crisp and flaky phyllo dough layered with gentle mascarpone cream, almond crumble and berries, then topped with a berry sauce infused with a light Lillet wine.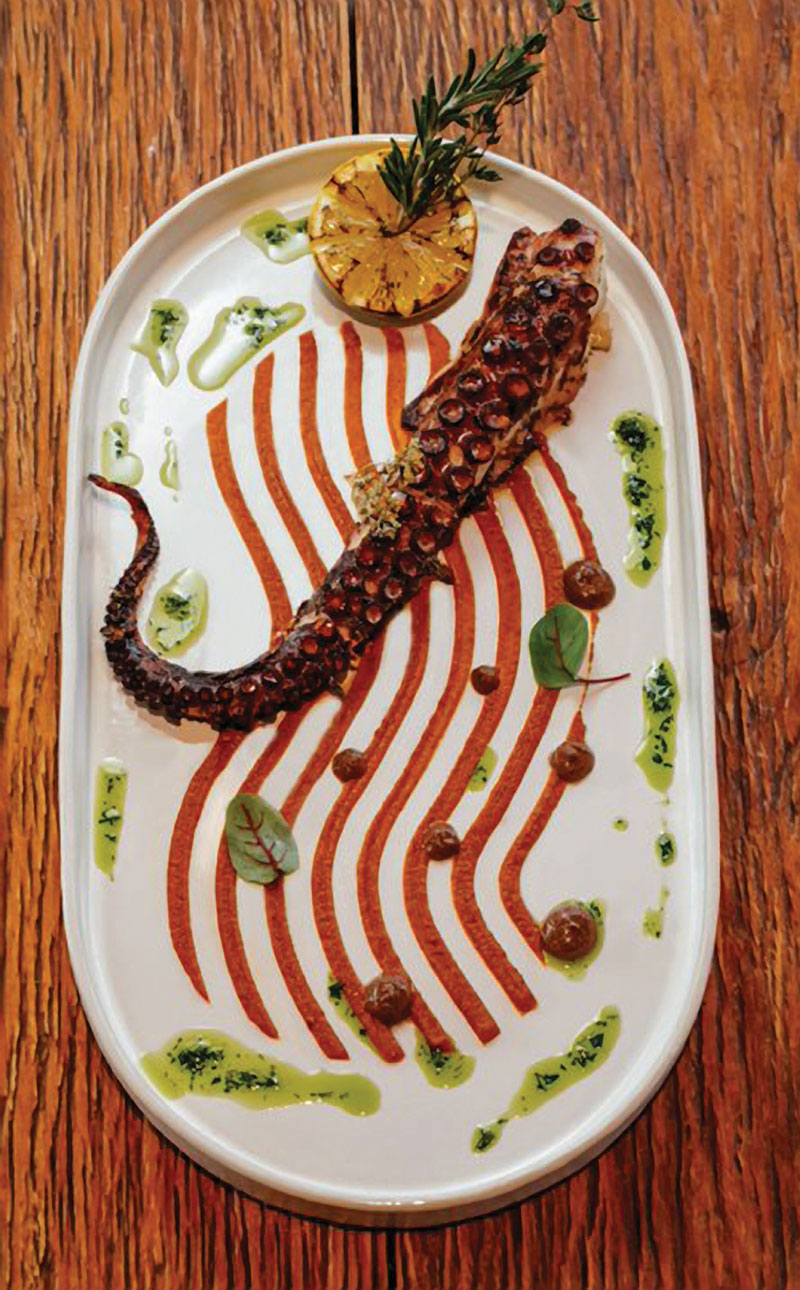 The Ava experience will be further enhanced with the introduction of a members-only space downstairs called MM Club. Fans of Luma on Park will remember that upscale bunker, which was the scene of many special occasion gatherings.
Members will walk through a "secret entrance," Galy says." She describes the "secluded new culinary journey" as "Japanese-inspired and extremely multisensory driven." A sushi-roll bar and a Japanese-driven mixology program will be among the offerings.
Take a trip to the Cycladic region. (Giggles.) Enjoy the sights, sounds, aromas and flavors. A little over-enthusiastic branding — despite my grumbling about it — may very well work magic at Ava MediterrAegean.
Ava MediterrAegean
290 South Park Avenue, Winter Park
407-794-9896
avamediterraegean.com