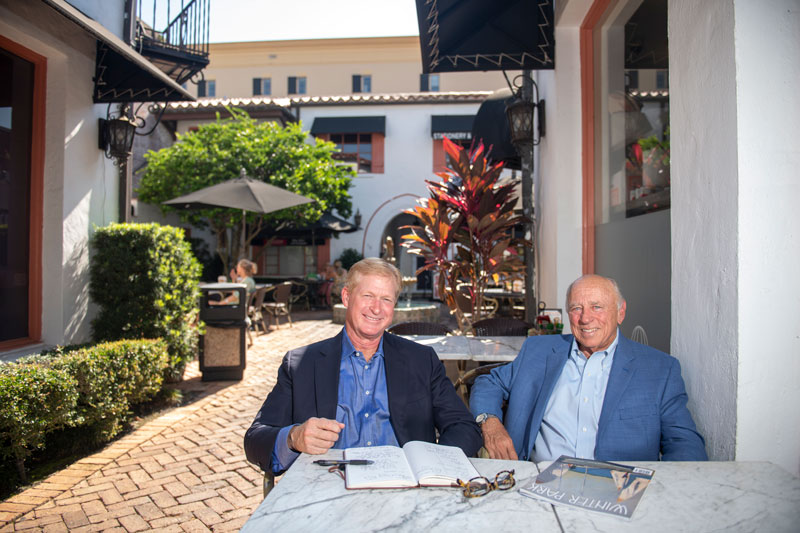 With the September opening of Orlando International Airport's long-delayed Terminal C, the increasingly fraught experience of air travel has become just about as hassle-free as anyone could reasonably expect in 2022.
And even the inconveniences — OIA still notches more late flights than average, for example — are far more tolerable when you're cooling your heels in such a gorgeous and welcoming environment.
They call it "The Orlando Experience." When visitors arrive at MCO — which stands for McCoy Air Force Base, the facility's designator code from 1957 — they realize almost instantly that Central Floridians don't scrimp when it comes to making a good first impression.
That's not true of many other destinations, where time spent at the airport is, by definition, not time well spent.
The 1.8 million-square-foot, $3 billion airport expansion, however, is a modern marvel of sophisticated design and state-of-the-art technology that emphasizes the region's natural beauty and neighborly disposition. If being the home of Walt Disney World has taught us anything, it's taught us how to treat guests in our homes.
Best of all, the sprawling structure's iconic architecture — incidentally, when is the last time you visited an airport and remembered anything distinctive (in a good way) about it? — is augmented by technology that streamlines the arrival and departure processes and even eases all-but-inevitable luggage retrieval ordeals.
Well, good for us! But what, you may ask, does any of this have to do with Winter Park? Plenty, as it turns out.
Carson Good, chair of the Greater Orlando Aviation Authority, was appointed in 2019 by Governor Ron DeSantis and lives in Winter Park. Let the record show that during Good's tenure, the expansion has finally been completed after decades of unanticipated hurdles: the 9/11 terrorist attacks in 2001, the economic collapse in 2008 and the still-smoldering pandemic that began in late 2019.
Another Winter Parker, Jeff Fuqua, was an authority member from 1986 to 1994 and again from 1999 to 2010 — during two of those three disasters — and chaired the organization for 13 years. He says that GOAA's get-'er-done culture is attributable to John Wyckoff, the original executive director who oversaw the airport's $300 million initial phase.
"I learned from a great visionary," says Fuqua of Wyckoff, who ran the airport from 1976 to 1991 and died in 2014. "John was a renaissance man. The city fathers bought so much land (11,600 acres) that it allowed the expansion you see today. You could fit Miami International, Los Angeles International and JFK in New York into our property and have room left over."
The monumental project was conceived some 30 years ago, during Fuqua's first stint on the authority. Today, in recognition of his service, a road dubbed Jeff Fuqua Boulevard loops around the spectacular new terminal and the airport's parking garages.
Both men — who could live anywhere they choose — know something about what it means to create a sense of place. Fuqua, an Orlando native, moved to Winter Park in 2004 and says "it's been a discovery" to learn how peaceful his Lake Osceola home is despite its location near the city's bustling business district. "And I love the lakes," he adds.
Good, who was raised in Coconut Grove, praises Winter Park's sense of scale and its lush foliage. "You have to know who you are and what you want to be," says Good of cities. But he extends that viewpoint to airports. "When you get off an airplane," he adds, "the ambiance of the airport should tell you where you are."
The day-to-day running of OIA — which, given its personality, couldn't be mistaken for an airport anyplace else — is the responsibility of a chief executive officer. Since March of this year, that person has been former Florida Transportation Secretary Kevin Thibault.
Big-picture governance, however, is provided by GOAA, a seven-member volunteer board that includes the mayors of Orlando and Orange County — who hold permanent seats — and five gubernatorial appointees who generally serve three two-year terms.
Usually, like Good and Fuqua, they're high-powered, well-connected sorts who haven't suffered too many business failures in their lives. Or if they have, they've learned from them.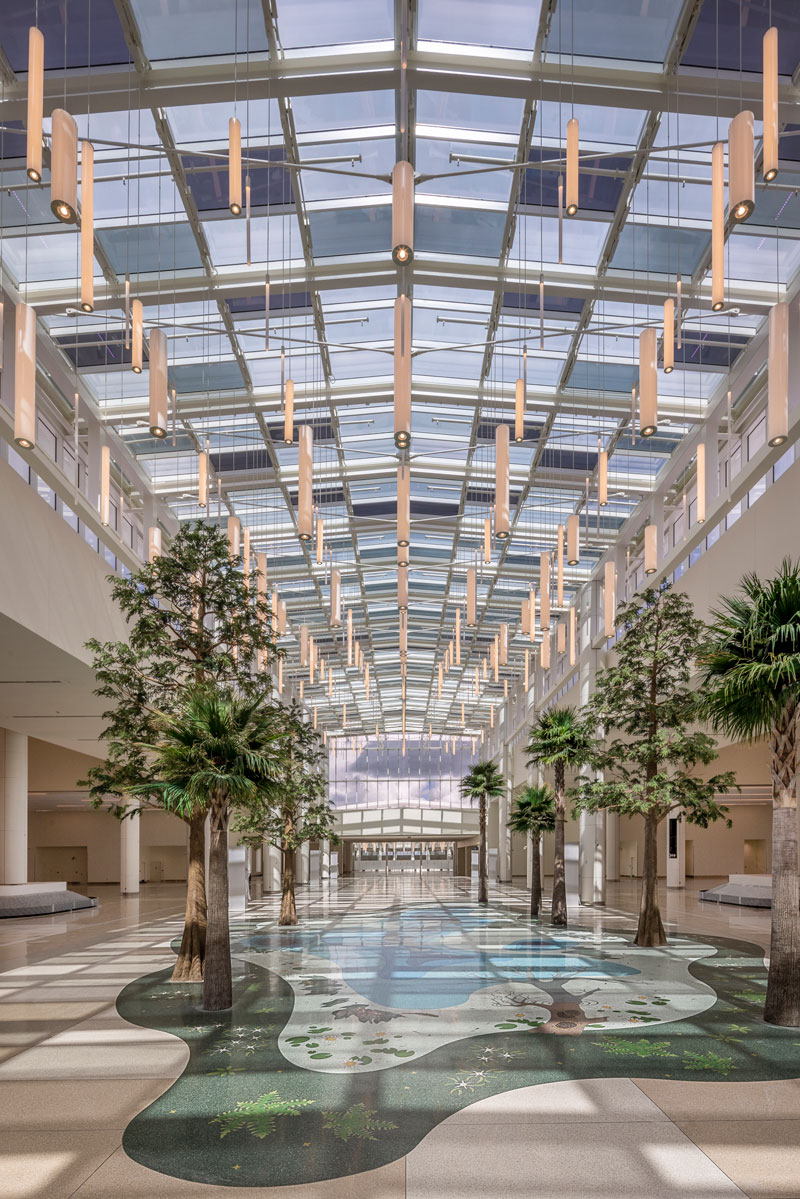 They're people like Good, president of Good Capital Group, a company that makes investments in commercial real estate. And Fuqua, a longtime land developer who has more that 22,000 residential and commercial tracts to his credit and is now president of Amick Holdings Inc.
In addition to being savvy and successful, both men boast extensive civic resumés and, like most locals, are genial and value friendliness in others. "That's one thing I love about Winter Park," adds Good. "The people here are interesting and they're genuinely nice."
Good, who holds undergraduate degrees in English literature and business administration from Florida State University and an MBA from the Rollins College Crummer Graduate School of Business, has most recently served on the advisory board of the University of Florida master's in real estate program and chaired the Orange County Planning and Zoning Commission.
Fuqua, who earned undergraduate, master's and doctoral degrees in mathematics from the University of Miami, can reel off at least 15 past board memberships, and most notably still serves as secretary of the Martin Andersen-Gracia Andersen Foundation — launched in the 1960s by the influential former owner and editor of the Orlando Sentinel and his wife, a generous patron of the arts.
Today, Good and Fuqua (who is no longer involved with GOAA) believe that travelers will find the much-anticipated expansion — designed by Fentress Architects, an international firm known for large-scale public architecture — to be a worthy (and user friendly) gateway to the region.
"I never thought we wouldn't make it," notes Good, who watched traffic plummet to almost nothing at the outset of the pandemic. "You can't let yourself indulge ideas that something won't work if you're a leader."
Throughout history, he says, civilization has been advanced by ports. "Airports are the ports of the future," he adds. "They're the single most important economic drivers in Florida and great enhancements to our quality of life if they grow the right way."
With the terminal's completion, OIA employs more than 20,000 people, a gain of between 1,000 and 2,000 jobs, not including jobs generated by airlines and suppliers. Its economic impact, officials say, is north of $40 billion annually.
Best of all, OIA — like most large commercial airports — requires no local tax revenue to operate. Half the $683,585 annual budget is covered by fees from carriers, while the other half is covered by assorted user fees, including such activities as parking and rental income from concessionaires and service providers.
Of course, the COVID-19 years were different. Most airports — Orlando's included — were bolstered by various federal pandemic relief programs beginning in 2020. For example, GOAA used $144.8 million in relief funds for the payment of bond debt. And federal infrastructure grants have bolstered construction of Terminal C.
But traffic and revenues have rebounded to stratospheric pre-pandemic levels and OIA retains its AA standing from the major rating agencies, ensuring access to capital for further improvements.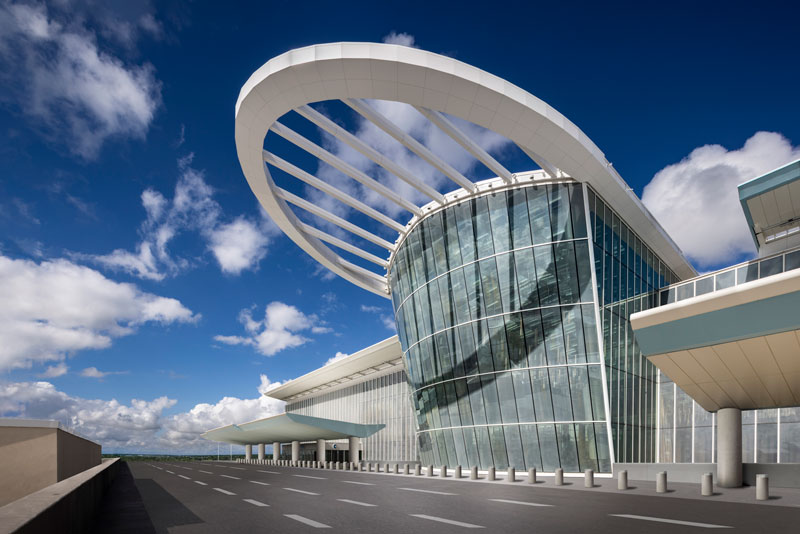 The most recent expansion, with 15 gates, serves international carriers Aer Lingus, Azul, British Airways, Caribbean Airlines, Emirates, Gol, Icelandair, Lufthansa and Norse along with domestic carriers JetBlue and Breeze. It's initially expected to accommodate 12 million passengers yearly — or a quarter of the total volume at the world's seventh-busiest airport.
The Prow, a signature architectural element, sets a sun-kissed tone at curbside with its soaring glass walls, which, combined with the terminal's sky-lit spine, floods the interior space with the kind of ambient rays that visitors expect to see in Florida.
All major building elements — ticketing, security, concessions, gates and baggage claim — are aligned along The Boulevard, which in the future will lead passengers on a verdant linear journey that will connect the terminal's two major civic spaces — Palm Court and Town Square.
The Boulevard also leads to a train station (referred to as the Intermodal Terminal Facility) that has the capacity to support four rail systems, including Brightline's intercity service. By sometime next year, you'll be able to take a train from the terminal to South Florida. Discussions are underway to offer local service by connecting Brightline with SunRail.
Vibrant and garden-like Palm Court — the grandest of the civic spaces, located air side at the terminus of The Boulevard Skylight — features experiential media environments as well as shops and restaurants on the lower level.
On the upper level is the Palm Plaza Premium Lounge, which features a dedicated area for families, a restaurant and bar and several quiet spaces where business travelers can be productive or just watch the people go by below.
The media components, with original content shown on huge LED screens, offer an array of virtual visits. You can explore a natural spring (with manatees and bioluminescent fish) or marvel at the pastures, forests and lakes of Central Florida's sprawling Deseret Ranch. Also on panoramic display are scenes of the city's skyline and rocket launches in Brevard County.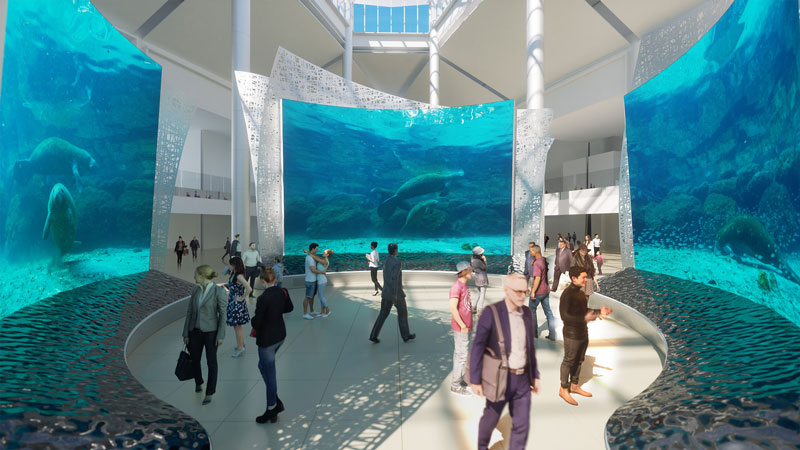 Concessioners combine local and national brands, including such familiar favorites as Chick fil-A, Cinnabon and Starbucks. But other options are distinctly local, such as Barnie's Coffee & Tea Co. and Provisions by Cask & Larder, both of which are headquartered in Winter Park.
Retailers, likewise, encompass the expected theme-park stores, newsstands and gift shops alongside a new City Arts Market, which features work by local creators. (Speaking of art, the airport boasts one of the largest public art collections in the Southeast and at least half the creators are Floridians.)
Town Square, located landside at the terminus of an elevated international arrivals corridor, offers a spacious, upper-level baggage claim area quite unlike the grim, dungeon-like retrieval spaces found in most airports.
And it's all as high-tech as it is breathtaking. Gates are equipped with facial recognition technology for an easier and more secure boarding process. And baggage claim includes a robotic bag storage system and radio frequency identification technology that tracks luggage in real time.
"Orlando International Airport, the main gateway to Florida and one of the country's most popular leisure destinations, is preparing for the future of travel with this impressive construction endeavor," says Carolyn Fennell, senior director of public affairs and community relations.
For four decades, it has been Fennell's job to connect the community and the ever-expanding airport, which began in 1962 as the Orlando Jetport at McCoy — a partnership between the City of Orlando and McCoy Air Force Base.
The authority, which operates both OIA and Orlando Executive Airport, was formed after the base closed in 1975. Fennell, a Tallahassee native who earned a journalism degree from Florida A&M University, joined the organization in 1980 following a two-year stint as a publicist at Walt Disney World.
What a story she has had to tell. And oh, yes. She's also a resident of Winter Park.