Based on Research by Sondra L. Ickes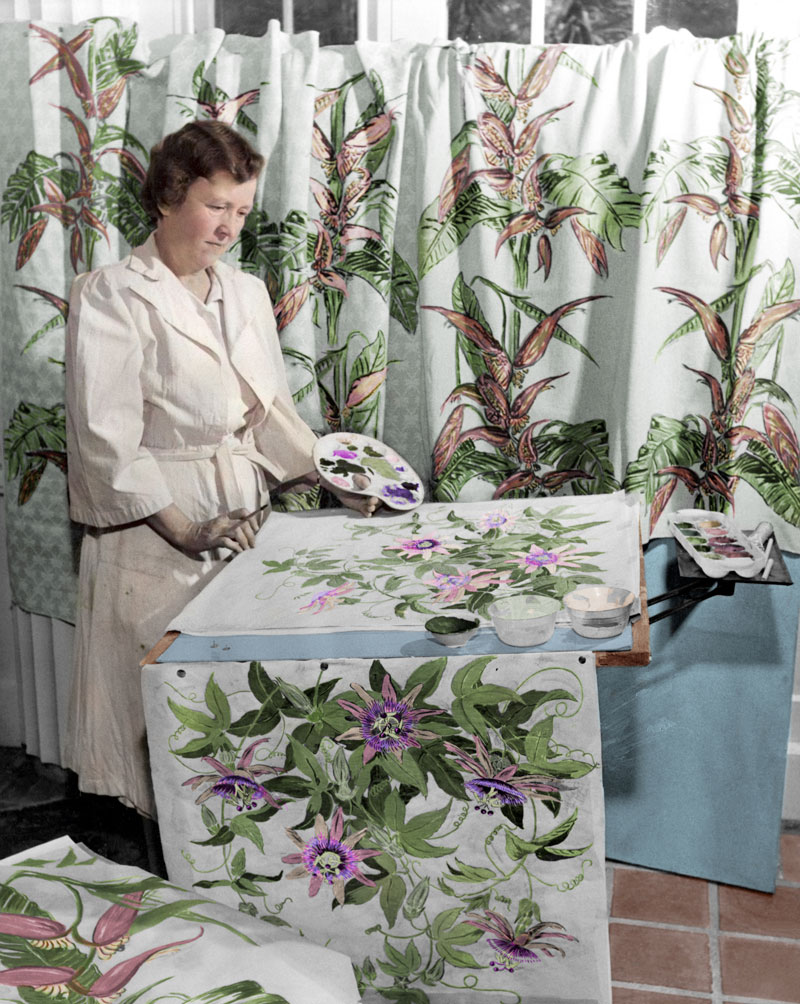 The adventurous Wilhelmina "Billie" Greene (1906–1991) came by her love of flowers honestly. Born in Cincinnati, her father, William Freeman, was the owner of a perfume and cosmetics company, among other enterprises. Perhaps that tangential connection encouraged in the youngster an appreciation for pleasing scents.
Billie's mother, Minnie Drake, was the granddaughter of Judge James M. McCullough, who founded the McCullough Seed Company and lived on a 100-acre estate aptly named "Pleasant Gardens," where the grounds were covered with lush gardens and fruit-tree orchards.
More likely, then, the McCullough side of the family planted the seeds of Billie's soon-to-blossom career — although, privileged as she was, she would not have described painting in a way that implied she worked for pay.
In either case, visiting the McCullough property — which is today an upscale suburb of Cincinnati also called Pleasant Valley — seems to have been the catalyst for Billie's becoming a renowned amateur botanist, a popular botanical artist and the illustrator of a charming but meticulous book about flowers that thrive in the subtropical climate below the Mason-Dixon Line.
"Being surrounded by all this unique flora inspired a passion in Billie for tracking down the unusual and exotic that stayed with her all her life," writes Sondra L. Ickes, whose 1996 biography of Greene was written with the assistance of a grant from the Rhea Marsh and Dorothy Lockhart Smith Winter Park Historical Research Contest, administered by the Winter Park Library.
The Freemans lived in Palm Beach, where they were active in the community's social and political life. They relocated to Winter Park in 1919, buying a large home on the site of the old Seminole Hotel — which had burned to the ground in 1902. The home, dubbed "Pine Needles" by Minnie, still stands, handsome as ever, on Chase Avenue catty-cornered from the old library building.
The Freeman patriarch quickly set about planting grapefruit and kumquat trees, but the trees died because the nutrient-deficient soil sat atop the hotel's limestone foundation. Other gardening efforts — especially flower beds — were more successful, although the family routinely unearthed such hotel detritus as dishes, bottles and even a typewriter.
Billie attended the Rollins Academy, a prep school affiliated with Rollins College, and was tutored by her mother on the importance of etiquette. Anxious for Billie to be happy and to make friends — especially following the death of her doting father in 1922 — Minnie hosted parties for Billie's classmates.
Perhaps Minnie hoped that Billie would meet and marry a college boy of the family's own rarified social station. Instead, in 1926, while Billie was a senior history major at Rollins, she married Raymond W. Greene, a 38-year-old man-about-town whom she had first met in 1919, the day the family arrived via train from Cincinnati.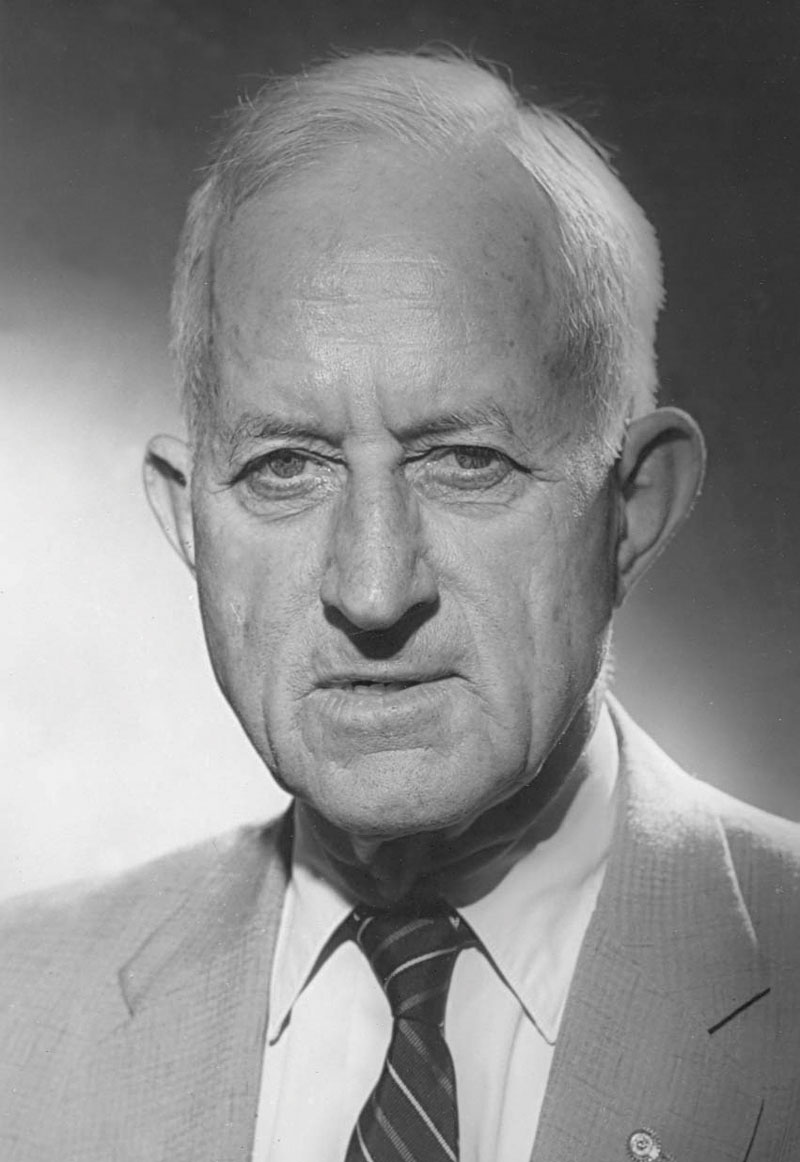 Ray had attended Rollins, serving as the school's athletic director while still a student before taking a break to join the U.S. Navy during World War I. Upon his return, he resumed his previous duties at the college before becoming secretary to the president (there were several short-termers at the helm prior to the arrival of Hamilton Holt, whom Ray helped to recruit, in 1925).
Throughout the early 1920s, Ray — as commissioner of the Florida Amateur Athletic Union — organized high school interscholastic baseball and aquatic championships that attracted thousands of people to the campus. A prodigious fundraiser, he also spearheaded a campaign that brought in more than $500,000 for the college's endowment — tripling its goal.
Ray graduated from Rollins with a business degree in 1923 and opened a real estate business in 1925, later helping to establish the Winter Park Board of Realtors and serving as its president. (In 1962, the board was absorbed by what is now the Orlando Area Association of Realtors.) He would serve as Mayor of Winter Park from 1952–58.
In 1926, however, Ray was approaching middle age, apparently strapped for cash — the result of a land-speculation deal gone bad, it was said — and married to a much younger (and well-to-do) woman who was pregnant with his child when she graduated from Rollins in 1927.
Perhaps in part to escape scolding tongues — though not from Billie's mother, who supported the union and opened a trust fund for Ray — the small family moved to Sebring in Highlands County shortly after Billie picked up her diploma.
Ray worked as assistant manager of Harder Hall — then a luxurious golf resort fronting Little Lake Jackson — and the pair had two more children, in 1929 and 1931. Billie's interest in drawing, as the story went, was jump-started when she wanted to provide images for her children to color and sketched wildflowers that the youngsters had gathered.
The Greenes were also involved in the establishment of the Florida Parks Association Inc., which bought Highlands Hammock in Sebring and shepherded it through the process of becoming one of the four original Florida State Parks — a proposal that earned approval from the Legislature in 1935.
Back in Winter Park, the Greenes moved into Pine Needles — Billie's mother had died in 1937 — and hired local architect James Gamble Rogers III to turn the garage, or the "gatehouse," into a painting studio and small apartment. Billie filled the grounds with flowerbeds.
She also became involved in the Winter Park Garden Club, forming a junior gardening club for children along with planning educational programs for adults. In addition, she began presenting lectures around the country on gardening topics and exhibiting her floral paintings — and winning awards — in local and out-of-state art shows.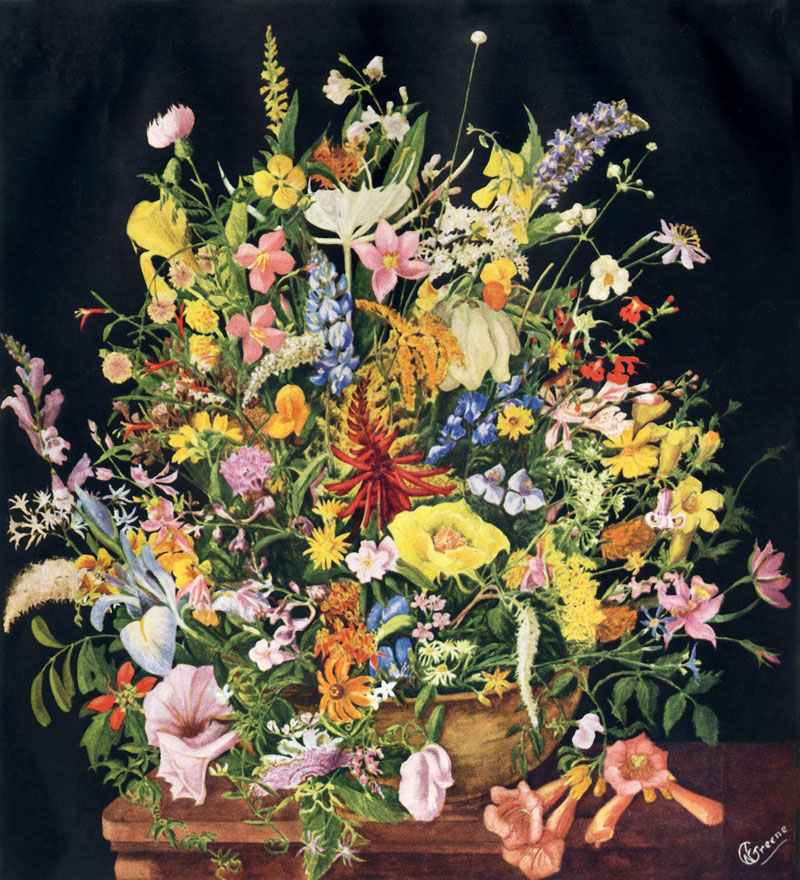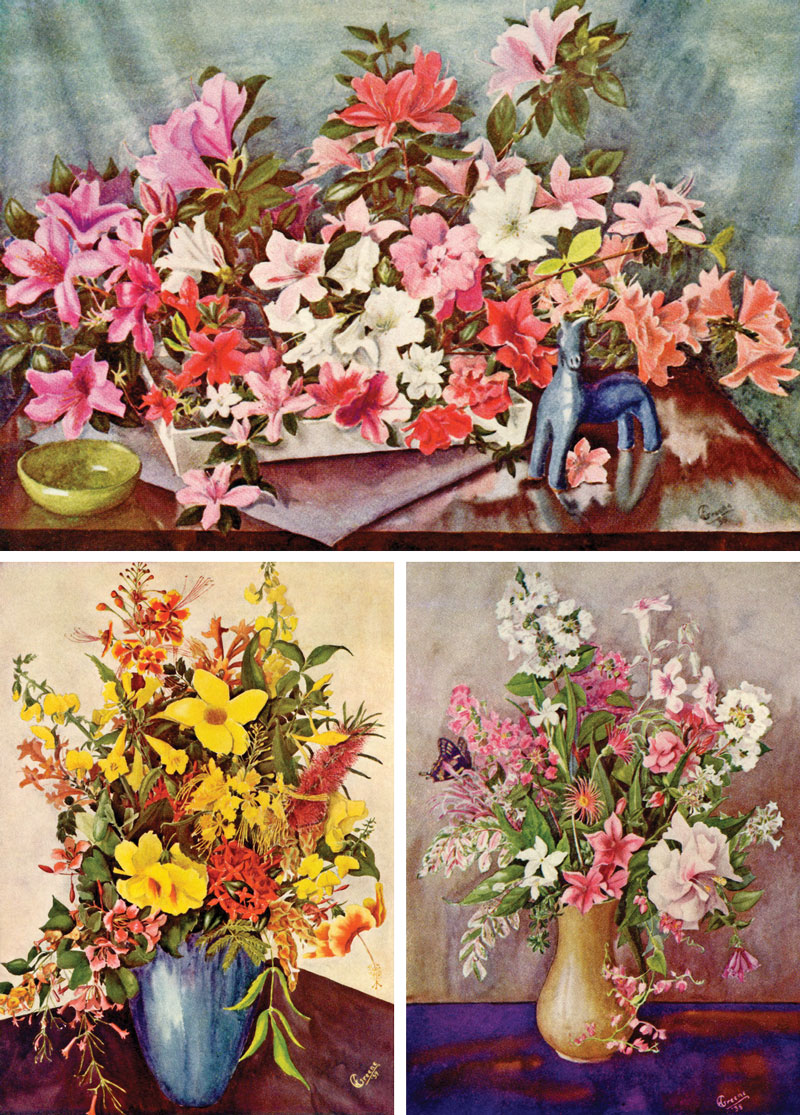 With the means to do so, she and her family (although sometimes Ray stayed home) traveled widely — including to Asia, the Caribbean and South America — where Billie studied native flora and, apparently, even discovered a previously unidentified bloom, now called gloriosa greeneii, in Trinidad.
Floral images that she painted or drew began to appear on napkins and playing cards, although proceeds from their sale usually benefited the Winter Park Garden Club or its parent organization, Florida Federation of Garden Clubs.
Her longtime goal of publishing a book was achieved in 1953, when the University of North Carolina Press published the well-reviewed Flowers of the South, Native and Exotic, which featured 500 drawings and 300 paintings, mostly in watercolor.
Hugo Leander Blomquist, a botany professor at Duke University, was co-author of the book, which featured separate sections on native wildflowers and exotic or cultured varieties. Flowers of the South, was, according to a review in the New York Herald Tribune, "probably the best arranged and illustrated volume on the subject that has yet appeared."
Yet, despite positive reception, no further books were forthcoming. Publishers doubted their commercial potential — photography had supplanted illustrations in nontechnical botany books — and co-authors with academic credentials proved difficult to wrangle.
Disappointed but undaunted, Billie instead produced a deck of flower-adorned playing cards and donated 1,800 sets to the Pennsylvania-based American Association of Botanical Gardens and Arboreta (now the American Public Gardens Association).
In the coming years, more honors and recognitions came Billie's way, including the Rollins College Alumni Service Award in 1975 in recognition of her donations of land (including the tract where the Harold & Ted Alfond Sports Center now stands) and her landscaping expertise.
There were also lifetime memberships to the Winter Park Garden Club — where "everyone would make a fuss over her since she was so respected and admired," writes Ickes — and the Florida Federation of Garden Clubs in 1980 and 1981, respectively.
She also took more trips, including excursions with friends to China and South Africa.
But time takes its toll. Billie developed arthritis, which hindered her ability to draw and paint, and skin cancer while spending more time caring for her husband, who couldn't navigate the large house and lived in the garage apartment with round-the-clock attendants. Ray died in 1989 at age 90.
As her own health became more precarious, Billie sold Pine Needles and rented the garage apartment from the new owners. She later moved to Winter Park Towers, where some residents were put off by her apparent snobbishness and others moved by her quiet generosity. "She did tons of nice things with a disagreeable personality," one friend told biographer Ickes.
Other comments reported by Ickes: Billie was "a person you would swear at and swear by." Further, she was an "extreme" personality — meaning "extremely spoiled, extremely talented, extremely bright and extremely good hearted." This contradictory creator died in 1991 at age 85.
On the following pages are selected illustrations, done in watercolor, from Flowers of the South. The style may well be old-fashioned — or so potential publishers of a follow-up volume contended — but the workmanship and attention to detail are superb.
Small wonder. Billie constantly augmented passion for her subject with innate talent that she refined through technical art instruction at universities and with private teachers throughout the United States and Europe.
Writes Ickes: "[Billie] studied around the world all her life. She studied flower arranging in Japan, pen-and-ink drawing in England and landscape architecture in California. Until late in life, there wasn't a year that went by that she didn't study to improve her art."