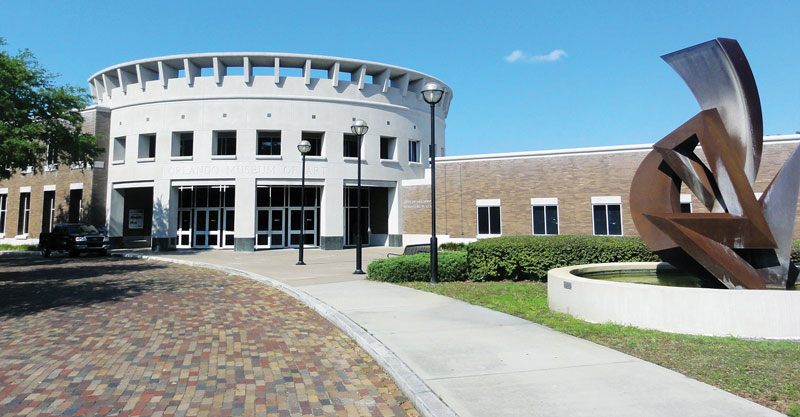 The Orlando Museum of Art is one of Central Florida's most beloved village elders. Created by a group of art lovers in 1925, it's just a little more than two years shy of its 100th birthday, which is pretty rotten timing for one of the worst disasters to befall a venerable institution to turn up and crash the party.
That would be the pre-centennial institutional implosion brought on by a recent OMA exhibition Gods & Monsters: a long-lost cache of 25 paintings purported to be created by the late neo-expressionist wunderkind Jean-Michel Basquiat, whose works sell for millions.
The supposed windfall had languished in a storage facility for years before turning up. The FBI, however, had previously launched an investigation that poked gaping holes in a narrative that was too good to be true and a story that would have no happy ending.
On a sweltering June day near the end of its run, agents shut down Gods & Monsters, stringing crime-scene tape around OMA and carting the allegedly counterfeit paintings away through the parking lot — all duly recorded by the nightly news cameras.
In the aftermath, Aaron De Groft, the newly installed OMA director who had championed the exhibition despite warnings from the FBI and misgivings from his curatorial staff, was fired. Board Chair Cynthia Brumback, who had not only shrugged off the FBI's involvement but kept other board members in the dark about it, resigned.
Museum representatives, including attorney Mark Elliot, the new board president, have issued apologies and promises about restoring the museum's reputation. It's a task I don't envy them. I can only pass on a few observations and suggestions.
Some are gleaned from interviews with Ena Heller, director of the Rollins Museum of Art, and a round-robin discussion I arranged with nine local artists from the highly regarded McCrae Art Studio collective: Stephen Bach, Todd K. Fox, Mimi Hwang, Patty Kane, Marlene London, Martha Jo Mahoney, Fern Matthews, Rob Reedy and John Whipple.
This isn't just about art lovers. I don't care whether you know Van Gogh from Van Morrison. The days when art museums were snooty enclaves reserved for a la-tee-dah few are long gone.
OMA is a haven, a longstanding community resource, a source of civic pride built up over the course of a century by both volunteers and dedicated professionals — and it was summarily hijacked. That makes this is as much of a pull-together moment as it would have been if a hurricane had hit the place.
The collateral damage to the art community at large is considerable. "This hurts all of us," says the Rollins Museum of Art's Heller. "This puts us 10 years behind. I have friends in New York who say, 'Well of course this would happen in a place like Orlando.'"
NYC snootiness aside, OMA's besmirched reputation may make it more difficult, even after a thorough housecleaning, to maintain art-world credibility and to land high-profile touring exhibitions.
The issue has been turning up at other local institutions as well. Says Heller: "I have also had people come into the museum, look at something in our collection, and ask me: 'Is that real?' In my 30 years with museums, I've never had to answer that question."
As an unintended consequence of trust in OMA being shaken, a windfall came Heller's way when the campus museum recently accepted a 22-piece collection of 18th- and 19th-century paintings owned by the Martin Andersen-Gracia Andersen Foundation.
The works were previously on long-term loan to OMA. And they are indeed real.
There's a bit of dark déjà vu in play here. To reestablish trust with the community, any new leadership at the museum needs to take the past — both recent and distant — into account.
This marks the second time in recent memory an ambitious OMA initiative alienated some followers. Former director Glen Gentele resigned two years ago after an ultimately unsuccessful, multimillion-dollar effort to move the museum to Lake Nona.
Because OMA is an anchor of the Loch Haven Cultural Park, loyalists felt betrayed that the museum would entertain the idea of moving to far-flung Southeast Orlando.
Nor was the Basquiat brouhaha the first time De Groft had been associated with something seemingly inexplicable during his tenure at OMA. He announced last fall that the museum might move to a grand new downtown campus — with a Chihuly-adorned rooftop sculpture garden funded by Winter Park philanthropist Alan Ginsburg — in time for its centennial.
Now that was something the arts community could get behind. Later, though, the museum's board quietly backed out of the project, offering no public explanation beyond "bad timing."
It's time to build new bridges — and reconsider some that were ignored. Several years ago, the School of Visual Arts & Design at the University of Central Florida suggested a partnership with the museum to develop exhibitions. According to Reedy, a UCF arts professor, the school never got a response.
I can't help but wonder whether an alliance between OMA's board and curatorial staff and UCF's art professors might have been strong enough to persuade De Groft — who at a previous directorship had acquired and displayed works of ambiguous authenticity — to reconsider his pursuit of the suspicious Basquiats.
Ties to numerous grass-roots artists and artist collectives might have had a moderating effect. Failing that, perhaps someone whose livelihood wasn't dependent on the museum would have raised a red flag.
When life gives you lemons … set up a lemonade stand. Christ and the Disciples at Emmaus. The Getty Kouros. Woman Taken in Adultery. The Netherlandish Proverbs. Bella Principess. Fake. Fake. Fake. Fake. Probably fake.
Numerous works of art purported to be masterpieces by the likes of da Vinci and Vermeer have been proven to be forgeries. It would be a bold and perhaps redemptive move for OMA to stage an event or exhibition about them — including an introspective look at the museum's own contribution to the genre.
Yes, an apology is due. But it's due to a community that extends far beyond our own. Any art museum is a sanctuary, a refuge for free-thinking spirits devoted to art, to those who love it and, most of all, to those who create it.
We can't apologize to Jean-Michel Basquiat, who died in 1988. But he is survived by his two sisters, Lisane and Jeanine, who knew him for the gentle, easily wounded soul that he was. They staged a recent tribute to him that reflected as much in West Chelsea, New York.
Send them a letter of apology. And say that it's from all of us.
Michael McLeod, mmcleod@rollins.edu, is a contributing writer for Winter Park Magazine and an adjunct instructor in the English department at Rollins College.