Photography by Julie Fletcher
Every generation seems hopeful that the next generation will manage to create a more just and caring society and will solve all the problems that we — and the generations before us — have left unsolved or made worse. That's why recently, Winter Park Magazine asked administrators and teachers at Winter Park High School to identify some "Wildcats to Watch." We didn't necessarily want the star athlete or the valedictorian — although either would have been fine. We just wanted a diverse sampling of students who were talented, engaged, positive, hardworking and a joy to teach. There were many more submissions than we had space to recognize. So the six students in this sampling, while impressive, are far from the only Wildcats to Watch. Winter Park High School, as it has always been, is packed with outstanding (and sometimes quirky) kids of the sort who'll ensure that the world will, someday, be a better place. Most of the students profiled were seniors at press time and will have just graduated when this issue of Winter Park Magazine publishes.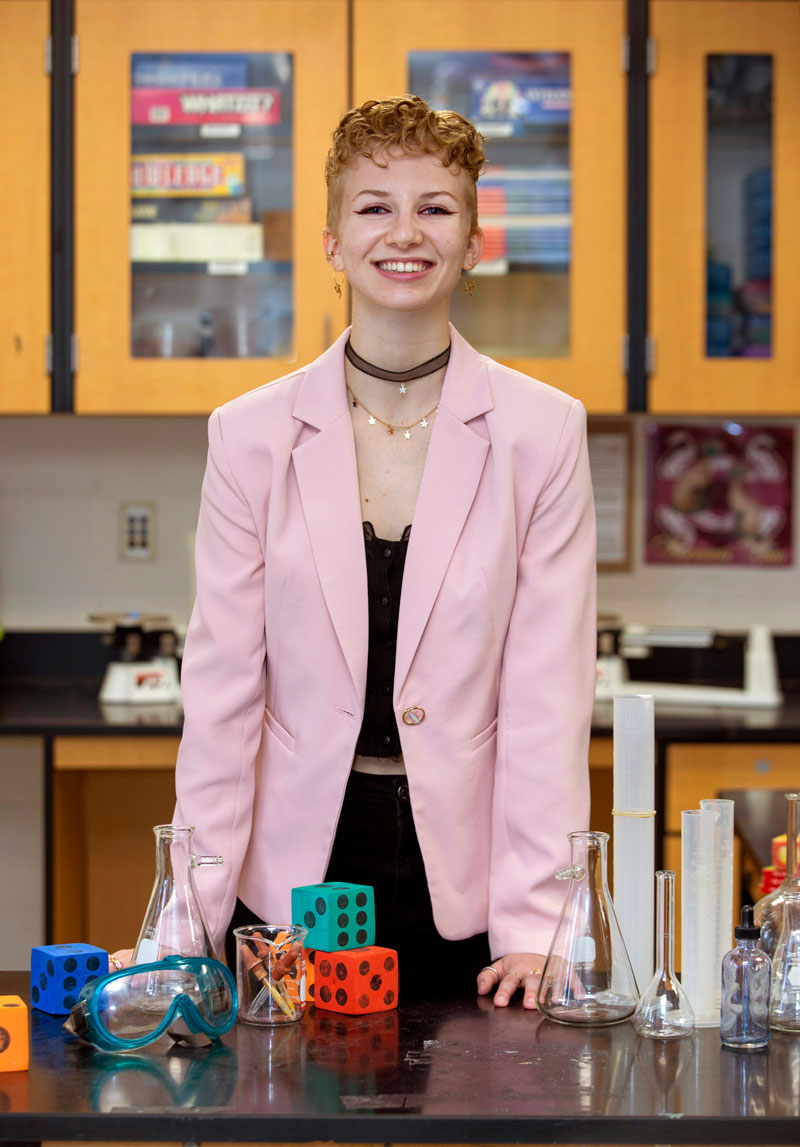 Mya Bell
Class of 2022
Mya Bell was the outreach officer for the school's Gay-Straight Alliance chapter (called Prisms) as well as a member of the band and orchestra (she played clarinet), the National Math Honor Society and the National Science Honor Society. In the community, Mya was a STEM tutor at Brookshire Elementary School and a needs-drive coordinator for the Zebra Coalition, a nonprofit organization that provides social services for LGBTQ+ youth in Central Florida. A dancer, Mya was also an ambassador for Travel Tutus, a Kissimmee-based nonprofit that provides dancewear and accessories to underserved children. If all that weren't enough, she's also a multimedia artist who makes jewelry. Mya says she plans to earn a Ph.D. and to pursue a STEM career. Whatever she does, she'll always strive to "educate people and further equal rights for those who are treated as 'lesser than' because of their identities." Her nominating teacher described her as "a brilliant young woman [with] a big heart." This fall, she's off to the University of Florida, where she'll major in chemistry.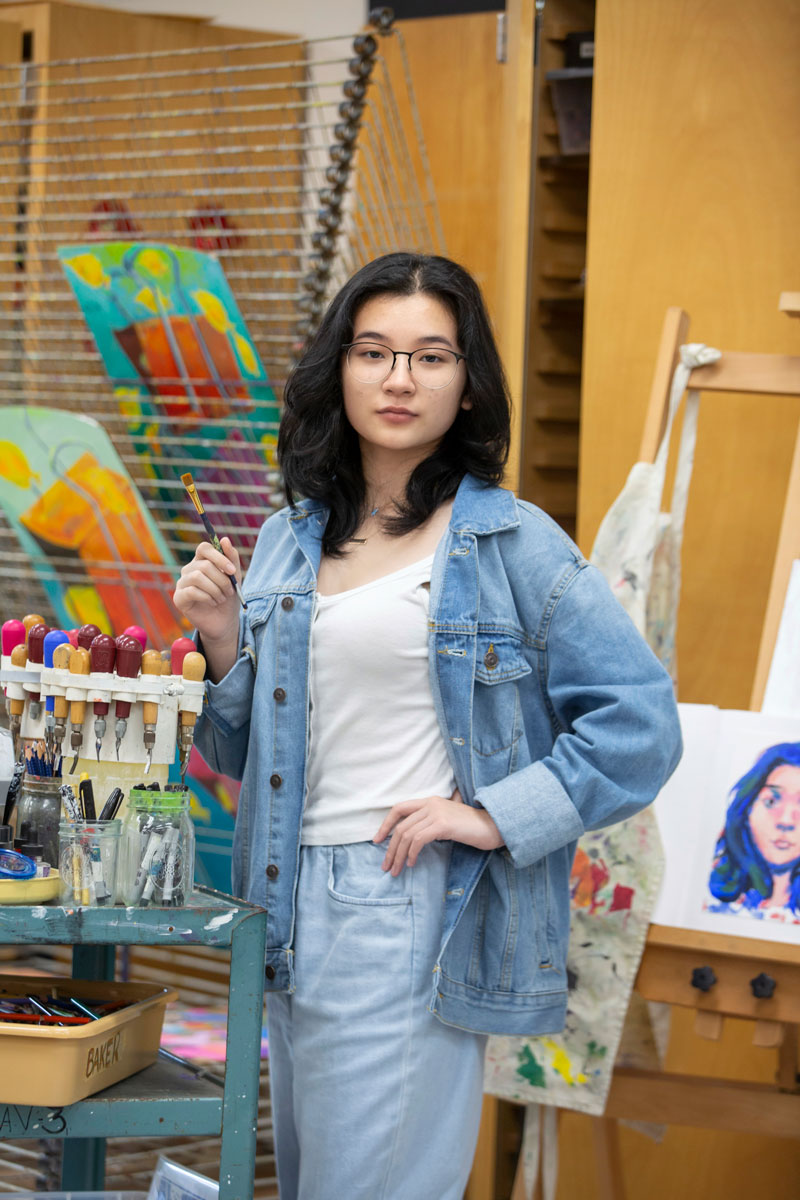 May Dao
Class of 2023
An artist, a writer and a musician, there isn't much that May Dao doesn't do well. She paints beautifully — often vividly colored self-portraits — and plays viola in the school's orchestra. She's also a member of the Creative Writing Club, but says she foresees a career as an art director for films. "I want to create experiences that give the audience something to take away," says May. "My favorite films are the kind that change me." May adds that she admires anyone who makes a living from their artistic pursuits: "They remind me that my goals are never out of reach, as intimidating as they may be." At least they aren't out of reach for May, says her nominating teacher: "This student is going places. Her thought process, ideas and interpretation of the world around her are like none I've ever seen." In 2021, as a cut-paper artist, May won first place in the student division, mixed media category, at the Maitland Rotary Art Festival.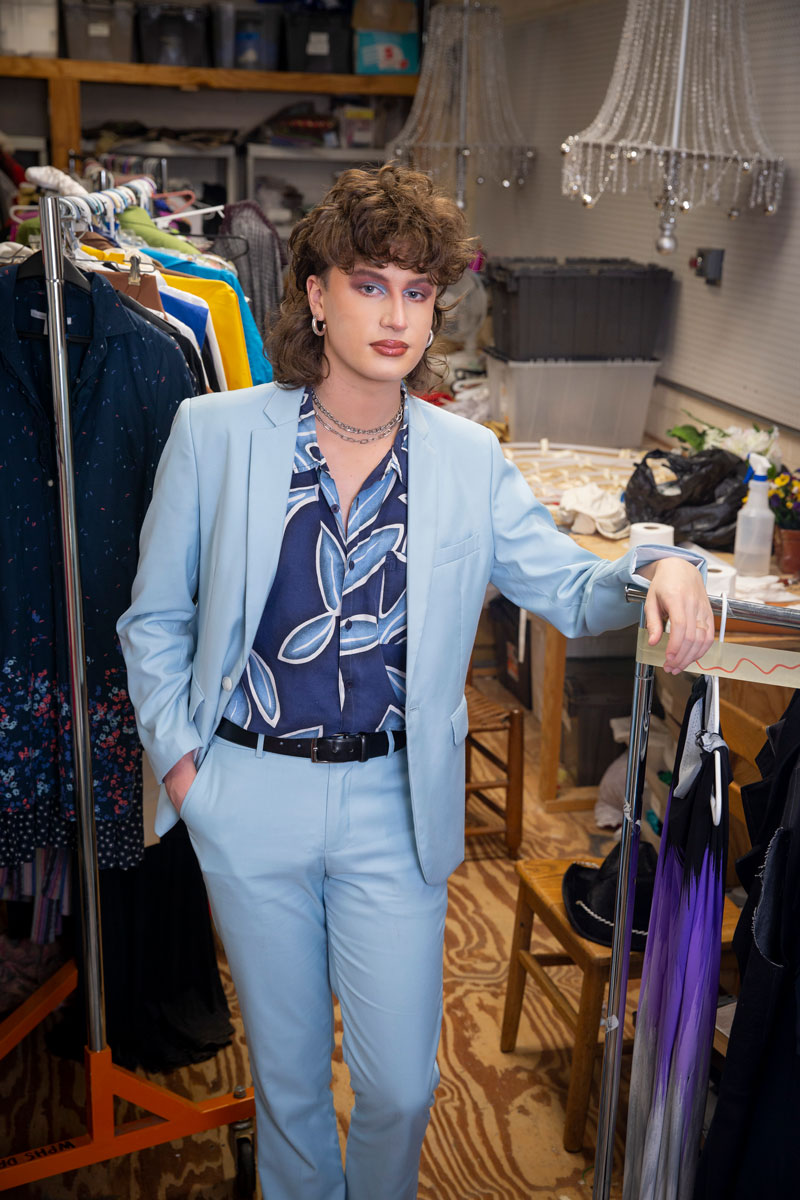 Ethan Garrepy
Class of 2022
Ethan Garrepy was "the top student in the performing arts department," says his nominating teacher. He sang in all the school's choirs — including Naughty Scotty, the super-selective men's a cappella group — and his makeup designs for Rocky Horror Picture Show won first place at the 2021 District V Thespian Festival. Last Halloween, he created an immersive haunted house experience and an accompanying film festival (that featured one of his own films, a slickly produced short horror spoof entitled The Wildcat Killer) while simultaneously performing a lead role in Damn Yankees. Ethan — whose passion is LGBTQ+ rights — has been nominated for three Applause Awards, presented by Dr. Phillips Center for the Performing Arts. He was also an intern for Central Florida Vocal Arts, a nonprofit music advocacy organization and sister organization to Opera del Sol. "Ethan is fun and charming and humble but he knows what he wants," adds his nominating teacher. "That's a great combination for a youngster with a very bright future." This fall, he's off to the University of Florida, where he'll major in musical theater.
Rylee Perrault
Class of 2022
You may have seen Rylee Perrault on stage in a Central Florida Community Arts production. In fact, she describes Leah Porrata, senior director of education and youth programs at CFCArts, as her role model: "I admire her drive to positively impact the lives of everyone around her." Rylee was also a member of Beta Club (for which she organized a schoolwide blood drive), the Thespian Honor Society and the National Honor Society. And she was part of the Park Singers, the school's elite vocal jazz ensemble, as well as a volunteer for Army of Angels, where she has done everything from bagging rice to packing boxes and making deliveries. She graduated with 51 credits (24 are required) and says she might like to become a physician's assistant — but adds that whatever career she chooses, "I'll be having fun and helping people." Says her nominating teacher: "Rylee is an awesome part of our school and I think she deserves recognition for her work around campus." This fall, she's off to the University of Florida, where she'll major in biological sciences.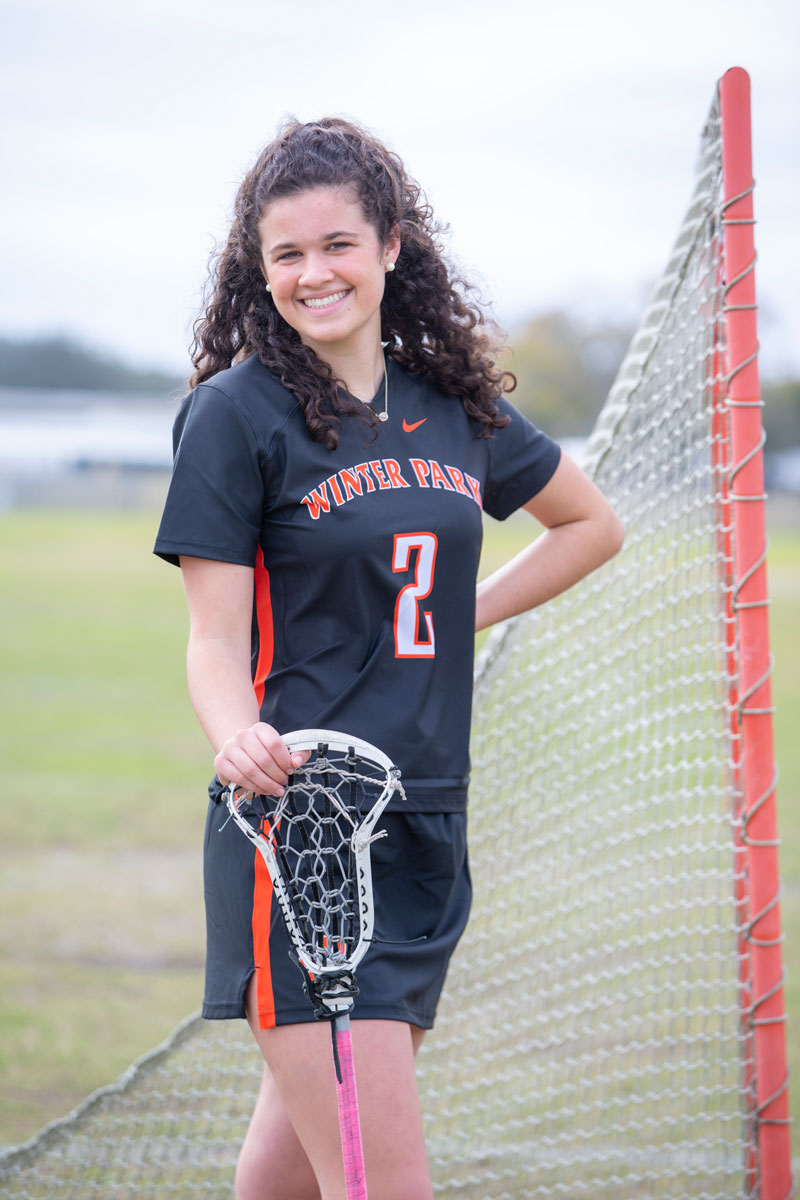 Grace Peters
Class of 2022
Grace Peters, in addition to playing on the school's varsity lacrosse team, maintained a 4.0 grade point average and participated in almost too many extracurricular activities to list. But we'll try. She was a representative on the Student Government Association in addition to being a member of Beta Club, the Psychology Club, the UNICEF Club, the Sports Analytics Club, Women in STEM and, not unexpectedly, the National Honor Society. She has also been a volunteer with Special Olympics Florida and headed a holiday food drive for Army of Angels, an Orlando-based nonprofit that gathers and delivers necessities to students and their families who are undergoing hardships. During the pandemic, she started her own nonprofit, Students Supporting Senior Citizens, for which Grace and her team of volunteers delivered cards and flower arrangements to senior care facilities. She has also been a greeter at the Winter Park History Museum and is a graduate of the Youth Leaders program of the Winter Park Chamber of Commerce. This fall, she's off to the University of Florida, where she'll major in business.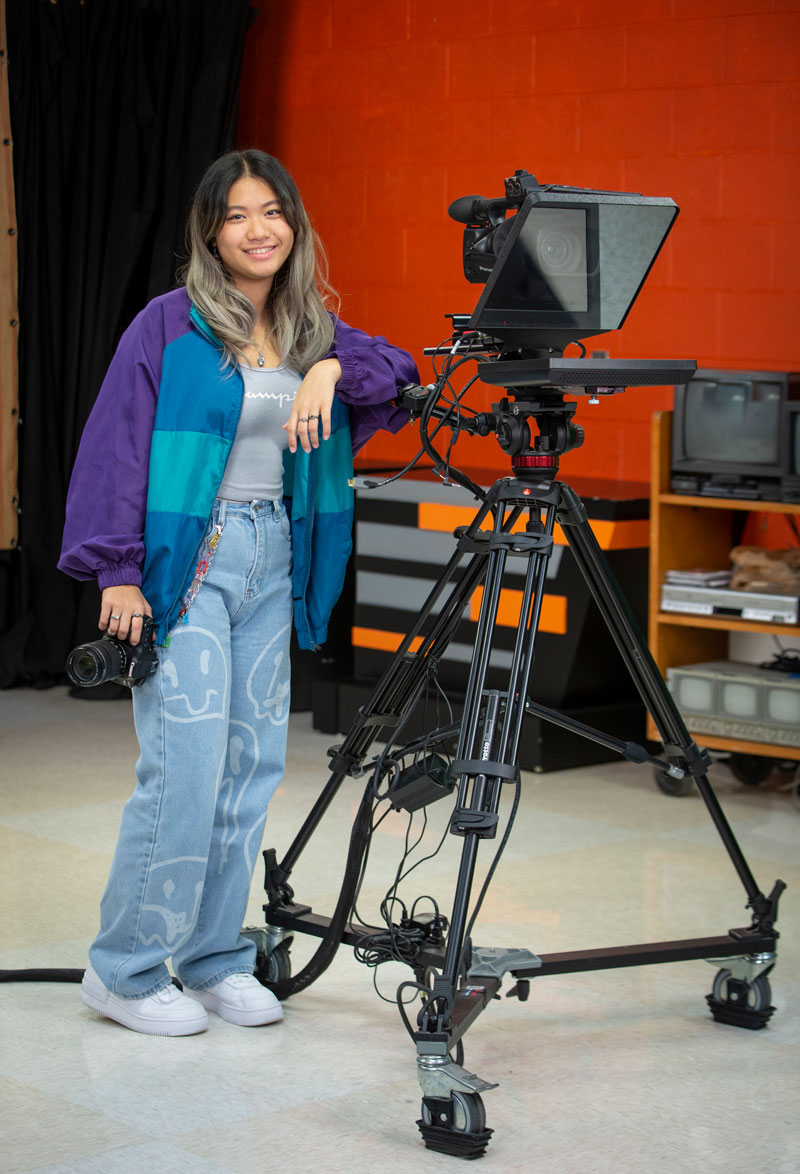 Thanapa (Tammy) Premchan
Class of 2022
Tammy Premchan, who was president of the school's Asian American Association, is an aspiring film director who hopes to use the medium to promote social justice causes. "I love the idea of producing an entertaining project and at the same time advocating for things that I believe in, she says. In fact, she's already doing just that. Last year, Tammy and her friend Katie Smith took second place in C-SPAN's annual StudentCam competition for a short documentary, Assembly Required: The Building Blocks of Our Future, about getting young people involved in the political process. Tammy most admires her mentor, Michele Washington Gerber, who teaches video film production at the school: "She taught me life lessons every day. And since we're both women of color in the film business, her life experiences are valuable for me." Tammy was also a member of Beta Club, the Principal's Advisory Council, the Math Honor Society and the National Honor Society. Plus she's a classically trained violinist and plays guitar for relaxation. This fall, she's off to the University of Southern California where she'll major in film studies.