Photography by Carlos Amoedo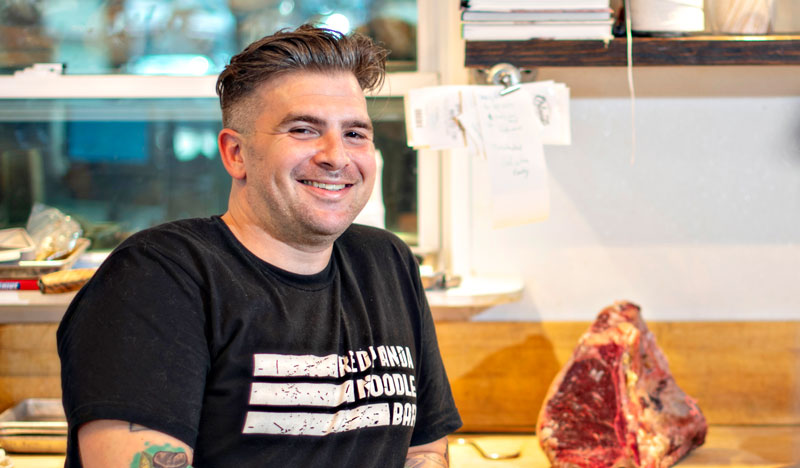 Grab a meal at Orlando Meats and you'll quickly learn that what you see is not what you get, at least in the culinary complexity department. And, unlike in most such situations, you'll be very glad.
Orlando Meats — admittedly not a particularly alluring name — started as a butcher shop. Several years and two locations later, it's a restaurant-retail combo in Winter Park's spiffy Ravaudage mixed-use development (which means, unlike its previous digs, this one has ample parking).
The space comes across as casual, with counter service and a sparse dining room enlivened only by cheerful paintings of chickens and steaks on the wall. The food, though, is what we expect in higher-end restaurants — and often don't receive.
"Everything is made from scratch. Full stop," says chef-partner Eliot Hillis. "We do buy some bread from Olde Hearth but make half the breads ourselves. We process the meats ourselves. We make all our own noodles. We make our own pizza dough."
He then goes into major food-nerd mode, tossing out details about enzymes, hydration levels and other science-related phenomena that somehow relate to what's on the plate. I didn't major in science but found his apparent knowledge impressive.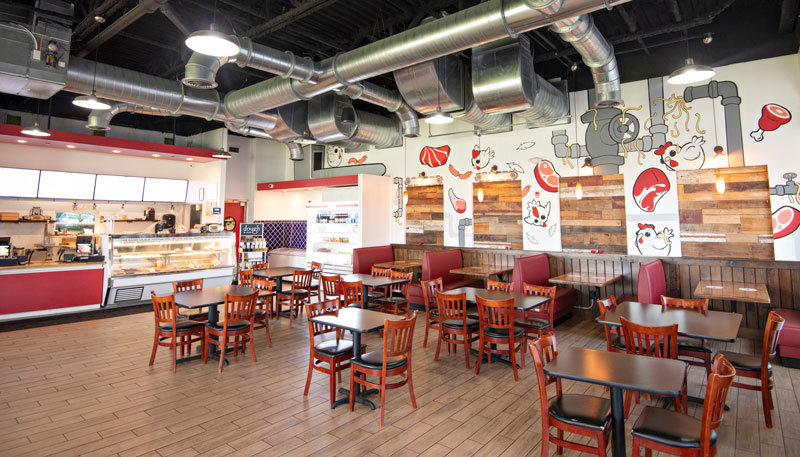 Light meals, yes — mostly sandwiches, pizzas and pastas. Only each is creative, often interesting, with such a profound profusion of innovative housemade elements that many aren't even mentioned in the menu descriptions.
"Sumac is a very common Mediterranean spice, used every-
where but America," notes Hillis. "Black limes, too. We make black limes here and use them in our recipes, but we don't say anything on the menu. It's not helpful for anyone because the cashier must explain what they are, which is scary and confusing."
Black limes, by the way, are small limes that have been blanched in saltwater and left to dry until they're shriveled, brittle, lightweight and have a dusty black hue. They're key to some Middle Eastern dishes, providing a distinctly sour flavor.
See? That's why it's better to hand off tasty meals without anyone knowing why the flavor is deeper, more complex or more vibrant than you'd expect. Just enjoy and don't ask too many questions — unless you're genuinely curious, of course.
Anyway, you can also get food that you'll understand at Orlando Meats, and I'll get to that. First, however, let me tell you about the dish called Cumin Lamb Udon. It's an example of how darn seriously Hillis and his long-time culinary partner, Seth Parker, are about what they do.
During my first of two visits to Orlando Meats, I chose this entrée because it sounded like a specialty that I'd previously found only in authentic Szechuan restaurants. How, then, would a butcher shop that serves mostly American burgers and sandwiches handle this distinctive flavor combo?
Do you know what? Those noodles are rolled and cut by hand. That means the folks in the kitchen stir together ingredients to make a thick and chewy Japanese-style wheat-based pasta dough. Then they slice it into long, thick strips and boil it to order.

The cutting? "That involves a Chinese thing that seems like it was built in a prison under duress," Hillis says. "It doesn't have any pre-set notches. It's spartan. You have to play it like an instrument."
The chefs toss the noodles with lamb that has been seared and braised in a cumin-laced broth. Then it's shredded, repacked into its own stock and chilled before being heated for your consumption.
And that's not all. For a contrast of flavors and textures, the chefs top the meaty pasta with crushed peanuts and fresh cilantro leaves along with scallion bits and jalapeño slivers. You might balk at the $15 price tag. But in a table-service restaurant with a nice decor, the same dish would cost $25. And it might not be as good.
Hillis and Parker never stop creating. Whatever you read here might be readjusted — or gone — by the time you visit Orlando Meats. In fact, regardless of popularity, it's unusual for a dish to linger long on the menu. Indeed, some 750 dishes have come and gone since the out-of-the-ordinary eatery opened in 2017.
Lately, recognizing that they need to be practical as well as playful, the chefs changed the names of some forever favorites. The original monikers were clever, such as "Shake Hands with Beef" for what's now simply called a roast beef sandwich. The name was also the title of a 1997 song by the funk metal band Primus, a fact that was lost on me and, I suspect, many diners.
Call it what you will, it's obvious that this meaty masterpiece didn't come from Arby's. It's made from a seared chuck roast cooked overnight sous-vide-style in garlic, spices and seasonings. The beef is then sliced, seared a second time and placed on "very clean butter bread" with a horseradish crema (a creamy sauce) plus mayonnaise, sour cream, salt and pepper.
Likewise, the fried pork sandwich was long dubbed "The Danzer Two," an obscure reference to the band The Tony Danza Tapdance Extravaganza. Few got it — hence the name change.
Yet simple names have an upside: Customers order more unusual items when they know what to expect. At Orlando Meat, sales of almost everything went up once customers could discern what they were ordering, says Hillis, who now saves his creativity for the kitchen.
Orlando Meats, as you might expect, has a signature burger. The "medium-rare burger" — so described on the menu because it's only served medium rare — consists of house-ground beef, bacon, XO sauce (a condiment made from dried seafood), garlic aioli and provolone cheese served on a French roll. The patty was too rare for my taste.
Here's bonus news for our readers: Both chefs are local boys. Hillis and Parker were born in Winter Park, and each worked in local chef-run kitchens elsewhere in Central Florida before joining Orlando Meats.
Their culinary upbringings, however, were starkly different: While Parker grew up "eating canned vegetables and crap," Hillis's ethnically diverse extended family exposed him to Italian, Jewish, Chinese, Vietnamese, Japanese and Korean foods. Early Asian influences, he says, explain the "intense amount of fermentation" and the "noodle obsession" at Orlando Meats.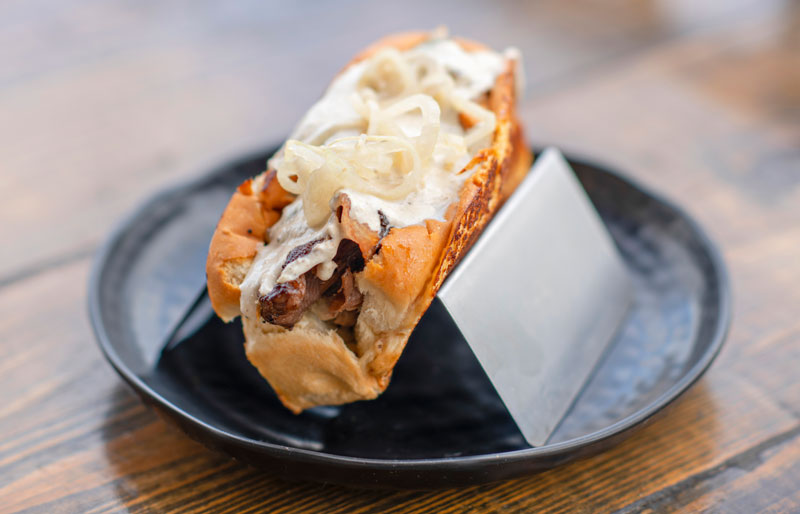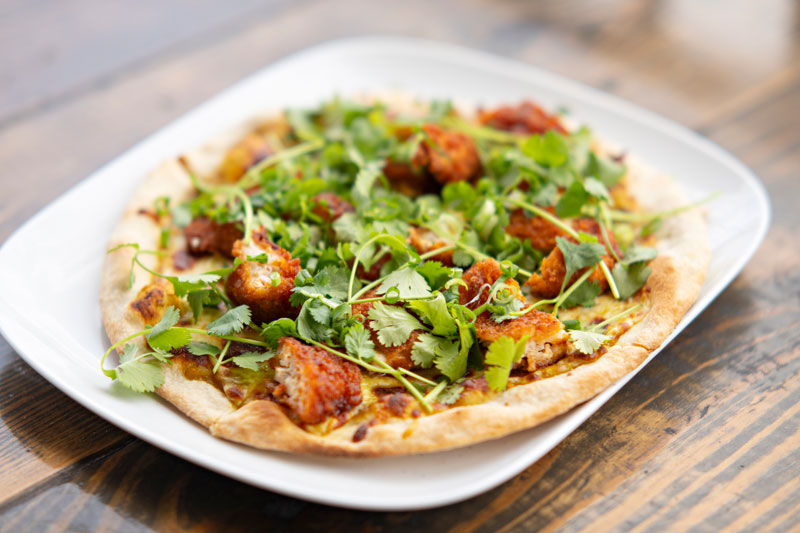 Fermentation? Orlando Meats' corned beef sandwich swaps sauerkraut for kimchi, a Korean pickled cabbage. "Says Hillis: "Kimchi is a different cabbage and has a different flavor profile, but otherwise kimchi and sauerkraut are very, very close." The corned beef is pickled in-house, of course.
Hillis and his team have two other ventures going at the same time: Red Panda (Instagram
@redpandanoodle) is an Asian-themed pop-up restaurant that shows up roughly once a month outside local bars and serves several creative noodle dishes plus a composed salad and a dessert.
Separately, the culinarians hire themselves out as caterers to locals who want 18- to 20-course gourmet dinners for small groups served in their homes. "I adore incredibly overly indulgent Michelin behavior," says Hillis, referring to the world-renowned Michelin restaurant guidebooks.
Well, I've run out of room for more food details. I'll skip the fancifully presented corn dogs with mozzarella — containing gooey cheese and swirled sauces — which are better for photographing than for eating.
Ditto for the nice-enough chicken and waffles, although the chefs deserve kudos for the shredded brownie inside the waffle batter plus the French-style whipped cream on top.
Chicken pizza is an apt place to end. The personal-size pie is so spicy, thanks to an unusual Japanese curry, that I preferred it the next day, when the heat level had simmered down. The flattened chicken breast is battered, fried and coated in a chili oil and spice blend. Hillis likens the pizza crust to "an augmented focaccia." I'll be back for this as well as for the more traditional pizzas on the menu.
Orlando Meats' chefs geek out on every detail and we get the benefit of their geekiness. We can stroll in, order at the counter and soon have a hot meal that seems simple but is really fancy-pants — if you know what goes into making it.
Orlando Meats
1035 Orlando Avenue, No. 105
Winter Park
407-598-0700
orlandomeats.com