Photography by Rafael Tongol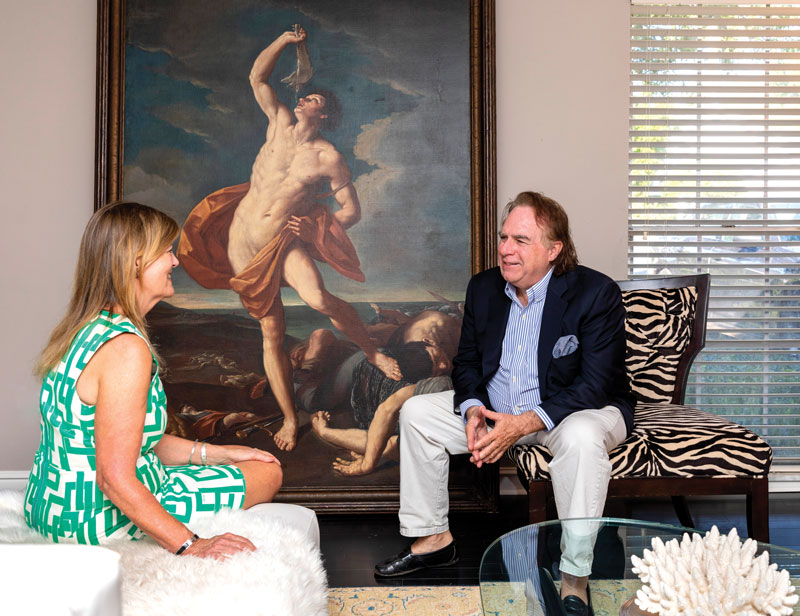 Works of art so permeate the Winter Park home of Mark and Laura Cosgrove that it's sometimes hard to figure out what's art and what's not.
Those paintings and drawings hanging on the walls (or propped against them) are obviously art. But that dress draped over a mannequin? Also art. That inflatable dog floating in the swimming pool? Again, art.
Those books lining the shelves? Mostly (but not necessarily) art. Those molded-plastic chairs placed in one of three themed gardens in the backyard? Art, but you're nonetheless encouraged to sit on them.
And those dainty cookies on the kitchen counter? Not art, so you're welcome to have one. "I tried once to catalogue our collection on a spreadsheet," says Laura with a sigh. "I just never finished it. One of these days we will."
Mark, founder of Cosgrove & Company, an investment banking firm based in Winter Park, and Laura, an attorney who heads the arts and entertainment division of éclat Law, a legal practice based in Altamonte Springs, became acquainted when they found themselves attending the same fundraisers, auctions, exhibitions and events such as Art Basel in Miami.
The couple married — and merged their burgeoning collections — in 2006, when Mark was 47 and Laura was 41. It was the first marriage for both. "That's because we wanted to wait and get it right," jokes Mark.
It's nice, of course, to share a hobby with one's spouse. But the Cosgroves are certainly more than hobbyists. Yet, they aren't investors, either. They buy art that they like simply for the joy of having it in their home and in their lives.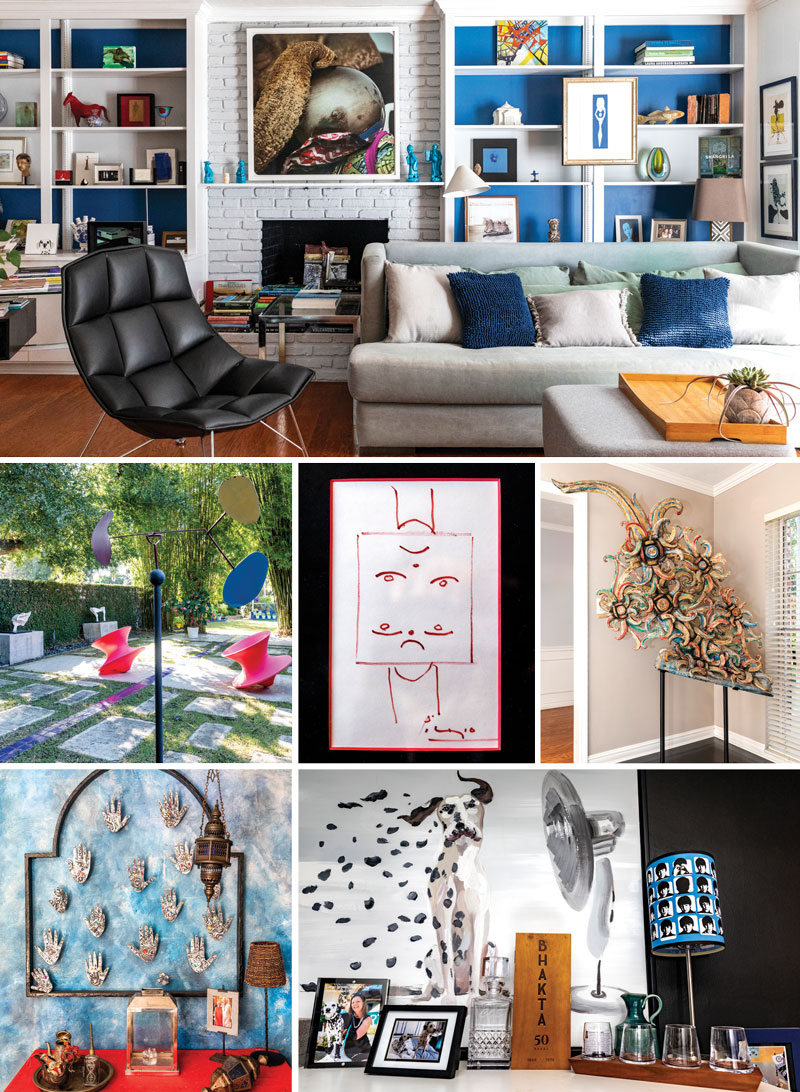 A native of Buffalo, New York, Mark graduated from the State University of New York in Geneseo, where he majored in history and political science, and moved to Central Florida in 1982, where he earned an MBA from the Roy E. Crummer Graduate School of Business at Rollins College.
He then became an investment banker in Miami and CFO of a company that pioneered CAD (computer animated drawing) for architects and building designers. In 1988 he returned to Central Florida, founding Cosgrove & Company and later becoming a partner in Capital Strategies, which specializes in mergers and acquisitions.
His various ventures prospered, but Mark had been collecting art for years. Due to the nature of his business, he says, funds tended to come in lump sums — especially early in his career. A windfall of any size was almost always followed by an art-buying binge.
"When I had money, I started buying whatever I could afford, but I never looked at it like an investment," adds Mark, a philosophy that may sound incongruous coming from someone who made his living seeking lucrative investment opportunities. "It was always just about the art."
Laura, on the other hand, is a third-generation Central Floridian. She attended the University of North Carolina in Chapel Hill, where she majored in political science, and then the University of Florida's College of Law, after which she served as a clerk with the U.S. District Court for the Middle District of Florida.
She later joined Eidson Insurance — founded in 1943 by her grandfather, George — and rose through the ranks to become president and CEO. The agency was sold to Marsh & McLennan, one of the world's largest insurance brokers, in 2012.
In 2018, Laura joined éclat Law, where the firm's arts orientation — there's a gallery in its lobby and its clients are drawn heavily from the creative sector — seemed ideal for an empathetic attorney who understood what artists needed to be successful.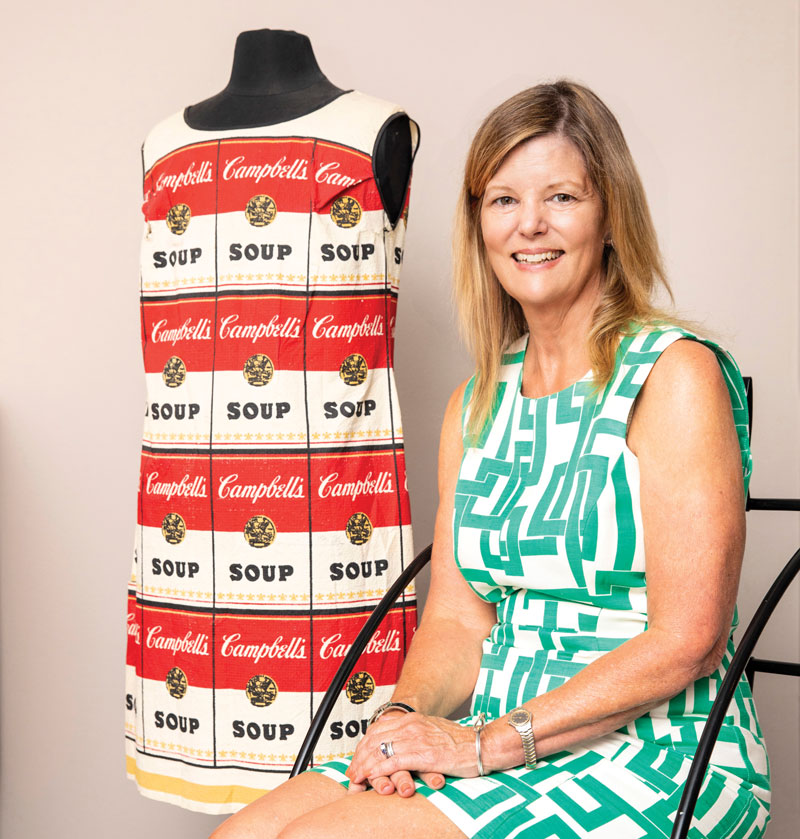 Laura enjoyed accumulating nature-focused, wildlife-related art, and says that the most meaningful work she ever bought was a painting of a giraffe while she was on a wildlife tour in Kenya.
She can't remember the name of the artist, who was an obscure local who sold his work at a roadside stand. But such a lapse is understandable for someone who's more interested in art that pleases her than art that might impress the cognoscente with its pedigree.
Which isn't to say that you won't find works by famous creators — plenty of them — in the Cosgrove collection. Much of what they've accumulated — and continue to accumulate during vacation jaunts planned around gallery and museum excursions — is on display, although much is also stored away for lack of space.
"We always have certain things we're looking for," says Mark. "But most of the things we buy we just happen to see and like — things that weren't even on our radar. That keeps the hunt fresh."
Consequently, the Cosgrove home contains paintings in all genres: drawings and etchings, works in glass, sculptures both classical and modern — and even a notable piece of clothing.
For example, that dress we mentioned earlier is an Andy Warhol "Souper Dress," silk-screened with Campbell's Soup cans. Laura even wore this highly collectible example of pop art ephemera once and it fit perfectly — although it's obviously too valuable to wear while enjoying a spaghetti dinner.
Indeed, roaming from room to room at the Cosgroves' is like taking a survey course on the history of art. There are paintings and drawings by Degas, Matisse, Picasso and Rembrandt, among many others whose names would be familiar even to casual viewers.
The collection even includes a Yoko Ono creation, a small object wrapped by Christo and a vivid oil-on-canvas landscape from one of the Highwaymen, a cadre of African American painters who sold their works from the trunks of their cars back in the 1950s.
There's no genre that the Cosgroves shun, but they gravitate toward works on paper. Mark's favorite piece, he says after due consideration, is a gouache-on-paper piece by Alexander Calder. ("It has sentimental value," he notes.) Or, on second thought, perhaps it's an assortment of stencils by Henri Matisse. Who knows? It's like asking parents which child they prefer.
Both Cosgroves place French impressionist Claude Monet atop their respective lists. "He's the master of light, color and impressionist composition," notes Laura. "Plus, we've attended many exhibitions of his work and his settings are some of our favorite places to travel — France, London, Venice."
When they explore arts fairs, Mark is always on the lookout for works by conceptual artist John Baldessari, who died in 2020. Laura is a fan of Jean-Michel Basquiat, who died in 1988 and whose current exhibition at the Orlando Museum of Art is the subject of an authenticity controversy.
Although Basquiat prices make it unlikely she'll ever own one of his works — a piece sold for $110 million in 2017 — Mark did recently present his wife with a Basquiat-imprinted dress, which she proudly rocked at a party celebrating the 2022 Winter Park Spring Sidewalk Art Festival.
As for currently active local artists, Mark likes the work of painter and photographer Peterson J. Guerrier, whose work has been displayed at CityArts in Orlando among other regional venues.
Laura is an admirer of paper and fiber artist Kelly Joy Ladd. The University of Central Florida graduate originally worked in oils but switched mediums after her husband developed a severe allergy to the chemicals in paint.
The Cosgroves are also aficionados of themed gardening. Their magical backyard consists of a Sculpture Garden, a Moroccan Garden and an Asian and European Garden, all interconnected by pathways. That means you'll enter a different world around every bend.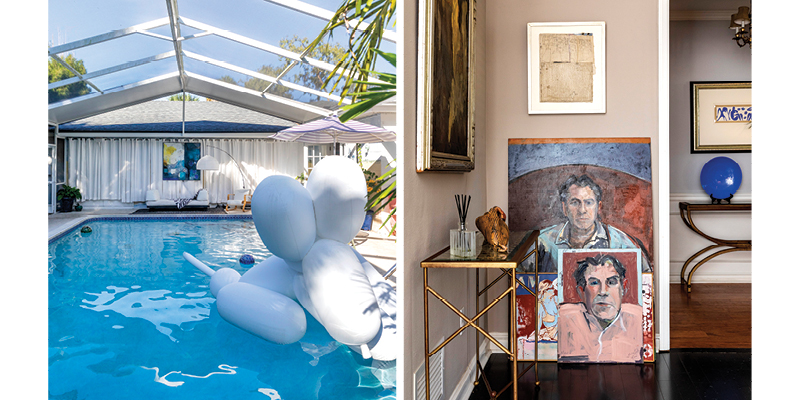 And peeking (sometimes subtly and sometimes not) from behind exotic plants and shrubs are works of art — often sculptures — that add to the ambiance. (Laura designed the Asian and European Garden after taking a pandemic-era Zoom course on gardening from Cornell University.)
As you might expect, the Cosgroves are involved in numerous arts-oriented organizations. Although both are members of the National Arts Club in New York, most of their volunteerism — arts-related and otherwise — is local.
Laura is advancement director for the Friends of the Mennello Museum of American Art and co-chair of the museum's major capital campaign to expand its facility in Loch Haven Cultural Park.
And she's one of four co-founders of the Foundation for Foster Children, a nonprofit started in 2008 to improve opportunities for children in the foster-care system. Today, the organization helps hundreds of children annually, has a staff of more than 20 and a budget of more than $3 million per year.
Mark is past chair of the Rollins Museum of Art and is a member of the board of directors of Flying Horse Editions, the fine-art press of the University of Central Florida.
He's also a playwright whose work has been presented at such local venues as the Blue Bamboo Center for the Fine Arts, and a trustee of the OnePulse Foundation, whose mission is to build a memorial to victims of the 2016 mass shooting at the downtown Orlando nightclub.
Both Cosgroves are, above all else, arts advocates who believe — like many of us — that life is simply better when it nurtures and celebrates the creative spirit. But for Mark and Laura, there's an even more personal aspect.
"We like creating a place where we love to be together," says Laura. "And sometimes it's not just about the art. It's about the experiences that the art reminds us of."