It's time again to recognize Winter Park Magazine's Most Influential People. The program, in its seventh year, recognizes those who — sometimes quietly — make a difference through their professions, their volunteerism, their philanthropy, their talents or their community engagement. The selectees are presented in the summer issue and celebrated at a big event at the Alfond Inn, which was canceled the past two years because of the COVID-19 pandemic. It is tentatively scheduled for September 23 at the Alfond Inn and will celebrate the Classes of 2020, 2021 and 2022. On the following pages, please meet the Class of 2022 — which is every bit as deep and impressive as previous classes and, as always, includes some people you may not know as well as some longtime community icons. They come from all walks of life but share a love for Winter Park — and a desire to keep it as special as the founding visionaries intended.
INFLUENTIALS FROM 2015-2021
Sir David Adjaye, Roy Alan and Heather Alexander, Phil Anderson, Richard O. "Rick" Baldwin, Jim Barnes, Dan Bellows, Sabrina Bernat, Justin Birmele, Anna Bond, Rita Bornstein, Jill Hamilton Buss, Jeffrey Blydenburgh, Lauren Bradley, Daniel Butts, Michael Carolan, Sid Cash, Charles Clayton III, Billy Collins, Grant and Peg Cornwell, Linda Costa, Julian Chambliss, Patrick Chapin, Judy Charuhas, Carolyn Cooper, Chris Cortez, Deborah Crown, Jere F. Daniels Jr., Mary Daniels, Robynn Demar, Mary Demetree, Tom Dyer, Betsy Gardner Eckbert, Jeff Eisenbarth, Dykes Everett, Andrea Massey-Farrell, Carolyn Fennell, Bill Finfrock, Allen Finfrock, Meg Fitzgerald, Sue Foreman, Scot and Christine Madrid French, Shawn Garvey, Christy Grieger, Hal George, John Gill, Alan Ginsburg, Steve Goldman, Sarah Grafton, Elizabeth "Betsy" Gwinn, Ralph V. "Terry" Hadley III, Jane Hames, Larry Hames, Frank Hamner, Ena Heller, Debra Hendrickson, Catherine Hinman, Eric and Diane Holm, Herb Holm (deceased), Charlene Hotaling, Jon and Betsy Hughes, Katrina Jenkins, Susan Johnson, Gary I. and Isis Jones, Phil Kean, Allan Keen, Linda Keen, Tom Klusman, Randy Knight, Debbie Komanski, Steve Kramer, Linda Kulmann, Cindy Bowman LaFronz, Jack C. Lane, Whitney Laney, Steve Leary, Fairolyn Livingston, Chevalier Lovett, John (deceased) and Rita Lowndes, Lawrence Lyman, Lambrine Macejewski, Paula Madsen, Robert Mandell, Ted Maines and Jeffrey Miller, Jesse Martinez, Brandon McGlammery, Deirdre Macnab, Genean Hawkins McKinnon, Gus and Kristi Malzahn, Joanne McMahon, Micki Meyer, Johnny Miller, Anne Mooney, Ronnie Moore, Patty Maddox, Alex Martins, Marc Middleton, Kristine Miller, Elizabeth Tiedtke Mukherjee, Stephanie Murphy, Tony and Sonja Nicholson, David Odahowski, Betsy Rogers Owens, James and Julie Petrakis, Jim and Alexis Pugh, Jana Ricci, John Rife, John Rivers, Randall B. Robertson, Laurence J. "Larry" Ruggiero, Jason Seeley, Greg Seidel, Peter Schreyer, Polly Seymour, Thaddeus Seymour (deceased), Shawn Shaffer, Jason Siegel, John and Gail Sinclair, Greg Spencer, Sarah Sprinkel, Susan Skolfield, Sam Stark, Chuck and Margery Pabst Steinmetz, Bronce Stephenson, Bruce Stephenson, Dori Stone, Richard Strauss, Julie von Weller, Matthew Swope, Paul Twyford, Bill Walker, Fr. Richard Walsh, Jennifer Wandersleben, Harold A. Ward III, Debbie Watson, Todd Weaver, Bill Weir, Chip Weston, Pete Weldon, Cynthia Wood and Becky Wilson.
---
Photography by Carlos Amoedo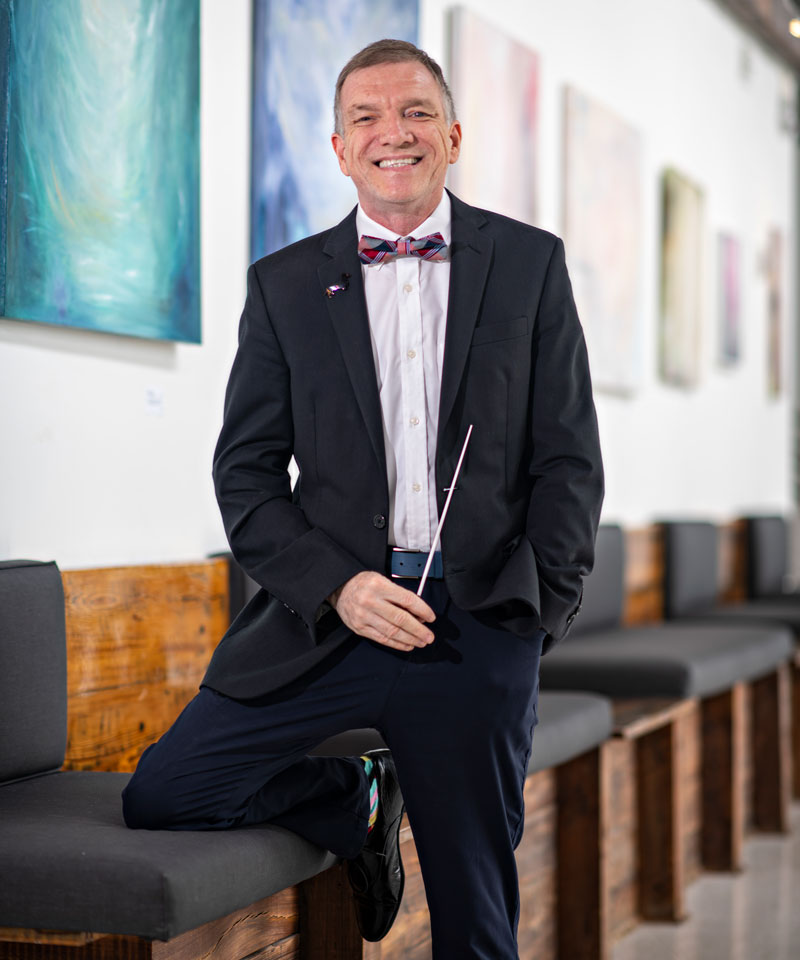 Boris Garbe
Owner, Mills Gallery
THE ARTS AGITATOR
The arts community is, naturally, crowded with creative characters. But among the most intriguing is Boris Garbe, 56, a colorful iconoclast who is neither an artist nor a musician. The native of Berlin, Germany — a Winter Park resident and founder of Mills Gallery in the Mills 50 neighborhood — is instead an innovative advocate whose outside-the-box approach helps attract new audiences for individual artists and arts organizations such as the Orlando Philharmonic Orchestra, which heartily endorses his irreverent podcast, Tenor and Toneless. Co-hosted by Garbe and Peruvian-born operatic tenor Rafael Cavero, Tenor and Toneless is hilarious — and at the same time educational — thanks in large part to Garbe's almost total lack of interest in classical music and his off-the-wall interviews with musicians and executives from OPO. ("What the hell is a viola?" he asked Mauricio Céspedes Rivero, OPO's principal violist and the show's first guest.) A new podcast, due out later this summer, is Art AF, which features artists and connects them with civic leaders and decision makers. Garbe had previously co-hosted several arts-related podcasts with Marla E (that's her legal name), a painter, sculptor and instructor, and had produced a podcast with a young musician named Chris Fioravantti, who interviewed guests ranging from artists to elected officials. The Experience with Chris Fio had been voted one of the top podcasts in Central Florida by readers of Orlando Weekly before the host was tragically killed in a motorcycling accident last summer. Garbe, a former teacher of Spanish and sign language, has also produced a compelling short autobiographical film, Spit, Glitter and Glue, which was screened locally in 2020 at FusionFest and the Global Peace Film Festival. And he plans to use footage of his many conversations with renowned 98-year-old abstract expressionist painter Harold Garde to create a video series called Harold Garde Unfiltered. "That one is going to go national," he says. But Garbe's primary job is as a gallerist. "I don't particularly like art," he says. "But I do like artists." The mission of Mills Gallery is to attract younger visitors and to provide an inclusive showcase where gender equity is among the guiding principles. "I'm an optimist and a realist," adds Garbe. "I love the art world, but I see the problems that many people do not want to engage with."
THE BOTTOM LINE:
For the arts to attract new audiences, it will need to speak to young people who haven't been to a gallery, a play or an orchestral concert. Unconventional thinkers like Garbe, who aren't tethered to tradition, can get the attention of a generation whose cultural lives have previously involved only their smartphones.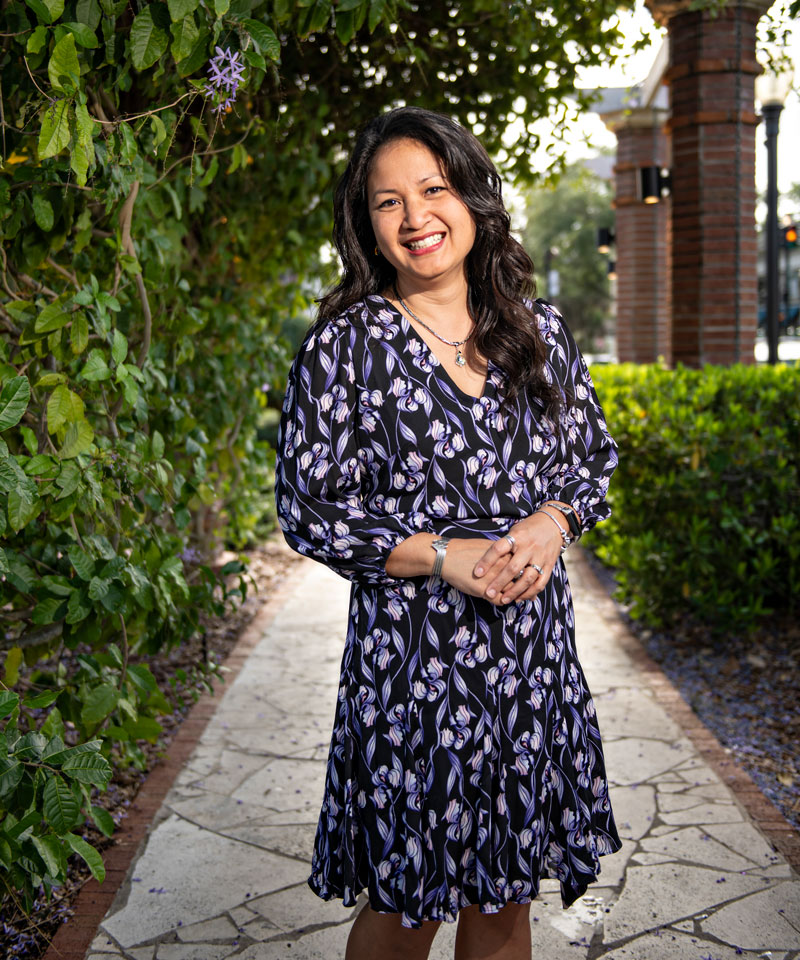 Clarissa Howard
Director of Communication, City of Winter Park
THE RELIABLE SOURCE
Clarissa Explains it All was an early '90s sitcom on Nickelodeon in which a young woman, played by Melissa Joan Hart, directly addressed viewers to discuss mostly coming-of-age issues. Winter Park has its own version of the fictional Clarissa — you know her as Clarissa Howard — whose job is explaining it all to reporters and taxpayers who ask questions about everything from city services to ad valorem taxes to "attack squirrels" running rampant in Central Park. (This really happened in 2006.) As director of communication, Howard, 48, runs the city's multipronged informational outreach program, which includes newsletters (online and in print), social media platforms and even a Vimeo channel. "I always say I have the best job in the city because I'm able to share all the great news about Winter Park," says Howard, who also has a reputation among media members as being responsive and forthright when they're reporting a story that needs context or clarification. With a bachelor's degree in journalism and a master's degree in communication from the University of Central Florida, Howard began her career as an event manager at the City of Orlando. In 2003, however, she snapped up an opening as communications director in Winter Park. Among her first tasks, in early 2004, was to spearhead a municipal rebranding effort that saw "The City of Homes" become "The City of Culture and Heritage," with a new city seal featuring the now-iconic peacock. Just a few months later, her crisis communications skills were brought to bear when hurricanes Charley, Frances and Jeanne pummeled the region in rapid succession. There have been plenty of local controversies during the ensuing 19 years, but Howard, who considers her role to be that of an impartial disseminator of facts, diligently keeps her opinions to herself. Her department also runs several high-profile public events, such as the city's 4th of July and Veteran's Day commemorations. Howard is a graduate of Leadership Winter Park, a program of the Winter Park Chamber of Commerce, and was named Winter Park Champion of the Year by the chamber in 2012. She and her husband, Jason, have three children: Luke, 13; Jakob, 15 and Cassidy, 17. We don't know if Howard is a daydream believer, but she really was a homecoming queen — at Dr. Phillips High School.
THE BOTTOM LINE:
In a city where everyone is interested in what's going on at City Hall, Howard is an accessible fount of facts who loves sharing good news but finds answers to tough questions as well. She says: "I try my best to always be optimistic, honest and sincere, which makes me a credible and trustworthy source."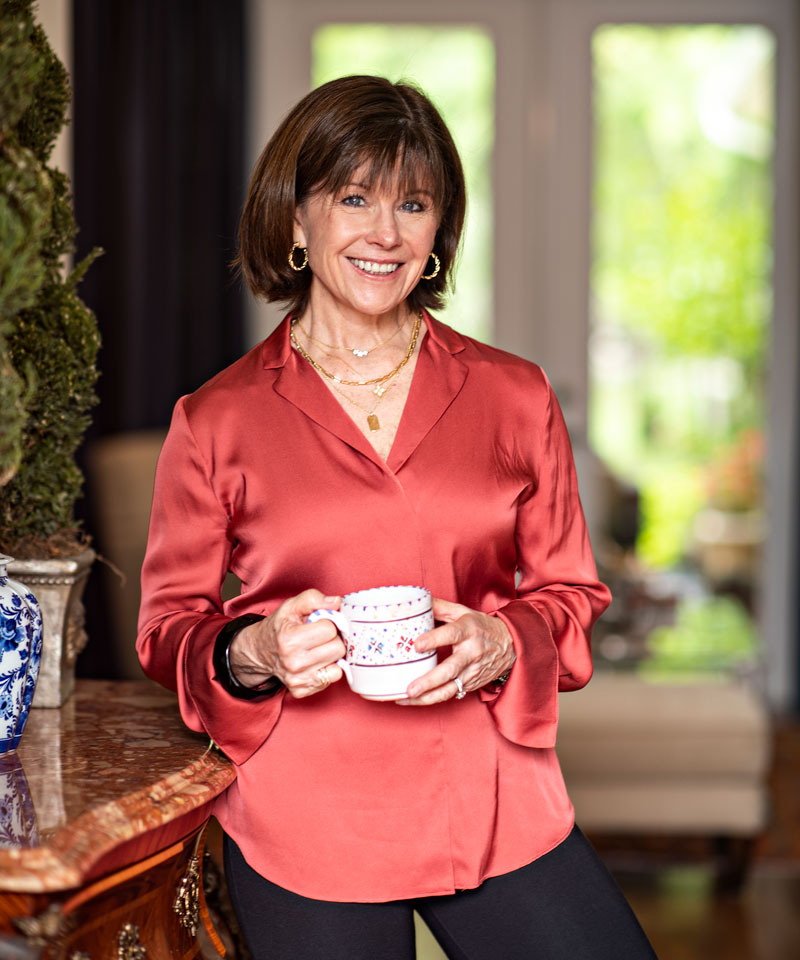 Marni Jameson
Author and Nationally Syndicated Columnist
THE PEOPLES' PUNDIT
Marni Jameson was such a chatterbox in kindergarten that her teacher put tape on her mouth. "She wanted to know why I talked so much," says grown-up Marni, who vividly recalls her answer: "I have so many important things to say!" By age 8, she was saying them in a purple diary with purple ink. Today she says them in a column, "At Home with Marni Jameson," syndicated to than 20-plus newspapers (including The Orlando Sentinel) that reach 5 million readers. She's author of six bestselling books on home design, decor and downsizing with such titles as House of Havoc: How to Make and Keep a Beautiful Home Despite Cheap Husbands, Messy Kids and Other Difficult Roommates. The title reflects a breezy, self-deprecating humor that makes her writing enjoyable even for those with zero interest in home design. Jameson's husband, attorney Doug Carey, goes by "DC" in her column and serves as her comic foil, playing nonplussed Dagwood to her eye-rolling Blondie. In college she majored in magazine journalism because, she says, "I wanted my work to look pretty." Freelancing in Southern California, where she grew up, Jameson was asked to write a home-design column. She agreed, but only if it was honest and tackled such real-world issues as "how projects take three times longer than you expect, the costs double, the contractors disappear for weeks on end and you're not speaking to your spouse when it's over." Jameson recalls leafing through glossy home magazines wondering, "How do people get to live like this? I didn't know how to pick out a sofa. I'm still just the girl next door trying to figure it out." In 2011, she left behind a "marriage on the rocks" and moved to Orlando to cover health and medicine for the Sentinel — winning several statewide journalism awards in the process — while continuing her column and running a nonprofit dedicated to lowering the cost of healthcare. Jameson and DC, now proud Winter Parkers, share a blended family of five grown children, five grandchildren and "three unruly dogs." Jameson is puckishly coy about her age. "I am past the half-century mark, or on the back nine, as I like to say." At heart, though, she'll always be the irrepressible chatterbox with a purple pen and important things to say.
THE BOTTOM LINE:
Jameson takes a topic that invites pretention and makes it fun and relevant for everyday folks. She says: "When I was much younger, I used to go into bookstores and say to myself, 'I want to have a book on these shelves.' Today I have six books in print and in stores, and a seventh in the works. Maybe I should have aimed higher."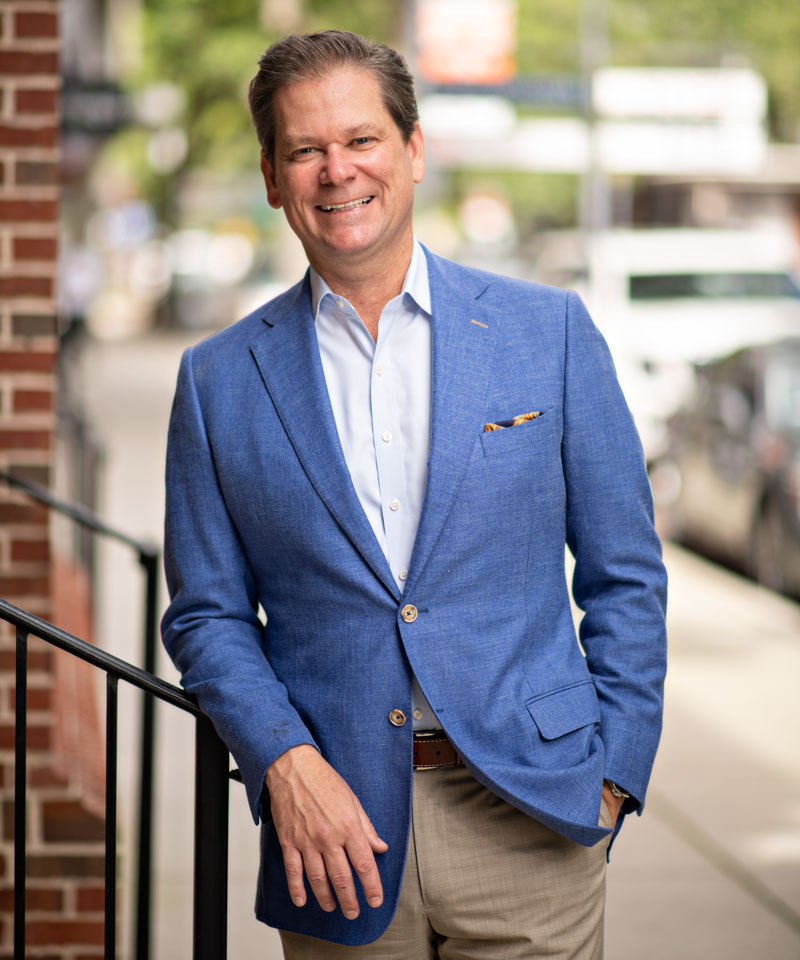 Christopher Jaskiewicz
President and CEO, ICON Park
THE I-DRIVE EMISSARY
Christopher Jaskiewicz, president and CEO of ICON Park on International Drive, was truly a child of the regional tourism industry. His father, David Jaskiewicz, spent 35 years at Walt Disney World and retired as vice president of human resources. As a student at Bishop Moore High School, the younger Jaskiewicz held an array of jobs in hospitality and was impressed by the customer-service standards of Disney as well as the creative spirit of such fondly remembered local attractions as Mystery Fun House, Pleasure Island and, especially, Bob Snow's Church Street Station complex in downtown Orlando. Jaskiewicz, now 54 and a resident of Winter Park, later majored in communications at Florida State University and earned a law degree from St. John's University. After that, the Denver, Colorado, native practiced entertainment law and became in-house counsel for the Gotham Organization, which specialized in upscale residential and mixed-use retail development in New York City. Eager to return to Central Florida, Jaskiewicz accepted the job at ICON Park in 2018 and quickly began to rebrand the attraction, which encompasses some 20 acres owned by Orlando-based Unicorp. On the property there are nearly 50 themed restaurants (including brands by Gordon Ramsey and Blake Shelton) and such draws as Madame Tussauds Orlando, the Museum of Illusions Orlando, the Sea Life Orlando Aquarium and the iconic, 400-foot-tall Wheel at ICON Park. When the pandemic struck and attractions were shuttered, Jaskiewicz not only led the charge to reopen quickly (and safely) but also pulled neighboring attractions together to form the Orlando Entertainment District and began marketing to locals. ICON Park, in fact, was the first attraction in the region to welcome guests back — on June 3, 2020 — and instantly posted strong attendance numbers. Jaskiewicz — who with his wife, Christine, have three school-aged children — was subsequently named one of Orlando Business Journal's CEOs of the Year and one of Orlando Magazine's 50 Most Powerful People, among other recognitions. But there were more challenges to come. At press time, a St. Louis teen, Tyre Sampson, was tragically killed when he was flung from the Orlando Freefall, owned and operated by the California-based Slingshot Group. While that ride is closed pending a final investigation, ICON Park has demanded that the Slingshot Group suspend operation of its other ride on the property, Orlando Slingshot.
THE BOTTOM LINE:
Jaskiewicz loves the quiet charms of Winter Park — after all, he and his family could have chosen to live anywhere — but reminds us that "part of the fun of living in Winer Park is it's easy to access quality entertainment districts" that are nearby — such as ICON Park.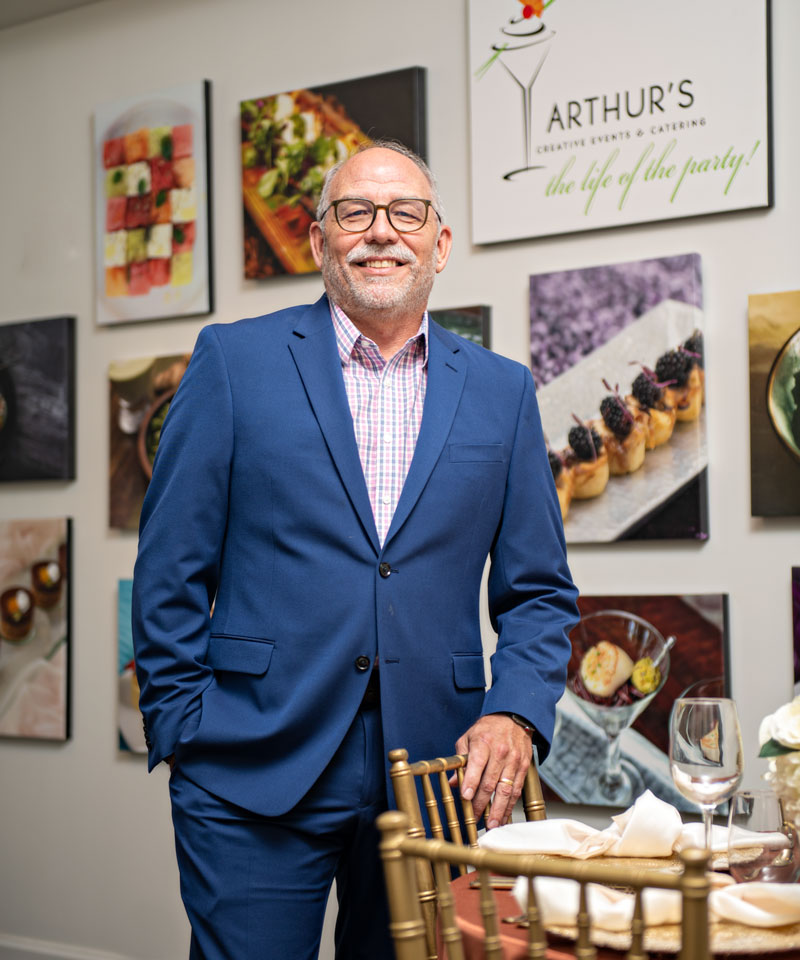 Mark Leggett
President and CEO, Arthur's Catering and Events
THE MEMORY MAKER
As a young man, Mark Leggett channeled his knack for numbers into a marketing degree from the University of Central Florida. But Leggett, president and CEO of Arthur's Creative Events & Catering, had no interest in being stuck behind a desk. Leggett loved people — and food. He got a job in catering (as a busboy) while in college and never stopped. He had a gift, it seemed, for hospitality. "I think catering chose me" he says. "One of those God things." Leggett, 58, cofounded Arthur's in 1989 with Lisa Grant, now retired. "Arthur" is Leggett's middle name — but it was also the given name of his father, a construction salesperson who died when Leggett was just 10. Because Leggett's roots run so deep in Winter Park — and his company's presence is so ubiquitous locally — many are surprised to learn that the business is, in fact, headquartered in Altamonte Springs. The youngest of three children, Leggett was born at Winter Park Memorial Hospital (now AdventHealth Winter Park), where his mother was the lead obstetrics nurse, and graduated from Winter Park High School. He and his wife, Courtney, once high-school classmates, have a son, Coleman, 28, and a daughter, Mary Page, 26. Leggett's company survived the pandemic — when business abruptly plummeted by 90 percent — by delivering family-style meals to homes. Today, however, Arthur's is once again "the life of the party" (which also happens to be the company's slogan). By the numbers, it's the second-largest caterer in Orlando, generating $7 million-plus annually and employing more than 250 people. This year it will produce 1,400 events — about 400 of which will be in Winter Park. Parties may be Arthur's bread and butter, but for Leggett community service "is the foundation for everything we do." Arthur's — which offers in-kind support to nearly 30 local civic and charitable organizations — has also won numerous "best caterer" awards and was cited by the Orlando Business Journal as one of the region's best places to work. Leggett, who still personally works events catered by his company, says he's having fun. "It's a lot of moving parts," he says. "Our team is an orchestra. Running it is like being conductor of the philharmonic."
THE BOTTOM LINE:
Leggett is a business leader with a social conscience shaped by his faith: Says Leggett: "I came to realize and understand early on in our business that servant leadership embodies who we are as leaders and how we empower our team members. I believe that when you put the needs of others first, you empower your team members to perform at their very best."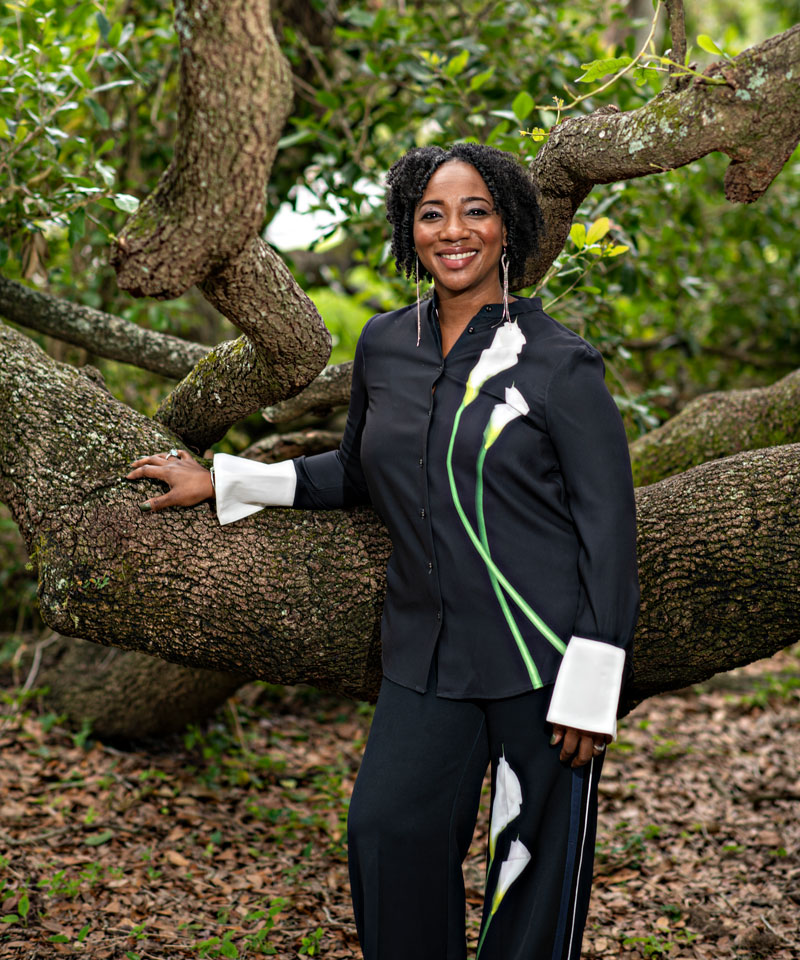 LaShanda Lovette
Executive Director, Winter Park Housing Authority
THE HOME MAKER
Growing up in Marianna, Florida — a city of 6,000 people near the Alabama border — LaShanda Lovette had a dream: to leave. She recalls: "I told my parents that when I turned 18 that I wanted to do more. I wanted to be more." She found her way to the University of Central Florida, where she majored in entrepreneurship and computer science, and later made history as the first African American executive director of the Winter Park Housing Authority, which was founded in 1970. "I was just a little Black girl from Nowhere, Florida," she says. "To have the opportunity to do what I'm doing — it's huge." And it's important, too, placing people of limited means in safe, sanitary, nondiscriminatory housing that they can afford. Lovette, 45, was deputy director of the Seminole County Housing Authority for 11 years before taking the local post in 2019. She had worked in banking for six years but kept feeling the pull of public service. "In Marianna there was this project — that's what we called it, 'the project' — that embodied all the stereotypes associated with public housing. We didn't live there. But I always said that if I ever got the chance to tear it down and rebuild it, I would." That dilapidated Marianna complex was razed and rebuilt before Lovette could get to it — but she's fulfilling her vow by helping people in Winter Park. The authority oversees 119 public-housing units, which receive funding from the U.S. Department of Housing and Urban Development (HUD), and 586 "affordable-rent" apartments, which receive only rent revenue. Rent, however, is never enough to cover the full cost of maintaining the buildings, so Lovette is constantly scrambling for grants. In a way, she's like the mayor of a small town with 1,200 constituents who live in authority-controlled housing. "Part of the job is building relationships," she says. "I like talking to people informally, getting to know the kids, the aunties, the grandmas, the whole extended family." Lovette and her husband, Michael, have two sons. Once when asked for a word that described his wife, he said "humanitarian." She had never thought of herself that way: "I was not taught to look at myself like I really mattered. I was taught to take care of others."
THE BOTTOM LINE:
Lovette is passionate about her work — which is reflected by a slew of community-service awards — and is committed to helping the city embrace its diversity. Her work is more important than ever — especially in Winter Park — as decent housing has become exponentially less affordable.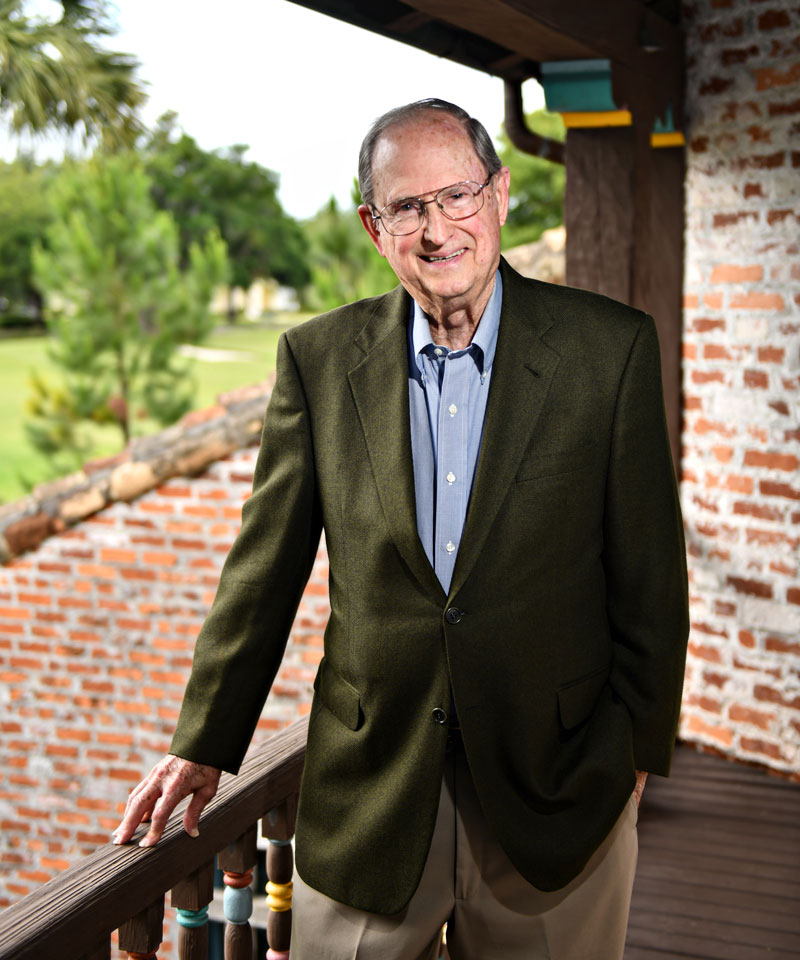 Jack Rogers
Retired Architect
THE PARKS PROMOTER
When Jack Rogers was 13, he and his 15-year-old brother Gamble (later of folksinger fame) took a 2.5-mile canoe trip up Howell Creek (then referred to as Snake Run) from Lake Osceola to Lake Howell. Rogers, 82, never forgot the primal beauty of the forests and wetlands that flanked the creek. The impression made by that long-ago adventure explains, at least in part, why the native Winter Parker remains passionate about preservation. "We've never had an opportunity like we have today to create more greenspace," says Rogers, who's chair of the planning and acquisitions committee of the Winter Park Land Trust. The courtly retired architect — whose other pursuits include carpentry, boat building and maintenance of his family's circa-1860s timber-and-peg cottage in Georgia's Blue Ridge Mountains — is the son of another architect, James Gamble Rogers II, whose elegant homes, about half of which still stand, have long defined Winter Park's neo-Mediterranean ambiance. Jack Rogers, in fact, was a leader in saving one of his father's most significant residential projects, Casa Feliz, from the wrecking ball. Rogers was a founding member of Friends of Casa Feliz, a nonprofit that raised funds to move and renovate the Spanish farmhouse-style structure — which reopened as a civic space in 2004. While guitar-picking Gamble worked briefly in his father's practice, it was his younger brother — a graduate from the University of Virginia — who grew the operation into Rogers, Lovelock & Fritz (now RLF), a big-time firm with institutional clients worldwide. He stepped down as chair and CEO in 2006 but remained busy with projects and causes. In 2021, Rogers designed an arts-and-crafts-style chapel for the Glennon House, previously an inn and now headquarters for the healing ministry of adjacent All Saints Episcopal Church. "I've seen how effective this can be," says Rogers, himself a survivor of non-Hodgkin's lymphoma who serves as a prayer minister. In addition, Rogers is re-creating his father's studio at Casa Feliz, complete with everything from the legendary architect's drawing boards and reference books to his long-necked banjo adorning the wall. The studio will open in the fall, says Rogers — winner of the 2022 Winter Park Mayor's Founders' Award — who with his wife, Peggy, have a daughter, Betsy Owens (who was the inaugural executive director of Casa Feliz) and two sons, John and Geoffrey.
THE BOTTOM LINE:
Doing well by doing good: Rogers has served on numerous boards, usually those dealing with healthcare and children's issues, and established, with RLF, a scholarship in his father's name for architecture students at the University of Florida.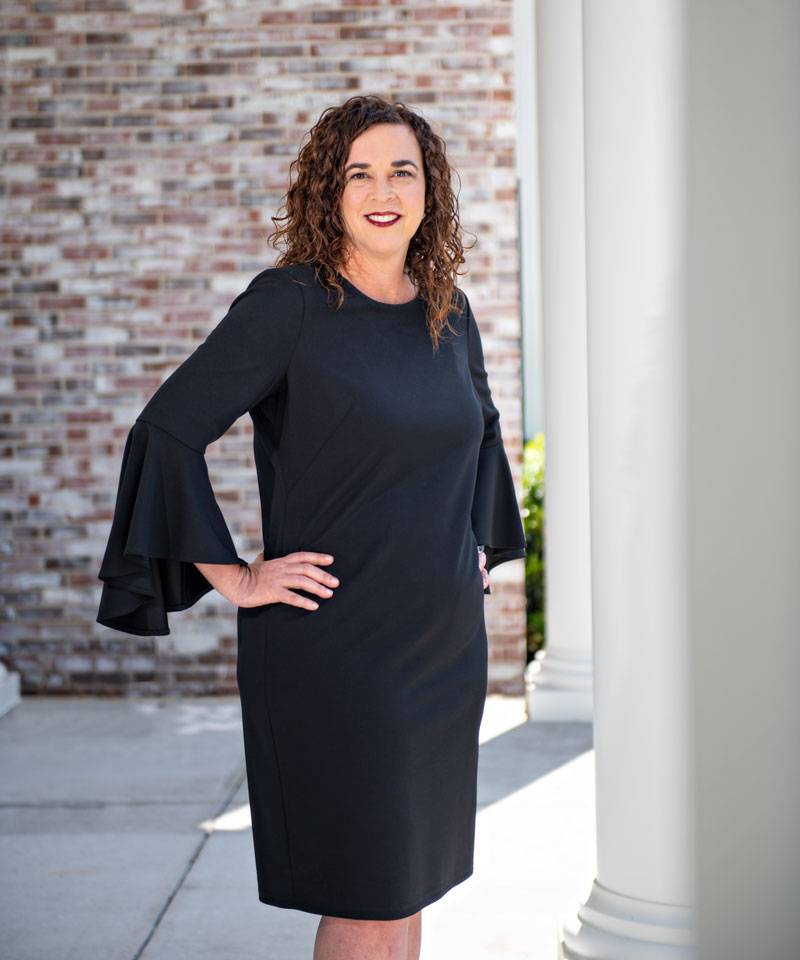 Michelle Strenth
Senior Director of Government Affairs and Public Policy, Orlando Health
THE CONSENSUS BUILDER
As board chair of the Winter Park Chamber of Commerce, Michelle Strenth is a testament to the city's vital interconnectedness with greater Orlando. Strenth, senior director of government affairs and public policy for Orlando Health — the 3,200-bed hospital system that also operates specialized care centers such as Jewett Orthopedic Institute and the Women's Pavilion in Winter Park — is a master relationship builder. It's her job to know issues and to know people. To a chamber nearing its 100th anniversary and looking for partners to help address concerns identified in its new "Prosperity Scorecard," Strenth brings a talent for finding consensus. It's her goal, she says, "to have everybody around the table with a shared purpose and vision" — no easy task in Winter Park. The Prosperity Scorecard, born of the economic shock of the early pandemic, uses a variety of data — job growth and housing prices, for example — to assess the financial health of the community. But it also offers metrics related to social and governance issues, such as sustainability and election turnout. "We can only make things better when we know what challenges exist," says Strenth, 47, who has a bachelor's degree in finance from East Tennessee State University and an MBA from the University of Central Florida. Strenth and her husband, Brian, an Orlando Health flight medic, have two children: Madeline, 9, and Garrett, 8. A native of Broward County, Strenth moved to Chattanooga, Tennessee, in middle school. She came to Orlando to work for Campus Crusade for Christ (now CRU) and then dove into public affairs, first at CNL Financial Group and then, since 2009, with Orlando Health. Strenth's dedication to healthcare is both personal and professional. When she was age 5, her late father experienced a health crisis that required some 30 surgeries and months in the hospital. Her son, born prematurely, spent four weeks in neonatal intensive care. Strenth has a grasp of both the complexities of modern medicine and its miracles — and can explain these things to networks of legislators, association leaders, and county and state officials. Strenth is a graduate of Leadership Florida, Leadership Orlando and Leadership Winter Park. Though there's no "g" in the spelling of her last name, Strenth's leadership style clearly brings even more strength to the chamber's formidable volunteer leadership.
THE BOTTOM LINE:
Leadership Winter Park continues to produce difference-makers. Says Strenth: "I truly strive for an environment where there can be consensus in an environment where there's a difference of opinions — and we can find a path toward forward progress. It's not about me, but what's best for Winter Park."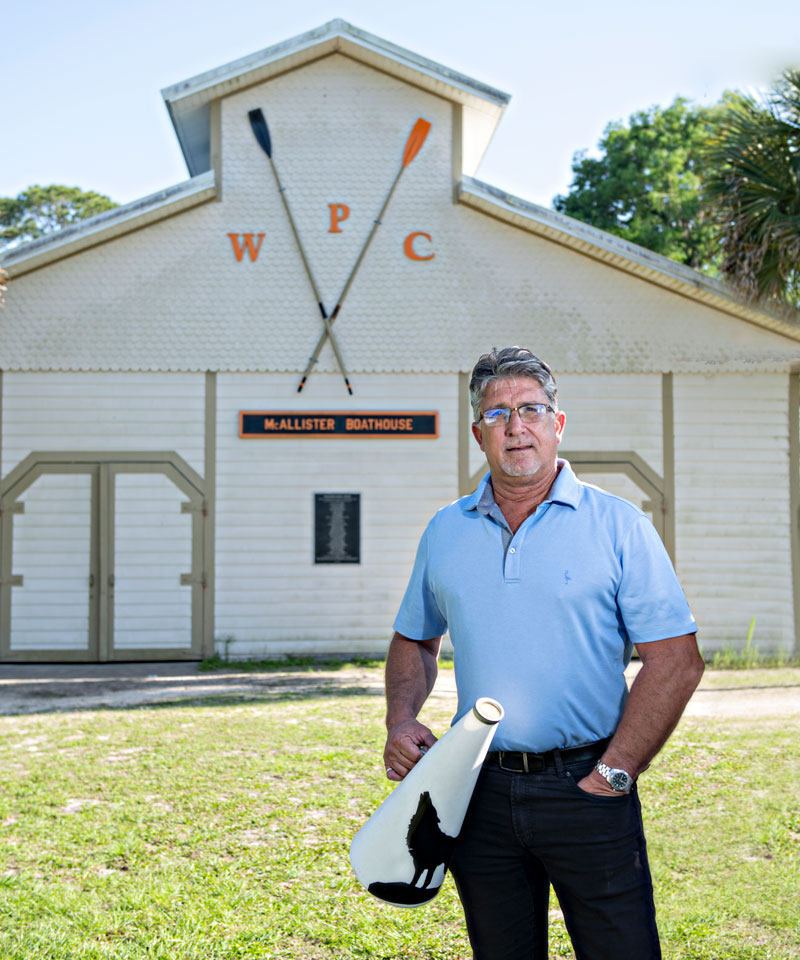 Mike Vertullo
Math Teacher, Rowing Coach, Winter Park High School
THE CREW CAPTAIN
When Mike Vertullo was choosing a life path there was little uncertainty, no anxious weighing of career options, no letting fate decide. For most of his 53 years, starting in eighth grade, Vertullo has been rowing for a crew or coaching one. In 22 years at the helm of the Winter Park High School women's rowing team, he has done everything but walk on water. The always-formidable Wildcats have won 46 Florida Scholastic Rowing Association championships. And Vertullo's current squad of oarswomen, ranked No. 1 in the United States, has been invited to this summer's London's Henley Royal Regatta — the most prestigious rowing competition in the world. The only other time in the 60-year history of the school's program that a Wildcat crew participated in the elite event was 15 years ago — and it was the men who went. "We had an opportunity in February to race two of the top teams from the Northeast," Vertullo says. "We won that regatta, which put us on our trajectory to go to Henley." Vertullo was born in Poughkeepsie, New York, where rowing stokes passion in the same way that football does in Florida. He was a medal-winning rower in high school and competed at Rutgers University while earning a degree in statistics. In seven years as rowing coach at Franklin Delano Roosevelt High School in Hyde Park, Vertullo restored the women's program to national prominence and twice was named coach of the year. Why did he leave behind a growing legacy in rowing's heartland for a coaching gig in Florida that he found in the classifieds? "I was single, ready to move on," says Vertullo, who now has a blended family of four adult children with his wife, Heather. He wasn't sure how local high schoolers would respond to his spartan regimen of "land training," with copious running and lifting weights. But they responded like the champions they became. "In rowing, hard work will beat technique every time," he says. "I can teach hard workers to row — I can't teach someone to be tough." Vertullo, though, deflects credit for his astonishing run of success. "It's more about the kids and what they're doing, and where they're going after rowing at Winter Park." One destination is certain — the record book with their coach.
THE BOTTOM LINE:
The Henley Royal Regatta, which takes place on the River Thames, is in June, so by the time you read this you'll likely know the results. But whatever the outcome, Vertullo has built a dynasty at WPHS and, according to parents and former rowers, has been a role model for how to leverage hard work to achieve goals. He says:
"I'm tough but have learned how to adapt over 30 years."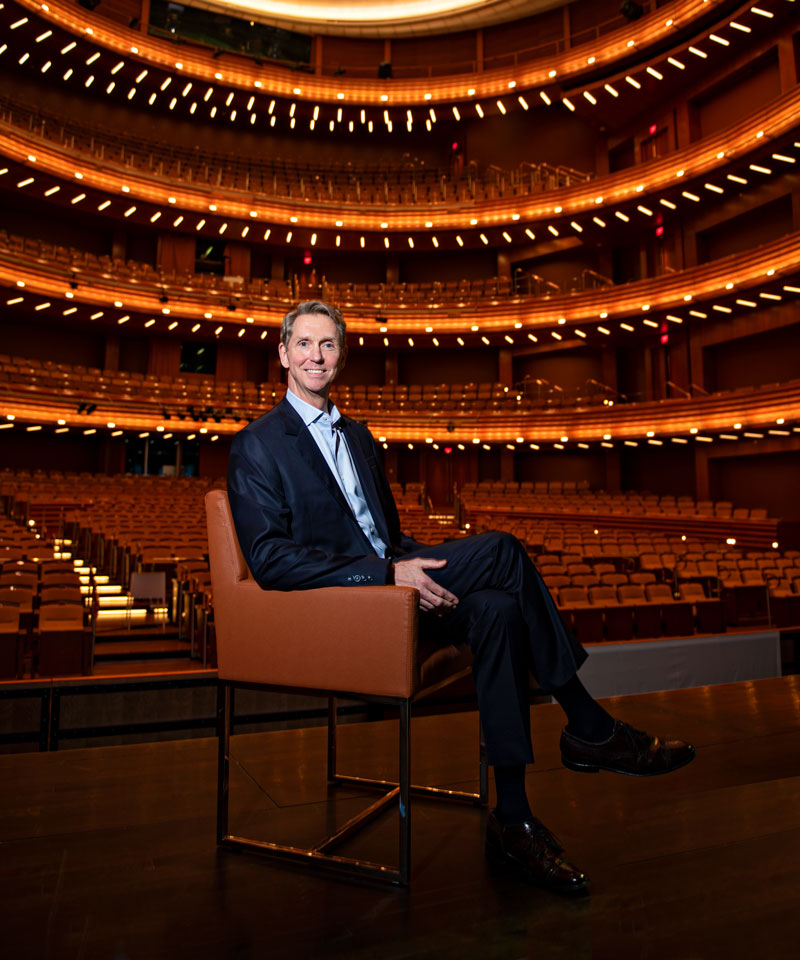 John Wettach
Retired Attorney
THE OPERA AMBASSADOR
John Wettach was almost 40 before he found his voice — literally — when he was recruited from his pew for the All Saints Episcopal Church choir. His booming bass-baritone was an asset, and almost a surprise, to the 6-foot-5-inch real estate litigator, who took voice lessons to hone his talent. Wettach, 58, made his debut in the chorus of Orlando Opera Company's production of Aida in 2005. But the fiscally challenged company — which predated today's thriving Opera Orlando — went bankrupt in 2008. Wettach then jumped to the fledgling Florida Opera Theatre, founded by volunteers from the defunct organization. There he served on the board of directors and became its president in 2015. Most significantly, however, he was instrumental (so to speak) in guiding Florida Opera Theater through its transformation into Opera Orlando in 2016. Today, the revitalized (and innovative) nonprofit stages three full-scale productions during its Opera on the MainStage series at Steinmetz Hall. Also on the annual schedule are Opera on the Town and a Summer Concert Series at the University Club of Winter Park. Opera Orlando — which boasts a youth company and a variety of educational programs — now has 11 employees and a $1.8 million annual budget. Best of all, says Wettach, who stepped down as president in June, the operation is in the black. Getting there wasn't easy, though. The failure of Orlando Opera left some people bitter and many others skeptical. "The ability I brought to the board was to work with these other groups," says Wettach, a native of Chapel Hill, North Carolina, and a resident of Winter Park for 45 years. "It was a vision people could see and get behind." Wettach, a veteran of numerous charitable boards, attended Trinity Preparatory School and the University of Florida, where he majored in journalism, earned a law degree and married his high-school sweetheart, Amy Lowndes, also an attorney and daughter of the late John Lowndes, a legendary lawyer, developer and philanthropist. The couple has a daughter, Callan, 28. Now, says Wettach, who recently retired from his law practice, he'll welcome a return to the background, to the chorus of the great operas that he believed all Central Floridians should be able to enjoy. "We're the keepers of the flame," he says. "We may be the only way people see Puccini, Verdi or Mozart."
THE BOTTOM LINE:
Wettach is emblematic of successful Winter Parkers who devote their skill and savvy to bolstering arts and culture. Says Wettach: "I truly believe that collaboration is the key. I've been very lucky to have mentors, both professional and personal, who've shown me how important it is to bring people together and to build relationships while working on any project."
Keith Whittingham
Professor, CEO of Artifx Café
THE COFFEE CRUSADER
"Think globally, act locally" could be Keith Whittingham's mission statement — if you flipped the order. Thinking locally led to acting globally for the associate professor of management science at Rollins College. Whittingham, 55, is CEO and founder of Artifx Café, a company that nurtures small farms in Costa Rica and Mexico by creatively packaging high-quality coffee products and marketing them throughout the United States. "The better we understand the people and places that produce our food, the stronger our bonds across the Earth will be," he says. Born in The Bronx, New York, to immigrant parents from the Caribbean, Whittingham spent his Wonder Years in Trinidad and Tobago before earning a bachelor's degree (Howard University) and a Ph.D. (Cornell University) in electrical engineering. He worked in semiconductor research and development for Lucent Technologies and Bell Laboratories in Orlando, until Bell shut down its local operation in 2002. Whittingham was offered an opportunity to transfer to Allentown, Pennsylvania, but declined and became a college professor instead. "I realized that my passion lay more in connecting with people and solving their problems," he recalls. Since joining the faculty, Whittingham has become an expert on global sustainability and social entrepreneurship, taking MBA students — and sometimes his two sons — on overseas trips to places where farmers struggle to survive while large companies that wholesale their coffee reap massive profits. "As I researched business models to help these small producers climb out of poverty, I began to understand there are barriers to overcome to achieve that goal," he says. "Artifx was launched to break through those barriers." Artifx Café imports coffee from those growers and sells it online and through such upscale retail outlets as The Ancient Olive in Winter Park and St. Augustine. Each bag of beans, emblazoned with such names as Deep Cloud Forest and Tierra Monteverde, features a striking image by an artist from the region. Profits help provide a fair wage to growers, fund microloans for startups, and bolster recycling and water filtration projects. Launched in 2018, Artifx Café was a "café" in name only until April, when Winter Park Distilling co-founder Paul Twyford was awarded the food and beverage concession for Winter Pines Golf Club. Part of the upgraded clubhouse is The Artifx Café Coffee Bar.
THE BOTTOM LINE:
Whittingham embodies the Rollins College ethos of social entrepreneurship as a way of facilitating change, both in the community and in the world. He says: "I try to be empathetic and empowering to all around me, I seek the win-win and I am not afraid to take risks if I can make a difference."