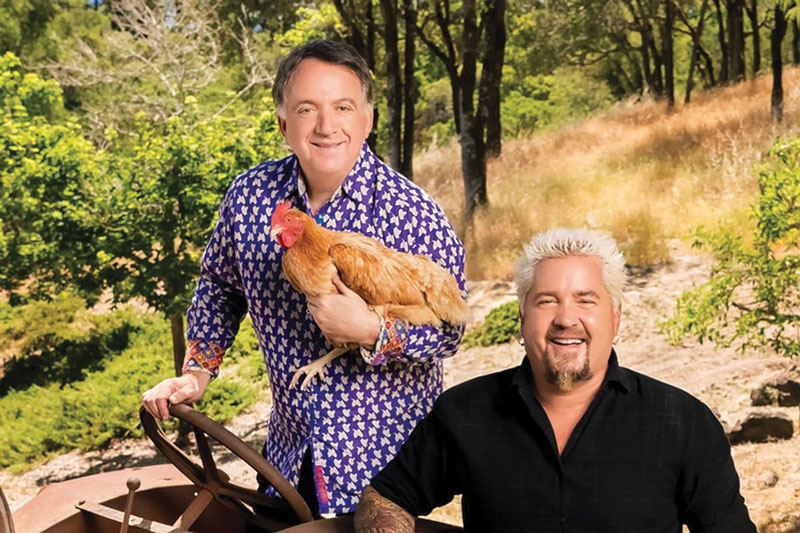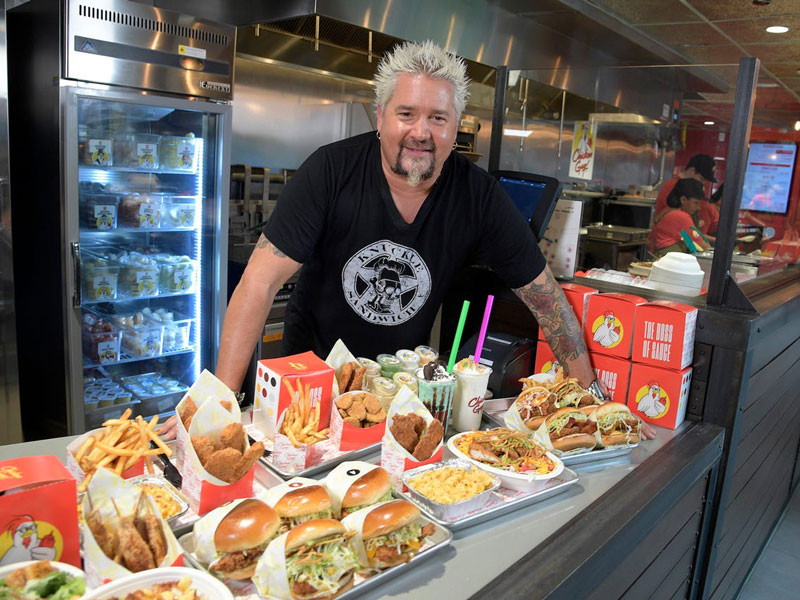 Not long ago I dined at one of Winter Park's best-known restaurants with a connected companion. He had arranged for a sampler to be waiting for me via a dozen or so delicate paper cups filled with savory concoctions dreamed up by the restaurant's celebrity saucier.
A nearby diner, gawking at the delicate beakers filled with the likes of "Cumin Lime Mojo" and "Nashville Hot Honey" on our table, wondered: "How come you got so many?"
"I have some influence here," said my companion. It was something of an understatement. He owns the joint.
Robert Earl is a British-born, 70-year-old international restaurateur and entrepreneur, best known in Orlando for his ownership of Hard Rock Cafe and for opening one of his Planet Hollywood franchises at Disney Springs.
Since moving here in 1981 Earl has invented or acquired numerous themed chain eateries, including the one where we met, dubbed Chicken Guy!
Its presence since December just north of Fairbanks Avenue, where Steak 'n Shake stood for decades, is within honking distance of four rival chicken joints: a PDQ, a Chick-fil-A, a recently opened Chick'nCone and a soon-to-close Popeye's.
This proliferation of poultry places has inspired a nickname among locals for the busy stretch of U.S. Highway 17-92 just a few yards away from our table: "The Chicken Strip."
Robert Earl is the strip's cock of the block along with the "Guy" in Chicken Guy! That would be collaborator and fellow restaurateur Guy Fieri, a chef and television personality.
Fieri is best known for his series on the Food Network, Diners, Drive-Ins and Dives, which once garnered a left-handed compliment from The New York Times for bringing "an element of rowdy, mass-market culture to American food television."
The pair bonded while Fieri was in town tuning up the menu at Planet Hollywood and came up with the fledgling franchise, which Earl wanted to explain to me while we dined.
I first asked him why, at age 70, he wasn't content to enjoy a life of ease with his longtime wife, Tricia, with whom he shares a gated lakeside mansion in the posh Windermere community of Isleworth.
"Retirement is not in my vocabulary," he said, then conceded, "You have to adjust the pressure on yourself" before adding a nostalgic non sequitur: "I'm on the Scarsdale diet. It doesn't work."
The menu at Chicken Guy! — I haven't used so many exclamation marks since my alma mater won the College Football National Championship — revolves around pressure-cooked chicken tenders served on sandwiches, skewers and in salads.
Earl has a theatrical way about him, perhaps having absorbed it from his father, who was an actor. He seemed to channel it into a maître d' persona, doling out our rapidly disappearing sauce samples to passers-by one moment, flagging down a manager he called "luv" to get a vacated table bussed the next.
I knew that Earl had owned several other area restaurants but was surprised when he told me that one of them was the old Park Plaza Gardens on Park Avenue, whose elegant presence he misses. On the other hand, he's clearly engaged by the more mundane challenge of the high-volume, high-tech strategies involved in a fast food — he corrected me, "fast casual" — restaurant franchise.
Earl coaxed me into sampling a chicken sandwich, one that combines a generous stack of seasoned tenders, nicely sauced and smooshed down beneath what appeared to be half of a well-constructed tossed salad. It was the best fast-casual sandwich I have ever knowingly consumed, and it put me in my happy place.
Then I remembered how grouchy I am about the traffic on 17-92. You tell me how a chicken could possibly cross that road at rush hour, with drivers making left turns from hell into dining places such as this, causing traffic to congeal into the kind of slow-motion vehicular sludge I associate with New York City cab rides.
I groused about it. Earl blithely shifted the conversation to the restaurant's cleverly engineered parking lot just steps away from our table. Being from the UK he referred to it as a "car park" — which sounded more like "cah pahk" given his accent — and explained that it's laid out not only to handle traffic from drivers who dine in but to smoothly channel those who don't to a two-lane pickup window.
Then he mentioned another pet project, Virtual Dining Concepts, which fosters franchises called "ghost kitchens" that function strictly as delivery-based diners. Chicken Guy! is also set up with a special system to speed third-party delivery, so diners can enjoy their Cumin Lime Mojo minus migrating en masse to 17-92.
Otherwise, see you in the cah pahk.
---
Michael McLeod, mmcleod@rollins.edu, is a contributing writer for Winter Park Magazine and an adjunct instructor in the English department at Rollins College.