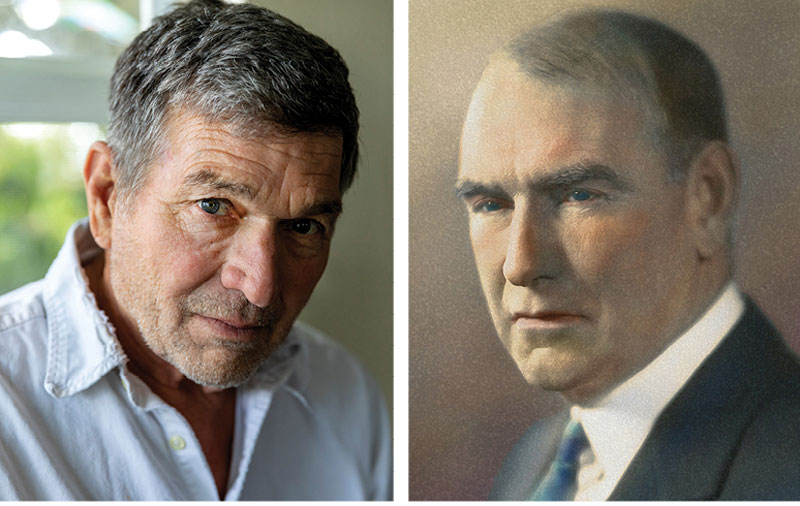 Quarterly magazines don't cover breaking news. At least, not intentionally. Because we work so far in advance, many of the stories that appear in this issue were written in January or early February — before Russian President Vladimir Putin began raining hellfire on Ukraine in an unprovoked attack that continues at this writing.
No one knows what the situation will be in early April, when Winter Park Magazine arrives in your mailbox. But as of now, the Ukrainian people are demonstrating patriotism and heroism in the face of astonishing brutality and long odds against them
Coincidentally, we had already planned for the spring issue to include several feature stories that dealt with the common theme of war.
One, about former Rollins College President Hamilton Holt, focused on his lifelong advocacy for world government as a means to prevent armed conflict. One major premise: A multinational military force — by design the largest in the world — would be granted the authority to punish aggressor nations.
Although much has been written about Holt's educational reforms, this controversial crusade has received considerably less attention.
The other, about artist Robert Rivers, focused on his print series The Promised Land, which he created (and is still creating) after losing his nephew, Thomas, a service member in Afghanistan, to an improvised explosive device.
Rivers has also explored themes of war in a series of prints inspired by The War Prayer, a provocative prose poem by Mark Twain that we've published as a sidebar to the feature.
As we were putting the issue together, Putin's forces moved in. And suddenly, our long-established editorial lineup had become relevant to today's headlines — which is an unaccustomed situation for a magazine that primarily covers local people, local history and arts and culture.
Current events didn't make Holt's quixotic notion seem wise in hindsight — it was not wise, for reasons that will seem obvious to readers — but writing about his passion for this lost cause served as a reminder that periods of relative peace can be deceiving and are constantly vulnerable to terrorists or thuggish madmen who command armies.
At least Holt's heart, if not his logic, was in the right place.
And then I remembered that one of our top feature writers, Greg Dawson, had an extraordinary story to tell about his Ukrainian mother, Zhanna Arshanskaya, who as a young girl in 1941 had escaped from a Nazi death march with her sister, Frina (Greg's aunt).
The pair survived by assuming Christian identities and entertaining the German invaders with their skillful piano playing. Ultimately, Zhanna married an American soldier and moved with him to Bloomington, Indiana. She didn't reveal her experience to her children and grandchildren until decades later.
Once his mother decided to tell her terrifying tale, Greg, ever the reporter, quizzed her (gently) for more detail and eventually traveled to Ukraine, where he visited some of the cities that we hear about today on the evening news. The result was a book, Hiding in the Spotlight: A Musical Prodigy's Story of Survival, 1941-1946 (Pegasus Books, 2009).
Again coincidentally, the story has been retold in a just-released book aimed at younger readers. Alias Anna: A True Story of Outwitting the Nazis (HarperCollins, 2022) was written in verse by Susan Hood, an acclaimed author of more than 200 children's picture books, with Greg as co-author.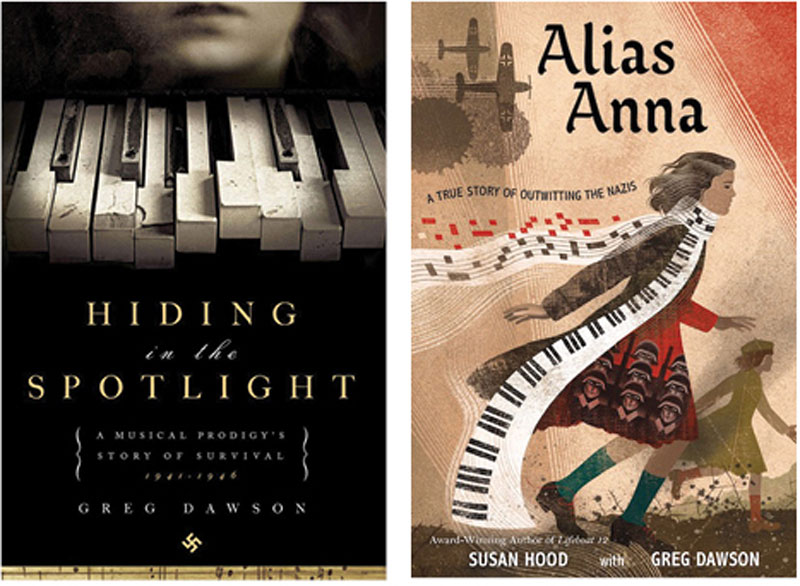 I'm pleased to announce that you'll learn more about Alias Anna — and read a first-person account of how Greg followed his mother's perilous pathway through Ukraine — in the summer issue. It's strong stuff and will surely raise chill bumps with writing like this:
"I had to walk their final walk — their exact route, on the same day, in the same weather — to the killing field of Drobytsky Yar. I needed to see the spot where my mother jumped out of line into the woods, cheating Hitler."
Perhaps there'll be better news out of Ukraine come summer. But whatever happens, stories about resiliency of the human spirit are always timely.