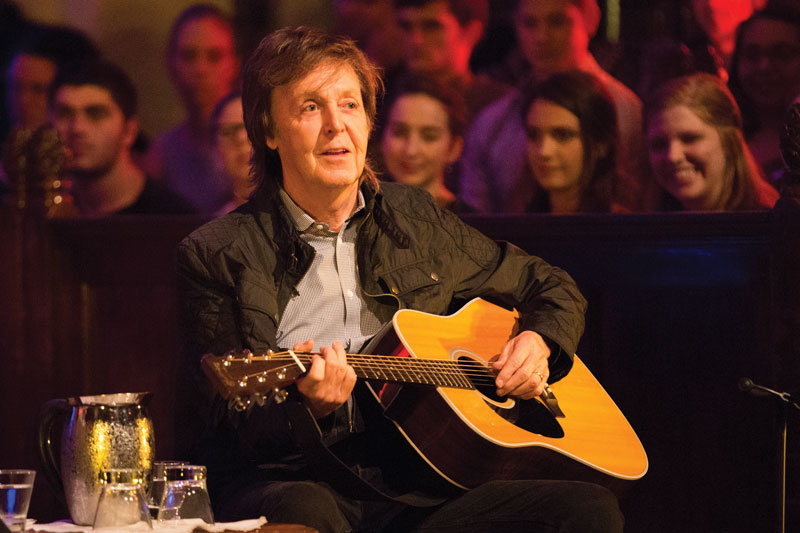 Two men in their 70s dining at a casual Park Avenue eatery wouldn't normally draw much attention. However, on this day in 2012, the man whose seat faced the front door of the bustling Briarpatch Restaurant was former two-term U.S. Poet Laureate (and Winter Park resident) Billy Collins with his wife, Suzannah Gail Collins.
Their dining companion, who was seated with his back to the entrance and surrounded by extended family and friends, was a visitor named Sir Paul McCartney. Perhaps you've heard of him.
As significant buzz began to build among astonished patrons, some of whom undoubtedly choked on their kale salads and performed involuntary spit-takes with mouthfuls of hot coffee, McCartney and Collins discussed the topic of adulation.
"I like to be aduled," deadpanned McCartney, who was knighted in 1997. "It's good to be aduled now and then."
That kind of wordplay has been a constant in McCartney's career. As a solo artist, he has filled arenas and stadiums for 50 years — and will continue to do on Saturday, May 28, when he performs at Camping World Stadium in Orlando as part of his "Got Back" tour.
Prior to going solo, during his career with — oh, what was the name of that band again? Oh, yes, the Beatles. In any case, back then drummer Ringo Starr's malapropisms often provided inspiration for songs and film titles: We've been working eight days a week. It's been a hard day's night.
McCartney has always had a keen ear for turning an intriguing phrase into a No. 1 record. So maybe someday the Briarpatch banter will result in a song about being aduled. If it does, you'll know when and where the idea originated.
After lunch, Collins says, McCartney didn't try to avoid those waiting to adule him. "When we left, there was this gathering of acolytes," he recalls. "He didn't duck it. He walked right into it."
In Collins's view, his genial dining companion that day — who just happens to be one of the most influential musicians in the history of the world — is the same guy whether he's having lunch with friends or encountering adulers while, without disguise or security, he's hoofing his way along the streets of New York City.
"The charm is always there," Collins says. "It's his default position. There's a genuine approachability. On the other hand, he's a Beatle and people behave differently." McCartney is indeed fan-friendly but, out of deference to those he's with, eschews being photographed or giving autographs while eating.
Collins and McCartney had met years earlier at function of PEN America, a New York-based nonprofit that defends and celebrates free expression through the written word. They had remained friendly, which isn't surprising considering McCart-
ney's love of poetry and Collins's love of music.
That's why Collins was surprised to learn that McCartney had been spotted in town, prompting him to dash off a playful email: "How dare you sneak in and out of Winter Park without telling me."
Until that point, McCartney had been unaware of Collins's residency at Rollins College. The pair quickly arranged to meet and picked a favored gathering spot for most Winter Parkers.
If you're a Briarpatch habituate, especially during peak hours, you know that McCartney wasn't overly concerned about remaining under the radar. If you're there, you'll be seen.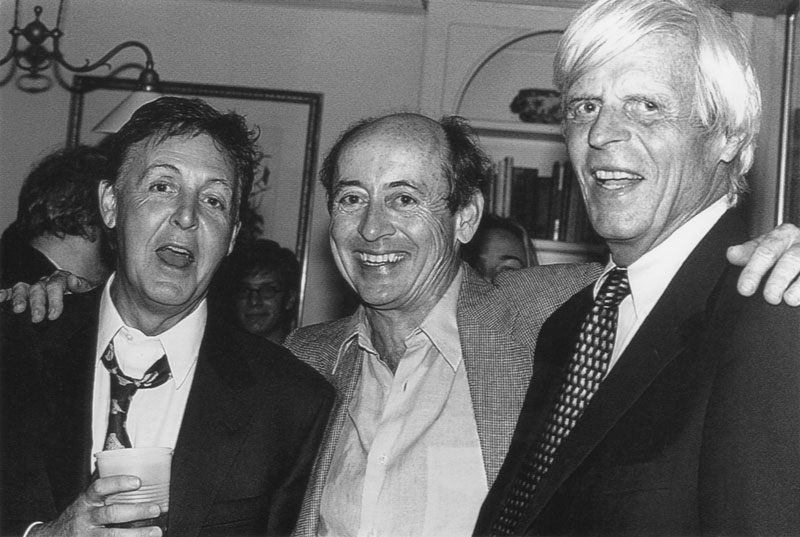 THE ROLLINS CONNECTION
Coincidentally, it was the college that had brought McCartney to the City of Culture and Heritage. Arlen Blakeman, son of McCartney's third wife, Nancy Shevell, was an undergraduate major in communications at the top-rated liberal-arts institution.
From 2011 until Arlen's graduation in May 2015, the McCartneys visited often enough to buy a luxury condominium near all their favorite haunts on Park Avenue. McCartney sightings became rather frequent during those years — although some may be dismissed as wishful thinking.
He did, however, on occasion attend services at All Saints Episcopal Church on East Lyman Avenue when he was in town on Sundays.
Chevalier Lovett, now chief operating officer of a nonprofit called Florida Rising, is also a classically trained opera singer and was a member of the church's choir.
McCartney, who usually sat in the first several rows, sought Lovett out after hearing his solo turn in "There is a Balm in Gilead."
Says Lovett: "The first time he complimented me it was surreal. I was like, 'One of the greatest musicians in the world said that he loved my voice and that it made the service.'"
A second time, McCartney asked Lovett about his life and work. "I told him that I went to school for music, but worked in the nonprofit sector," Lovett recalls. "I said that music was a part-time gig and my way out of a hectic world. He said I should seriously consider making music my thing."
Which he did. Today, in addition to his work with the nonprofit, which helps marginalized communities organize politically, Lovett is music director of the contemporary service at First United Methodist Church of Winter Park and a frequent performer with, among other arts groups, Opera Orlando.
At the time, Collins was Senior Distinguished Fellow at the college's Winter Park Institute, which presented a speaker series that attracted such luminaries as David McCullough, Jane Pauley, Ken Burns, Garrison Keillor and was anchored by an annual reading from Collins himself.
He and WPI Executive Director Gail Sinclair had been discussing ways to get McCartney to the campus for some sort of public event. Usually, WPI speakers gave traditional presentations. But Paul Simon's 2008 appearance was structured as a one-on-one discussion with Collins. Perhaps, he and Sinclair mused, such a format would appeal to McCartney.
Collins offered to contact the Rock & Roll Hall of Famer (a two-time inductee as both a solo artist and a member of the Beatles). In old-school fashion, Collins sent McCartney a personal letter of invitation. McCartney replied in the affirmative, via a neatly typewritten note with a drawing of an odd-looking cartoon character beneath his signature. The date was set: October 26, 2014.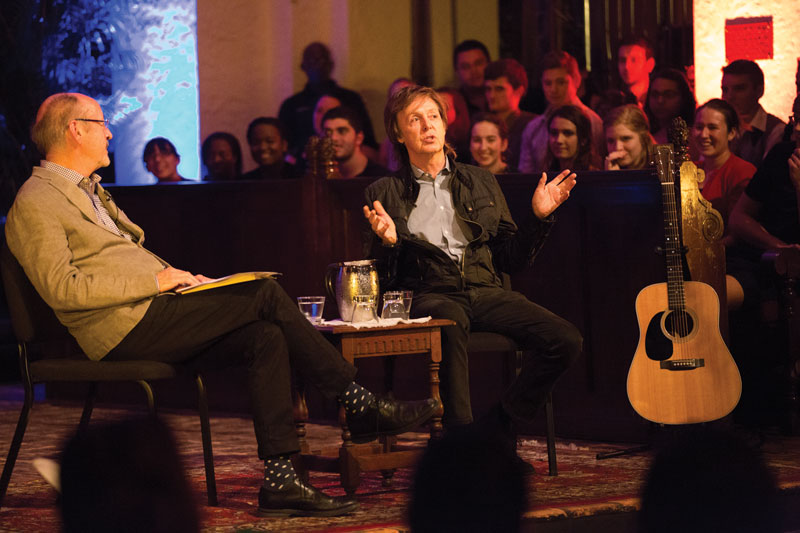 "I knew he didn't want to give a 'concert' of any kind," says Collins. "After all, he was here to see his stepson graduate. He knew I had interviewed Paul Simon on stage more than once and had some experience talking about music. That was the focus, the music — not 'my life as a Beatle.' I might have suggested that he bring a guitar but maybe he just knew to bring one."
The venue would be Knowles Memorial Chapel, but it all had to be strictly hush-hush. An all-campus eblast the morning of the event advertised a lottery system for 600 tickets to see an as-yet unnamed VIP.
It wasn't announced until the last minute that the speaker was McCartney. Many, though, had already figured it out and tickets were snapped up almost instantly.
Collins remembers: "Paul wanted an intimate venue. If you're him, 600 is intimate."
And so it was that the country's most popular living poet, a veteran of hundreds of live readings before large audiences, faced a packed house buzzing with anticipation over the chance to see and hear an iconic rock legend whose level of fame occupies its own stratospheric category.
Collins kept the introduction short and sweet, while adding a dose of his signature wry humor:
"He's here to very generously share his experience and his wisdom about songwriting and being in the music business. And just as importantly, he's here to make me look like a cool guy. Without further ado, a warm Rollins College welcome to Sir Paul McCartney."
Seconds later, McCartney's appearance inside the ornate chapel drew shrieks reminiscent of the Beatles' live show at Jacksonville's Gator Bowl 50 years previous.
Asked Collins, tongue in cheek: "You were in the Beatles, weren't you?" When McCartney good-naturedly acknowledged that obvious fact — "Yeah, I was really in the Beatles, man" — the crowd shrieked again.
"Now that the Beatles' body of work is done," McCartney offered. "I do think about it more. There were four people in this world who were Beatles, and I was one of them. I was the guy who wrote with John Lennon. I was very blessed."
Collins steered the conversation to the early days, when Lennon and McCartney started their storied writing collaboration. "We did covers," he replied. "The trouble would be, if you were on a bill with other bands, they may do your entire act. The only way 'round that was to write our own songs — prevent them from doing it before we did."
Noted Collins: "You know the expression, 'one hit wonder.' You're like an 800-hit wonder." When asked about his approach to songwriting, McCartney candidly admitted: "I don't know how to do this. Sometimes the music can come first, sometimes the words. If you're lucky, the two together. There's no rules."
Of "Yesterday," one of his most famous compositions, McCartney said, "I dreamed that song." A melody had been wafting through his brain, he recalled, so he went around humming the tune, asking if anyone knew it. "After two weeks," he said, "I claimed it."
Collins noted how McCartney's songs have been covered by countless bands over the years. ("Yesterday" alone has been recorded by more than 2,200 artists.) How did he feel about that? "If someone on the street corner is reading one of your poems," he replied, "is it going to bother you?"
At the conclusion of an evening sprinkled with iconic moments, McCartney performed "Blackbird," the song inspired by the Little Rock Nine — Black students who faced vitriol as the first to integrate Little Rock Central High School in 1957. (In 1964, the Beatles had insisted that their Gator Bowl show be integrated.)
Following the hourlong presentation, Collins and McCartney, accompanied by Arlen — now a successful attorney in Miami — and a group of his college-age friends celebrated the evening with dinner at Luma on Park, a sleek and trendy restaurant that closed in 2020. "I think the whole motivation for subjecting himself to the interview was to give his stepson a chance to show him off," says Collins.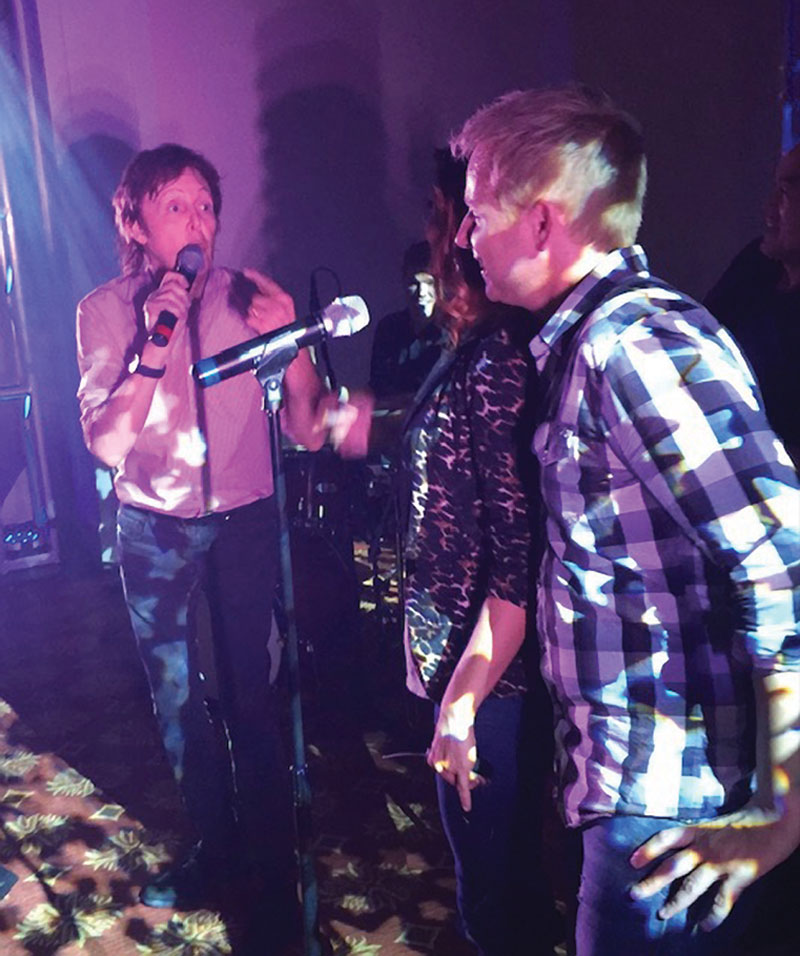 THE INTERLACHEN GIG
McCartney reprised the role of cool stepdad the following year. He donned a coat and tie to attend Arlen's graduation ceremony — attempting, futilely, to go unnoticed — and that evening cut loose at a celebration for his stepson held at Interlachen Country Club.
Josh Walther is the lead singer of the Tampa-
based music group Phase 5, whom Nancy Shevell hired as the evening's entertainment after conducting an internet search for bands.
Here's how the gig came about. Walther's cellphone rang as he pushed a cart down the aisle at Home Depot. The caller was a mom looking to have live music for her son's special occasion at some country club in Winter Park. In other words, business as usual.
"She said, 'Well, my husband might get up and sing.'" recalls Walther, who was accustomed to talent-challenged relatives seeking a turn in the spotlight at such events. "Well," he replied as politely as possible, "We usually don't let someone get up and sing like that. We won't know the song."
"Oh, you don't know who my husband is," she replied. "Are you sitting down? It's Paul McCartney." Walther, who had not been sitting down, was stunned. "This can't be real," he replied. "Let me know what he'd like to play."
Still, Walther had been told many times that celebrities might show up when they performed, but it had never happened. He assumed it wouldn't happen this time, either, especially considering who the celebrity in question was: "I told the band, 'This lady is married to Paul McCartney, but I doubt he'll be here."
The night of the celebration, Phase 5 had been instructed to start playing early. During that awkward stretch, before people were in the mood to move, the dance floor remained empty. Mercifully, one irrepressible 73-year-old man finally broke the ice and stepped out.
"Oh my God, there he is!" exclaimed Phase 5's singer Robyn Lista. There, on the dance floor, carrying a bulky video camera, was none other than McCartney, who clearly didn't need any help from his friends to get the party started. Soon everyone was dancing.
During a break, McCartney approached Walther and the band: "I can do a tune," he said. "Do you know any of my songs?" Walther said they knew a few, but not the one McCartney wanted to play: "I Saw Her Standing There."
However, when Paul McCartney offers to sing with your band, you do like the song says and figure out a way that "we can work it out." Walther agreed to do some woodshedding during the next break and learn the chords.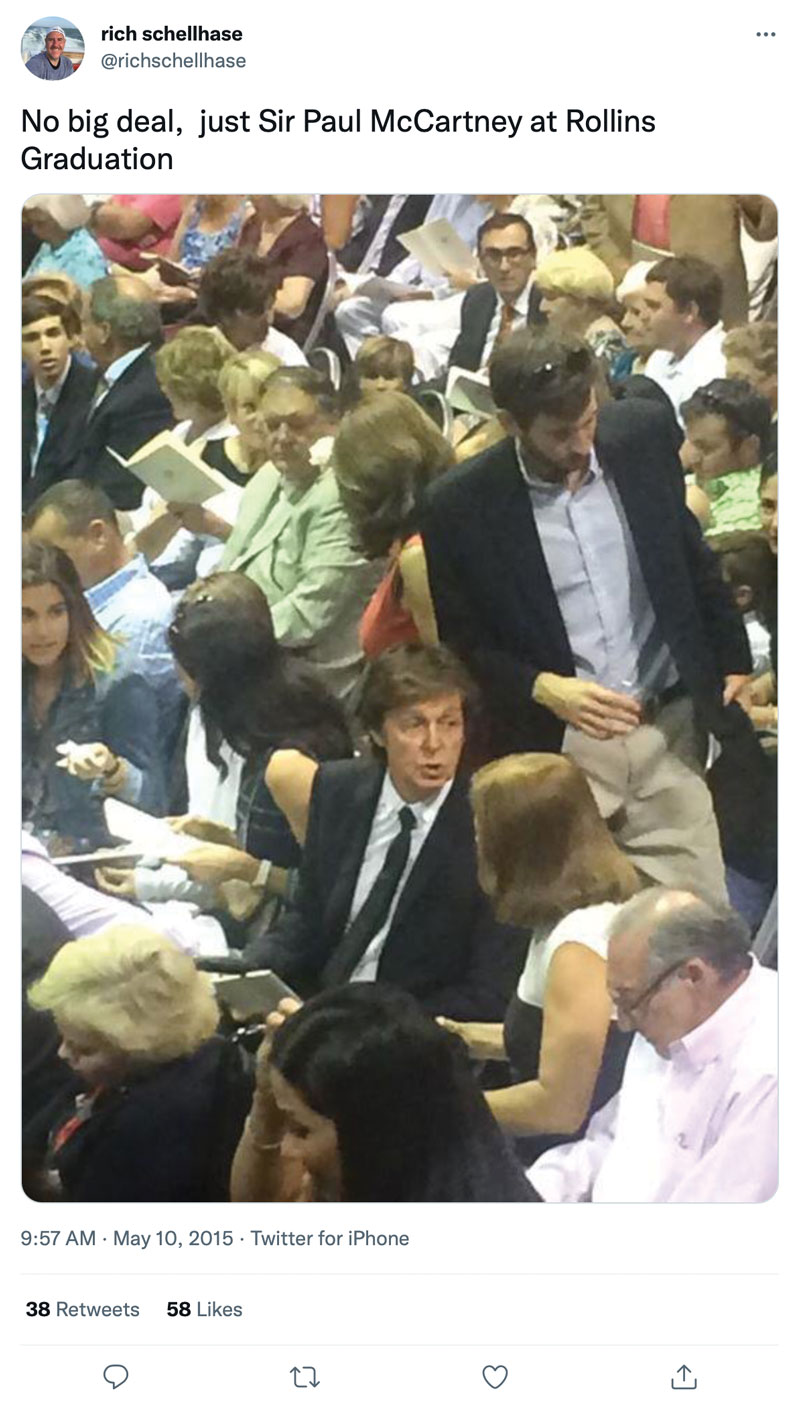 Video of that performance demonstrates that Phase 5 did an admirable job working up the rollicking 1963 release, which was written by McCartney (with an assist from John Lennon) specifically to incite smitten female teens. "[McCartney] was shouting out chords and conducting," Walther says of the performance. "I still get goosebumps thinking about it."
The band, having the time of their lives, then joined McCartney in a blues improv. After the 10-minute performance, McCartney took time to compliment the band and ask them about songwriting. The bassist, who played left-handed like McCartney, called the former Beatle his hero who had inspired him to emigrate to the United States from Japan.
"It blew everyone's mind when he got up and played," Walther remembered. "I did have that feeling he was trying to impress his stepson." Which begs the question: What does it take to impress kids these days?
During the long ride home to Tampa, in a traffic jam, the gravity of the evening began to sink in for band members. Walther texted a few friends to share the amazing news. "Part of me didn't want to say anything about it on Facebook," he says. "It was such a nice moment. I didn't want to capitalize on it."
---

WHEN SHE SAW HIM STANDING THERE
Ellen Titen, owner of ET Consultants in Winter Park, was a Beatlemaniac as a young girl. She, like most Winter Parkers, was aware that Sir Paul McCartney was known to pop up from time to time on the Rollins College campus or along Park Avenue.
One evening in May 2014, he popped up on Titen's birthday, while she was celebrating with friends and family at Luma on Park.
At a table across the dining room sat McCartney, who was also dining with a small group. Service had been spotty because of the hubbub over his visit, but it hardly mattered.
"It was so much fun for me, just to know that he was there," says Titen, who adds that she would never have approached arguably the most important figure in 20th-century popular music because "he deserves his privacy."
Well, of course he does. But when McCartney and his guests finished their meal and began to stand up, Titen quickly engineered a way that the two would have to cross paths naturally — more or less:
"I thought, 'Oh, my gosh, they're leaving.' I figured if I walked toward the front, they'd have to pass me on their way out. So I did, and they did. As he was walking by, I said, 'Sir Paul, it was my birthday today, and it was more special just because you were here.'"
McCartney, she recalls, genially offered his best wishes and then sang "Happy Birthday" for her. Had she been a teenager, Titen might have screamed and torn her hair out. Instead, she composed herself and thanked him for being so thoughtful.
"It was just one of those brief moments in time," she says. "But it said so much about [McCartney]. He's one of those people who you feel good when you see. I know I'll never forget that birthday."