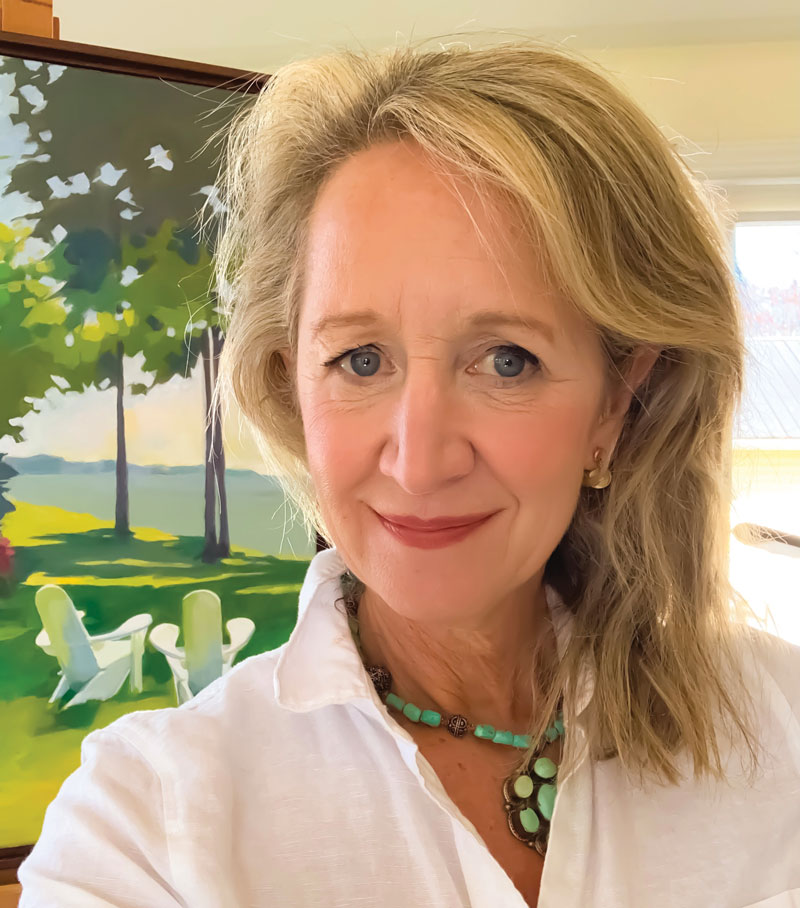 Cover artist Abby Ober today lives and works in St. Michaels, Maryland, on the Chesapeake Bay. But she graduated from Rollins College in 1984 with a degree in fine art and has a special place in her heart for Winter Park.
As a student, she worked as a prep chef at the Park Plaza Hotel's restaurant, then The Palms (later Park Plaza Gardens and now Bovine, which is unaffiliated with the hotel). And she always comes back for the annual Winter Park Paint Out, sponsored by the Albin Polasek Museum & Sculpture Gardens.
The issue's cover image, with the self-explanatory title of Boathouse on Lake Osceola, shows the view across the lake from the Polasek's grounds. If the artist's style looks familiar, it may be because we also used Ober's painting of the Park Plaza Hotel — where she stays during visits — on the cover of the Summer 2021 issue.
Ober, a native of Illinois, spent her youth abroad as the daughter of a foreign service officer and lived in Poland, Germany, Russia, India and Greece. She dreamed of becoming an artist since childhood and attended the Corcoran School of Art in Washington, D.C., following her graduation from Rollins.
After a career in advertising Ober moved to Pennsylvania, where she raised two children and began teaching art to adults and children — including those with disabilities — at Wayne Art Center in Wayne, Pennsylvania.
She also began a career as a fine artist, painting both in her studio and at plein air events across the country. She's looking forward to returning to Winter Park for the Polasek's 14th annual Paint Out from April 24 through 30.
Ober's work has been featured in exhibitions and is held in many private collections. She accepts commissions and does many personalized paintings for homes and businesses. She may be reached through her website, abbyober.com.