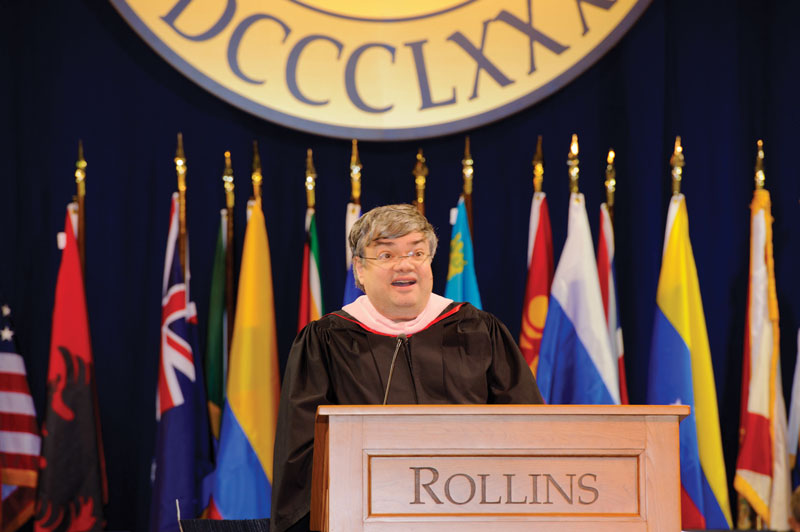 Maya Angelou, Paul McCartney, Gloria Steinem, Ken Burns, Jane Goodall: As executive director of the Winter Park Institute, a speaker series that brought an eclectic roster of celebrity artists and intellectuals to Rollins College before being shuttered two years ago, Gail Sinclair saw plenty of overachievers come and go.
Then there was Terry Teachout: occupation, one-man band.
What the longtime Wall Street Journal theater critic lacked in mainstream name recognition, he made up for in versatility — juggling his day job with writing two plays, crafting lyrics for four operas, authoring seven books, filing numerous book reviews for the The New York Times and maintaining several blogs, including a candid one recounting the joys and trials of his personal life.
Oh: and he also played bass in a jazz band. That may account for his gift at improvisation.
In 2009, two years following a WPI lecture entitled "Confessions of a Critic," Teachout was invited to return to campus as a visiting scholar. One night, Sinclair asked him to moderate another speaker's post-lecture Q-and-A, when audience members are asked to scribble questions on small cards and pass them up to the podium to be read aloud.
"What Terry was handed that night was mostly a blank stack of cards," Sinclair remembers. "He calmly flipped through them, adding comments such as, 'Oh, here's a really interesting one,' and proceeded to make up question after great question."
By then, Teachout had fallen in love with Winter Park. In an essay he wrote that year for this magazine, he mused that the town had come to feel like a parallel universe to him: He could visit restaurants on Park Avenue that rivaled his favorite haunts in New York City while savoring the easygoing atmosphere and balmy nights whose stars weren't crowded out by bright lights and concrete canyons.
Unlike most big-city critics, Teachout, born and raised in Sikeston, Missouri (population 1,600), enjoyed writing about regional theaters — and during visits to Winter Park would review productions throughout the state. In 2011, he also oversaw the staging of a play of his own, Satchmo at the Waldorf, a one-man show about Louis Armstrong, the early 20th-century jazz trumpet and cornet player, at Orlando Shakes.
While making new friends in Central Florida, he also renewed ties with an acquaintance of long standing: Gail Sinclair's husband, John — a music professor at Rollins and artistic director of the Bach Festival Society of Winter Park. The fellow Show Me State natives shared an alma mater, William Jewell College in Liberty, Missouri.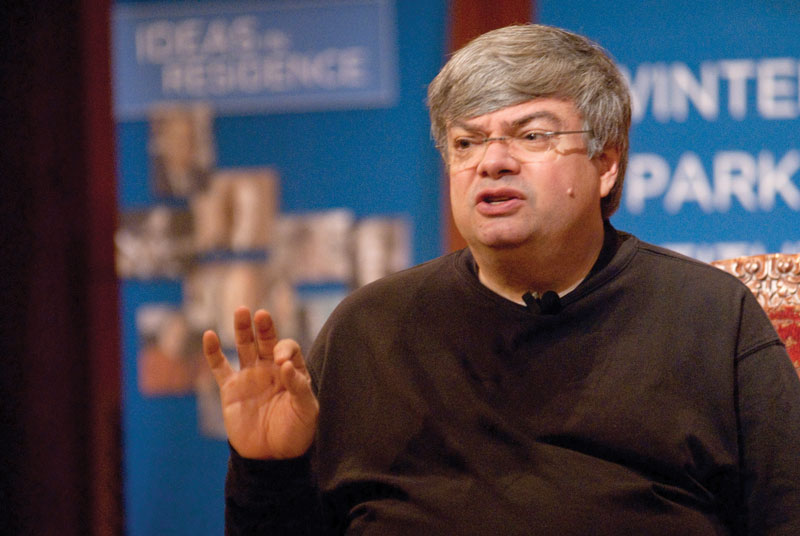 "We were cut from the same cloth," says the musical Sinclair (his wife is the literary one). "He was my little brother in our fraternity. He was also one of the smartest people I ever met."
When it came to music, says John Sinclair, Teachout could hold his own. "I remember once we were in Winnie's Chinese Restaurant, having lunch with several local jazz musicians," he recalls. "I said to Terry: 'Right now, I'm the least cool guy at this table.'"
But the two were members of a mutual admiration society. In 2016, the Bach Festival Society debuted a newly commissioned cantata in celebration of its indefatigable conductor's 25th anniversary at the podium. Music, Awake!, was composed by Pulitzer Prize-winner Paul Moravec and featured lyrics by none other than Teachout, who wanted to honor his friend's commitment to the arts.
Critics, by definition, are critical. Teachout's reviews were tempered by his small-town upbringing and a sympathy born of firsthand experience. He once wrote: "I try to write not as a lofty figure from on high, smashing stone tablets over the heads of character actors and prima donnas, but as someone who has spent his whole adult life immersed in the world of art."
Given the circles in which he ran while in Central Florida, it was inevitable that Teachout would catch the attention of Chuck and Margery Pabst Steinmetz, two of the region's most generous philanthropists and patrons of the arts.
The Winter Park couple had been looking forward to hosting Teachout as an honored guest at one of the early productions staged in Steinmetz Hall, the long-awaited and newly completed acoustic theater at Dr. Phillips Center for the Performing Arts. The hall was named in the couple's honor following a timely $12 million donation that jump-started the project.
But Teachout would never visit Steinmetz Hall. In January of this year, at age 65, he died in his sleep of congestive heart failure while at a friend's home.
"He was so astute. His knowledge was so broad-based," said Margery Pabst Steinmetz. "But what set him apart from most theater critics was that he thought about and often wrote about the audience — how did they like it."
No doubt he would have done exactly that, if given the chance to write about a theater that meant so much for the people — and for the place — that had come to mean so much to him.
---
Michael McLeod, mmcleod@rollins.edu, is a contributing writer for Winter Park Magazine and an adjunct instructor in the English department at Rollins College.