Photography By Julia Fletcher and 86 Media Company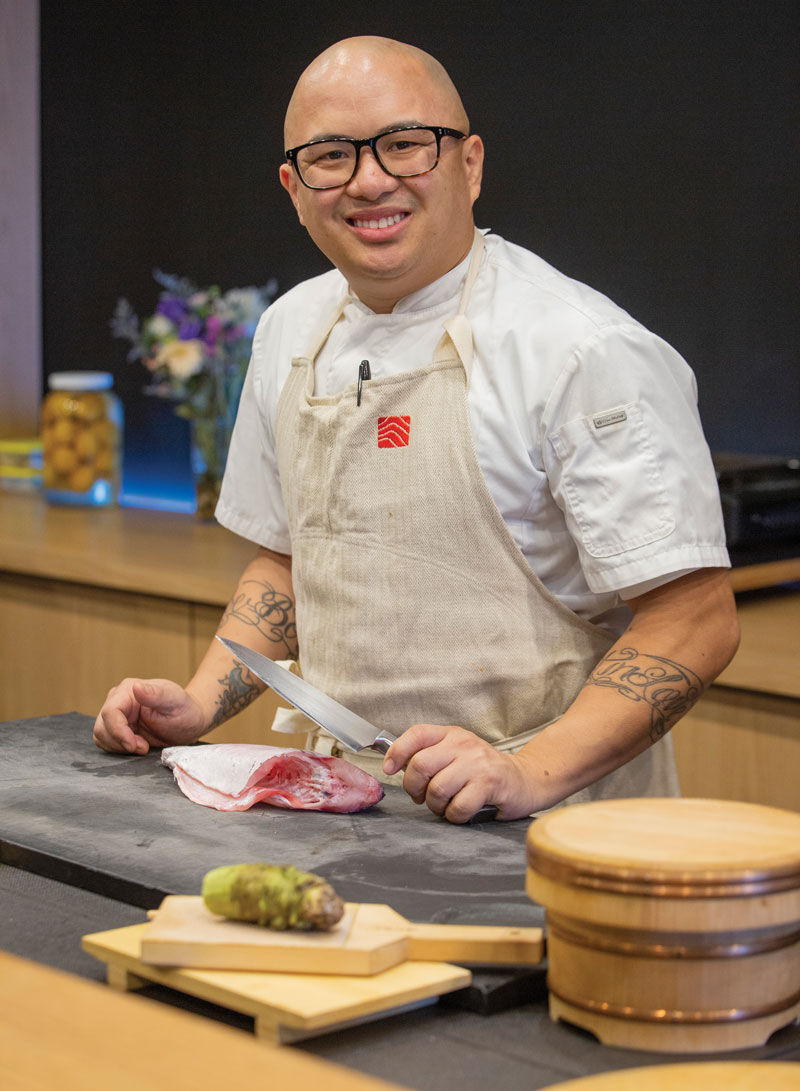 The snobby yet respectable Michelin Guide will rate Orlando-area restaurants soon. The prestigious, red-covered book reviews the food and the ambiance, of course. But its notoriously persnickety judges also take note of everything that enhances the dining experience — including the tiniest service details.
They'll find a plethora of special touches at Soseki, a subdued Winter Park restaurant with a bold reputation. You might arrive in your night-out finest expecting a hushed multicourse gourmet experience. You'll get that, of course, but with a dash of humor to lighten the serious culinary hijinks. This place is worth a splurge.
Upon being seated at one of Soseki's 10 seats, which face the open kitchen where chefs artfully plate the food as you watch, you'll feel as though you're in a very formal place. At least I did — so much so that I was judgy about one couple's ratty casual apparel.
Yet by the second of 16 courses, when a heavily tattooed Asian chef with spiky orange hair bellowed food descriptions — with jokes — it became clear to me that Soseki is fun, not frou-frou.
"Her name is Rio," the chef thundered, naming the cleverly titled dish that he said was developed around foie gras along with Brazilian flavors and textures.
And there was this: "Microphone Czech One Two," the punny moniker for a stunning course with Eastern European influences that features the world's creamiest egg yolk and a bitter bite of sauerkraut along with a marvelous mushroom soup.
I think, in truth, I only caught about a third of what this culinarian, who calls himself Chef de Cuisine CJ, said; his Japanese accent is thick. I later reviewed my written notes and listened to an audio file (on slow playback), and still couldn't understand very much. (I fact-checked with other team members later.)
I did manage to pick out the words, "cracker, potato, garlic, onions, caraway seeds and mushrooms" — or maybe it was "Madonna," but I doubt it — and "finishing with a sour cream."
It didn't matter. Not a tad. Chef CJ was hilarious, and his food was daring and delicious. I mean, how many times do you murmur to your dining companion, "Did you taste that egg? I mean, did you taste that egg?"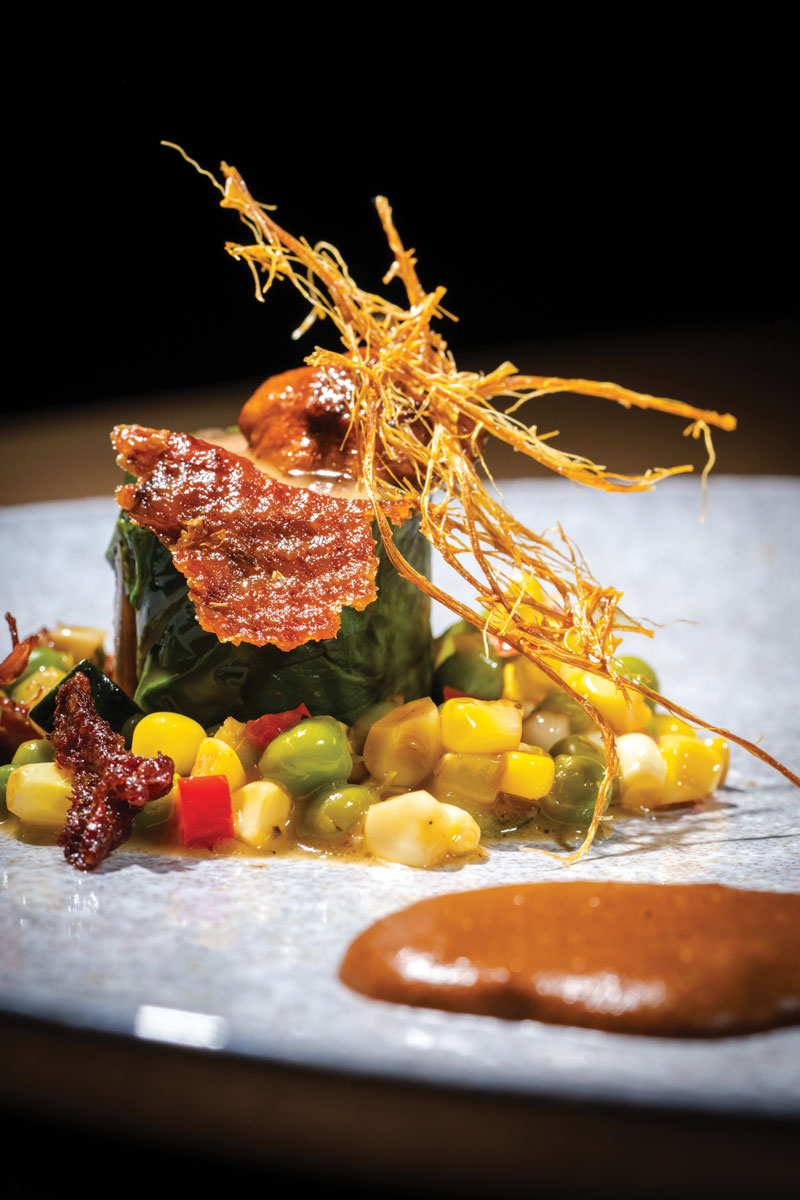 The creativity, the presentation, even the patter — they're all part of the plan at Soseki, a year-old restaurant owned by Chef Michael Collantes and his wife, Jahaziel, who handles the books, decor and other non-food elements of the operation.
Collantes started out in New Jersey, visiting Florida every summer until relocating to Winter Park at age 13 and graduating from Winter Park High School. Both Collanteses are second-generation Filipino Americans and parents to a pair of young children.
The couple also owns the way-more-casual counter-serve concept Taglish, which earlier this year opened its second Orlando-area outlet. And they have plans to keep expanding their empire — and Orlando's culinary offerings.
If that weren't enough, these super-busy millennials also run 86 Media and On the Site Media, providers of videos and such for construction and real estate companies.
Hidden in an enclave behind Fairbanks Avenue with an entrance tucked into a parking lot between Wine Barn and Austin's Coffee, Soseki is a destination for fine dining — but with spunk.
"These are our real personalities," Collantes says. "Yes, we polish up the scripts of what we're saying about each dish because, of course, this is a little bit of a performance. We want to be high-end, to present luxury without pretentiousness. We want guests to feel taken care of, as they would at a dinner party."
Those scripts aren't the only polished pieces of the Soseki puzzle. There are drawers at each seat filled with an assortment of attractive forks, spoons and chopsticks so visitors can choose their own utensils.
"Down to the last detail, we want this to be an immersive experience," adds Collantes. "We want there to be something to talk about on the way home, such as, 'Oh, did you see the little birthday card they snuck into the drawer?'"
A fun, funky mix of carefully curated music adds to the atmosphere. You'll hear lively jazz followed by an "of-the-moment mingling of deep classics and dish-specific surprises," says General Manager and Beverage Director Benjamin Coutts. Hey, details matter. Soseki is what's known as an omakase restaurant, kind of like Kadence in the Audubon Park Garden District. A Japanese word, omakase is translated as "entrust," and in this context means "chef's choice."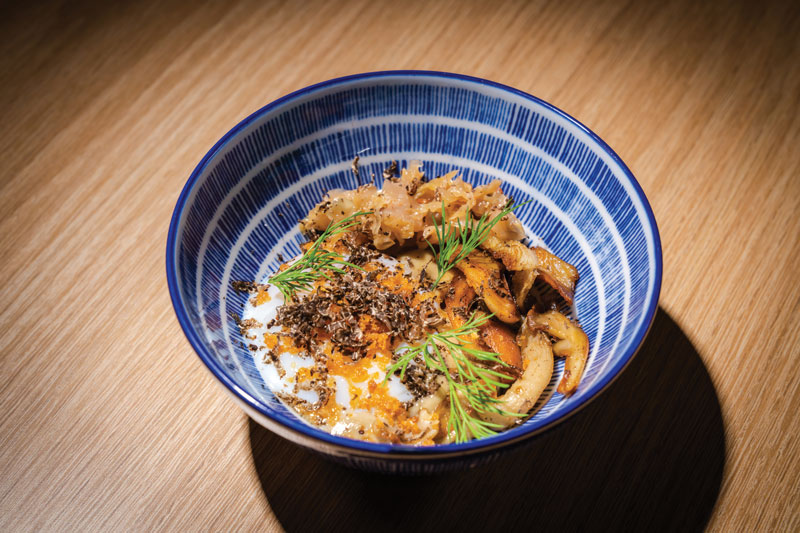 Meals are prepared in view of the two handfuls of diners that the space can accommodate, all of whom are seated on the opposite side of a long counter. Everyone eats the same fancy-schmancy dishes. Beverage pairings are available, as are wines and sakes by the glass or bottle.
While many omakase restaurants stick to Japanese specialties, Soseki has no such rule. Several courses, however, are single-sushi creations. And very interesting ones at that.
Among those sampled during our recent visit included a slice of toro with soy, buri and sansyo, which is ground dried leaves of the prickly ash tree. That's the same tree that produces Szechwan peppercorns.
Another sushi offering was a lean and delicate shima aji — also known as horse mackerel — with a garlic ponzu dressing. Beyond that, you'll be taken on a culinary expedition crossing borders, even continents, in the most exotic and intriguing of ways.
The final savory dish, dubbed Thufferin' Thuccotash! (yep, another pun), involved duck meat flavored with baharat, a Middle Eastern spice blend, along with succotash and corn espuma — a chef-made foam.
The intermezzo dish, meant to shake things up halfway through the repast, included a transforming "parsnip milkshake" in the bowl with toffee, orange, a ring of dried parsnip and an oblong cookie called langue de chat.
My takeaway: Don't try to understand the food at Soseki — just eat and enjoy.
I could go on, describing all 16 dishes served during our sitting, but never mind. Your menu will be different. The Soseki chefs change it up every month and use locally raised ingredients and fish caught in Florida.
"We found someone who's absolutely passionate about sourcing and dispatching local fish in the proper way, so we're getting some of the freshest fish ever," says Collantes.
Calling the entire process "collaborative," he adds that the small team's different backgrounds make for joyous culinary surprises. "I would never have thought to pair red wine with the last fish courses, for example."
That was Coutts's idea, he says, as was using custom ceramic plateware and weighty spoons: "You don't know why it feels better, but just something about the weight of the spoon makes it feel like, 'Wow!'"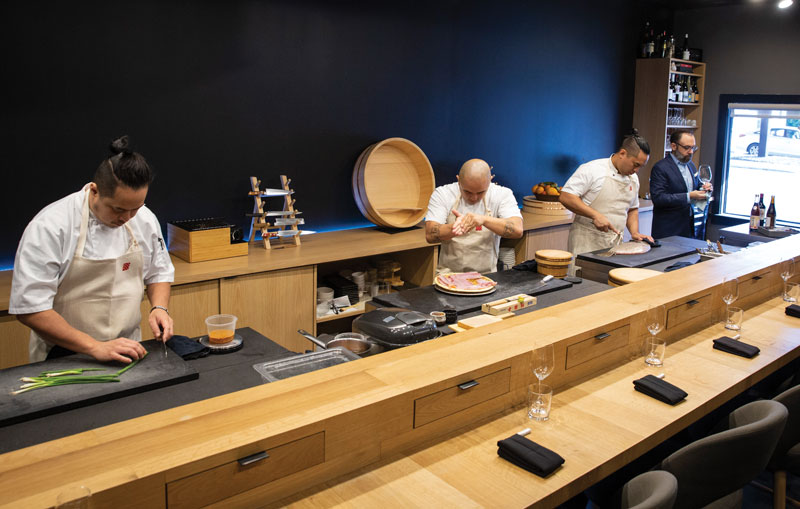 There are more small but impressive extras. For example, each guest receives a logoed plastic pouch in which to store face masks during the meal. And the florist who operates the area's Pick Me Up Flower Truck has offered to provide flower arrangements with a Japanese aesthetic.
"We're just building these connections with local partners who can cast a vision for us," says Collantes. "For a little restaurant, it's really exciting."
Collantes studied culinary arts at Valencia College and traveled around the country during four years with the Wolfgang Puck Fine Dining Group. He has worked in kitchens led by Joël Robuchon and Eric Ripert, among others. He was also culinary director for The Bento Group, which operates more than 20 Bento Asian Kitchen + Sushi
restaurants throughout Florida.
Chef CJ, whose real name is Tadateru Tokudaiji, has a longer culinary CV, with stops at more than 210 restaurants, several of which boast Michelin stars, in 35 countries. ("I'm Japanese, but I don't cook Japanese," he points out.)
The two men had crossed paths over the years, and Collantes was thrilled to snag the "quiet legend in the fine-dining scene" for Soseki. The well-traveled chef was attracted to the idea of creating a small restaurant where inventive dishes are prepared from scratch. Others on staff are happy to handle the raw fish.
Business has been good. Good enough, in fact, that the Collanteses have upgraded their floor — originally slathered with garage paint — to a sleek natural stone that complements the light woods.
The clientele consists of people who don't mind paying $225 per person plus tax and tip, and another $75 for the optional beverage pairing. There are even regulars for whom special-occasion pricing is applicable any random night of the week.
But don't try to call for reservations. You can't, because there's no public phone number. Reservations must be made online at sosekifl.com.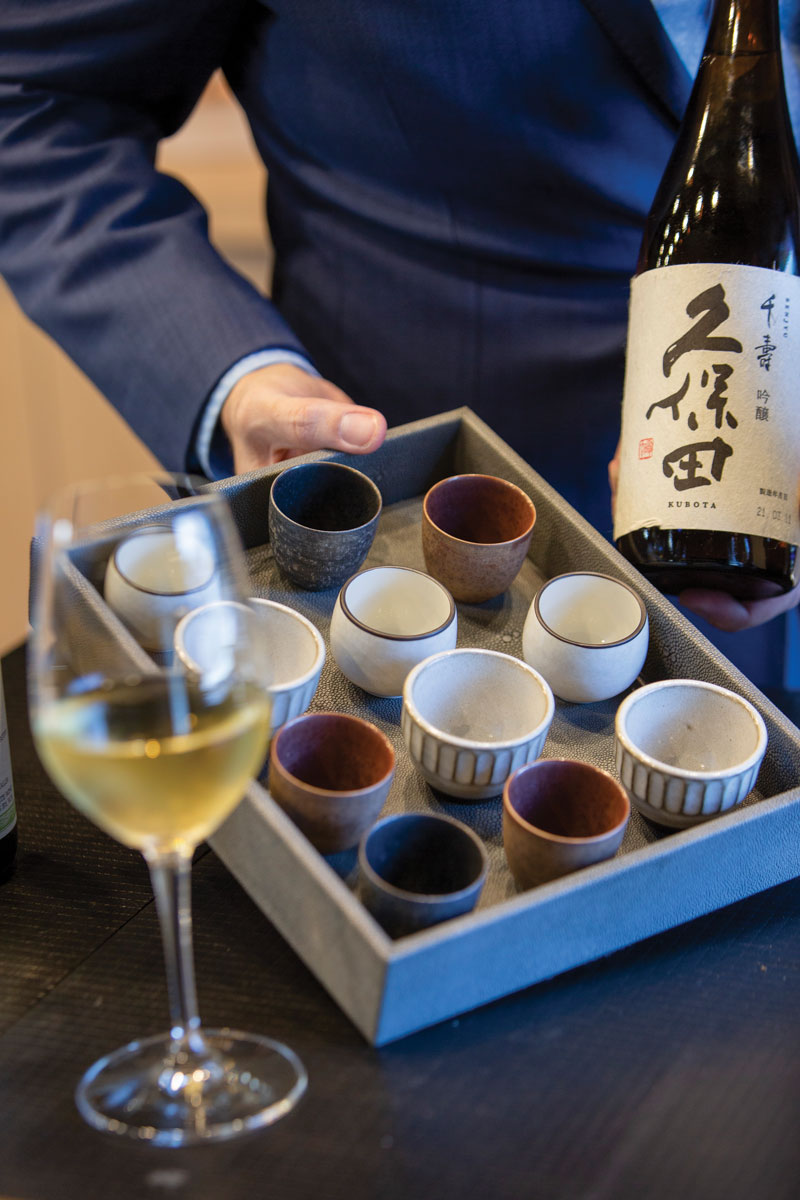 While Collantes is clearly proud of his Winter Park roots, he delights in hearing guests exclaim that when they're at Soseki, they feel as though they're no longer in Central Florida.
"When people couldn't travel during the pandemic, they were missing these types of experiences. The best compliment to me is, 'This place feels like I'm in San Francisco, or New York.'"
Yet, it's just minutes from home.
---
Soseki
955 West Fairbanks Avenue, Winter Park
sosekifl.com