Photography by Rafael Tongol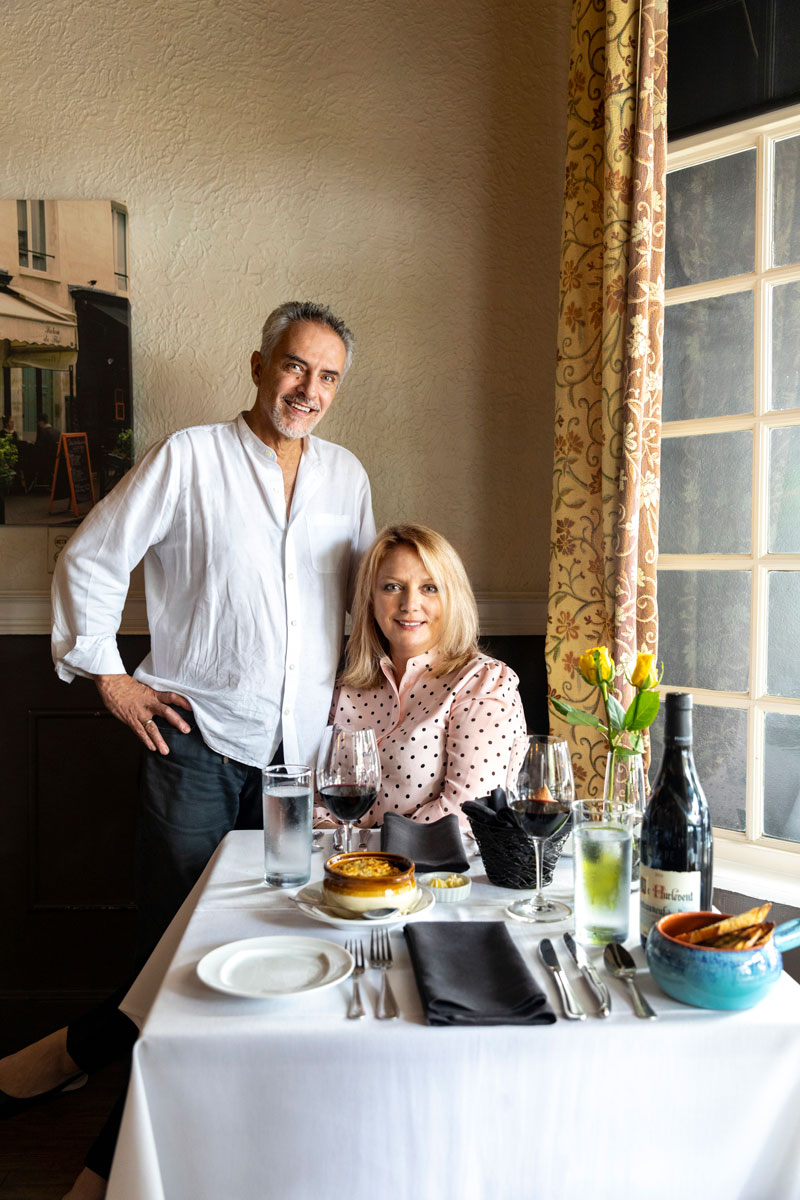 In the past couple of years, Dominique Gutierrez has stepped into the Café de France kitchen not only make a weekly terrine, as she has for 36 years, but to do whatever tasks the chef can't handle alone.
Chopping, mincing, sautéing — the 60-year-old entrepreneur tackles whatever is urgent. Her husband, German, also 60, sometimes waits tables himself these days instead of quietly managing the restaurant and selecting the wines — his main jobs for the past three dozen years.
The couple, who bought the restaurant as energetic and ambitious twentysomethings, kept Winter Park Francophiles fed through good times and bad times, such as the pandemic.
Now entering their 60s, the restaurateurs are seasoned veterans who do the seasoning as well as the serving and, ultimately, the surviving. "It's a small business," Dominique says. "We carry on. We keep doing what we do. And the restaurant has been busy lately."
Café de France likely had a dash of panache back when it opened in 1982, when the Gutierrezes joined the team in 1985 and still when they became the owners the following year.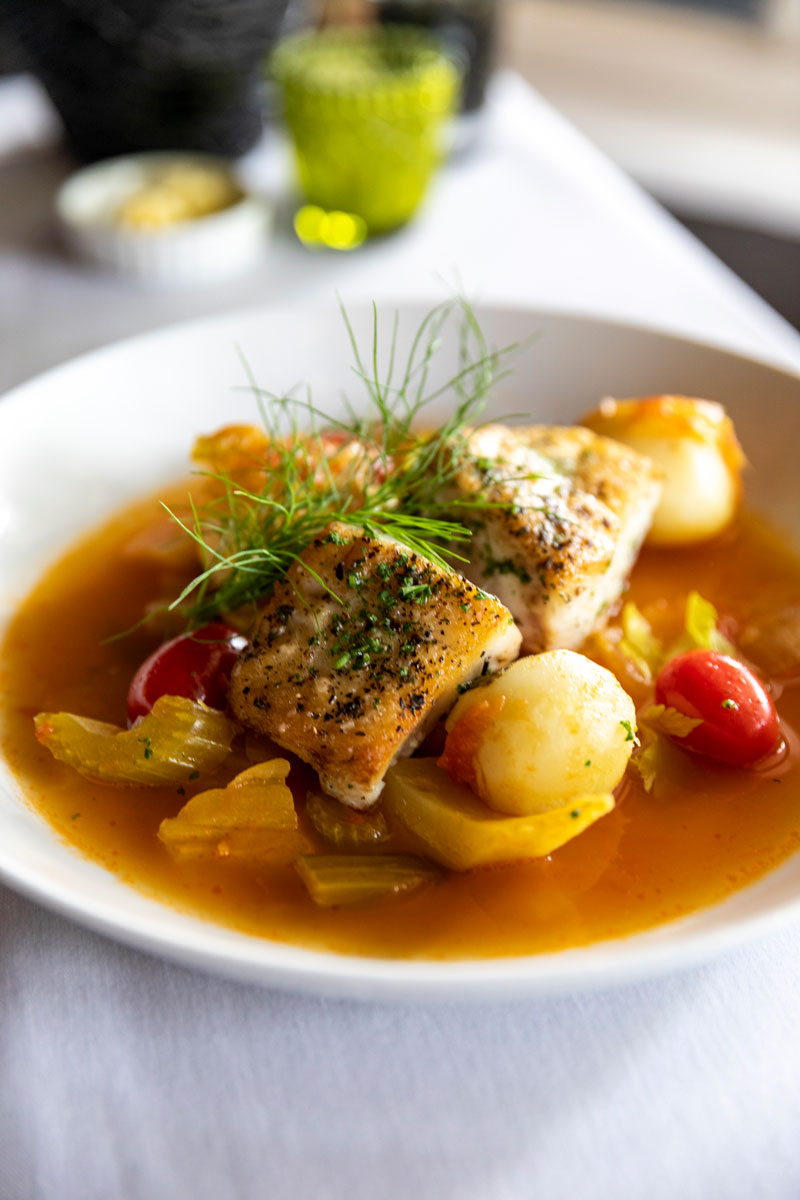 Now it's a bit of a throwback. The tablecloths are white linen, as you would expect. Otherwise, though, the décor could use some freshening. The menu evolves based upon trends and seasons, yet the essentials remain familiar — if subject to tweaks.
You'll always find roast duck and rack of lamb, for example, although the sauces and sides change periodically. The roasted chicken breast may have a wild mushroom sauce, while the salmon may sit on a bed of risotto made with sun-dried tomatoes and Parmesan. Or maybe there'll be a slight but equally favorable variation.
It doesn't really matter. Café de France, which somehow combines unfussiness and formality, has a faithful following for sure. Families celebrate milestones here, often three generations at once.
Business is conducted, with familiar power brokers hobnobbing over beef Bourguignon at a back table. During a recent visit, we saw a wheeler-dealer whom most Central Floridians would recognize engaged in deep discussion with her associates. That same night, we saw young parents at a nearby two top crack the tops of crème brulêès to cap off their date night.
"Seventy percent of our guests are regulars," Dominique estimates. "German, the servers and I know them well. We know what they eat, we know what they drink and we know where they like to sit. That's part of what you get by visiting a small restaurant. We have that little je ne sais quoi presence. It's customer service."
Those regulars ordered take-out when the restaurant was closed by COVID-19. Then they dined at sidewalk tables and later returned indoors — often up to two or three times a week.
Such support is part and parcel of the give-and-take at Café de France. The long timers, in fact, have aged in place with the Gutierrezes. They kept the kitchen busy after the 2008 recession all but brought fancy dining to a halt. They parallel parked along Park Avenue for several years following the crash, when the neighboring storefronts were vacant.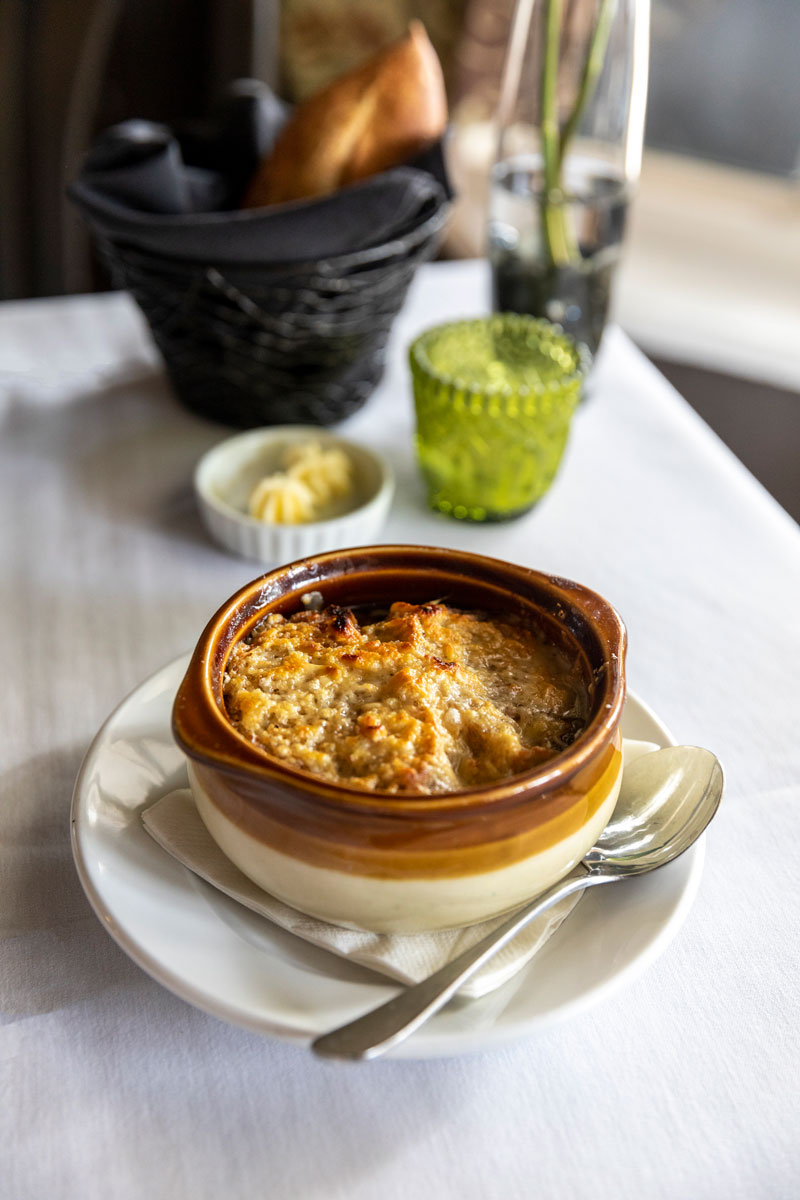 "We were the only ones left on our side of South Park Avenue," Dominique points out. "We went almost two years without neighbors, and we had a new landlord from one day to the other. The rent went up — you have no idea; it almost tripled. There were moments we barely had our heads out of the water."
Recent challenges brought more of the same. "We survived by going back to the basics," Dominique says. "My husband waiting on tables, me cooking. That's it in a nutshell."
While the Gutierrezes postponed the décor refresh they'd hoped for, their restaurant settled back into normalcy. The kitchen now has two chefs preparing the menu that Dominique conceives. Chef Abi Rios handles the prep and hot line now, freeing his boss to prepare the terrine (similar to a pâté).
Using whatever looks tempting in the fridge, from mushrooms to nuts and berries, Dominique lovingly creates the menu staple just as her mother did back in Vendee, France, during the restaurateur's rural childhood.
Start your lunch or dinner with that terrine for the true Café de France experience. The version we tried was a veal and pork blend served on a wooden board with gherkins and dots of Dijon mustard.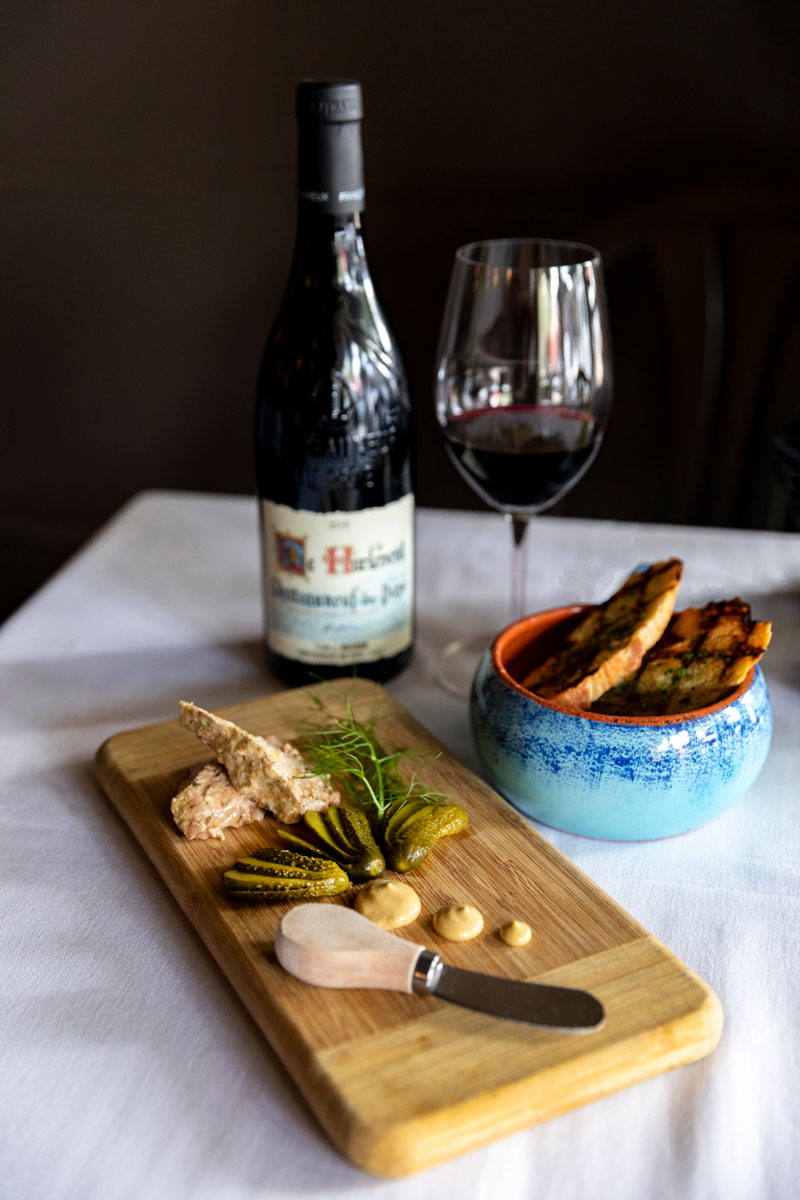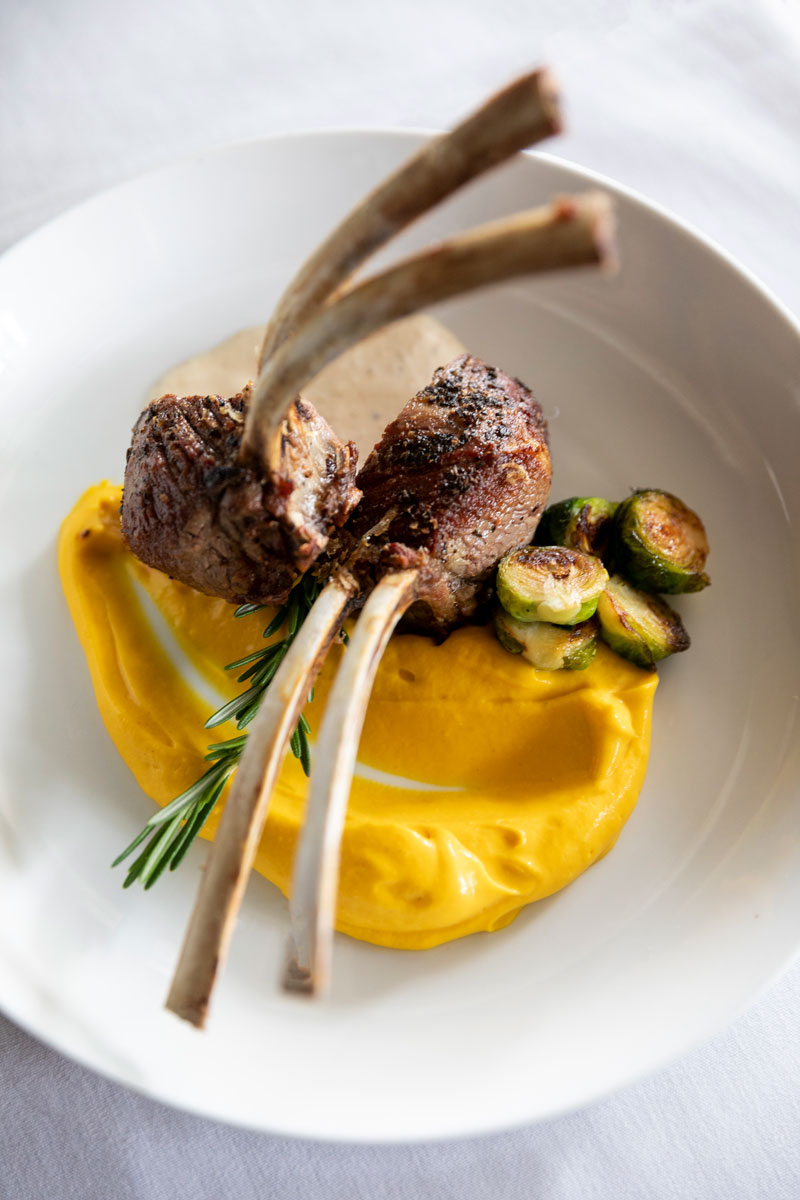 Not surprising at a French restaurant, escargot is another forever favorite. The shelled snails swim in a sauce of housemade garlic butter, fresh herbs and other flavorings that Dominique describes as "our own tricks." A little wine and a dash of cream complete the starter.
The French onion soup is conscientiously made without sherry. "Nuh-uh! That's an American thing!" Dominique insists. "The caramelized onions are sweet. We use lots of butter, of course, because it's French, with fresh thyme and bay leaves. We put red wine into the beef broth, and we use real Gruyère on top because the cheese has that nutty flavor."
The crouton within the classic soup is freshly sliced French bread from Olde Hearth Bread Company, a local artisan baker.
The entrée menu features one of each popular protein. During a recent visit, the roasted half mallard duck came with a sauce of wild berries, thyme and shallots and was served with bourbon-laced mashed sweet potatoes plus asparagus.
The rack of lamb had a hearty bleu cheese and horseradish cream sauce that sat atop a purée of rosemary-flavored roasted butternut squash, with Brussels sprouts on the side. One piece of lamb was cooked medium-well, as requested, but the other was too rare. Still, we cut some slack to chefs during these sort-of post-pandemic times.
The day's catch was striped bass, pan-seared and plated in a broth of saffron, fennel, celery, tomato and onion. The "baby potatoes" in the broth seemed canned to us. If not, someone erred in the kitchen because these were pasty, tasteless orbs.
For sweet endings, we selected a dark Belgian chocolate fondant cake with warm lava in the center, presented with a playful squiggle of ganache. The tarte tatin, an upside-down French apple tart served warm, was a comfy yet elegant finale with a side of housemade vanilla ice cream.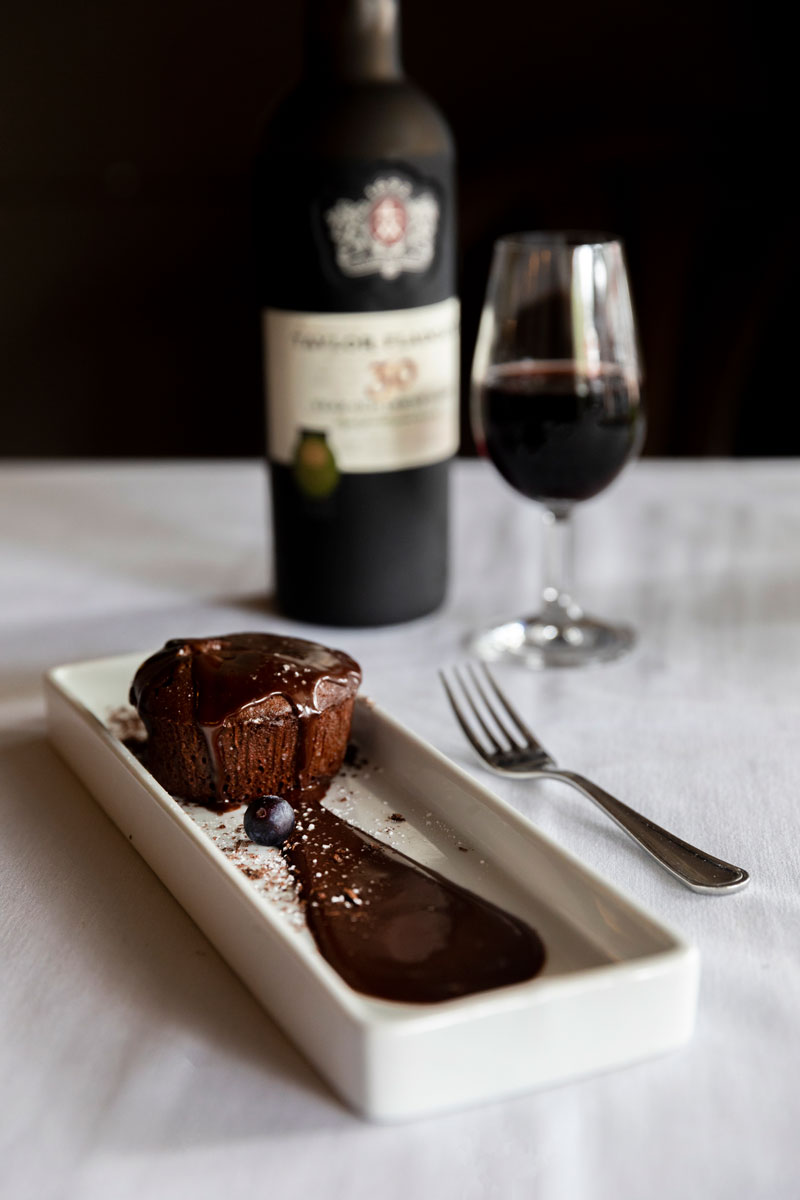 Café de France, even without décor upgrades, will likely keep welcoming guests young and old, new and faithful, for years to come.
"We do the best we can without complicating everything," Dominique says. "We want to just keep on pleasing our customers. We want everybody to be happy. We want to be good restaurateurs. We just want to be what we have always been."
Café de France
526 Park Avenue South, Winter Park
407-647-1869
lecafedefrance.com