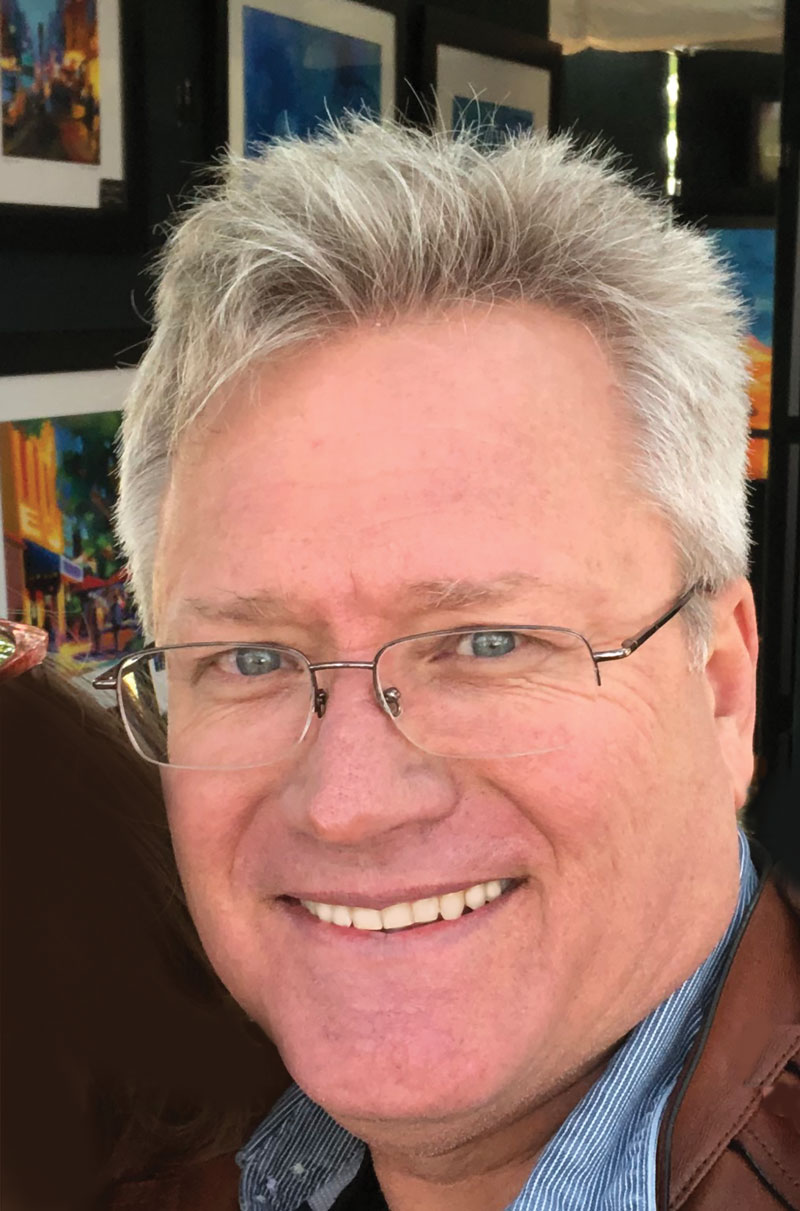 Edward Sanderson Jr. sold plenty of paintings during the Winter Park Autumn Art Festival, held last October. Buyers were drawn to his buoyantly colorful cityscapes, many of which depicted downtown Winter Park.
Among the many attendees drawn to Sanderson's display was Theresa Swanson, group publisher and director of sales for Winter Park Magazine, who purchased a print and asked the artist about his career.
Sanderson, a 54-year-old resident of Clermont, said his paintings had been adopted as the official posters for art festivals in Casselberry, Celebration, Heathrow and West Palm Beach.
His goals, he added, included creating the official poster for the spring Winter Park Sidewalk Art Festival and having his art featured on the cover of Winter Park Magazine.
"Well," said Swanson, who had not yet identified herself. "I can't help you with the first goal, but I'm pretty sure I can help you with the second one." One thing led to another, and soon Sanderson's painting entitled Wish You Were Here, a depiction of sidewalk diners on Park Avenue, was selected for the magazine's fall issue.
Although he lives on acreage in Lake County, Sanderson says "I never fail to be inspired when I come to Winter Park." Something about the city's ambiance, Sanderson says, lends itself to his dynamic compositions and fearless use of color.
A native of Philadelphia, Sanderson moved to Altamonte Springs with his family at age 5, the youngest of four siblings. He was inspired to pursue art by his father, a BellSouth executive who was also a master model builder. He went on to earn an A.A. degree from Valencia College and to enroll in UCF with the intention of studying painting.
But formal art education quickly went by the wayside when Sanderson was hired to sketch pastel portraits for tourists at Walt Disney World, where an artist who was fast and could churn out a good likeness might haul in hundreds of dollars per day.
However, when Sanderson's mother died of cancer in 2001, he turned his focus to fine art and entered the festival circuit. By 2007, he was selected as the poster artist for the Celebration Art Festival.
Sanderson would go on to complete nine more hot-selling official posters for local festivals, and to attract a national and international following of serious collectors as well as people who just felt better when they saw his ebullient contemporary impressionistic images adorning the walls of their homes and offices.
"It's the color," he says. "I'm not afraid to use it. If my work was photo realistic, I'd feel like a human copy machine. My paintings are interpretations of how I see the world, where I prefer to use bold and unbridled brushwork without regard to reality. I just paint whatever brings me happiness."
Many local artists know Sanderson already. Since 2010, he has been the senior framing manager at Sam Flax in Orlando, the building on East Colonial Drive that looks as though it was assembled from Legos. It's a major purveyor of art supplies and an unofficial gathering place for artists of all genres.
"We're all artists here in one form or another," says Sanderson. "I'm surrounded by creative people and surrounded by beautiful art every day. "I love to mentor and encourage young artists who come in."
In addition to daily immersion in an arts-oriented environment, Sanderson says his work is energized by his wife, Christi, "who inspires me to be a better artist and a better person." The couple has two children: Emily, 13, and Edward Jr., 15.
"I invite the viewer to look at life on a daily basis as a gift filled with fleeting moments," Sanderson says. "In this sometimes-tumultuous world of uncertainty and darkness, I encourage the world to seek out the beauty that we're blessed with each day, often found in ordinary places."
Art, Sanderson notes, is "cheaper than therapy" for both creators and consumers. To see if you agree, visit originalsbyhenderson.com.