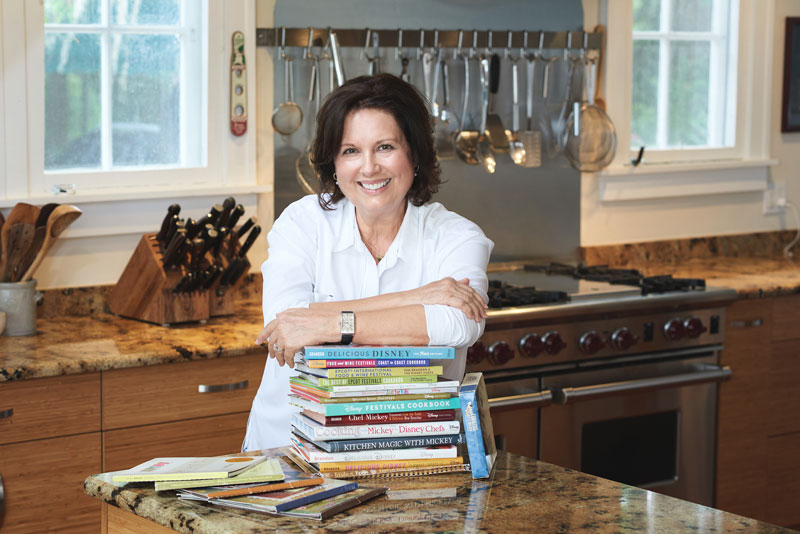 If you're an advocate of alliteration, you might be tempted to label Pam Brandon as the Doyenne of Disney Dining. After all, the Winter Park resident, who began her career as a journalist, has created 22 cookbooks in conjunction with the theme park's restaurants, including the soon-to-be-published Delicious Disney: Walt Disney World Recipes & Stories from the Most Magical Place on Earth.
The lavishly illustrated tome, which celebrates Walt Disney World's 50th anniversary, was written in collaboration with Marcy Carriker Smothers, a California-based author and media personality whose 2017 book Eat Like Walt: The Wonderful World of Disney Food was dubbed a "must have for any Disney fan" by the Huffington Post.
The same is already being said about Delicious Disney, which includes more than 60 popular recipes from Disney restaurants past and present as well as delicious origin stories behind some well-loved menu items, from the kitschy (the peanut butter and jelly milkshake) to the classy (smoked buffalo with melted fennel and leeks with hearts of palm salad).
For example, Walt Disney loved fried chicken, which his wife, Lillian, discouraged for health reasons. But when Walt visited Central Florida to announce his vision for the vast acreage that his representatives had clandestinely assembled, Lillian wasn't around to object to his diet.
So the boss, whose usual comfort-food indulgence was hamburgers, specifically ordered that fried chicken lunches be delivered to the old Irlo Bronson house, located on the present-day site of the Saratoga Springs Resort & Spa, where the entourage of Californians had set up headquarters from which to explore the lake-dotted property.
Walt died eight years before he could have sampled the Hoop-Dee-Doo Fried Chicken, from the Hoop-Dee-Doo Musical Revue at Fort Wilderness. But, if you don't have a spouse who forbids fried foods, you can make it at home by following the recipe reproduced in the book.
The Handwich, also known as "the one-hand sandwich," has an interesting backstory. It resulted from a challenge by Michael Eisner, then Disney's chairman and CEO, to create "fun food" and was conceived not by chefs, but Imagineers. The Food & Beverage department got involved to ensure that whatever the research-and-development whizzes imagined could be practically replicated.
The resulting collaboration was a cone-shaped loaf of bread, hollowed out and filled with mix-and-match possibilities such as ham and cheese, steak and cheese, shrimp salad, Italian sausage, barbecued chicken and the bestseller — a combination of salami, cheese and red onions topped by a vinaigrette.
Handwiches, launched in 1987 and originally sold primarily at Tomorrowland's Lunching Station, are now ubiquitous. And they offer the added advantage, for hungry tourists, of easy portability. New iterations are still being introduced, although Brandon and Smothers suggest that you considering stuffing your version with Walt's chili topped with shredded cheddar and crushed saltines.
You get the idea. Delicious Disney, released last October by Disney Editions, is a cookbook and a pop culture history rolled into one oversized 304-page package. Which explains why it's selling out at theme park retail stores and, through pre-orders alone, is rocketing up the bestseller list among cookbooks available on Amazon.
WONDERFULLY SERENDIPITOUS
Brandon, who wanted to be a teacher, never imagined a career for herself as a culinary celebrity. But she describes the journey as "wonderfully serendipitous," with her career choices leading unexpectedly to new and even more exciting opportunities.
A native of Parkersburg, West Virginia, the down-to-earth Brandon is no diva despite her rarified stature among legions of Disney aficionados. "Eleven years after I met her, I'm still in awe of Pam's ability to create community and her boundless but clear-eyed positivity," says Kendra Lott, publisher of Edible Orlando magazine, which Brandon edits with her daughter, Katie Farmand. "She's for real, and the scores of people who call her a friend are beyond lucky to do so."
The only diva-like thing about Brandon is her friendly (but final and firm) refusal to divulge her age. Sure, readers can do the math based on the dates of milestones in her life — for example, she graduated from Marshall University in 1975 with a bachelor's degree in journalism and Spanish — but friends say she seems eternally in her 30s.
After graduation, Brandon (then Pam Florence) worked five years on the copy desk at the Charleston Gazette, which she describes as "an old-school newsroom" where reporters hammered out stories on manual typewriters and Brandon made sense of it using scissors, rubber cement, blue pencils and correction fluid. "I just edited," she says. "At the time, I didn't want to write."
She got married (becoming Pam Parks), and after five years with the Gazette left her job — and her pursuit of a master's degree in journalism — so that she and her "starter husband" could travel across the country in a station wagon, visiting mostly national parks and camping at days end. "I'd never been in a tent in my life," says Brandon, "but it was an amazing experience." The couple ended up in Florida, with $32 between them, because Brandon had a favored aunt who lived in Kissimmee.
Her Kerouac period sputtering to an end, Brandon needed a job and found one at Orlando Magazine. She took a story she had written about her year on the road to the legendary Ed Prizer, then publisher, and was hired in 1980 as a typesetter. Soon thereafter, she was promoted to news editor and, as fate would have it, began writing a tourism column that covered Disney and other attractions.
A MEMORABLE MENTOR
"Working for Ed was as good as it got, I thought," recalls Brandon. "He was an old A.P. (Associated Press) guy. He and his wife, Artice, became like second parents to me. When I went through a divorce, I became a single mother with a young daughter. And Ed and Artice came to my house to reassure me that I always had a place at the magazine."
Brandon would not be the only young journalist to be unofficially adopted by the Prizers, who were childless and considered the dozen or so staffers at Orlando Magazine (then Orlando-Land Magazine) to be extended family.
Ed, a gregarious raconteur who gnawed on an ever-present pipe, was a Damon Runyonesque character who had been a Spitfire pilot with the Royal Canadian Air Force during World War II. He reveled in relating sometimes bawdy (and sometimes lengthy) anecdotes about his days as a swashbuckler while the long-suffering Artice quietly, but affectionately, rolled her eyes in mock frustration.
Although the stories often seemed over the top, they were also undoubtedly true. In fact, Ed is believed by historians to have been one of two Spitfire pilots who, in July 1944, strafed a car carrying Erwin Rommel, commander of German forces in Normandy. Rommel, who would take his own life three months later, suffered serious head injuries when he was thrown from the vehicle.
The incident was significant because it removed one of Germany's most capable senior commanders from the field at a critical moment, which may have helped the Allies break through the Axis defenses. But, in a 1987 Orlando Sentinel profile, Ed preferred to reminisce about enjoying "the drinking spots and flesh pots of Canada and Europe."
After the war, Ed attended the University of Southern California, where he earned a degree in journalism and served as editor of the Daily Trojan. He then joined the AP as a reporter in Detroit, eventually rising through the ranks to become assistant general supervisor at the news service's headquarters in New York. He lasted there for three years before deciding that hard news didn't fit his disposition.
"I decided that's as far as I wanted to go," Ed told the Orlando Sentinel in a 1987 profile. "I would look around the newsroom at the AP and see outdated bureau chiefs and Pulitzer Prize winners with cigarettes in their mouths sitting at Royal typewriters. They had a cynical attitude toward everything in the world. I would say, 'Is this what newspapering does to people?'"
Ed and Artice, seeking a sunnier outlook (both literally and figuratively), bought the Orlando-Winter Park Attraction, a digest-sized tourist guide, in 1961. They struggled through the 1960s, initially running the business from the kitchen of their Maitland home.
But recognizing that the region would enjoy a decades-long boom as a result of Disney and the development that would come in its wake, Ed revamped the modest publication into a full-sized city-regional monthly that tied its success to the growth of what he called "a city of destiny in America."
And thus was born Orlando-Land Magazine (the word "Land" was dropped from the title in 1981), which from the early 1970s until the mid-1990s — when it fell victim to changing times and a series of disastrous ownership changes following Ed's retirement — was jammed with ads and considered among the most financially successful city-regional periodicals in the country.
Orlando Magazine's editorial pages were filled not with frothy lifestyle articles, as were those of its peers and competitors, but with reportorial (if sometimes boosterish) accounts of new residential and commercial real estate developments and profiles of prominent businesspeople.
Ed, a skilled and meticulous writer, churned out numerous major stories about Disney and its impact on Orlando, sometimes traveling to headquarters in Anaheim, California, where he was granted unusual access for a reporter. He eventually came to be regarded by the company's brass as an unofficial corporate historian thanks to his accurate, detailed (and unabashedly enthusiastic) coverage of the theme park's plans.
MICKEY COMES CALLING
Disney executives trusted Orlando Magazine to get it right. But Ed wasn't the only writer toiling away on Clay Avenue (and later Gene Street) whom they appreciated. In 1987, just as Disney-MGM Studios was opening, Brandon was visited by Charlie Ridgway, director of press and publicity, and Bob Mervine, public relations manager, who took her to a casual lunch.
She was, to her surprise, offered a job as senior publicist for the company whose activities she had chronicled for the past seven years. "I didn't even know what a publicist did," Brandon recalls. "I had a newsroom background. And then there were Ed and Artice, who had been so good to me. I cried for days trying to make up my mind. When I told Ed, he said, 'You should take this job. It's a great opportunity.'"
And so it proved to be. Brandon started out producing a newsletter for media members and later headed publicity for new Disney hotels such as the Dolphin, the Swan and the Yacht & Beach Club. Later she helped to roll out Disney's Boardwalk and Celebration developments in part by arranging media roundtables with world-renowned architects and community planners such as Robert A.M. Stern and Jaquelin T. Robertson, who created the master plan for Celebration.
"I can't overstate the importance of Ed Prizer to the biggest chapter of my career," Brandon says. "I would never have been offered the job with Disney if he hadn't pushed me to excel. He was such a pro who expected the best. It was a privilege and an honor to live up to his standards. He was a great firsthand teacher who showed me how to create professional relationships with integrity."
Those were indeed halcyon days at Disney, adds Brandon, who never got over the thrill of walking up the steps to her office overlooking Main Street USA and working in the same office as other young publicists who were there before her and later became iconic figures in the local public relations world.
Brandon's predecessors included Carolyn Fennell, who has been a top community affairs executive with the Orlando Aviation Authority for 41 years and counting, and Suzanne McGovern, who had stints with a major travel and tourism-oriented advertising agency before becoming director of college relations at Rollins College and, for the past 18 years, vice president of communications for the Florida United Methodist Foundation.
But when the erstwhile editor married commercial real estate developer Steve Brandon in 1991 and had another child, Will, in 1992, she began to reevaluate her priorities. "I was giving up too much personal and family time," she says. "I wanted to regain the right work-life balance."
Brandon resigned her full-time position in 1995, but wasn't on the sidelines for long. The following year, she became a contractor for the company's Food & Beverage department as it went on a spree opening restaurants in conjunction with prominent chefs.
She also worked on special projects unrelated to Disney's Orlando operation, including Disney California Adventure Park (2001) and Disneyland's 50th anniversary (2005). Then came the Aulani resort in Hawaii (2011) and Shanghai Disney (2015).
Since 1996, Brandon, whom Carriker Smothers calls "the ultimate Florida food expert," has written 22 cookbooks for Disney. But she also wrote The Unofficial Guide to Florida with Kids (2001), Culinary Confessions of the PTA Divas (2005) and co-authored two award-winning Florida cookbooks with her daughter and former Orlando Sentinel food writer Heather McPherson: Field to Feast: Recipes Celebrating Florida Farmers, Chefs and Artisans (2012) and Good Catch: Recipes & Stories Celebrating the Best of Florida's Waters (2014).
When Edible Orlando magazine was launched in 2010, Brandon and offspring Katie — demonstrating that the apple doesn't fall too far from the tree — signed on as editors. "It's one thing to promote Disney chefs, but it's really special to promote local chefs and small farms," Brandon says. "But most of all, it's a continuing joy to work every day with my daughter."
SHARING AND CARING
A resident of Winter Park's historic Virginia Heights neighborhood, Brandon has also been an effective community volunteer. At the urging of Thaddeus Seymour, the late president emeritus of Rollins College, she served for a decade on the board of the Winter Park Public Library and started a "Bash for Books" fundraiser, winning the library's Evaline Lamson Meritorious Service Award in 2006.
"Working with Pam on the library board was a highlight of my volunteer life," says Ann Hicks Murrah, no slouch when it comes to volunteering. "She became not only a friend but a personal hero. She always made any task fun with her sense of humor. And she has a talent for inspiring others and recruiting people to help accomplish goals."
Subsequently, Brandon chaired several iterations of the annual Peacock Ball for the Winter Park Historical Association (which operates the Winter Park History Museum) and lent her marketing savvy to the Bach Festival Society of Winter Park.
For 19 years, the Brandons have hosted parties at their home where guests were asked to bring books for the Adult Literacy League. More than 4,000 volumes have been donated so far, she says. Brandon is also integral to the league's "Reading Between the Wines" fundraiser, recruiting chefs and restaurants to participate.
Eight years ago, leveraging her Disney relationships, Brandon and Edible Orlando founded the annual "Field to Feast" dinner at Long & Scott Farms in Zellwood. The event, which raised money for Second Harvest Food Bank, wasn't held last year due to COVID-19. But Brandon is hoping that it can be revived in some form this year.
In May of last year, Brandon again called upon her chef buddies to participate in a "Loyal to Local" dinner, sponsored by Edible Orlando and held at the Emeril Lagasse Foundation Kitchen House and Culinary Garden in College Park, which is home base for the Edible Education Experience (EEE).
The program was started at Orlando Junior Academy, a private school for kindergartners through eighth graders, by instructor Brad Jones and chef Kevin Fonzo, then from K Restaurant. But it was able to become a separate nonprofit and build its own facility with a grant from Lagasse, who learned of it from Fonzo during a trip to Orlando to inspect his own restaurant at Universal CityWalk. (Emeril's local outpost closed in 2018.)
Participating chefs in "Loyal to Local" included James and Julie Petrakis from The Ravenous Pig, Fabrizio Schenardi from Four Seasons Resort, Lo Lalicon from Kadence, Wendy Lopez from Reyes Mescaleria and Fonzo, who's now chef at La Tavola. Brandon also serves on the development board for EEE, which has a teaching kitchen and a culinary garden and offers programming for children and adults.
Although Delicious Disney could still be classified as hot off the press, Brandon is already looking forward to 2023, which will be the 100th anniversary of the Walt Disney Company. In fact, she has begun working on a centennial cookbook with Karen McClintock, global public relations manager for the company's Food & Beverage department.
"My admiration for Pam runs deep," says McClintock, who has worked with Brandon on 20-plus cookbooks. "Professionally, she's the epitome of the perfect partner: dedicated, organized, and fun. Personally, she's the epitome of a true friend: selfless and loyal."
Also, adds McClintock, punctuating each word for emphasis: "Best. Laugh. Ever."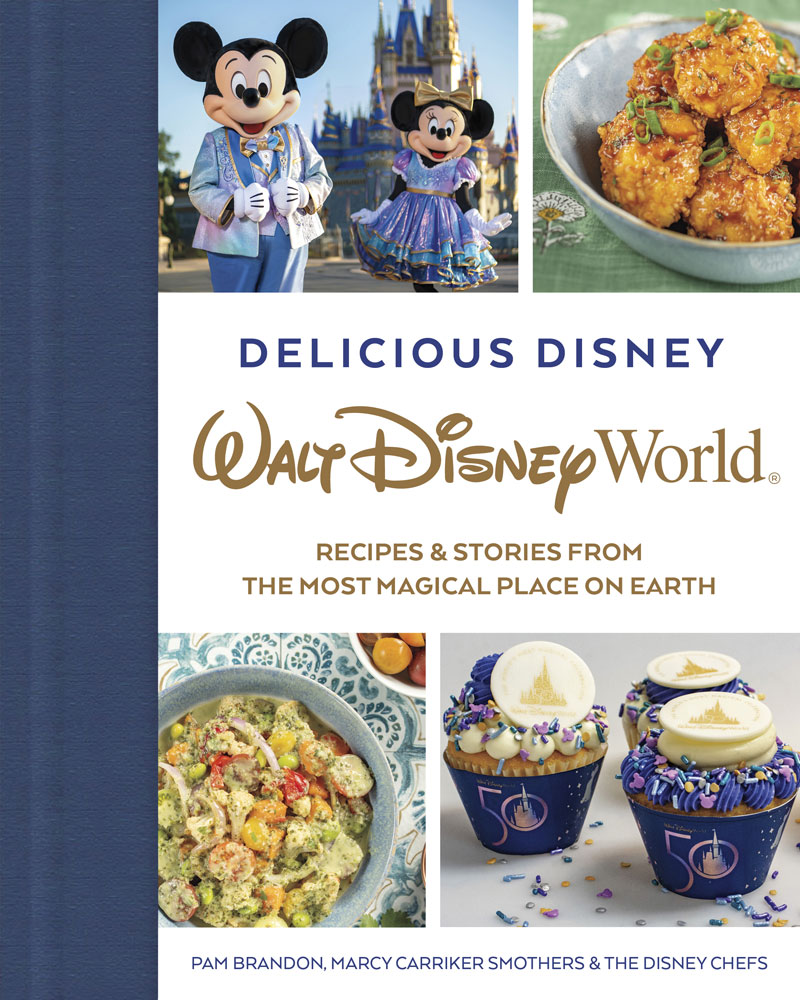 GET YOUR COPY
Delicious Disney: Walt Disney World Recipes & Stories from the Most Magical Place on Earth will be available for purchase at most bookstores and through online booksellers beginning in April, which is its official release date. For now, you can pick up a copy at Walt Disney World's retail shops or order one through shopdisney.com.
---
Editor's Note: The following are recipes from Delicious Disney: Walt Disney World Recipes & Stories from the Most Magical Place on Earth. Each was personally selected by co-author Pam Brandon, who has added a brief comment about each just for readers of Winter Park Magazine.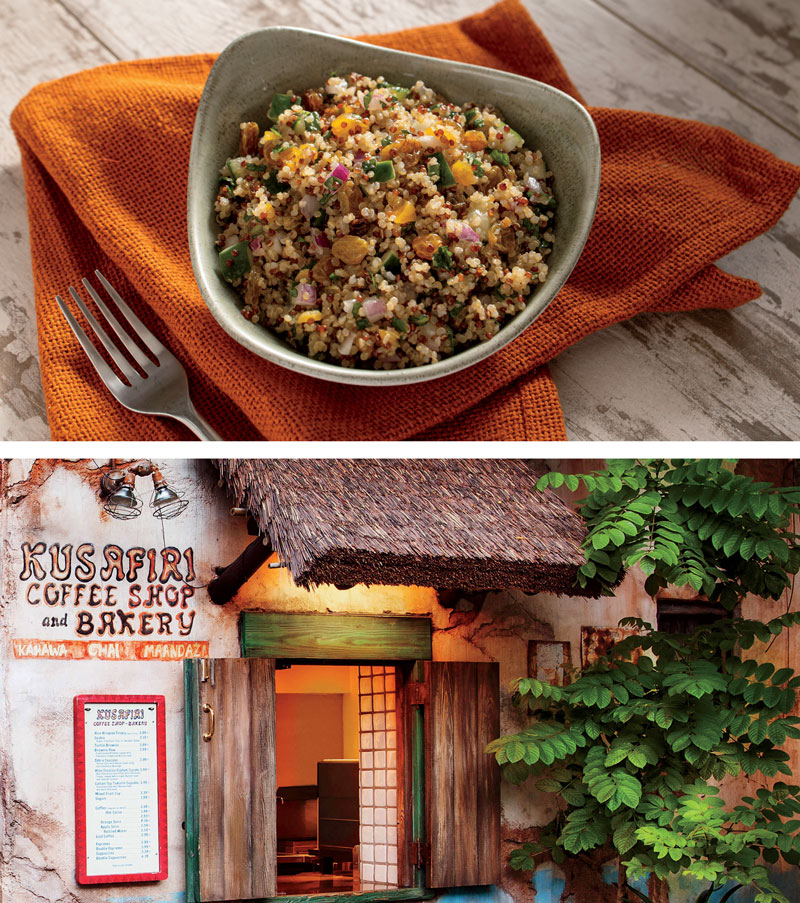 PLANT-BASED QUINOA SALAD
Kusafiri Coffee Shop and Bakery — Disney's Animal Kingdom Theme Park
Kusafiri is the word for "to journey" in Swahili, and plenty of guests make a beeline to the little bakery for the colossal cinnamon buns. But we make the trek for the simple curries and this healthful quinoa salad that makes a delicious quick meal.
SERVES 6
Ingredients
1 cup red quinoa
½ cup white quinoa
¼ teaspoon salt
½ cup finely chopped dried apricots
½ cup finely chopped red onion
1 cup chopped cucumber
½ cup chopped mint
3 tablespoons fresh lemon juice
¼ cup extra-virgin olive oil
Course salt and pepper, to taste
Directions
Combine 3 cups of water and quinoa in medium saucepan. Bring to a boil over high heat, cover, and reduce heat to low. Cook for 15 minutes or until liquid is absorbed.
Remove from heat and refrigerate for at least 4 hours.
Place cooled quinoa in a large mixing bowl. Add remaining ingredients and stir to combine. Season to taste.
PAM SAYS: Not all theme park food is hot dogs and burgers — the chefs look for ways to offer healthful, quick-service alternatives in the parks, like this salad that's served at a walk-up window in Disney's Animal Kingdom.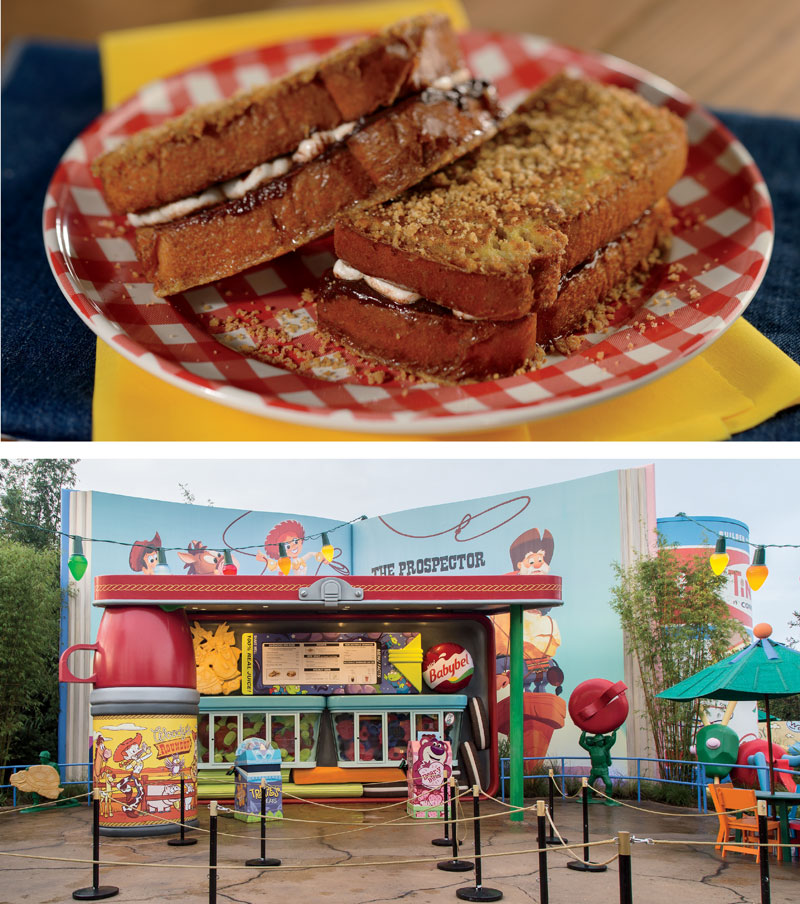 S'MORES FRENCH TOAST
Woody's Lunch Box — Disney's Hollywood Studios
BUZZ: "In just a few hours, you'll be sitting around a campfire with Andy making delicious hot sch'moes."
WOODY: "They're called s'mores, Buzz."
Sch'moes or s'mores, this breakfast from Woody's Lunch Box will have your family asking for … some more!
MAKES 4 SANDWICHES
Ingredients
2 eggs
¾ cup whole milk
1 ¼ cups heavy cream, divided
1 teaspoon vanilla extract
1 ½ cups dark chocolate morsels
1 cup graham cracker crumbs (6 full-size sheets pulsed in blender)
8 (3/4-inch) slices brioche loaf
1 cup mini marshmallows
Directions
Preheat oven to 400⁰ F and line a baking sheet with parchment paper.
Beat eggs, milk, ¾ cup cream, and vanilla extract in a shallow medium-size bowl. Set aside.
Melt chocolate in a small mixing bowl using double boiler method. Add remaining ½ cup cream to melted chocolate, whisking until smooth. Set aside.
Place graham cracker crumbs in a shallow dish.
Heat a large skillet over medium-high heat and lightly coat with cooking spray.
In assembly-line fashion, dunk 2 brioche slices in egg and milk mixture, then coat both sides with graham cracker crumbs. Add to heated pan and brown on both sides, then transfer slices to prepared baking sheet.
Spread 1 tablespoon of chocolate-cream mixture on each slice, then top with 2 tablespoons marshmallows. Bake for 3 to 4 minutes or until marshmallows begin to puff.
Create a sandwich with the 2 slices. Repeat steps 6 to 8 for remaining 3 sandwiches. Serve warm.
PAM SAYS: Do calories count at Disney World? The kid in all of us loves a decadent sweet like this, served at Woody's Lunch Box in Toy Story Land in Disney's Hollywood Studios.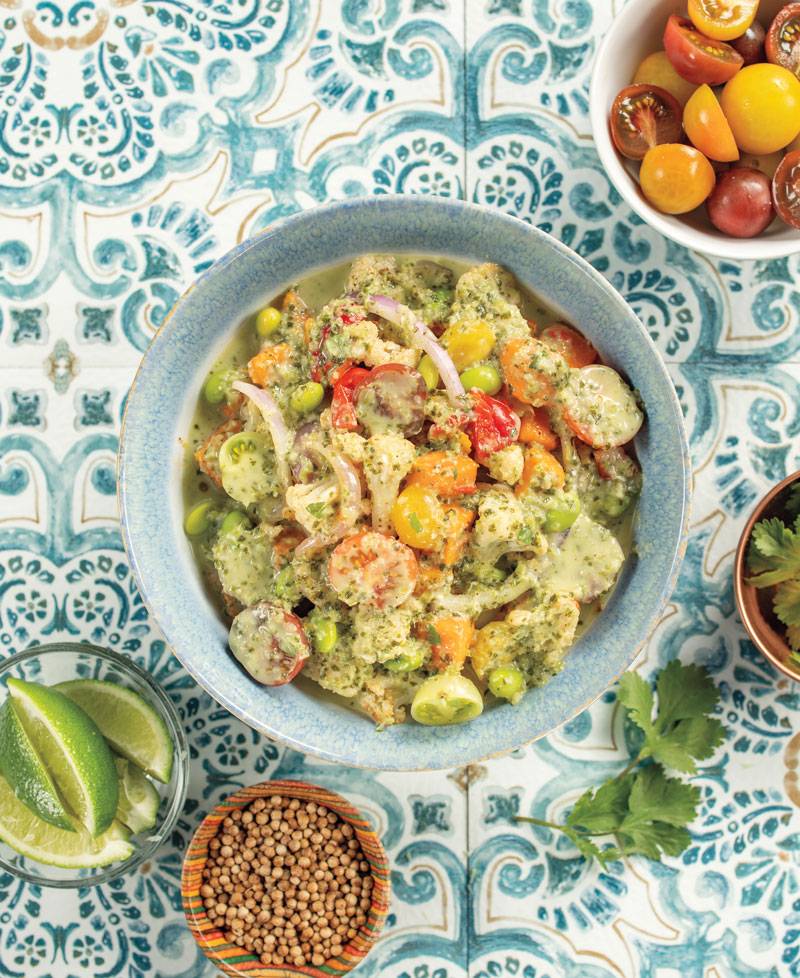 CILANTRO COCONUT CURRY
Sanaa — Disney's Animal Kingdom Villas – Kidani Village
Sanaa serves East African cuisine infused with Indian flavors; this coconut curry is an excellent example of its unique offerings. The restaurant in Kidani Village is authentic in every way, from the spaces used in the cuisine to the savanna-like surroundings. Truly destination dining at the edge of the resort, it's well worth the trip!
SERVES 4
Ingredients
Curry Sauce
2 cups cilantro, washed and dried, large stems removed
1 cup coconut milk
½ cup mint leaves, washed and dried
½ small jalapeno pepper, seeds removed
2 teaspoons peeled chopped ginger
2 teaspoons sugar
2 teaspoons coarse salt
Juice of 1 medium lemon
Vegetable Curry
1 pound of butternut squash, peeled, cut in 1-inch dice
2 cups cauliflower florets
1 small red onion, julienned
1 pound of cherry tomatoes, halved
1 cup shelled edamame
Course salt and freshly ground pepper, to taste
2 tablespoons canola or olive oil
Rice, for serving
Directions
For Curry Sauce
Combine all ingredients in a food processor and puree until smooth.
Bring to a simmer in a saucepan over medium heat.
For Vegetable Curry
Season vegetables with salt and pepper.
Heat oil in large sauté pan over high heat. Add squash and cauliflower and sauté about 5 minutes. Add onion and sauté 2 to 3 minutes more.
Stir in warm curry sauce, to taste. Serve over rice.
PAM SAYS: You find such diverse cuisine at Disney, and Sanaa at Disney's Animal Kingdom Lodge is one of my favorite restaurants, serving East African cuisine infused with Indian flavors. This super-easy version of a curry has intense flavors from the cilantro, coconut milk, mint and ginger — you could use almost any vegetables in season for this recipe.
GAMBAS AL AJILLO
(Traditional Garlic Shrimp)
Jaleo by José Andrés — Disney Springs
With stellar architecture in a blaze of red and yellow that celebrates the Spanish flag, Jaleo by José Andrés showcases the cuisine of the noted chef's homeland and his legacy of innovative dishes. Just make sure you have plenty of good, crusty bread for dunking in the sauce.
SERVES 4
Ingredients
¼ cup Spanish extra-virgin olive oil
5 garlic cloves, thinly sliced
16 large shrimp, peeled, heads on or off (about 1 pound)
1 guindilla chili pepper, or your favorite dried chili pepper
2 tablespoons brandy
Juice of 2 lemons
Coarse salt, to taste
1 tablespoon chopped parsley
Directions
Heat the olive oil in a medium sauté pan over medium-high heat. Add garlic and sauté until just beginning to brown, about 2 minutes.
Add shrimp and chili pepper and cook for about 2 minutes. Turn the shrimp over and sauté another 2 minutes, until the shrimp is pink.
Add brandy and lemon juice and cook for another minute. Season to taste with salt, sprinkle with parsley, and serve.
PAM SAYS: Some of the best restaurants at Disney World are at Disney Springs, where Jaleo by José Andrés is one of my favorites, serving innovative Spanish cuisine. If you make this dish, look for the freshest head-on Florida shrimp — and make sure you have some good crusty bread for dunking in the sauce.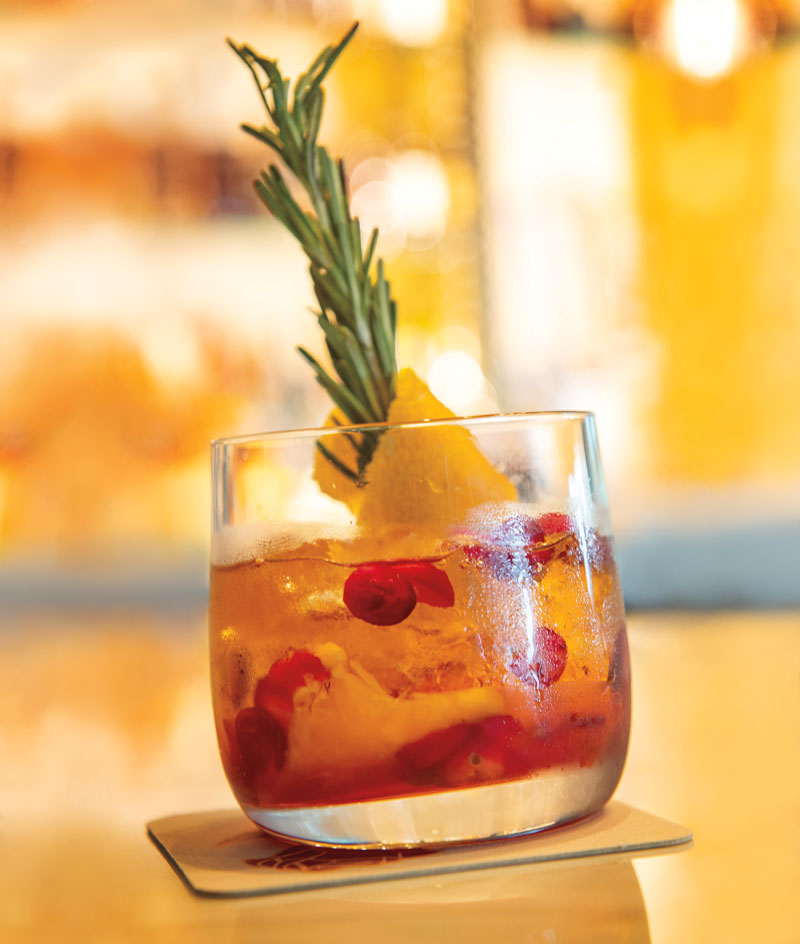 SEASONAL OLD FASHIONED
Enchanted Rose Lounge — Disney's Grand Floridian Resort
It's easy to become spellbound at Enchanted Rose Lounge, inspired by Beauty and the Beast (2017). The cranberry in the recipe isn't just for the holidays. It represents the red of the enchanted rose that held the Beast's life in the balance: "If he could learn to love another, and earn their love in return, by the time the last petal fell, the spell would be broken." Look for the fairy-tale touches throughout the four rooms, including the chandelier evoking Belle's ball gown.
SERVES 1
Ingredients
Cranberry Simple Syrup
¼ pound cranberries
1 pound brown sugar
¾ cup water
Seasonal Old Fashioned
5 cranberries
1 quarter slice of orange
3 dashes of orange bitters
¾ ounce of cranberry simple syrup (recipe on this page)
2 ounces of single-barrel bourbon
Ice, to liking
1 orange peel twist, for garnish
1 fresh rosemary sprig, for garnish
Directions
For Cranberry Simple Syrup
Makes about 1 pint
Blend cranberries in blender.
Combine cranberries, brown sugar, and water in medium saucepan and simmer for 20 minutes. Cool; strain syrup through fine-mesh strainer. Keeps for 1 to 2 weeks.
For Seasonal Old Fashioned
Muddle cranberries, orange slice, orange bitters directly into rocks glass. Add fresh ice.
Stir in Cranberry Simple Syrup and bourbon.
Garnish with orange peel twist and rosemary sprig.
PAM SAYS: Just in time for the winter holidays, this cocktail is from Enchanted Rose Lounge, inspired by Beauty and the Beast at Disney's Grand Floridian Resort. (The cranberry also represents the red of the enchanted rose, the mystical flower that has become symbolic of the movie.)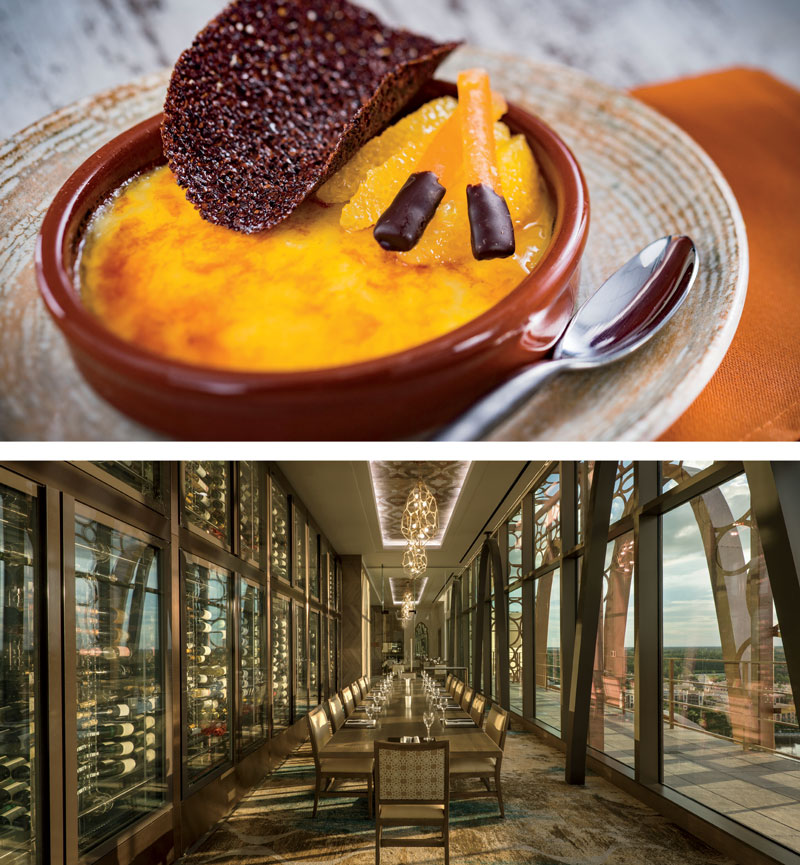 CREMA CATALANA
Toledo – Tapas, Steak & Seafood — Disney's Coronado Springs
Here's a decadent dessert from Toledo – Tapas, Steak & Seafood! Similar to French crème brûlèe, but not as heavy or rich, Spanish crema catalana has a crisp caramelized topping and silky custard.
SERVES 6
Ingredients
Crema Catalana
1 small lemon
2 cups 2 percent milk
½ vanilla bean
1 cinnamon stick
¾ cup of sugar, divided
6 egg yolks
1/3 cup cornstarch
Topping
6 tablespoons sugar, divided
Fresh orange segments
Directions
For Crema Catalana
Peel lemon. Place lemon in a medium saucepan with milk. Split vanilla bean in half and scrape seeds into milk. Add cinnamon stick and ½ cup of sugar.
Cook over low heat, stirring constantly, until milk reaches a temperature of 200⁰F. Remove from heat and cover. Steep at room temperature for 2 hours.
While milk is cooling, whisk together egg yolks, cornstarch, and remaining sugar in a large mixing bowl until smooth. Refrigerate until ready to use.
Strain cooled milk mixture into a clean saucepan and bring to a boil over medium-low heat. Turn off heat.
Slowly whisk ½ cup of hot milk mixture into egg yolk mixture to temper the eggs. Strain egg yolk mixture into milk mixture, whisking constantly. Turn heat to low and cook whisking constantly, for 5 minutes, until thick.
Remove from heat and pour into 6 individual ramekins. Cool slightly, then cover the ramekins with plastic wrap and refrigerate at least 2 hours.
To Serve
Sprinkle 1 teaspoon of sugar on top of each crema catalana. Use a kitchen torch and caramelize the sugar until brown and crusty. Serve immediately with orange segments.
PAM SAYS: Disney loves theming food to match the story and design of restaurants, and this silky sweet is on the menu at Toledo – Tapas, Steak & Seafood at Disney's Coronado Springs' new Gran Destino Tower. Grab a cocktail in the adjoining Dahlia Lounge, inspired by Spanish surrealism — Walt Disney and Salvador Dali collaborated on a short film called Destino, and the lounge has gorgeous artwork and references to the film.
---
The recipes and photos used on the preceding pages were selected from Delicious Disney: Walt Disney World Recipes & Stories from the Most Magical Place on Earth (Disney Editions, 2021), and are © 2021 Disney, except for the Gambas al Ajillo dish from Jaleo by José Andrés on page 60 and 61. Jaleo by José Andrés is owned and operated by THINKFOODGROUP, LLC. Its recipe is © 2021 THINKFOODGROUP, LLC and used with permission. Photo © 2021 by Aaron Van.