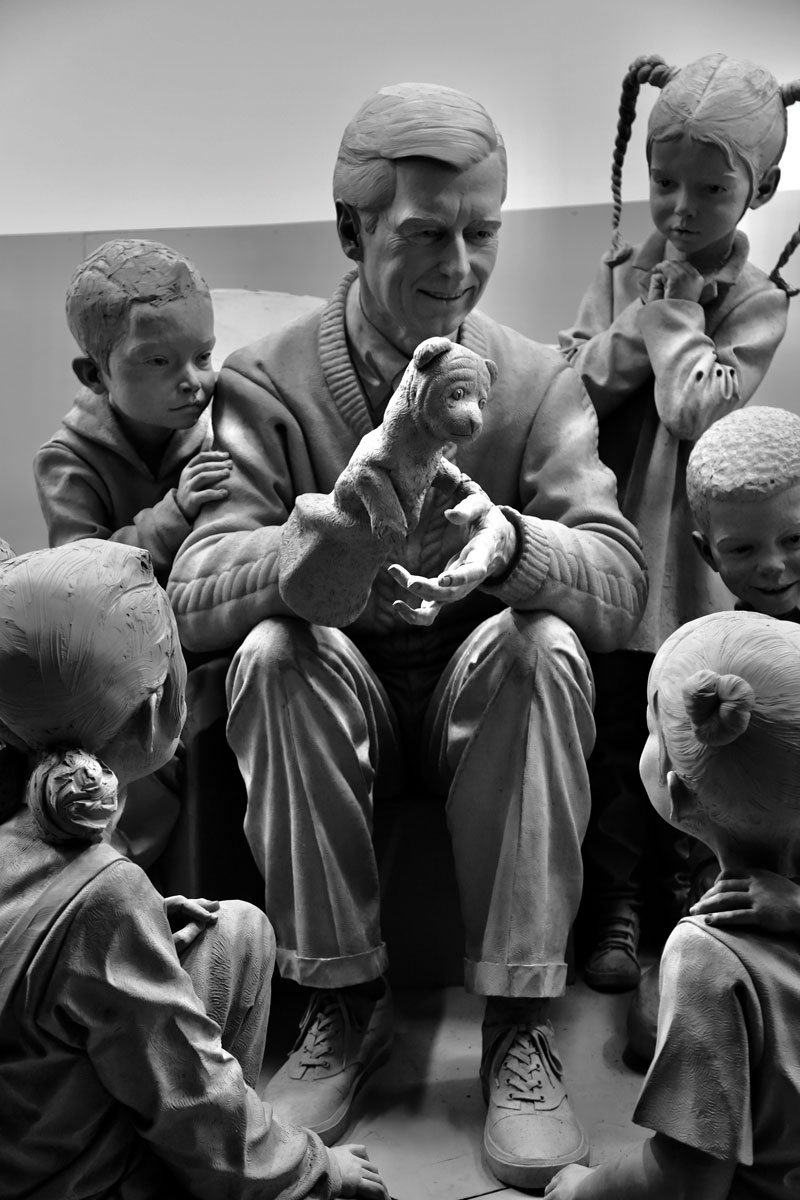 Fred McFeely Rogers, known to the world as children's television icon Mister Rogers, graduated from Rollins College in 1951. But throughout his life, he continued to visit the campus on his seasonal sojourns to Winter Park.
Now, the beloved one-time music composition major, who taught generations of youngsters about kindness and tolerance through his PBS series Mister Rogers' Neighborhood, will have a permanent presence at the college, where he was inspired by a plaque that reads "Life is for Service."
British sculptor Paul Day — whose works include The Meeting Place, a 30-foot-tall sculpture in London's St. Pancras International, a major railway station — has created a bronze tribute to Rogers.
The word "statue" seems too formal and fails to convey the work's complexity, while the word monument" seems too pretentious for such a gracious and unaffected honoree.
So let's go with "sculpture," which in this instance stands 7 feet tall and weighs more than 3,000 pounds. It depicts Rogers, seated, wearing his signature sweater and sneakers. On his hand is his best-known puppet, Daniel Striped Tiger, and he's surrounded by seven entranced children — including one in a wheelchair.
The pedestal is a bustling montage that depicts habituates of the Neighborhood of Make-Believe, both people and puppets, including X the Owl, King Friday XIII and Lady Elaine Fairchilde. The familiar characters preen from balconies and peek from arched castle windows. Along the bottom, in script, are lyrics from "It's a Beautiful Day in the Neighborhood."
A Beautiful Day for a Neighbor, set to be on public view beginning October 29, will be placed on campus between the Annie Russell Theatre and Knowles Memorial Chapel. And the timing could hardly be better, since Rogers has undergone a posthumous renaissance in recent years.
Perhaps that's because the values for which he stood seem under daily assault, and his gentle and tolerant spirit seems sorely missed in a world plagued by rancor and division. Suffice it to say, we could all use a dose of Mister Rogers and his Neighborhood of Make-Believe.
Plenty of people seem to share that opinion. In 2018, director Morgan Neville's Won't You Be My Neighbor?, a heart-tugging documentary about Rogers' life, became the top-grossing biographical documentary ever produced to the tune of $ 22 million. (It's also the 12th top-grossing documentary in any genre.)
And a big-budget theatrical film, It's a Beautiful Day in the Neighborhood, was released in late 2019 and starred Tom Hanks as Rogers. Director Marielle Heller's biographical drama was based on a 1998 essay by Tom Junod ("Can You Say … Hero?") published in Esquire.
It's a Beautiful Day grossed $68 million worldwide and earned an Oscar nomination as Best Supporting Actor for Hanks, whom The New York Times described as "the closest thing we have to Mister Rogers — an uncomplicated-seeming, scandal-free man with a long career who never had to issue a public statement that included the phrase 'It was a different time.'"
Of course, Rollins has saluted its most famous alumnus before, displaying his sweater and sneakers in the Olin Library's archives, arranging self-guided tours of Rogers-related locations on campus and publicly celebrating the affiliation at every opportunity.
In 2019, faculty, alumni and students along with a cappella superstars Voctave staged a concert, Mister Rogers: The Musician, at Tiedtke Concert Hall — where a Don Sondag portrait of Rogers hangs in the lobby.
The event, which underscored Rogers' formidable musicianship, included familiar songs from his television show as well as selections from an opera he wrote while at Rollins entitled Josephine the Short-Neck Giraffe.
Day's creation, though, will be a more enduring tribute to a man whose comforting presence and emphasis on essential human values has guided (and still guides) millions of people through personal challenges while easing the trauma of social upheaval and national tragedies.
---
FAST FACTS
Title: A Beautiful Day for a Neighbor
Sculptor: Paul Day
Weight: 3,000 lbs.
Height: 71⁄2 feet
Materials: The initial clay model was created using wood, steel, aluminum, wire, polyurethane and more than 6,000 pounds of clay. The finished sculpture is bronze with a stainless-steel armature for structural support.
Process: Research and development began in July 2019. It took 11 months and more than 4,000 hours to complete the clay model. A team of four people then spent two weeks making the molds needed to cast the final bronze sculpture at a foundry in the Czech Republic.
Commission Originated by: Allan E. Keen, Rollins College Trustee
Public Debut: October 29, 2021
---
Just Happenstance
Like much of what happens in Winter Park, the initiative began with Allan Keen, founder and owner of The Keewin Real Property Company and twice chairman of the college's Board of Trustees (from 2006 to 2008 and 2016 to 2019). He also earned a bachelor's degree in 1970 and an MBA from the college's Crummer Graduate School of Business in 1971.
In May 2019, Keen and his wife, Linda, were enjoying a barge cruise along the Burgundy Canal near Dijon, France, with two other local couples, Ralph and Carol Hadley and Jeffrey and Caroline Blydenburgh.
Not normally an aficionado of sculpture, Keen noticed some intriguing maquettes (scale models of larger originals) in the vessel's gathering area. The wife of the barge captain pointed out that Paul Day, who happened to be a family friend, was the artist, and asked if they would like to visit Day's studio near Dijon.
Well, of course they would! Although Day was away when the group came calling, his wife, Catherine, offered a tour and said that her husband would visit them the following afternoon. The British-born sculptor motorcycled to where the barge was docked, and the group enjoyed drinks and conversation. The subject of Fred Rogers never came up — at least not then.
Later, at St. Pancras International en route from the Channel Tunnel (better known as the Chunnel) that connects England and France, Keen took note of The Meeting Place. The statue of an amorous couple embracing was difficult to miss.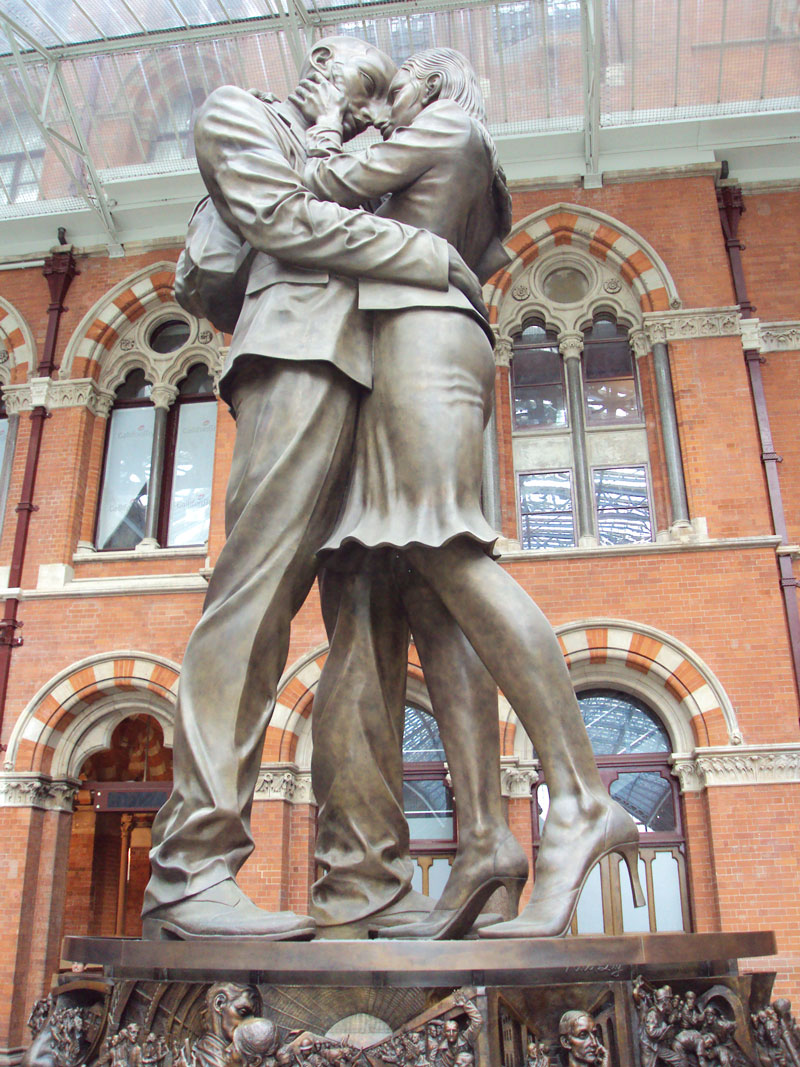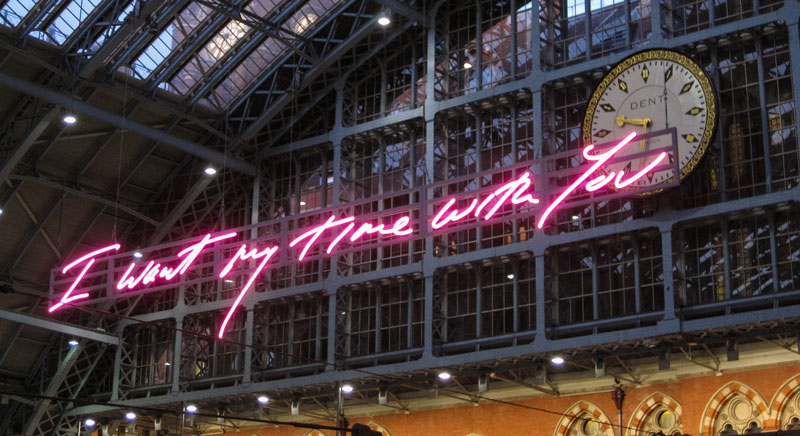 But so was an installation hanging from wires above the Grand Terrace and visible from most of the station's first floor. The words "I Want My Time With You" appeared to have been scrawled in quasi-cursive writing by a blunt marker filled with hot-pink neon ink. Recalls Keen: "I thought it looked familiar."
As well it would to anyone who had ever been to The Alfond Inn, the college-owned boutique hotel that displays selections from the Alfond Collection of Contemporary Art. The collection was donated to the college by philanthropists Ted and Barbara Alfond, who met while they were students at Rollins and graduated together in 1968.
A quick internet search by Keen revealed that the creator of the neon art displayed at St. Pancras International was Tracey Emin, whose much smaller work using the words "Language Must Speak for Itself" had been displayed behind the hotel's check-in desk. Then came Keen's ah-ha moment.
"It sounds really happenstance," says Keen when trying to explain how this knowledge came to have such (literally) monumental consequences. "Maybe happenstance isn't the right word. Maybe it was just meant to be."
Whatever the case, seeing Day's work in proximity to work from an artist represented in a collection owned by Rollins led Keen to think of Mister Rogers, and how wonderful it would be if Day could create a sculpture of him that would be installed on the campus.
The Keens had only met Rogers once, in 1991 at an intimate dinner held by former Rollins President Rita Bornstein and her husband, Harland G. Bloland. They were particularly close to Rogers' wife, Joanne, who served alongside Keen for 18 years as a college trustee.
"Fred was exactly as he seemed on TV," recalls Keen, who adds that just days following the dinner, his two young daughters, Kristen and Kinsley, received handwritten notes from Mister Rogers.
"Although he was funny and modest, there was an aura about him. You could see how he was able to connect so well with people of all ages."
An Emotional Connection
Inspiration isn't easy to logically justify. Ideas come to all of us, sometimes circuitously, and are usually discarded or forgotten. Keen, though, tends to view inspiration as admonition. If an idea truly fires his imagination, as the sculpture did, then he typically finds a way to make it happen.
Upon his return to Winter Park, Keen contacted Rollins President Grant Cornwell, who was enthusiastic, and gauged the interest of potential donors, who were intrigued. No one doubted that if Keen was driving the bus, then it was only a matter of time before Mister Rogers returned to the neighborhood.
"Mister Rogers and the values he represents are important to Rollins and important to me," says Cornwell. "So I embraced the concept immediately. That said, I never envisioned the scale or storytelling power of the sculpture that Paul Day created — and I never foresaw what a significant installation this would be for Rollins and for the legacy of Mister Rogers."
Neither did Day, who admits that he had no idea who Fred Rogers was. "I never say no to a commission," he says from his studio. "But when Allan called, I thought he might be talking about a prominent businessperson or faculty member. Fred just isn't well known in Europe."
Google provided Day with everything he needed to know. "I had something of a Damascus Road moment," he recalls. "I realized how significant Fred was to American national culture."
Sculptors often create monuments to celebrated people, notes Day, but rarely do they feel an emotional connection to their subjects. "As I researched, I was captivated and extremely moved," he says. "Fred was important in terms of morality, wisdom and a voice of sanity in an extremely troubled world."
Day watched old episodes of Mister Rogers' Neighborhood and other footage, such as Rogers' 1969 testimony before the U.S. Senate Subcommittee on Communication in which he rescued a $20 million grant to fund the creation of PBS and the Corporation for Public Broadcasting.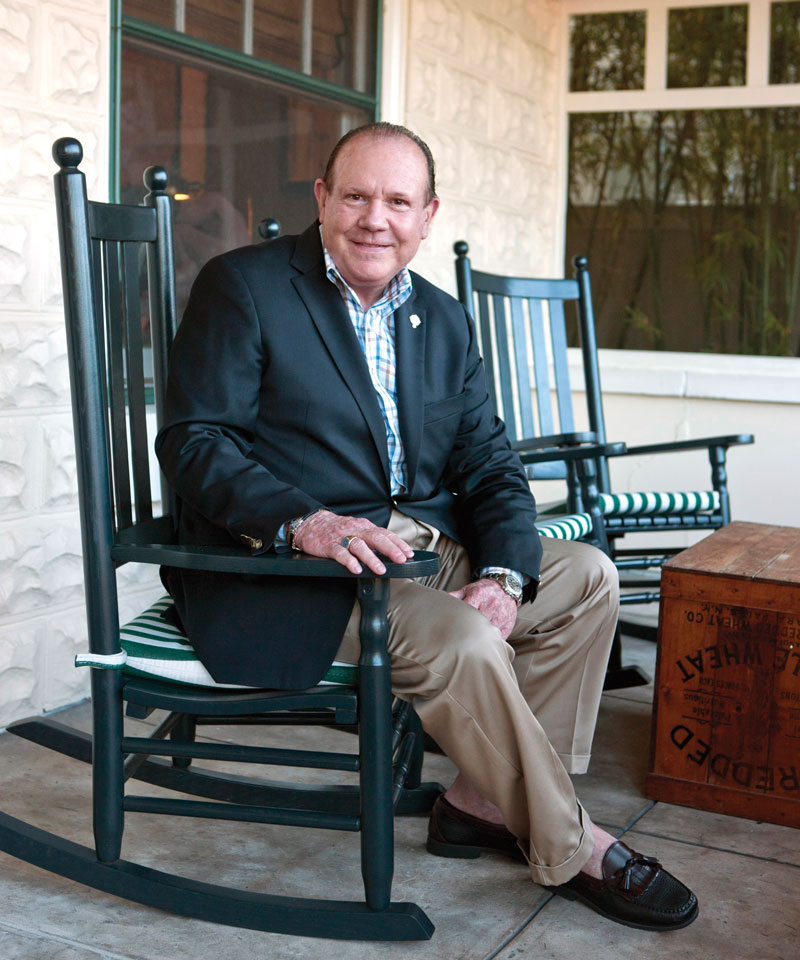 By the end of his six-minute statement, Rogers — who was not then well known — had melted the heart of the subcommittee's gruff and initially dismissive chairman, Senator John O. Pastore of Rhode Island. "I think it's wonderful. I think it's wonderful," said Pastore. "Looks like you just earned the $20 million."
That testimony is cited today by many public relations practitioners as perhaps the most effective example of salesmanship ever recorded. But it was, in fact, just Fred being Fred.
Day also viewed two other statues of Rogers. One, in Latrobe, Pennsylvania — Rogers' hometown — showed him sitting on a park bench. The other, in Pittsburgh, showed him tying his sneakers. In both, he's alone — a fact that Day found incongruous.
"As I began to mull it over, I felt that Fred needed to be seen in context, doing what he did," says Day. "He always said that everything he did was about celebrating the lives of children. So I thought that the key to creating a successful sculpture of Mister Rogers would be to have him be where he'd want to be — communicating with children."
But the project was growing larger, more complex and more expensive. Early discussions had been about a life-sized solo figure with a price tag of about $250,000. Now, with the addition of children and a complex pedestal that showed other characters, the total cost of the project including installation had risen closer to $750,000.
Keen was undaunted: "I said I'd raise whatever we needed." A contract was drawn between Day and Rollins so that Keen could fundraise on the college's behalf. As he worked his way through his formidable Rolodex — or the modern electronic equivalent — checkbooks were readily opened.
"It really wasn't that hard," says Keen. "Nobody said no. I didn't do any mass solicitation. It was all one-on-one."
Inspiration and Perspiration
In September 2019, as Keen quietly marshaled the finances, Day visited Joanne Rogers at the Fred M. Rogers Center in Latrobe. "That was a critical moment," says Day. "It was very important for me to get her personal insight and approval. I felt a great sense of responsibility about this."
Day and Joanne ended up spending several hours together. "Talking to Joanne about Fred made it so personal and visceral in my heart," says Day, who's saddened that the warm and witty woman who so effectively carried forward her husband's legacy passed away before the unveiling ceremony, at which she was to have been the guest of honor.
Later that month, Day made his first visit to Rollins to meet college officials, scout potential locations and talk to people who had personal connections with Rogers, such as John Sinclair, chair of the department of music, and Rogers' nephew, Daniel Crozier Jr., professor of music, theory and composition.
He also visited the college's Hume House Child Development & Student Research Center and spoke with Sharon Carnahan, executive director. Although he didn't use the children as models, he drew upon their energy as inspiration.
Back in his studio, Day got to work. Progress reports were delivered via Zoom and, after maquettes were approved, a full-sized clay sculpture undergirded by a wire and metal frame was built.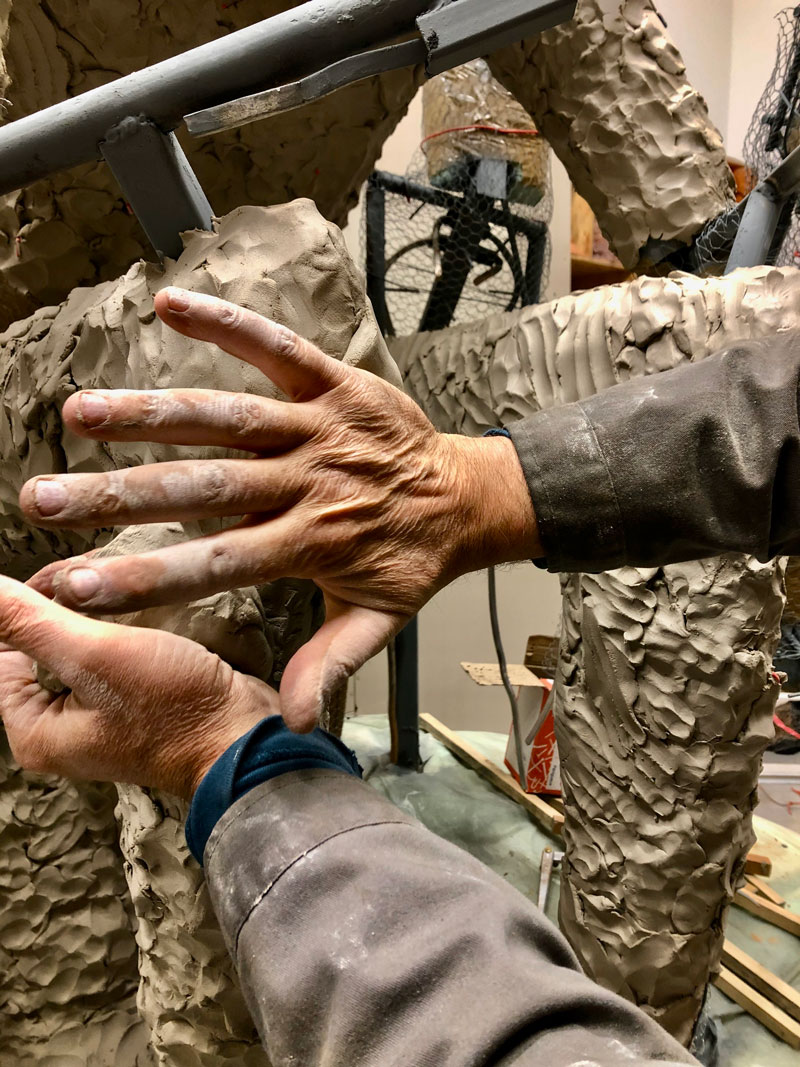 Representatives from the foundry then made molds of plaster and silicone rubber. The molds were taken back to the Czech Republic and reproduced in wax, from which bronze castings were made and welded together.
The entire process, from conception to delivery, took nearly a year — just as Day had promised and despite the COVID-19 pandemic.
Keen says that once the college realized how stunning A Beautiful Day for a Neighbor would be — and considered the sculpture's likely drawing power — it was determined that the visible and accessible area between the Annie Russell Theatre and Knowles Memorial Chapel would provide an ideal location for Fred and his young friends.
"Never in my wildest dreams did I expect that this chance encounter [with Day] would evolve into an iconic work of art," says Keen as the unveiling nears.
"And nothing is more fitting for Rollins's most famous alumnus than to have a permanent memorial to his life's contributions. Paul's work will be a great asset for the community. And the community had great friends in Fred and Joanne."
---
A SPECIAL THANK YOU TO KENNETH MEISTER
This commemorative publication was made possible by a gift from Kenneth Meister, founder and senior managing director of Orlando-based KJM Capital. Previously, Meister served as president of AP Capital Holdings, a private investment firm, and has provided senior-level management consulting services to, among others, Raymond James Capital and H.I.G. Capital. He has served as a senior vice president in investment banking with Raymond James Financial and a corporate/securities attorney for Foley & Lardner, where both practices focused on public offerings and mergers and acquisitions for growth companies in the telecommunications and information technology sectors. Meister received both his BBA in Accounting and Finance in 1986 and his Juris Doctor in 1989 from the University of Wisconsin.