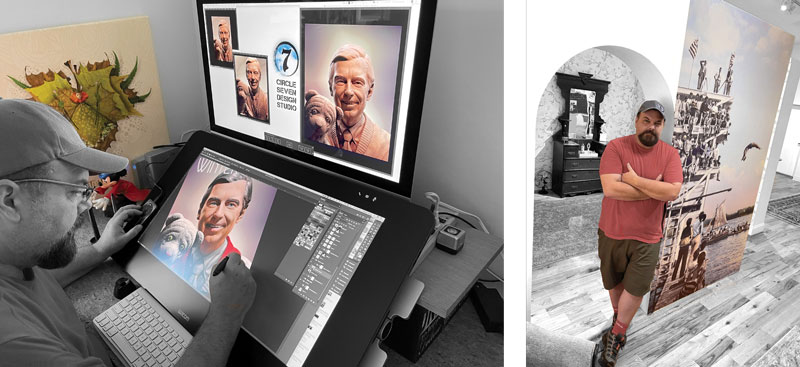 Just as Fred Rogers liked you just the way you are, we hope you like this issue of Winter Park Magazine just the way it is. And it all starts with the cover, which is a genre-spanning work of art within another work of art.
On October 29, Rollins College will unveil a sculpture depicting its most famous alumnus, the man who would inspire generations of youngsters (and their parents) through his PBS TV series Mister Rogers' Neighborhood.
Naturally, we wanted to show the completed monument on the cover. Photographs of the clay version, which was sent to a foundry in the Czech Republic for bronzing, revealed an extraordinary accomplishment by British sculptor Paul Day.
Day showed Rogers as he would undoubtedly wish to be seen — entertaining wide-eyed children with the help of Daniel Striped Tiger, one of his iconic hand puppets.
The problem was, photographs of the monument finished in bronze had been embargoed by the college until the unveiling ceremony — which wouldn't happen until a month after this issue went to press.
What to do? Enter Will Setzer of Circle 7 Design Studio in Winter Park. Setzer, a master at refurbishing and colorizing vintage photographs, has created many large-format graphics for museum exhibitions (including those at the Winter Park History Museum).
His work can also be seen at Hard Rock Cafés and throughout Walt Disney World, where he has worked for Walt Disney Imagineering and now creates environmentally themed images that promote the company's Conservation Fund.
In fact, Setzer's original ambition was not to be an artist but a large-animal veterinarian. He earned a two-year degree in animal science at the University of North Carolina before discovering his passion for design and illustration. He later earned a degree in graphic design from Flagler College in St. Augustine.
Says Setzer: "Today, I'm able to combine my animal science and graphic arts degrees to bring awareness to animal conservation through art and storytelling."
But a lot of his work involves people, too. For this issue's cover, Winter Park Magazine provided Setzer with digital closeups that showed details from the clay version of A Beautiful Day for a Neighbor, the title of Day's sculpture. The image that isolated Rogers and Daniel Striped Tiger seemed the best candidate.
However, the puppet was out of focus in the image chosen. So Setzer took the shy and scruffy cub from a different image and combined the two before converting everything to black and white and layering colors. "Creating about 15 different skin tones for the face and eight different red tones to complete the sweater was just a part of the process," says Setzer, who used an airbrush tool to apply and blend the muted hues. There are 52 layers in the final Photoshop image.
Setzer says he enjoyed taking a preliminary version of Day's sculpted art and reimagining it graphically: "Each new experience elevates my creativity and drive to express my heart and passion."
To see more of Setzer's work, visit behance.net/willsetzer.