Photography by Rafael Tongol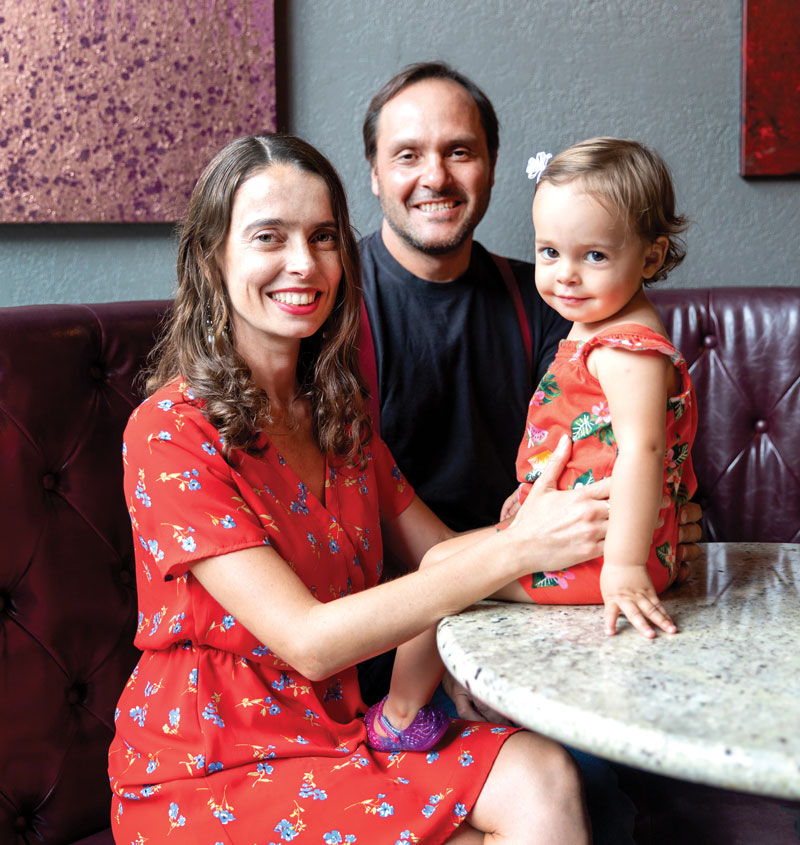 When you're sitting at a simple wooden table or high top at Vinia Wine & Kitchen, listening to Brazilian music and sipping a small-batch wine that pairs perfectly with the scratch-made food, you won't be thinking "goat farm."
But you could. The owners of this low-key, deliciously grown-up getaway in Hannibal Square eased into the restaurant business via an array of careers, one of which involved raising goats and selling goat meat. It's one of many behind-the-scenes tidbits that add intrigue to an already intriguing destination. More on that in a moment.
First, let's gush about Vinia's cozy vibe — the space is, shall we say, intimate — and about its friendly proprietors, Fabio Perricelli and Paula Gamba, the husband and wife team who opened the restaurant in 2018.
One or the other is frequently in the dining room, visiting every table, explaining the food and urging the tasting of, say, roasted shishito peppers with aioli or a glass of red Portuguese wine.
We usually don't care for hovering. But Perricelli and Gamba are so hospitable — and so genuinely warm and welcoming — that they seem more like old friends who happen to know a lot about food and wine. Their personalities are reflected in the cuisine they serve.
The menu is designed as small bites — mini-platters of Mediterranean flavors with Brazilian-influenced fare tossed into the eclectic mix. The shareables are presented with Instagram-friendly panache, and each recipe is unique to Vinia.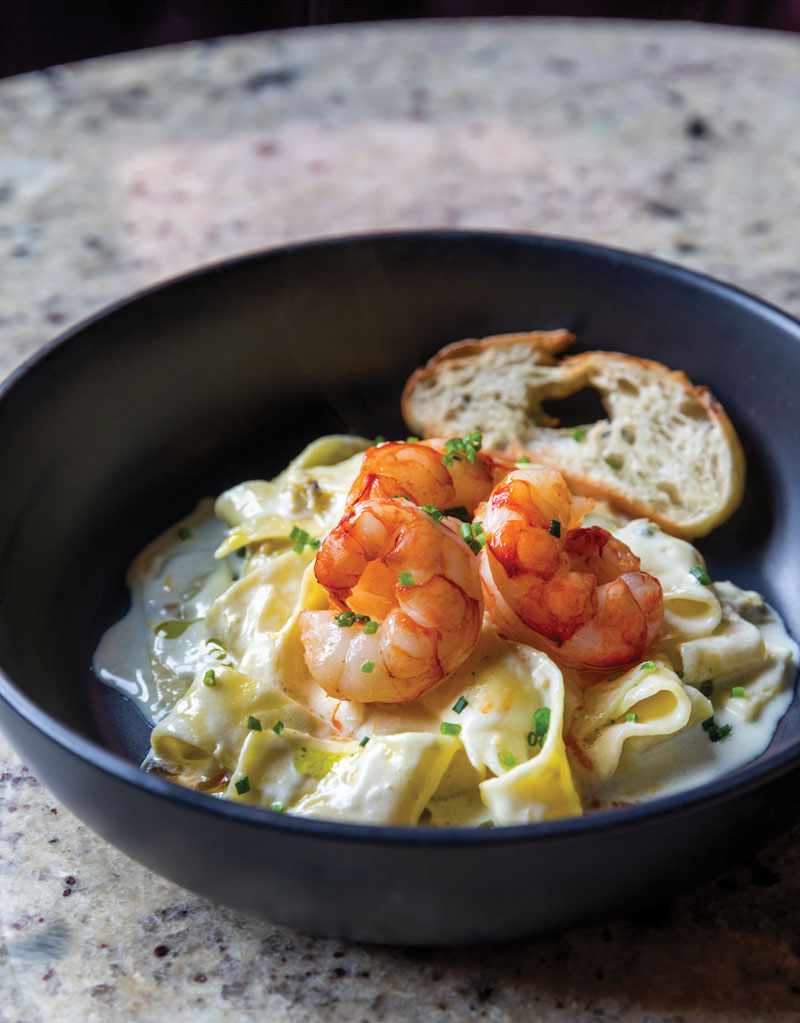 Perricelli, who usually wears suspenders as something of a personal trademark, is determined that everything he serves be something that his guests (guests, not customers) haven't experienced before — which is tough to accomplish when a particular guest is someone who dines out for a living.
Still, he comes up with ideas, brainstorms with his culinary team, tests and retests his creations and, if all goes well, proudly parades the resulting fare into the dining room. "Our foods have the Vinia personality," Perricelli says.
That personality, I'd say, is quirky, enthusiastic and eager to please with an undercurrent of perfectionism. "I want people to recall a dish they tried here at another time, then say, 'OMG, let's go have that again,'" adds Perricelli. "The tomato sauce is my tomato sauce; the pesto is my pesto. Of course, the name is the same, but they never taste the same as they do somewhere else."
Perricelli and Gamba make weekly visits to seven retail food stores to personally select ingredients, and use specialty suppliers only for hard-to-find items. That's how they came to have fresh lump crabmeat for the crab cakes and flaky, flavorful crust for the flatbreads.
They take a similar approach to wine. "We only have wines from small producers," Perricelli notes. "There's always something different on the menu. If you want to drink a Caymus, don't come here. Visit for my wine from Puglia [in Southern Italy] or my special Greek wine."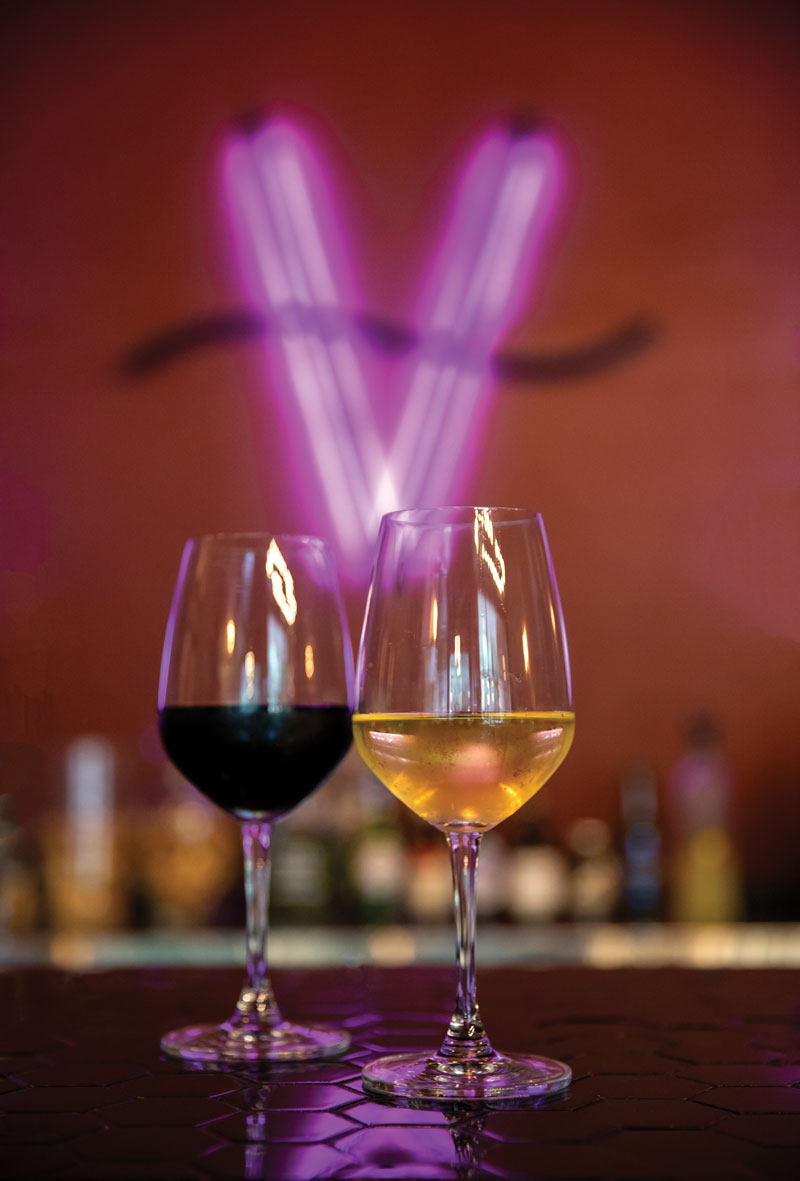 It's all part of the plan to make guests feel at home. "Food and wine bring people together," Perricelli says, noting that the bossa nova-themed ambient music contributes to the aura. "All the senses come together in a very cozy environment. You eat with your eyes and ears, not just your mouth. And your heart, too."
Although the dining room is small, Perricelli adds, turning over tables is never his goal, and no one is rushed or pressured to finish up. "I want guests to enjoy their night out," he says.
Perricelli and Gamba's route to becoming restaurateurs was an unconventional one. Perricelli was born in Southern Italy and moved to Brazil at age 8, when his father joined his grandfather in operating a cattle ranch and coffee farm. Over time, the ranch branched out into raising goats.
After his father's passing, Perricelli took over the business. "I selected the animals to buy, and I researched the best ways to process the meat," he says. "I used to sell the best goat meat in São Paulo." He also did gig work in video post-production.
Gamba, born and raised in Brazil, worked in publishing before the couple decided to change their lives, careers and country of residence. Florida seemed ideal since it was close enough for quick trips home.
Perricelli and Gamba visited 17 Florida cities in 10 days and weren't particularly impressed — not even with Orlando. "We couldn't find a place we really loved," Perricelli says, until they sought out Gamba's favorite fast-food joint, Shake Shack, and visited the chain's location overlooking Lake Killarney.
"We fell in love when we got to Winter Park," Perricelli says. "My God, this is not the Orlando of the theme parks."
They began looking for a good restaurant location. Park Avenue was too pricey, they decided, but they were interested in Hannibal Square and its array of eateries. "It's kind of like off-Broadway," Perricelli notes. He found the space vacated by the footwear retailer Sugar Shoes and soon began a nine-month construction process.
After Vinia opened, Perricelli stationed himself on the sidewalk to lure potential customers. "I stayed outside of the restaurant every day, talking to everyone who passed by," he recalls. "A quality I appreciate here in Winter Park is that people know each other — and word began to spread."
While the COVID-19 pandemic certainly put a kink in Vinia's growth, less than a year after opening the restaurant was already in a strong enough position to remain viable until locals began dining indoors again.
The determination of the owners, the quality of the food and the variety of the wine selections — as well as the mellow environment — combined to help Vinia establish itself.
Now, about the food. Among the highlights of the one-page menu is oxtail, served two ways — over gnocchi or salad greens. Originally plated over polenta with bones intact, today the specialty is a velvety, bone-free meat cooked sous-vide with wisps of fennel, celery, carrot, onions and herbs.
The potato-based gnocchi (dumplings found in many Italian dishes) are made in-house with Italian flours. "People think of gnocchi as very heavy, but that's not the way they should be," Perricelli explains. "They can be light, fluffy and tasteful." That's what he prepares.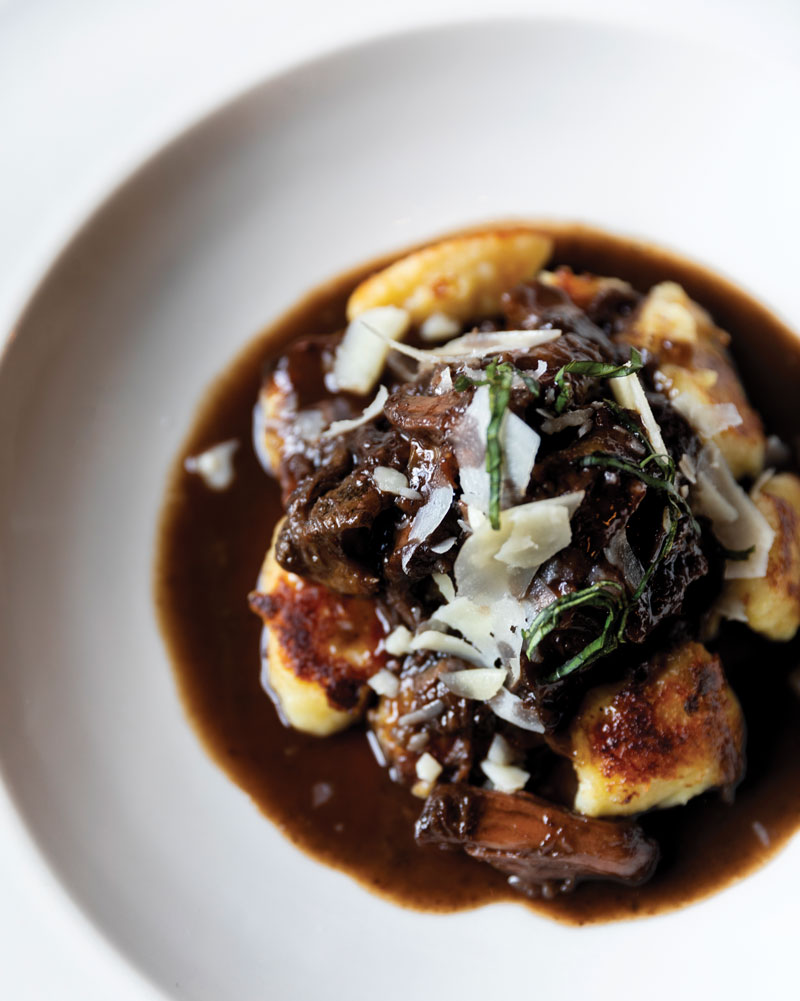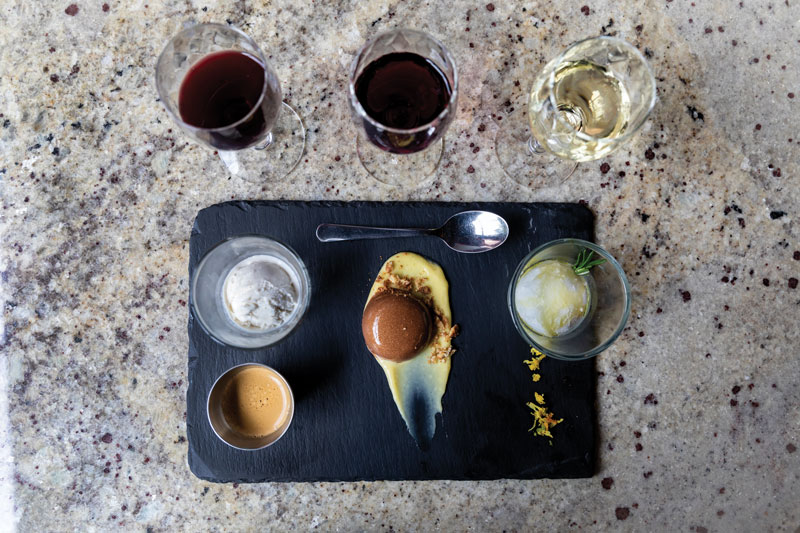 Cod isn't usually on the menu in restaurants with gourmet ambitions, yet here it's worth ordering. The fish was chosen to represent Portugal, where it's a staple. A chef formerly on staff suggested pan-roasting a fillet and pairing it with butternut squash, which was then in season.
"That would be terrible," Perricelli responded. But the chef suggested a flan version of the vegetable, and that's what guests get today when they order Bacalhau ao Forno. The fork-tender fish sits atop a silky round of slightly sweet, honey-roasted butternut squash flan. The lemon sage nage (a broth reduction) brings it all together.
Some guests requested more familiar foods, so Perricelli went all in for crab cake. "Not a bread cake, a crab cake," he emphasizes, throwing some shade at versions too heavy on breadcrumbs.
To jazz up his offering, dubbed Crab Cake Vinia, Perricelli added a side of all-American succotash — then took a wacky detour and substituted edamame for lima beans.
For such a tiny menu, Vinia's bill of fare has plenty to boast about. For example, there's the bite-size pissaladièr — pizza-like flatbread topped with anchovy-flavored oil, pureed garlic, and fresh herbs and vegetables. Another must-have is Pasta ai Gamberi e Limone — prawns atop pasta with lemon cream sauce.
We also love the meat, veggie and combo flatbreads, which have no sauce and four-ingredient tops that provide a pop of intense flavor without overdoing it.
There are empanandas with mixed veggies, cod cream, and meats and cheeses as well as charcuterie and fromage boards. And the trio of desserts — usually with fruit and chocolate options — always includes an affogato (espresso with ice cream).
There's a small but eclectic collection of white and red wines and champagnes as well as several cocktails, including a seasonal special and such fruity favorites as a mimosa and a bellini, which combines peach puree, prosecco and champagne.
Are there misses? For sure. But there are more hits — and every dish is at the very least interesting. You'll come out ahead, absolutely.
You won't be able to try them all at one sitting, but worry not. You'll be back. Once you discover this quiet little wine bar along the "off-Broadway" equivalent that is Hannibal Square, you're sure to become a regular.
Vinia Wine & Kitchen
444 West New England Avenue, Winter Park
407-925-7485 • viniawinebar.com