Photography by Uneek Image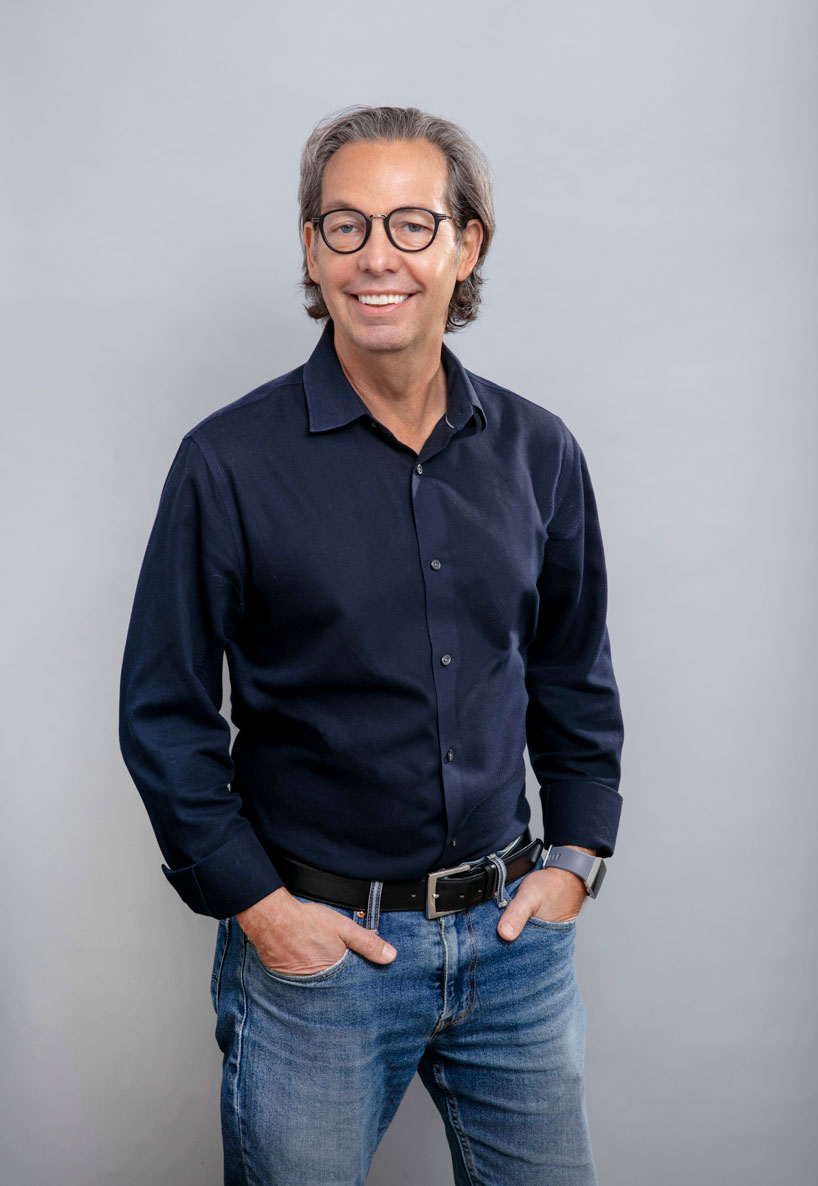 If anyone knows about the potential pitfalls of high-profile showcase homes, it's Phil Kean, president of Winter Park-based Phil Kean Design Group. Kean's team has designed and built four such homes, and Kean was the architect on one other.
"It's an adrenaline rush, doing these homes," says Kean, 59, who was among the first builders to introduce sleek, modern residential architecture to a city where more traditional genres had long predominated. "It's fun and cool because you're using all these new products that people haven't seen yet. Not everybody's into that, but I am."
Showcase homes are the centerpiece of the International Builders' Show (IBS), sponsored by the National Association of Homebuilders (NAHB). The projects are intended to demonstrate the latest technologies and most leading-edge building materials for the confab's 65,000-plus attendees.
IBS descends upon Orlando and Las Vegas in alternating years. For nearly four decades, there's been a New American Home — and more recently a New American Remodel — for attendees to scrutinize and real estate writers to critique.
That fact alone is daunting enough. But the 2021 New American Home — located near the corner of Morse Boulevard and Pennsylvania Avenue alongside The Coop restaurant in Winter Park — was under construction during the worst of the COVID-19 pandemic.
Supply chain disruptions and labor shortages hampered progress, while construction crews had to observe social distancing and practice other unaccustomed safety measures while racing against the clock to complete the home in time for its worldwide debut.
As the virus persisted, however, the in-person show — slated for February at the Orange County Convention Center — was canceled and held virtually. Consequently, the 2021 New American Home could only be seen by taking an online 3D tour accessible to registrants via the IBS website.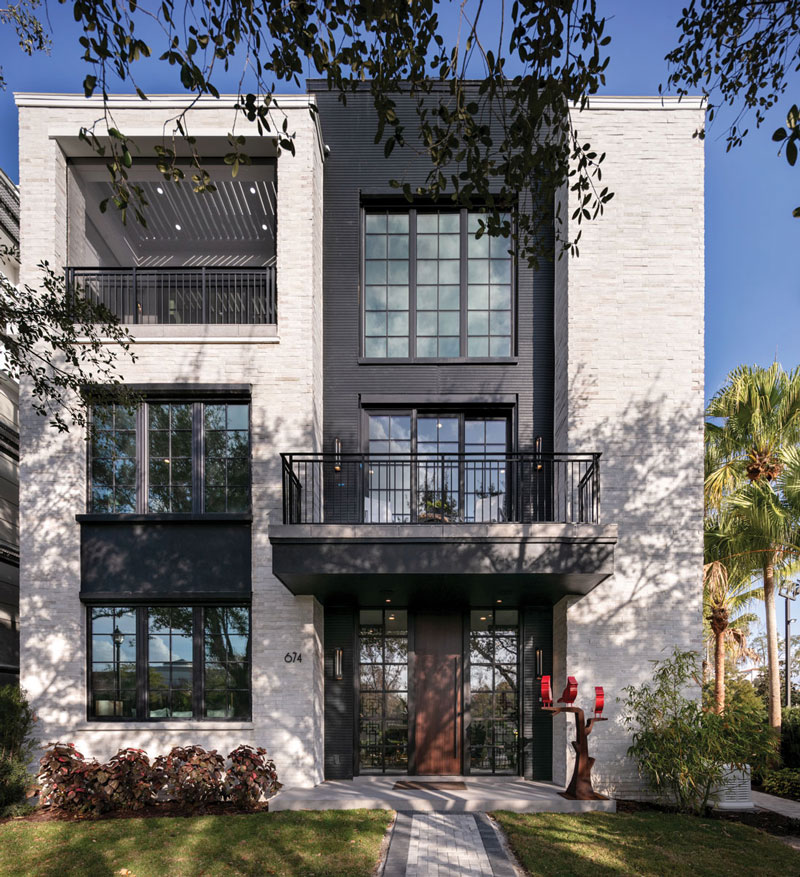 Perhaps cancellation of the show was a mixed blessing since, pandemic be damned, most builders were much too busy churning out homes to spend a week cavorting in Orlando. One of the anomalies of this health crisis has been a booming real estate market even during COVID-19's pre-vaccine rampage. But that's another story altogether.
In any case, New American Homes have been over-the-top mansions on sprawling suburban homesites. Impressive, perhaps, but risky for the builder, who must sell to recoup his or her costs. Kean's project, however, is a dandy departure from the norm — and likely won't be on the market long.
It's a vertical three-level structure on a 1,969-square-foot homesite that anchors the south end of his company's most recent local development — which is billed as townhomes but in fact encompasses three tightly packed single-family homes and four attached townhomes.
The IBS home, which has 4,390 square feet of air-conditioned space — 5,536 square feet counting the terraces — was originally intended to be two smaller adjacent townhomes. Kean, however, discovered that many buyers wanted to combine units or to have single-family options.
Other single-family offerings on the same infill parcel — which stretches all the way from Morse to Shady Park — have more conventional floorplans. But Kean describes the featured design as "upside-down" because the main living space is on the top floor, where views of Winter Park's lush tree canopy are spectacular.
There are technically four bedrooms — if you include two rooms that have been repurposed — as well as 4.5 bathrooms, a back-entry three-car garage and terraces on each of the top two floors: one on the second floor and two on the third floor. "It's about as urban as you can get in Winter Park," says Kean.
Each floor offers a unique living experience. The first floor, with an art gallery entrance, encompasses a guest bedroom with an en suite bathroom. All the home's toilets, by the way, include bidets — a change inspired by the pandemic.
There's also an office, which was originally another bedroom but ended up being outfitted as a workspace because of COVID-19. Doing business from home will clearly remain a preference for many even after the pandemic abates.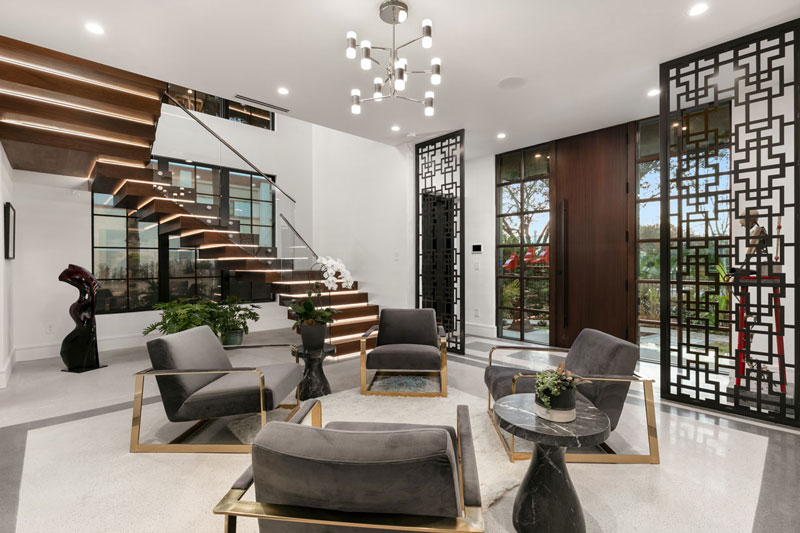 The second floor is dedicated to the owner's suite, which is anchored by a large master bedroom. (The king-sized bed has a padded leather headboard that takes up most of a wall). The master bathroom connects to an expansive walk-in closet. And there's a generous lounging area, a laundry room and a bedroom-turned-gym with an en suite bathroom and sauna.
The third floor is an ideal place to entertain — whether it's in the great room or the music room, which has a niche that can accommodate a baby grand piano or a small combo of musicians. In fact, it's difficult to find an excuse to leave the third floor other than an aversion to wasting two floors of space.
There you'll also find the kitchen, with an array of handy built-ins and a variety of finishes to add interest. It's a beautiful space, highlighted by the warmth of dark walnut — especially notable on the floor-to-ceiling china cabinet — and a high-contrast color scheme that includes creamy white, soft black (the tone is called "charcoal") and shiny taupe. The adjacent dining area offers easy access to the wet bar and wine storage units.
On the main terrace there's another kitchen — of the outdoor variety — and an intimate dining area, where retractable screens keep the pests at bay. Notes Kean: "There aren't that many places in Winter Park where you can see the sky the way you can from the upper terrace."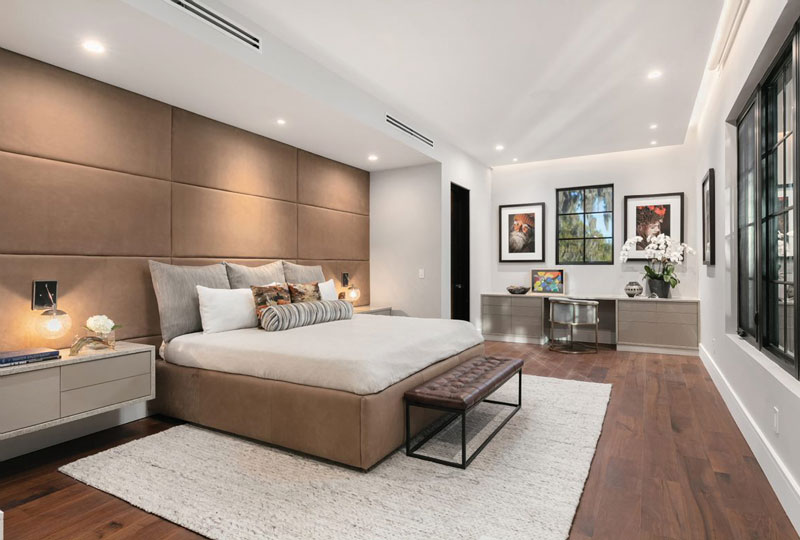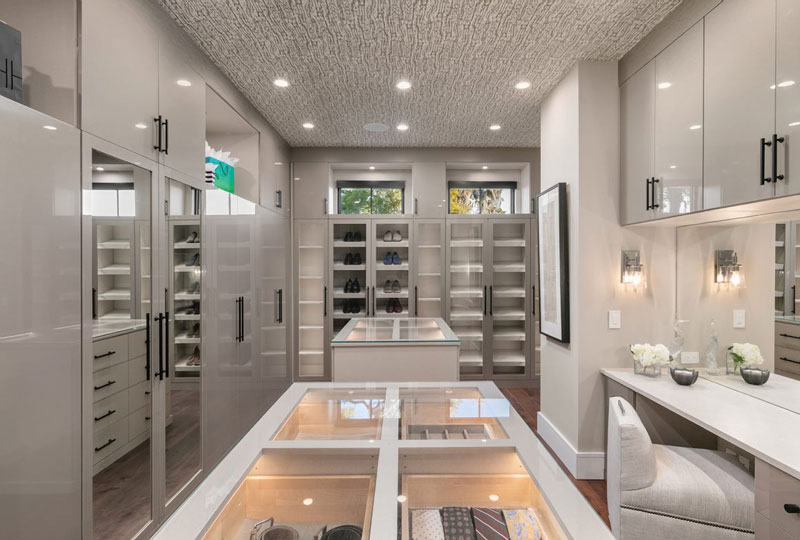 Kean and husband Brad Grosberg, a principal in Kean's company, are dog people and their household includes a pampered basset hound. So it should come as no surprise that the home has plenty of doggie doors and a first-floor room specifically for dog grooming and the storage of dogfood, leashes and other canine paraphernalia.
That's a small but endearing touch. If you're looking for a wow factor, though, get a load of the custom-built floating staircase, enhanced with clear glass balusters and lighting under each tread. Of course, if you'd rather look at a staircase than climb one, there's a hydraulic elevator to take you to the upper levels.
As you might expect in a home that's touted as state-of-the-art, this one exceeds the National Green Building Standard's requirements for Emerald certification. There are numerous high-tech systems to enhance energy efficiency, including solar panels on the roof that help the home to generate its own power.
As for the exterior, Kean — who attended Harvard University as an undergraduate and later earned both an MBA and a Master of Architecture degree at Washington University in St. Louis — doesn't believe it fits any particular style except "modern" or "urban modern" with an industrial vibe.
However you label it, you can tell who designed it thanks to its clean lines and white stone veneer highlighted by metal cladding. Early on, Kean and Grosberg planned to occupy the home before eventually selling it. Says Kean: "The way we approach everything we design is by asking, 'Would I want to live there?' Well, I definitely would want to live there."
Kean and Grosberg had, in fact, lived in two previous IBS showcase homes designed and built by Kean — one in Winter Park and one in Lake Nona Golf & Country Club. Instead, however, they decided to put the New American Home on the market. The anticipated price: $4.25 million.
In the meantime, Kean — who was named 2013 National Custom Builder of the Year by NAHB and 2014 Contractor of the Year by the Orlando Chapter of the American Institute of Architects — is looking forward to being the architect for the 2022 New American Remodel, which will be in Rose Isle, adjacent to Winter Park.