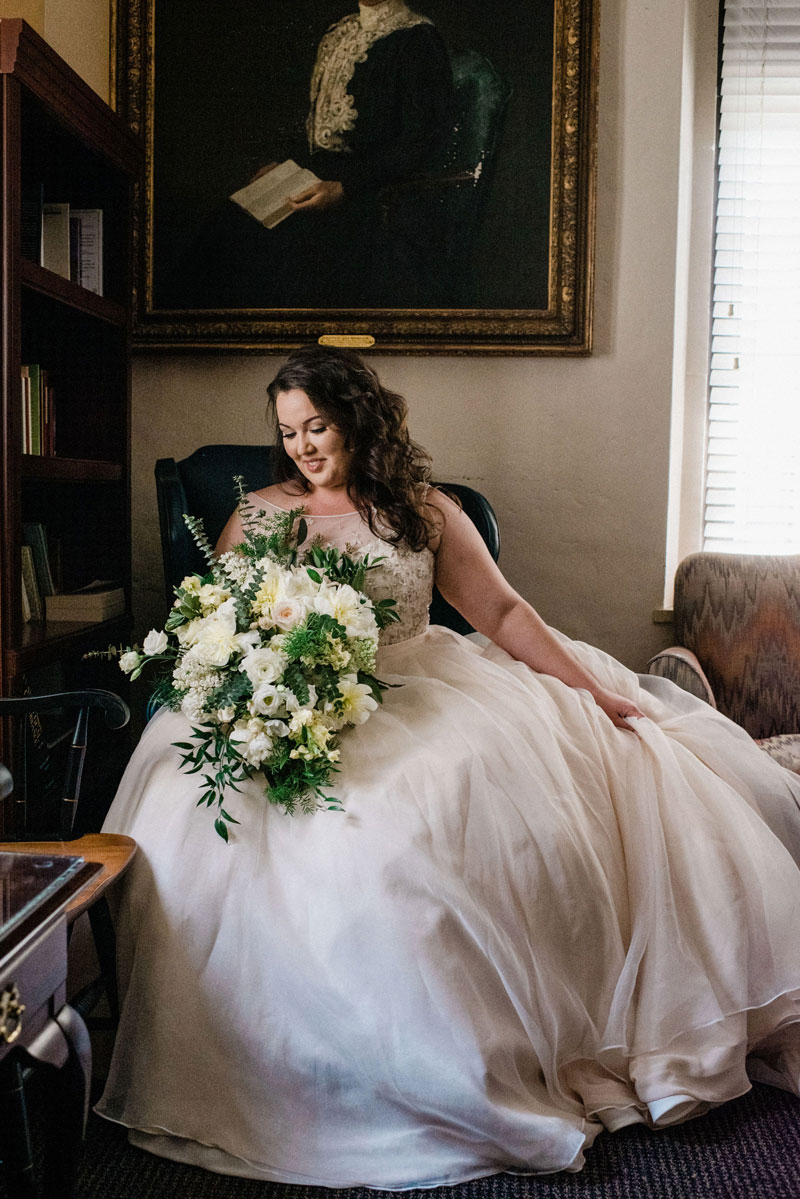 It's not as if large, extravagant weddings with 100 to 150 guests have become extinct in the era of COVID-19. A more accurate assessment would be that over-the-top events are simply on pause, according to wedding planners who've had to adapt along with their clients to new (and hopefully temporary) realities over the past year.
And while everyone ponders how to tie the knot during unprecedented times, one thing remains unchanged: Couples are still getting married, pandemic or not. And they're getting very creative about it.
In fact, it's not unusual to hear impatient spouses-to-be declare: "We're not waiting any longer, we're getting married. We're not going to put this off another year. We're going to do it. It's going to be smaller, but we're going to do it." 
The Outdoor Wedding
Darrin Shifrel, co-owner of Orlando Wedding & Party Rentals in Lake Mary, has provided everything from table settings and chairs to tents and dance floors for weddings over the past 13 years. 
He and other vendors have all kept busy running smaller weddings, with 30 to 40 guests, many of them held outdoors because of health concerns about viral spread in enclosed spaces. 
"I anticipate it staying this way at least through the spring and maybe the summer of 2021," Shifrel says. "Maybe in the fall or next year, things will swing back or maybe this is just how it's going to be. Who knows?"
Shifrel says that one upside of downsized nuptials is that couples often are working with same budget. With fewer guests, the extra funds are often used to upgrade the event, including such aspects as the cake, the bridal gown, the photographer and the reception.
When it comes to the venue for a micro wedding, many couples are opting for an intimate backyard gathering. "They're at their house and feel comfortable; they can control the environment more," says Shifrel. "I think it makes everyone feel more comfortable than going to some venue." 
Even couples who hold their weddings in popular venues, such as a ballroom at The Alfond Inn in Winter Park or at The Highland Manor in Apopka, are requesting outdoor spaces with tents, lighting and even drapery. 
Shifrel says that couples who previously booked ballrooms are often moving everything outdoors. "We're setting up tents and bars and all kinds of stuff in the courtyard [at the Alfond Inn] even though they have a beautiful ballroom. People are just more comfortable doing it that way."
For small weddings, Winter Park has its share of sought-after venues with outdoor space. Topping the list are the aforementioned Alfond Inn, Casa Feliz Historic Home & Venue, The Capen House at the Polasek and the neighboring Art & History Museums in Maitland. 
Shifrel has also seen an uptick in requests from new Florida residents — couples who moved to the state to get married because of fewer and less stringent restrictions here. 
They've scaled back their events since out-of-state guests are reluctant to travel and are opting for a small tents needed to host 10, 20 or 30 guests.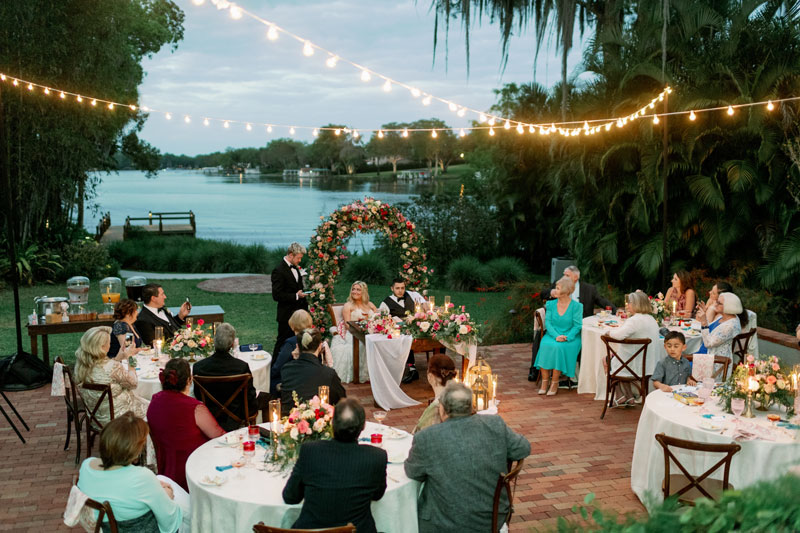 What to Serve
When planning the menu for small receptions, Shantel Campbell, marketing specialist for Arthur's Creative Events & Catering, says that many couples are gravitating toward multicourse plated meals that offer a true dinner experience.
With smaller guest counts and clients trying to maintain social distancing, some couples are making reception dining the main event. Says Campbell: "With multiple courses, guests are able to enjoy their dinner and each other's company in a more relaxed manner."
Food choices for weddings are more eclectic these days. Multiple chef-inspired stations, formal five-course dinners or even fun late-night snack stations — such as bars with flaming doughnuts (a signature offering from Arthur's Creative Events & Catering) — can add panache to a smaller gathering. 
Campbell notes that with fewer guests, there's more to spend per person. A multicourse plated meal is the easy way to go for a small group, she says. 
Examples of entrées from Arthur's menu that won't necessarily be found on a buffet include braised beef short ribs, center cut filet with jumbo Tuscan shrimp and coriander-crusted lamb chop with citrus seared scallops.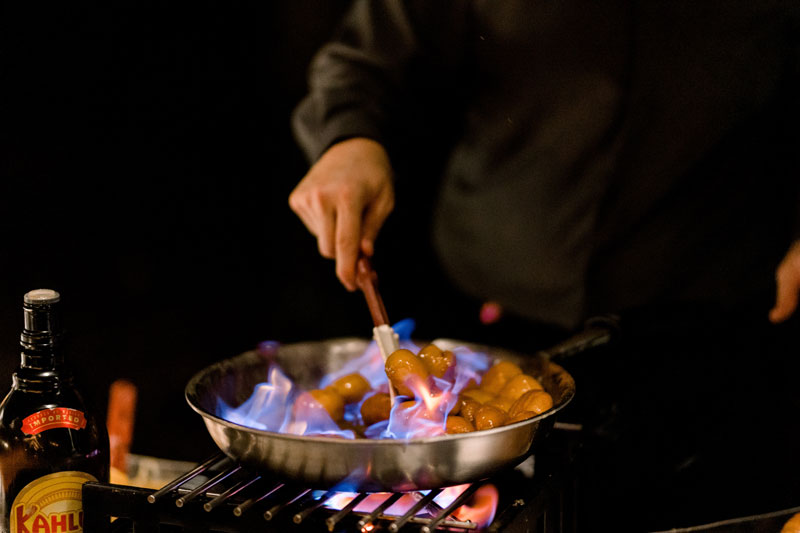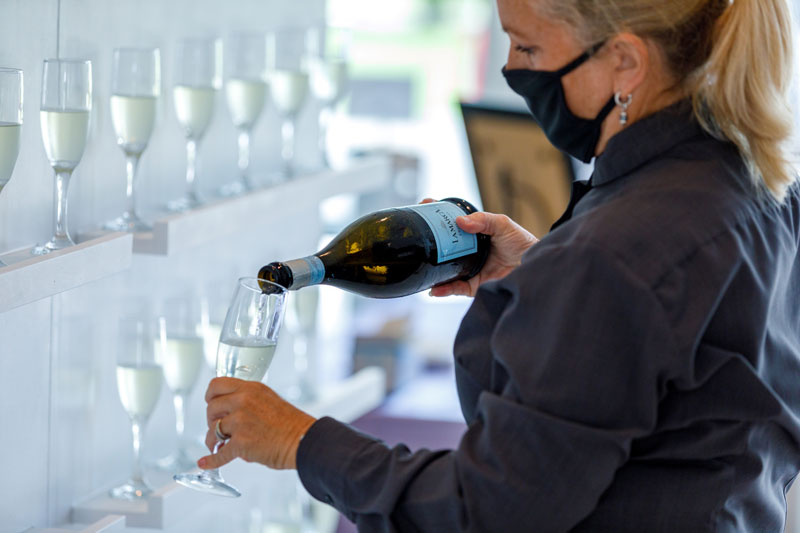 Choosing Flowers
Whether a couple wants to transform an entire venue or simply order bouquets and centerpieces, flowers and weddings remain synonymous, says Lee Forrest, owner of Lee Forrest Design in Orlando.
Forrest has worked weddings of all sizes, but "smaller weddings can be more luxurious," he adds. Since there are now fewer tables, there's more space to adorn, allowing florists to let their imaginations run wild — within budget, of course.
For example, a couple may choose massive centerpieces for tables or fill open ballroom space with lush greenery. Forrest's design team creates everything from bouquets, boutonnieres and corsages to arches, chuppahs, and altar and aisle décor as well as special cocktail-hour settings.
As a boutique florist specializing in weddings, Forrest welcomes any fanciful idea a couple might bring — and he enjoys the challenge of making it happen. 
"We love people who want something cool and interesting," he says. "We're known for being more edgy." Some of Forrest's designs use wire mixed with flowers to create a sculptured look, or feathers and crystals worked into floral arrangements. 
This past February, Forrest had the honor of transforming a balcony at Orlando City Hall into a magical setting for the wedding of Susie Shields and Mayor Buddy Dyer. 
The new Mrs. Dyer describes it as a "flower wonderland." The couple's wedding, which pulled together in three weeks, was rather spontaneous. "We said, 'What are we waiting for' … and the first person I called was Lee," says Orlando's new First Lady. 
The Dyers' small casual wedding — with just 10 guests — took place on a balcony, which was not only outdoors but also a special place to the mayor, who had performed several weddings there.
Forrest's first questions to Susie were: "What dress are you wearing?" and "What are your favorite colors and flowers?" Even though Shields hadn't decided on her dress yet — the bride ultimately wore a Florida-inspired green coral-patterned mid-length dress, and the groom wore a white guayabera shirt — she did send Forrest a photo of the balcony. 
Forrest's team created a bouquet of pink tulips and white tulips, White O'Hara garden roses, Juliet garden roses, blush hydrangea, blush Anna roses, white lisianthus and stock flowers of white and pale pink. The same grouping decorated the balcony's rail with green leafy swag draped between each cluster. 
 After the grim events of 2020, Forrest encourages use of colored flowers, which add much-needed cheerfulness to any occasion. Deeper pinks, burgundy and blue are showing up more often in his floral designs, he says. 
Other choice flowers include garden roses, peonies, parrot tulips and orchids. However, the time of year influences which flowers are in season and economical to use. Although Forrest can get just about any type of flower a couple wants, the price will be higher if it isn't in season.
Looking ahead, Forrest is optimistic that the end of 2021 and 2022 will see the return of bigger weddings — and his bookings for larger receptions reflect that optimistic viewpoint.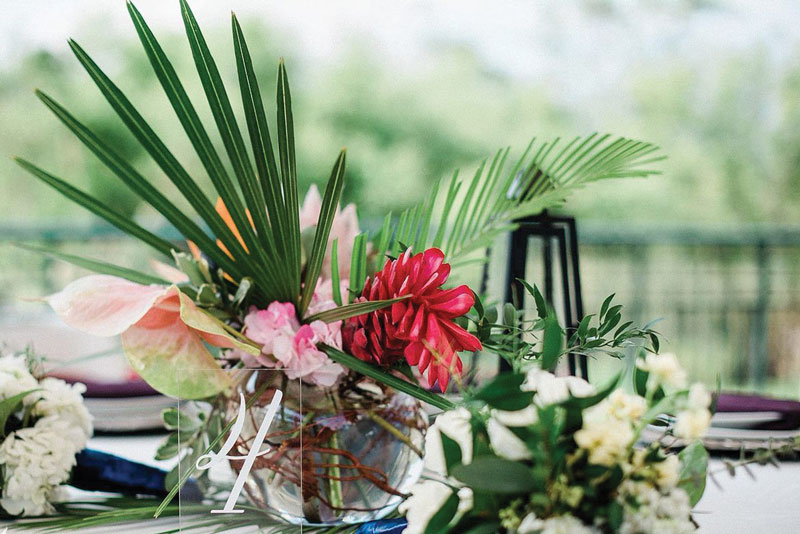 Yes to the Dress
Every bride wants to find the perfect dress for her wedding day. At The Bridal Finery in Winter Park, co-owner Roberta Noronha has helped her customers accomplish that goal for more than 10 years.
Some prefer a private appointment experience for the creation of a custom wedding gown, while others choose to buy their dream dress off the rack. To accommodate both types of shoppers The Bridal Finery operates two separate boutiques.
It really doesn't matter if the wedding is big or small — brides, Noronha has found, aren't willing to compromise on their wedding dresses. 
"I think they've realized how important wedding dresses have become, especially with so many postponements and changes in plans," she says. "The one thing that doesn't have to change is the wedding dress."
Regardless of age, venue and what's currently trendy, the dress should represent a bride's personal style. A person who normally wears fitted, tailored clothing may find a sleek, slim-fitted crepe dress with a dramatic pooling train to be an ideal reflection of her personal brand.
A bride who wears prints, patterns and color may opt for a full flowing gown with lace and hand-sewn beading. Lace never goes out of style, says Noronha. Types of lace and different layering techniques may change, but the beauty of lace is iconic.
Even though brides may not walk down a long aisle to the strains of Felix Mendelssohn's Wedding March at today's smaller weddings, the train is still an important part of the ensemble. Together with a seductive veil, trains add drama. 
The headpiece is what sets a bride apart from her guests, Noronha adds. Adding a piece of jewelry to the hair — barrette, halo, hair comb — or in addition to the veil, is the finishing touch. 
Noronha's advice to brides: "You have to pick a dress that you love and one that you feel comfortable in. It needs to be you in a bridal version."
Some brides know their style and what they want in a dress. Gibby Manatad-Folk grew up walking past The Collection Bridal in Winter Park, and already knew that one day she would walk into the bridal salon and pick out her wedding dress. 
At age 29, she and her fiancé were planning their April 2020 destination wedding in Thailand, where she has family, before travel restrictions derailed the couple's plans. They opted instead for a small family-only wedding at home.
"I still got the dress I love," she says of her sleekly silhouetted Inbal Dror gown of lace and beading, with a voluminous front bow and luxurious train. 
Wearing her classic but playful gown and wearing a white top hat with a tulle veil, she said, "I do" at Winter Park City Hall. Her 12 guests then headed to Manatad-Folks' family home to indulge in a dinner around the theme "Springtime in Shanghai." 
What was more important than the size of the wedding was being together with family, she says. When international travel returns, they plan to have a symbolic celebration in Thailand, hopefully next July on their one-year anniversary.
At The Collection Bridal in Winter Park, owner Millie Harris has been selling wedding attire for more than 37 years. Today she finds herself dressing not only young brides like Manatad-Folk but the daughters of brides to whom she sold wedding gowns 20-plus years ago. "We love that we have become multigenerational," says Harris about her customers.
Although Harris has seen her share of celebrations, she has noticed that at today's smaller weddings brides are choosing plainer dresses for ceremonies and more elaborate ones for receptions. Also, some couples who held scaled-back weddings are planning large receptions on or near their first anniversaries.
"A smaller wedding is more intimate, more romantic," says Harris. "It allows the couple to concentrate on things such as elegance, or tableware, flowers and the dress. After all, who really has 250 close friends?"
Since wedding gowns aren't subject to annual seasonal changes, it's not uncommon to buy a dress one to two years in advance of the wedding date. In fact, the wedding market is always a year ahead, explains salon manager Roya Mahootchi. 
"We just bought dresses for fall 2021, but they are not seasonal," she says. "We have dresses that are traditional, classic and timeless. They don't go out of style."
Besides gorgeous designer wedding gowns by Carolina Herrera and Monique Lhuillier, The Collection Bridal carries mother-of-the-bride dresses that can be custom ordered so you won't see someone else wearing the same outfit — always a risk with department store-bought apparel. 
Bridesmaid and flower girl dresses are also available. From the day you buy a dress until the day you pick it up for the wedding, the staff will do in-house alterations — extend a train, add sleeves or plunge the neckline — press the dress and store it for you.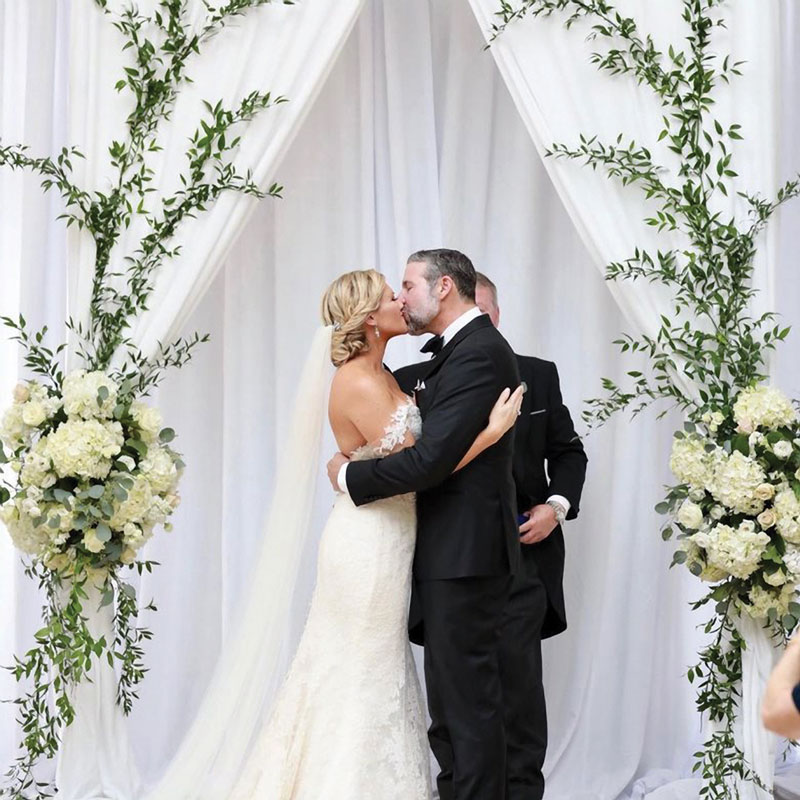 The Invitations
Since the beginning of 2021, the phone at Maureen H. Hall Stationery and Invitations in Winter Park has been ringing. Couples who put off getting married in 2020 were no longer waiting to tie the knot; they were ready to order wedding invitations. 
And, Hall says, the orders are big — 100 to 150 invitations. The only difference, adds Hall, is that many couples had changed venues from indoors to outdoors. The Interlachen Country Club and the Winter Park Racquet Club, both with gorgeous outdoor spaces, have been popular choices, she adds.
Another reason for the rush is that couples who had small weddings in 2020 are now planning big receptions for 2021 and 2022. They want exquisite invitations to their long-awaited celebrations.
"We sell classic invitations that in 20 years, you'll look at and say it's just as gorgeous today as it was then," says Hall. "You can't go wrong with a traditional invitation. It never looks dated."
Unlike ordering on the Internet, an appointment with Hall and other custom stationery vendors offers an opportunity to handpick your invitations, feel the quality of the paper and visually explore design techniques such as engraving, etching, debossed framing and foil stamping. 
Among Hall's exclusive vendors are Crane & Co., Vera Wang, William Arthur and Stationery Works. Hall helps couples design a wedding suite, composed of the invitation, envelope, response card and extra touches such as a liner or ribbon.
When selecting an invitation, Hall says that it's usually the venue that dictates the style. If the wedding is at the Ritz-Carlton, for example, a formal invitation is appropriate. At the Winter Park Farmers' Market, perhaps not so much.
The invitation is a powerful indicator of how formal the wedding will be and the dress code expected of guests. Even the color of ink is taken into consideration. For example, a fall wedding invitation would likely be printed in hunter green or burgundy to complement the season.
In summary, it doesn't matter if the wedding is small or large — brides and grooms have found ways to join together in matrimony through world wars, depressions and, most recently, a pandemic. After all, the union is supposed to be for better or worse.
And after the past year, everyone seems to be looking ahead toward something better. 
---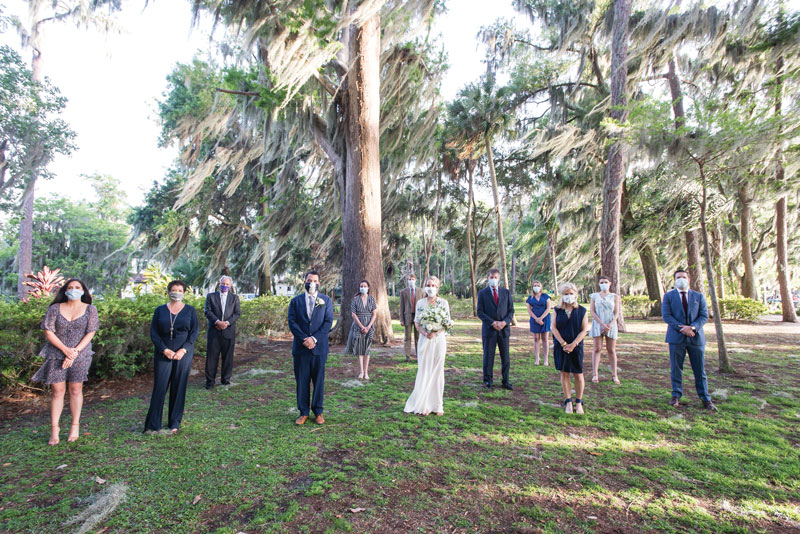 Love Will Find a Way
Hilary Stalder arrived home from her bachelorette getaway to a very different Central Florida than the one she had left a few short days before. While she was away, COVID-19 became a pandemic and major attractions closed. Bars and restaurants quickly followed. 
Suddenly her April 18 wedding to long-time beau Jacob Stern was thrown into flux. With the ceremony — slated for the Winter Park Racquet Club — just 30 days away, the couple had to make some quick decisions.
"It really wasn't hard," Hilary says. "Our parents and some of our guests were in high-risk groups. We looked at what was going on and quickly realized it wasn't going to get any better any time soon. Canceling the big ceremony was clearly the only decision we could make for us, our family and friends." 
So how do you go about pulling the plug? Hilary and Jacob, both 31, started by notifying their 150-plus guests and breaking the news to their vendors. 
"For the most part, our vendors were understanding," she adds. "We felt so bad because most of them knew they were probably not going to be working for a while. It was heartbreaking to have to undo everything we had done in the last 10 months of planning." 
Still Hilary and Jacob did, in fact, get married April 18. "The world had changed but not our love for each other; we wanted to be married," Hilary says. "We knew it wasn't going to look like what we had planned. But that was OK." 
The couple — who both work for general contractor Brasfield & Gorrie and met at work — pivoted and quickly put together a small, intimate ceremony at Kraft Azalea Gardens. Adds Hilary: "The city said they weren't renting any of their venues, but they wouldn't kick us out — so we went for it." 
An outdoor venue requires a less formal bridal gown than the one at the seamstress (which is still there). So, with stores closed, Hilary looked online. Because of COVID-19, delivery times couldn't be guaranteed — but she was fortunate enough to find a resale version of the dress she wanted. 
Her florist, Lee Forrest Design, put together a bouquet and boutonniere and delivered it to their home the morning of their wedding.
"[Forrest] was so wonderful, when we told him our plans, he said, 'Let me see what I have in the shop,' and he created the perfect bouquet," Hilary says. When he delivered it to their home, he stood at a safe distance on the sidewalk. 
Naturally, it rained on April 18 and Hilary recalls saying a prayer: "God. I've been really cool with all of this, but can you just give me this one?" As the wedding party arrived at the garden, the sun came out and her long-awaited nuptials were held on a beautiful afternoon. 
Hilary and Jacob's guest list was downsized to include just immediate family — a party of 12 including the couple — and their reception was moved from the Racquet Club to their backyard with takeout from Hillstone. 
But Hilary is happy with how everything turned out: "The wedding ended up being 'more us,' and we're happy with that." Naturally, she was less happy with losing several deposits for the original wedding. 
The government of Thailand, for example, kept their up-front payment. Which is one reason they still plan to go on a belated honeymoon next year to the Southeast Asian country.
---
Venue Guide
ROLLINS COLLEGE
Alfond Inn
300 East New England Avenue, Winter Park
407-278-8159
thealfondinn.com/meetings-events/weddings
Hilton Garden Inn Winter Park
1275 Lee Road, Winter Park
407-755-3733
hilton.com
Knowles Memorial Chapel and the Rice Family Pavilion
1000 Holt Avenue, Winter Park
(Rollins College Campus)
407-646-2541
rollins.edu/chapel/wedding-information
OUTDOORS
Central Park Rose Garden
250 South Park Avenue, Winter Park
407-599-3397
cityofwinterpark.org/venues
Kraft Azalea Garden
1305 Alabama Drive, Winter Park
407-599-3397
cityofwinterpark.org/venues
Mead Botanical Garden
1300 South Denning Drive, Winter Park
407-599-3397
cityofwinterpark.org/venues or meadgarden.org
HISTORIC PLACES
Capen House at the Polasek
633 Osceola Avenue, Winter Park
407-636-9317
capenhouse.com
Casa Feliz Historic Home & Venue
656 North Park Avenue, Winter Park
407-628-0230
casafelizvenue.com
The Chapel & Hudson's Cellar Hannibal Square
16 West Lyman Avenue, Winter Park
407-644-3151
chapelandcellar.com
Winter Park Country Club
761 Old England Avenue, Winter Park
407-599-3416
cityofwinterpark.org/venues
Winter Park Farmers' Market
200 West New England Avenue
407-599-3341
cityofwinterpark.org/venues
CLUBHOUSES
University Club of Winter Park
841 North Park Avenue, Winter Park
407-644-6149
interparkvenue.com
Woman's Club of Winter Park
419 South Interlachen Avenue, Winter Park
407-644-2237
womansclubofwinterpark.com
COMMUNITY CENTERS
Winter Park Community Center
721 West New England Avenue, Winter Park
407-599-3275
cityofwinterpark.org/venues
PRIVATE CLUBS
Interlachen Country Club
2245 Interlachen Court, Winter Park
952-924-7406
interlachcc.org
Note: You must be a member or be sponsored by a member.
Winter Park Racquet Club
2111 Vía Tuscany, Winter Park
407-644-2226
wprc.net
Note: You must be a member or be sponsored by a member.
NEW VENUES
The Winter Park Library and Events Center
1050 West Morse Boulevard, Winter Park
407-599-3525
cityofwinterpark.org/venues
Note: The venue is not yet open, but reservations are now being accepted.
Services Guide
BEAUTY SALONS
Bangz Park Avenue
228 North Park Avenue, Winter Park
407-645-2264
bangzparkavenue.com
Dolce Vita Salon
1286 Orange Avenue, Winter Park
407-374-3333
dolcevitaorlando.com
Gary Lambert Salon & Nail Bar
517 South Park Avenue, Winter Park
407-628-8659
lambertsalon.com
Salon Ciseaux
658 North Wymore Avenue, Winter Park
407-865-5881
salonciseaux.com
Stella Luca
Hannibal Square
433 West New England Avenue, Winter Park
407-740-7006
Winter Park Village
460 North Orlando Avenue, Winter Park
407-740-6711
stellaluca.com
Una Donna Piu
216 Park Avenue, Winter Park
407-628-4555
unadonnapiu.com
BRIDAL ATTIRE
Calvet Couture Bridal
Winter Park Village
520 Orlando Avenue, Winter Park
407-951-5670
calvetcouture.com
The Bridal Finery
976 North Orange Avenue, Suite C, Winter Park
407-960-5225
thebridalfinery.com
The Collection Bridal and Formal
301 North Park Avenue, Winter Park
407-740-6003
thecollectionbridal.com
The Seamstress
1143 Orange Avenue, Winter Park
407-740-7544
seamstresswinterpark.com
CATERERS
Arthur's Creative Events & Catering
860 Sunshine Lane, Altamonte Springs
407-331-1993
arthurscatering.com
Cuisiniers
5470 Lake Howell Road, Winter Park
407-975-8763
cuisinierscater.com
Dubsdread Catering
549 West Par Street, Orlando
407-809-5740
dubsdreadcatering.com
John Michael Exquisite Weddings and Catering
627 Virginia Drive, Orlando
407-894-6671
johnmichaelevents.com
Puff 'n Stuff Events Catering
250 Rio Drive, Orlando
407-629-7833
puffnstuff.com
FLORISTS
Atmospheres Floral and Décor
2121 West Fairbanks Avenue, Winter Park
321-972-2976
atmospheresfloral.com
Fairbanks Florist
805 South Orlando Avenue, Winter Park
321-695-5440
fairbanksflorist.net
Winter Park Florist
537 North Virginia Avenue, Winter Park
407-647-5014
winterparkflorist.com
Lee Forrest Designs
51 North Bumby Avenue Orlando
407-770-0440
leeforrestdesign.com
INVITATIONS
Maureen H. Hall Stationery and Invitations
116 Park Avenue, Winter Park
407-629-6999
maureenhallinvitations.com
Rifle Paper Co.
558 West New England Avenue, Suite 150, Winter Park
407-622.7679
riflepaperco.com
JEWELERS
Atelier Coralia Leets Jewelry
307 South Park Avenue, Winter Park
321-203-2716
coralialeets.com
Be On Park
152 South Park Avenue, Winter Park
407-644-1106
beonpark.com
JC Designs
307 South Park Avenue, Winter Park
321-444-6128
jcdesignersllc.com
Jewelers on the Park
116 South Park Avenue, Winter Park
407-622-0222
jewelersonthepark.com
Reynolds & Co. Jewelers
232 North Park Avenue, Winter Park
407-645-2278
reynoldsjeweler.com
Simmons Jewelers
220 North Park Avenue, Winter Park
407-644-3829
hsimmonsjewelers.com
GROOM'S ATTIRE
John Craig Clothier
132 South Park Avenue, Winter Park
407-629-7944
johncraigclothier.com
Leonardo 5th Avenue
121 East Welbourne Avenue, Winter Park
407.622.0296
leonardofifthavenue.com
Siegel's Winter Park
330 South Park Avenue, Winter Park
407-645-3100
siegelsonline.com
MUSIC
The Buzzcatz
Contact: Ricky Sylvia
321-277-5522
thebuzzcatz.band
The Elite Show Band
7512 Dr. Phillips Boulevard, Orlando
888-400-5013
eliteshowband.com
Leonard Brothers Band
info@leonardbrothers.com
leonardbrothers.com
Weddings Only DJ Entertainment
Contact: Brian Scott
407-493-2617
weddingsonlydjentertainment.com
PARTY RENTALS
A Chair Affair
613 Triumph Court, Orlando
386-479-4308
chairaffairrentals.com
Fenice Events
1255 La Quinta Dr., Orlando
407-404-1895
feniceevents.com
Orlando Wedding & Party Rentals
2452 Lake Emma Road, Lake Mary
407-739-5740
orlandoweddingandpartyrentals.com
RW Style
1075 Florida Central Parkway, Longwood
407-374-2534
rw-brands.com
PHOTOGRAPHERS
Allan Jay Images
407-252-8094
allanjayimages.com
Art Faulkner Photography
805 South Orlando Avenue, Winter Park
407-461-6628
Brian Adams Photo
321-206-6285
brianadamsphoto.com
Cricket's Photo & Cinema
16618 Broadway Avenue, Winter Garden
407-484-2931
cricketsphoto.com
Gian Carlo Photographer
407-312-7932
giancarlophotography.com
Jensen Larson Photography
407-409-8499
jensenlarsonweddings.com
Kristen Weaver Photography
1624 Smithfield Way, Suite 1126, Oviedo
407-476-4597
kristenweaver.com
Rudy & Marta Photography
321-270-9524
rudyandmarta.com
Sunshine Photographics
13953 Lake Mary Jane Road, Orlando
407-481-8425
sunshinephotographics.com