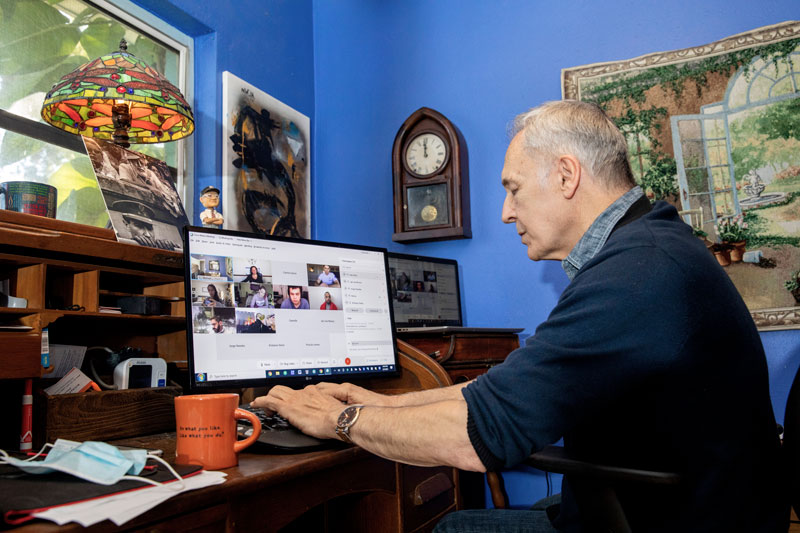 It's mid-February as I write this, not that you'd know it from the artificial Christmas tree still standing in my girlfriend's living room.
Denise is neither a procrastinator nor a haphazard housekeeper: This is a woman who makes me take my shoes off at the door.
But as a teacher in the time of COVID-19 — a Montessori practitioner who devotes 14 hours a day, five days a week to teaching 19 homebound, public-school 6- to 9-year-olds online — she's both overtaxed and isolated.
Maybe she doesn't have the time to take the tree down. Maybe she just needs the warmth it provides.
Educators of every ilk have been faced with the sterile challenge of retooling their way of doing things because of the pandemic. For Denise, that means inventing virtual work-arounds in her dining room, which serves as a solitary, one-room schoolhouse.
Montessori teaching emphasizes a hands-on approach. Online teaching ties those hands. Boisterous children whom Denise once engaged in a warm, energetic social setting now appear as individual faces lined up in neat rows on her small, school-issued laptop. Meanwhile she materializes on their screens as just another talking head.
She does her best to compensate. "My style in the classroom was Fred Rogers," she says. "Online, I feel like I have to be Barney the Purple Dinosaur."
Tell me about it. Thousands of educators who work with every age level have been adapting to Jurassic-period transitions of their own. That includes me and my Rollins College colleagues.
The only visible post-coronavirus changes on campus are a few tented open-air classrooms and signs advising (insisting, actually) that visitors wear masks. Underneath it all is a transformation roughly equivalent to a GMC production line suddenly charged with cranking out Teslas.
Of the 2,100 students enrolled in Rollins' College of Liberal Arts, 541 are taking classes from off campus. That turns professors into jugglers: face-to-face with some students while connecting concurrently, via WebEx, to others.
It's a situation met with scholarly inventiveness by the likes of environmental science professor Lee Lines, who uses a headset for sound and a cell phone link for visuals to bring virtual students along for the ride as he conducts tours of Winter Park to study architecture, urban hydrology and tree canopies.
Lucy Littler, a lecturer in the English Department, worries about how to be sure virtual students are fully engaged. So she borrowed a tactic from a favorite professor from her own undergraduate days, who perked everyone up by asking a silly question while taking attendance ("If a movie was made of your life, what would the title be?").
Her approach is less jovial, but effective: She poses a question about class content to each student. "I'm not as funny as he was," she concedes. But her expectations about classroom preparation, be it online or in person, are clarified quite nicely.
Mindful of how isolated first-year virtual students can feel, Ellane Park, who teaches an introductory chemistry class, sometimes uses her Apple iPad as a social conduit during breaks, flipping it around so that her virtual students can get a glimpse of both campus and classmates and take part in casual chats.
When I had students in my composition class write about the situation, I was struck by an essay penned by communications major Danielle Gober, who addressed how cheated she felt after deciding to spend her senior year off campus.
It took me back to how pride and nostalgia mingle during that long-awaited final year, when the feeling that you own the place is gradually superseded by the dawning revelation that the place, in its own particular way, will always own you.
Rollins has a longstanding hands-on approach of its own, going overboard to provide students with an array of seminars, performances, lectures, focus groups and social events — roughly 400 a year, according to Micki Meyer, the college's Lord Family Assistant Vice President for Student Affairs, who's been in charge of arranging such activities for 16 years.
She says that despite the screen burnout plaguing both online and face-to-face students, the response has been enthusiastic for virtual gatherings this year, ranging from crafts to karaoke to trivia to creating tailor-made greeting cards. She told me, as did many professors, her online adaptations have been a bumpy but enlightening ride.
"I feel like my entire professional identity had to change. I've had to reimagine my whole career."
Sounds like a Montessori teacher I know.
---
Michael McLeod, mmcleod@rollins.edu, is a contributing writer for Winter Park Magazine and an adjunct instructor in the English department at Rollins College.