Photography by Rafael Tongol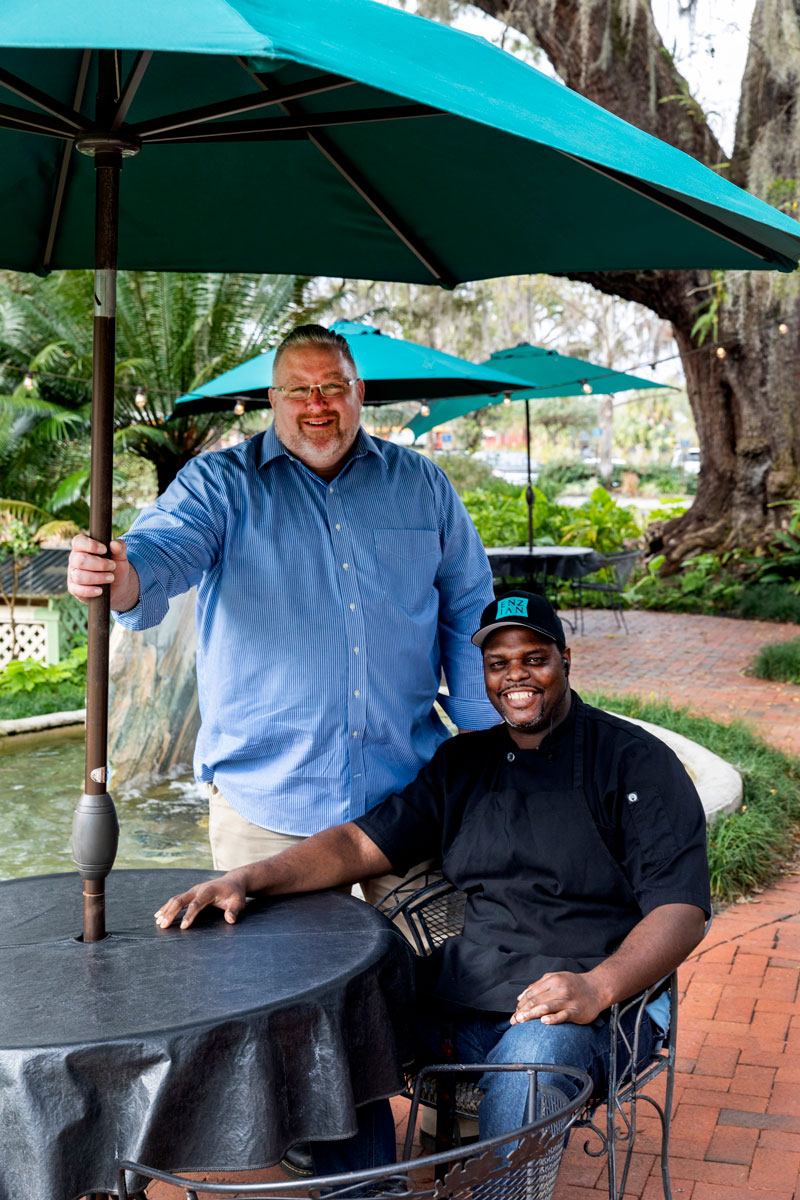 Admit it. You fretted about the potential impact of COVID-19 on your health — as most all of us did — then worried about how the virus would impact your job. Would you still have a job? And if so, would you be required to work from home forever?
Peripheral concerns also crossed your mind, such as what the persistent pandemic would mean for your favorite local hangouts — particularly Maitland's cherished Enzian Theater. Well, it certainly crossed my mind.
The charming art-house cinema is universally acknowledged as a Central Florida treasure, with its off-center films and restful Eden Bar. But, like most businesses and nonprofits, Enzian — which closed from late March to early June last year — has struggled to offer new ways to deliver content and remain viable.
Watch-at-home options and limited in-person seating have allowed a return of the eclectic flicks for which the theater is known — although it may be a while before 200 guests at a time can once again gather at their favorite tables for a screening and a meal.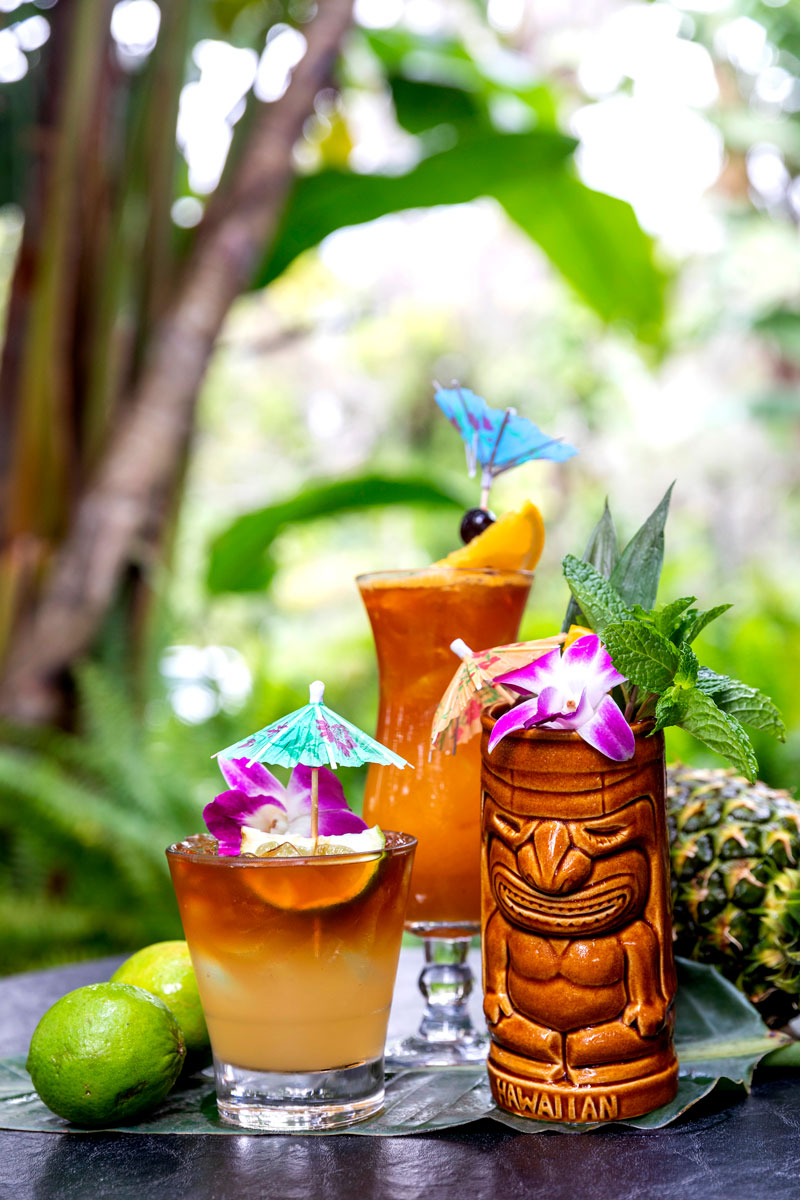 Enzian is alive and well not because people are suddenly flocking to movies — but in large part because of the food. Those flatbreads and chicken fingers we ordered showing after showing? Such familiar staples, plus spirited beverages and a few new menu items, have allowed fans of the theater to contribute to its coffers without ever stepping inside the building.
Enzian is located on three acres, and its open-air Eden Bar has occupied part of the hilly outdoor expanse since 2008. Moviegoers have long met up around the bar and at outlying tables, before films or after, for drinks or meals in a congenial and relaxing environment.
Now, the alfresco food service establishment is a destination on its own, regardless of what's on the marquee. Many guests show up for the express purpose of eating, attracted by the outdoor setting and the sprawling space that allows for easy social distancing. The restaurant, for now, is the tail wagging the dog.
"Everybody's pushing for outside dining — and Eden Bar obviously fits right into that niche since we're exclusively outside," says Food and Beverage Manager Darren Shakespeare. "We were very fortunate to have enough space on the property to spread everything out very quickly."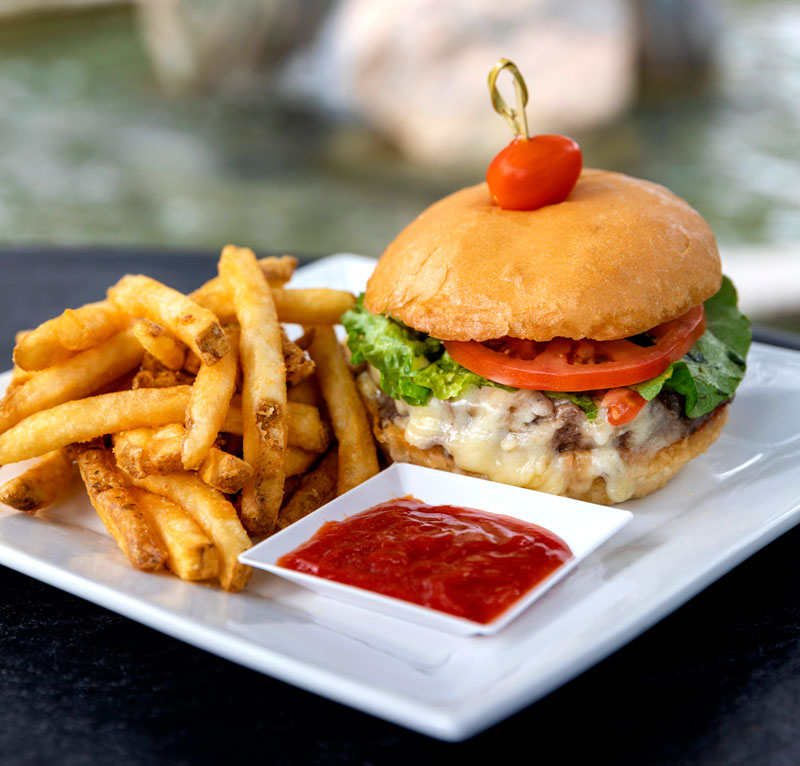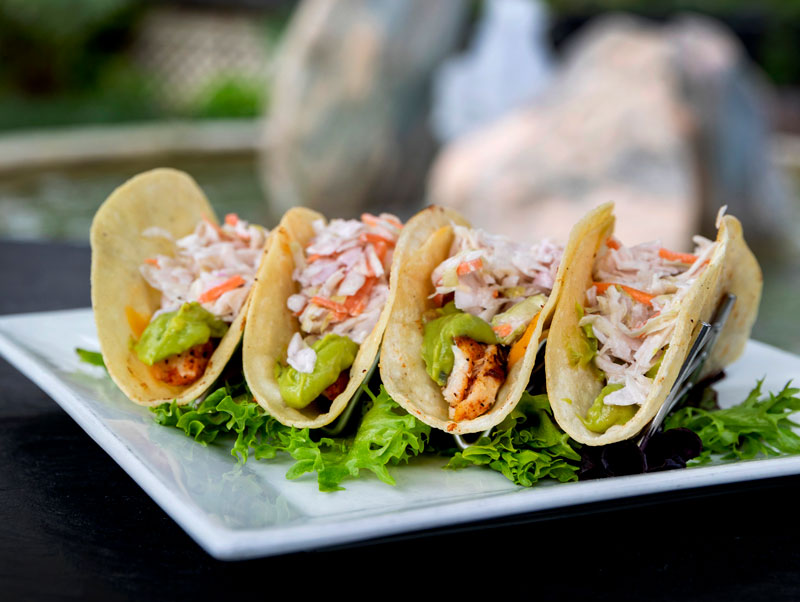 Still, we won't call Eden Bar a hot spot since the term connotes unseemly crowds, which you're unlikely to encounter as of now. Yet, the eatery is emerging as a beacon of sorts for those who simply can't stand another night at home but remain uneasy about indoor dining.
Naturally, then, the food operation is getting steadily busier. And why wouldn't it? It's just so darned pleasant — especially when the weather is temperate, as it is now.
Settle in and keep your mask handy for when the server approaches; that's the only time you'll need it. Other precautions: touchless menus accessed via QR codes and smartphones and signs on every table asking guests to mask up when servers approach. All servers wear masks all the time.
"This is the comfort level of our customers at this point, and they're not wrong," adds Director of Operations David Whitfield. "They come here once a week, like regulars. A lot of people have actually said to us, 'I don't go anywhere else, but I'll come to you.'"
Chef Marcus Mahone has added a handful of "elevated" menu options available only outside. These items take too long to prepare for moviegoers, since the kitchen must churn out up to 100 meals — half the pre-pandemic number, but nonetheless daunting — to a sold-out (and socially distanced) theater crowd before the show ends.
The pace is more leisurely at Eden Bar — and the menu is more interesting. Outdoor diners, for example, can enjoy the Eden Burger, made of ground Wagyu beef and served on a Kaiser roll topped with aged cheddar cheese, pepper mayonnaise and lettuce and tomato.
Another outdoor-only option is the blackened mahi sandwich. The grilled fish fillet sits on Olde Hearth butter bread along with gouda cheese, banana peppers and chipotle aioli. You'll also find three kinds of tacos — the pulled pork trio stands out — as well as two pasta meals: penne with marinara sauce and a version with blackened chicken and creamy-cheesy alfredo sauce.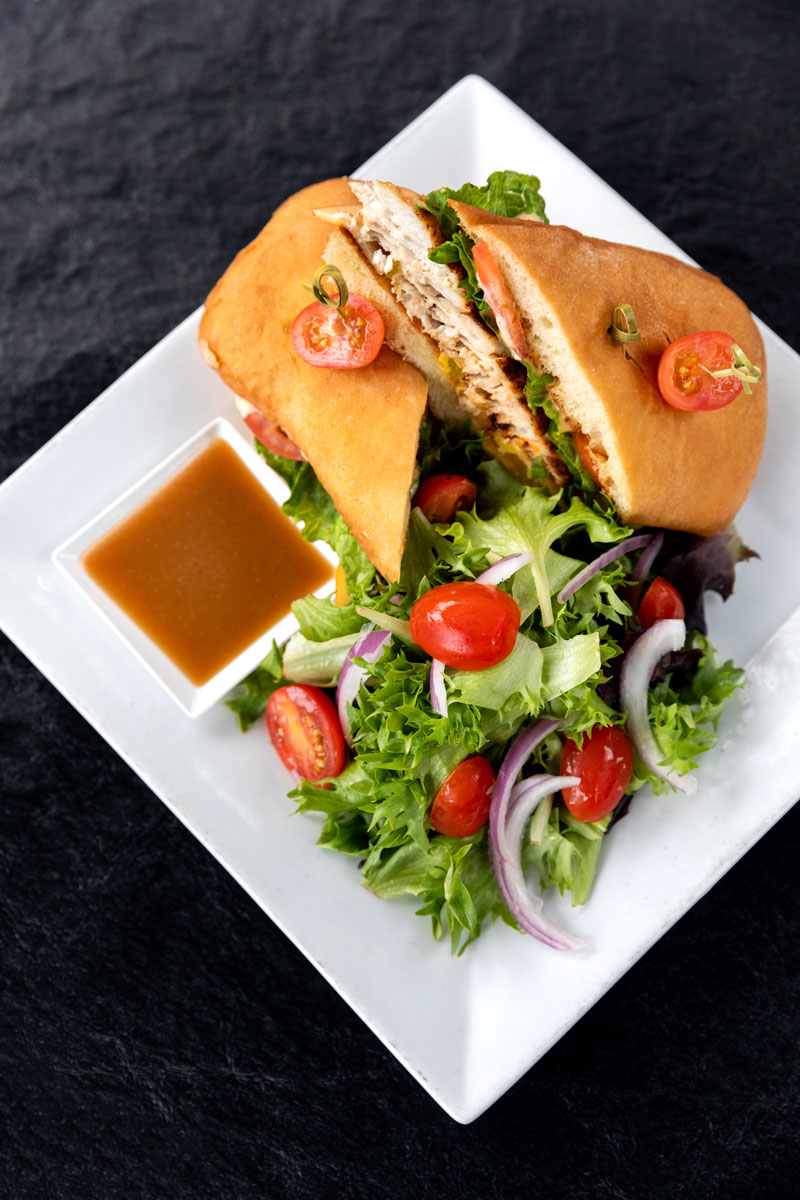 Thankfully, at Eden Bar you won't be battling others for table space. Nor will you be dipping warm pretzel sticks into nacho cheese dip while leaning against the bar. When Enzian reopened, it added extra tables to the grassy area near where early ticket holders used to wait in line.
Concurrently, a construction project doubled the size of the brick patio near the theater's iconic fountain. The new tables were placed there, so there's generally plenty of seating — at least until this article appears and the number of regulars swells even further. (Oh, well, reviewers are obligated to spread the word, I suppose.)
The horseshoe-shaped Brazilian walnut bar itself is different, too. To get a drink you'll stand in line — six feet apart, please — and order when it's your turn. The barstools are gone, as is the privilege of hanging out by the colorful Bill Plympton wall mural that depicts Florida wildlife. All but two of the two-seat, high-top tables in the covered bar area are packed away.
It's always been not quite a secret that you can order a cocktail at Eden Bar and carry it into the theater if you prefer something more intriguing than the wine and beer offered inside. Cocktail options include the tiki-bar-style handcrafted creations that Robert Carter and Andrew Boesch added after becoming mixology managers two years ago.
The drink vibe is tropical, using infusions and fresh fruit juices. Some of those labor-intensive libations are too time-consuming to make frequently these days, yet several are still available. So why not throw caution to the wind and swap your pinot for a fruity Birds of Paradise or an Old Fashioned made with Kirk & Sweeney 23-year aged rum?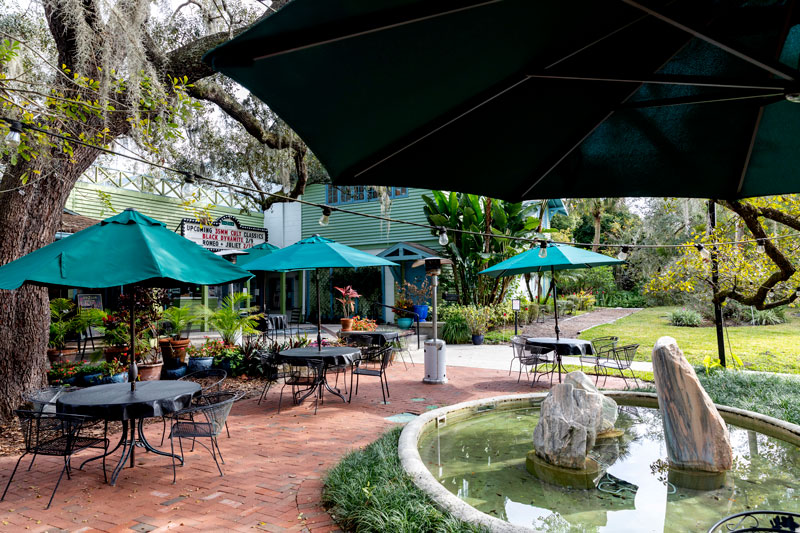 Carter and Boesch also create concoctions inspired by films being shown in the theater. Such offerings are made in big batches so moviegoers can get them delivered to their tables on a timely basis. The Dog Island, for example — made with gin, pineapple, almond, lime and bitters — was served during the run of Isle of Dogs, a 2018 animated sci-fi movie from Japan.
Look for similarly clever cocktail offerings for major holiday seasons and, notably, during the 30th annual Florida Film Festival, which will run from April 9 through 22 and feature a combination of in-person and online screenings.
Here's another Enzian extra: Fountain Features. Every Wednesday through February, the theater set up a screen and showed a film on the expanded patio area. Because guests — particularly members — were pleased, the outdoor experiment will continue intermittently through spring.
"It's our opportunity to still show movies to people who aren't comfortable going indoors yet," says Director of Development Janie Pope. "We have such a loyal group of patrons who are looking for ways to support us."
Additionally, Enzian pairs with the City of Winter Park to screen a Popcorn Flicks movie once a month in Central Park. Guests reserve their 10- by-10-foot pod, then arrive with blankets or chairs to watch the movie in a socially distant setting.
The bottom line? Inside or outside, locals can still get an Enzian fix when they want one. And now, you can think of your Eden Bar meal as an unusually tasty charitable contribution to a community institution that adds immeasurably to the area's panache.
Enzian/Eden Bar
1300 South Orlando Avenue, Maitland
407-629-1088
enzian.org/food