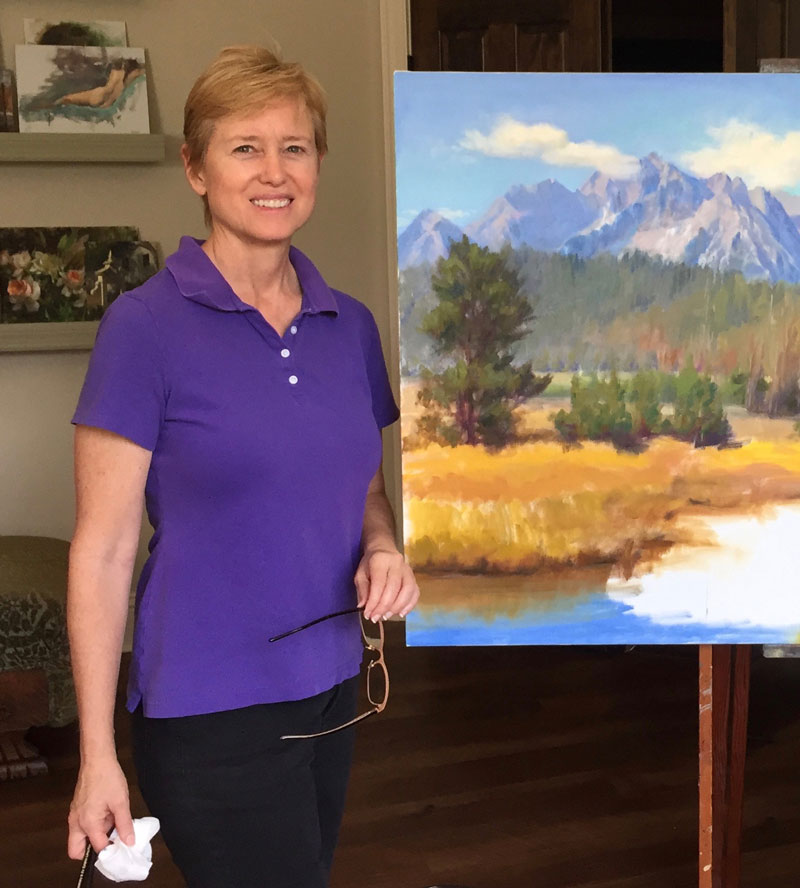 Winter Park artist Stacy Barter constantly strives to capture depth and dimension in her oil paintings and prefers to work from life — whether it's outside with landscapes or in her studio on still-life images of flowers (her favorite). She's also a master at figure studies. 
Pausing in My Red Tutu, an oil-on-linen image of a dancer taking a break, was completed last year and first displayed virtually at the prestigious annual Winter Park Paint Out sponsored by the Polasek Museum & Sculpture Gardens. That's where we saw it and an idea took shape.
Since this issue of Winter Park Magazine contains a major story on the enduring legacy of Edith Royal and the Royal School of Dance, it seemed appropriate to feature a dancer on the cover. And this contemplative work by one of the region's most accomplished artists seemed to fit the bill beautifully.
"[Painting] is my life, my passion and my contribution," says Barter, who began drawing in high school when a friend invited her to paint Christmas-themed watercolor images on postcards. She later attended Parsons School of Design in New York City but graduated from the University of Central Florida in 1987 with a degree in — of all things — journalism.
"I just didn't have the family support to think of art as a full-time career at that time," recalls Barter. But that all changed after a five-year stint in public relations and marketing, when she attended an oil painting workshop by Gregg Kreutz, an instructor at the Art Students League in New York City. 
Kreutz has written several highly regarded books on oil painting, including the classic Problem Solving for Oil Painters: Recognizing What's Wrong and How to Make it Right — in print for 34 years — and the more recent Oil Painting Essentials: Mastering Portraits, Figures, Still Lifes, Landscapes, and Interiors.
Says Barter: "Seeing what [Kreutz] could do with
minimal brush strokes … such rich darks and glowing lights, such depth. It was overwhelming. Oil painting became my consuming passion." As a result of that workshop, Barter has been a full-time painter now for more than 25 years.
And a successful one, at that, winning many top awards and seeing her work snapped up for numerous permanent collections. In 2020 alone — a year during which many art exhibitions were canceled or converted to online events — Barter snared an array of awards for excellence and was granted signature member status in the National Oil Painters of America and the American Artists Professional League.
Her crowded mantelpiece also holds a slew of other recent accolades, including a Best in Show from It's Only Human: The Figure in Art at the Crealdé School of Art and the Judges Choice of Excellence from the Maitland Rotary Art Festival. And for the third time, she won the Helen DeCozen Award for Best Floral from the American Artists Professional League's Grand National Exhibition.
Barter — whose husband of 30 years, Terry Barter, remains her business manager and biggest booster — continues to study with master artists whom she admires and conducts workshops around the country and around the world. She's on the faculty at Crealdé — inspiring other artists the way Kreutz inspired her — and participates in numerous plein air events, including the annual event at the Polasek.
As for this issue's cover painting, the subject is Megan Crawford, a local dancer and model who donned a tutu for a series of four works by Barter painted in her Winter Park studio. "I like to capture the quiet times," she says. "And I loved the colors."
So did we — as well as the theme and the relevance to this issue's dance content. If you enjoy Barter's paintings — and who doesn't? — then check out her Facebook page or see a gallery at her website, stacybarter.com. You can also go to @stacybarterart and follow her on Instagram.