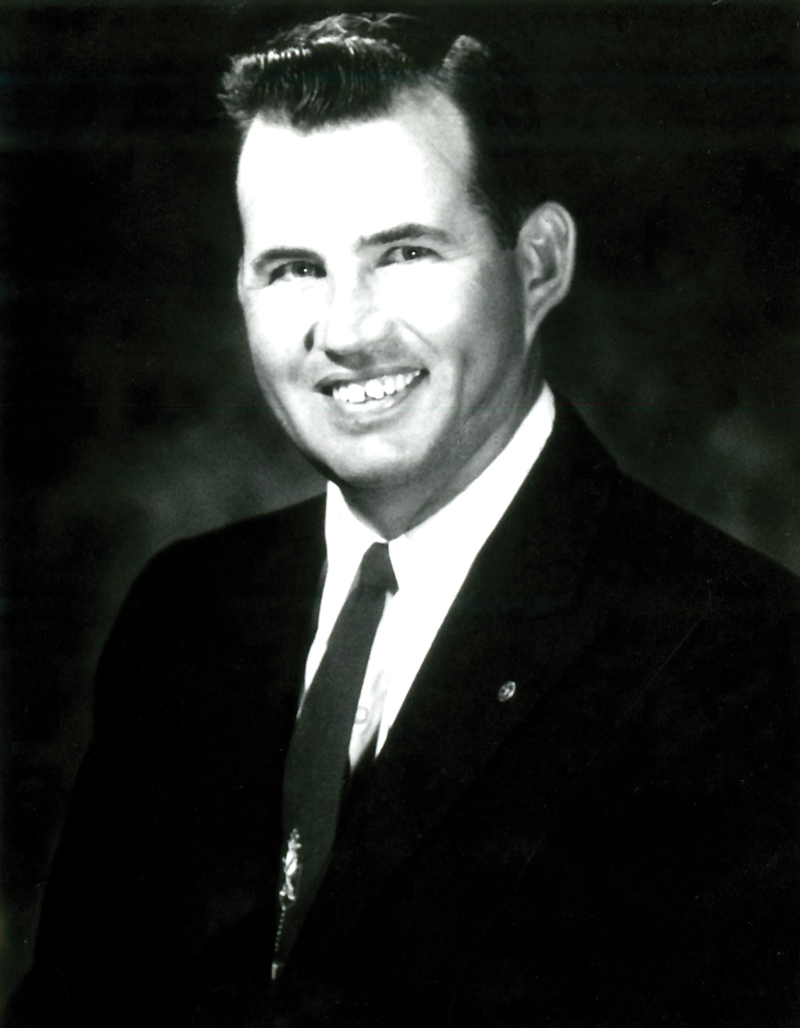 I first met Allen Trovillion in 2015, when I went to his home in Maitland to borrow the original version of a watercolor map showing Winter Park as it looked in 1908. His father had painted the map in the late 1960s based upon his childhood memories of the small city.
I wanted to reproduce this important historical relic in a special issue of Winter Park Magazine, which would celebrate the city's 125th birthday. Much to my surprise, I found Trovillion, then age 89, perched high above in the branches of a large tree, saw firmly in hand, pruning away as though he was impervious to disaster.
"I'll be down in just a minute," he shouted as another stubborn branch gave way and tumbled to the ground. He quickly descended, confidently navigating a ladder that seemed far too shaky for my comfort. "Man, it's hot outside," he said as he welcomed me with a bone-crunching handshake.
I noted the octogenarian's powerful chest and sinewy arms, and did some quick math in my head to reconfirm his age. Yep, he was 89 alright. Meantime he went inside and retrieved the map, which was still framed. He was witty and sharp as a tack when describing its origin and quirky points of interest.
"Be sure you bring it back," he said. "You know, I'm not used to people telling me that they'll do something and then not doing it." Of course, there wasn't a chance in hell that I wasn't going to return that map — and in pristine condition.
Trovillion and I had a few subsequent telephone conversations about local history, and I enjoyed hearing his stories. I was sorry to learn two years ago that he had developed Alzheimer's disease, but grateful that he seemed talkative and jovial at the 2018 State of the City address, where he was presented the Founders Award by Mayor Steve Leary.
A consequential mayor of the city and an outspoken member of the Florida House of Representatives, Trovillion died just as this issue of Winter Park Magazine was going to press. He was 94 years old, and I thought he might surpass the century mark — and keep on going.
Trovillion's Winter Park bona fides were impeccable. Jerry and Mary, his grandparents, first came to the city in 1908 from Harrisburg, Illinois, with their 16-year-old son, Ray. They bought Maxon's Drug Store — then located in the building that once housed Ergood's Store and Hall, one of Winter Park's first businesses — and renamed it Trovillion's Pharmacy.
In 1968, Ray (Allen's father), would paint that priceless watercolor map of a Winter Park that encompassed about 95 homes, 10 commercial buildings, two livery stables, a golf course and the campus of Rollins College.
The Winter Park Historical Association sold limited-edition prints of the map in 1993, with proceeds dedicated to finding a permanent home for a city museum (now located in the circa-1890 South Florida Railroad depot). I always thought the painting worked equally well as a map and as authentic folk art.
In later years, Ray's super-achiever son would assume his father's ceremonial role as a steward of the city's heritage, and enjoyed describing the changes he had witnessed in his hometown. In fact, Trovillion would be responsible for many of those changes.
A graduate of Winter Park High School, he was a swimmer and played on the basketball and football teams. (The football team went undefeated in 1943 and won the conference championship.) Trovillion joined the Army Air Corps during World War II and later attended the University of Florida, where in 1950 he earned a degree in building construction.
A successful contractor, he was appointed mayor in 1962 after his predecessor in the office, attorney Ed Gurney, resigned to run for the U.S. House of Representatives. (Gurney would later become a U.S. Senator from Florida, and gain a measure of notoriety for his staunch defense of President Nixon as a member of the Senate Watergate Subcommittee.)
As mayor, Trovillion oversaw construction of the current City Hall. He also spearheaded the building of a swimming pool and a road-paving project on the city's predominantly African-American west side. He served on (and briefly chaired) the Orange County Biracial Committee as schools were desegregated and was particularly proud of his record on race relations.
Despite his accomplishments in office, Trovillion announced in 1966 that he wouldn't seek re-election. "I got into politics by accident," he said. "I'm not a politician." But elective office beckoned again in 1994, and he won a seat in the Florida House of Representatives from District 36. (By that time, he had switched his party affiliation from Democrat to Republican.)
The GOP was a comfortable fit, politically. The erstwhile mayor's brand of fiscal and social conservatism went down well in his heavily red district — although he experienced backlash in 2001 following a meeting in Tallahassee with teenagers taking part in Equality Florida Youth Lobby Day.
The young people were seeking sponsorship — or at least grudging support — for the Florida Dignity for All Youth Act, which would have broadened the state's anti-discrimination laws to include sexual orientation and gender identity.
Although the reaction of most lawmakers ranged from reserved to receptive, the deeply religious Trovillion — as he was wont to do — spoke his mind and delivered a lecture that one student later described not as angry but as "grandfatherly." Tone notwithstanding, the words shocked and upset the activists.
"You have to suffer the consequences of your actions," Trovillion told the group that visited his Tallahassee office. He counseled them to change their ways before it was too late. "God destroyed Sodom and Gomorrah, and he's going to destroy you and a lot of others."
Letters, emails and phone calls flooded Trovillion's office demanding his resignation. Radio talk-show hosts and newspaper columnists throughout the state lambasted him. Even some of his Republican colleagues gingerly distanced themselves.
"I am a very low-key person," said Trovillion, then age 75, who seemed somewhat puzzled by the intensity of the reaction. "I can't apologize any more than President Bush could apologize to the Chinese. I didn't do anything wrong."
He left office in 2002 — after being reelected four times — due to term limits. But if those unfortunate remarks are all you remember about Allen Trovillion, then you've done him a disservice.
In addition to serving his community in elected office and creating an important local business, he coached baseball in the Babe Ruth League, the Pony League and the Little League. He was affiliated with countless civic and charitable organizations, and served for a time as a scoutmaster. He was a Rotary International Paul Harris Fellow and a Winter Park Jaycees Man of the Year.
In 2017, Winter Park Mayor Steve Leary declared March 27 as Allen Trovillion Day, and the porch outside City Hall was formally named "Trovillion Porch," complete with rocking chairs.
Allen Trovillion was a man of his time and place. If some of his sincerely held political views now seem, shall we say, out of step, then so does his quaint regard for public service, which he considered to be a means of doing good for his community (and later his country) without aggrandizing himself. In that regard, we could use more like him.