Photography by Rafael Tongol
Who'll lead Winter Park into the future? Who are the People to Watch? It's a valid question, since most of the city's highest-profile movers and shakers seem to be baby boomers and beyond.
Winter Park Magazine's annual compilation of the Most Influential People has featured a handful of under-40 honorees — although many more have tended to be, well, a little older than that.
Consequently, we've had several suggestions to initiate a similar annual list exclusively for the city's up-and-comers (and, of course, those who've already arrived but may yet embark on new adventures). The first such list was published last year.
Those featured included Clayton Louis Ferrara, Michelle Heatherly, Chase Heavener, the Hill Brothers (Drew, Gray and Gregg Jr.), Chris King, Amie Morgan, the Orosz Brothers (Matt, Steve and Andrew), Emily Russell, Taylor Womack and Adam Wonus.
Once again, we found no shortage of millennials (often defined as being born between 1981 to 1996) who are making a mark and belong on our 2021 list. The same was true of Generation Xers (often defined as being born between 1965 to 1980).
From those demographic cohorts, we selected a diverse assortment of intriguing honorees based upon feedback from past Most Influential People of all ages. We also sought nominations through social media, and selected several through our own interactions with local civic leaders.
The criteria, beyond demographics, were broad. We sought people who were activists, influencers, creators, givers and entrepreneurs who were personally interesting and were making positive things happen.
People to Watch, then, is essentially an extension of our well-established Most Influential People list. Its existence doesn't mean that those under 40 may not still be selected for our more traditional annual Influentials list. The additional list, however, makes room for some Winter Parkers whose most important contributions may be yet to come.
We wanted to limit People to Watch to 10, but ended up with a 13 (including a pair of siblings). In any case, there were far more nominees than space to profile them — which demonstrated that this project has staying power for years to come.
On the following pages, then, are an assortment of younger people who are doing remarkable things and are leaders in the community's business, creative, charitable and philanthropic worlds. So, let's meet Winter Park Magazine's 2021 People to Watch.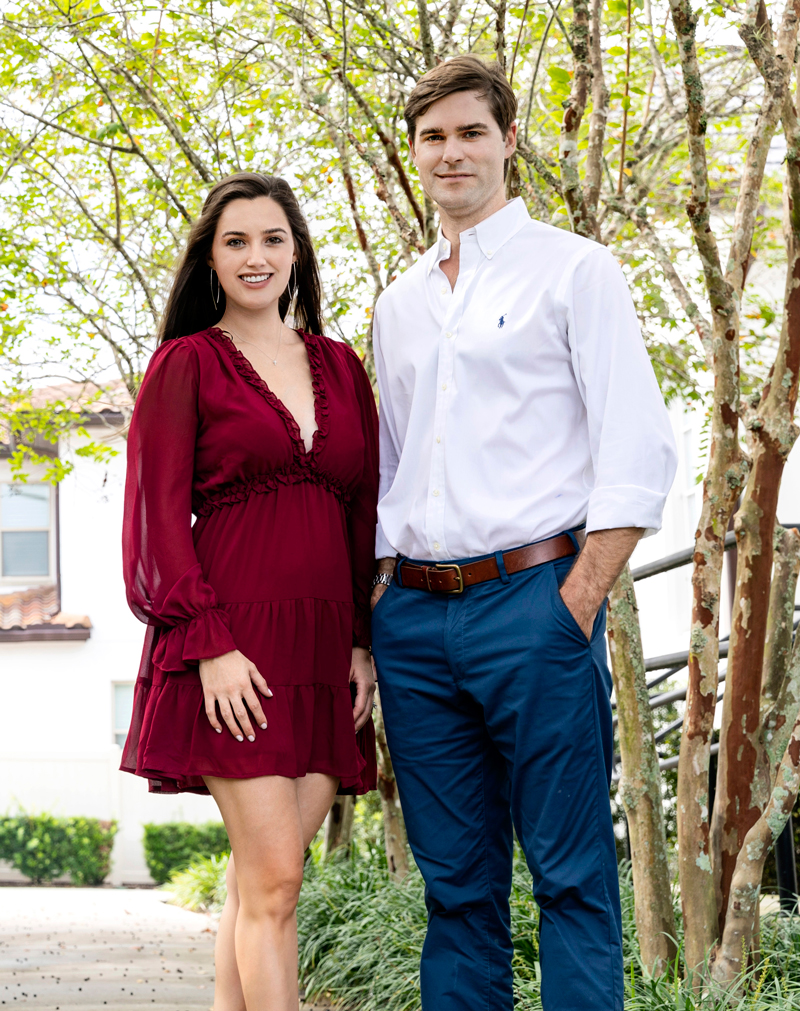 Sydney Bellows Brownlee
Vice President, Leasing and Property Manager,
Sydgan Corporation
Morgan Bellows
Vice President, Construction Property Manager,
Sydgan Corporation
When hard-charging Winter Park developer Dan Bellows renamed his company Sydgan Corporation, it wasn't just a loving father's homage to his young children, Sydney and Morgan ("syd" plus "gan" equals "Sydgan"). "I knew that I'd be in business with my kids in the future," says the elder Bellows, best known for morphing Hannibal Square into a trendy shopping and dining destination. "But I didn't pressure either of them. They made their own decisions to come aboard." Sydney, 27, vice president and leasing and property manager, joined the family business in 2014. Morgan, 30, vice president and construction project manager, followed two years later. They arrived via very different paths, reflecting their yin and yang personalities. "Morgan was happy to work on his studies," says Sydney. "I was the cheerleader." Following graduation from Winter Park High School, Sydney studied arts and media culture at King's College in New York, where she interned at the Rachael Ray Show. She also founded a nonprofit called Better Than a Cupcake, which held an annual fashion event that showcased student-designed clothing and raised money to benefit a children's charity. (The effort was inspired, she says, by Winter Park Fashion Week.) But after two years in the Big Apple, she returned home and earned a degree in event management from UCF's Rosen College of Hospitality Management. Morgan, also a Winter Park High School graduate, went to Auburn for its excellent building construction program — not a surprising choice considering his lifelong familiarity with construction sites. The siblings worked at different jobs — she in marketing, he in construction management — before joining their dad to help manage his ever-expanding portfolio, most notably Ravaudage, a 73-acre mixed-use project underway at Lee Road and U.S. Highway 17-92. In addition, Sydney and Morgan are involved in a nonprofit called Traditional Neighborhoods — she's president, he's vice president — that works to improve the lives of young people on the city's west side. In 2013, the organization spearheaded relocation of the west side's historic Grant Chapel to a triangular parcel at New York and Lyman avenues. As part of the move, the company renovated the structure, renaming it the Chapel & Hudson's Cellar Hannibal Square and repurposing it as a venue to host weddings and other special events. Fictional portrayals such as HBO's Succession suggest that a family business can be perilous and fraught with melodrama — but not in this case. "My granddad ran a business for 50 years with a lot of our family involved, and showed me how it can work," Bellows says, referring to the fondly remembered Bellows TV Town. "We all do what we're good at. I have my area, Sydney has hers and Morgan has his. Being able to trust one another and have undying loyalty is awesome." Sydney and her husband, Chapman Brownlee, have a daughter, Alli, 2, and a son, Thomas, born in October. Morgan and his wife, Tristan, have a daughter, Avery, 1. The kids will be able to grow up with one another; Morgan lives in Hannibal Square on Virginia Avenue, while Sydney is awaiting completion of a new home nearby. "We're diagonal to each other," she says. "I can throw a rock and hit his driveway!"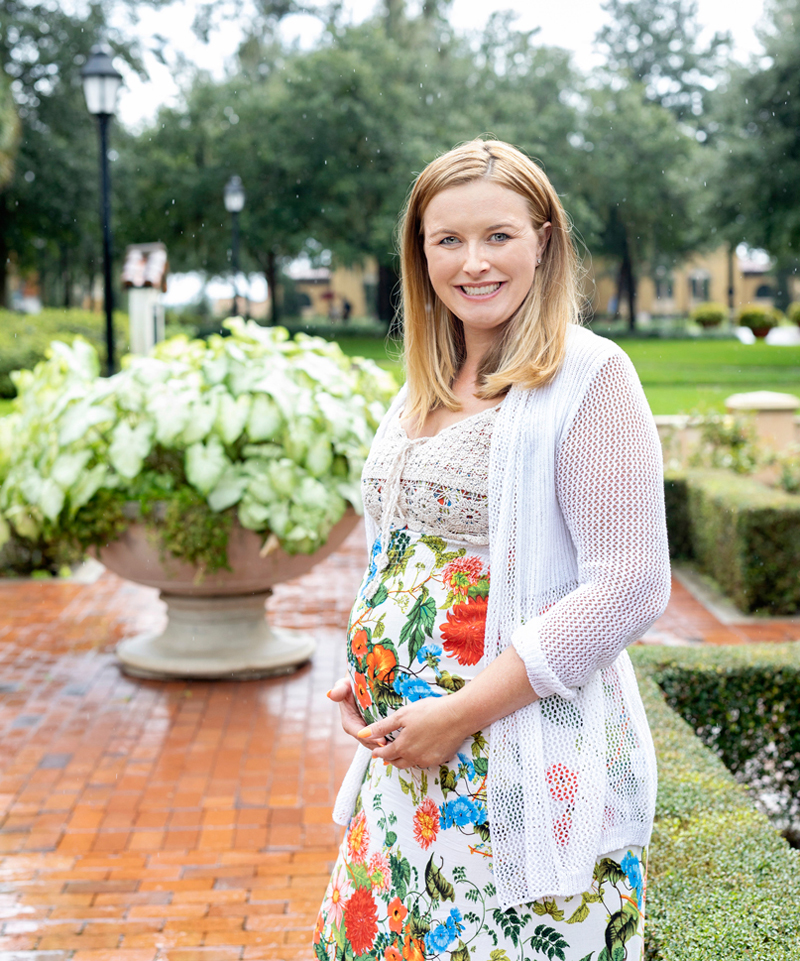 Amy Calandrino
Founding Principal/Broker,
Beyond Commercial
"You won't be surprised to know I cooked 10 pounds of chicken over the weekend for arroz con pollo," says Amy Calandrino, laughing. Not if you're a regular visitor to Amy's Apron, a food-and-lifestyle blog addressing everything from soup to nuts to Amy's weight ("Amy's down 50 pounds!"). The only surprise is that Calandrino, 36, has time to own and operate a commercial real estate company (Beyond Commercial) and a digital advertising and marketing company (Verde Works). She also helps manage her husband Phil's law firm and is a tireless civic powerhouse. The subtitle of her blog — "On the Back Burner: The Adventures of Amy in and around the Kitchen" — is a misnomer. There's seemingly no back burner in Calandrino's life. It's all bubbling away on a massive front burner. A classic Type A personality, she hasn't slowed down despite having a 1-year-old son, Giovanni, and a baby girl is due next April. However, lest anyone suspect a Superwoman complex, Calandrino is bracingly honest: "I don't do my own laundry or clean my own house. I have a management company for that." Which is good news for organizations such as Easterseals, the Victim Service Center of Central Florida, the Valencia College Foundation scholarship program and Inspire Central Florida (training and employment opportunities for adults with developmental disabilities), for which she advocates. In addition to numerous accolades from real estate organizations, Calandrino was named the 2017 Winter Park Chamber of Commerce Ambassador of the Year. She's also a graduate of the chamber's Leadership Winter Park program and immediate past president of the program's Alumni Council. Calandrino grew up in a working-class home in Vermont, not far from the Canadian border, and in 2007 became the first in her family to earn a college degree (from Rollins College, where she majored in English). Long before Amy's Apron, Calandrino learned the importance of feeding the soul. "I spent at least a day a week at nursing homes growing up," she says. "On Sunday, I'd roll the patients to church, roll them to lunch and roll them back, then sit down and talk to them about history. I loved hearing their stories. It was like having a living book in front of you." She's even thought about telling her own story: "I think my first book would be titled I Never Met a Stranger."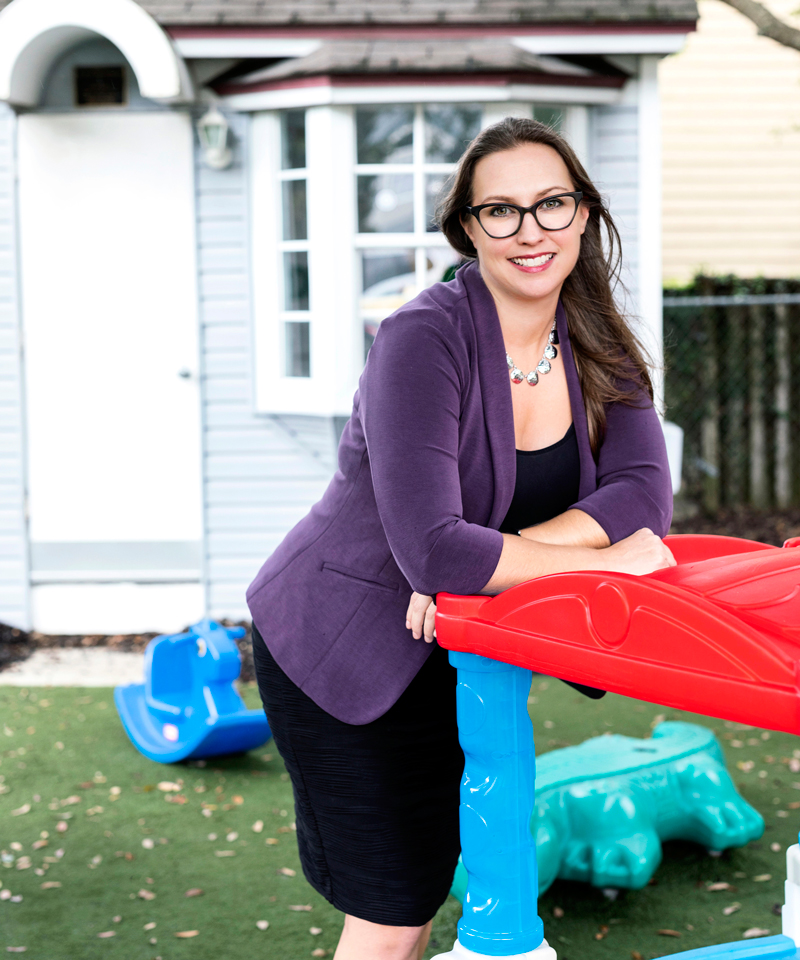 Ali DeMaria
Executive Director,
Winter Park Day Nursery
Ali DeMaria always thought she wanted to work with children. But after graduating from the University of Colorado with a degree in psychology, she didn't have a more specific career path in mind. "So, I waited tables," she says. "Isn't that what all psychology grads do?" During college, she had taken a semester off to lifeguard at Walt Disney World and work as a server at Planet Hollywood in Disney Springs, where she developed a fondness for Central Florida's warm weather. After graduating, she relocated from the chilly Rocky Mountains and took a job as trainer and server at Mimi's Cafe at the Mall at Millenia. Little did she know, she was setting the table for her future. "I found myself spending more time with the children of the guests than the adults," she says. "I was carrying babies around with me in the restaurant while the families ate." Suddenly, her path was clear. DeMaria added "interested in working with children" to her CareerBuilder profile and soon got a call from the Winter Park Day Nursery, a beloved local institution founded in 1939 to serve working mothers whose husbands were in the military during World War II. DeMaria joined the nonprofit nursery in 2005 as a teacher, and later became family services coordinator and director of education before then-board chair David Isaacson, an investment advisor, made her an offer that she thought she could refuse: executive director. "I don't have a business degree," she told him, "I'm six months pregnant. Are you sure this is what you want to do?" Isaacson was sure — and a decade later, no one has any regrets. DeMaria, who turned 40 in January, found her calling as a director who "has done pretty much every job in the building." She has raised staff retention — which for decades fluctuated between 40 and 60 percent — to 92 percent. She and her husband, Geoff Lee, have a son: Dillon, 8, who was the inspiration for arguably her most notable achievement — adding a program at the nursery for infants and toddlers. And all the while she's kept learning, earning a master's degree in mental health counseling and a certificate in marriage and family therapy from Rollins College in 2010 and 2011. Shortly thereafter, she also notched advanced level childcare and education program director credentials from the Florida Department of Children and Families.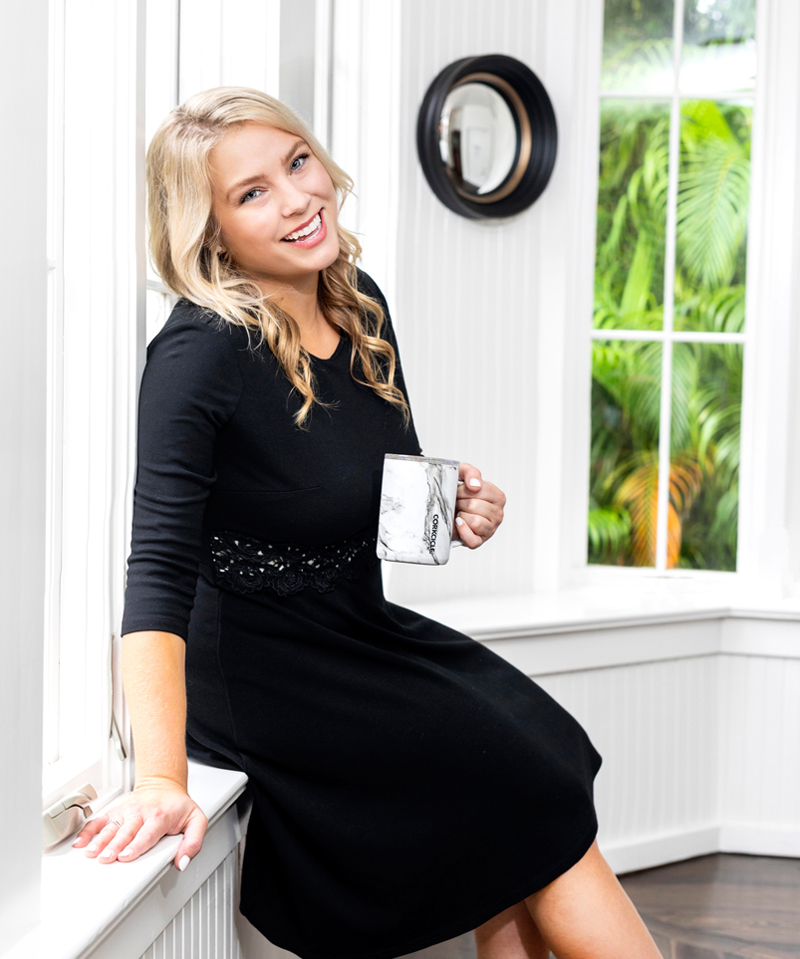 Kimberly Devitt
Manager, Business Development,
Corkcicle
Kimberly Devitt, along with three siblings, sat on the board of a charitable nonprofit as a teenager. Like making their beds and eating their veggies, says Devitt, it was a house rule for the youngsters to serve on the board of the Anderson-Devitt Foundation, set up by their parents to "instill the idea in us of giving back." Each child — Devitt thinks of them collectively as "the Brady Bunch" — was given the opportunity, after conducting thorough due diligence, to choose an organization for support. Devitt's first recipient was the First United Methodist Church of Winter Park, which was raising funds for a mission trip. The experience launched her on a path of volunteerism that today finds her involved with more than a half-dozen organizations — from the Joe R. Lee Branch of the Boys & Girls Club of Florida in Eatonville to Young Professionals Winter Park, a program of the Winter Park Chamber of Commerce. Naturally, she's still involved in her family's foundation as well. With degrees in public relations and mass communication from the University of Florida, Devitt gravitated to the cyber universe of websites, blogs, digital marketing and search-engine optimization. In 2016, a friend suggested that she apply at a new Maitland-based company with a cool — and we do mean cool — product. Shortly thereafter, Devitt became the second full-time employee at Corkcicle, which had developed an iceless in-bottle wine chiller, as marketing manager. Today, she's head of business development at the upstart startup, which in 2019 notched $66.7 million in sales of sustainably manufactured canteens, mugs, tumblers, cups, lunchboxes, cooler bags, bar accessories and household goods galore. A portion of the proceeds help support clean-water initiatives around the world. Devitt's proudest professional moment was becoming the youngest person ever named to the board of directors of the Public Relations Society of America (Orlando Branch). The personal achievement that might please her parents the most isn't listed on her resumé. "The pandemic has given me a chance to reconnect with many people," she says. "I kept hearing from friends asking if anyone is hiring. So, I've been able to leverage my network to connect job seekers with employers. It's nothing fancy. I have a Google spreadsheet to keep track of who is hiring and who's landed jobs. With so many people out of work, every placement has become especially meaningful to me. I find it incredibly fulfilling."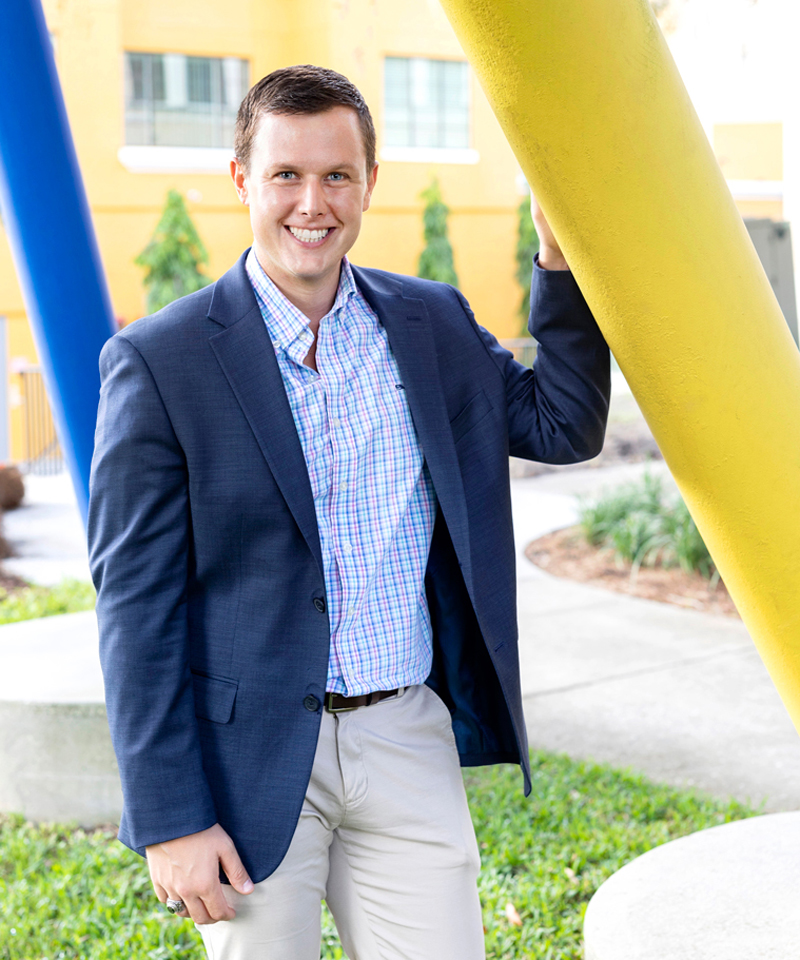 Jeremy DiGorio
Director of Finance and Treasury,
Rollins College
Jeremy DiGorio is the human opposite of Halley's Comet, which appears once every 75 years. It's only a slight exaggeration to say that DiGorio, 32, can be seen every 75 minutes on the campus of Rollins College, where he's director of finance and treasury. "I need to be around people all the time," says the self-confessed "extreme extravert." DiGorio's husband, Neal Robinson, gently encourages his high-energy spouse to spend at least one work night per week at home. But birds gotta fly, fish gotta swim and Jeremy's gotta connect. It's true that DiGorio's rather dry job title, redolent of numbers and graphs, doesn't sync with his technicolor persona. "When people meet me and I tell them what I do, they do a double take," he admits. The title also belies perhaps DiGorio's greatest gift: leadership training. His goal is to help people discover their unique talents — sometimes hidden even to themselves — and to focus on putting those talents to good use. That's why, in addition to his responsibilities within the college's financial operation, he teaches undergraduate courses in leadership and serves as an informal leadership mentor to members of the campus community. "As a country, we see charismatic, outspoken individuals as leaders," notes DiGorio, who began his Rollins career in 2013 as assistant director of its Center for Leadership and Community Engagement. In that position, he developed mentorships, workshops and conferences focused on leadership skills. (Previously, he had been a graduate assistant for Leadership Programs at the University of Connecticut, where he earned a master's degree in Higher Education and Student Affairs.) DiGorio, who completed the Winter Park Chamber of Commerce Leadership Winter Park program in 2019, believes that you don't have to be bombastic to be effective. That's why he strives to discover those who exude quiet authority but may lack the confidence required to take charge. "I help them have positivity and confidence in their skill set," he says, recalling that as a kid he gave his little sister "fake math tests" to help her succeed in school. "It's about connecting people with their passion, so they connect to action." Even DiGorio's daydream involves a leadership position: "In 20 years, I'd love to be a full-time professional driver for the Winter Park Boat Tour." And beyond that? "I hope eventually to be a leader in my retirement community."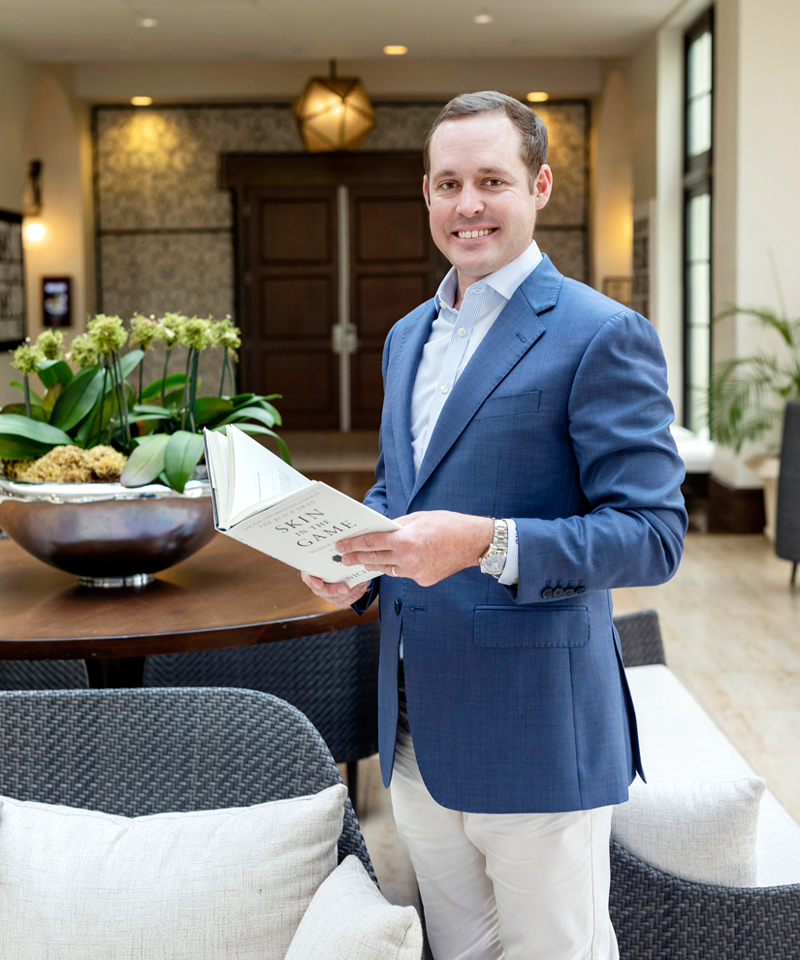 Brad Doster
Founder and CEO, Macro Re
When the proposal for a new Winter Park Library and Events Center became embroiled in controversy and acrimonious debate, the library board of directors was fortunate to have been headed by someone with experience being calm in the eye of a storm. And, best of all, he was a proven winner. Board president Brad Doster, 36, was a four-sport standout at Winter Park High School — golf, football, lacrosse and volleyball — where he was known for imperturbable leadership and making clutch plays. As a freshman, Doster led the Wildcat golfers to a second-place finish in the state tournament and earned a scholarship to the University of Kentucky, where (also as a Wildcat) he captained the golf team and became an All-SEC player. After college, Doster signed a development deal with Nike and gave himself three years to "see if I can get to the show [pro tour]. When that didn't happen, I got out and got a job in the real world." An Academic All-American, Doster's business degree led him to the financial services industry. But his civic involvement was sparked by Chris Gardner, CEO of Hub International Florida, an insurance brokerage where Doster was vice president of financial services. "Chris helped me understand there are other things in life besides yourself, and that community involvement is important," says Doster, whose name may be familiar to longtime residents through the family-owned floor-covering business established by his grandfather. (Doster Floor Covering was sold in 1996.) "I didn't fully appreciate that as a 27- to 28-year-old." He polished his game through the Winter Park Chamber of Commerce Leadership Winter Park program, and served a term on the city's parks and recreation advisory board before being selected for the library board eight years ago. He was named board president in 2018 and served two terms — during which years of being yelled at by coaches prepared him well. One man, Doster recalls, "came up to me after a presentation and said, 'How can you sleep at night with this project?' I know change is hard, but once it's finished, everyone is going to look back and be very pleased it happened." Doster and his wife, Carlea, have a daughter, Campbell, 5, and a son, Bradley, 3. "I can't wait to take my kids to the new library and share all the special experiences they'll have." In 2020, Doster founded and became CEO of Macro Re, a national network of insurance and financial experts specializing in the protection of business assets.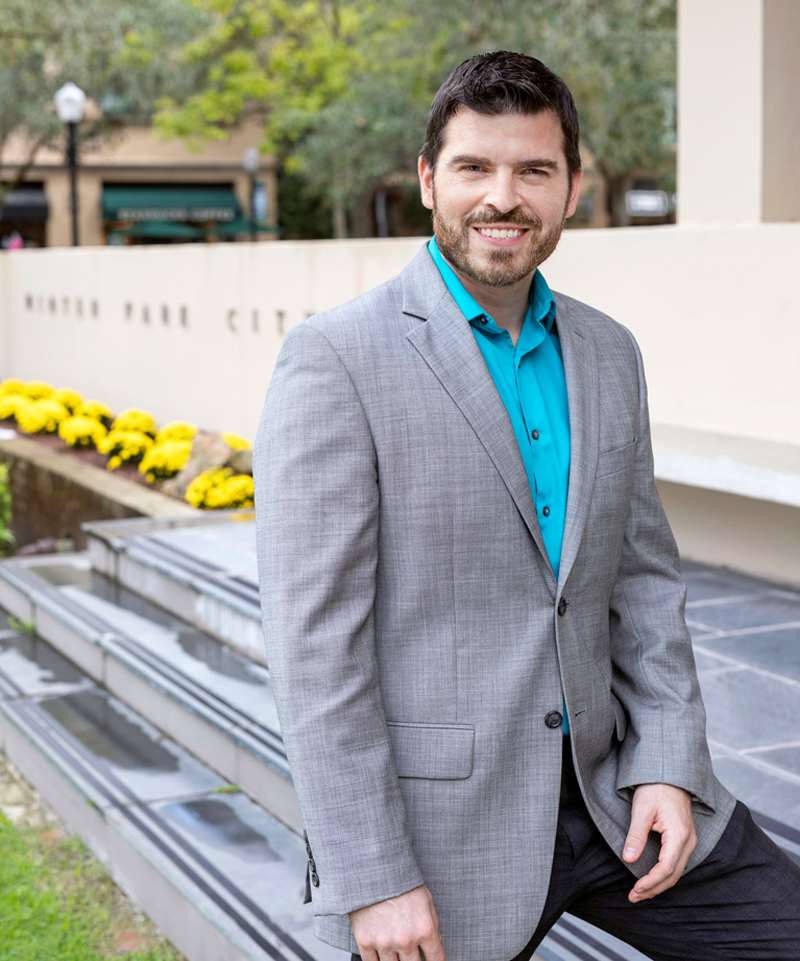 Kyle Dudgeon
Assistant Division of Director of Economic Development, City of Winter Park
He's an Infrastructure Nerd by day, a Ninja Warrior by night. Make that would-be Ninja Warrior. "I've always wanted to compete on [the reality TV show] American Ninja Warrior," says Kyle Dudgeon. "I've had a few injuries that have prevented me from training, but maybe one day I'll get there." Meanwhile, the Infrastructure Nerd remains a warrior for Winter Park. Dudgeon, 34, is the city's assistant division director for economic development, which includes management of its Community Redevelopment Agency. The CRA collects tax increment finance revenue and implements strategic plans and economic development initiatives to benefit designated areas, including downtown Winter Park (which encompasses the Park Avenue and Hannibal Square business districts) and the burgeoning U.S. Highway 17-92 corridor. It's a bureaucratic mouthful, but it's also music to your ears if you're into such matters as parking studies, sewer connections and traffic flow. Dudgeon is all in. He grows passionate recalling when, as Casselberry's economic development planner, he recruited residents to help paint a colorful street mural. "It's pretty neat," he says. "It slows traffic and brings character and distinction to the neighborhood." In Winter Park, Dudgeon — who joined the city in 2014 as its economic development planner — was facilitator (one of his favorite words) of such projects as the narrowing of Denning Drive from four lanes to three lanes, with the addition of landscaping and installation of a multiuse trail on the east side. The project was recognized by the Florida Redevelopment Association as the best transportation and transit enhancement in 2019. Dudgeon is also the city's liaison with such business advocacy groups as the Winter Park Chamber of Commerce. "I'll be the first to tell you it's not me on my own," he says. "It requires a team above all else." Dudgeon grew up in Buffalo, New York, where he played in a state championship marching band and later served as an intern for the U.S. congressman for whom his mother worked. "It was instilled in me early," says Dudgeon. "I come from a family that values helping others and providing opportunities for people other than yourself." Dudgeon's eclectic vision is evident in his journey at the University of Buffalo, where he began as an architecture major and earned degrees in environmental design and urban planning. In his current role, "there's never a shortage of engagement," he says. "Whether it's music, art, health, education, real estate, finance, entrepreneurship, housing or nonprofit work — there's some way to be involved and make an impact."
William "Will" Grafton IV
Certified Financial Planner,
Grafton Wealth Management at Merrill Bank of America
When William "Will" Grafton IV was growing up, "each Thanksgiving there were always a couple of people at the table who nobody knew." They were strangers — people in need of food or warmth or simply a family for a day. Grafton's mother, Sue, never wanted anyone to go without, and instilled a spirit of giving in her children. "If someone needed help, she was the one who would be there," says Grafton, 34, who as an adult would model those lessons in compassion as a volunteer for a host of organizations, including the Winter Park YMCA Family Center; the Albin Polasek Museum & Sculpture Gardens; the Victory Cup Initiative, an annual best-practices competition for local charities; and the Finley Project, a nonprofit that offers a holistic care program for grieving mothers who have lost an infant. Grafton says he was also in awe of his dad, William III, who inspired him to seek a career in financial management. That may sound like an odd choice for a 5-year-old boy, who's more likely to want to be firefighters, ballplayers or dump-truck drivers. But when Grafton's teacher asked her students to draw a picture of what they would look like as adults, young Will's stick figure sported a friendly smile, an ill-fitting business suit and red power tie. The caption read: "I am a bank man." Grafton's ambition never wavered — well, except perhaps for "the pipe dream of being a basketball player." As a student at Winter Park High School, Grafton had grown to 6-foot-5 and played varsity hoops for the Wildcats. (He was also a high jumper for the track team.) But, realizing that he would never be another Pete Maravich — his idol — he remained on his original career track as president of the school's accounting club. After earning a financial services degree at the University of North Florida, Grafton joined his dad's firm — which started as Grafton Wealth Management and is now Grafton Wealth Management at Merrill Bank of America — as a certified financial planner. "What I wanted to do came to fruition," he says. "I don't see myself doing anything else." Grafton and his wife, Kyle, have two children — William Grafton V, 5, and Eloise, 2. Now he's the role model — albeit a modest one. "I don't love to talk about myself," he says. "I prefer that people see me as someone who leads by example, doing the right things at the right time."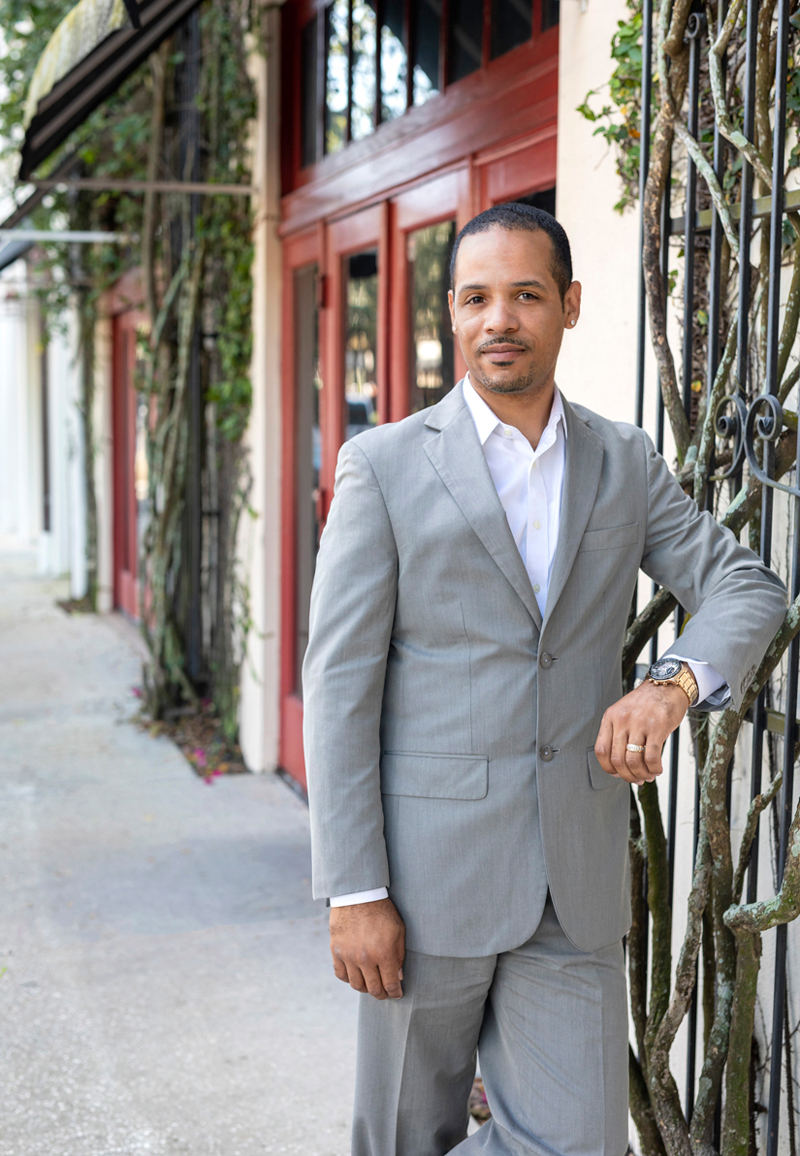 Juan Hollingsworth
Intern Architect, HuntonBrady
President, Hannibal Square Community Land Trust Board of Directors
For Juan Hollingsworth, board president of the nonprofit Hannibal Square Community Land Trust, life keeps coming full circle. The Chicago native earned a master's degree in architecture from the Illinois Institute of Technology, located just two blocks from the now-demolished housing project where his mother grew up. Now, Hollingsworth is deeply involved in an organization dedicated to making the dream of homeownership a reality for low- and moderate-income families. The trust — created in 2003 over concern about the displacement of west side residents due to soaring property values — acquires property, builds or rehabs homes and offers 99-year ground leases to qualified buyers, thereby removing the often-prohibitive cost of land from the equation. If you're looking for a success story, then look no further than Hollingsworth and his wife, Marketa, a third-generation Winter Parker, who bought their first home from the trust. Eight years later, they had built up enough equity to sell it — the maximum allowable profit is capped — and upsize as their family expanded to include a daughter, now 7, and a son, now 2. "I believe a home is the gateway to building family wealth," says Hollingsworth, who became the first homeowner in his family. "That's why I'm doing what I'm doing on the board." An intern architect at HuntonBrady Architects, Hollingsworth, 38, will achieve architect status after taking the requisite licensing exams — which he says he'll do "when my kids let me." However, his intern status belies the important work Hollingsworth has done for the firm. He was, for example, a project architect/coordinator — from schematics to completion — for the Dr. Phillips Center for the Performing Arts. Hollingsworth also hopes to eventually revive "Sole Survivor," a sneaker business he started a decade ago but had to set aside because of other demands on his time. And, perhaps most important, he wants his family — particularly his mother, Paula, who "worked really hard not to put us in housing projects" — to experience the satisfaction and security of owning a home. Says Hollingsworth: "I want to renovate a home or multiunit residential building — hopefully something historic — for my mother when she retires."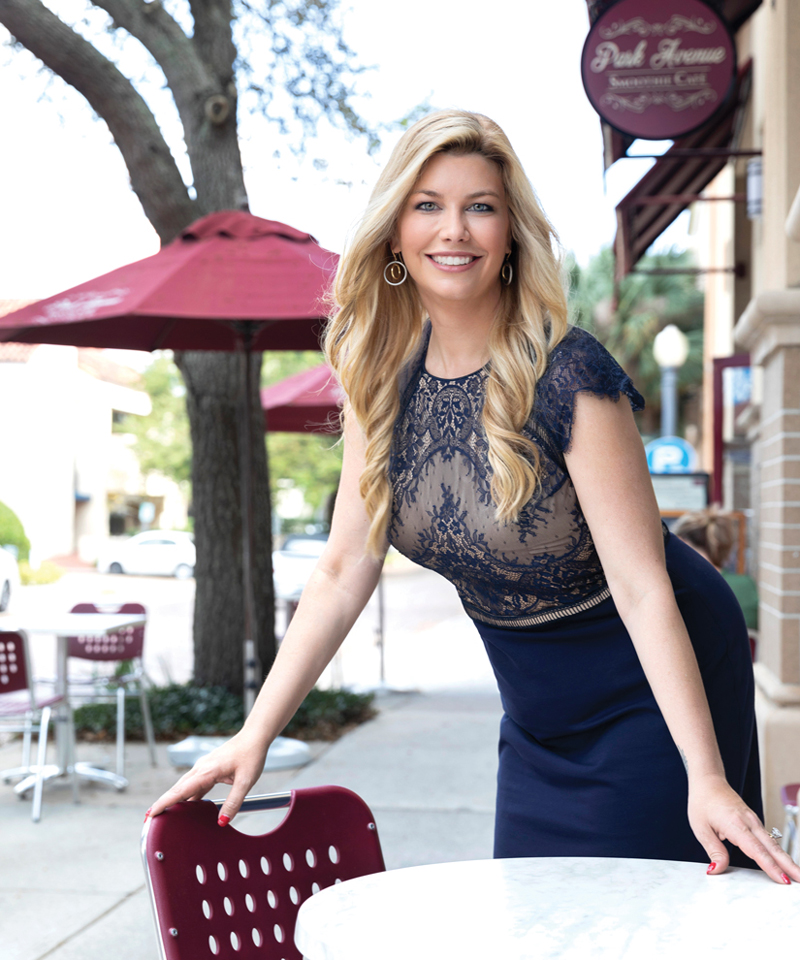 Whitney Melton Laney
Realtor, Fannie Hillman + Associates
Whitney Melton Laney didn't set out to be an exemplar of the maxim that "virtue is its own reward." It just happened that way. Laney, a Realtor with Fannie Hillman + Associates, has served as emcee for events sponsored by local chapters of the American Cancer Society, the National Multiple Sclerosis Society and the Children's Home Society of Florida. Earlier this year, she co-chaired (with Sarah Grafton, a past Influential) "A Pair to Remember," a fashion show at the Mall at Millenia to raise funds for Easterseals Florida. And from 2008 to 2011, she was event coordinator for the "Baby DJ" Christmas toy drive at WXXL-FM (FM106.7), where she was an on-air personality. In memory of a friend who took his own life, in 2011 Laney founded the Donald L. DeVane Foundation to raise funds for the American Foundation of Suicide Prevention. And she has made multiple life-affirming mission trips to the Philippines to work with the Bob (father of Tim) Tebow Evangelistic Association. Lifting up others began early for Laney: "When I was really little, I remember going with my mom to Harbor House [for women and children fleeing abusive domestic situations]. We hung out in the cafeteria, talked to them and served them food. I realized then how fortunate I was." Since then, every time Laney has seen an opportunity to lend her head, heart and hands to help people in need, she has seized it. When Hurricane Dorian shattered the Bahamas in 2019, Laney coordinated a grassroots relief effort that included Air Unlimited, a local aircraft charter company, and hurried to the devastated Caribbean nation to personally deliver food and medical supplies. "I saw things and heard stories you can only know if you were there," she says. "I always cry when I talk about it." Laney, 36, previously an on-air personality at WPOZ-FM (better known as Z88.3), is also a dynamic public speaker who tackles such topics as self-esteem and bullying. In addition, she's a member of the Winter Park Public Library board of directors. For all her far-flung contributions, Laney says her most rewarding adventure has been raising her children.
---
EDITOR'S NOTE: Readers with sharp memories will remember that Whitney Melton Laney was also one of Winter Park Magazine's Most Influential People earlier in 2020. However, due to an editor's error, the profile that was published contained several factual misstatements. How could we rectify the mistakes? Well, since Laney is also under age 40, this issue's People to Watch feature seemed to offer a perfect opportunity to re-run the corrected profile. Also, since the earlier Influentials issue, Laney has married Frank Butterfield, an executive vice president of sales and marketing, and the couple's blended family includes four children, two boys and two girls.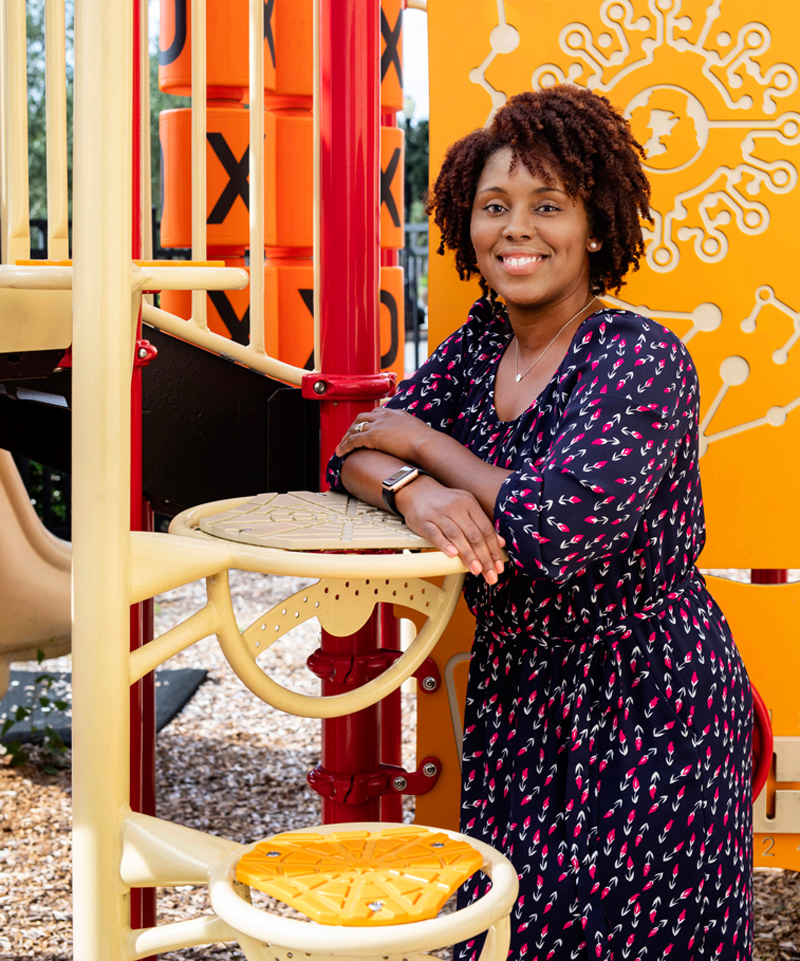 Kesha Thompson
Recreation Coordinator,
City of Winter Park Department of Parks & Recreation
Kesha Thompson's official job title in the city's Parks & Recreation Department is recreation coordinator, which offers no hint of her unofficial job as respected community counselor and role model for youngsters. For nearly two decades at the department, most recently as its senior administrative staffer, Thompson, 37, has offered a sounding board and sympathetic ear for all who need one. "For some reason, kids like me a lot," says Thompson, which isn't particularly surprising since she has five of her own — ranging in age from 6 months to 14 years — in a blended family with her husband, Eric. For some reason, non-kids like Thompson a lot, too. "I love talking to seniors," she says. As part of her job, Thompson — who was raised in Hannibal Square — is a city liaison to the annual Unity Heritage Festival at Shady Park, which attracts an older crowd. "I just love listening to all their stories," she says. Still, it's Thompson's affinity for young people — especially girls, who gravitate toward her — that has allowed her to influence so many young lives. "I'm not as young as them, but I'm not so old that I can't relate," she notes. "I tell them to set high standards for themselves and to go for whatever they want." Thompson's personal mission statement on her Facebook page says it all: "Here's to strong women — may we know them, may we be them, may we raise them." What now looks like destiny for a natural people person was, in fact, serendipity. As a Winter Park High School junior, Thompson took a job as a summer camp counselor and joined the city full time right after graduation. Now in her 19th year as a municipal employee, she realizes that she could have sought a higher-paying position in the private sector. And she still wants to finish college — which she advises her young protégés to do — and perhaps pursue paralegal studies. "I started and stopped and started and stopped" at Valencia College and Seminole State College, she says. But, she adds, "I love my job — I love the interaction I have daily with so many different people." What's not to love? Helping uplift and inspire her fellow citizens — especially young people — every day. Does it get any better than that?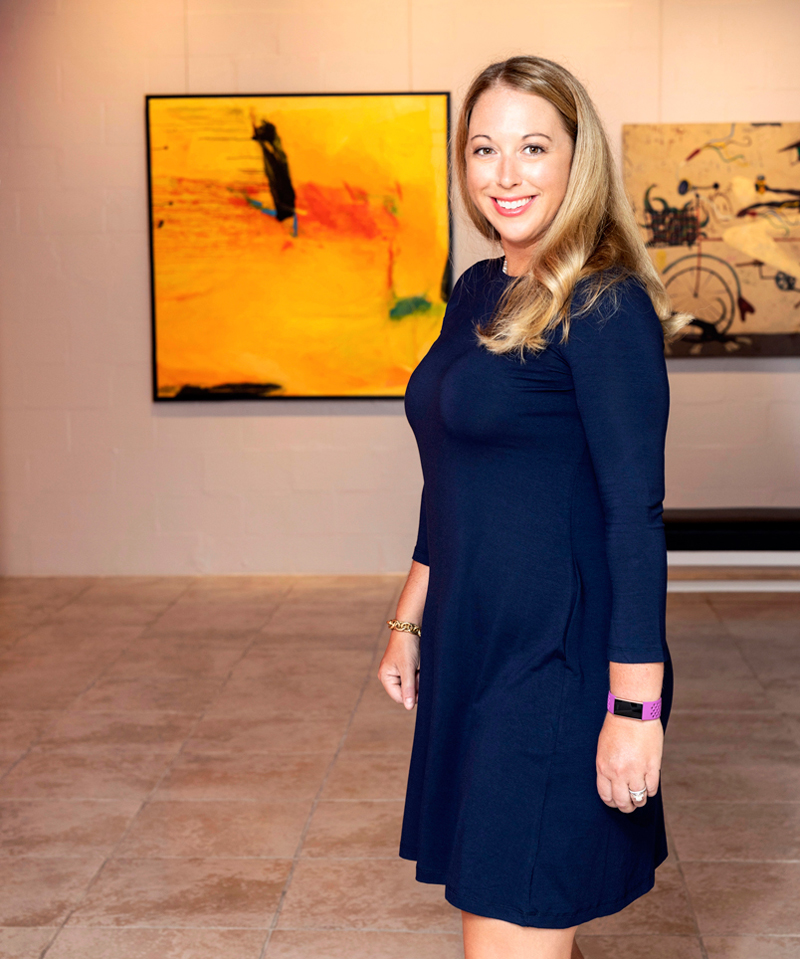 Laura Walda
Shareholder, Lowndes
Laura Walda's proudest personal achievement, second only to "marrying my best friend (David Meek II)," is running a marathon. "It was one and done for me," she says. "I'm slow." But she's also steady and undaunted. Walda, 38, a shareholder at the Lowndes law firm, has a track record of taking on steep uphill challenges — starting with her entry into the legal profession in the aftermath of the Great Recession. "Not the best time," she says. At Lowndes, the cum laude graduate of the Indiana University School of Law was assigned to the firm's commercial real estate practice, a realm historically dominated by men. She has since thrived as lead or co-counsel on numerous multimillion-dollar transactions. And on January 1, she took the reins as president of the Orlando chapter of CREW (Commercial Real Estate Women), a 12,000-member organization working to advance the careers of women in commercial real estate. In Winter Park, Walda has served on the city's planning and zoning board and the advisory board of Keep Winter Park Beautiful and Sustainable. And she's the new president of the board of directors of the Albin Polasek Museum & Sculpture Gardens. (As a law student, Walda was a summer clerk for now-retired Ninth Judicial Circuit Court Judge Walter Komanski, whose wife, Debbie, is the Polasek's executive director and CEO.) "Winter Park is a very special place to live, but change is going to happen," she says. "We need to embrace change that makes sense for families and business. I'm a person of compromise. I believe that's the way things get done — by having conversations where you can get to 'yes.'" Walda is also an active member of the Winter Park Chamber of Commerce, serving on its board of directors and its government affairs committee. She also graduated from the chamber's Leadership Winter Park program. And, as if Walda didn't have enough on her docket, there's also WP Voter, which she started last year with three friends to get more locals under age 50 to the polls during municipal elections. "I love 70-year-olds," she says. "Both my parents are over 70. But we also need younger voices at the table." In the 2020 city commission races, the percentage of under-50 voters rose from 8 percent to almost 30 percent, she says. A great start, but as Walda knows, it's not a sprint — it's a marathon.