Photography by Rafael Tongol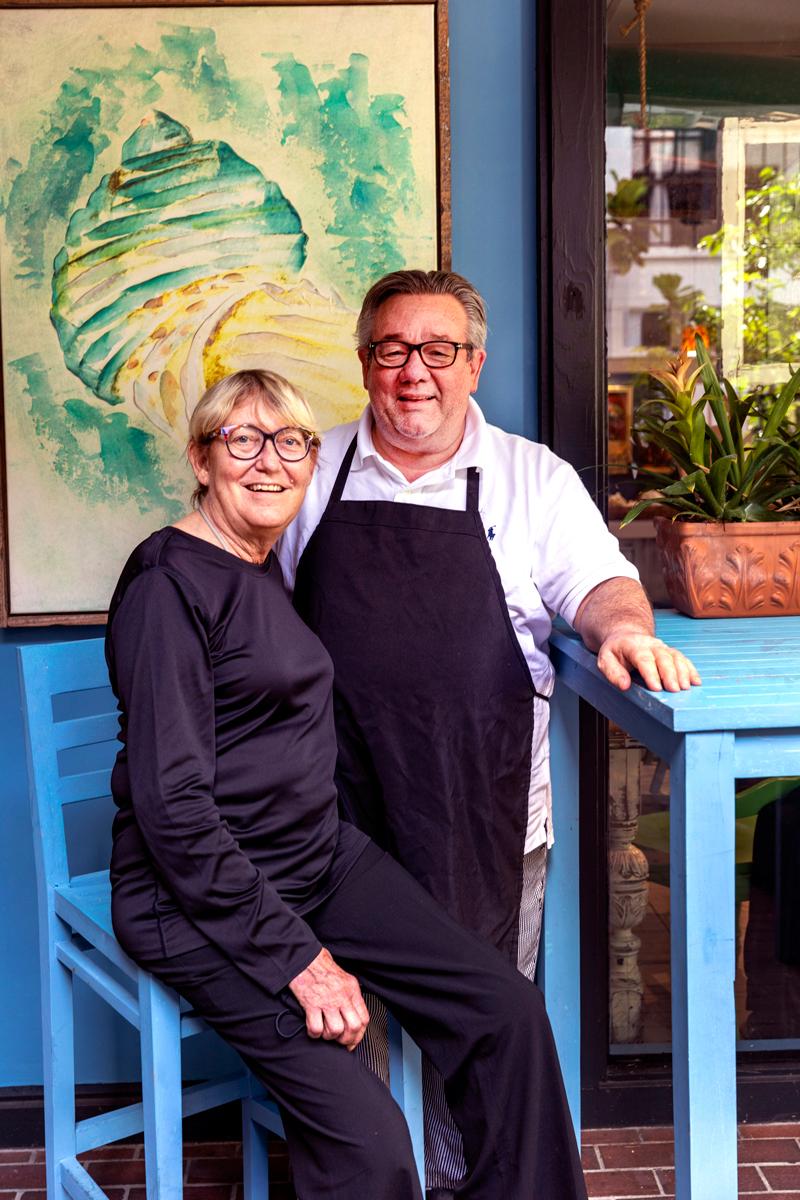 Those $130 steaks we feature here, those artfully plated luxury foods, those chef passion projects — poof! Gone from our minds. In this issue, we'll get our culinary kicks from a simple sandwich or well-made salad featuring fresh ingredients. Period. For now, we have no bandwidth for the fussed-up feasts which, until March 2020, were a highlight of Winter Park's dining scene.
Introducing George's Café, although most of you probably know George — or at least his food. The eatery, which since April has served daytime meals in the old Brandywine's Delicatessen location on North Park Avenue, is the right restaurant for these challenging times.
Here's why: The food is straightforward. The service is friendly. And the outside seating area is expansive. Trifecta!
George's Café is a sandwich shop, known also for its oversized cookies. It now serves breakfast, too, in a homey space filled with mismatched furniture and doodads that represent the interests of owner George John Paul II. (He was named for his father, not the Beatles, so there's no Ringo.)
Still, those interests, as you may have guessed, include Beatles' memorabilia. There are also decorative giant fish and assorted Key West gewgaws. The floor stickers reminding customers to stand six feet apart are canine paws because, according to Paul, his English bulldog pets have been "the loves of my life."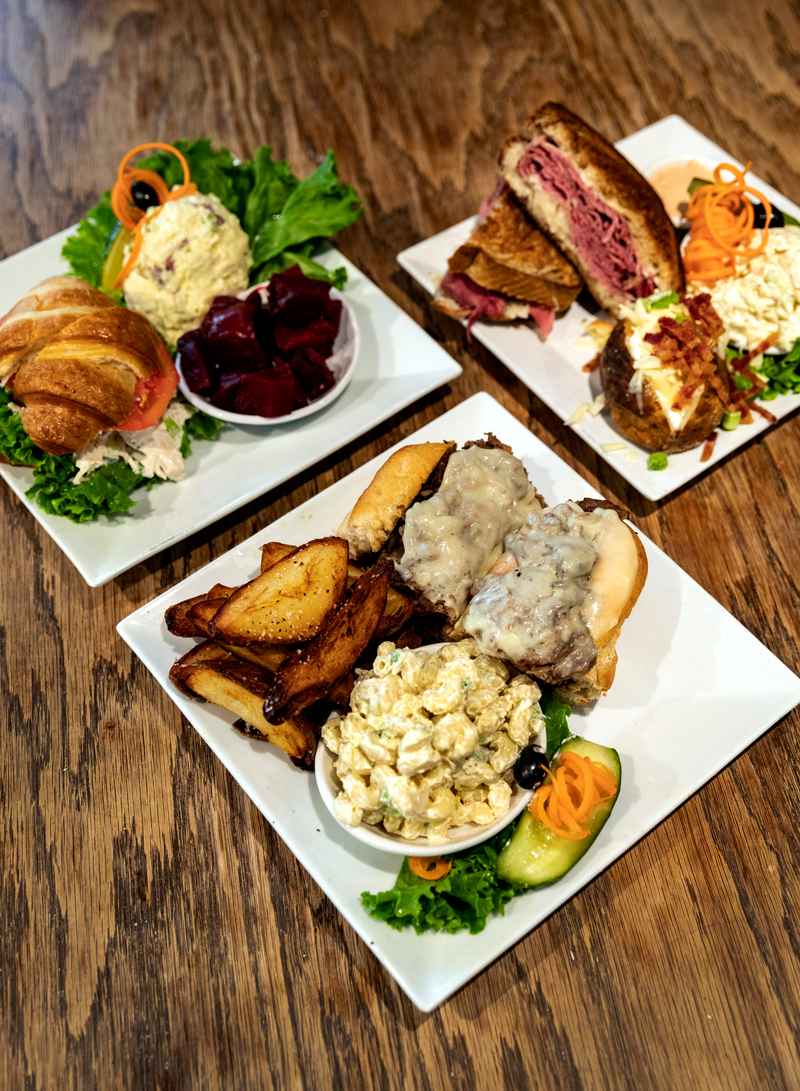 You might remember George's Café from its small storefront location on Lee Road — then known as George's Gourmet Cookies and Catering, which operated there for five years prior to moving in the spring. I had heard about it often from enthusiastic friends, so finally I went for lunch a while back.
The establishment's name didn't sound much like a sitdown restaurant, but what the heck. At the time, I was thrilled to see an egg-salad sandwich on the menu, since I had been on a futile 20-year quest to find one I liked at an Orlando-area restaurant. But I was disappointed with the sandwich, and had not since returned to George's.
Yet, friends continued to talk up the place, and I didn't understand why. Then it occurred to me that my bafflement was based on a single experience from several years earlier. Perhaps it was time to try again.
On a recent Wednesday, I walked into the relocated George's Café and ordered several sandwiches with two side dishes apiece as well as chili, two green salads (classic with mandarin oranges and pecans, and brie and apple with maple walnut dressing, both excellent), two cookies and an indulgent Danish.
I thoroughly and completely enjoyed every single item — except the egg-salad sandwich. I guess I'm just impossible to please when it comes to egg salad.
Here's what I learned: George's Café makes its food from scratch. Unlike most Central Florida restaurants, which buy pre-cooked and often pre-sliced deli meats, George's uses its oven.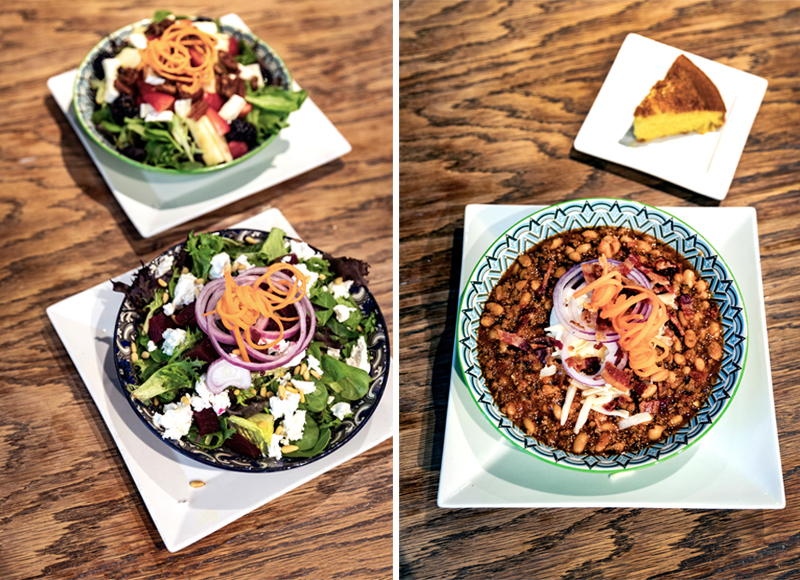 It roasts turkey breast, which you'll find in the Puddsy, a baguette sandwich with bacon, muenster cheese and house-made sun-dried tomato dressing. The steak in the Elizabeth is tenderloin topped with sautéed onion, smoked provolone cheese and Béarnaise sauce. The French dip is loaded with USDA Choice prime rib and accompanied by French onion au jus and house-made steak sauce.
And let's not forget the Reuben, which here is called the Abigail after George's first French bulldog. It's made with house-roasted corned beef and rolled (I would have preferred it flat; what is this, TooJay's?) with fresh sauerkraut, imported Swiss and Russian dressing before being grilled on fresh-baked bread.
The bacon is, of course, Applewood — the best. The potato salad, the cole slaw with celery seeds, the chunky applesauce — all made in the kitchen. The salad dressings are house-made, as are the potato chips. The breads are baked in-house from imported French dough. A pre-pandemic rye was flown in from New York; it'll be back eventually.
"I want people to feel that our food is just like what their grandmother made," Paul adds. Except, presumably, you never got a bill at your grandmother's house. Which is to say, George's isn't cheap — but it's reasonable for the quality.
Each sandwich is about $15, while salads are in the $12 range. "You get what you pay for," George says. I agree, although I balked at the $120 bill for my (huuuuge) take-home lunch. Still, I'd go back in a flash.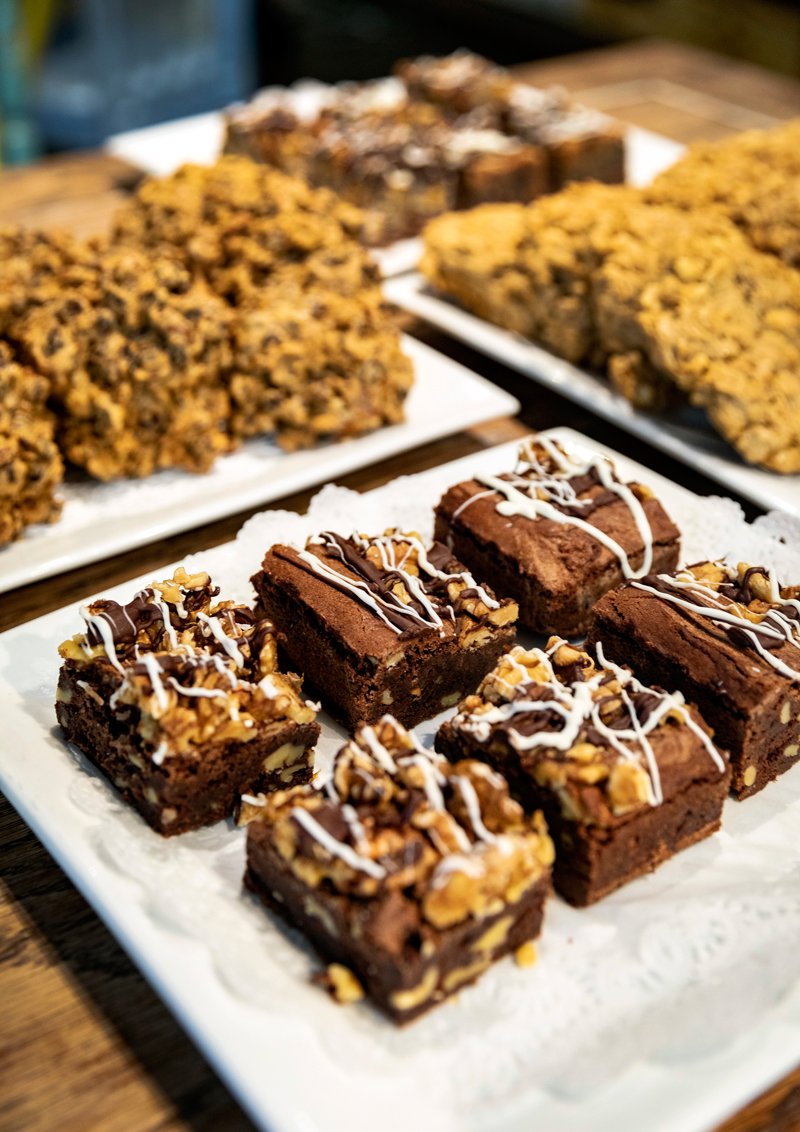 It doesn't jump out on the menu, but George's — owned by a devout Catholic who had considered becoming a priest — also offers up some serious old-fashioned Jewish fare.
The cabbage soup is reminiscent of that served at Ronnie's, the legendary Orlando deli, which was owned by family friends of Paul's. Brisket, matzo ball soup and potato pancakes are other staples. And those pickles! The crisp spears are exactly like the half-sours set out on the table in New York delis. George's makes those, too.
George John Paul II has spent nearly his entire 62 years in Winter Park. You might have used Classic Catering, which Paul started with his late mother, Leona, in 1989. The business closed in 2010, shortly after Leona's death and the national economic collapse.
All told, Paul has been in food-related businesses his entire life, starting with his parents' grocery store and the Holiday House and Hostess House buffet restaurants.
Paul still does catering gigs. In fact, providing food for events accounts for 60 percent of his business — and the food comes from the same kitchen that the café uses.
"When people eat in our restaurant, I want to let them know this is an example of the quality of our catering food; they're not two different things," Paul says. "We use the same prime rib, the same tenderloin."
That's how crab cakes Benedict came to be on the breakfast menu. George's already creates the seafood patties for catered events, so why not share them in the dining room? "From an inventory standpoint, from a consistency standpoint, it just makes sense," Paul adds.
Now, we need to discuss the cookies. George's always has a variety of cookies that are big, round and look like scones. They date back to the Classic Catering days, when Paul determined that the company needed a signature item and settled on distinctive cookies.
This was in the late 1980s, around the time Mrs. Fields, David's and, locally, Selma's were changing the cookie business nationwide. Paul tinkered with recipes for two years, throwing out batch after batch of creations that friends assured him were terrific. "I wanted a cookie that didn't flatten out and didn't look greasy on top," he says.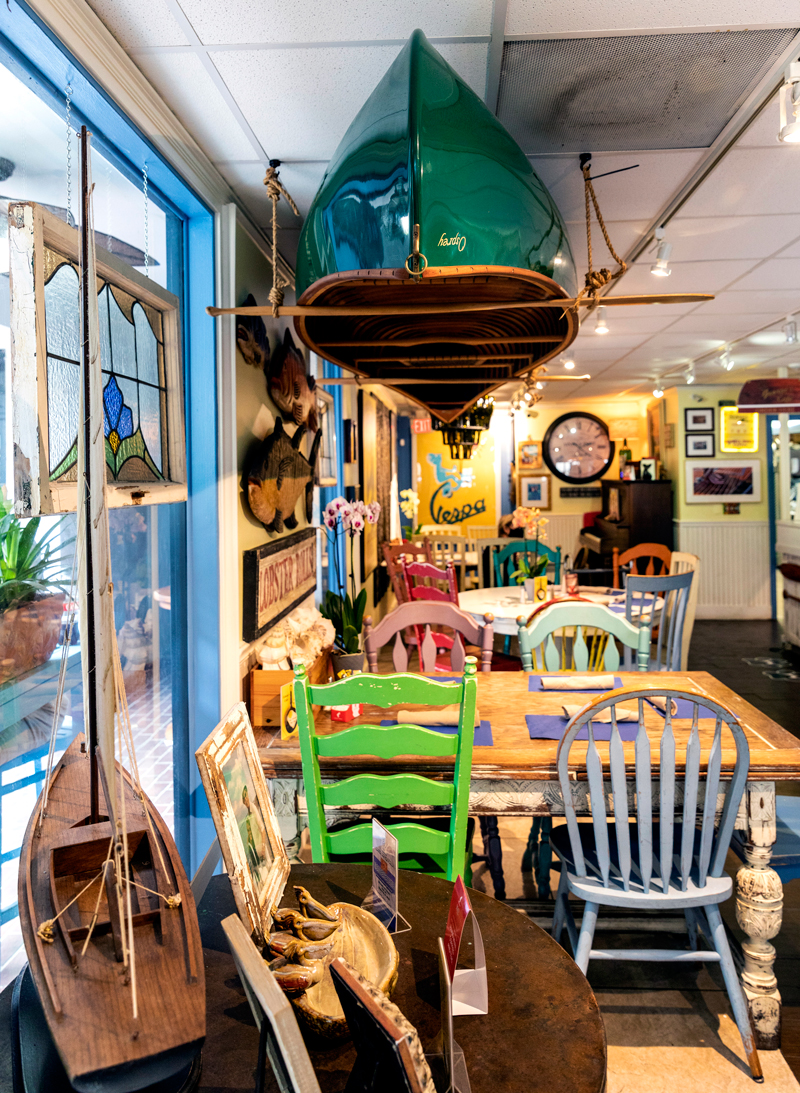 Paul — inspired by something he had seen on the Food Channel — then began baking cookies in small batches. "With large batches, the heat of the mixer starts to melt the product," he says. "And that's where they bleed, and the grease comes out."
Also, he found that covering nuts with a light dusting of flour keeps grease at bay. The result is a moist, flavorful cookie. I urge you to try a peanut butter one. And a chocolate chip. The restaurant's menu proclaims: "Life's Short. Eat Cookies," which sounds like excellent advice.
Like any small business, George's is about relationships as much as food — and Paul's relationships go back a long way. The Bishop Moore alumnus seems to know, or have gone to school with, pretty much everyone in town.
It's also about giving back. Paul regularly hands cash to homeless people and is convinced that prayers from one grateful recipient helped to cure a sick friend. He also gives each day's leftover cookies to the Winter Park Fire-Rescue Department.
OK, these aren't huge, gaudy acts of magnanimity. But they're important to Paul, a believer in karma (although that's not a term he would likely use). "Gandhi said what we do might be insignificant, but we should do it anyway," Paul says. "I just think we should try to help one another and be kind — with sincerity."
Humbly, Paul accepted kindnesses in return when the pandemic struck and his catering engagements were cancelled in rapid succession. The crisis erupted just as he was moving the restaurant into its new space and just as the state banned restaurants from allowing diners to eat on the premises.
Selling $100 gift cards for $70 was a way to raise quick cash. One local philanthropist and longtime acquaintance, recalls Paul, came in and announced: "I want to buy $50 gift cards for 100 of my friends. No negotiations. This is what I'm going to pay you for them." The amount, he says, was many times what it should have been.
"It makes you realize that you hear about the horror stories but seldom hear about the people who are supportive," Paul notes. "We've had so many of them. So much of what has happened has been by the grace of God."
So, when you really need to experience a good version of a food you've known forever (OK, maybe not the egg salad) or a friendly smile, George's Café may be the place to go. "I don't take myself seriously," Paul says. "But I take what I do seriously."
George's Café
505 North Park Avenue, Winter Park
407-622-1499
georgescafewp.com