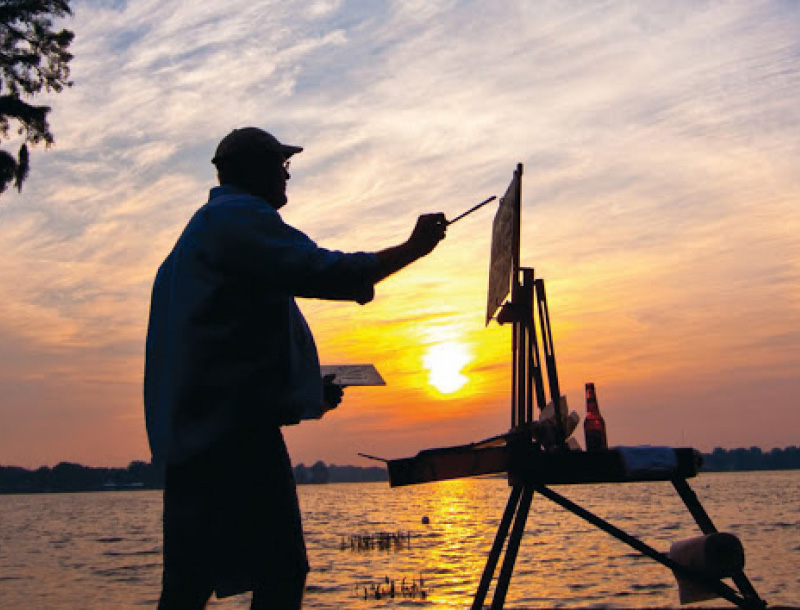 Don Sondag has painted two of the past three covers of Winter Park Magazine, and a total of four in all — the most of any single artist. Somehow, though, we don't think our readers will tire of seeing Sondag's extraordinary images — especially his photorealistic landscapes.
In this issue, writer Greg Dawson explores the history of Winter Park's iconic Scenic Boat Tour — and we were looking for an image of the canals through which the familiar pontoon boats travel.
As luck would have it, Sondag had in April staged an exhibition of original pieces called Venetian Canals of Winter Park: The Art of Don Sondag, which ran through April 12 at the Albin Polasek Museum & Sculpture Gardens. (Because of COVID-19, the exhibition had to be viewed online.)
A painting of the Fern Canal as it opens onto Lake Osceola — which was part of that collection — graces this issue's cover. Featured prominently are the banana trees that boat tour operators say are so fascinating to many out-of-town riders. The title: Venetian Canal: Coming to the End.
Sondag, a native of Winter Park, earned a BFA from the Rhode Island School of Design. He also studied painting and portraiture at the National Academy of Design and the Art Students League in New York City.
In addition to painting, Sondag teaches at the Crealdé School of Art, where he joined the faculty in 1990. He has also taught at Seminole State College, Walt Disney Imagineering and Walt Disney Feature Animation.
He has accepted portrait commissions from the Dr. P. Phillips Foundation, Seminole State College, Tupperware Brands Corporation and the University of Central Florida, among many other institutional clients. His image of the iconic Fred Rogers (Mister Rogers' Neighborhood) hangs in the lobby of Tiedtke Concert Hall on the campus of Rollins.
Sondag's work has also been featured on posters for the Winter Park Sidewalk Art Festival and Casa Feliz, and is prominent in many private collections. "I paint portraits primarily but love to paint outdoors," he says. "Capturing the light, color and form is what I try to compose in my paintings."
— Randy Noles