Photography by Rafael Tongol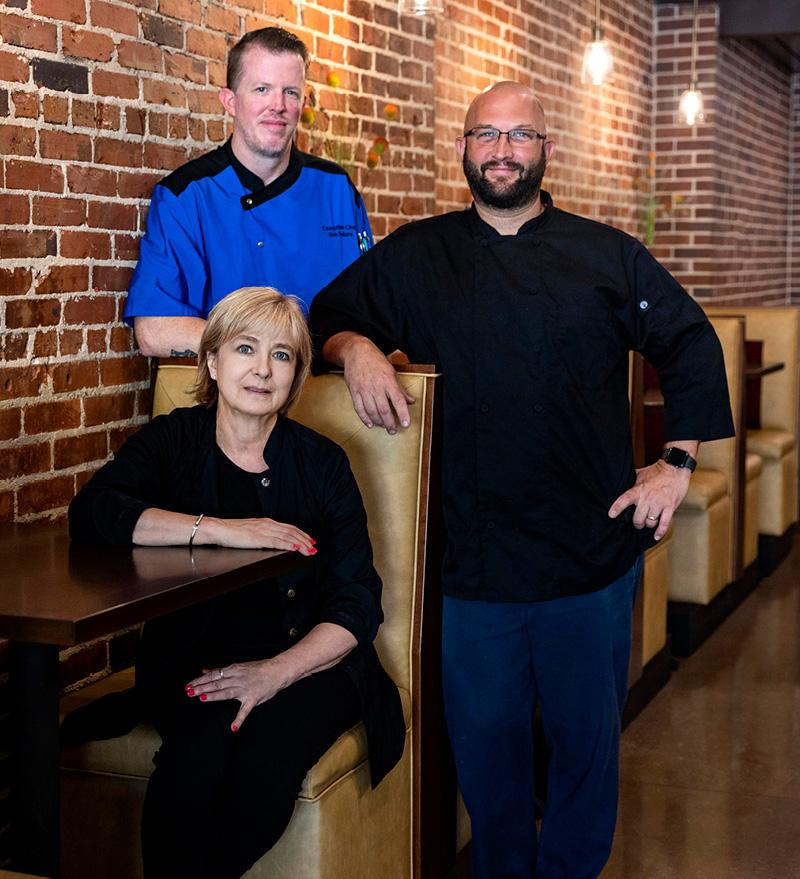 Owner of two popular Park Avenue eateries, Joanne McMahon, faced a daunting challenge: to create a new restaurant in the space that was occupied for 36 years by the iconic Park Plaza Gardens — regarded by many Central Floridians as the epitome of special-occasion dining.
Over the decades, countless Winter Parkers had strolled into this Park Avenue institution toting gift bags to celebrate anniversaries, birthdays, babies and business coups.
Patrons lingered in the foliage-filled dining room with its partial glass ceiling. And the sidewalk seats were prized for people-watching with a drink and a nibble.
The food? It was at times exceptional, depending upon the chef. But the quality of the cuisine was almost beside the point. Locals simply had a communal emotional attachment to the space.
But Park Plaza Gardens unceremoniously closed in 2016 during a rancorous dispute between the owner and the landlord over conditions in the restaurant space. (The building, nearly a century old, is enveloped by the charming 28-room Park Plaza Hotel, a separate business.)
McMahon, truly an entrepreneur's entrepreneur, had the chutzpah to step into the empty space and create something new — something that wouldn't make people forget Park Plaza Gardens but would be a worthy successor to it.
She already owned 310 Park South and Blu on the Avenue, so McMahon knows the boutique-lined boulevard and what it takes to run a successful restaurant there. The dining room dynamo signed a lease and commenced to turning the once-bustling location into BoVine Steakhouse.
Of course, a major renovation always uncovers surprises — usually not good ones. Just ask anyone who has ever hired a home remodeler. But in addition to the usual construction hassles, a pandemic hit just as the restaurant was finally about to open.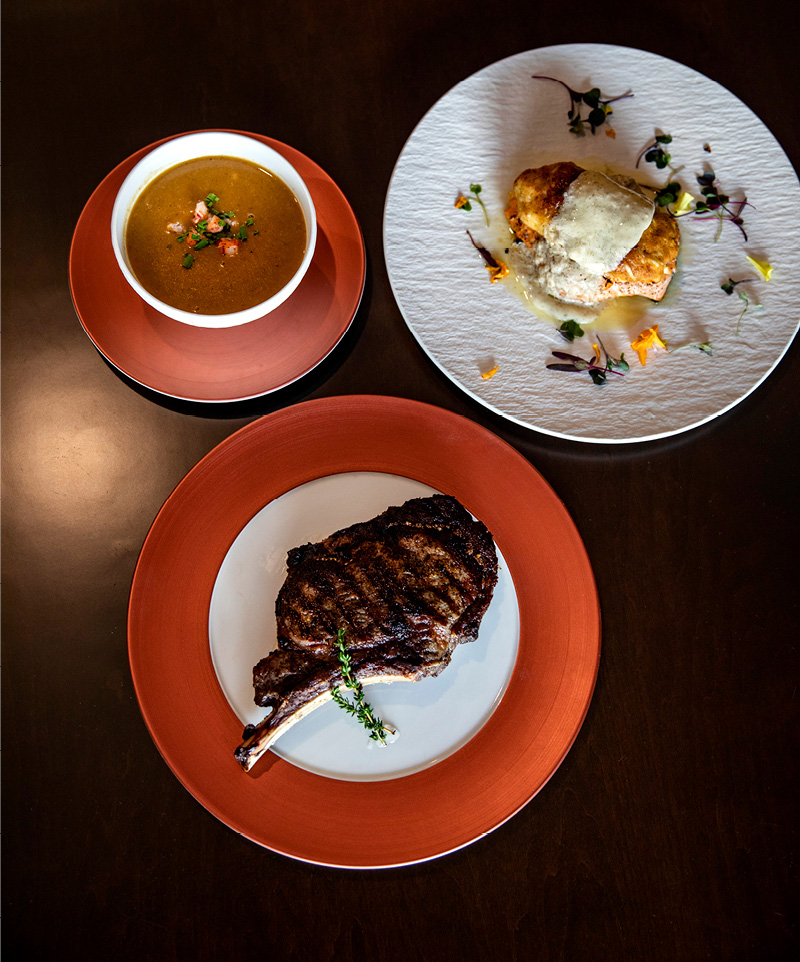 Still, BoVine Steakhouse welcomed its first guests on June 18, 2020. No grand opening party took place, no marketing reps handed samples to food writers. McMahon simply unlocked the door and ushered in the first diners seeking a socially distanced seat. We suspect that none of those early diners, especially the carnivores, left disappointed
Meals at BoVine are mostly traditional steakhouse fare with a few trendy upticks. McMahon developed the menu in collaboration with Executive Chef Tony Krueger, who has worked in McMahon's kitchens since 2008.
They chose beef shipped directly from Linz, a Chicago-based producer of black-hide Black Angus cattle, pampered and corn-fed for their final 150 days. Vegans, though, will find two entrées just for them, while appetizers such as salmon tartare offer light alternatives.
As for the famous atrium-style dining room — you won't recognize it. The revamped (and now atrium-free space) has brick walls, some of them original. The tables have white tablecloths, and there's a bar and a banquette as well as loads of booths.
The goal: elegant enough for an upscale experience yet welcoming enough to enjoy dinner while clad in shorts and a polo shirt. "Since the space was iconic Winter Park, we wanted to make it something nice, where people who used to go there would feel comfortable coming back," McMahon says. Hence the conservative, vintage steakhouse look.
But oh, my! It was no easy task for BoVine to configure its operation to serve crab-stuffed salmon; dry-aged, bone-in ribeye (superb!); and veal chop topped with fontina (cheese) and speck (ham) either at the bar, in the dining room or packaged to take home.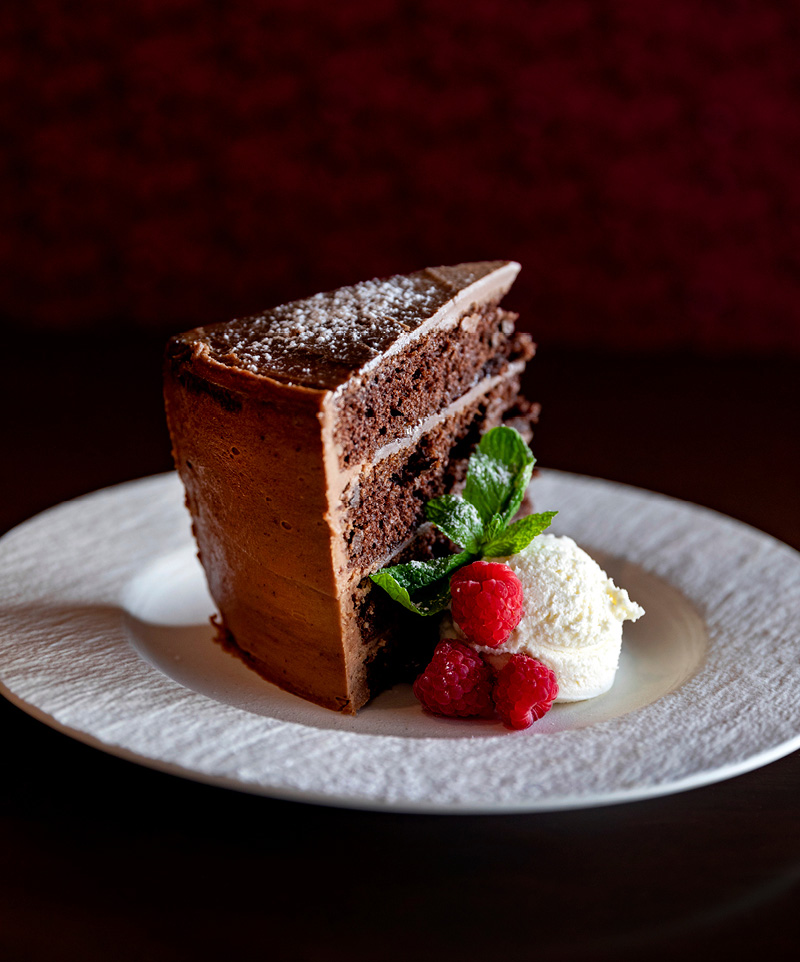 Back when we were still maskless, hugging each other and innocently sharing food platters, McMahon was unearthing the former Park Plaza Gardens foundation. "Nothing had been done to it for years," McMahon explains. "Nothing was up to code. We basically gutted it."
That meant a new roof, floors, ceilings and bricks as well as a bar and every sort of kitchen equipment. The restrooms were moved for easier access. Those glass ceilings that were a signature feature of Park Plaza Gardens? Not code-compliant and now history.
And whoa, what's that? An old chimney? Really? "Things were intermingled," McMahon reports. "Every stone we turned, we'd see something and wonder, 'Oh my God, where did that come from?'"
For many months, Winter Parkers — assuming the pandemic would someday abate, or that we'd at least learn to live with it — eagerly awaited a new restaurant in this hallowed space. And McMahon was determined to give it to them.
She and her crews cleared out rubbish and installed a sparkling new food-service system, from state-of-the-art air-conditioning with enhanced filtering capacity — a boon in these crazy times — to copper and black and white Villeroy & Boch Glow plates. Says McMahon: "We had to start from the beginning to do it all right."
The menus were printed and the staff was hired — then a mandatory lockdown was imposed that temporarily prohibited restaurants from hosting inside diners. "We were about to start training," McMahon says. "It's a three-week training process. At least we hadn't ordered the food yet." Some good news, at least.
Still, training proceeded apace. "Everyone had to wear a mask," says McMahon. "Everyone sat six feet apart." She added pandemic-related instruction, since masks, temperature checks, social distancing, frequent cleaning and super-sonic sanitizing were required.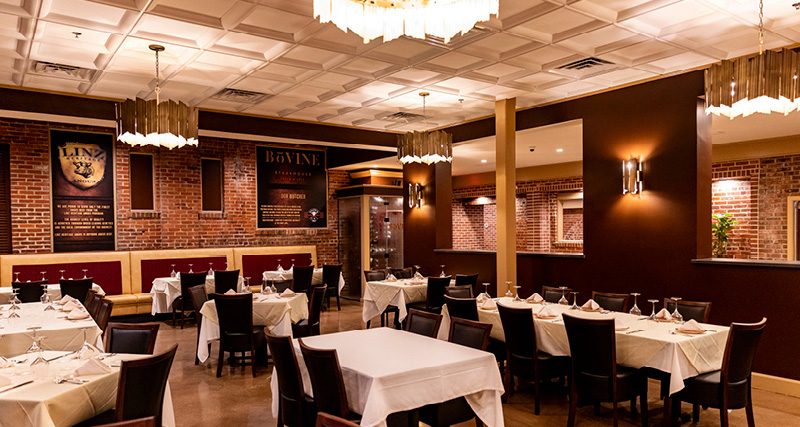 Then, with a slightly reduced menu since so much takeout was expected, BoVine swung its glass door open. And, surprise! People did indeed request takeout — but, once reopening began, many more wanted to dine indoors.
Maybe they were comforted by the website's homepage, which lists an array of sanitation and safety precautions. Perhaps most importantly, with 200 seats, BoVine is big enough to spread guests out. For now, only two tables inhabit the long-popular sidewalk area.
"If you're going to buy a nice steak, you're not going to sit outside and eat it in the summer. It's just too hot," McMahon says. She'll add more tables there when the temperature drops.
On a recent Thursday night in August, I overheard staffers say that they had 22 dine-in reservations for that evening. Other customers would surely call to take home a meal, each item secured in eco-friendly paper packaging, with wines and to-go cocktail add-ons optional. A little thank you note goes into the bag, too.
The situation can only get easier for BoVine from here on, it seems. Kudos to McMahon for not being intimidated by the space's reputation, discouraged by construction snags or prevented from bringing a new business to Park Avenue by a nasty virus that has done enough damage to our community already.
---
BoVine Steakhouse
319 South Park Avenue, Winter Park
407-794-1850
bovinesteakhouse.com