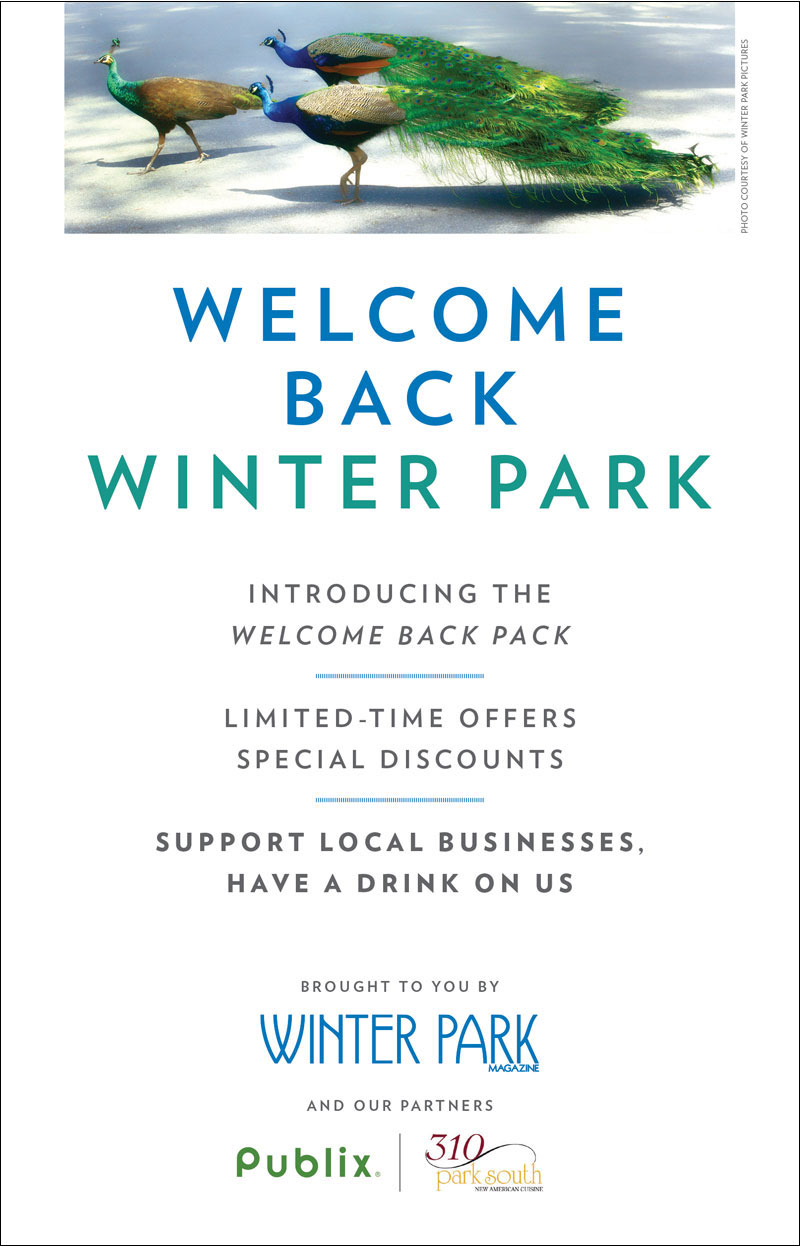 Welcome back! After a spring of hunkering down during the worst of the ongoing COVID-19 pandemic, many cities — including Winter Park — are gradually resuming commerce.
Although "the new normal" is a work in progress (and because there's no cure or vaccine, the coronavirus could still upend recovery plans), we've got to get back to work as quickly and safely as possible. Nobody argues with that.
Winter Park, in particular, is renowned for its vibrant retail, dining and cultural offerings. These businesses and institutions give the city its unique ambiance and power its economy. And they're as eager to see us again as we are to see them.
WELCOME BACK PACK
So, polybagged with this issue of Winter Park Magazine is Welcome Back Winter Park, which I prefer to call the Welcome Back Pack. It's a 40-page special publication in which the business and arts communities have rolled out their collective red carpet (which has, of course, been deep-cleaned) and invited us to check out what they have to offer.
We've taken a hit, too. Advertising is where virtually 100 percent of our revenue is derived. Businesses that are closed obviously don't need to advertise — so, like our longtime supporters, we've struggled to stay afloat during this scary and surreal interlude.
Still, we offered space in Welcome Back Winter Park free of charge. Printing and mailing 15,000 copies of a 40-page magazine is not inexpensive — but the cost, really, is nothing more than we owe the business owners who make it possible for us to do what we do.
When considering how we could best help our fellow small businesses (and larger ones, too), we identified the one thing we do more effectively than anyone else. That's getting content into the hands of locals — who trust Winter Park Magazine and appreciate getting it delivered to their mailboxes. (There's an online version, too, at welcomeback.winterpark.com.)
Thus was born the Welcome Back Winter Park, which offered us an opportunity to support those who have supported us. And it offered participants an opportunity to announce that they're still here and more than ready to resume being a part of our lives.
Many Welcome Back Winter Park participants are touting special reopening offers. But whether you take advantage of the deals or not, we hope you'll take the publication and go through it page by page — then make it a point to visit the stores, restaurants and arts venues between its covers. Better yet, make a purchase whether you need anything or not. (After all this time at home, though, we're pretty sure you must have a significant shopping list.)
IN THIS TOGETHER
Some of you have heard me tell about the time I was publisher of a different local magazine, which was part of a national chain that also owned other magazines, newspapers and had investments in a variety of businesses unrelated to publishing.
I was in the office on 9/11. The editor had a television set, so we all watched in horror as the jets slammed into the World Trade Center and sent its twin towers tumbling.
The following day, headquarters scheduled an urgent conference call for the chain's publishers nationwide — I assumed to brainstorm ways in which we could use our platforms to do something constructive in the aftermath.
Instead, we were ordered to print small American flags on our covers for the remainder of the year. The real purpose of the confab was to roll out a program called Pledge to America, in which we would sell advertising in batches because, well, if you didn't advertise, then the terrorists would win.
The corporate art department was ready with collateral material drenched in red, white and blue ink and touting special rates for new annual contracts.
Far from losing business, perhaps we could make money
on this national tragedy. Every publisher got a quota — and we were told to get our salespeople on the streets while the rubble was still smoking.
Tasteless? Disgusting? Of course. But the depth of the scheme's depravity only sunk in later, after the initial numbness wore off. It was, at least, a learning moment for me. I recalled it vividly recently, when the pandemic (and the response to it) began to wreak havoc.
As businesses went dark, the question we asked ourselves wasn't, "How can we make money on this?" The question was, "How can we invest to help our community?" If that seems obvious for any decent corporate citizen, then you weren't working where I was working in 2001.
SOME NEW RULES
But I digress. I'm writing this in early June, and you're likely reading it in early July. We've seen how quickly situations can change. But as of now, many Welcome Back Winter Park participants are open limited hours. Some ask that you wear masks, while others don't. Restaurants, by in large, are adhering to social distancing by offering fewer tables and more outdoor seating.
Whatever the rules are later in the summer, we know Winter Parkers will follow them with their usual combination of grace and good humor — recognizing that such rules are meant to ensure safety.
In some less-enlightened parts of the country, we've seen reports of customers berating and even assaulting employees who attempt to communicate these policies to angry dullards who are determined to make political statements by flaunting them. During difficult times, people often behave in inspiring ways — but less often, they behave in appalling ways.
Thanks, Winter Park, for always being inspiring. Thanks to the business community for hanging in there (and especially the restaurants, which found new ways to feed us). And, most of all, welcome back.
— Randy Noles