It's time again to recognize Winter Park Magazine's Most Influential People. The program, in its sixth year, recognizes those who — sometimes quietly — make a difference through their professions, their volunteerism, their philanthropy, their talents or their community engagement.
The selectees are presented in the summer issue and celebrated at a big event at the Alfond Inn, postponed to September 30 this year because of the COVID-19 pandemic.
Here are the people who have already been Influentials. The Classes of 2015, 2016, 2017 and 2018 and 2019 included: Roy Alan and Heather Alexander, Richard O. "Rick" Baldwin, Jim Barnes, Dan Bellows, Anna Bond, Rita Bornstein, Jill Hamilton Buss, Jeffrey Blydenburgh, Daniel Butts, Sid Cash, Charles Clayton III, Billy Collins, Grant and Peg Cornwell, Linda Costa, Julian Chambliss, Patrick Chapin, Carolyn Cooper, Deborah Crown, Jere F. Daniels Jr., Mary Daniels, Robynn Demar, Mary Demetree, Betsy Gardner Eckbert, Jeff Eisenbarth, Dykes Everett and Andrea Massey-Farrell.
Also: Carolyn Fennell, Meg Fitzgerald, Sue Foreman, Scot and Christine Madrid French, Shawn Garvey, Hal George, John Gill, Alan Ginsburg, Steve Goldman, Sarah Grafton, Elizabeth "Betsy" Gwinn, Ralph V. "Terry" Hadley III, Jane Hames, Ena Heller, Debra Hendrickson, Catherine Hinman, Eric and Diane Holm, Herb Holm (deceased), Charlene Hotaling, and Jon and Betsy Hughes.
Also: Susan Johnson, Gary I. and Isis Jones, Phil Kean, Allan Keen, Linda Keen, Tom Klusman, Randy Knight, Debbie Komanski, Linda Kulmann, Cindy Bowman LaFronz, Jack C. Lane, Steve Leary, Fairolyn Livingston, John and Rita Lowndes, Lawrence Lyman, Lambrine Macejewski, Paula Madsen, Jesse Martinez, Brandon McGlammery, Genean Hawkins McKinnon, Joanne McMahon, Micki Meyer, Johnny Miller, Anne Mooney and Ronnie Moore.
Also: Patty Maddox, Elizabeth Tiedtke Mukherjee, Stephanie Murphey, Tony and Sonja Nicholson, David Odahowski, Betsy Rogers Owens, James and Julie Petrakis, Jana Ricci, John Rife, John Rivers, Randall B. Robertson, Laurence J. "Larry" Ruggiero, Greg Seidel, Peter Schreyer, Polly Seymour, Thaddeus Seymour (deceased) and Shawn Shaffer.
Also: John and Gail Sinclair, Sarah Sprinkel, Susan Skolfield, Sam Stark, Chuck and Margery Pabst Steinmetz, Bronce Stephenson, Dori Stone, Matthew Swope, Bill Walker, Fr. Richard Walsh, Jennifer Wandersleben, Harold A. Ward III, Debbie Watson, Todd Weaver, Bill Weir, Chip Weston, Pete Weldon, Cynthia Wood and Becky Wilson.
On the following pages, please meet the Class of 2020 — which is every bit as deep and impressive as previous classes, and includes some people you may not know as well as some longtime community icons. They come from all walks of life but share a love for Winter Park — and a desire to make it even better.
---
Photography by Rafael Tongol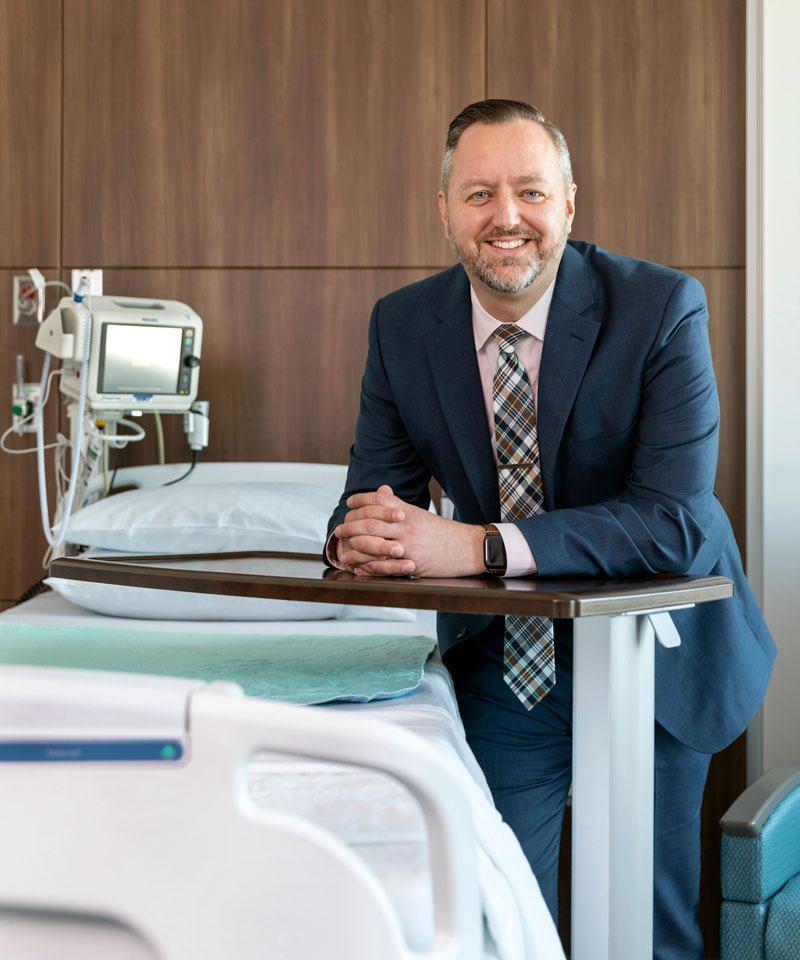 Justin Birmele
Chief Executive Officer,
AdventHealth Winter Park
THE CARE CONNECTOR
For Justin Birmele, who became CEO of AdventHealth Winter Park in January, healthcare isn't a job, but a calling. On his journey into the local hospital's executive suite, Birmele listened to God and channeled his parents — both of whom are nurses. When Birmele was 9 years old, they moved to Orlando to work for Florida Hospital, the Altamonte Springs faith-based nonprofit that was rebranded as AdventHealth in 2018. "My pathway has literally been in the footsteps of my parents," says Birmele, who has spent more than 20 years in healthcare — from his first job in high school as a file clerk in a doctor's office to managing more than 1,300 employees and 300 physicians — "everyday superheroes," he calls them — in Winter Park. Birmele was born in Kettering, Ohio, in the same hospital his parents served as operating room and emergency room nurses. His father's contract with the U.S. Army took the family to Germany. Then, seeking a warmer climate, they relocated to Orlando, where Birmele graduated from Forest Lake Academy, a Seventh-Day Adventist high school. He later attended Southern Adventist University in Collegedale, Tennessee, where he earned a degree in psychology. He also holds a master's degree in healthcare administration from Webster University, and recently completed AdventHealth's inaugural (and selective) Executive Leadership Program. In the community, the genial Birmele — who's hard to miss at a towering 6-foot-5-inches — volunteers for numerous good causes and serves on the boards of Seniors First Inc., the Oviedo-Winter Springs Chamber of Commerce and the Winter Park Chamber of Commerce. He and his wife, Lindsey, a licensed mental health counselor, have a 2-year-old daughter. Birmele took charge at AdventHealth Winter Park — where he was previously COO — during a period of robust growth. He oversaw projects that included completion last year of the Nicholson Pavilion, an $85 million expansion encompassing 140 private rooms. A new 27,000-square-foot emergency room facility now under construction will open in 2021. Birmele — like many Influentials — is a graduate of Leadership Winter Park, a program of the Winter Park Chamber of Commerce. But his values were shaped largely by his parents: "They taught me to do more than expected in caring for others."
WHAT HE SAYS:
"To help me find the energy [for my responsibilities] I make morning devotion and prayer a priority. My faith is the foundation of my wellbeing — and I find that time alone with God really jumpstarts my day in a very positive direction."
WHAT THEY SAY:
"A smart administrator who really cares for people … the embodiment of AdventHealth's values … a family man and a community leader … Justin lives his faith."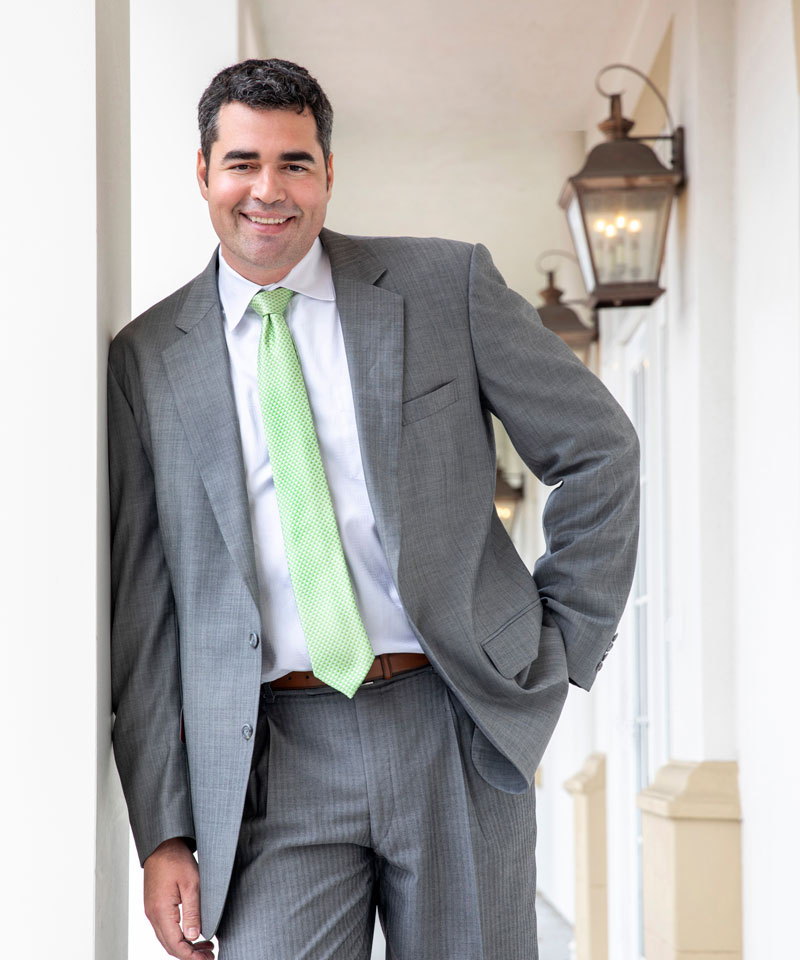 Michael Carolan
Shareholder, chair of the Real Estate Department,
Winderweedle, Haines, Ward & Woodman
THE FORWARD THINKER
They say timing is everything. Michael Carolan began his career in real estate law at Winderweedle, Haines, Ward & Woodman in 2008, just as the economy tanked and the Great Recession took hold. In 2020, he began his term as chair of the Winter Park Chamber of Commerce just as the COVID-19 pandemic caused closures and quarantines. "I seem to start when things are cratering," he says, ruefully. But Carolan, who exudes a calm demeanor and boasts a background in finance, is just the kind of person you want on your side during troubled times. Through the chamber, he's working to ensure that a shaken business community survives, revives and once again thrives. A graduate of Duke University — the alma mater of both his parents — Carolan's undergraduate degree is in economics. He worked at PCE Investment Bankers in Winter Park as a financial analyst for two-and-a-half years before he decided to attend the Fredric G. Levin College of Law at the University of Florida, from which he graduated cum laude in 2007. At Winderweedle — which was founded in 1931 — Carolan joined a respected team that included both his father, Rusty, and his future wife, Nikki. Carolan currently chairs the venerable firm's real estate department and represents lenders and borrowers in a wide range of commercial financial transactions. He and Nikki married in 2012 and have two children, ages 6 and 3. Carolan's energy and relative youth make him an ideal fit at the chamber, which in recent years has strengthened its advocacy effort and bolstered its value for members beyond its signature social events. Appointed to the chamber board in 2016, Carolan served as treasurer for two years — earning Chairman of the Year honors in 2017 — before becoming chair elect. He wants more Winter Parkers in his age group to become involved in the community — and to vote in city elections in comparable percentages to those of their elders. At 6-foot-5, Carolan, a Florida Super Lawyers "Rising Star" (2019 and 2020), already stands out in a crowd — and will no doubt stand out as a community leader in years to come.
WHAT HE SAYS:
"I like to think I'm a good listener and try to understand the interests and intents of different parties, and use that to find common ground and build from there.
I also maintain a pretty even keel in high stress situations, and people seem drawn to that."
WHAT THEY SAY:
"Mike is a natural leader who inspires confidence because of both his savvy and his personality … Winter Park's future is in good hands with people like Mike … a great representative for the chamber."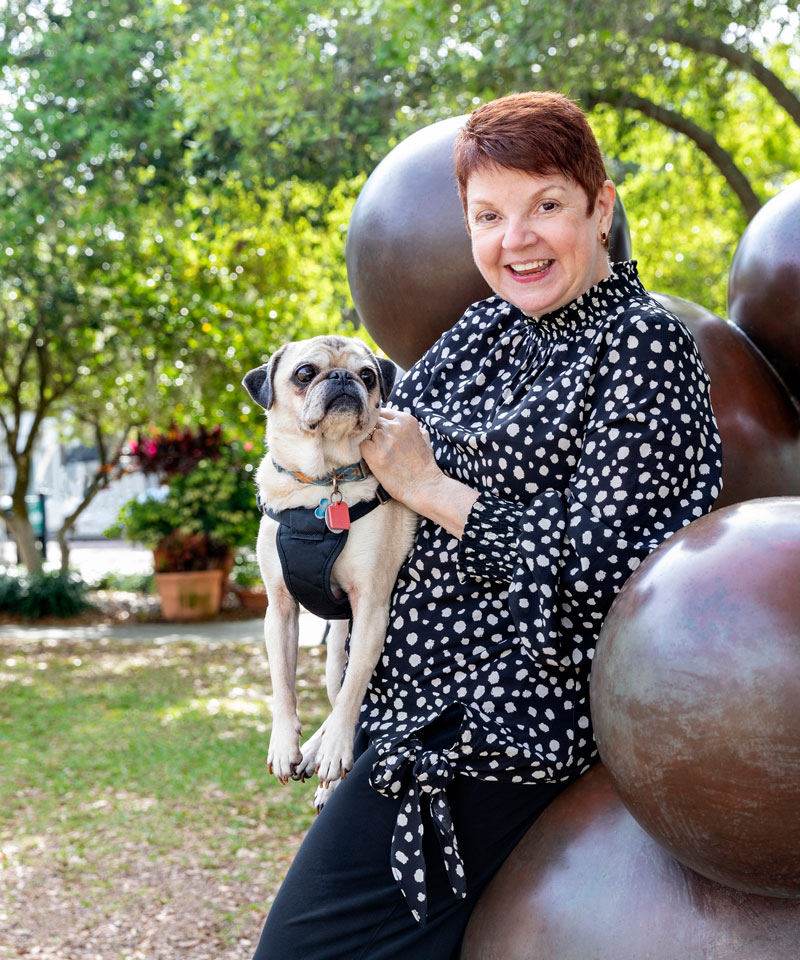 Judy Charuhas
Executive Director and Co-Founder,
WinterParkLostPets.com
THE PET DETECTIVE
Judy Charuhas remembers when Arlo, her little border terrier, went missing. "He got out through the gate," she says, reliving the terror she felt. "We found him a block away on a porch, having snacks with somebody." Most lost-pet stories don't end so quickly. That's why, more than a decade ago, Charuhas created WinterParkLostPets.com with Shelley Heistand, a realtor with Coldwell Banker on Park Avenue. Since then, the nonprofit website has helped find and reunite more than 2,000 lost pets — from dogs and cats to ferrets and parrots — with their eternally grateful people. On the resource-packed WPLP site are photos of pets lost, found and reunited — including most recently Mosely the chihuahua, Leia the tabby, Armani the Persian, Soggy the lab mix, Pebbles the dachshund and Tony the cockatiel. Before WPLP, the standard method for finding a lost pet was to tape a note and a grainy photo to a power pole. "Shelley would also often get calls when dogs got out because she was a Realtor out in the community," says Charuhas. The two neighbors discussed the problem and came up with the idea for a website where frantic owners could post information. (The service was soon expanded to include email alerts and notices sent to followers on social media.) Heistand told Charuhas: "If you find someone to do it, I'll pay for it." Heistand remains sponsor of the website while Charuhas is WPLP's public face and self-described "Energizer Bunny." She handles postings, coordinates events, and — as a mental health therapist honored for her work with Pulse victims and survivors — provides pet loss grief counseling. WPLP, which serves the Winter Park-College Park area and sponsors free microchipping and pet safety education programs, runs on an annual budget of $5,000 (in a good year) and relies solely on donations. Gifts are especially welcome this year since the group's annual fundraiser, "The Running of the Chihuahuas," fell victim to the COVID-19 pandemic. Donations can be made through the Winter Park Lost Pets Foundation, a registered nonprofit. Charuhas and her husband, Patrick, relocated to Winter Park from Chicago in 1983, and share their home with canine companions Lily, Olive and Sparky.
WHAT SHE SAYS:
"Of course, the pets themselves don't have words. We must be their voice. We must speak on their behalf and tell the community, 'I am lost. Help me get home.'"
WHAT THEY SAY:
"I get weepy, in a good way, when I look at the website … Judy and Shelley have one of the best feel-good stories in Winter Park … the world is a better place because people do things like this."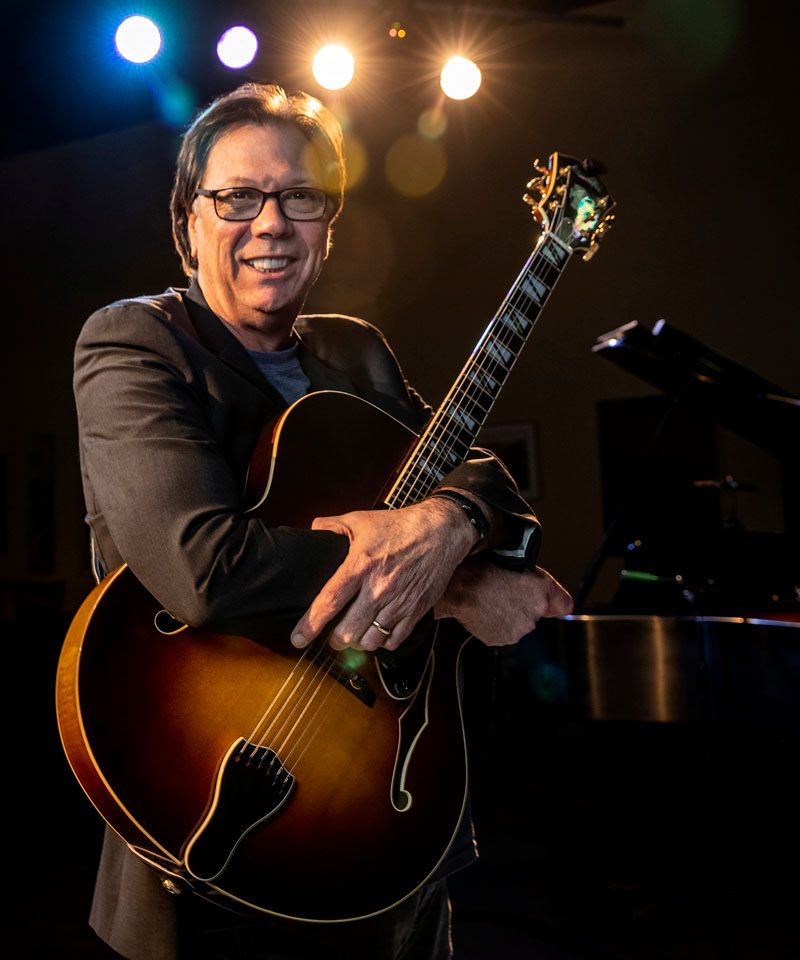 Chris Cortez
Co-Founder, President and CEO,
Blue Bamboo Center for the Performing Arts
THE MUSIC MAN
Guitarist Chris Cortez penned a song in the late 1980s about a man with no arms, whom he saw painting with his feet. "It's not what happens to you, it's what you do about it," goes the chorus. Cortez, cofounder, president and CEO of Blue Bamboo Center for the Arts, lives those words. He has persevered along the long and winding road of a musical career, no matter the odds or obstacles. At his funky nonprofit concert hall, which opened in 2016, he has united Central Florida's vast reserve of musical talent with appreciative audiences. Four years into the venture, he's producing up to 300 shows annually — in every genre imaginable — that collectively gross about $300,000 between ticket sales and sponsorships. "It's been the hardest thing I've ever done, and the most rewarding," says Cortez, a Cincinnati native who moved to Orlando at age 2 with his family, including his mother, Virginia "Ginny" Cortez, a founding member of what is now the Orlando Repertory Theater. His father, Joe, a Martin Marietta technical writer, gave the talented 9-year-old a $13 guitar and (perhaps inadvertently) launched the career of a jazz player, pop vocalist, record producer and entertainment empresario. After graduation from Edgewater High School, Cortez played with various Top 40 bands and performed at Walt Disney World, including a regular gig with Kids of the Kingdom. He also played guitar with a jazz fusion group called, prophetically, Blue Bamboo. The combo, which was the house band at a downtown Orlando nightclub called Daisy's Basement, allowed Cortez to polish his artistry. In 1986, however, he left Central Florida for almost 30 years, during which time he played in house bands, directed music at a casino and produced more than 30 CDs — including six of his own. He met Melody, his wife and partner in Blue Bamboo, in Charlotte, North Carolina. In 2015, at a career crossroads in Houston, the couple saw opportunity in the form of a 6,000-square-foot yellow warehouse on Kentucky Avenue. Music now is a mission; thanks to a $10,000 grant from the City of Winter Park, Blue Bamboo presents at least 25 free concerts yearly and others that raise money for local charities.
WHAT HE SAYS:
"I begin with 'it's possible' and everything else is logistics."
WHAT THEY SAY:
"Before Blue Bamboo, there were really no comparable venues here … Chris and Melody spotlight great talent, both familiar and unfamiliar … every sophisticated city needs a place like this."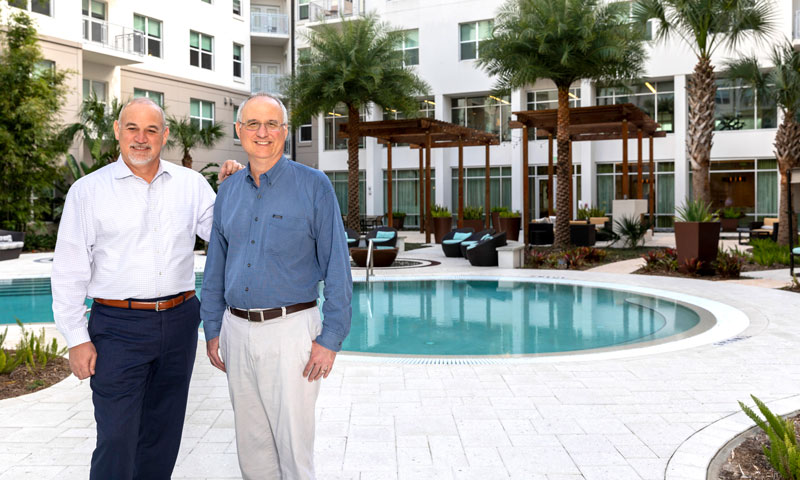 Bill and Allen Finfrock
President (Bill Finfrock) and CEO (Allen Finfrock),
Finfrock Industries
THE CONCRETE IDEALISTS
Bill Finfrock (president) and Allen Finfrock (CEO) are the third generation of family members to lead Finfrock Industries, a fast-growing design-build company founded by their grandfather, Robert J.D. Finfrock, who moved to Winter Park 75 years ago and began developing concrete products — just roof and floor tiles at first — for residential and commercial construction. Soon the company expanded into other concrete products and building components. Robert D. Finfrock (Bill and Allen's father), a structural engineer, became an innovator in the design and construction of prestressed concrete buildings. Today, with more than 700 employees, Finfrock ranks No. 1 on the Orlando Business Journal's list of the region's largest general contractors, and No. 9 on the publication's list of largest privately held companies. But while its corporate offices — along with its fabrication and assembly plants — are located in Apopka, the company's owners are dyed-in-the-wool Winter Parkers. Bill (the older brother by a year) and Allen both attended Winter Park High School before completing civil engineering degrees from Vanderbilt University and then, in 1997, simultaneously earning MBAs from the Crummer School of Business at Rollins College. (Their dad is also a WPHS, Vandy and Crummer alum.) Under the brothers' leadership, Finfrock has more than quadrupled in size over the past three years with projects that include hotels, student housing and luxury multifamily residential properties. And the company's parking garages — five of which are in Winter Park — can be found all over the U.S. In 2017, Finfrock built its largest parking garage in a single phase (3,000-plus spaces at the Walt Disney World Resort), followed by its largest hotel (2,800 rooms at Universal Orlando Resort). However, the most high-profile Finfrock project locally has been Juno, a seven-story, 268-unit luxury multifamily housing complex at Ravaudage, the 73-acre mixed-use development by Sydgan Corporation at Lee Road and U.S. Highway 17-92. Finfrock is also seeking to build a new boutique hotel on West Morse Boulevard, consideration of which was postponed by the city as a result of the COVID-19 pandemic. Bill is a past chair of Habitat for Humanity for Seminole County and Greater Apopka, and the AdventHealth Cancer Institute Board. Allen has been a leader in industry-related organizations, while both are graduates of Leadership Orlando. In construction circles, Finfrock is known for its patented DualDeck floor and ceiling assembly, in which two layers of prefabricated concrete are separated by a truss system with a building's mechanical systems located in between.
WHAT THEY SAY:
"I think back to the '70s and '80s in Winter Park, and it had great charm but was starting to look a little threadbare. You have to reinvest in a city to keep it economically viable." (Bill Finfrock)
Winter Park offers a great quality of life, including walkability and amenities such as the canals. But a city needs to continually replenish itself." (Allen Finfrock)
WHAT OTHERS SAY:
"Concrete doesn't sound exciting — but these guys have revolutionized the commercial construction industry … brilliant engineers and businesspeople whose work is top quality … they want to see Winter Park thrive, and their projects reflect that."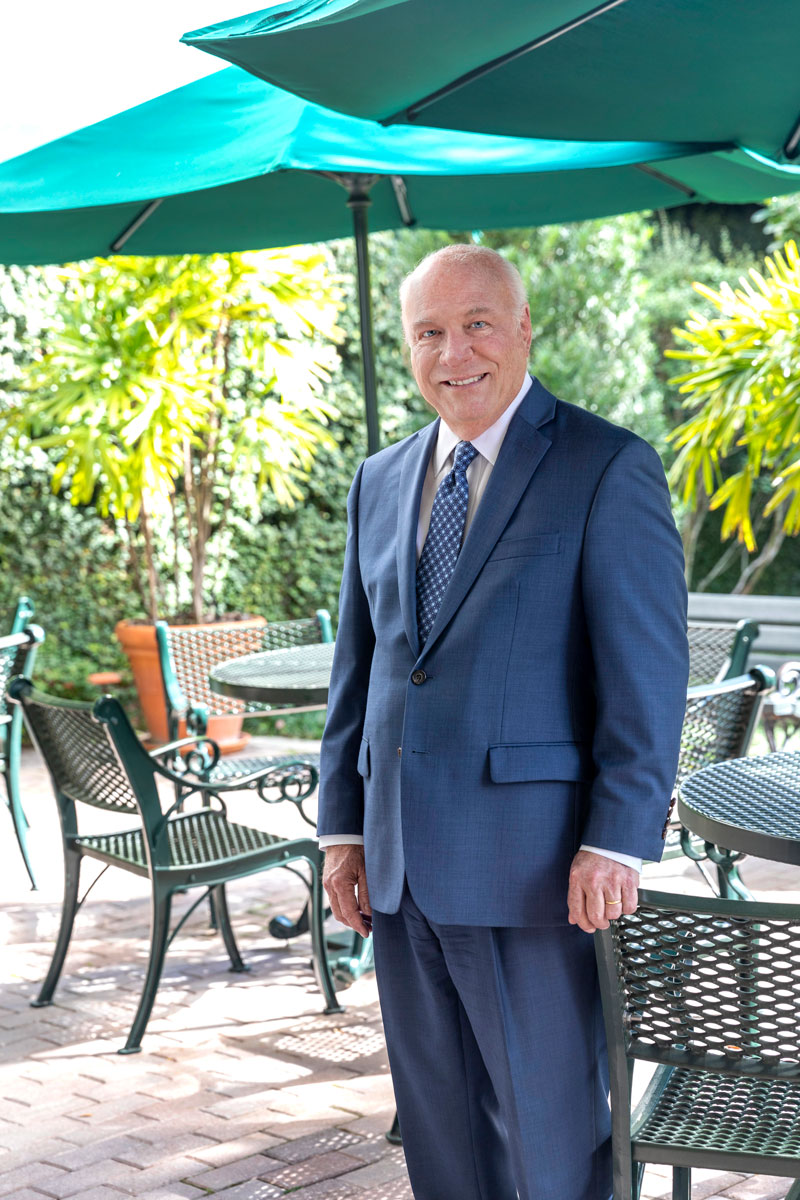 Larry Hames
President,
Laurence C. Hames Esq.
THE CALM COUNSELOR
When Orlando Mayor Buddy Dyer proclaimed "Larry Hames Day" in November of last year, it was because the longtime Winter Park attorney had stepped in as interim CEO of Goodwill Industries of Central Florida when the previous CEO resigned after just nine months on the job. During what might otherwise have been a tumultuous time for the organization — which has more than 2,000 employees across six counties — Hames' impeccable reputation and Zen-like calm reassured supporters that all would be well. While the recognition by Dyer was appreciated, Hames — a lawyer for more than 40 years and president of Laurence C. Hames Esq. since 2009 — has always quietly performed his civic duties without any expectation of accolades. After graduation from Emory University in Atlanta, Hames attended the Frederic G. Levin School of Law at the University of Florida and earned both a J.D. and an LL.M. (an advanced legal degree in taxation) before beginning an eight-year stint heading the tax practice group at Lowndes, Doster, Kantor & Reed. Despite a busy career, Hames has chaired the board of the Goodwill Industries of Central Florida Foundation and the related GoodSource Staffing Services, a temporary jobs agency that helps hard-to-place job seekers build solid work records. He's also a member of the Family Board at AdventHealth Winter Park and a past board member of the Heart of the City Foundation — which supports ministries of First Presbyterian Church of Orlando — and the Foundation for Orange County Public Schools. In addition, Hames headed the Glenridge Middle School PTA (his kids were students) and was a founding board member of the Millennium Rowing Association, a nonprofit organization that helps support the Winter Park High School crew team. Hames is today chairman of the board of supervisors for the Reedy Creek Improvement District, the governing entity for land that encompasses Walt Disney World. He and his wife, Jane, a public relations entrepreneur (and a past Influential), have three accomplished daughters. Hames' late father, Clifford, will be remembered by most Central Floridians as vice chairman of the board for SunBank and an organizer of the Winter Park Health Foundation in 1994. Says Hames: "I think he'd be proud of how his children and grandchildren are stepping up."
WHAT HE SAYS:
"My personal style is based on a calm and studied approach to everything. Some — like my wife, occasionally — may find this frustrating because of its measured pace. But I find that it works well because it generally makes others calm, too."
WHAT THEY SAY:
"Larry is not one to seek the spotlight, but he sees what needs to be done and does it … every day ought to be Larry Hames Day."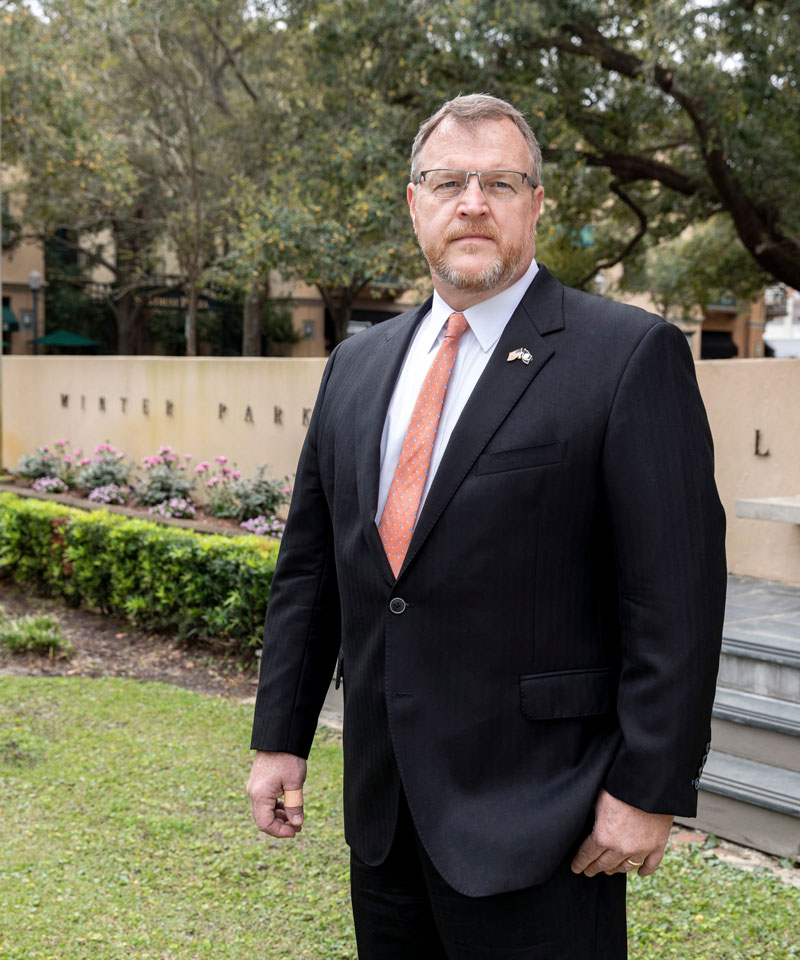 Frank Hamner
Founder,
Frank A. Hamner P.A.
THE ARDENT ADVOCATE
Attorney Frank Hamner has a Naval officer's spirit and an Alabama woodcutter's work ethic. Hamner maintains a legal practice specializing in construction litigation. But it's his work as general counsel for such high-profile clients as the Holler and Demetree families — both of whom have extensive commercial real estate holdings — that often places him front and center during development disputes in sharply divided Winter Park. The hard-charging litigator, employed at GrayRobinson for almost a decade before opening his own practice, grew up in Fayette, Alabama, the adopted son of a pulpwood cutter and a garment-factory worker. He joined the U.S. Navy after high school and within two years was tapped for an engineering scholarship that landed him at Auburn University, where he majored in electrical engineering. After graduation, Hamner returned to the Navy as a surface warfare commander on carriers and destroyers, serving two tours in the Gulf War. Hamner left active duty in 1992 to attend the Fredric G. Levin School of law at the University of Florida and married Lauren Frey, daughter of late U.S. Representative Lou Frey. The couple, who met at Auburn, have three children, ages 18 to 23. (Hamner also has two grown children from a previous marriage.) Apart from his legal practice, Hamner has served such organizations as the March of Dimes, the Central Florida Zoo, Junior Achievement of Central Florida and, of course, UCF's Lou Frey Institute of Government and Politics. In 2012, representing the Winter Park YMCA, Hamner helped achieve city and community consensus regarding a controversial YMCA expansion proposal. This year, Hamner advocated for the Orange Avenue Overlay, a zoning ordinance that would have provided a foundation for cohesively redeveloping the slapdash thoroughfare. Two Hamner clients, Demetree Holdings and Holler Properties, are among the three largest landowners (along with the city) in the 75 acres that were impacted. The overlay plan was initially approved — but then abruptly rescinded by a newly elected city commission. Demetree Holdings had, at press time, filed suit against the city, although Hamner is not the attorney of record. The genial but no-nonsense attorney has a lighter side: For the past decade, he has emceed Mead Botanical Garden's annual Great Duck Derby, calling the races and sharing "the best duck jokes ever."
WHAT HE SAYS:
"My thing is not development. My thing is positive change. If you don't grow or change, you stagnate."
WHAT OTHERS SAY:
"Frank is a standup guy who cares deeply about the community … a straight shooter … as an attorney he's a fighter, but in person he's as down-to-earth as you could meet."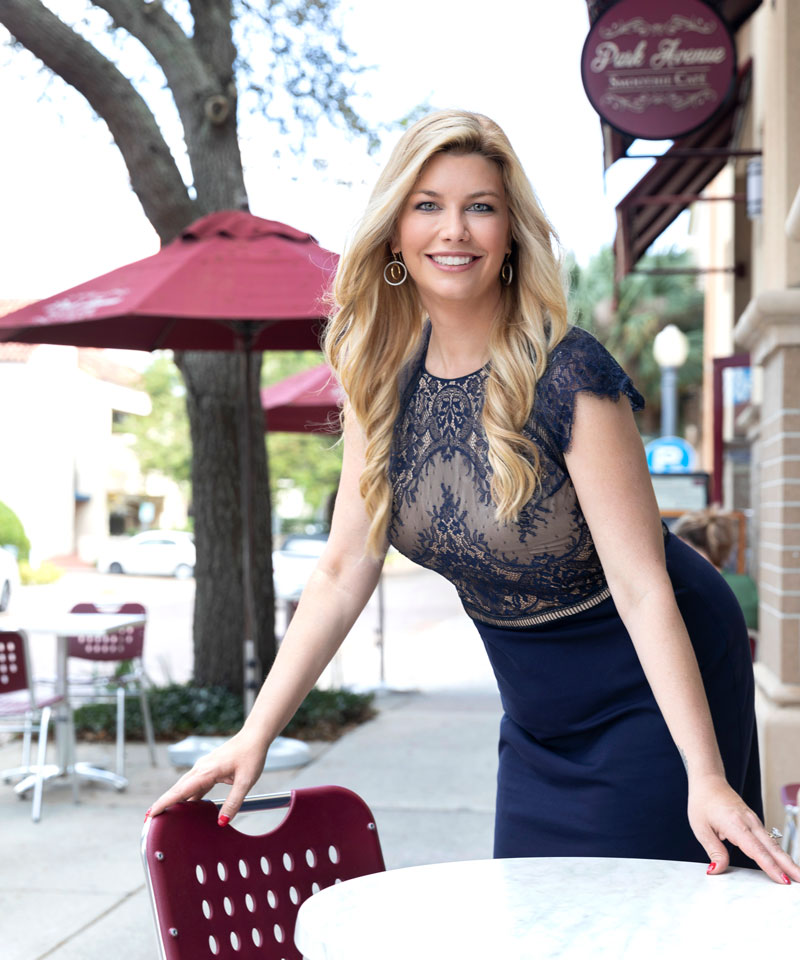 Whitney Laney
Realtor,
Fannie Hillman + Associates
THE GOOD SAMARITAN
Whitney Laney didn't set out to be an exemplar of the maxim that "virtue is its own reward." It just happened that way. Laney, a realtor with Fannie Hillman + Associates, has served as emcee for events sponsored by local chapters of the American Cancer Society, the National Multiple Sclerosis Society and the Children's Home Society of Florida. Earlier this year, she co-chaired (with Sarah Grafton, a past Influential) "A Pair to Remember," a fashion show at the Mall at Millenia Mall to raise funds for Easterseals Florida. And from 2008 to 2011, she was event coordinator for the "Baby DJ" Christmas toy drive at WXXL-FM (FM106), where she was an on-air personality. In memory of a friend who took his own life, in 2011 Laney founded the Donald L. DeVane Foundation to raise funds for the American Foundation of Suicide Prevention. And she has made multiple life-affirming mission trips to the Philippines to work with the Bob (father of Tim) Tebow Evangelistic Association. Lifting up others began early for Laney: "When I was really little, I remember going with my mom to Harbor House [for women and children fleeing abusive domestic situations]. We hung out in the cafeteria, talked to them and served them food. I realized then how fortunate I was." Since then, every time Laney has seen an opportunity to lend her head, heart and hands to help people in need, she has seized it. When Hurricane Dorian shattered the Bahamas in 2019, Laney coordinated a grassroots relief effort that included Air Unlimited, a local aircraft charter company, and hurried to the devastated Caribbean nation to personally deliver food and medical supplies. "I saw things and heard stories you can only know if you were there," she says. "I always cry when I talk about it." Laney, previously an on-air personality at WPOZ-FM (better known as Z88.3), is also a dynamic public speaker who tackles such topics as self-esteem and bullying. In addition, she's a member of the Winter Park Public Library board of directors. For all her far-flung contributions, Laney says her most rewarding adventure has been raising her two children: Barron, 7, and Hensley, 5.
WHAT SHE SAYS:
"I don't take anything for granted. I learned very young to be grateful for every blessing and to understand the fragility of life and circumstance."
WHAT THEY SAY:
"Whitney is a force of nature … she lives her faith through her actions … she's absolutely selfless … Whitney doesn't only send thoughts and prayers — she sends herself and her positive energy."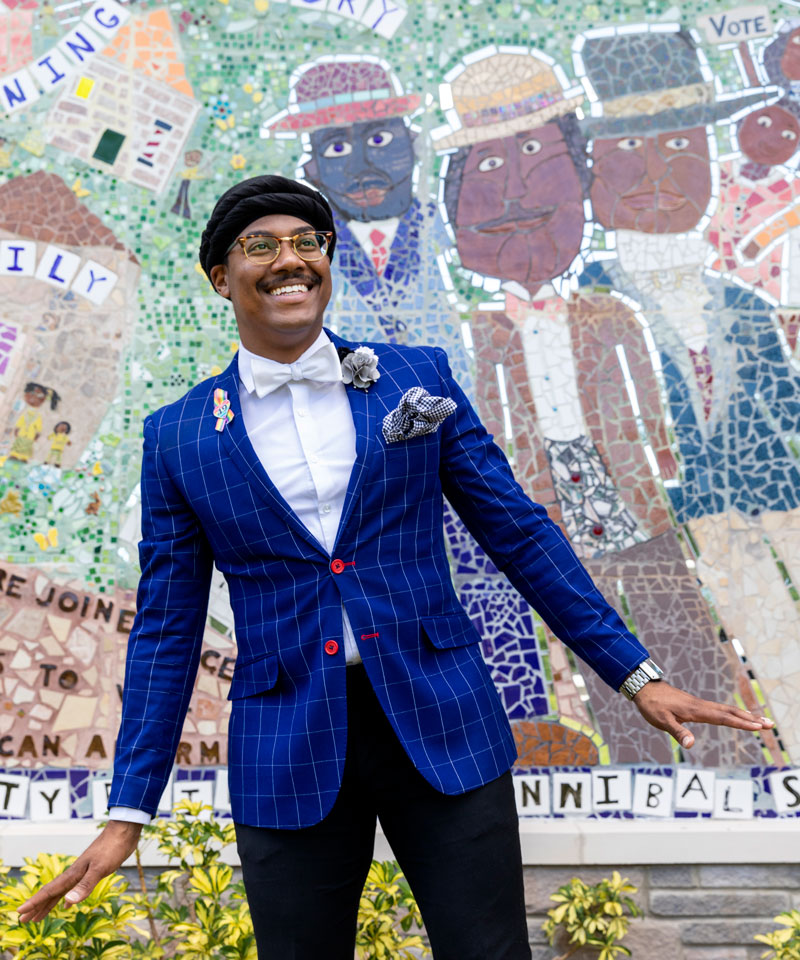 Chevalier Lovett
Senior Vice President and Managing Director, Organize Florida
THE OPERATIC ACTIVIST
Chevalier Lovett learned early the importance of preparation for crises. "They teach you in school the need to be prepared, and I realized we were not having those conversations at home." So, he took matters in his own hands. "I planned an evacuation route from our house in case of fire." Fire marshal Chevalier was 6 years old. His next project: "I made workout plans and a health and fitness plan for my sister, my mother and me, and gave them report cards on how they did." That launched Lovett on a journey of good works that have encompassed everything from the YMCA (a past membership and program director in Winter Park and Jacksonville) to Opera Orlando (a board member and performer as a lyric baritone) to the United Negro College Fund (a marketing and social media committee member). He sits on half a dozen other boards, mentors young people through Valencia Promise, a program that helps prepare high-schoolers for college, and is worship/music director at First United Methodist Church of Winter Park. All this is in addition to Lovett's day job as senior vice president and managing director of Orlando-based Organize Florida, an influential social justice nonprofit with branch offices in Kissimmee and Tampa. Chevalier — "Chev" to his friends — was named for French singer-actor Maurice Chevalier, a favorite of his grandmother. That's apt for a classically trained pianist and vocalist who has appeared in musicals, operas and in 2018 directed and accompanied the Jones High School Concert Choir in a performance at Carnegie Hall. Lovett's heart, though, is in Winter Park, where he grew up on the west side in a house built by Habitat for Humanity of Winter Park-Maitland. "I was 'voluntold' by my mom, Valerie, to help build it," says Lovett, a voracious reader and a 2018 graduate of Leadership Winter Park, a program of the Winter Park Chamber of Commerce. "I said to my mom recently, 'You're very close to the mortgage being paid off — let me help take care of it.' She said, 'I'm going to hang up now and cry.' It was my way of paying it forward."
WHAT HE SAYS:
"My mother said, 'For you to get the future I want for you, you'll have to fight for it, work for it and build toward it.'"
WHAT THEY SAY:
"Being around Chev, I'm reassured about the country's future … an outstanding and talented young man … tackles everything with youthful enthusiasm."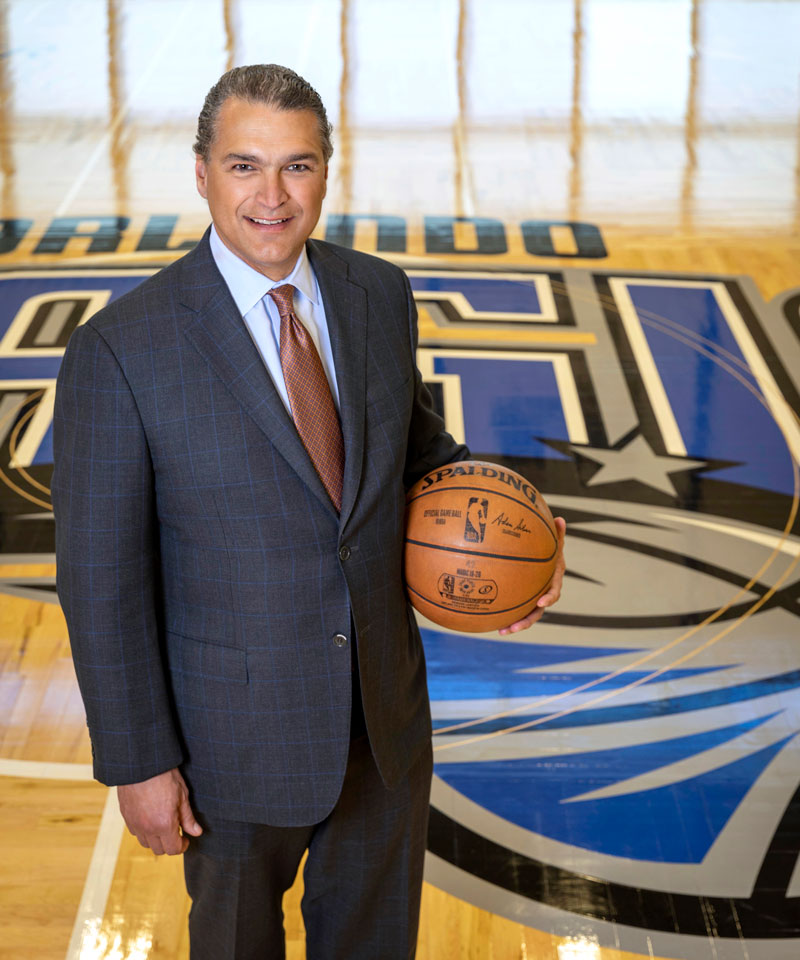 Alex Martins
CEO, Orlando Magic
THE HOOPS HONCHO
It's hard to imagine Orlando without the sports-business-philanthropic enterprise that is the NBA's Orlando Magic. And it's just as hard to imagine the Magic without Alex Martins. In 1989, when General Manager Pat Williams sought a public relations director for the fledging franchise, he was turned down by his first seven choices before Martins, a Villanova University grad and a twentysomething assistant sports information director at Georgetown University, took the job. The ambitious young workhorse — as he was aptly described by Williams — stayed until 1998, before accepting executive marketing positions with the NBA's Charlotte Hornets and the NFL's Cleveland Browns and serving as tournament director for the Tavistock Cup, a PGA-sanctioned event held at Orlando's Lake Nona and Iselworth country clubs. In 2005, Martins returned to the Magic and was named president and COO before becoming CEO in 2010. Martins notes that he and Charles Barkley joined the NBA on the same day in 1984 — Barkley as a rookie with the Philadelphia 76ers, Martins as an assistant in the team's PR department. But unlike his outspoken friend, Martins believes that "it's the responsibility not only of athletes but teams to be role models. Sports have an incredible platform to impact society beyond just playing games." Martins, certainly, has walked the walk. His fingerprints can be found on virtually every major local civic project and philanthropic effort over the past 30 years — including the opening of the Amway Center in 2010 and the development of the Orlando Magic Youth Foundation, which has distributed some $25 million to local nonprofits. He is vice chair of the University of Central Florida board of trustees, and has served on a host of commissions dealing with issues ranging from homelessness to economic development. Martins learned a lot about leadership from his late boss, Magic owner Richard DeVos, who "treated every usher, every ticket taker, every employee like they were the most important person in the room." Martins and his wife, Juliet — with their two daughters in tow — moved from Windermere to Winter Park in 2007. Says Martins: "We fell in love with the feel of the entire community."
WHAT HE SAYS:
"True leadership is leading by example. Don't expect or require anyone to do something that you wouldn't do yourself."
WHAT THEY SAY:
"Professional sports is pretty cutthroat, but Alex is such a genuinely nice and compassionate man … whether the Magic win or lose, they're a credit to the community and to the culture of corporate citizenship created by the DeVos family and Alex."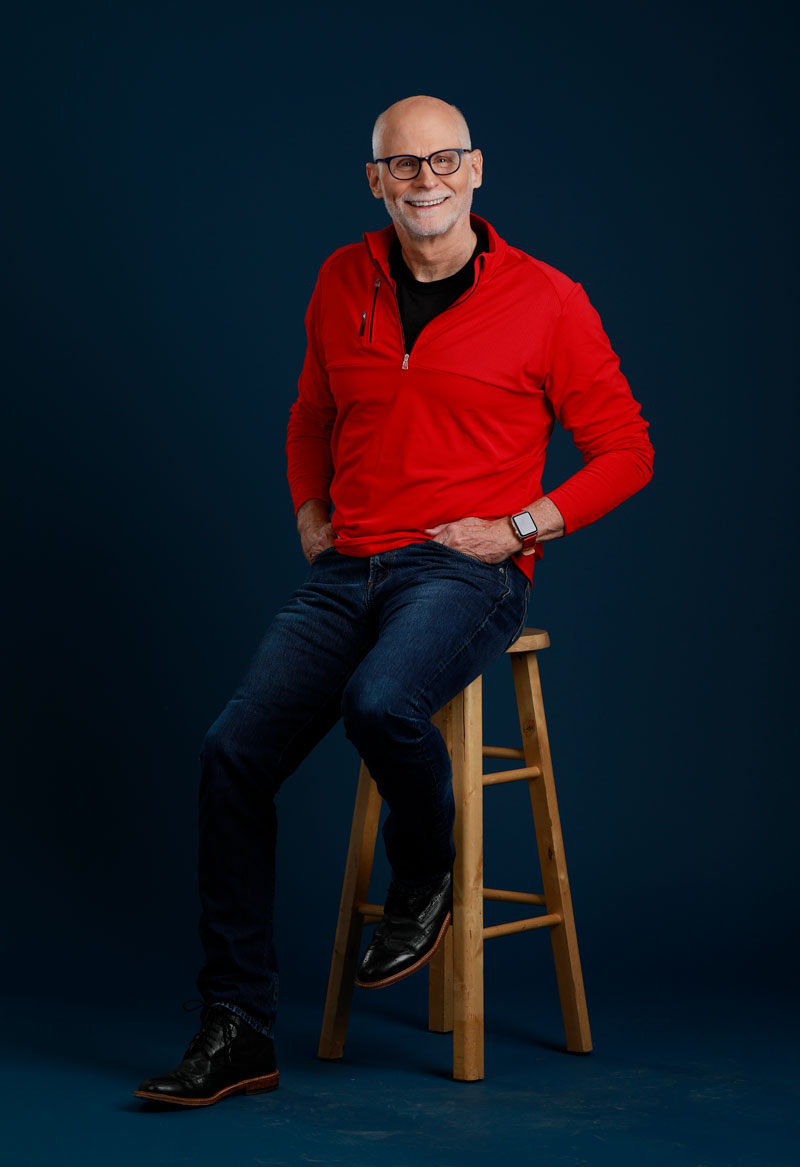 Marc Middleton
Founder and CEO,
Growing Bolder LLC/Bolder Media Group
THE AGEISM AVENGER
Marc Middleton, former anchor at WESH-Channel 2, hasn't appeared on a local news-cast for 14 years. After a 16-year run at the local NBC affiliate, he walked away from his high-profile job only to become even more recognizable as founder of a burgeoning multimedia empire focused on providing hope and inspiration for the 50-plus crowd. Bolder Media Group, based in Winter Park, produces the Growing Bolder television show, which can be seen on more than 300 PBS stations nationwide, and publishes Growing Bolder Magazine, a hefty quarterly filled with stories of ordinary people living extraordinary lives. There's also a syndicated Growing Bolder radio show. More recently, Middleton has written a provocative book, Growing Bolder: Defy the Cult of Youth, Live with Passion and Purpose. And in partnership with Florida Blue, the state's leading insurer, his company has launched a membership organization that includes access to the online Growing Bolder Portal and its videos, documentaries, newsletters and special offers. Now Bolder Media has debuted a traveling live event, Growing Bolder: Launchpad to What's Next, which Middleton describes as "a three-ring circus of innovation and motivation." An Ohio native, Middleton attended FSU on a swimming scholarship. He had been a sportscaster in Savannah and Phoenix before being hired in 1988 by WESH, where he became a community institution along with colleagues Bill Shafer and the late Wendy Chioji. (He also met his future wife, Jill Kalstrom, who was a producer at the station.) But the upbeat Middleton became increasingly disenchanted with local news, where the philosophy seemed to be "if it bleeds it leads." In 2006 he resigned, assembled backers who shared his vision and started Bolder Media. He was soon joined by Shafer, his on-air sidekick, and Chioji, who became a roving correspondent. Practicing what he preaches, in 2010 Middleton resumed competitive swimming after a 37-year layoff and subsequently helped set six relay world records. In 2014, he traveled to Tanzania to climb Mount Kilimanjaro along with Chioji (then battling cancer for a third time) and other survivors of the disease along with their families. The resulting documentary, Conquering Kilimanjaro, aired nationally on the RLTV network.
WHAT HE SAYS:
"The key to living a happy and engaged life is simply to pursue your passions. That's what keeps people alive, and that's a powerful message for people of any age."
WHAT THEY SAY:
"An inspirational figure who has identified a market eager to hear his message … a crusader who's effective because of sincerity and great communication skills … Marc has made a difference in more lives than he'll ever know."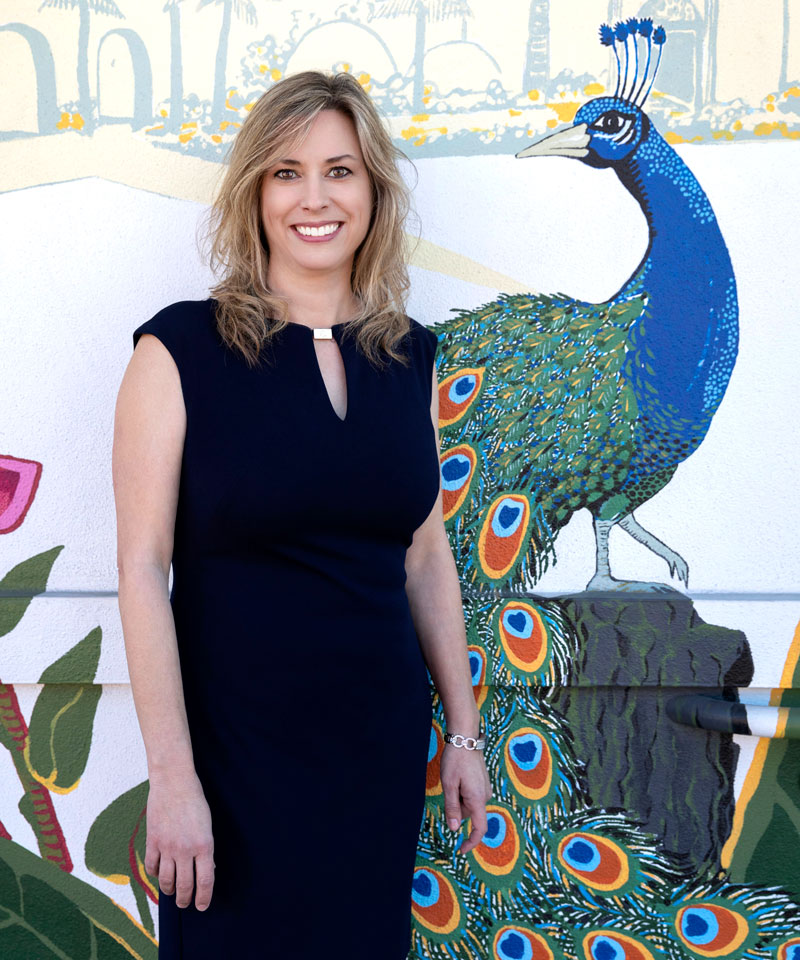 Kristine Miller
Executive Director,
The Gardens at DePugh Nursing Center
THE GUARDIAN ANGEL
Kristine Miller brings a heart for help-ing and a head for systems to her job as executive director and administrator at The Gardens at DePugh Nursing Center. Since taking the helm at the historic (and cozy) 40-bed facility three years ago, Miller — usually called Kris — has had a major impact. In December, DePugh won accreditation by the Joint Commission — the nation's oldest and largest healthcare accrediting organization — and was named one of the state's few Governor's Gold Seal healthcare facilities. It's also five-star rated by the Center for Medicare and Medicaid Services, a federal agency within the U.S. Department of Health and Human Services. Miller grew up in the Washington, D.C., area, where her father was a nuclear engineer and her mother was a social worker. A graduate of the University of North Carolina at Greensboro with a mathematics and political science degree, Miller didn't initially envision a career in nursing home management. That was the province of her husband, Kevin, who ran a facility in rural Western Maryland, where the couple began raising their three children, now ages 13 to 24. Miller, who earned an MBA from Frostburg State University, ultimately accepted a management position at Oakland Nursing Home and Rehabilitation Center, a 120-bed facility near their home, where she spent seven years and says she "loved every minute." Later, she worked in human resources and organizational development for Beitzel Corporation, a diversified contractor, and its subsidiary Pillar Innovations, a manufacturer of machinery. When Kevin Miller (who has since begun a career in real estate) took a job at Westminster Towers in Orlando, he hired away DePugh's administrator. Kris Miller, though, was a perfect fit for the small nonprofit, which opened in 1956 as an outgrowth of charitable work by legendary west side advocate Mary Lee DePugh. Miller, during her stint, has been a hands-on manager who emphasizes a family work culture. For example, her new employee bonus program, giving back a percent of operational profits, has helped reduce turnover by one-third. When families suddenly need a nursing home, Miller notes, few have a plan. She adds: "Not only are we here, but we do a really good job at what we do."
WHAT SHE SAYS:
"I want The Gardens to become an integral part of the community, a resource for families in planning for the future needs of the elderly and an example of the excellent care that can be received here in Winter Park."
WHAT THEY SAY:
"Kris gracefully and forcefully deals with adversity, graciously passes kudos along when she could have retained them herself, and deals understandingly with families experiencing great emotional distress and sadness."
Jim and Alexis Pugh
Philanthropists
THE POWERHOUSE PATRONS
Bursting with starry imagery and with 32 colorful backlit abstracts embedded in the ceiling, the intimate Alexis & Jim Pugh Theater at the Dr. Phillips Center for the Performing Arts is a jewel box of a venue — hosting everything from stand-up comedians to operatic productions. In fact, the Pughs have the distinction of being the only Influentials to be photographed at a place named in their honor. That's only fitting, since they donated millions of dollars of their own money and helped to raise millions more over the course of a decade to turn the longstanding dream of a world-class, multitheater complex into a reality. The $600 million project, financed through a combination of public and private funds, will be completed later this year with the opening of Steinmetz Hall, named for another pair of Winter Parkers (and past Influentials) Chuck and Margery Pabst Steinmetz. Jim Pugh, founding chair of the arts center's board of directors and the project's leading light for 18 years, is now chairman emeritus of the company he founded, Epoch Properties, which is one of the largest developers of upscale multifamily projects in the U.S. (He also owns Barnies Coffee & Tea Co., with a flagship café on Park Avenue.) Born in Winter Haven — his father was a carpenter, his mother a citrus canning plant worker — Pugh worked three jobs to pay tuition at the University of Florida, from which he earned a degree in construction management before becoming an Army Ranger. As a businessperson, Pugh has for decades been a civic force through his service on countless nonprofit boards, among them the Holocaust Resource & Education Center. He recently spearheaded a fundraising drive for the center, which plans to build an expanded museum in downtown Orlando. In 2018, Pugh was named a member of the Horatio Alger Association of Distinguished Americans alongside a who's who of luminaries who've made a difference through altruism and philanthropy. The Pughs, who married in 1987, pursue their individual philanthropic interests. Alexis Pugh, who has a journalism degree from West Virginia University and spent 35 years as an advertising and public relations executive, is a member of the boards of the Bok Tower Gardens National Historic Landmark in Lake Wales, the Cornell Fine Arts Museum at Rollins College and Harbor House of Central Florida — a domestic violence shelter. She's also an active supporter of her alma mater, serving on the WVU Foundation Board and recently helping to fund the College of Media's Alexis and Jim Pugh Media Innovation Lab.
WHAT THEY SAY:
"Winter Park is an ideal place to live. The people here are special and care about the community; there's a lot of great work and volunteerism going on." (Jim Pugh)
"I love the beauty of the town. I love the brick streets and the ability to walk downtown from our home. Park Avenue is a treasure, but it's sad to see so many empty storefronts right now." (Alexis Pugh)
WHAT OTHERS SAY:
"I'm not sure who else would have had the tenaciousness and stature to lead the Dr. Phillips Center to completion … the Pughs are best known for the arts center, but have made a difference in so many ways … Jim's biography is a classic American success story — and it's even better because he and Alexis pay it forward."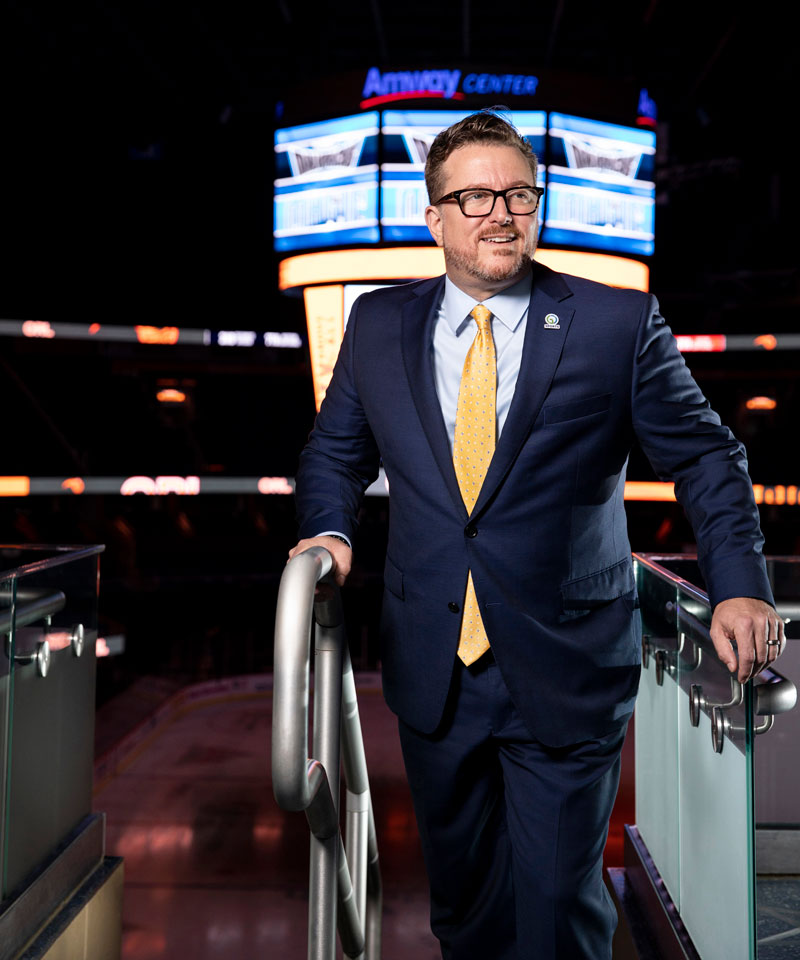 Jason Siegel
President and CEO,
Greater Orlando Sports Commission
THE GOOD SPORT
If Orlando wins its bid to be a host city for the 2026 FIFA World Cup under the leadership of Jason Siegel, president and CEO of the Greater Orlando Sports Commission (GO Sports), you can thank the college professor who scheduled Siegel's organic chemistry lab at 7 a.m. The crack-of-dawn class for premed students persuaded the Binghamton (New York) University undergrad to drop plans to become a doctor and switch to economics — setting him on a path to becoming a sports impresario. Medicine's loss has been Orlando's great fortune. Since arriving in 2011 as managing partner of the revived Orlando Solar Bears hockey franchise, Siegel — a Philadelphia native who had been an executive at minor-league hockey franchises in New Jersey and Texas — created plenty of excitement around the Solar Bears, which topped the ECHL (East Coast Hockey League) in attendance during his tenure. As head of GO Sports since 2016, Siegel has helped lasso some 200 elite events — including WrestleMania 33 (2017), first- and second-round games in the NCAA Men's Division I Basketball Tournament (2017), the MLS All-Star Game (2019) and the NFL Pro Bowl (2017-2020). The NCAA also brought its Men's and Women's Tennis Championships to Central Florida in 2019 and was set to return in 2020 until the COVID-19 pandemic prompted cancellation. The virus also scuttled the 2020 Monster Jam World Finals XXI — but the Special Olympics USA Games are coming in 2022 and many more big events are in the pipeline. In fact, GO Sports during Siegel's tenure has generated more than $500 million in economic impact for the community, which is running out of awards to bestow upon him — Orlando Business Journal CEO of the Year (2017), Orlando Magazine's 50 Most Powerful (2019) and I4 Business' Leader of the Year in Sports Tourism (2019) have been among the kudos. Siegel's impact extends beyond arenas and playing fields to the wider community, where he and his wife, Sarah Grafton (a past Influential), serve on a variety of philanthropic organizations and are active supporters of the Albin Polasek Museum & Sculpture Gardens and the Winter Park History Museum — for whom they have charmed supporters as emcees of the organization's annual Peacock Ball.
WHAT HE SAYS:
"Good is not good enough when better is expected."
WHAT THEY SAY:
"Jason is a relationship builder … he's one of the most respected people in our industry and a strong advocate for Winter Park … there's tremendous competition for these big events — not many people could have been as successful as Jason at landing them."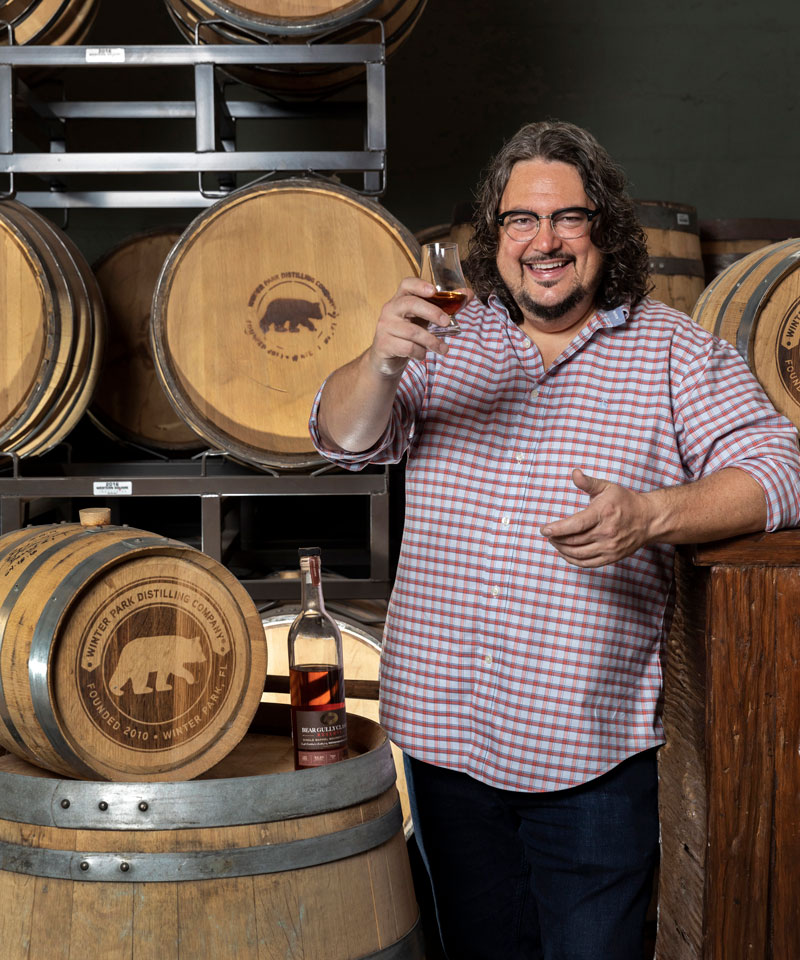 Paul Twyford
Co-founder and President,
Winter Park Distilling Company
THE FREE SPIRIT
Paul Twyford says he was never a rah-rah, school-spirit type at Winter Park High School: "I wasn't in any clubs; I wasn't the student council guy." Thirty years later he is, arguably, the city's leading "spirits" guy — in bottle and soul — as co-founder of Winter Park Distilling Company, the first (legal) distillery in Central Florida. Starting the business in 2010 with childhood friend Andrew Asher thrust Twyford into the limelight and transformed the avowed nonjoiner into a community butterfly. "I didn't really have that high on my list of goals," says Twyford, who now holds leadership positions with the Winter Park History Museum, the Winter Park Chamber of Commerce and his alma mater, Rollins College, where he's on the advisory board of the undergraduate department of business. "It's a measure of giving back to a community that embraced a lot of things I've tried to do," he says. But when Twyford completed his economics degree, his first inclination was to head for Wall Street. "I had friends who went that route," he says. "But I'm sort of a nonconformist who doesn't color inside the lines." Career lightning struck on a vacation out west. "I expected to see some beautiful wineries and craft breweries," he recalls. "Then I stumbled upon some craft distilleries. I thought, 'Why don't we have any of these in Florida?'" Twyford went to Asher, an attorney, with the idea of making bourbon, whiskey, vodka and rum in Central Florida. "Andrew said it would be easier to go into the uranium enrichment business," he laughs. Nevertheless, they persisted — and in 2010 opened for business in a small Winter Park warehouse. Soon, they were selling award-winning spirits around the world. In 2015, the distillery moved to a gentrifying commercial stretch of North Orange Avenue, in the former State Auto Body building. Twyford, Asher and his wife, Francesca, then opened The Bear and Peacock Brewery next door. The "brewstillery" began a retail sales operation and became a visitor destination, often drawing 200 people a week for tours. During the COVID-19 pandemic, the company began making hand sanitizer and donating much of it to nonprofits and first responders.
WHAT HE SAYS:
"I try to be a positive guy who lifts up the people around me. I think people who know me know I'm a straight shooter, and they appreciate that honesty."
WHAT THEY SAY:
"Paul is indicative of the eclectic entrepreneurs who've been successful in Winter Park … interesting, funny and committed to his craft
and to the community."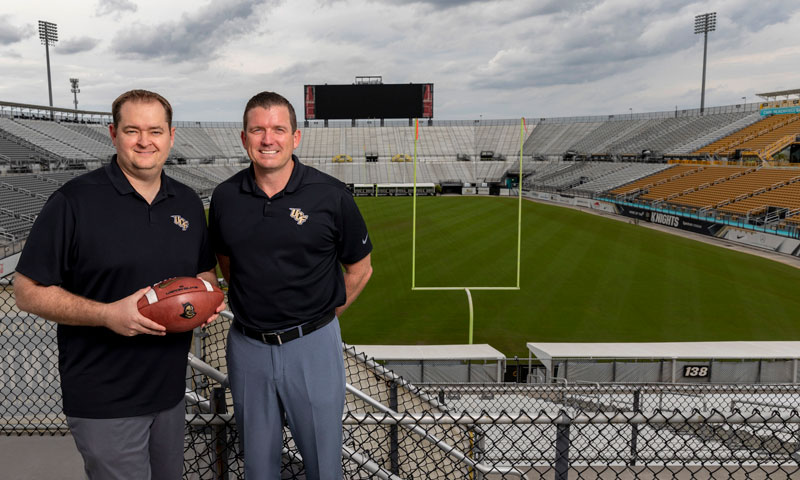 Danny White
Vice President and Director of Athletics, University of Central Florida
Josh Heupel
Head Football Coach, University of Central Florida
THE KNIGHT SHIFT
As point men of the University of Central Florida's surging football program, Danny White, athletic director, and Josh Heupel, head coach, have become BMOC — Big Men On Campus. And off campus, too, in Winter Park, where both live with growing families that have taken root and blossomed like azaleas. When courted by UCF — White in 2015 and Heupel (who was hired by White) in 2017 — they knew the Golden Knights as a program on the rise. They were enticed by state-of-the-start athletic facilities at UCF and the region's stature as a tourist-entertainment mecca — big plusses for recruiting. The surprise bonus, they agree, was Winter Park, which neither had ever explored during previous trips to Central Florida. There are, of course, many family-oriented neighborhoods in east Orlando. So why did White and Heupel choose the City of Culture and Heritage, which sits nine miles from UCF as the crow flies? There were the usual reasons: beautiful homes, brick streets, massive oaks and a tight-knit sense of community. But faith played a major role, too. "Our search for Catholic schools started our direction toward Winter Park," says White. He and his wife, Shawn, settled on St. Margaret Mary for their four children. Heupel and his wife, Dawn, were also seeking a Catholic education for their two children, who joined the White siblings at the highly regarded parochial school. White was athletic director at the University of New York at Buffalo when UCF came calling. "I told the kids we're moving next door to Mickey Mouse — not a hard sell," he laughs. Heupel, who spent most of his coaching career as an assistant under Bob Stoops at Oklahoma, relocated from Missouri, where he had spent a season as quarterback coach for the Tigers at Mizzou. "The community has been fantastic," he says. "Our kids absolutely love what they're involved in." The high-profile commuters have been impressed by the support of their neighbors for the Knights football program, which famously proclaimed itself national champion after a 12-0 season in 2019. But UCF is more than a football school. In 2018-19, both the men's and women's basketball squads merited NCAA Championship invitations — with Johnny Dawkins' men's team nearly upsetting top-seeded Duke in the second round. CBS Sports ranked the Knights' 2018-19 across-the-board athletic performance 17th best in the country.
WHAT THEY SAY:
"I tell [my kids] every day they have a country club existence. It's such a wonderful community." (White)
"One summer day our players finished working out at 11:15, and by 12:15 my kids were in the water taking surfing lessons." (Heupel)
WHAT OTHERS SAY:
"Danny and Josh are first and foremost tremendously family centered … both are quality people in every way … anybody who knows the history of UCF athletics should really appreciate how far they've brought it to national prominence."