Illustrations by John Nadeau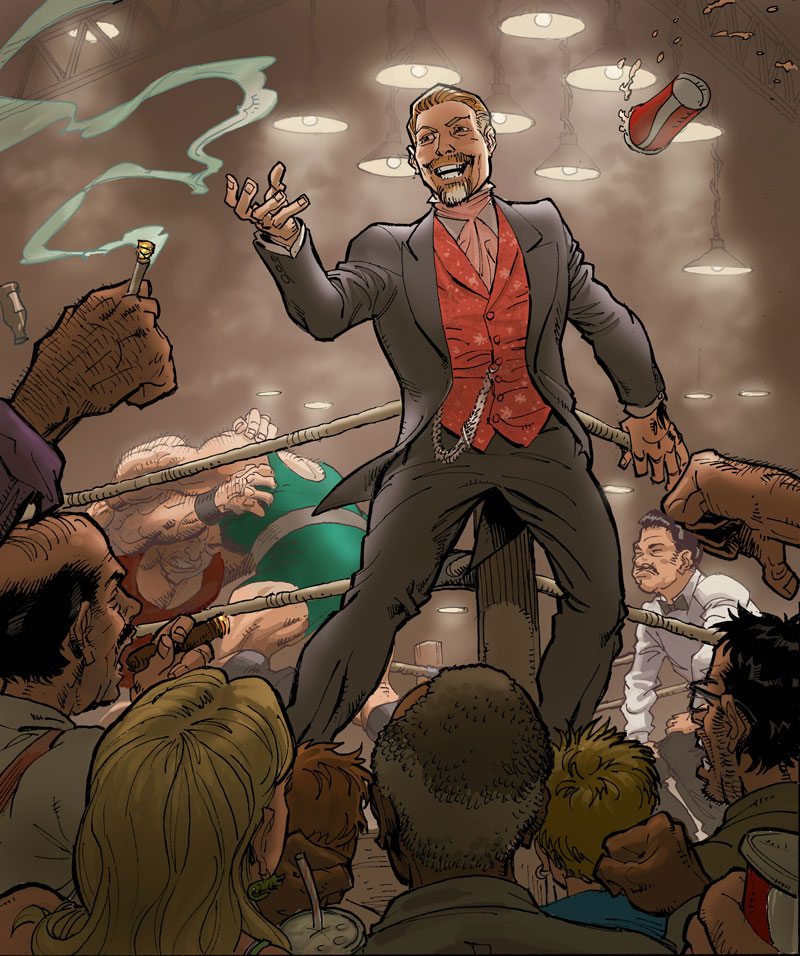 The stadium lights had a hypnotic effect. As we stepped into the ring, the canvas floor glowed as blue as a TV screen, and the ropes around it might have been the gorged arteries of some man-eating plant.
The announcer introduced us: first, my charge, Mike Masters, challenger for the Southern Junior Heavyweight belt, and then me, his manager, Sir Rupert Birkin. The fans welcomed us with lusty boos and insults.
I was momentarily stunned: No one out there could possibly know Sir Rupert. I'd barely made up the name in time to get it in the program. I began to wonder what I'd gotten myself into.
Hot-dog wrappers and ice cubes began to sail into the ring. I looked out over hundreds of faces eagerly expecting the worst of us, and an uncanny excitement began to capture me. I walked to the ropes, pointed at some raving stranger and shouted, "Shut up!"
The boos grew more passionate and someone else shouted back, "You stink, Rupert!" and a Coke cup hit my shoulder. It was 1986 and I was 30 years old, going on 12. I knew this was going to be fun.
I was having my muffler fixed when I read the ad: "WRESTLERS! WRESTLERS! Be a pro," it shouted, then almost disappeared, like a shadowy figure that whispers, "Hey, mister, over here," then ducks into some dark doorway.
I read it again. There existed, it appeared, an institution of higher education known as the Central Florida School of Wrestling.
In an instant, my desultory Saturday blues were swept away. As a kid, I had been fascinated by wrestling, amazed by its athletes and pleasantly appalled by its theatrical license. My brother and I played Jack Brisco and The Great Malenko in the yard until I impaled him on a sprinkler.
But never once did it cross our minds that wrestlers went to school. I suppose we thought the promoters found new talent by bailing it out of jail. Old daydreams began to stir. When I confided this new inspiration to family and friends, the response was a near-unanimous sneer.
One or two worried about my health, primarily physical. Only my mother was unconcerned: She understood me to say I was going to "resting" school, which she thought redundant in my case but at least indicated I wanted to do something well.
The idea became irresistible. I called the school and said I was a writer. I wanted to attend sessions and find out what a man might have to go through to enter the squared circle.
SCHOOL OF HARD KNOCKS
"Do you know about my Italian friend?" Rocky Montana asked. The wrestlers in the ring disentangled themselves, and one of them, a new student (me), looked up at him and shrugged.
"You know what La Scalla is?" he continued. "It's a famous opera house in Italy. One day, this American opera singer goes there to sing. After he's done, the audience starts shouting 'Again! Again!' So he comes back out, sings it again and they're shouting at him."
Then Rocky made his point: "Seven times this happens, until the signer finally says, 'Look, thanks very much, but I'm a little tired and I really gotta go.' At which point, this little Italian guy way up in the balcony leans over and yells, 'You're gonna do it again until you get it right!'"
Rocky was the trainer at the Central Florida School of Wrestling, and that story could have been his school's fight song — or its aria. Struggling there on my back, trying to squirm my way out of a head-scissors, I began to understand viscerally that there was no trick.
---
The boos grew more passionate and someone else shouted back, "You stink, Rupert!" and a Coke cup hit my shoulder. It was 1986 and I was 30 years old, going on 12. I knew this was going to be fun.
---
Professional wrestling is an art, at least down there at the level of the mat. And there is a distinct order to the mayhem that occurs in the ring. Each hold and its reversal is as precise as a dance step — a thing of beauty if you know it well, an impossibility if you don't.
Never before had I felt the weight of my ignorance so literally; no matter what I tried, those legs stayed locked around me like whale jaws. I had been shown how to break the hold, but I couldn't do it right and couldn't coordinate my moves. I considered tickling the man.
"Try it again, girls," Rocky ordered, and we did. Twenty or 30 times.
So, is wrestling fake, or what? By now, everyone knows that wrestling is "sports entertainment" in which the outcomes are predetermined. But back then, there was still a pretense that chaos in ring — and outside it — was entirely spontaneous.
I wasn't entirely sure myself.
"What's a fake? " Rocky asked rhetorically, in response to my timidly posed question during my first day at the gym. "A fake is something you don't see. In wrestling, we make you see what you believe."
Continued Rocky: "If somebody comes in here and asks, 'Is wrestling fake?' I tell them, 'Let's get in the ring and see how much of it is fake.' But if you ask some legitimate question, like, 'How much of it is showmanship?' that's another story. This ain't no trick. This is hard work."
Wrestling is a kind of heavyweight ballet. Maybe two dozen basic holds, throws and reverses make up the essential tools of ringwork from which hundreds of variations and combinations are possible.
To survive, let alone succeed, a wrestler must master of most of these possibilities and be able to improvise the rest. To be a good wrestler takes years of training — practicing holds and breaking them until each is simple, seamless and effective.
But the word "ballet" can be misleading. Wrestling is indeed like dance in the sense that it's two (or more) people using movement to entertain. Although who'll ultimately win is known by the combatants, the matches are more akin to jazz improvisations.
A working wrestler (or "worker") will have six or seven matches a week, each in a different city against a different opponent. Even if they wanted to rehearse, there'd be no time. Each wrestler works his own instrument against the other as the crowd lays down the beat.
At Rocky's gym, in a warehouse in Pine Hills, we were taught that it wasn't enough just to step into the ring. "Walk around, check for any weak spots, check the ropes, let the crowd know you're there," Rocky explained, which seemed easy enough.
"No, no, no, you're too tight!" he shouted. "You gotta look comfortable in there. Loosen up! Well, don't sashay! You're a wrestler. Strut a little!" When I had finally put acceptable purpose in my stride, Rocky grunted me out of the ring and brought me over to Topper, an accomplished alumnus who was about my height, but twice as massive. "Take him through the lock-up," Rocky said.
I took a deep breath.
There were no formal classes at the Central Florida School of Wrestling — no lectures and few moments when everyone's attention was focused on the same thing. There was one ring, a punching bag, a couple of barbells and plenty of floor space where students could pair off to work on holds.
Most of the teaching was done by experienced students, while Rocky stood by the door or sat on the ring apron, watching. He interrupted only when things provoked his displeasure — which is not to say infrequently.
Learning the ropes
Rocky Montana's 35 years in wrestling, like everything else about the sport, were shrouded in mystery. He said he was trained by the legendary Antonino Rocca, "Argentina Rocky," back in Brooklyn in the early '50s, along with another legend, Bruno Sammartino.
After that, he said, he wrestled all over the world, alone and with his brother, Lenny, who together were called The Medics and The Assassins — two tag teams that had earned a place in wrestling infamy.
Rocky showed us trophy belts that proclaimed him a seven-time Georgia State Champion and an International Heavyweight Champion. He claimed that he had worked against such luminaries as Dory Funk, Dusty Rhodes and Andre the Giant.
There is, of course, no wrestling hall of records to verify any of this. But watching Rocky in his rare moments in the ring washed away any doubts about his ability.
From an unlikely-looking collection of 55-year-old arms and legs issued moments of transcendent athletic grace that could come only with years of experience doing it with — and as — the best.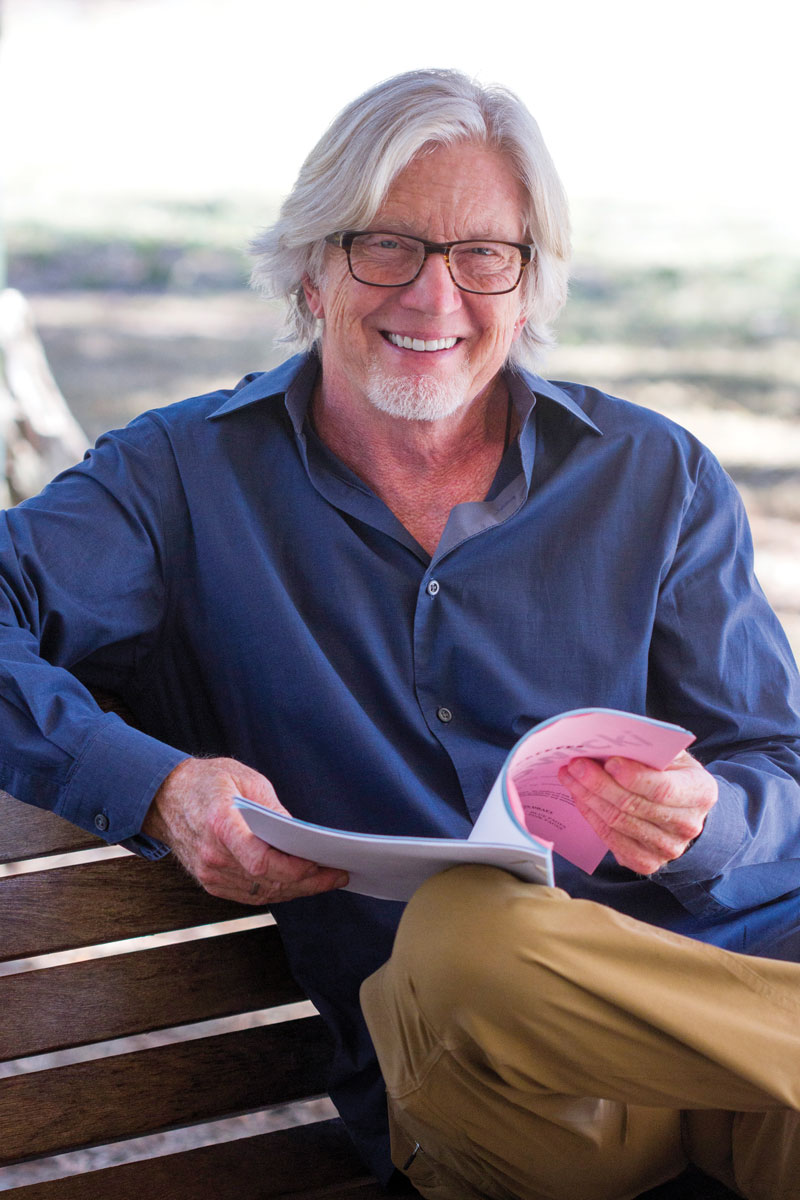 Fortunately, Rocky was occupied while Topper patiently taught me the lock-up, a basic opening move in which the wrestlers meet in the center of the ring and lock arms at the neck and shoulders.
From there, he showed me the upper wristlock and how to reverse it into the hammerlock, and how to reverse the hammerlock back into the upper wristlock.
This is the first combination taught to a wrestler, and it introduces much more than the moves themselves. The contact, and the effort to apply the holds correctly, felt invigorating.
But the obvious power behind Topper's moves was an unsettling new sensation — and he wasn't even trying. It was like the first time you touch a loaded gun; invariably, you imagine what it's like to have one pointed at you.
I've never been a quick study, and that day I was particularly slow. "Step out, go under," Topper called. "That's it, pivot, Whoa! Whoa! Easy!" Each placement of the hands, the length of each step and the timing of each pivot is critical. And even though I could understand each separately, I couldn't harmonize them.
My gracelessness caused Topper a little suffering and "stretched" him, as they say in the ring. But he was remarkably easy, or "light," on me. Wrestling is a balancing act between danger and spectacle. Every hold is legitimate and can be disabling. But it's a working-class sport: If a man doesn't wrestle, he doesn't get paid.
So, a wrestler who is "light," who can control his man without hurting him so badly that he can't make his next match, is admired. One who is "heavy," a "crowbar," is a real menace. In those awkward first few hours, there was no tool sold at Sears crude enough to compare with me.
Rocky saw it immediately. "Relax," he admonished. "You're stiff as a board. You get tight, nobody can work with you. Look at your elbows — they're still sticking out like wings. Relax your shoulders."
Relaxing was about the last skill I expected would be handy to a wrestler. But watching the better students in the ring proved the truth of it. A relaxed athlete can adapt to any situation — but the tight ones lose concentration when something goes wrong.
While a student learned the fundamentals, Rocky tested him — there were, perhaps unsurprisingly, no women in the class — for the fortitude that can't be read in a person's physique.
"To be a professional wrestler, a man's gotta have it in his head and in his heart," Rocky said. "If he don't, what's the point of my training him, taking his money? If he can't take me shouting at him, what's he gonna do in front of a crowd? He'd go nuts."
"THE FANS'LL KILL YOU"
During my first few weeks, I constantly expected Rocky to conclude that even for a writer, I was a hopeless wrestler. I fell into the habit of apologizing whenever I missed a move and thought I hurt my partner. Rocky was unimpressed:
"You can't worry about hurting a guy a little. What are you gonna do, stop the match to apologize? You ain't gonna have to worry about that other guy. The fans'll kill you."
The people I trained with were not, as one might have expected, mutants or marginal personalities. They were, by in large, serious athletes. There was a fireman and an executive chef, a male stripper and a probation officer, a couple of truck drivers, a lineman for a utilities company and a Marine sergeant. And they all shared a passionate hunger to fulfill a dream.
They didn't talk much about the sacrifices, but they were considerable. There were the long hours in the gym; for beginners, at least two days and two nights a week.
And there were the injuries, which were undeniably real. The elbow, knees and forehead of any wrestler become veritable gardens of scar tissue. Shoulder separations and broken legs are common.
"Taking a bump" is the euphemism for the crash landing you endure when a wrestler throws you through the air.
The floor of a ring is usually plywood or aluminum with a thin layer of canvas-covered padding. Colliding with it is probably the quintessential wrestling experience: exhilarating and unkind, a matter of graceful technique or a painful lack of it.
Taking a bump properly comes down, again, to relaxing. "That first bump is always the worst," Rocky chuckled. "It's all in the mind. It hurts a lot more to think about than to do."
The point is more than just knowing how to fall — it's also learning how to fly. When a wrestler feels a throw coming, he must launch himself into the air so that he retains control of how and where he hits.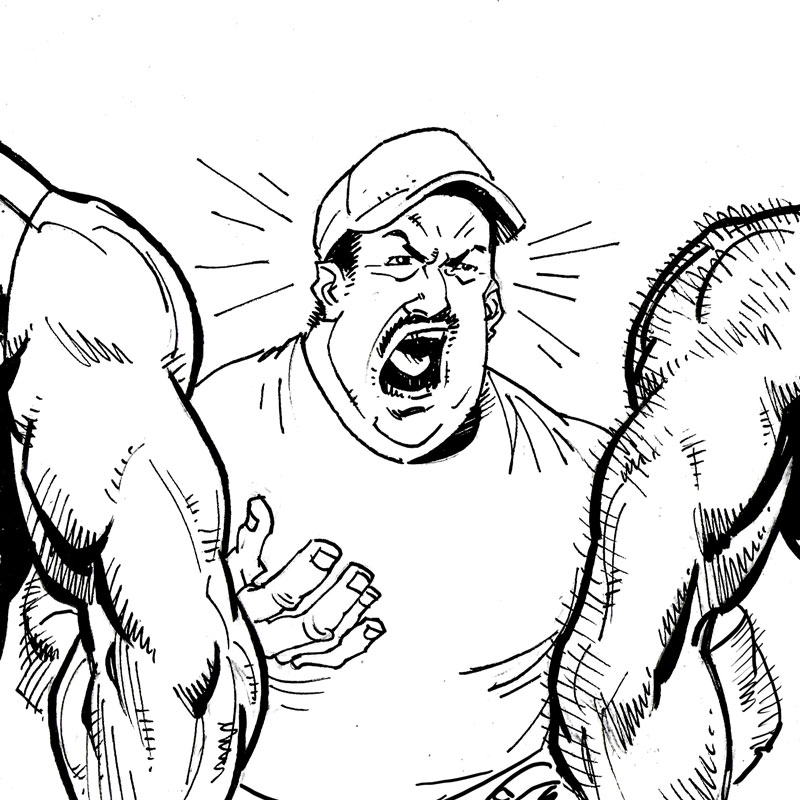 ---
While he made no claims to it, Rocky built character as well as wrestlers. To him, those who worked out at his gym were family. (At least two over the years became his adopted sons.) Rocky's lesson was the honor of hard work well done.
---
And these flights can begin from some rather dramatic heights and radical relationships to gravity. Bumps separate the men from the wrestlers.
One evening I was in the ring with Terry, who stood 6-foot-6. He whipped me into the ropes and as I bounced back toward him, I saw that he was positioned to administer a body slam.
Before I could point out that I hadn't yet been trained for that, he scooped me up over his shoulder, inverted and unloaded me like a sack of grain. It seemed like an eternity before I hit the canvas.
The notion that pain ends when the spirit leaves the body was the only confirmation I had that I was still alive. That, and the sounds of merriment from outside the ring. But before I could make notes for self-improvement, Terry pulled me up by the hair and hoisted me for another slam.
This went on for a while. I took a variety of bumps and even found, much to my surprise, that I had begun to enjoy them. Rocky was right: After the initial shock, the thrill takes over from the fear.
Good thing, too. Because of my size, which is laughable by wrestling standards, as soon as I was taking bumps, my usefulness at the gym grew geometrically. Students who needed to practice throws sought me out, since my comparatively light weight made it easier to work on the mechanics.
And a few of these bumps became the stuff of legend. One pair of legs accustomed to dealing with 250-pound wrestlers nearly launched the 165 pounds of me into the trophy collection on top of the office. This move came to be known among my cohort as "the journalist."
Of course, it wasn't all blood and sweat on the mat.
On occasion, Rocky would bring us home with him after a workout to watch tapes of exceptional matches. We would arrive with the intention of studying the tapes with dinner (which Rocky's wife, Johnnie, would improvise for us with saintly forbearance) and normally not leave until well after even the family dogs were snoring.
While he made no claims to it, Rocky built character as well as wrestlers. To him, those who worked out at his gym were family. (At least two over the years became his adopted sons.) Rocky's lesson was the honor of hard work well done.
The tapes were dissected move by move. Key moments were replayed again and again, slower and slower. "Did you see that? What did he do?" Rocky asked until someone answered.
MAYHEM AND MELODRAMA
Wrestling, along with everything else, is melodrama, the modern morality play — particularly modern since good and evil have nothing to do with the outcome.
The fans have always appreciated wrestling as much on an emotional as an athletic level. For the sake of the fans, wrestlers work "in character," which gives the sport its larger-than-life quality.
It's a simple matter of adding showmanship, making the match easy to understand for everyone in the arena, all the way up to the last fan in general admission.
"Showmanship came into wrestling 40 years ago," Rocky explained. "Until then, college wrestlers would turn pro, add a few punches and do basically what they did in school. People got bored. Then along came this out-of-work actor who calls himself Gorgeous George and everything changes. All of a sudden, what he says and does is just as important as how he wrestles."
There are no cheerleaders in wrestling; it's up to the grapplers to rile up the crowds. Like Gorgeous George and the colorful characters who followed, we worked constantly at "selling" the spectators, getting them involved in the match by sharing it with them — facially and vocally.
A lack of expression is a serious flaw. "My god! You're laying it into the man — look like you mean it," Rocky would demand. "And you, you're in trouble. Why are you hiding your face? Let's see it!"
Lee Strasberg would be impressed by the attention paid to shedding inhibitions.
A wrestler chooses his competitive persona based on what works for him. But there are more than just moves and tactics to consider — there's also the question of how he relates to the crowds.
A brawler, a bad guy, a "heel," must be able to rile them. The heel is always the visiting team, the hated rival, and must revel in it. A good guy, or "babyface," need only do well at being liked.
Finally, I asked Rocky for a chance to practice what I had learned in a real match — to feel what it was like to work in front of a volatile crowd. He was sympathetic, but my size and inexperience were problems.
He suggested instead that I work as a manager. Mike Masters had a match forthcoming with Bo Brandon for the Dixie Wrestling Alliance Junior Heavyweight Championship. Mike was looking for a woman, a valet, but couldn't find one with the enthusiasm to train.
I signed my waiver, then Mike and I got down to work.
Because a manager's purpose is to manipulate the match, using anything from psychological mischief to outright interference, he must train first as a wrestler simply to know when and what to do.
Performed well, the role inflames crowds with the constant promise of misconduct. But a manager must be prepared to pay a price to an enraged adversary.
The offer to manage had, in itself, been a surprise, but even more so was the thrill I got from my training as a very bad character. Because a manager's main function is tipping the scales, he almost always works with a heel — a babyface would have little use for him.
Secrets of working up the crowd's venom were revealed to me, and I took unalloyed pleasure in practicing them. I imagined with pure delight the hatred of hundreds (well, sometimes dozens), all at my command.
I did have one asset to bring into the ring. I, like Gorgeous George, had worked as a professional actor before I started wrestling. This wouldn't be the first time I'd been paid to make a crowd angry.
I was warned that the more effective I was, the more hated I would be. And that the biggest risks in wrestling, by far, occur where the managers roam away from the mat.
Wrestlers, by and large, at least retain a basic respect for one another's lives — but that's not always true of the patrons.
"Worry about the fans," Rocky warned, time and time again. "The fans will hurt you worse than any worker."
He told stories about a manager working outside the ring who accidentally fell over on his back into the crowd, which surrounded him and began kicking and punching him until he was dragged back to the safety of the ring — by his opponent.
The night before the match, I lay awake in bed reviewing what Mike and I had planned, working up new and colorful insults to yell at the fans. I practiced my diatribes over and over again under my breath until my mouth watered.
I couldn't sleep. I wondered what my mother would think, or if she'd even show up. I thought about all those nuns who gave me B-pluses in conduct in grammar school.
ROAR OF THE CROWD
The dressing room before the match was a kind of temple of doom. We were segregated by ethical disposition — the babies in a real locker room and the heels in a maintenance closet.
Ordinary-looking men entered the room and transformed themselves into horrifying visions of ill will. I shook hands with workers who introduced themselves as "The Bulldog" and "Cousin Leroy," wary of revealing any more.
When Brandon, our opponent for the evening, finally entered the ring, the crowd was ready for him. During the shakedown, I antagonized him, he took a swipe at me and Mike clobbered him. The match was underway.
I found myself fascinated by the crowd. They were like a living Edvard Munch painting, cursing Mike's every move. I returned their curses, which only made them holler louder and drew me to them like a magnet.
The referee happily accommodated the other portion of my job by coming over to order me back to my corner, which allowed me the chance to argue the rules and left Mike effectively alone with Bo.
The ref ignored my taunts and accusations. But I could always draw his attention by heading for the fans. I decided to get to know them better.
It was a good match, with quick moves and some big bumps on both sides. The upper hand passed back and forth and the crowd's emotions went with it. I was down by the front row exchanging insults with a man who seemed ready to pull off his jacket and take on both of us.
Suddenly, something in the ring caught my attention. I looked up just in time to see Brandon pull Mike down and apply the dreaded figure-four leglock. Shades of my youth!
And more importantly, my cue.
A man in a figure four is helpless by himself. It's a "submission" hold, which means there's no way out except surrender. Or interference from a third party.
I began screaming at the referee to break the hold, claiming it had been taken illegally, but he declined, claiming that he hadn't seen it. Mike was thrashing wildly on the mat, refusing to give, but unable to dislodge the champion.
I looked around for help. Usually, several members of the heel fraternity will be watching another's match, ready to assist a fellow despot in distress. But none was coming.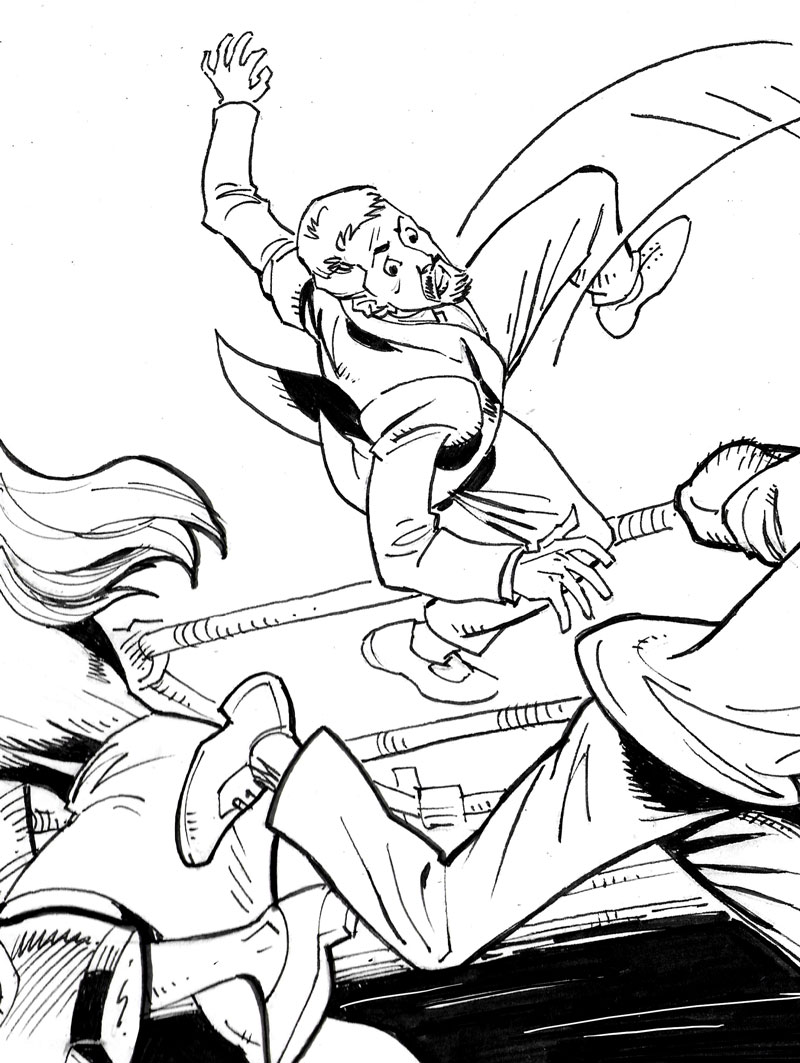 ---
I landed on my nose in a plate of jalapeños and bean dip, while the rest of me skidded into the laps of two squealing older sisters, who fell backward out of their chairs, dousing us all in cola and ice. I remember the hungry, furious faces of the crowd closing over me like a pack of wolves approaching an injured elk.
---
There wasn't any choice — not that I preferred one. I jumped up onto the ring apron. As I stepped through the ropes, I heard the crowd scream at Brandon to watch out and felt sheer excitement surge through my body in anticipation of what was to come.
I snuck behind the referee and laid a few good boots into Bo's shoulder, breaking the hold. The mob went berserk. I paused at the ropes to snarl at them, but couldn't even hear my own voice. It felt wonderful.
Meanwhile, Mike and Bo were rolling around the ring, appearing to be dazed and in agony. The crowd was frantic, pleading desperately with Brandon to get to his feet. Both men were grabbing for the ropes, trying to pull themselves up, but it appeared that Mike would make it first and go for the pin.
The crowd sensed a gross miscarriage of justice coming, and its cries reached a hot peak. And then, just as all seemed lost for the good guys, the referee pointed at me and declared a disqualification.
The cries turned jubilant — and it was my turn for shock and fury.
The hold was illegal, I shrieked, and it was my right to break it if the referee wouldn't. I became the victim of injustice. The insults and threats inspired me, as I turned from the crowd to the ref and back again to the crowd. I was so busy emoting, I almost forgot that the hard fist of True Justice was bound to fall.
And it did.
In an instant Brandon was on me. I rolled out of the ring, but Brandon stayed on my heels and the crowd chased along with him, lusting after my blood. He caught me by the arm, threw me down and then dragged me up for a body slam. The noise from the stands rose as I did — and erupted into cheers when I hit the ground.
It had been a good match. The work was good, and the crowd had dug it.
I was filling my car up at a service station after the match when Rocky pulled in. I was nervous about what he thought of my inaugural public brawl.
"Not bad, babe," he said, and paused. "Listen, we gotta talk."
"What about?"
"How far you want to go with this?"
"The story?"
"Wrestling!"
"I'm having a great time. I like it. Why?"
"The guys wanna know. They like you as a manager."
I don't know how long I stood there with the pump in my hand after Rocky drove off. Later, he made me an offer I didn't refuse: I became his newest "son" and prepared for world domination — of the Dixie Wrestling Alliance.
AN EVIL GENIUS
I practically moved into Rocky's gym, muscled up and studied the Big Book of Villainy cover-to-cover.
"Sir Rupert Birkin," after some thought, was reborn as "Lord Larry Oliver, Evil Genius of the South," a six-time world light-heavyweight champion who hailed from the Falkland Islands and had returned from retirement (or was it deportation?) to foster a stable of sweat-stained young barbarians eager to Fight the Bad Fight.
We wrestled in shopping centers, junior-high gyms, double-A ballparks and country-western bars across Florida. Lord Larry and his boys became the DWA's main storyline — and I frequently found myself on the card in the main event, tag-teaming with one of my lads to steal a belt or inflame a grudge.
We were the ones to hate: I had a potted plant thrown at my head, many a beer flung in my face and was nearly strangled by a fan who rushed the ring and lassoed my neck with her purse strap.
I was having a blast.
Then a funny thing happened: a couple of years or so into this adventure, my legit acting career began to revive. I don't know if Lord Larry's escapades had helped me to find a new level of creative freedom, but producers became interested in me again and I started to get offers.
I split my time between the ring and the stage for a while until a series of unfunny trips to the ER made me consider real retirement for the Evil Genius.
Lord Larry worked his last match on a warm spring evening in 1987, four years after I'd wandered into Rocky's gym. I was doing a play in Sarasota and our performance week ended with a Sunday matinee.
My drive back to Winter Park would take me, more or less, past the Silver Spurs Arena in Kissimmee, where the guys were wrestling that night. So, I dropped in.
I met Rocky by the dressing rooms, and he had an idea: Lord Larry should crash the Battle Royale (a match in which the ring is initially filled with wrestlers until all but one has been tossed out).
He had a new kid he liked, and figured a steady hand would be helpful getting him through his first big win. I found a seat in the stands, and when one of the babies "spotted" me the insults flew — and the game was on.
Rocky wanted me keep the kid busy for a while until there were just three of us left, then let him toss me over the top rope (and out of the match) so that the newcomer could duke it out for the victory.
But Rocky's plan, as always, came with a few wrinkles. A born innovator, he had long wondered: If dinner theaters made money, why couldn't dinner-wrestling boost his bottom line? That night he was going to find out — and had ordered the ring to be surrounded by cafeteria tables.
---
Many's the time on a set (and not a few times in my relationships) that I've hit a tricky patch and wondered, "What Would Lord Larry do?" He has never failed to respond — and I have the scars to prove it. I learned that being able to take a bump can be what saves you anywhere in life.
---
For a premium, a few hungry fans could get ringside seats and a choice of burgers, hot dogs or nachos plus a large soda. But the folks who set up the arena had put the tables right up next to the ring, as you would for a boxing match, instead of right inside the first row of bleachers, as is best when bodies will be flying around.
Also, the kid — though undeniably talented, huge and scary-looking — was utterly green and had never been in front of a crowd as big and raucous as this one.
There's a way to throw a man over a rope: Pick him up, invert him for a body slam, carry him to the side and let him set a hand on the top rope; then give his legs a light shove and let him pivot over and down to the floor, where he'll hopefully land on his feet.
A variation, but not a good one, is to simply fling your opponent out of the ring — especially appealing if there are tables covered with mustard and Pepsi cups. That's what happened to me.
I landed on my nose in a plate of jalapeños and bean dip, while the rest of me skidded into the laps of two squealing older sisters, who fell backward out of their chairs, dousing us all in cola and ice. I remember the hungry, furious faces of the crowd closing over me like a pack of wolves approaching an injured elk.
No one really knows what became of Lord Larry after that fateful match in Kissimmee. Some claim that he never made it out of the arena, while others insist that he's raising thoroughbreds on his family estate near the Drake Passage.
Grainy photos have turned up of someone resembling him at Putin's dacha during the Winter Olympics and climbing out of a Bentley at Spago
with Lindsay Lohan (neither of them are wearing underwear).
Well, none of that is true. I know. Lord Larry has been with me the whole time. The truth is that the life of an unrepentant scoundrel is buckets of fun. Also, chicks really do dig bad boys — even ones who are just pretending.
I stayed pretty lucky with the acting thing, working in a bunch of films and television shows, more often than not as the villain. Rocky and Lord Larry had taught me to find the juiciness in playing bad, to crave leaning out over the edge, and I guess it showed.
Many's the time on a set (and not a few times in my relationships) that I've hit a tricky patch and wondered, "What Would Lord Larry do?" He has never failed to respond — and I have the scars to prove it. I learned that being able to take a bump can be what saves you anywhere in life.
Rocky passed away about a year after the Silver Spurs show, and the DWA passed with him. I hear him in my thoughts from time to time, often when I'm working, and it's still a bit of a shock that one of my dearest and most important mentors was a busted up old ex-gangster from Staten Island.
But there you have it.
I don't think Rocky created Lord Larry as much as he found him hiding within me and turned him loose — which means I probably owe him my career and most of the good times that have come with it.
Between Rocky and Lord Larry, I have the world's weirdest guardian angels. What I wouldn't give for a chance for the three of us to pull on the tights and do somebody wrong one more time.
---
ABOUT THE ARTIST
JOHN NADEAU, COMIC CREATOR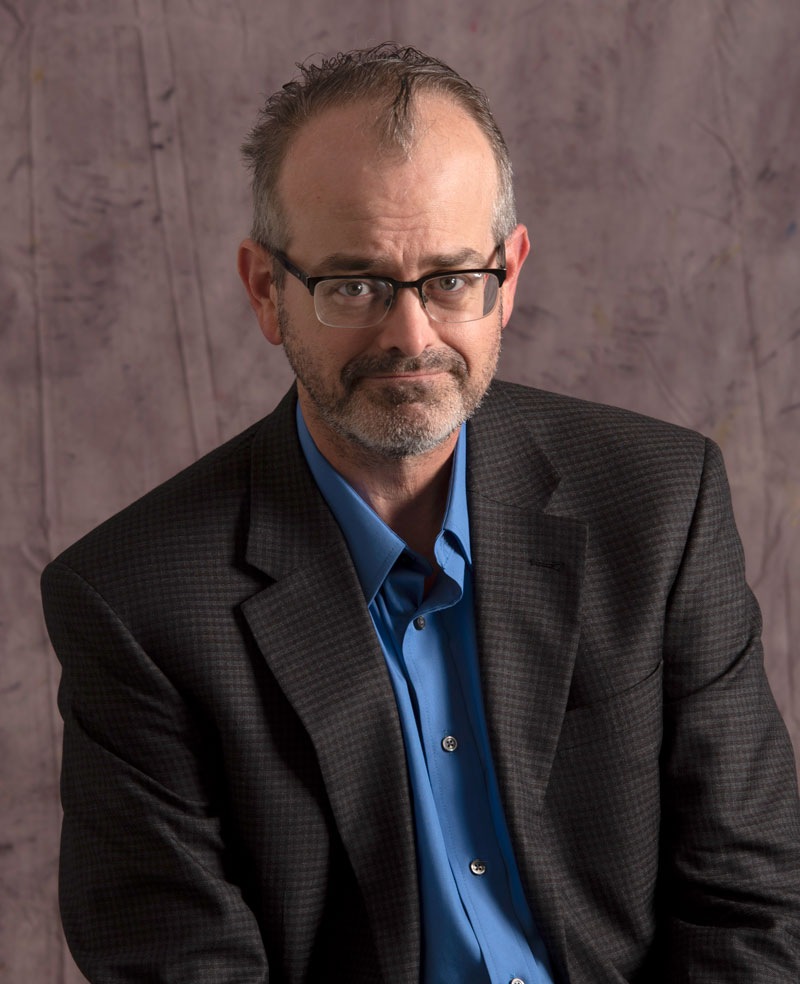 John Nadeau, 50, began his career as an illustrator in the late 1980s as a penciller for Wolverine, a comic book featuring the ill-tempered Marvel Comics mutant superhero who was infused with adamantium (a fictional metal alloy) that made him virtually indestructible. (Hugh Jackman played the character in a string of hit Marvel movies.)
He later moved to rival DC Comics to draw the iconic Green Lantern series. His work for Oregon-
based independent publisher Dark Horse Comics included stints as a penciller and cover painter for Aliens — based on the sci-fi horror films.
Nadeau also drew various Star Wars titles including X-Wing: Rogue Squadron and comics featuring assassin Boba Fett (a Star Wars character) in titles as Boba Fett: Twin Engines of Destruction. Recently, Nadeau has cowritten (with author Dan Jolley) the series Murder Society for the Dark Horse anthology Dark Horse Presents.
He also works as a commercial artist and architectural renderer for various clients in Central Florida and around the world, including the Walt Disney Company, HHCP Architects, GoConvergence, Simiosys, OBM International, Resorts World Sentosa and others. In 2018 he began doing paintings in oil for The Art of Disney galleries.
Nadeau was born in Syracuse, New York, but spent most of his life in Central Florida. He's a graduate of Winter Park High School, Valencia Community College and the University of Central Florida.
He's currently writing and drawing his own science fiction graphic novel, Vector. The first issue was released last November.