Photography by Rafael Tongol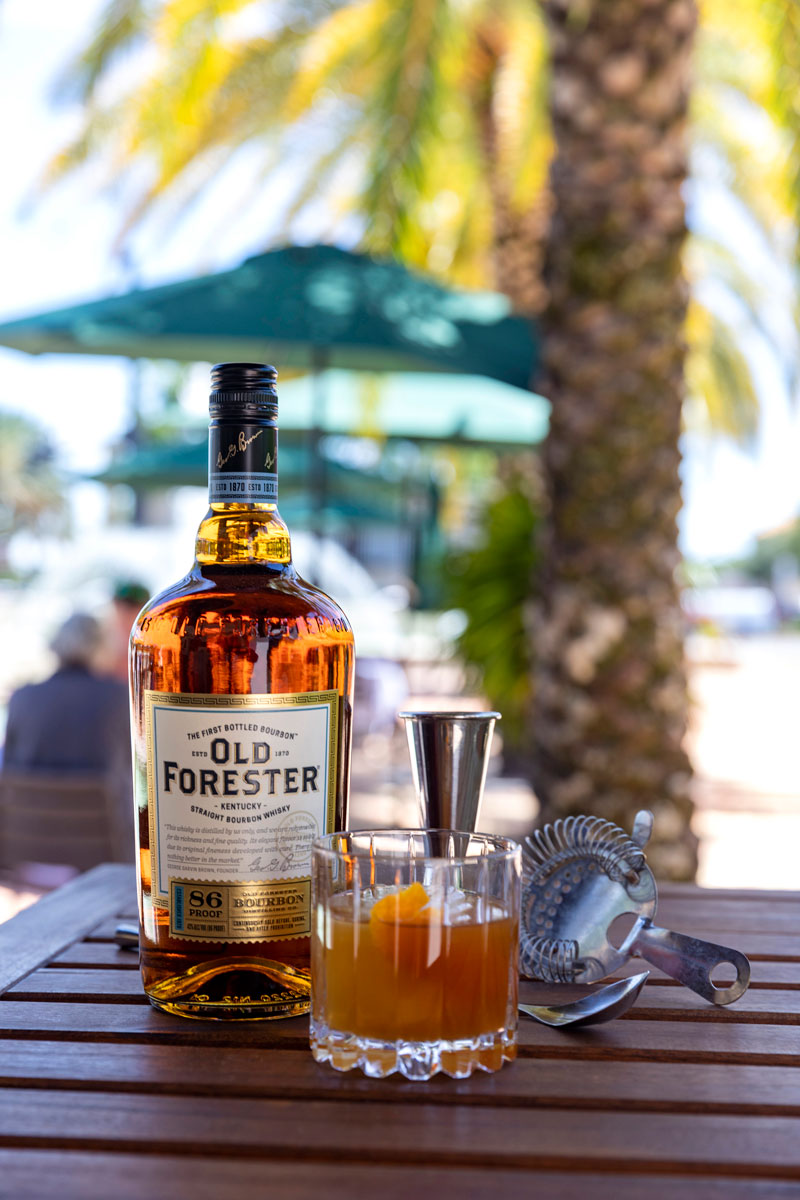 Rattled but resolute, dozens of Winter Park restaurants remained afloat during the recent shutdown season by offering individual and family-style meals packed for in-store pickup, curbside pickup and home delivery (thank you, from all of us).
Several, though, went a step further: They added spirited beverages to accompany those appetizers, sandwiches and entrées. Thanks to temporary new regulations, permission was granted to nestle martinis and Manhattans into our take-home bags.
Some restaurateurs took the remote bartender role quite seriously. Many others sold wine bottles at steep discounts. So let's hear a hearty amen for those who aided us in taking the edge off when we most needed a good numbing.
Here we feature four local eateries that went gung-ho with bagged-up boozy drinkables. Some should be at least partly reopened for dine-in service by the time you read this issue of Winter Park Magazine.
We're kind of hoping they keep up the gin-as-a-tonic, grab-and-go option even after the world returns to something approximating normal. At this writing, however, COVID-19 restrictions were just being relaxed and considerable uncertainty remained.
In other words, the cocktails (and menu items) described here may or may not still be available. Whatever the case, we wanted to salute local restaurants for service above and beyond the call of duty.
We picked four — in part because of their creativity with takeout libations — but there were dozens upon dozens of others. I hope you'll return to patronize as many of them as possible once you can dine out safely. They were there for us — let's be there for them.
DEXTER'S NEW STANDARD
1035 North Orlando Avenue, Winter Park
407.316.2278
newstandardwp.com
The staff of Dexter's New Standard was ready and set to go as soon as the state gave to-go cocktails the green light. This Orlando Avenue restaurant already made its craft cocktails in batches.
"The problem with craft cocktails is that it often takes 20 minutes to make a drink, and nobody likes to wait that long," says Erin Allport, director of operations at the eatery, which opened last October and during normal times offers live music daily. "It's actually quite frustrating."
Her team's solution was to produce several creative martinis by the batch and have bartenders add a couple of final ingredients in the glass. "Then boom! The drinks were out to guests," Allport says.
Such a process was made to order, if you will, for the new mode of operation required by the pandemic. It likewise didn't hurt that the New Standard's chefs already produced key cocktail ingredients.
The culinary team was accustomed to heating bourbon and pistachios together at a very low temperature, sous vide-style, for the Pistachio Old Fashioned, and to making a variety of syrups as well as the house sour mix.
When word got out that restaurants might be allowed to bottle up beverages traditionally served in clever glassware, Allport rushed to a College Park store that caters to home brewers, where she knew she'd find empty bottles for sale. She snapped them up like you and I filled our carts with hand sanitizer at Publix.
Ultimately, the New Standard sent its creations home mostly complete and accompanied by instructions — printed in Prohibition-style type — on how to accomplish the finishing touches.
The Tonic Blossom ($10), for instance, arrived as a mix of Cathead honeysuckle vodka, Chareau aloe liqueur and Jack Rudy elderflower tonic. Soda water can't be added until the last minute, so a can of Q club soda came separately.
Because the Pistachio Old Fashioned (1 liter, priced at $65, makes 10-plus drinks) doesn't age well when bitters are added to the bourbon mix early, the restaurant sent this key ingredient on the side.
The Skinny Margarita, as it turned out, was the biggest seller, perhaps because it was priced at $25 for 25.5 ounces. (That's the equivalent of four or five drinks, depending upon the size of the glass). The restaurant also added several flavored margaritas, which customers ordered on weekends to sip on a boat or by a pool. (Some people, obviously, endured the lockdown better than others.)
By law, guests must buy food with the fun stuff. So the New Standard offered a market menu that included not only meals but also pimento cheese, French onion dip, house-made crackers and desserts. That was in addition to to-go menu staples plus daily family-style specials.
All wine bottles were half price — which likely won't be the new standard by the time this crisis has receded. But it was appreciated while it lasted.
REEL FISH COASTAL KITCHEN + BAR
1234 North Orange Avenue, Winter Park
407.543.3474
reeflishcoastal.com
Since it opened three years ago, Reel Fish Coastal Kitchen + Bar has drawn diners with its house-made oyster crackers (pop 'em and grin), its fanciful fish specialties and its old-time platters of battered and fried Gulf oysters or wild-caught Florida shrimp.
But sangria? Not the first menu item that comes to mind. Yet during the prolonged time of shuttering (and shuddering), two-quart servings of sangria — red or white — quickly became must-have to-go items at $18.
"They sold consistently well," says proprietor Fred Thimm, who found that mostly couples, rather than families or groups, were the biggest buyers.
What's not to like, really? The Reel Red sangria was made with Stillhouse Spiced Cherry Whiskey along with red wine, lemons, limes, oranges and apples. The same fruit with white wine and Stillhouse Peach Tea Whiskey made the Sunset Sangria a standout.
A third beverage was also popular for the grab-and-go crowd: The Seaside Margarita was essentially tequila that had lingered for a bit with pineapple, brown sugar and house-made sweet-and-sour mix before being served with a grilled pineapple wedge.
These refreshing beverages — along with bottled wine at 30 percent off — left the premises accompanied by full seafood meals. The restaurant offered a rather extensive takeout menu and often promoted specials.
"Everyone wants a deal," notes Thimm, who singled out the popularity of a date night meal for two. At $39, it included fried green tomatoes or a fried clam strip basket with either a boiled or pecan-crusted rainbow trout entrée. To finish, there was a dessert of coconut cake or carrot cake.
"Some restaurants focused on Blue Apron-type meals to cook at home, or they went the grocery store route with bleach and toilet paper, but we didn't," Thimm says. "We just did what we know how to do — cook for people, package it and deliver it using our own drivers via Uber Eats. That way, we were able to keep as many staff members employed as possible."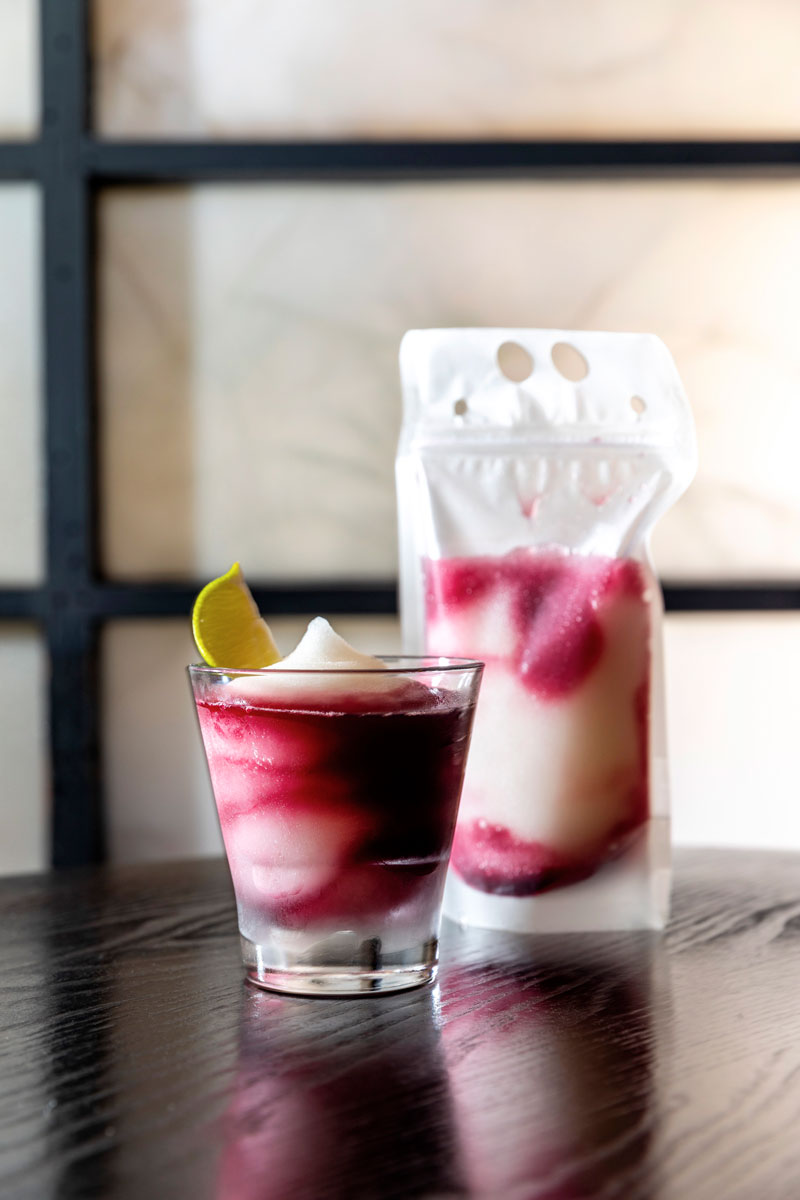 COCINA 214
151 East Welbourne Avenue, Winter Park
407.790.7997
cocina214.com
Groups of merrymakers dine at Cocina 214 as much for the margaritas as for the quesadillas — so this bastion of Tex-Mex cuisine included tequila-laced concoctions from the earliest days of the stay-at-home spell.
Better still, libations were offered at happy hour prices — $5 for a single drink, $20 for a quart and $70 for a gallon. "The quart sold best," says Lambrine Macejewski, partner, co-founder and business manager of the eatery just off Park Avenue. "It was great for two people who want two drinks each."
As for the food, this was no time to get esoteric. So Macejewski chose only the restaurant's top sellers for home consumption. That meant salsa-
accented suppers could be had with a dizzying array of margarita choices.
While some restaurants relied upon cocktail kits with instructions packaged separately, Macejewski sealed ready-made drinks into a container, put a sticker on the jar and sent it out the door. "The kits sound cute and they're successful for some restaurants," she says. "But to me, they just seem like more work for customers."
Even with a limited staff, Cocina 214 served up additional liquid mood enhancers. The curbside cocktail menu listed single-, quart- and gallon-sized portions of chef-made red sangria as well as 15 wines and 11 bottled beers. The Justin cabernet sauvignon sold so well that the restaurant ordered new cases every week.
Although Cocina 214's food menu was smaller than usual, the resourceful Macejewski and her stalwart team added family-style meals to the mix. "Our guests are feeding their families daily, often including kids home from college," she says. "We asked ourselves, 'How can we make it easier for them?'"
Enter the family dinner options, priced at $50 each and feeding up to six. Choices included beef, chicken or veggie tacos with four toppings, and combo meals such as the Tex-Mex Fave (with quesadillas and fajitas) and the Gringo Tex-Mex Mix (with fajitas and housemade chicken fingers — a favorite of the younger set).
All meals came with chips and salsa. All the better to accompany the margaritas.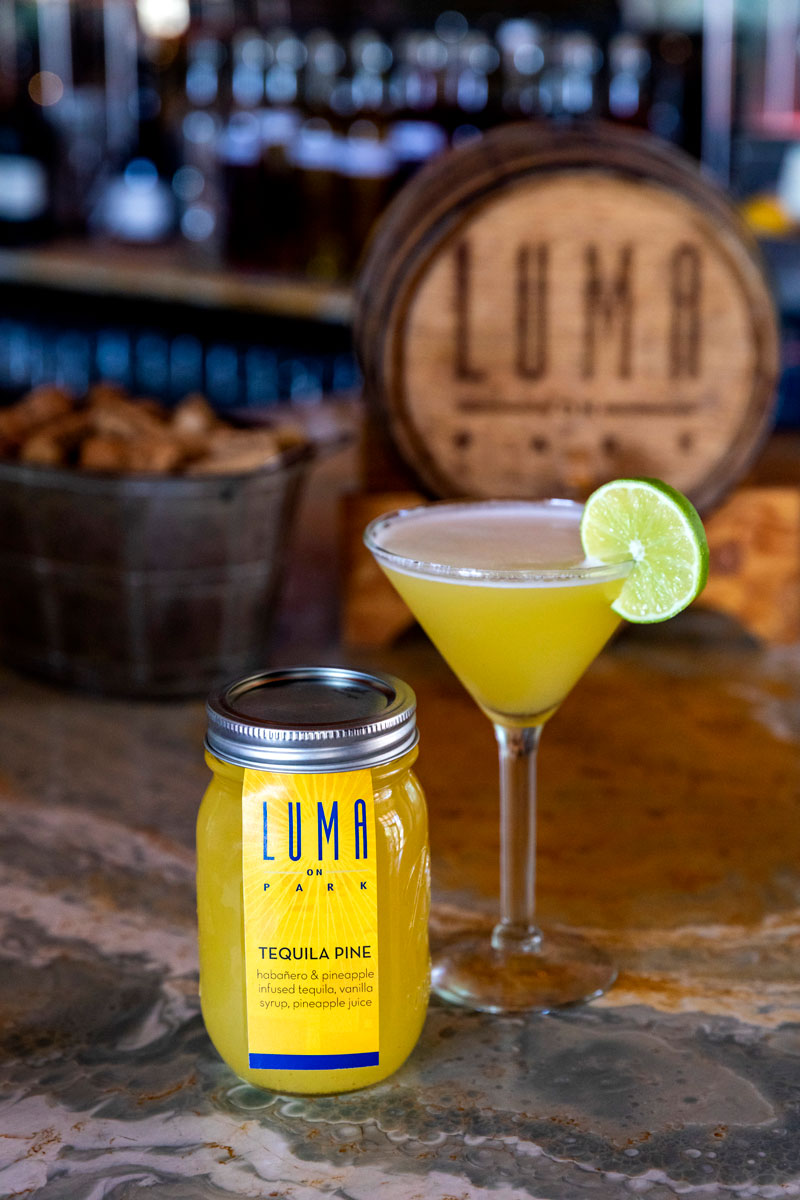 LUMA ON PARK
290 South Park Avenue, Winter Park
407.599.4111
lumaonpark.com
Just as no food is as simple as it looks at Luma on Park — arguably Winter Park's cheffiest restaurant — the same is true of its deceptively complex cocktails.
The herbs and fruits in most of the sleek and stylish eatery's specialty creations are raised on regional farms. A so-called simple syrup may have been infused by the bartenders with rosemary or lavender.
And the shrubs — generally used as sweet-yet-acidic mix-ins — are concocted with care, in small batches, adding unseen yet appreciated depth to the drinks in which they're an ingredient.
Luma chose five very different drink options to package for take-home consumption. Each arrived in well-sealed 16-ounce mason jars, which were meant to be taken home, shaken with ice and poured into a drinking vessel of your choice. Prices ranged from $22 to $38.
Prime your patio for this cocktail hour.
Consider the Tequila Pine, which included pineapple and habanero peppers infused over a three-day period with a high-quality silver tequila. Or the Strawberry Fields, made with basil- and strawberry-infused vodka and triple sec.
And let's not forget the blood orange margaritas with a chili-lime rim, produced in conjunction with local citrus producer Natalie's. Or the Boulevardier, which combined Mitchter's Straight Rye, Campari and sweet vermouth
Longtime Luma fans were no doubt comforted that takeout options included the White Linen, a signature drink from the restaurant's early days a decade and a half ago.
Four draft beers and two bottled ones completed the to-go beverage menu — well, along with discounted wines. Every bottle in the 7,000-bottle vino inventory was offered at half price, creating a significant opportunity for oenophiles.
Like the cocktail menu, Luma's food offerings were paired down significantly. Gone were the fanciful presentations topped with perfectly positioned microgreens and other such frills. They were replaced by a variety of meals designed for the road.
"We chose foods that travel well," says Tim Noelke, operations partner of Park Lights Hospitality Group, owner of Luma, Prato and Luke's in Maitland. Salads, pizzas and a burger — albeit a relatively fancy burger with Dijonnaise rosemary fries — were available.
Also offered were $50 family-style meals, which included a protein and three sides and could feed three or four people. The meats, such as 72-hour short ribs, were ready to eat. Roasted carrots and snap peas with mint and pistachio or potato purée with truffle oil and chives arrived piping hot. A handful of wines were available at $10 a bottle.
Prepare-at-home kits were another top pick. A Bolognese option, at $45, included house-made rigatoni pasta that needed a quick boil and a ragu sauce to be heated and added along with salad and the makings of garlic bread. Steaks and other meats were offered for cooking at home.
Full yet?
You get the idea. In summary, whether you imbibed on Pistachio Old Fashioneds, fruity margaritas or spiked sangrias on your living room sofa, I'll wager those liquid indulgences were a tonic eagerly welcomed during these unprecedented times.
They sure were at my house.