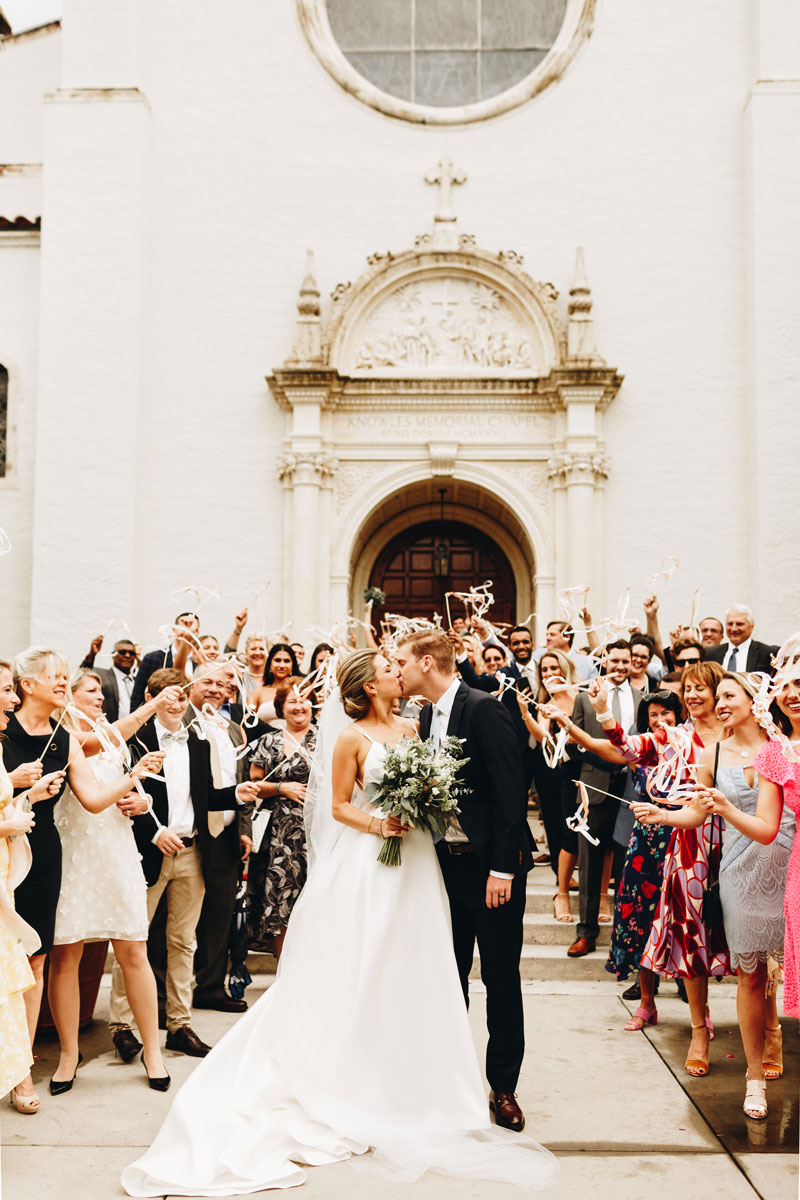 Its cultural vibe and historic charm have always defined WinterPark. But if you're planning a wedding here, you'll notice one aspect above all others: the city is a very, very romantic place.
The granddaddy oaks, the tranquil lakes, the brick streets, the meticulously restored private homes and the numerous cultural amenities combine to provide an idyllic setting for an exchange of vows and a celebration afterward.
Winter Park's many charms — including its shopping and dining districts — also make it an extraordinarily appealing place for out-of-town wedding guests to explore after the wedding day hubbub.
But first things first. If you're planning to be married, you're faced with an embarrassment of riches in Winter Park. Whatever your taste — from a nationally renowned boutique hotel to a retro red-brick railroad station — you'll find an unforgettable venue in good old 32792.
Going to the Chapel
The gorgeous Rollins College campus, with its Mediterranean Revival-style architecture and lush landscaping, is home to historic Knowles Memorial Chapel, built in 1932 and the site of 60 to 70 weddings a year.
Over the decades, it's likely that some couples who didn't even want to marry were compelled to make the leap solely because of the opportunity to say "I do" in this jewel box of a building.
For decades, however, these coveted chapel nuptials were available only to faculty, staff and alumni of the college as well as their children. That all changed last spring, when the chapel was made available to those with no such Rollins affiliation.
Concurrently, the erstwhile campus bookstore was repurposed as a reception and banquet hall. The 10,000-square-foot Rice Family Pavilion, which can accommodate receptions and rehearsal dinners of up to 230, features a brand-new rotunda with floor-to-ceiling windows. There's a full kitchen downstairs, where in the 1960s a coffee shop hosted budding folk singers.
The chapel, which is listed on the National Register of Historic Places, boasts dramatic towers arched overhead and sunlight filtered through stained-glass windows. A vintage pipe organ adds a majestic touch to this sacred space, which was designed by Ralph Adams Cram. The legendary architect's other achievements include a master plan for Princeton University and the Gothic transformation of the Cathedral of St. John the Divine in New York City.
Following ceremonies, couples are often photographed at the chapel's majestic entry or in a rose garden located just steps away. Indeed, the entire campus provides multiple backdrops for stunning images.
Weddings are held on Saturdays only, and openings are limited because of holidays and college events. (That's why getting married at the chapel can't be a spur-of-the-moment decision.)
If you have no college connection, you must book a package that includes both the chapel and the Rice Family Pavilion. But that's something you'd likely do in any case, considering the proximity of the venues.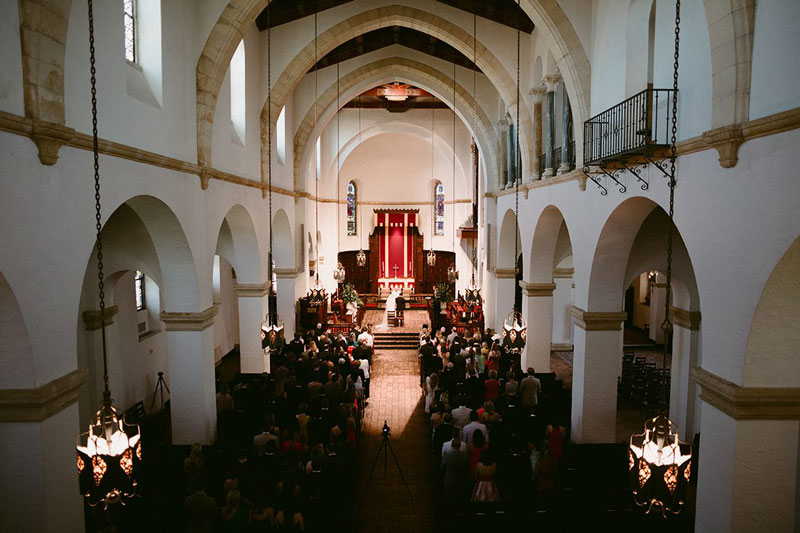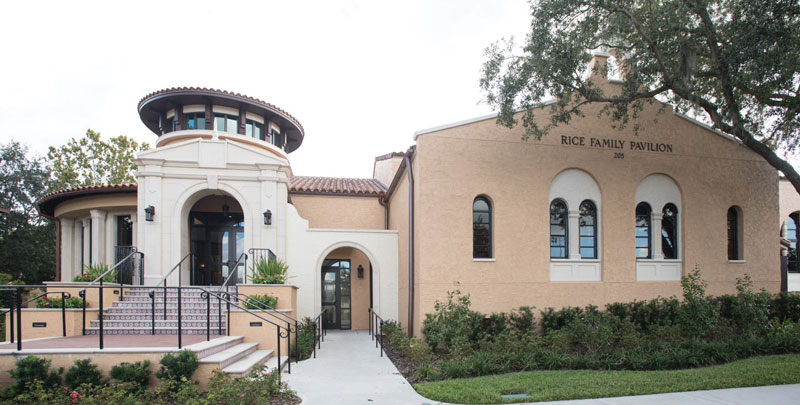 Homey and Historic
Capen House at the Polasek sits on three lush acres skirting the shores of Lake Osceola, alongside the Alan Polasek Museum & Sculpture Gardens. How it got there is a story worthy of Ripley's Believe It or Not.
The circa-1885 Tudor Revival home famously faced the wrecking ball in 2013, until community members raised funds to float the structure — via barge and in pieces — across the lake to the museum's property, where it was reassembled and restored. Surely there's a wedding analogy in there somewhere.
The herculean effort to preserve the home has made it a treasure in the hearts of Winter Parkers. Pinewood floors, beadboard ceilings, crystal chandeliers, bronze sculptures and a case filled with silver teapots are among the details that make it an endearing and enchanting place for weddings.
Larger groups hold ceremonies on the manicured Lake View Lawn, which is surrounded by blooming gardens. Smaller groups often opt for the expansive patio, which can be outfitted with tables draped in white tablecloths for elegant outdoor dining.
Indoor weddings take place in the Grand Parlor, which is highlighted by a Victorian staircase. Cocktails can be served on an enclosed porch that offers a spectacular view of the grounds and the water. A dock allows guests to arrive by boat, if they so choose.
The Peacock Room, with its French doors, oriental rugs and a sofa accented with pretty tapestry pillows, serves as a charming dressing/waiting room for brides. And the house has a full catering kitchen, where any caterers on the Capen House preferred list can set up.
Czech-born sculptor Albin Polasek's Mediterranean-style home, now a museum, is just steps away. In addition to viewing a collection of figurative and whimsical mythological sculptures on the grounds, guests can tour the exhibition gallery, see the artist's personal chapel and enjoy his courtyard — where the iconic "Emily" sculpture welcomes visitors with her harp.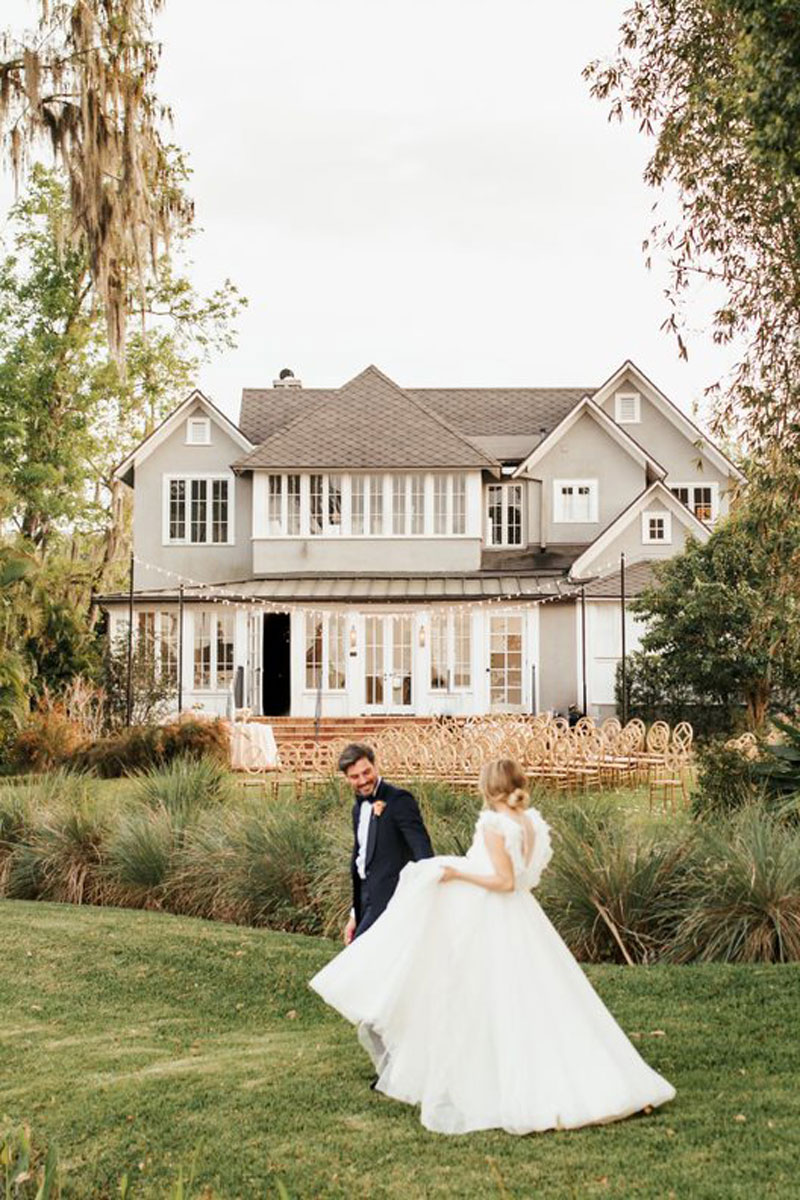 Other historic venues in the city include the cozy Winter Park Country Club, a welcoming clapboard cottage built in 1914 and painted in summer shades of yellow and white. Its screened-in porch faces the Winter Park Golf Course, the region's second-oldest nine-hole layout.
The unpretentious interior features two fireplaces, paddle fans and highly polished wood floors. The main dining room seats 78, while the lounge accommodates 49. The venue, which also has a bricked outdoor gathering area, is run by the City of Winter Park.
Also adjacent to the golf course is another blast from the past that offers an entirely different sort of wedding experience. Casa Feliz Historic Home & Venue — which dubs itself "Winter Park's Community Parlor" — is a little bit country. Meaning, in this case, an entirely different country (and era).
At 6,000 square feet, this Andalusian-style masonry farmhouse was built in 1933. However, architect James Gamble Rogers II wanted it to look several hundred years older — which he accomplished with arches crafted to resemble ruins, a whitewashed red-brick exterior and a weather-worn clay barrel-tile roof.
The interior of Casa Feliz ("happy house" in Spanish) evokes 19th-century Spain and is replete with beamed ceilings, oriental rugs, ornately carved chairs, fireplaces and paintings in gilded frames. It can accommodate up to 120 for a reception.
A cozy courtyard with a fountain featuring colorful Mallorca tiles that depict floral and bird designs is just one of many unique photo opportunities. Larger weddings are often held in the courtyard or on the front lawn, while smaller events may be held indoors. Upstairs, the beautifully furnished hospitality suites provide a comfortable place to prepare.
Like the Capen House, Casa Feliz was rescued from demolition and moved to its current site when community activists rode to the rescue. The structure, which was hauled from Interlachen Avenue to its current location on city property in 2000, is owned by the city and operated (using its own funding) by the nonprofit Friends of Casa Feliz.
Capen House at the Polasek, the Winter Park Country Club and Casa Feliz Historic Home & Venue are all listed on the National Register of Historic Places.
Gracious Gardens
Flowers are meant to bring joy to a wedding — which explains, in part, the popularity of getting married in a garden setting. At Mead Botanical Garden, the Little Amphitheater, cocooned by pink azaleas, a frilly wrought-iron trellis and tall oak trees, has been a favorite wedding locale for more than 50 years.
Tiered bench seating for as many as 350 eliminates the need for cumbersome folding chairs. A bonus is access to the 47-acre site's other picturesque locations, from the Butterfly Garden to Alice's Pond. After the ceremony, friends and family can gather in the 3,000-square-foot Azalea Lodge, just steps from the amphitheater.
Weddings and receptions may also be held at the adjacent Grove at Mead Garden, an outdoor performance area that features a raised stage that faces a gently sloping lawn. There's a rustic pole barn off to the side.
The 50-by-60-foot platform is big enough to accommodate the Florida Symphony Youth Orchestra, which performs there. And it's also big enough to accommodate at least a dozen tables for a seated dinner. Caterers can serve drinks and appetizers from the pole barn.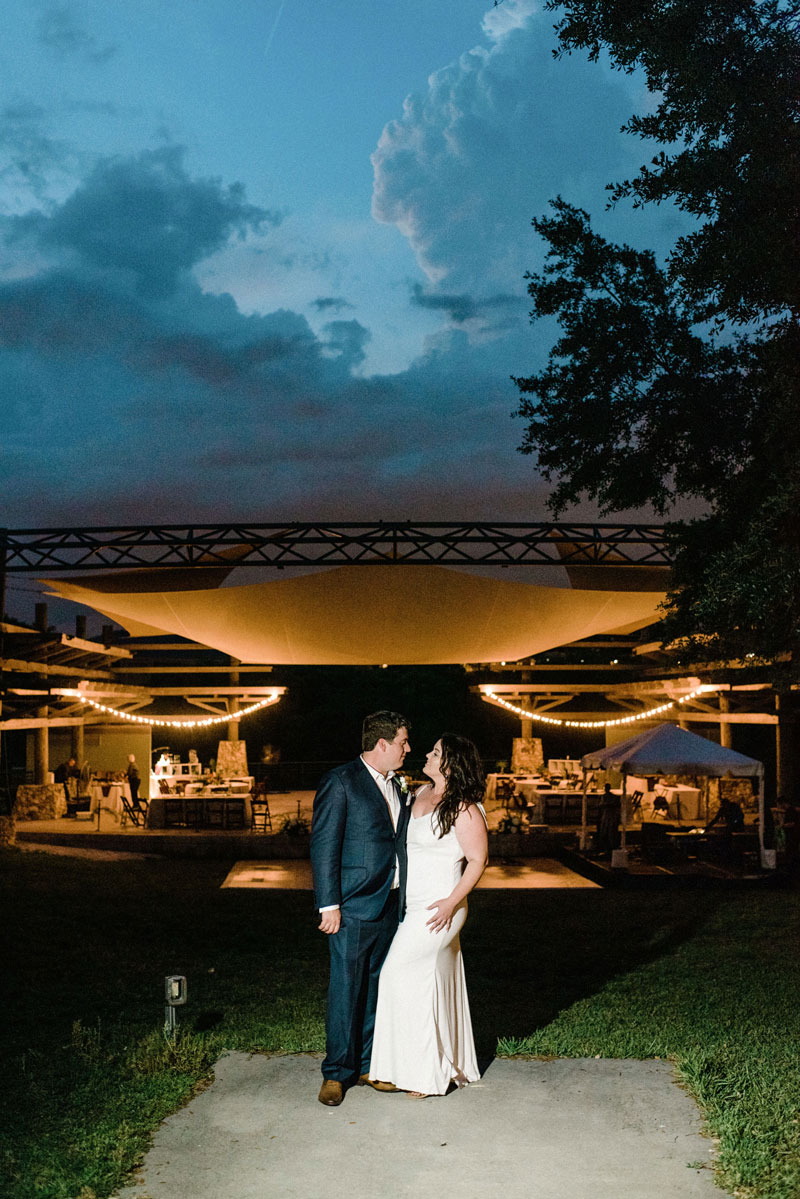 Other outdoors-themed weddings are held at 13-acre Kraft Azalea Garden, which faces Lake Maitland along Alabama Drive — a winding, shady street lined with historic homes and modern showplaces.
The garden is filled with cypress trees that reach soaring heights and drip with Spanish moss, which blows gently in the breeze. And, of course, there are acres of azaleas. On the edge of the lake is the iconic Exedra, an open-air, temple-like structure whose architectural heritage dates to ancient Greece.
The Exedra, which was built in 1969, is particularly breathtaking (and photogenic) at sunset. However, only groups of up to 20 are permitted to use the city-owned property, and there's no dressing area — so come prepared.
If you like the idea of an outdoor wedding but prefer that amenities be a little closer at hand, you may opt for the Central Park Rose Garden, located in the southern reaches of the city's signature Central Park.
Located near the corner of Park and New England avenues, the urban oasis is convenient to venues where receptions can be held. No parties are allowed in the park and, like Kraft Azalea Garden, there's no preparation area (or even restrooms). Groups are limited to 20.
Unique and Boutique
Weddings at the luxurious Alfond Inn at Rollins, a boutique hotel owned by the college, are popular in part because out-of-town guests have a handy place to stay.
Oh, but what a place it is. The 112-room Alfond — located just a block from Park Avenue — has earned Condé Nast Traveler's Readers' Choice Award as the Best Hotel in Florida every year from 2014 to 2018 and has a AAA Four Diamond rating.
The Alfond is, of course, frequently full. But if you book a wedding, you're guaranteed a block of rooms and can be certain that your guests will be well taken care of — and will be within walking distance of shops, restaurants and museums.
The hotel's signature Conservatory, with its dramatic glass-dome ceiling, is a one-of-a-kind wedding space in the region. Adding further interest are thought-provoking pieces from the Alfond Collection of Contemporary Art, which is held by the college's Cornell Fine Arts Museum.
Outdoor weddings are often held on the Courtyard Lawn, adjacent to the Conservatory, which is lined with pots of bougainvillea that bloom bountifully in shades of pink.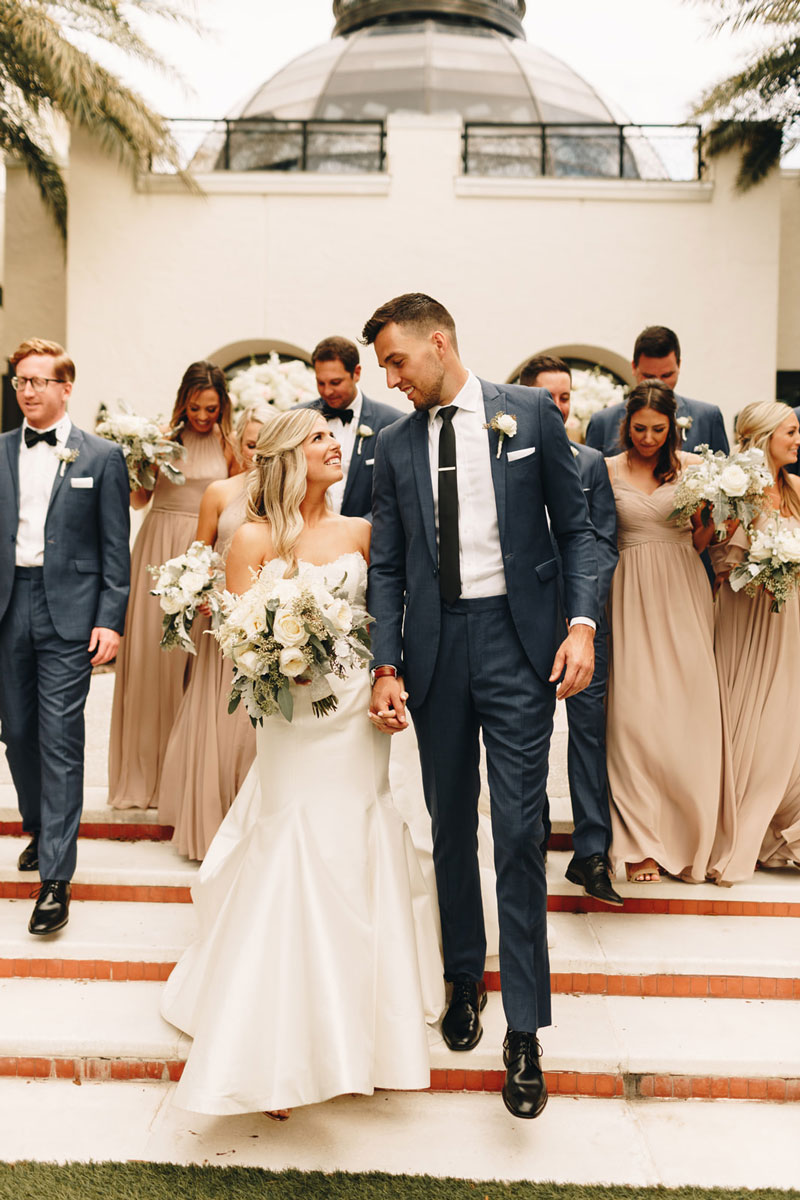 Receptions are usually hosted in the Park Avenue Ballroom, which can be transformed through lighting, draperies, floral displays and elegant table settings. And because the hotel is a boutique property, it can handle only one wedding at a time. That means the highly professional staff will lavish you with attention.
Best of all, the Alfond — which can accommodate weddings with as many as 240 guests — is basically a one-stop shop. Couples need to contract separately only for photography, entertainment and floral arrangements.
Last summer, the hotel embarked on an expansion program that will, by 2021, add 75 more guest rooms — many of them full suites — a state-of-the-art, 10,000-square-foot wellness center and spa, and a second swimming pool in an elevated outdoor area with fixed cabanas.
Down to Earth
The Winter Park Farmers' Market is likely not top of mind as a wedding venue. But perhaps it should be. After all, railroads and romance have a long and storied history together.
The old Atlantic Coast Line freight depot, which was built in 1913, has anchored the popular Saturday-morning market since 1979. The place has a certain rustic appeal that many couples find charming.
The exposed red-brick walls and wood sliding doors are original to the building, which is air conditioned and seats 180. The parking lot can be used for a tented event.
Located on West New England Avenue in downtown Winter Park, the city-owned, 2,800-square-foot venue also has a prep kitchen and an ice machine. Tables and chairs are included with the rental.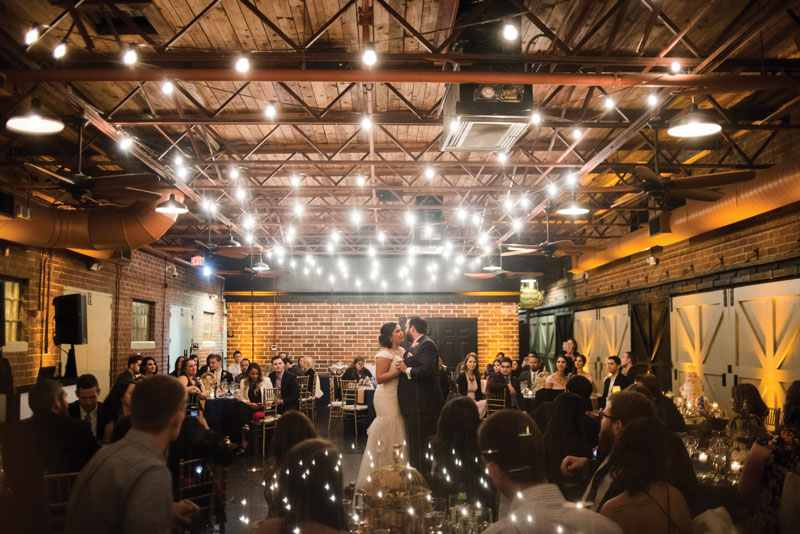 You'll need to keep in mind that the building is next to the railroad tracks — not surprising for an ertswhile freight depot. If your wedding is on a weekday, SunRail cars will rumble past every half hour. An Amtrak incursion is also a possibility, so it's smart to check the schedule if you don't want to hear the train a'coming (as Johnny Cash might say) during your ceremony.
The Winter Park Community Center, located in Hannibal Square, is likewise an under-the-radar wedding location. But it's got all the bells and whistles, including a ballroom that accommodates groups ranging in size from 50 to 350 for dinner and dancing.
There's a full commercial kitchen on site — and two basketball courts to work off those extra pounds after gorging on hors d'oeuvres.
Clubs and Churches
The Winter Park Racquet Club, located on Via Tuscany, is a warm, inviting space on the edge of Lake Maitland with a dreamy view of the water framed by the branches of cypress trees.
No matter where you hold the ceremony, cocktail hour, dinner and dancing, guests will delight in the splendid views and posh appointments. But you must be a member, or have a member sponsor you, to use the facility.
That's also the case with Interlachen Country Club, located off Lake Howell Road on lake-dotted property that encompasses a Joe Lee-designed, 18-hole golf course. There are more than a dozen weddings a year at the club, many of them for families that were member sponsored.
Other clubs, though, open their facilities to anyone for weddings. The Woman's Club of Winter Park, located on South Interlachen Avenue in downtown Winter Park, often hosts weddings in its clubhouse — which was completed in 1921 — or on its beautiful front lawn.
The facility has a full kitchen and a stage for a DJ or a band. The room seats about 120 at tables and about 150 with chairs only. A long terrace that runs along the building's south side is ideal for cocktail receptions.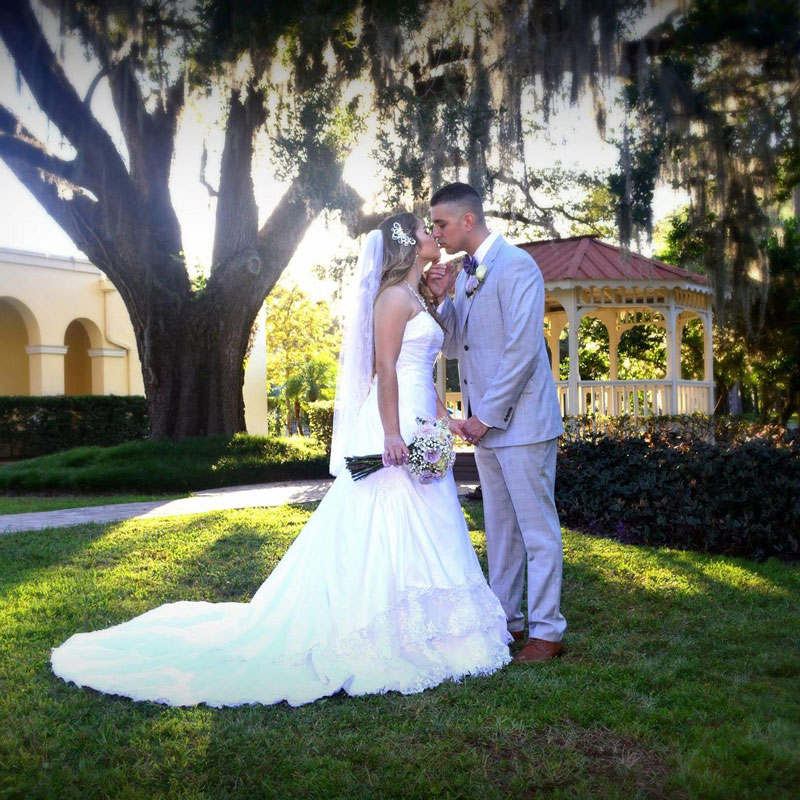 Ditto for the University Club of Winter Park on North Park Avenue. The main ballroom of its clubhouse, which was completed in 1934, can handle up to 120 at tables or up to 200 for a reception. There's also a stage and a full kitchen.
The library is available to host pre-wedding catered dinners for as many as 40. And elsewhere on the property stands an oak-shaded gazebo where outdoor ceremonies are often held.
Still, many prefer to be married in a house of worship. If so, there's no shortage in Winter Park — although some only perform weddings for members and their families. Several, though, are of historic interest.
All Saints Episcopal Church, for example, with its peaked roof and arches, was built in 1942 and designed by Ralph Adam Cram, whom you'll recall from Knowles Memorial Chapel. It's located on East Lyman Avenue.
St. Mary Margaret Catholic Church, with its Mediterranean architecture and cavernous contemporary interior surrounded by stained-glass windows, provides a beautiful setting for wedding ceremonies.
First Congregational Church of Winter Park, established in 1884, is the first church of any denomination to be established in Winter Park. The original building is long gone, but the current Colonial Revival sanctuary, completed in 1925, holds 400 and has an adjoining meeting room with a full kitchen for receptions.
It's worth noting that First Congregational, which also has a smaller chapel on its South Interlachen Avenue campus, is the only church in Winter Park that performs same-sex marriages.
The Chapel & Hudson's Cellar Hannibal Square was built as Grant Chapel on Winter Park's west side in 1935 and served as a house of worship for the predominantly African-American neighborhood for almost 70 years.
In 2002, the building was bought by Sydgen Corporation — which redeveloped Hannibal Square in the 1990s — and was for several years leased to a company that used it as a photography studio and wedding venue.
In 2013, Sydgen moved the chapel to its present location on Lyman Avenue near the railroad tracks and across from the Farmers' Market. As part of the move, the company renovated the structure and added a well-equipped basement space for receptions and other events.
It's an intimate space (capacity is just 49) that features six of the church's original pews in the chapel area. The cellar, entered through hand-forged iron doors imported from Mexico, has black-stained concrete floors, oak tongue-and-groove ceilings and Edison light fixtures.
In the center of the room, two antique Chicago brick pillars anchor a banquet table, while lining the walls are tufted-leather banquette benches and six smaller tables. There's also a granite-top bar.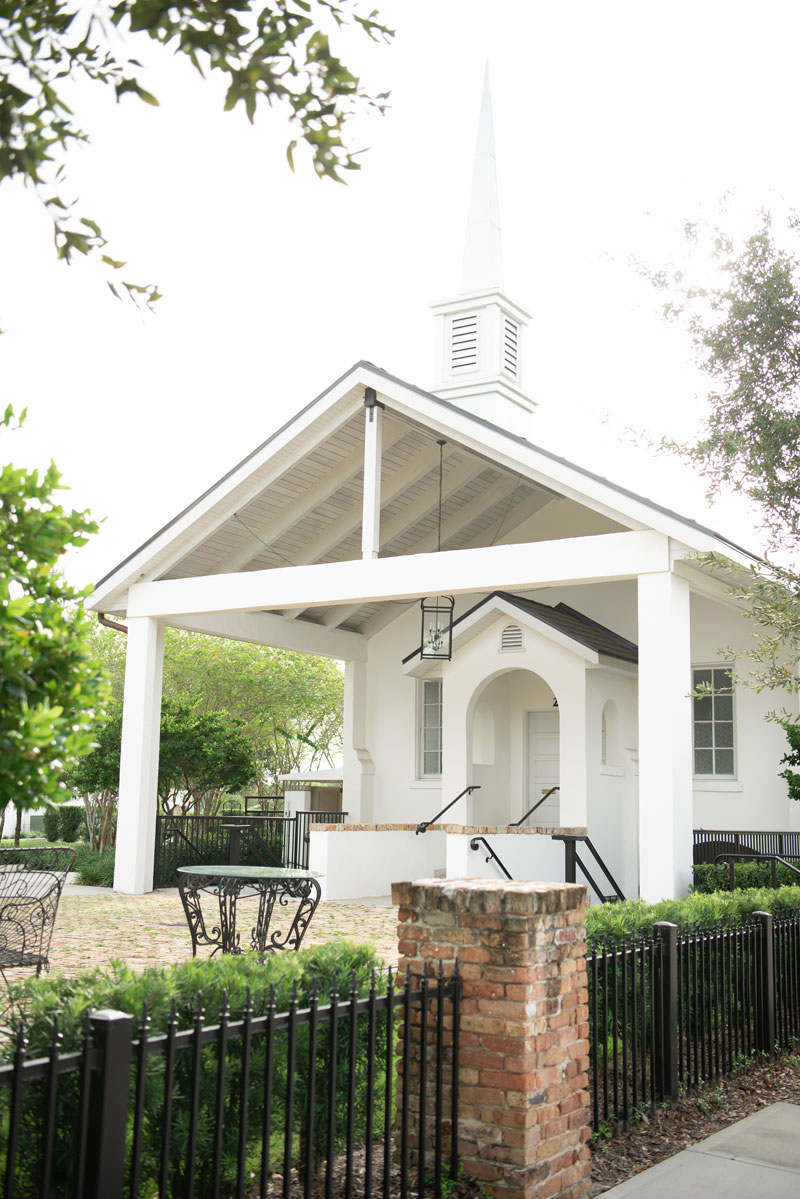 New and Notable
By the summer of 2021, Winter Park will have a new venue for hosting weddings and receptions — one that has been years in the making and not without controversy.
The Winter Park Library and Events Center is being constructed where the Rachel D. Murrah Civic Center once stood on Morse Boulevard. The civic center was demolished last year to make way for two new buildings designed by celebrity architect Sir David Adjaye.
The 13,000-square-foot events venue will include such enhancements as a porte cochere, a rooftop venue and an exterior amphitheater. As was the case with the former civic center, city officials say they expect most weekends to be booked months or perhaps years in advance. Reservations, in fact, are already being accepted.
So, there you have it. Now that we've laid out the options, contact any of these venues or visit their websites for rates and restrictions. First, of course, try to ensure that you won't be left standing at the altar when the time comes. Aside from the embarrassment, some deposits are not refundable.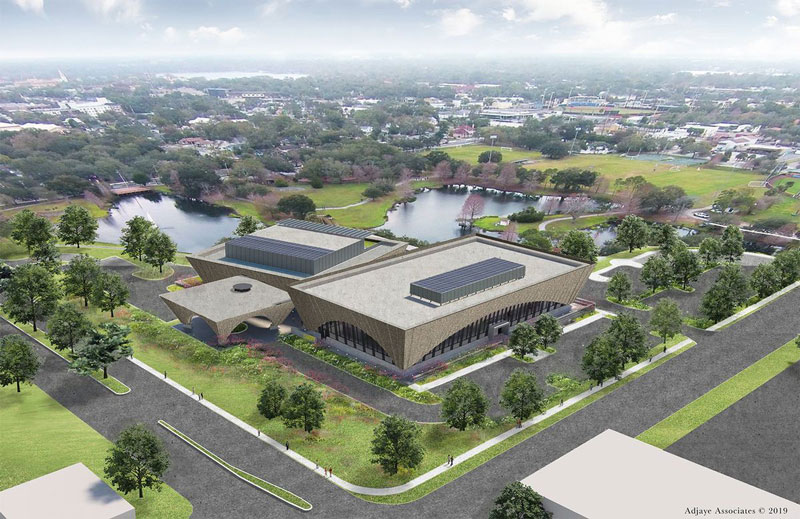 ---
Taking the Worry Out of Weddings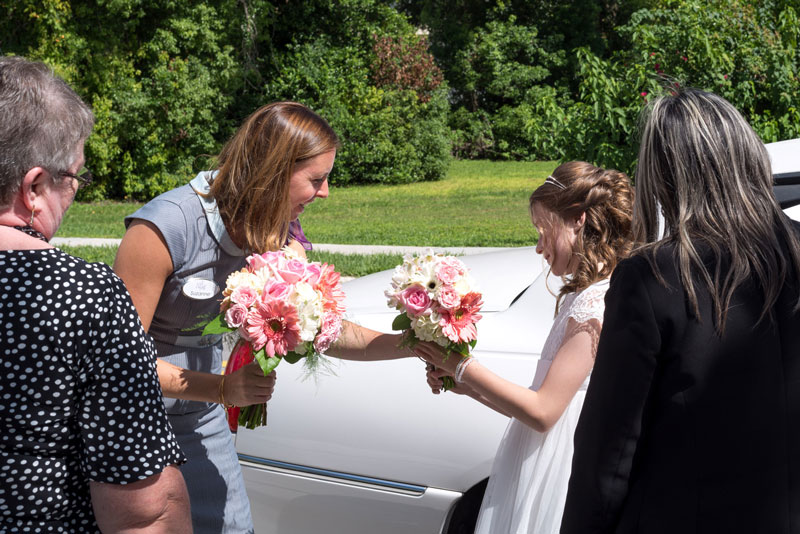 When Jannette Ocasio wanted information, she — like many of us these days — turned to Google. The phrase "small chapels in Orlando" led her to the Winter Park Wedding Company. And it proved to be a match made in heaven.
Ocasio, a sales executive who grew up in Central Florida, had always loved coming to Winter Park to shop, eat or attend art festivals. She and her husband, Steven, married last September in the chapel at First Congregational Church of Winter Park — one of five venues used by the Winter Park Wedding Company.
Marrying for a second time, Ocasio, 50, knew exactly what she wanted in a wedding: an intimate ceremony with close family members — and no stress. The Winter Park Wedding Company delivered. "Absolutely everything was to the tee," she says. "It was flawless execution."
The company, founded by Suzanne and Steve Graffham, specializes in taking the worry out of weddings. Over the past decade, they have brought more than 750 ceremonies to Winter Park.
In 2008, Steve Graffham, a commercial photographer, was leasing studio space in the former Grant Chapel in Hannibal Square. His wife, who had worked several years for a British firm that produced Florida weddings, was assisting with administrative tasks. Then the economy crashed, and the business was pummeled.
The couple decided to marry their knowledge and create a wedding services company, which they originally called Winter Park Wedding Chapel. Ceremonies were held almost exclusively at Grant Chapel.
The Graffhams' first client was Virgin Holidays, the British tour operator that packages travel — including weddings — for popular destinations like Florida. So it's no surprise that in the early years, most of the company's weddings were for couples who lived in the United Kingdom. "[The packages] incorporate the wedding, the honeymoon and a vacation — and still cost less than having a wedding back home," says Suzanne Graffham, 44. "These are people who have been coming here for holidays for years."
As word of the Graffhams' business spread through positive online reviews on such wedding sites as The Knot and Wedding Wire, their clientele diversified. Today about half of their clients are from out of state or out of the country, and half are from Central Florida.
In late 2013, when Grant Chapel was relocated from Winter Park's west side to the corner of Lyman and New England avenues and underwent a lengthy renovation, the Graffhams regrouped.
They changed the name of their business to the Winter Park Wedding Company and established relationships with a variety of local venues, including the renovated Grant Chapel — which now hosts weddings as the Chapel & Hudson's Cellar Hannibal Square — as well as the Capen House at the Polasek and the Alfond Inn.
The Winter Park Wedding Company also stages ceremonies in the sanctuary and chapel at First Congregational Church of Winter Park. The chapel, a more intimate space, is considered by the Graffhams to be their home venue and has been dubbed the Winter Park Wedding Chapel.
The Graffhams offer three all-inclusive packages for each of these locations. Couples — who spend, on average, just $2,300 — can also customize their nuptials.
The basic package includes the venue, the officiant, a coordinator, a bouquet for the bride and a boutonniere for the groom. Couples also get two hours of photography. Other packages include live music, a limousine, hair styling and makeup, and videography.
"Couples are so busy working long hours and don't have the luxury of time, so the all-inclusive packages have worked well in our favor," says Suzanne Graffham.
Business is so good that the Graffhams last year hired an associate, Cheryl Loft, to not only coordinate some of the weddings but to help them expand their company's services to receptions.
Brides today want everything close by, says Suzanne Graffham, and Winter Park has it all: hotels, restaurants, and architecture, streetscapes and green spaces that make perfect settings for romantic photography.
Many of the Winter Park Wedding Company's clients have been couples like the Ocasios, who are beginning second marriages and want more modest but still memorable events.
From Winter Park Wedding Company, the bride says she got all the joy she wanted in a wedding for under $2,000: "It gave my husband and I the opportunity to really splurge on our honeymoon in Italy and truly make the event completely about us.
— Catherine Hinman