EXCLUSIVE BOOK EXCERPT
Editor's Note: This story is adapted from a new book, Rollins After Dark: The Hamilton Holt School's Nontraditional Journeys, which tells the often-unorthodox story of the college's adult education program (which evolved into today's Hamilton Holt School).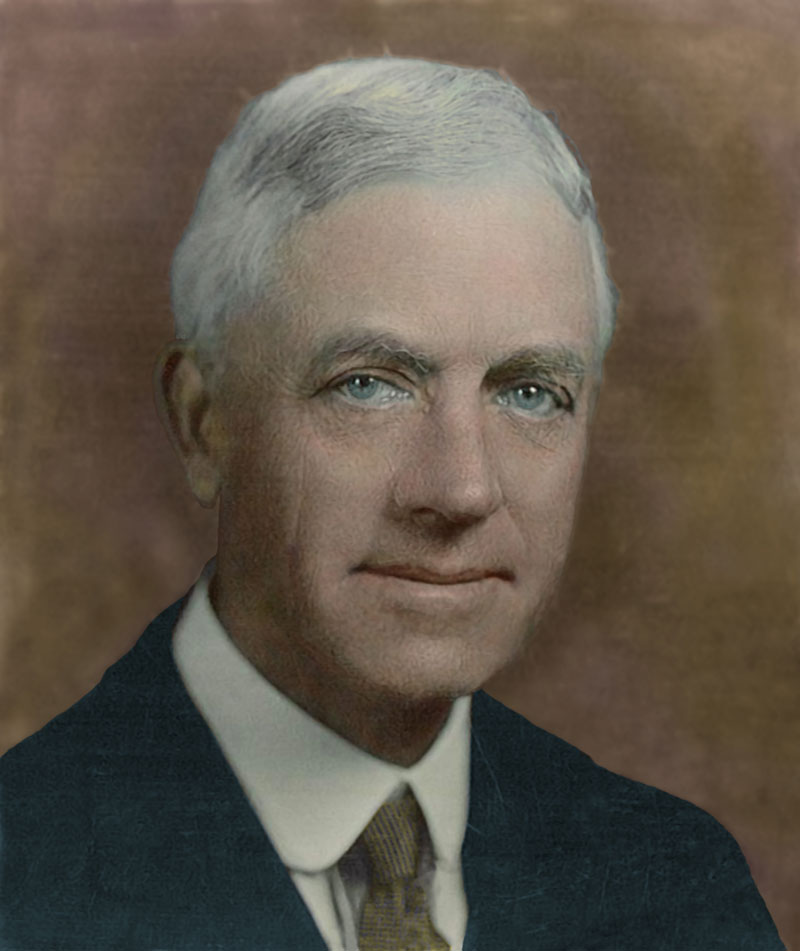 Hamilton Holt did not hesitate to test the tolerance of conservative Winter Parkers by hiring intellectual eccentrics and placing them in the spotlight. Frequently, such characters won over the community despite their unorthodox views.
That was certainly true of one "golden personality" who was crucial to the early Adult Education Program: the erudite John Martin, a dapper British-born socialist and self-styled authority on international affairs. Martin and his wife, Prestonia Mann Martin, moved to Winter Park from Staten Island, New York, in late 1929 at the behest of Holt, who had published Martin's editorials in The Independent.
Holt suggested that Martin, who was wealthy and not seeking permanent employment, might enjoy conducting student seminars, perhaps at his home, and holding public lectures.
"I am afraid I cannot offer you anything except the satisfaction of being 'noble' as I have exceeded my budget for instruction for this year," Holt wrote Martin in the summer of 1929. "But if you would care to give your services to the college this way, I am sure you would find yourself somewhat repaid in the inspiration you would give the young folks. I have found nothing more pleasant in my connection with Rollins College than the friendship I have formed with the coming generation."
Money was not an issue for the Martins. Their comfortable financial position was due in large part to Prestonia, the only child of John Preston Mann, a prominent New York surgeon who specialized in treating deformities, particularly club foot. She was unmarried when her parents died within a year of one another, enabling her to directly inherit the whole of her father's estate.
Martin, whom Holt listed as a conference leader or a visiting lecturer and consultant on foreign affairs, was born in Lincoln, England, in 1864. After graduation from the University of London with a Bachelor of Science degree, he became a professor at East Lincoln Technical College.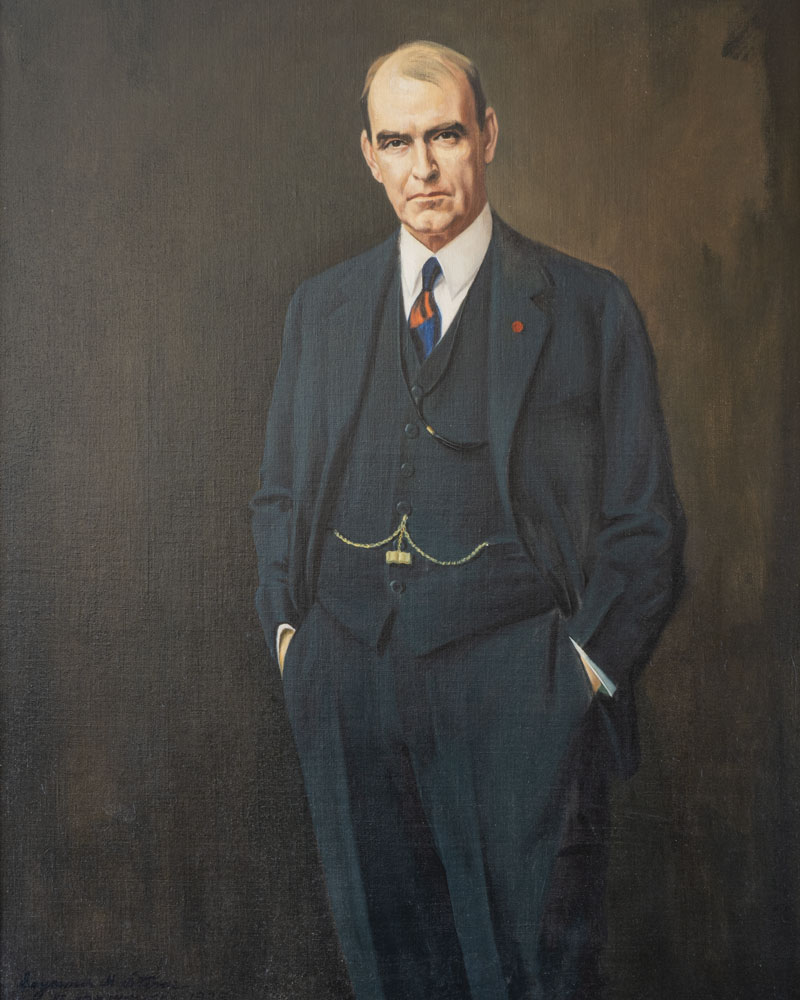 He also joined the London branch of the Fabian Society, an organization whose purpose was to advance the principles of socialism through gradual reform. (Essentially, then, Martin was ideologically akin to today's left-wing Democrats.)
He lectured at the Peoples' Palace in the East End of London, which offered an eclectic adult education program for working-class Londoners. And, accompanied by playwright and activist George Bernard Shaw, he attended an 1894 meeting in Brussels of the Second International, an organization of socialist parties and labor unions.
Martin then crossed the pond for a lecture tour and decided to remain in New York, where he became a U.S. citizen in 1903. He subsequently directed the New York-based League for Political Education, an advocacy group for women's suffrage, and was appointed to the New York City Board of Education by Mayor George B. McClellan Jr.
In addition, Martin served on the City Housing Corporation, a private nonprofit that offered low-interest mortgages and promoted affordable housing, and later became vice president of the League of Nations Non-Partisan Association, which is almost certainly how he became acquainted with Holt.
A TREAT FOR TRUE TRANSCENDENTALISTS
Prestonia, born in New York in 1861, was a cousin of educational reformer Horace Mann and had an even more unorthodox background than that of her husband.
Also a socialist, she had edited the American Fabian magazine and since 1895 had operated a rustic retreat in the Adirondacks called Summer Brook. It was modeled on Brook Farm — a short-lived utopian commune started in 1841 by transcendentalist George Ripley and his wife, Sophia, at the Ellis Farm in West Roxbury, Massachusetts.
As a young woman, Prestonia attended the Concord School of Philosophy, a lyceum-like series of summer lectures and discussions begun in 1879 by Amos Bronson Alcott and other transcendentalists in Concord, Massachusetts.
At rustic Hillside Chapel, where sessions were held, Prestonia heard Ralph Waldo Emerson, de facto leader of the transcendentalist movement. The colorful and original Alcott — father of Louisa May Alcott (Little Women) — would certainly also have been one of the speakers. Prestonia might also have encountered Elizabeth Peabody, Julia Ward Howe, William Torrey Harris or Franklin Sanborn.
"What is sought in the discussions at Concord is not an absolute unity of opinion, but a general agreement in the manner of viewing philosophic truth and applying it to the problems of life," said Alcott, who considered the school to be an adult education center and harbored hopes that it would evolve into a full-fledged college. (Hillside Chapel still stands adjacent to the Orchard House, the Alcott family home. It is the site of an annual Summer Conversational Series and Teacher Institute.)
But while Brook Farm was intended to be a permanent, self-sustaining settlement — hence its decline and dissolution — Summer Brook was intended for seasonal visitors only.
"One can stand almost anything for a couple of months," opined a writer in Munsey's Magazine. "And in the 10 months that elapse before the camp opens again, one has a chance to forget all but the pleasant features of the experience. But this is rank pessimism, induced, possibly, by the optimism of the promoter and conductor of Summer Brook."
A 1900 edition of the International Socialist Review described Summer Brook as "a chalet built of picturesque spruce logs" where "sisters" and "brothers" shared chores during the day and, following an evening meal on a piazza overlooking mountainous terrain, enjoyed lectures, debates, poetry readings, dramatic presentations and musical performances.
Prestonia, an accomplished pianist who had attended the New England Conservatory of Music in Boston, often played classical pieces or participated in reenactments of Greek tragedies such as Lysistrata.
"Here in the twilight, as the crimson glory of the sunset fades and the mist gathers on the dim mountains, the sisters and brothers come together in the great hall and discuss the serious problems of life, of labor, of love," rhapsodized writer Leonard Abbott, a frequent visitor.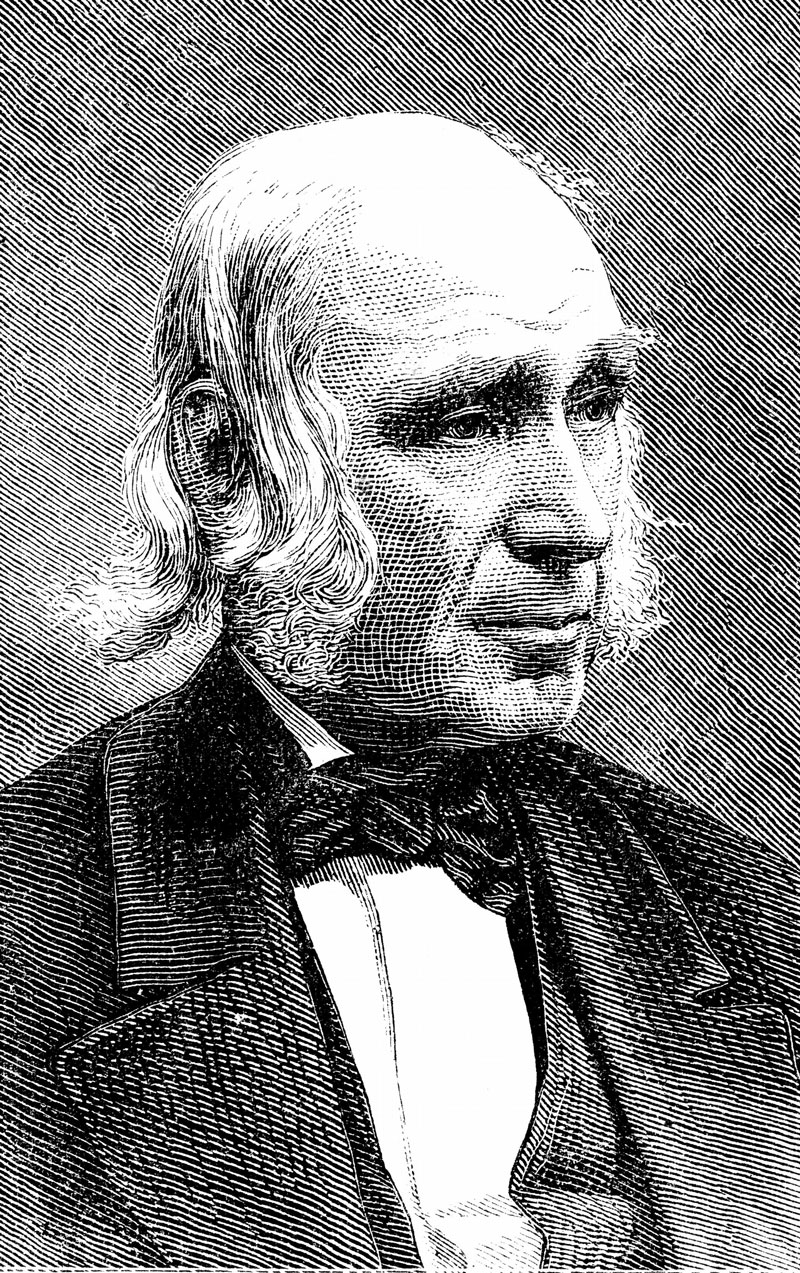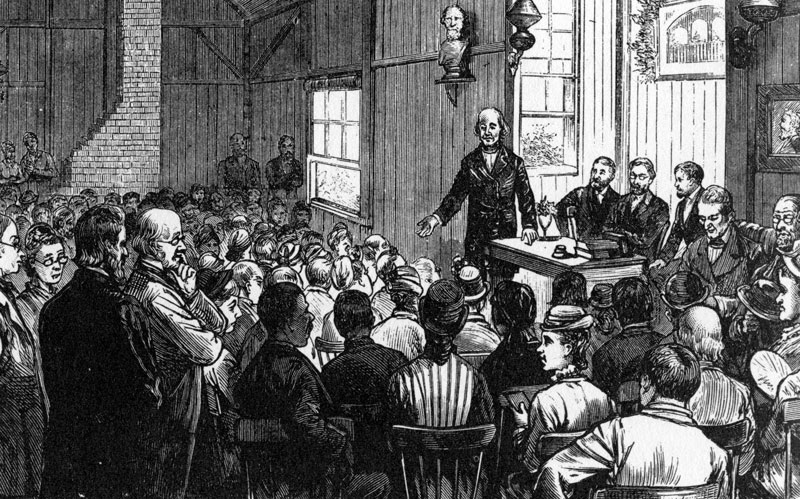 "Some brother will give an informal lecture on a subject that is nearest to his heart," continued Abbott. "Or some sister — perhaps the hostess herself — will take her place at the piano, and strains from the splendid operas of Wagner, or the somber sonatas of Beethoven, will echo through the hall and drift out over the valley."
A mural depicting men and women at labor topped the mantlepiece of the gathering area, while the walls were bedecked with portraits of such transcendentalist icons as the Ripleys, Ralph Waldo Emerson, Margaret Fuller and Henry David Thoreau alongside such political figures as Abraham Lincoln and George Washington.
H.G. Wells spent time at Summer Brook, as did Maxim Gorky and an array of lesser-known writers, academicians and social reformers. Martin, too, was often present at Summer Brook, where in 1900 he wed "America's greatest gift to me."
The couple then bought a large home in the affluent Grymes Hill neighborhood on Staten Island, where they welcomed numerous prominent guests. One was Gorky, a Russian novelist and revolutionary who opposed the czarist autocracy and traveled to New York in April 1906 on a fundraising trip for the Bolshevik faction of the Marxist Russian Social Democratic Party.
Gorky's visit had been organized by a group of anti-czarist writers that included Ernest Poole, William Dean Howells, Jack London, Mark Twain, Charles Beard and Upton Sinclair. At the A-Club in Greenwich Village, Twain spoke at a dinner in Gorky's honor.
"If we can build a republic in Russia to give the persecuted people of the czar's domain the same measure of freedom that we enjoy, then let us do it," said Twain. "Anybody whose ancestors were in this country when they were trying to free themselves from oppression must sympathize with those who are now trying to do it in Russia."
Two days later, however, Joseph Pulitzer's New York World published the salacious news that Gorky was staying at Manhattan's luxurious Hotel Belleclaire with a Russian actress, Maria Fyodorovna Andreyeva, to whom he was not married.
Within hours, Gorky and Andreyeva were ejected from the hotel and subsequently shunned by the literati who, in rapid succession, resigned from a committee formed to advance the revolutionary cause. The Martins, however — much to the horror of their neighbors — welcomed the couple, who stayed with their open-minded hosts for at least five weeks.
Gorky wrote Mother, a novel about factory workers fomenting revolution, while on Staten Island and during forays to Summer Brook. Martin, who spoke Russian and enjoyed Gorky's company, told the Orlando Sentinel decades later: "There was not a cultured family in Western Europe that would not have been honored to have them."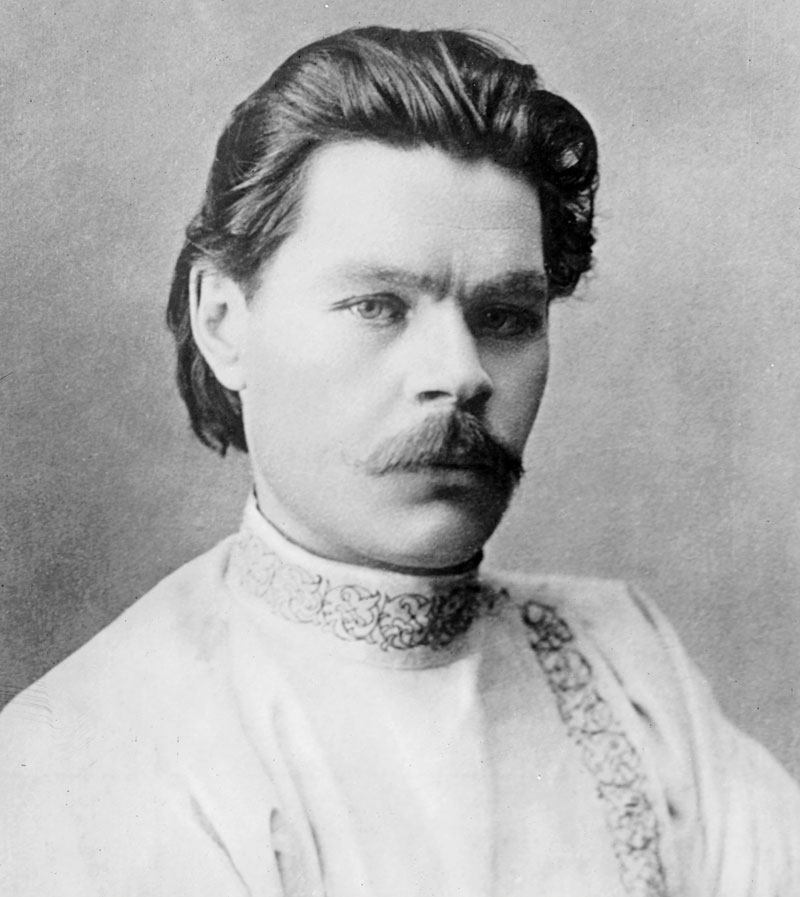 MEN ARE BRUTES, WOMEN ARE POTENTIAL HYSTERICS
In 1916, the Martins collaborated on a book entitled Feminism: Its Fallacies and Follies with sections providing "The Man's Point of View" and "The Woman's Point of View" about topics ranging from "Women's Economic Value in the Home" and "The Fading of the Maternal Instinct" (John Martin) to "Eugenics and Women" and "The Moral Uses of Husbands" (Prestonia Mann Martin).
Feminism is generally a threat to the family unit, both argued, and men and women should embrace their traditional roles. "In normal relations the special service which a woman performs for a man is to tame him," declared Prestonia. "The service he performs for her is to steady her."
Continued Prestonia: "If it were not for woman's taming power, we should lapse into savagery; if it were not for man's steadying power, society would approach bedlam. It is true that a man engaged in correcting his wife presents a most odious appearance. He is looked upon as a cad, and in general feels himself to be one. Therefore, men have withdrawn more and more from corrective functions. But just as almost all men are only half-tamed savages, so almost all women are potentially hysterics; and just as it is true that the disciplined savage makes the strongest man, so the controlled hysteric gives the strongest, richest woman nature."
Prior to ratification of the 19th amendment in 1920, Prestonia became one of the most prominent anti-suffragettes in the U.S., contending that not only were women the weaker sex, they "lacked the aptitude either to make laws or ignore them."
If women got the vote, she contended, then legislation should be passed allowing them to give proxies to their temperamentally better-equipped fathers or husbands. "The remedy for political ills is better men," she wrote. "Men are what women in the home have made them. There is where reform should begin."
---
"But just as almost all men are only half-tamed savages, so almost all women are potentially hysterics; and just as it is true that the disciplined savage makes the strongest man, so the controlled hysteric gives the strongest, richest woman nature."
— Prestonia Mann Martin
---
Such views were not uncommon at the time and were espoused by women from both extremes of the ideological spectrum, albeit for different reasons. Anarchist Emma Goldman wrote in 1910 that "people of intellect … [have] perceived that suffrage is an evil, that it has only helped to enslave people, that it has but closed their eyes that they may not see how craftily they were made to submit."
Goldman, in other words, believed that women ought not to validate an inherently oppressive system by seeking more privileges within its confines. Could the Martins have accepted this rationale? If so, then why had John Martin worked for a pro-suffrage organization?
The inscrutable tone of their writing — at turns both academic and outrageous — leads a modern reader to suspect that Feminism: Its Fallacies and Follies may have been intended as a parody. If so, only the Martins were in on the joke; newspapers reported their pronouncements in a straightforward manner — and feminists were not laughing.
"It does seem to be a strange stance for them to take because in every way except suffrage, Prestonia was a feminist," said Enid Mastrianni, a historian of the Adirondacks who has researched the lives of the Martins. "She and John were equal partners in their relationship. Obviously, their language seems over the top to us today. But I will say this: They didn't think women should vote, but once that changed, they wanted women to vote for socialists."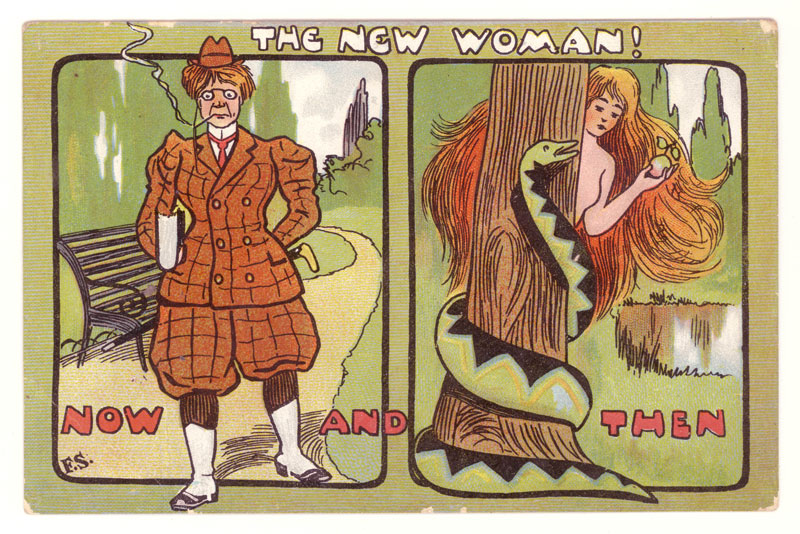 In late 1929, just months following a stock market crash that signaled the onset of the Great Depression, the Martins bought a lavish but unfinished Mediterranean-style home abutting Lake Virginia at 1000 Genius Drive, a road carved through then-remote grove land once owned by Charles Hosmer Morse. (It later became the Rollins Conservatory of Music and is today a private residence.)
There, at Holt's invitation, they planned to live during the winter months while maintaining their spacious home on Staten Island and their socialist retreat in upstate New York's Keene Valley, where in 1936 Prestonia's annual summer colloquium would welcome Holt and several faculty members as guest lecturers.
The Martins spent their first season in Winter Park at the home of Rosalie Slaughter Morton, a pioneering surgeon and public-health advocate who owned what was then known as the Vans Agnew estate next door. Morton, a gynecologist, worked as a medic on the front lines during World War I and was one of the first female faculty members at the Polyclinic Hospital of New York and the College of Physicians and Surgeons at Columbia University.
The couple had barely unpacked their bags when John Martin began speaking to civic groups and participating in campus-sponsored symposia, including the second annual Institute on Statesmanship, which in January 1930 attracted more than 100 prominent figures in journalism and academia to discuss "The Formation of Public Opinion."
Martin's lecture series, which debuted in February 1931 at the Annie Russell Theatre, was open to the public and drew full houses with such topics as U.S. relations with India, China and the United Kingdom.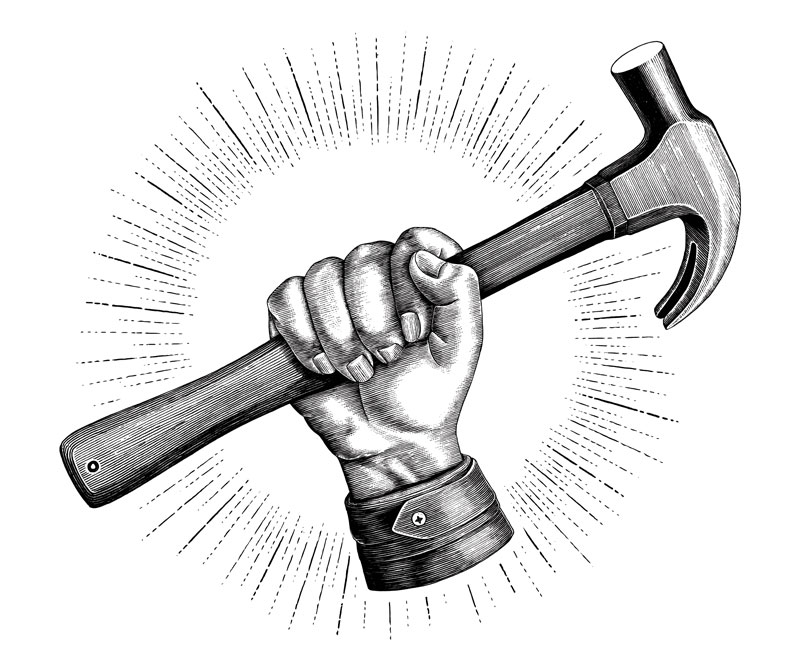 HAMMER BOY'S UNHINGED REVENGE — BUT WHAT FOR?
In April 1932, the lecturer was the victim of a brutal assault that left him in critical condition and attracted national newspaper coverage. Oliver Johnson Keyes, an unemployed 23-year-old college dropout, rode the train from Manhattan to Winter Park, where he purchased a hammer, tucked it into a briefcase and wandered through a driving rainstorm until he located the Martin home.
Keyes, a would-be socialite whom the Martins had assisted financially when he briefly attended Hamilton College and Columbia University, was the son of Helen Johnson Keyes, the women's page editor at the Christian Science Monitor.
Keyes' maternal grandfather, prominent abolitionist Oliver Johnson, had been managing editor at Horace Greeley's New York Tribune before becoming an editor at The Independent, which Holt later edited, from 1865 to 1870 — an irresistible coincidence that would nonetheless be overlooked by most reporters.
It was later learned that Johnson and Prestonia's father, surgeon John Preston Mann, had been friends. Although Johnson and Mann died before Keyes was born, their long-ago connection brought Keyes into the orbit of the childless Martins, who frequently mentored young people whom they deemed promising.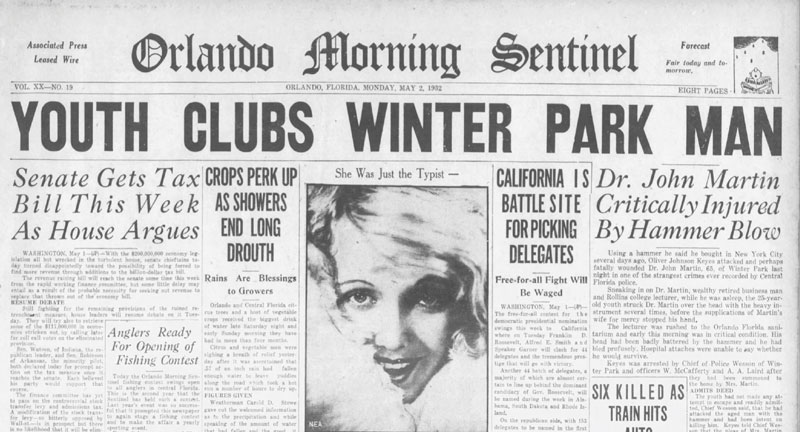 Keyes even spent time at Summer Brook, he later told police, but felt abandoned by the Martins when they moved to Florida. He harbored a grudge against John Martin, more specifically, whom he had decided to kill because "I felt it was my duty." Martin, claimed Keyes, had spread rumors about him, which had resulted in his banishment from a prestigious Staten Island tennis club and had prevented him from finding employment.
When the disheveled Keyes appeared unexpectedly, the Martins cautiously welcomed him and promised him food, rest and enough money to return to New York when he was ready.
Keyes, who over the course of the afternoon "became more calm and gave up the idea [of killing Martin]," left after dinner but later returned and entered the unlocked home after the couple retired to their respective bedrooms.
"The resentment and anger came back more strongly, and finally when I entered [Martin's] room I found him sitting up in bed reading," Keyes told the Orlando Morning Sentinel during a surreal interview from the Orange County Jail. "Some people might think it awful for a young man to attack someone Mr. Martin's age. But he is terribly strong and made such a vigorous effort to defend himself that I didn't feel any shame about attacking him. I would have felt forever a coward if I had not done so."
Keyes pummeled his erstwhile mentor with the hammer until Prestonia, hearing the melee, rushed to her husband's room and screamed at the bloody spectacle. She struggled with Keyes, twisting her ankle in the process, and begged him to stop.
"Oliver, why are you doing this horrible thing?" she asked. "Don't you remember all that we have done for you?" Having been caught in the act, Keyes abruptly realized that Mrs. Martin, for whom he felt no ill will, would also have to be killed. Consequently, he dropped the bludgeon and waited while Prestonia called the police.
"I always liked her well enough," Keyes told Winter Park Police Chief A.A. Wesson, who arrived on the scene with two other officers. "It was because of her that I stopped. Really, she showed a lot of courage for a 70-year-old woman."
---
"Some people might think it awful for a young man to attack someone Mr. Martin's age. But he is terribly strong and made such a vigorous effort to defend himself that I didn't feel any shame about attacking him. I would have felt forever a coward if I had not done so."
— Oliver Johnson (Hammer Boy) Keyes
---
Wesson arrested the nervous but entirely unrepentant Keyes, who matter-of-factly described what he had done and why he had done it. He was subsequently charged with assault with intent to commit premediated murder, expressing regret only that he had apparently not succeeded. "This is the strangest crime ever to happen in Winter Park," Wesson later told reporters.
Martin, his skull fractured and barely clinging to life, was transported to the Florida Sanitarium, the precursor of AdventHealth Orlando, where doctors doubted that he would live through the night. Keyes, meanwhile, dubbed "Hammer Boy" in the press, was adjudicated "hopelessly, dangerously and incurably insane" — paranoid dementia praecox was the diagnosis from a panel of doctors — and committed to Bellevue Hospital, a psychiatric facility in Manhattan.
Martin's inept assailant died in 1973 at the Harlem Valley Psychiatric Center in Wingdale, New York. Four months after the near-fatal attack, against all odds, Martin had recovered sufficiently to discuss the redistribution of wealth at a meeting of the Florida Chapter of the League for Independent Political Action.
COMMONERS, CAPITALS AND MRS. ROOSEVELT
But while John Martin drew large crowds for his talks, it was his wife who made national headlines with a policy proposal that caught the attention of Eleanor Roosevelt.
In a 1933 pamphlet entitled "Prohibiting Poverty," Prestonia advocated conscription of everyone between ages 18 and 26 to produce the necessities of life, including food and clothing, which would then be distributed free of charge.
Her "National Livelihood Plan" called for eight years of service as a "commoner," after which a newly minted "capital" would be guaranteed a basic level of subsistence permanently, even if he or she pursued a career and did not need assistance. Mrs. Roosevelt favorably referenced the program in a speech and even passed along the pamphlet to her husband, who dismissed its premise as simplistic and impractical.
Soon, though, President Franklin D. Roosevelt would introduce an alphabet soup of federal work programs, albeit less radical ones, to combat the Great Depression.
Few reviewers, however, thought Prestonia's proposal feasible. Still, the very fact that "Prohibiting Poverty" was the subject of serious attention and contemplation is indicative of a growing sense of national desperation. It is no wonder that Holt gravitated toward the Martins, since such quixotic notions were reminiscent of his own fervor for world government.
By the mid-1930s, the John Martin Lecture Series encompassed nine talks on consecutive Thursday mornings from January through March. As audiences grew, the on-campus theater gave way to the larger First Congregational Church of Winter Park. When attendance began to top 1,000, only the auditorium at Winter Park High School (now the Winter Park Ninth Grade Center) could provide adequate seating capacity.
---
"I felt as a young man, however, and I still feel, that as history is nothing more than the coming into his own of the common man, we shall have more rather than less democracy in the future, and therefore more collective thought and action. Whether this will be one of the hundred definitions of socialism, I cannot say."
— Hamilton Holt
---
Martin, described in the Orlando Sentinel as "a penetrating analyst and a forceful speaker," always discussed issues of the day, encompassing domestic politics as well as U.S. relations with counties in Europe, Asia and Latin America. In 1935, he explored "Three Dictatorships (Russia, Italy and Germany) and Three Democracies (France, Great Britain and the United States)," while in 1936, he expounded upon "The Policy of the United States Toward the War."
Martin frequently posited ways in which the U.S. might avoid being drawn into the conflict raging throughout Europe and Asia. However, when the 1941 Japanese air attack on the naval base at Pearl Harbor negated neutrality, he explored the motivations of the combatants and in one lecture explained "Why War With Japan Was Inevitable."
Throughout World War II, at least one of the lectures in Martin's annual series was dedicated to what would today be called "breaking news." Many others, though, weighed potential scenarios for the war's aftermath.
When in February 1943 Martin presented "Winning the War and Winning the Peace," city officials announced that the Winter Park Police Department would not enforce a federally mandated ban on pleasure driving for those who wished to attend.
In the lecture, Martin supported Holt's long-standing belief that only a world government that placed "irresistible might behind international law" could prevent future world wars. Martin's presentations, during which he spoke for about an hour, were free of charge; however, collections were taken to benefit scholarships, social welfare funds, war relief programs and Eatonville's Hungerford Vocational High School.
THE GENIAL GENIUS OF GENIUS DRIVE
In 1944, Martin decided to retire — more or less. He delivered his final scheduled lecture, "A World Survey and the Position of the United States," before a full house at the First Congregational Church. Many Winter Park citizens, including Holt, rose to offer heartfelt tributes when the talk concluded.
"Mr. Martin has probably done more for the education of this community than any one person," said Holt. "Now, are we going to let him retire? We are certainly not. We cannot spare him."
A local physician, Eugene Shippen, then lauded Martin as "an internationalist whose loyal Americanism has never been questioned" and proposed a resolution that "put on record our sense of gratitude for the generous service this member of the Rollins faculty has rendered to the community without money and without price."
Shippen's resolution also expressed "our recognition of the scholarly research that has gone into the preparation of his lectures, our appreciation of the judicial and objective treatment of controversial issues and, not incidentally, the enjoyment that has been ours in listening to the pure English and faultless diction of these discourses."
The audience stood and cheered the 79-year-old socialist who, for perhaps the only time in his life, seemed all but speechless. "I can only say, my friends, that this need not be absolutely my last speech," he teased. "While I shall not announce any future complete winter course, I may at any time give an occasional address if circumstances warrant."
A program of presentations, renamed the John Martin Series of Lectures on International Affairs, continued with combinations of other speakers, including faculty members, winter visitors and the indefatigable Martin — who likely required little persuasion to return to the podium. But few other presenters could match Martin's panache, and attendance began to dwindle.
Royal W. France, an activist attorney and professor of economics who had chaired the Florida Socialist Party, was director of the series from 1945 until it ended in 1951. "A college professor with liberal views in a community like Winter Park was not all honey and roses," France would write in his 1957 autobiography, My Native Grounds.
Indeed, Holt was often called upon to defend the hiring and retention of faculty members such as France and his colleague Edwin L. Clarke, a peace activist and professor of sociology who presented lectures in the community provocatively titled "Why I Am a Socialist."
Even Holt, well known as a progressive, was forced to tiptoe around the issue of socialism when quizzed about his own political views. "I am not a socialist," he wrote in a 1937 response to a now-lost query from his friend Irving Bacheller, who likely sought clarification because he found that whispers to the contrary had become a hindrance to fundraising.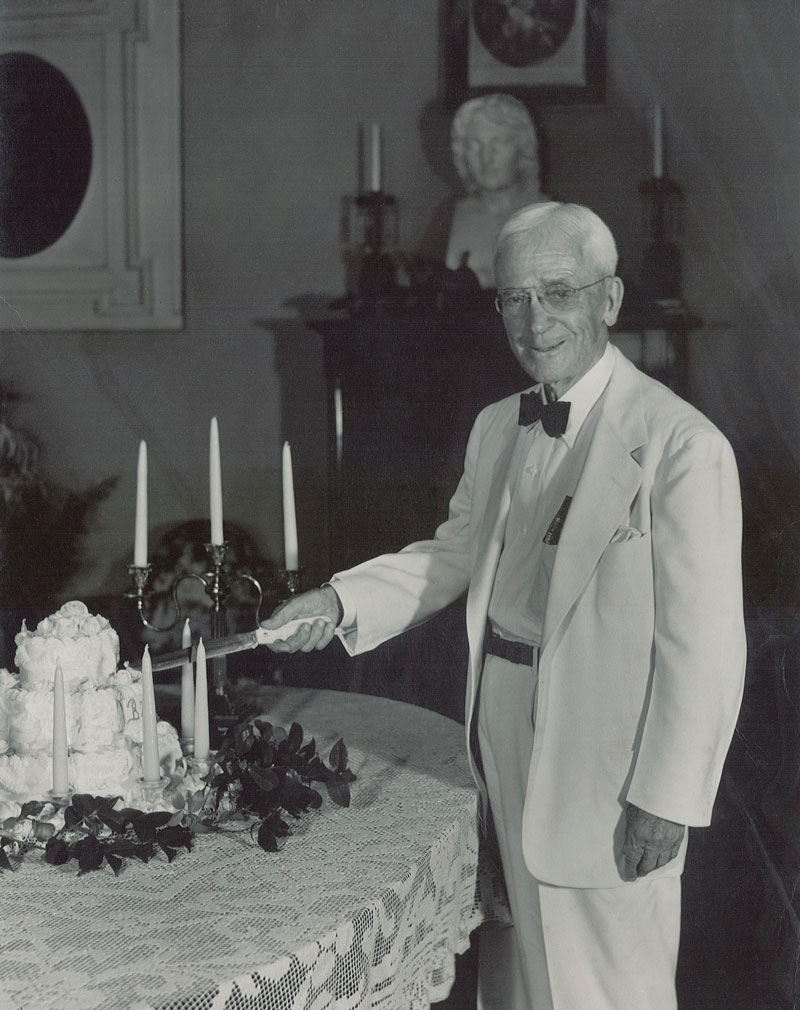 "Years ago, I gave up the idea that socialism would be my political philosophy," noted Holt. "I felt as a young man, however, and I still feel, that as history is nothing more than the coming into his own of the common man, we shall have more rather than less democracy in the future, and therefore more collective thought and action. Whether this will be one of the hundred definitions of socialism, I cannot say."
Martin's politics, however, were entirely beside the point. The nuances of difference between socialists and Fabians would have mattered little to conservative Winter Parkers, who were disinclined to embrace either political theory. Martin had managed to successfully position himself as an analyst, not an advocate, and was embraced for his colorful personality and good humor (to say nothing of his impeccable elocution).
Prestonia Mann Martin, who also presented lectures on campus, remained active in civic organizations but fell ill and died at age 83 on Easter Sunday in 1945. Her death came just weeks after she delivered the closing address at the Animated Magazine entitled "The Medicine Man," described as "a comical tale concerning the difficulties of a sheriff in a small town under Prohibition." She was eulogized in Winter Park Topics, a seasonal weekly, as "original, independent and witty" and "one of Winter Park's best known and most beloved women."
In his remaining years, the robust John Martin, dubbed by a reporter the "Genial Genius of Genius Drive," lectured occasionally, hosted friends constantly and enjoyed long walks along the tree-shaded streets surrounding Lake Virginia. During the 1953 edition of the Animated Magazine, he read aloud "Grandma's Declaration of Independence," a humorously defiant poem about aging written by his late wife. (See below.)
On his 90th birthday, Martin complained (not so genially) to the Orlando Sentinel that "Winter Park has changed almost beyond recognition — and not for the better!"
When he died in 1956 at age 92, Martin willed his body to medicine and his home to Rollins. "[John Martin] was a great humanist," said William A. Constable, an associate professor of English, during a public memorial service at Knowles Memorial Chapel. "He was devoted to other peoples and such social reforms as would alleviate the lot of the poor and needy."
Continued Constable: "But unlike others with similar ideals, he was never intolerant. He was always willing to learn and alter his opinions if he thought that facts warranted the change. He never allowed his mind to become closed. Indeed, he dreaded the possibility that he might become what he called 'an old fossil.'"
---
"Winter Park has changed almost beyond recognition — and not for the better!"
— John Martin
---
Was Martin more an expert on international relations, or more a suave spellbinder with an authoritative accent? No recordings of his lectures are known to exist, and contemporaneous news accounts reveal mainly the topics, not the substance, of his talks. His published scholarship is minimal and his best-known book, Feminism: Its Fallacies and Follies, has not (at the risk of understatement) held up well.
However, even if Martin's appeal was attributable in large measure to showmanship, his popularity reinforced the college's cachet among lifelong learners. Yes, crowds were impressive at the Animated Magazine, thanks to savvy marketing and an eclectic roster of celebrities (and semi-celebrities).
But the fact that discourses on international affairs drew upwards of 1,000 listeners must have confirmed to Holt that the community wanted more of what the college had to offer.
"[Students] do not come very much as auditors or spectators to our chapel, our theater or our lectures," Holt noted in a 1936 talk at Knowles Memorial Chapel. "It is the public that largely fills our halls and supports our programs. Even in our athletic contests it is difficult to get students on the sidelines except in football, and even then community spectators are overwhelmingly in the majority."
Continued Holt: "I will have to confess it is difficult for me to keep my internal equanimity when we have a college assembly under the cypresses on the lakeside to hear a distinguished visitor deliver a worthwhile message, and I see a couple of students walk to within 50 yards of the assembly, sit down under a tree, light cigarettes and vegetate."
---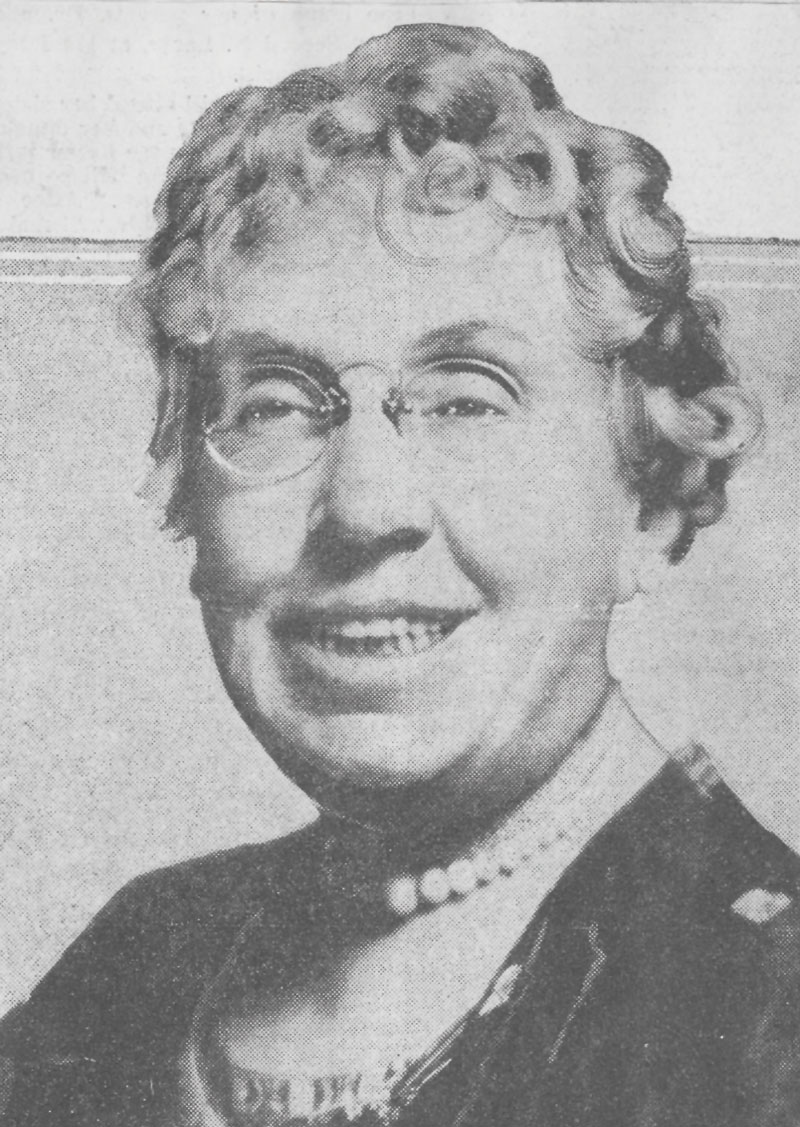 Editor's Note: This poem, written by Prestonia Mann Martin (above), demonstrates her quirky humor. She read it aloud at the 1944 edition of the Animated Magazine, and — by popular demand — during talks to civic groups throughout the city. The light-hearted (if defiant) work was so popular locally that it was reproduced in Winter Park Topics, the Winter Park Herald and published by Rollins College for sale at the campus bookstore. The pamphlet featured an introduction by Hamilton Holt.
GRANDMA'S DECLARATION OF INDEPENDENCE
This message I extend
To relative and friend
That henceforth I shall live at ease
And so exactly as I please
Now I'm eighty.
And being thus inclined
And firmly of this mind
I note the things I've left behind.
No more ski-jumps
No more bob-sledding
Into snow-drifts heading.
I shall not any more climb trees
Nor bob my tresses
Nor wear my dresses
Above my knees.
To all and sundry I give warning
I shall not henceforth dance till morning.
I am the master of my fate
And I shall go to bed at eight
If I so choose — now I'm eighty.
No more spinach, not a beet
But I shall eat
All the popcorn I can hold
Now I'm old.
No crimson nails
No ankle socks
No tortuous permanents for my silver locks
Electrocuted in a box.
What e're the fashion sheets reports
I won't appear in slacks and shorts.
No one shall see me on parade
In a bathing suit, nor yet arrayed, in the bright light of day
In my pajamas on Broadway.
It goes against my simple tastes
To bare my back down to the waist.
No more lipstick, powder or paint
To make me look like what I ain't.
As for my shoes — I do not choose
To put my toes in a hole
And my heels in the air
So I shall take care
When all is said and done,
To wear a broad, flat, steady, sole
That I can call my own.
On this my resolution's clinched
I will not have my waist-line pinched.
I will not go to bat
For any crazy hat
Designed for Zazu for a gypsy
By a milliner who much have been tipsy.
But someday I'll wear a white lace bonnet
With a silver musk-rose on it
And a black velvet ribbon round my neck
By Heck! (That's to rhyme with neck)
As I've always wanted to do,
And quite undaunted, too.
I'll welcome wrinkles as they come,
For what harm have they ever done?
Instead of regarding them as detrimental
Why not think of them as ornamental?
As just one more crinkle
In a piece of beautiful old Chinese crepe.
At eighty you can discard allure
The best you can do is look demure.
To down temptation strength, by age, is lent.
You can go to a ladies' tea-party
And come back as pure as when you went.
You can watch soldiers marching by
Without batting an eye.
Prayers for your salvation can now be waived,
For if you're not saved at eighty
you'll never be saved.
But the path of virtue easier grows you'll feel
As you find you're running short yourself on sex appeal.
And if you would be wise
I'll give you some advice:
Don't let the psalmist stop you
When he talks for three-score years and ten;
Keep on going — and at eighty you'll know
You've beaten Moses ten up — and some to go.
And at eighty, if you don't hear or see quite so well,
Don't worry or think it tough.
In a world that seems bound for hell.
Believe me, you'll hear and see quite enough.
But should Hitler ever fast or loose
Try to make you do the step of goose
You can tell Herr Fuehrer,
There's nothing you'll find surer,
That whatever cost,
American old folks can't be bossed —
Not when they're eighty.
We've got some dough-boys who at the drop of a hat
Will see to that.
While to old age my thoughts I give
I find I'm just about ready to live.
No glamor boy could turn my thoughts to Reno
But faithful to the comradeship that we know
I'll cling as fast and as long as ever I can
To my one and only old man — now I'm eighty.