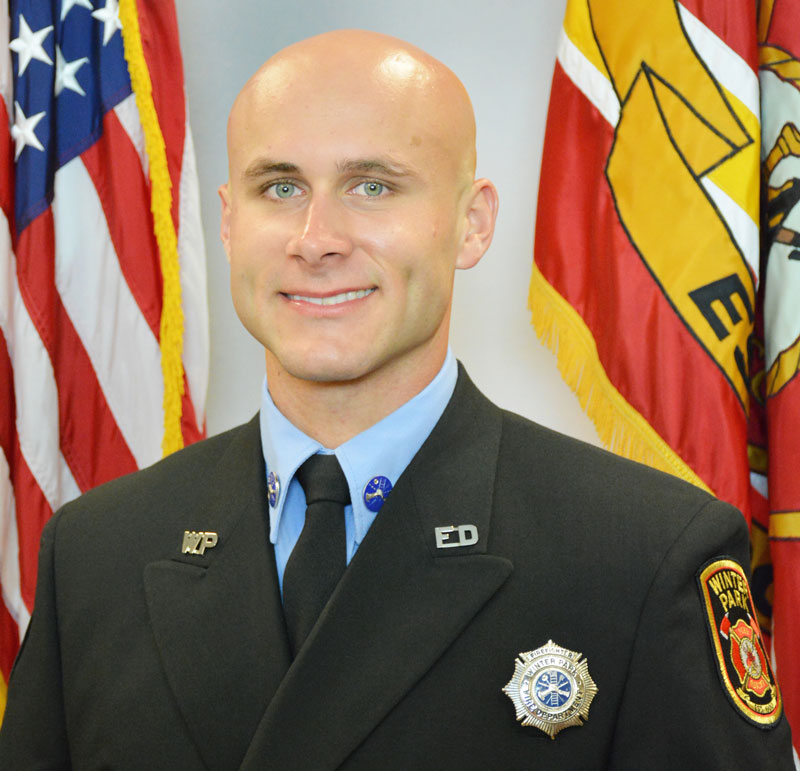 Is there anyone who doesn't admire firefighters? When the bell rings, these highly trained men and women suit up and head into danger zones with no questions asked. Jacob "Jake" Gercak, a firefighter and paramedic with the Winter Park Fire-Rescue Department, insists that he's unexceptional in that regard.
Probably so, considering the heroism that has become synonymous with firefighting and firefighters. But when Fire Chief Dan Hagedorn recently announced the local department's Firefighter of the Year, it was Gercak who stepped forward to accept.
The 23-year-old Gercak also earned the local department's Award of Valor and was named Firefighter of the Year by the Florida State Firefighters Association in Tallahassee, where he met Chief Financial Officer Jimmy Petronis and Governor Ron DeSantis.
"Sure, I know I did the right thing and all that," says Gercak, who's in his second year in Winter Park after three years with the Daytona Beach Fire Department. "But I also, without a doubt, did exactly what anybody else here would have done."
Here, for the record, is what Gercak did.
He and Dudley Brearly, a fellow local firefighter, were driving home from a day of mountain biking in Mount Dora. Along a rural stretch of State Road 44 in Lake County, they noticed skid marks and spied a partially submerged vehicle that had apparently veered into a telephone poll and rolled into a swampy retention pond, landing with only the driver's side above the water's surface.
The pair stopped and rushed to where the vehicle had come to rest. With power lines dangling precariously overhead, Gercak kicked in the passenger-side window and pulled three dazed young children to safety from the back seat, handing them off to Brearly and a pair of elderly bystanders as he extricated them from the wreckage.
"Then we started looking for a parent," Gercak says. "It was hard to see because it was getting dark. We found the mom, unconscious, in the front seat under the water. We brought her out and started performing CPR."
Then a doctor happened by and began performing mouth-to-mouth resuscitation on the woman, who expelled a considerable volume of water from her lungs. The Lake County Fire Rescue Department arrived shortly thereafter — and the two friends went along their way.
Unfortunately, the woman later died — probably of drowning — but the three children were saved. "I was just in the right place," says Gercak, a friendly and unpretentious young man who lives with his parents in DeLand and loves navigating rugged terrain on his Specialized Stumpjumper trail bike.
Any department would be lucky to have him — but fortunately for Winter Parkers, he's not going anywhere. "I'm going to stay in Winter Park for the entirety of my career," he says. "And, at my age, that's going to be a long, long time. It's just great here."
My chat with Gercak was cut short when he and a crew rushed to respond to an emergency call — but I didn't need to hear any more. I think I'm safe in reporting that taxpayers in 32789 get their money's worth, and then some, from the everyday heroes just doing their jobs at the Winter Park Fire-Rescue Department.
---
WHO MAKES A DIFFERENCE?
It's time again to select Winter Park Magazine's Most Influential People. The program, in its sixth year, recognizes those who — sometimes quietly — make a difference through their professions, their volunteerism, their philanthropy, their talents or their community engagement.
The selectees are presented in the summer issue and celebrated at a big event at the Alfond Inn, slated this year for July 16. As always, we're reaching out to our readers for nominees. Here are the people who have already been Influentials:
The Class of 2019: Roy Alan and Heather Alexander, Anna Bond, Charles Clayton III, Deborah Crown, Jere F. Daniels Jr., Robynn Demar, Eric and Diane Holm, Charlene Hotaling, Susan Johnson, John and Rita Lowndes, Paula Madsen, Elizabeth Tiedtke Mukherjee, Stephanie Murphy, Tony and Sonja Nicholson, John Rivers, Bronce Stephenson, Matthew Swope, Dykes Everett and Bill Walker and Todd Weaver.
The Classes of 2015, 2016, 2017 and 2018: Richard O. "Rick" Baldwin, Jim Barnes, Dan Bellows, Rita Bornstein, Jill Hamilton Buss, Jeffrey Blydenburgh, Daniel Butts, Sid Cash, Billy Collins, Grant Cornwell and Peg Cornwell, Linda Costa, Julian Chambliss, Patrick Chapin, Carolyn Cooper, Mary Daniels, Mary Demetree, Betsy Gardner Eckbert, Jeff Eisenbarth and Andrea Massey-Farrell.
Also: Carolyn Fennell, Meg Fitzgerald, Sue Foreman, Scot French and Christine Madrid French, Shawn Garvey, Hal George, John Gill, Alan Ginsburg, Steve Goldman, Sarah Grafton, Elizabeth "Betsy" Gwinn, Ralph V. "Terry" Hadley III, Jane Hames, Ena Heller, Debra Hendrickson, Catherine Hinman, Herb Holm (deceased), and Jon Hughes and Betsy Hughes.
Also: Gary I. Jones and Isis Jones, Phil Kean, Allan Keen, Linda Keen, Tom Klusman, Randy Knight, Debbie Komanski, Linda Kulmann, Cindy Bowman LaFronz, Jack C. Lane, Steve Leary, Fairolyn Livingston, Lawrence Lyman, Lambrine Macejewski, Jesse Martinez, Brandon McGlammery, Genean Hawkins McKinnon, Joanne McMahon, Micki Meyer, Johnny Miller, Anne Mooney and Ronnie Moore.
Also: Patty Maddox, David Odahowski, Betsy Rogers Owens, James Petrakis and Julie Petrakis, Jana Ricci, John Rife, Randall B. Robertson, Laurence J. "Larry" Ruggiero, Greg Seidel, Peter Schreyer, Polly Seymour, Thaddeus Seymour, Shawn Shaffer, Sarah Sprinkel, Susan Skolfield, Sam Stark, Chuck Steinmetz and Margery Pabst Steinmetz, Dori Stone, John Sinclair and Gail Sinclair, Fr. Richard Walsh, Jennifer Wandersleben, Harold A. Ward III, Debbie Watson, Bill Weir, Chip Weston, Pete Weldon, Cynthia Wood and Becky Wilson.
To nominate someone for the Class of 2020, please email Randy Noles, publisher, suggestions at randyn@winterparkmag.com. It helps to include a brief explanation of why you're making the nomination. Thanks, as always, for your help in making Most Influential People one of Winter Park's most-anticipated events.
— Randy Noles