Photography by Rafael Tongol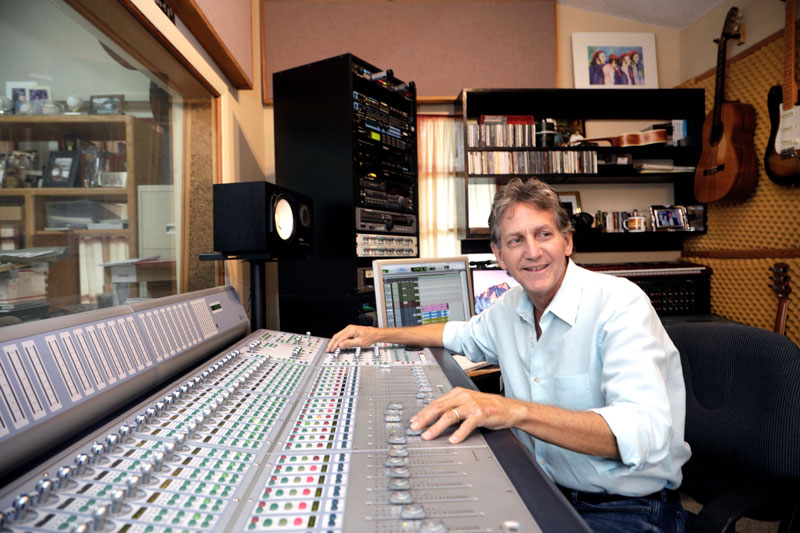 Lou Pearlman and Tim Coons were born six months apart at the same hospital in Queens, New York, during President Eisenhower's first term. Four decades later, fate brought them together in Orlando, where they collaborated and then diverged. Pearlman, as it happened, was the ultimate scoundrel; Coons the ultimate survivor.
Pearlman, whose insatiable avarice led him to fleece investors in a Ponzi scheme and bamboozle the Backstreet Boys and other boy bands he created, died in federal prison in 2016 at age 62.
Coons, who got into rock 'n' roll for the music, not the money, is still charging ahead at 66. He runs two music companies and continues to produce records and mentor next-gen artists from his home studio in Winter Park. He has lived there since enrolling at Rollins College in 1972 with the dream of becoming a baseball star.
But it wasn't to be. The scrappy but undersized walk-on, who grew up a Yankees fan and owns a Mickey Mantle-signed baseball, got the verdict from Tars head coach Boyd Coffie, a former minor-league player and big-league scout: "You're 5-foot-8 and 140 pounds. You'll never make it to the pros. You need to think about other options."
Coons settled for life as a rocker — perhaps the only occupation that's at least as cool as being professional athlete. In baseball terms, he was a guy who did many things well enough to have a career in the bigs — as a utility player, a backup to All-Stars or a hitting coach you never hear about who helps mold raw talent into bubblegum-card heroes.
Only baseball geeks know that it was Charley Lau, a lifetime .255 hitter, who taught George Brett to hit at a Hall of Fame level.
A much smaller circle of pop music aficionados can tell you that the Backstreet Boys, NSYNC and Take 5 as well as Rob Thomas (Matchbox Twenty) and JoJo (the youngest female artist to record a No. 1 hit) all owe a measure of their success to Coons, a producer and vocal coach who never released an album of his own but has helped sell millions of them for other people.
After reluctantly exiting his field of dreams, it didn't take long for Coons to come up with Plan B. Though he had no formal training and didn't read sheet music, Coons played guitar and had an extraordinary voice. ("I knew pretty early that I'm blessed with incredible pitch, timing and rhythm," he says.)
As a Rollins freshman, he won a campus talent contest singing Neil Young's "Old Man," and formed a band called Harpoon with four other students. Word got out that the kids were alright, and soon the band had gigs all around Central Florida.
LEARNING FROM LEGENDS
Coons had begun honing his chops as a performer years earlier. In 1968, his mother won $100,000 in the New York state lottery and the family moved to Fort Lauderdale. It was there he made his solo debut, at a joint called the Elbow Room, for "$25 and all the pizza I could eat."
As a Rollins sophomore, Coons performed with Gary U.S. Bonds ("A Quarter to Three," "This Little Girl is Mine") at Dubsdread Country Club. It went so well that Bonds booked him for more dates.
In his senior year, Harpoon appeared as the "Mary Wells Band" for Motown legend Mary Wells at a Jacksonville concert in which Coons played guitar and wailed backup vocals. It was a master class for the talented undergrad.
"Mary Wells' husband (Cecil Womack) played with us in the band," Coons says. "Cecil was an amazing guitar player and record producer who I learned a lot from. During rehearsals, I got to see how a real Motown guitarist plays."
After Coons graduated in 1976 with degrees in environmental studies and political science, Harpoon toured Yugoslavia. A year later, Plan B came to fruition when Coons signed a five-year deal — as a solo act — with BMG Ariola Records label in Germany.
Under that label, Coons toured Europe and the U.S. and shared the stage with rock royalty. Back in Florida — he had gotten homesick — he opened for Arlo Guthrie, Ramsey Lewis and Joe Walsh and Glenn Frey (twice) of The Eagles.
Coons also played guitar with Stephen Stills (Crosby, Stills, Nash and Young) and with Foreigner on Disco, a German TV show. And he opened for Martin Mull, a singer-songwriter better known as a comic actor on TV (Mary Hartman, Mary Hartman; Fernwood Tonight).
"I was backstage at the Great Southern Music Hall (in Gainesville) with Mull before the show," Coons recalls. "He was drinking whiskey and joking about how small the dressing room area was. So he took a marker and drew a big door with a doorknob on the wall behind us. He wrote on the door, 'Dressing room addition, architect Martin Mull.' Funny guy!"
Two of Coons' most memorable brushes with the uber-famous came in late 1970s, when he was an intern assistant to the late Joe Lambusta, a veteran music promoter in Orlando. In the summer of 1978, The Rolling Stones kicked off their "Some Girls" U.S. tour in Lakeland, rehearsing for two days before the show.
"It was my job to take care of the needs of the wives and girlfriends of the Stones," Coons says. "We were driving the girls around Lakeland in a limousine, and that got the population pretty excited. Pulling up to a 7-Eleven in a limo was pretty cool back then." (Probably still is — certainly in Lakeland.)
He tried to make small talk with Keith Richards' girlfriend, Swedish model Lil Wergilis. Recalls Coons: "I said something like, 'So how are the guys doing?' She looked me in the eye like I insulted her. 'What do you mean? The Rolling Stones are the best [profanity] rock 'n' roll band in the world, man!'"
Coons had more mellow duty assisting backstage when the Grateful Dead played Lakeland. Afterward, he escorted the Dead back to their hotel and ended up in Jerry Garcia's room. "For no good reason, Jerry proceeded to tell me his life story for the next three and a half hours," says Coons. "He said the best thing about being a rock star is that you don't have to do your own laundry."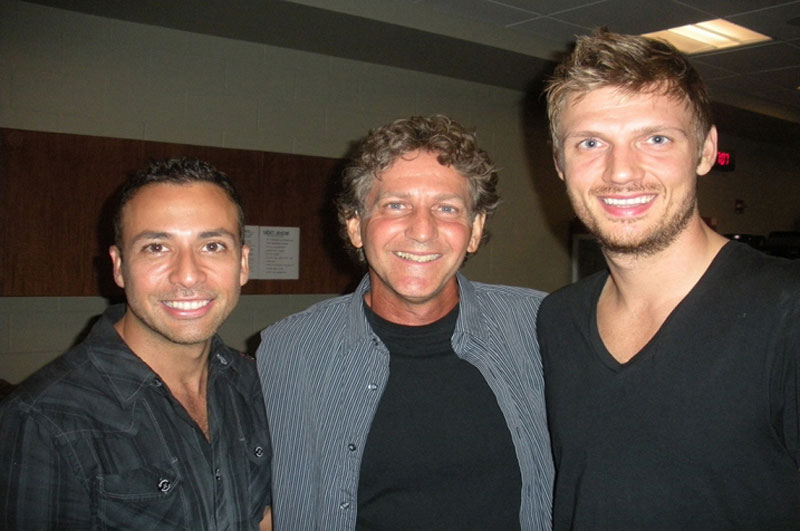 "THESE ARE MY BOYS"
The defining chapter in Coons' career began the day in 1993 when he took a call from Lou Pearlman. He'd never heard of Pearlman, but "recognized the accent right away." The fellow New Yorker said he wanted to start a boy band. Coons figures Pearlman had heard about him from mutual contacts in the business.
"I went over to his house off Sand Lake Road," Coons recalls. "He marched out and said, 'Here are my boys. We're going to call them the Backstreet Boys.'" The name was inspired by Backstreet Market, an outdoor flea market near International Drive where teens hung out.
Coons, with two decades of show business under his belt by then, went to work turning the boys into men — or at least into more mature boys. He compares his role as vocal coach to "the concrete guy. I set the foundation."
Original Backstreet member Howie Dorough says Coons was "a kind, gentle producer. I remember him making it such a pleasure to work in the studio. He has a great pop sensibility and was always willing to take time to help you sound your best."
By 1996, the Backstreet Boys were international pop music stars, topping the charts and selling albums by the millions. On a wall in Coons' office is a framed memento of his relationship with the biggest-selling boy band of all time.
It's a diamond CD in recognition of Coons' pivotal role in launching the group, shaping their vocal style and producing their first half-dozen singles. Over the past several decades, the boys — who now range in age from 40 to 48 — have sold more than 100 million albums worldwide.
"I'm very proud of them," Coons says of Dorough, AJ McLean, Nick Carter, Kevin Richardson and Brian Littrell. "How long have they been together? Going on 26 years. That's longer than The Beatles, the original boy band."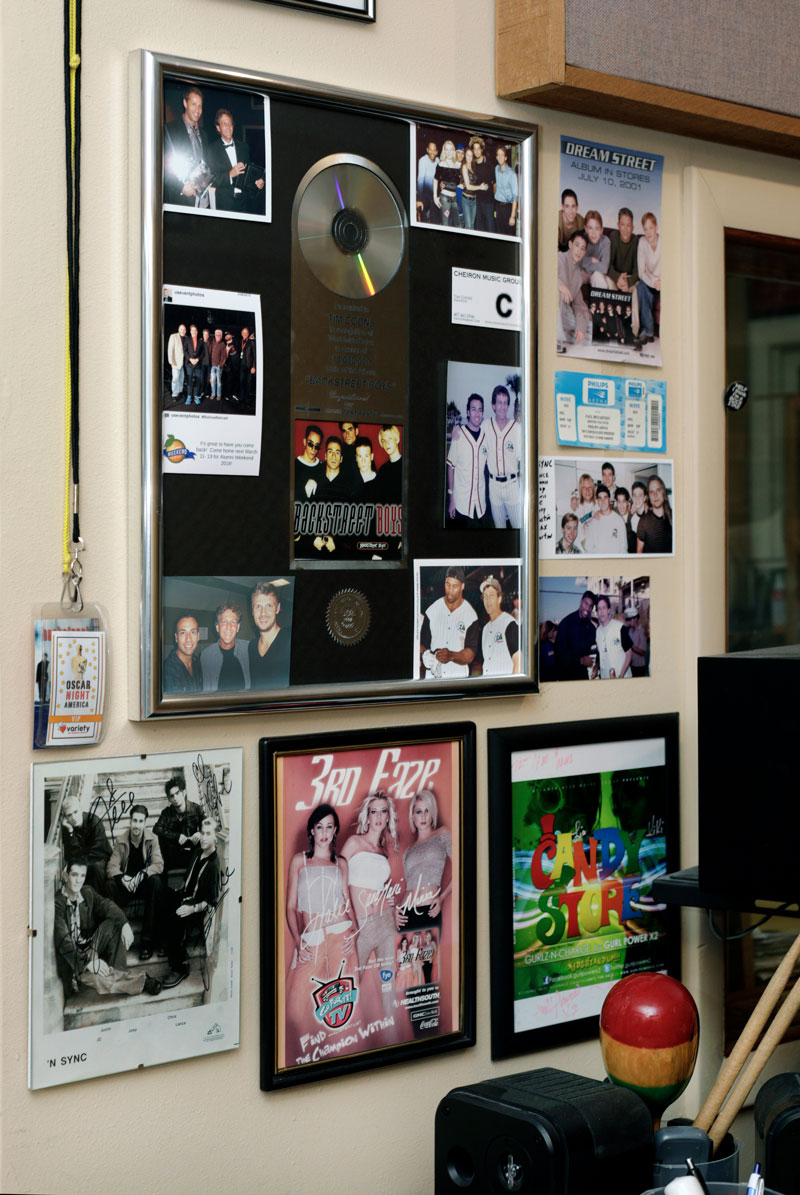 Coons didn't see Pearlman's fall from grace coming. He recalls "a big, jovial man who made you feel like everything he said was believable. I couldn't say nicer things about him. He always paid me every penny he promised me."
That is, up until he didn't. Coons says Pearlman owed him tens of thousands of dollars for work with the group Take 5. "He came to me and said he couldn't afford to pay me — and that's when everyone began to realize this thing was falling apart," recalls Coons, a straight arrow who quickly shed the stigma of an association with Pearlman.
From 1998 to 2002, while concurrently working on personal projects, Coons was music director of The Go for It! Roadshow, a health education extravaganza sponsored by HealthSouth Corp. that toured coast to coast and attracted arenas full of school kids. The message: Stay in school, don't do drugs.
The Go for It! lineup featured a rotating cast of celebrity athletes including NFL superstars Bo Jackson, (chair of the HealthSouth Sports Medicine Council), Herschel Walker, Dan Marino and Doug Flutie along with Olympic diving gold medalist Jennifer Chandler and pro wrestler Lex Lugar, among many others.
The show also included games, dancing, laser shows and high-energy rock 'n' roll, including songs by 3rd Faze, a group created by Coons that signed with Sony Records and toured with Britney Spears before disbanding in 2003. Coons' wife, Teresa, an award-winning makeup artist, also worked on the tour.
Today, Coons is CEO of Atlantic Hill Music, which he founded in 1990. Then in 2015, he took over as president of Cheiron Music Group, an outfit with a rich legacy in pop music. The companies specialize in finding and developing young talent and offer a smorgasbord of expertise — from music production and film scoring to career counseling and, of course, vocal coaching.
Coons hoped that lightning had struck again with Far Young, a boy band he formed in 2013. But the group, which found limited commercial success despite garnering a huge social media following, broke up a year later and reformed as About Last Night. Original member Eben Franckewitz, 23, who in 2012 finished among the top dozen contestants on ABC's American Idol, recently signed a contract with Atlantic Records.
These days Coons is excited by the potential of 21-year-old year-old Sydney Rhame, who has just released an EP entitled Off-Brand Love Songs. The six-song compilation was produced by Coons on Cheiron Records, a division of Cheiron Music Group. Rhame competed on NBC's The Voice in 2015.
To what does Coons owe his longevity — and contentment — in a business with such a high fail rate? "I've thought about that," he says. "Why am I staying in a business where the product you make is now free, available any time? Honestly, I love it, the music part of it. Money was never the important thing — ever. I think that's what people respected about me."
Tim and Teresa have three grown children and three grandchildren, and are happily ensconced in their Melrose Avenue home and in the community. Coons has served as chairman of the Winter Park Sidewalk Art Festival and has placed more than 20 musical acts in the festival's entertainment lineup since 2014.
When he's not working, Coons plays singles and doubles at the Azalea Lane Tennis Center. An ardent Yankees fan, he catches nearly every game on TV and enjoys an occasional spring training excursion. He loves carpentry — a carryover from his senior year at Rollins, when he worked part time on a construction crew — and has restored several circa-1960s automobiles.
"I love it here," Coons says. "The airport is only 30 minutes away. I fly on a lot of private jets. I can fly to California, then to New York and be home for dinner on the same day."
STILL STARSTRUCK
At heart, Tim Coons is still the eager kid singing for $25 and all the pizza he can eat. It's a siren song he heard early, in the days when Mickey Mantle and Tom Seaver were his heroes.
"I had a little transistor radio that I taped to the handlebars of my bike," he says. "I remember hearing 'Dock of the Bay' on my paper route, delivering The Suffolk Sun. That's what hooked me."
In 2002, Tim and Teresa were invited to a private reception with Paul McCartney and his then-fiancé, Heather Mills, at the Four Seasons Hotel in Atlanta. "Teresa is a hysterical Paul fan," Coons says. "He shook her hand and wouldn't let go. He looked her in the eye and was kind of flirting with her."
What do you do when Paul McCartney flirts with your wife? You let him, of course — especially when the world's most important living rock star decides to include you in the conversation. McCartney, in his unmistakable Liverpool lilt, told Coons: "I hear you work with the Backstreet Boys. Well, I'm not going to dance for you."
However, Sir Paul was happy to drink with Coons. They downed margaritas, talked harmonies and vocals and recalled favorite songs — including the Lennon-McCartney classic "The Long and Winding Road," which was the final single released by The Beatles.
Besotted by the company — and, it should be said, the margaritas — Coons began crooning the song and Sir Paul joined in for an impromptu duet. At the end, Coons recalls, "Paul looked at my wife, then looked at Heather Mills, and said, 'You know, we're doing alright.'"
Indeed they are. A couple of grateful rockers, the Hall of Famer and the ultimate survivor, still truckin' on the long and winding road after all these years.