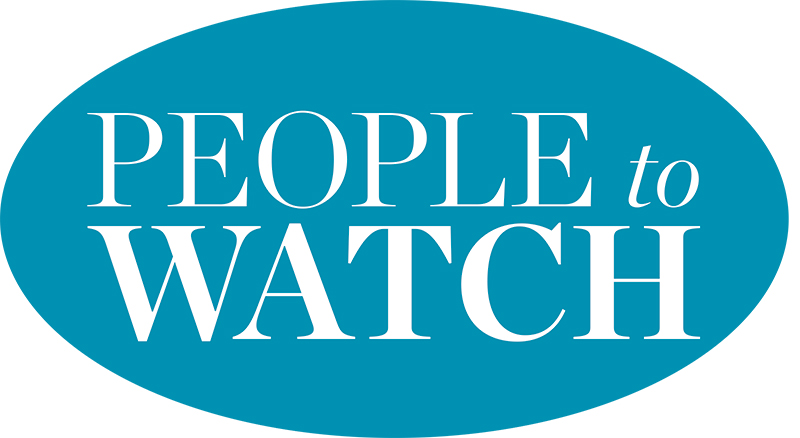 OK, boomers. It isn't true that all of Winter Park's important movers and shakers are eligible for Medicare. Winter Park Magazine's annual compilation of Most Influential People, in fact, has featured a handful of under-40 honorees — although many more have tended to be, well, boomers and beyond.
Consequently, we've had several suggestions to initiate a similar annual list exclusively for the city's up-and-comers (and, of course, those who've already arrived in a given field but may yet embark on new adventures).
This being Winter Park, we found no shortage of millennials (often defined as being born between 1981 to 1996) making a mark. The same was true of Generation Xers (often defined as being born between 1965 to 1980).
From those demographic cohorts, we selected a diverse assortment of intriguing honorees based upon feedback from past Most Influential People of all ages. We also sought nominations through social media, and selected several through our own interactions with local civic leaders.
The criteria, beyond demographics, were broad. We sought people who were activists, influencers, creators, givers and entrepreneurs who were personally interesting and were making positive things happen.
People to Watch, then, is essentially an extension of our well-established Most Influential People list. Its launch does not mean that those under 40 may not still be selected for our more traditional annual Influentials list. The new list, however, is more likely to encompass people whose most important contributions are yet to come.
We wanted to limit People to Watch to 10 the first time out, but were tripped up by two sets of three brothers. In any case, there were far more nominees than space to profile them — which demonstrated that this project has staying power for next year and beyond.
On the following pages, then, are an assortment of younger people who are doing remarkable things and are leaders in the community's business, creative, charitable and philanthropic worlds.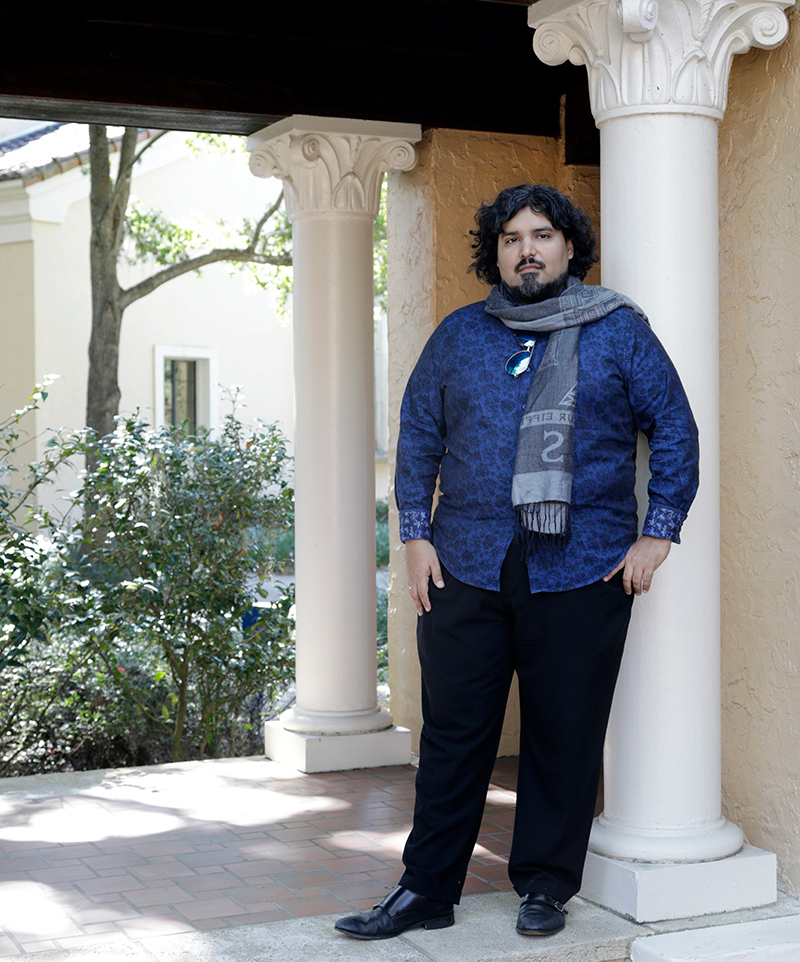 Clayton Louis Ferrara
Executive Director,
IDEAS for Us
Clayton Louis Ferrara is a young man in a hurry to save the world. "I was just at a United Nations meeting, and it's projected that deaths from climate change in this century will be in the billions," he says with urgency. To Ferrara, 33, that's not a death sentence, it's a challenge — one he has eagerly tackled as executive director of IDEAS (Intellectual Decisions on Environmental Awareness Solutions) For Us, an Orlando-based, U.N.-accredited nonprofit whose audacious goal is to "heal the planet and grow prosperity at the community level through the education, engagement and empowerment of those we serve." Since 2008, IDEAS for Us has worked in 30 countries with thousands of volunteers on projects centered around what the organization has dubbed "5 Pillars of Sustainability: Energy, Water, Food, Waste and Ecology." IDEAS for Us now counts more than 200 chapters worldwide — many of them in schools and colleges — and has earned awards from the Vatican, Hewlett Packard, the Centers for American Progress and the White House Office of Public Engagement. When Ferrara was a toddler, his family emigrated from Chile to New York, where he was transfixed by the towering Tyrannosaurus rex skeleton at the Museum of Natural History: "I have yet to recover from the experience. It changed my life — opened my eyes to a greater world." Ferrara went on to earn degrees in biology and environmental studies from Rollins College, and upon graduation landed a job as head curator of the Oakland Nature Preserve on the southern shore of Lake Apopka. There he built a small natural history museum by collecting plant and animal specimens and designing exhibits and interactive programs. Ferrara, now an internationally known thought leader on environmental issues, is a member of Orlando Mayor Buddy Dyer's GreenWorks task force and a founding board member of the Winter Park Land Trust. "When the opportunity arose to create a land trust, I knew I had to be part of it. I want to see Winter Park grow in green space, not just protect what's there." Globetrotter Ferrara is happy to watch the grass grow in Winter Park: "I could live anywhere in the world, but I have chosen to live in 32789." Bloom where you're planted, they say. Or in Ferrara's case — transplanted.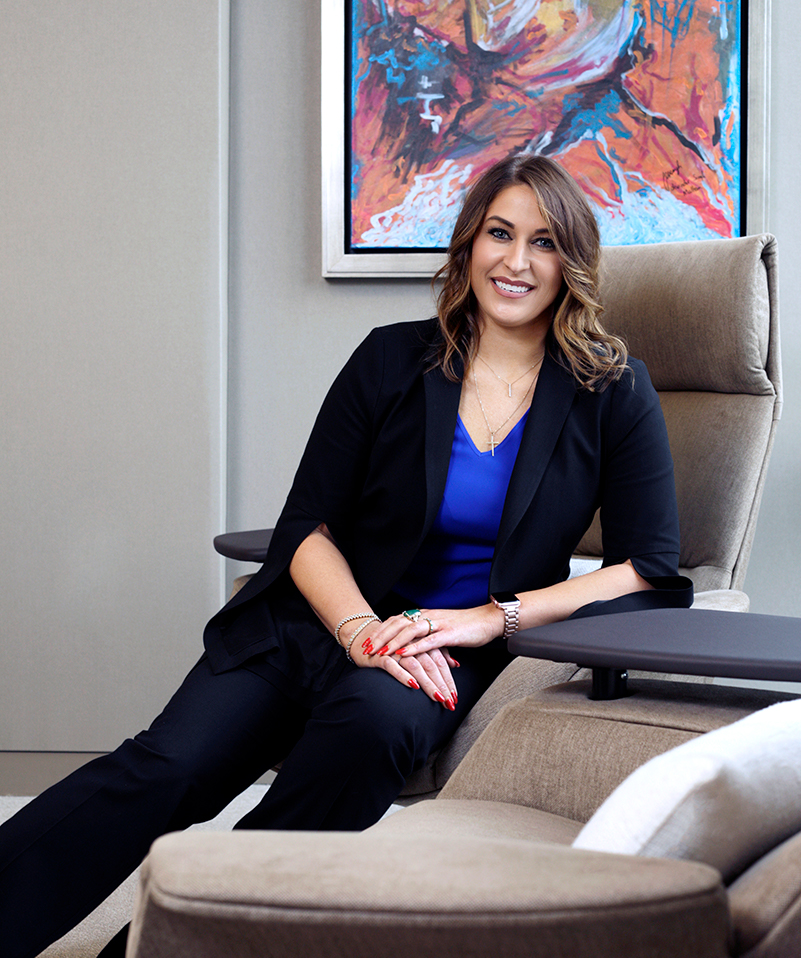 Michelle Heatherly
Director of Operations/Strategic Development,
Demetree Global
When Michelle Heatherly was director of client engagement for Axia Public Relations, her company pitched the Park Plaza Gardens account. Mary Demetree, whose company owned the iconic Park Avenue restaurant, ultimately hired a different firm. But the savvy Demetree was impressed by Heatherly, a polished professional who held an undergraduate degree in communications and public relations from the University of North Alabama in Florence. Heatherly had managed top-tier national and international accounts — such as Southern Comfort and Dave & Buster's — for Axia and had previously served as marketing director for chains of 13 health clubs and 52 franchise restaurants. She had also been workplace solutions officer for Birmingham, Alabama-based BBVA Compass Bancshares (now BBV USA), a bank holding company with responsibility for 26 Florida branches. Demetree hired her from BBVA in 2015 as director of marketing for her diversified real estate organization, which holds an interest in nearly 500,000 square feet of space in Winter Park and owns 11 prime acres on the corners of U.S. Highway 17-92 and Orange Avenue. Heatherly was promoted to her current position in 2017, at a time when city officials — later bolstered by an 11-member citizens' steering committee — had begun seriously studying how Orange Avenue could be reshaped via the flexibility available within a mixed-use overlay district. Demetree's crucially positioned property, says Heatherly, 37, offers an opportunity "to create a beautiful gateway into Winter Park and provide a welcoming, vibrant, active neighborhood for residents and visitors." Look for Heatherly, a polished presenter who has won multiple awards from regional public-relations professional associations, to be front and center alongside Demetree when communicating the company's proposals to the public. "Leading with a Servant's Heart" is the title of a talk Heatherly often delivers before civic groups — and she practices what she preaches. An active member of Celebration Church in Orlando, she has for eight years sponsored a child in Zimbabwe whom she met during a 2014 mission trip to Africa. Heatherly and her family have also raised more than $300,000 for research into GM1 gangliosidosis, a rare terminal genetic disorder that claimed the life of her nephew. "I want to leave the world a better place than when I found it," Heatherly says. "I want to live a life that matters and inspire others to do the same."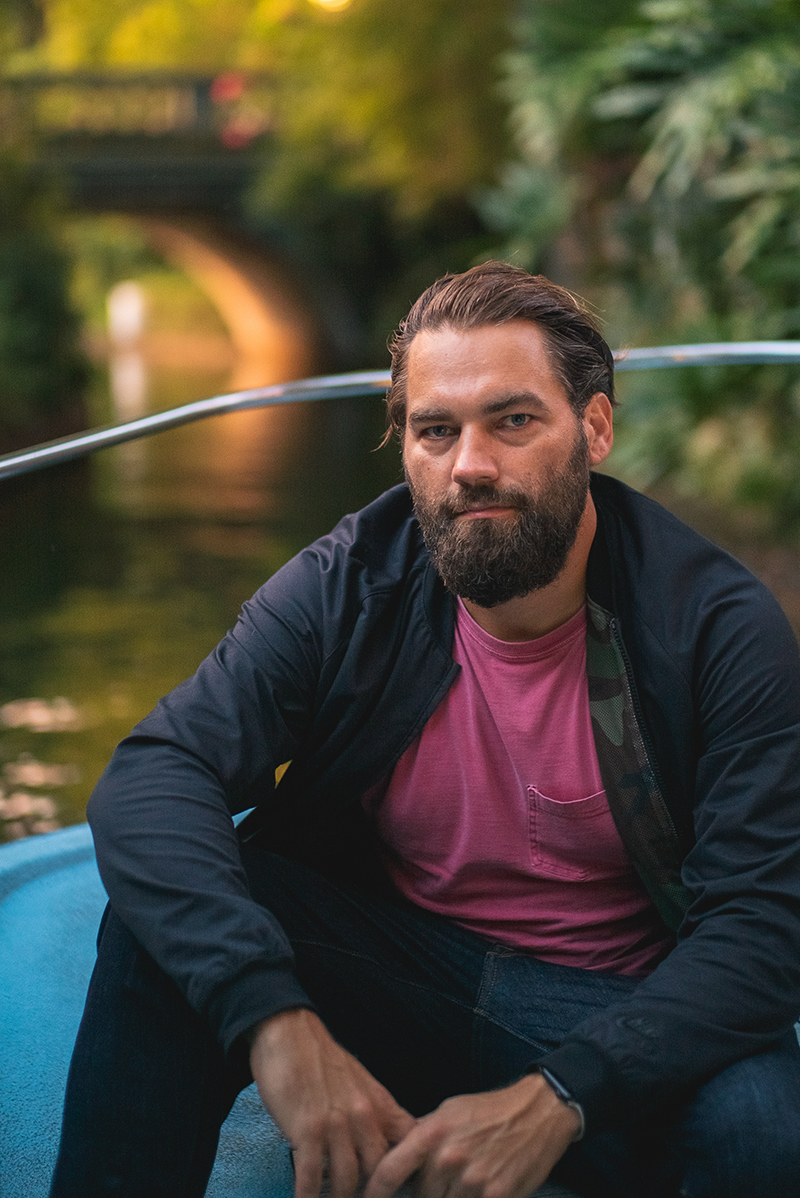 Chase Heavener
Creator/Entrepreneur
Chase Heavener could live wherever he pleased. "I have no urge to move," says the 40-year-old former professional wakeboarder and filmmaker. "There's no place like Winter Park. And I've been all over, so I guess you could say Winter Park is my favorite place in the world." Heavener — son of James W. "Bill" Heavener, co-chairman and CEO of Full Sail University — is an exemplar of Winter Park's vibrant creative class, a group identified by social scientist Richard Florida as consisting of "people in design, education, arts, music and entertainment whose economic function is to create new ideas, new technology and/or creative content." Heavener's childhood home was along Lake Maitland, where he became an aficionado of wakeboarding — a cross between water-skiing, surfing and skateboarding. He became one of the best, and as a teenager snared corporate sponsorships and traveled the world on the competitive tournament circuit. He also began producing wakeboarding videos and co-founded a wakeboarding magazine with friends Matt Staker and Tony Smith. As Heavener's career as a pro athlete wound down, he enrolled at Full Sail and graduated in 2004 with a degree in digital media. In 2009, he — along with Staker and Smith — started a production company, FCTN (pronounced "fiction"), to produce videos, infomercials and documentaries. The company, housed in an 8,000-square-foot modernist building on Welbourne Avenue, had about 10 employees at its peak. FCTN's most high-profile project was 2010's Tim Tebow: Everything In Between. Directed by Heavener, the film offered a behind-the-scenes look at the Heisman Trophy winner's hectic personal and professional life following his final college game for the University of Florida (the Sugar Bowl at the Louisiana Superdome) through NFL draft day, when he was taken in the first round — 25th pick overall — by the Denver Broncos. The critically acclaimed work was shown as part of ESPN's "Year of the Quarterback" series. These days, FCTN has scaled back as Heavener has become immersed in construction of a new home abutting Lake Maitland for him and his wife, Jovanna. However, he remains invested in several artisan-run businesses, including Mama's Sauce, a boutique letterpress print shop that started in Winter Park and is now located in Orlando. Notes Heavener: "The creative talent that comes from Winter Park is amazing."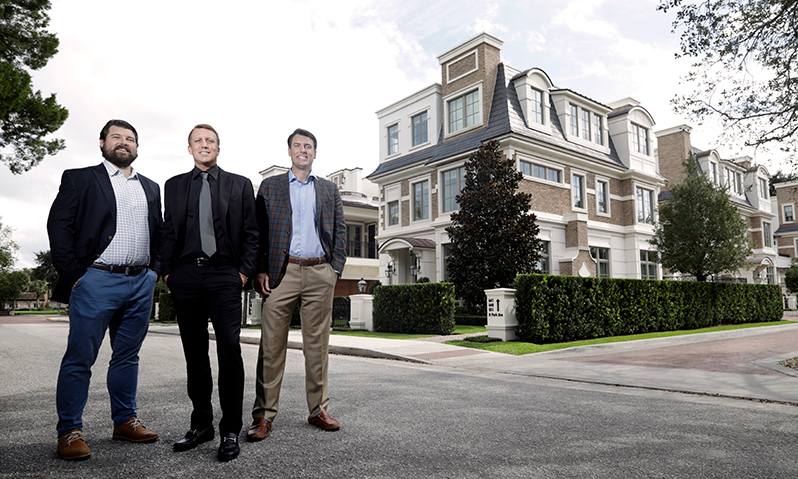 Drew Hill, Gray Hill and Gregg Hill Jr.
Principles,
Hill/Gray/Seven
Everyone likes to think they'll leave legacies in their communities. But the Hill brothers — Drew, Gray and Gregg — simply need to drive around Winter Park to view theirs, impressively wrought in brick, stone, glass and steel. The siblings, who live in Winter Park and operate Hill/Gray/Seven as something of a triumvirate ("We're not big on titles," notes Gray, 36), are responsible for Park Hill, an uber-luxury townhome community on North Park Avenue. Drew, the youngest of the trio at age 35, took the lead on the townhomes, just as the other brothers have taken the lead on initiatives that captured their interest. "No one has attempted anything like this in Central Florida," says Drew, a graduate of Rollins College. "And the only place it could have worked was Park Avenue." Drew's instincts — bolstered by research suggesting that a market existed for the kind of project he envisioned — proved correct. All but two of the 10 townhomes are under contract and fetched prices as high as $3.3 million. "We all pick a project," says Gray, who's also a Rollins graduate. "Then it's divide and conquer. We all get along and support each other, but we're also open to criticism. When the family's successful, I'm happy. For us, it's all about family." Adds Gregg, a 42-year-old graduate of the University of Southern California: "We're all invested in this town; if it's not special, we don't want to do it." Hill/Gray/Seven also developed Penn Place, a smaller infill townhome project at the southwest corner of Pennsylvania and Minnesota avenues, across from the Winter Park Ninth Grade Center. Penn Place, with just four units, sold out quickly. Now the brothers are poised to impact the city's commercial landscape. Last year, Hill/Gray/Seven — based in Oviedo — bought a 2.7-acre site on South Orlando Avenue that's now the home of the Ranch Mall. In its previous incarnation, the strip center was a mom-and-pop motel. The brothers say they're angling to redevelop the site for luxury retail and, hopefully, an upscale restaurant of the sort that will create excitement even in a city with many fine dining options. Says Gregg: "There's not another place in the country like Winter Park. And I think its best days are still ahead."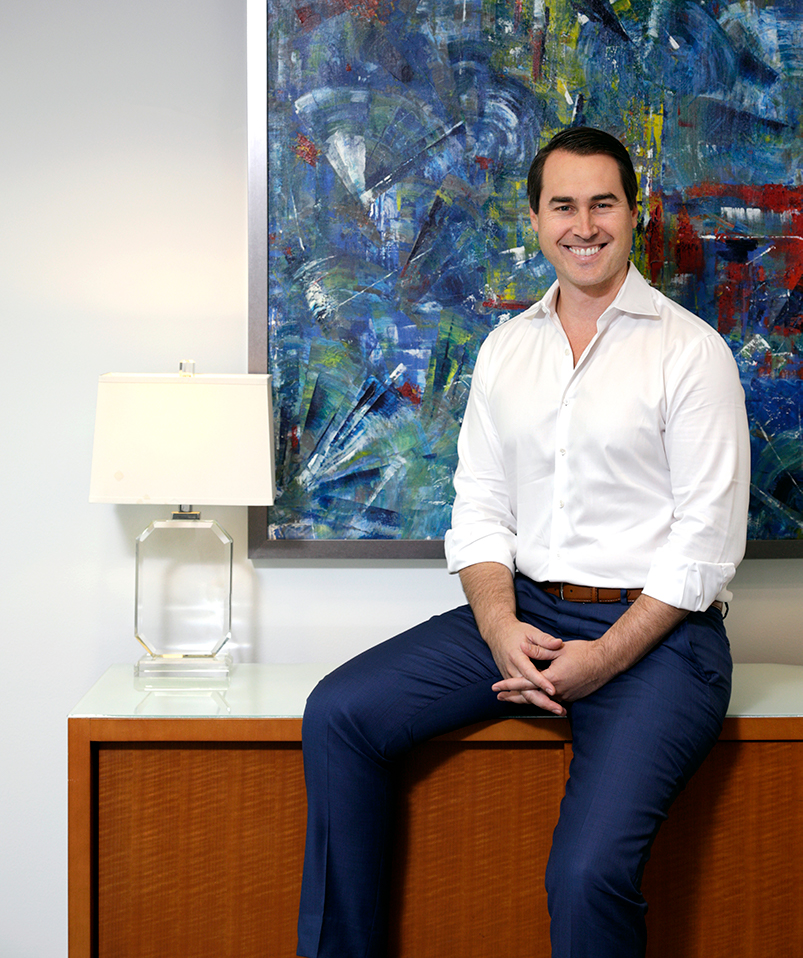 Chris King
Founder and Chief Executive Officer,
Elevation Financial Group
On the night Chris King suffered his most heartbreaking political defeat, a supporter offered sympathy and a challenge: "Do something in life Nobel Prize-worthy." King had a head start on that. The platform of his quixotic race for governor and then lieutenant governor with Democratic nominee Andrew Gillum was drawn from work he had done since 2006 as CEO of an enterprise he describes as "one part for-profit, one part nonprofit, one part change the world." Elevation Financial Group is a real estate investment firm that acquires and revitalizes distressed affordable housing complexes for senior citizens and working families. Some of the net proceeds support the Elevation Foundation, a nonprofit that tackles inequality through education and entrepreneurship. The foundation has helped secure college scholarships for 63 high-performing students from poor families in Orange County. It has also supported charitable work in Haiti, and in 2016 helped start an elementary school in the Democratic Republic of Congo. King, student class president at Winter Park High School, studied religion and politics at Harvard and earned a law degree at the University of Florida. He then returned home and joined his father's law firm, King Blackwell Zehnder & Wermuth. But soon King became restless. He began seeking investors who were interested in a business that would both make money and that "they would feel comfortable telling friends about at a cocktail party." Elevation was born. It was the same restlessness, the same desire to "fix things that are broken" — such as housing and families and education — that spurred King to jump into a race for governor that pundits said the neophyte could not win. They were right. But Gillum admired the energy and progressive platform of his young primary opponent and put him on the ticket. The memory of their 2018 loss to Republican Ron DeSantis by 30,000 votes — a mere whisker — still stings. King, 41, says he has been encouraged not to forsake politics. But as a person guided by his faith, he contends that "it's out of my control if I'll be on the ballot again." Meanwhile, his focus is on healing, redemption and justice: "I want to figure out how to bring people together, to foster better relationships. That's really what I want to work on."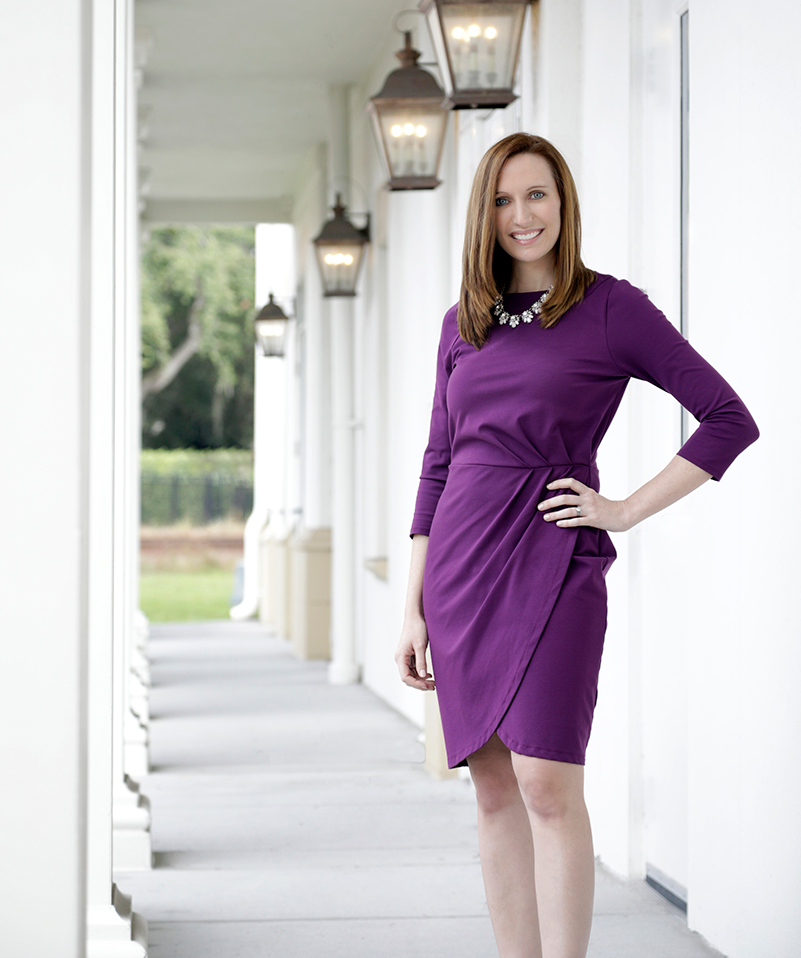 Amie Morgan
Director of Leadership Programs,
Winter Park Chamber of Commerce
Amie Morgan had her midlife crisis early. At 31, the University of Florida grad (bachelor's degree and MBA), already had been flying and succeeding in rarified corporate air with the likes of Verizon, Conagra and Walmart. And yet, she recalls, "I wasn't that happy. I was going about my career without thinking through what I wanted in life. At the large corporations, my roles were sales-driven. I was a small piece of a huge puzzle. I needed to feel that when I go to work every day that I'm able to make a difference." She has enjoyed that feeling every day since joining the Winter Park Chamber of Commerce in May 2018 as Director of Leadership Programs. Now, at the end of a busy week, "I can feel it was for something worthwhile." Morgan runs three programs: Youth Leaders, for high school students; Relaunch, career reentry for professional women; and the chamber's signature program, Leadership Winter Park, which hones the skills and expands the horizons of civic up-and-comers. More than 950 denizens of the city's business, government and philanthropic worlds have passed through Leadership Winter Park, now in its 30th year. That program, in fact, is a thread that runs through Winter Park Magazine's annual Most Influential People list. More than likely, honorees have been Leadership Winter Park alumni. It's Morgan who organizes the curriculum, chooses field trips, recruits guest speakers and is the lead admissions officer. The program is selective, with the current class of 45 drawn from a pool of some 75 applicants. "We curate a well-balanced class with a focus on diversity," she says. That's the fun part for Morgan: "My best skills are organizing, relationship-building and creating a community — empowering everyone in the class to go out and make a difference." With her midlife crisis now in the rearview mirror, Morgan realizes that it led to a career that was waiting to happen, deep in her DNA. "My [maternal] grandfather was a huge influence on me," she says. In New York, he ran a trade association of printers. "He built a community out of those people — he helped them connect with each other." After moving to Melbourne (Florida), her grandfather started a club for other transplants from New York. "Somehow," Morgan marvels, "this ended up being what I do."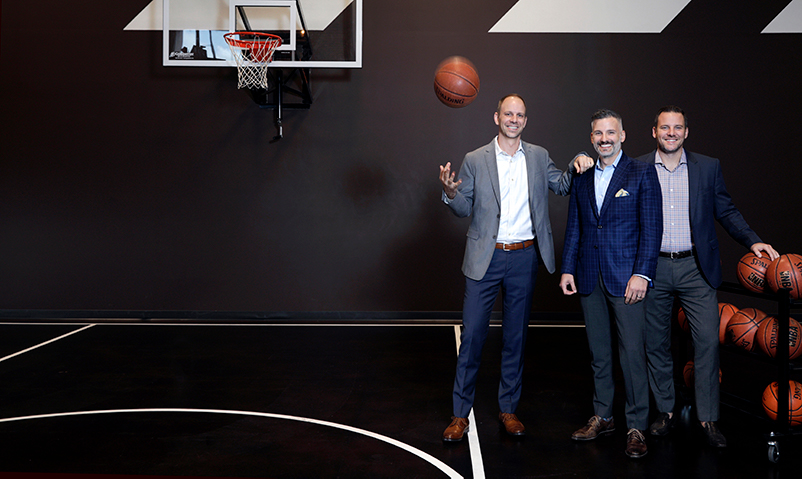 Matt, Steve and Andrew Orosz
Co-Presidents (Matt and Steve),
Vice President and General Counsel (Andrew),
Hanover Family Builders
When the Orosz brothers want to blow off some steam at work, they organize spur-of-the-moment games at an indoor basketball court — complete with a lighted scoreboard —that anchors their headquarters near Orlando Executive Airport. Not that the brothers, all of whom are Winter Park residents, have an abundance of playtime. Their company — Hanover Family Builders — is a rare privately owned homebuilder that's able to regularly shoot and score against the formidable publicly traded conglomerates that now dominate Central Florida's production-home market. Matt, 36, and Steve, 41, are co-presidents of the company, which was founded in 2017 and has already notched more than 1,000 new-home starts. Andrew, 39, vice president and general counsel, says the sibling-run enterprise is successful in part because its operation reflects sturdy family values. Those values were learned from the legendary Bill Orosz, the trio's father, who started Cambridge Homes in 1991 and sold it to national builder K. Hovnanian in 2005. The family then founded Royal Oak Homes, for which Matt and Steve were co-presidents, in 2010. That fast-growing company was sold to another national builder, AV Homes, in 2015. Matt and Steve dutifully reported to the company's new owners for two years, then were joined by Andrew, an attorney, and veteran homebuilding executive Colby Franks — a fellow Winter Parker and former Royal Oak Homes vice president — to jump back into the fray with Hanover Family Builders. The upstart enterprise made its debut by launching an unprecedented 10 communities and selling 366 homes in its first 12 months. Hanover Family Builders' biggest project to date, Hanover Lakes in St. Cloud, has more than 600 homes, most of which back up to navigable canals that access the Alligator Chain of Lakes. The brothers believe strongly in philanthropy; the Orosz Family Foundation has most recently invested in the Elevation Scholars Program founded by another local resident featured in this issue, Chris King. Matt, who earned an MBA from the Crummer Graduate School of Business, says Winter Park is home to the brothers and their families because of its beauty and its plethora of cultural and recreational offerings. Andrew notes that out-of-town visitors are often amazed at the amenities most locals take for granted, such as the city's abundance of lakes. Adds Steve: "It's a vibrant, charming city."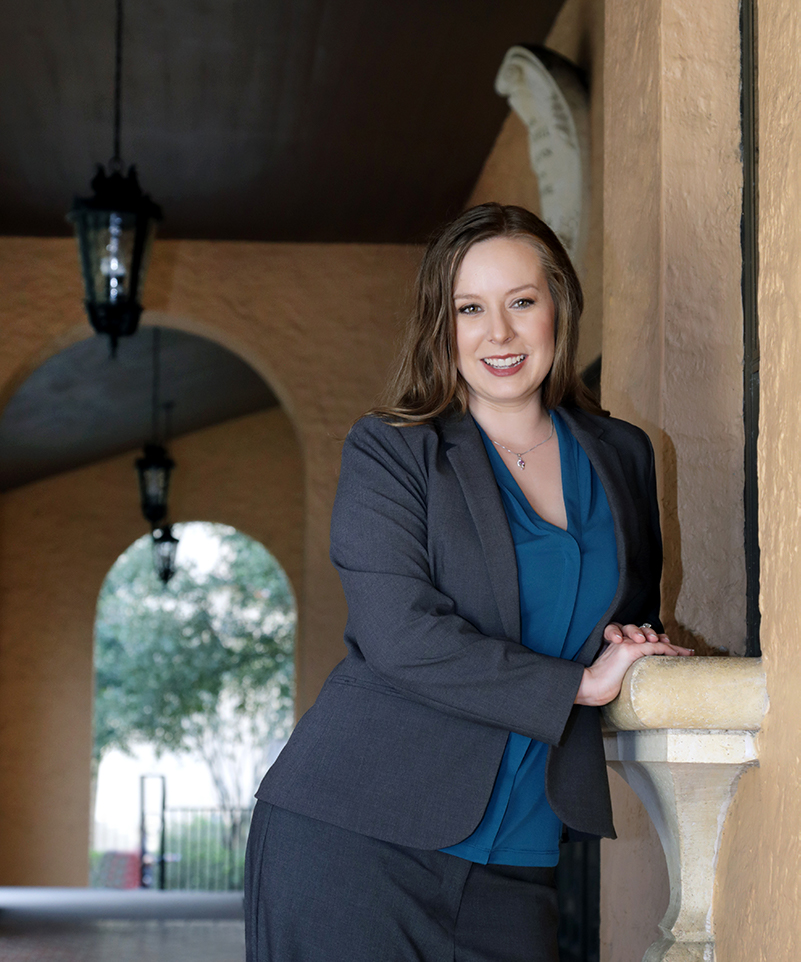 Emily Russell
Vice President, Platform Project Management,
StackPath
Director,
Winter Park Land Trust
A high school teacher once told Emily Russell that there are many paths to the same destination. She didn't know what her destination was, but "I always took that advice to heart." Russell's many paths ultimately led her back home to her dream job: director of the Winter Park Land Trust. "My goal in life is to leave this world better than I found it — my city and community — and the land trust is a vehicle to do that," Russell says. Her ties to the land are visceral. A Winter Park High School graduate, Russell attended Rollins College and cherished the quiet moments at Dinky Dock. "Now, when I have days off, I go have lunch at Leu Gardens and listen to the bamboo and wind," she says. "I feel like my connection to this place is inextricable." When Russell was younger, she did leave this place to follow her passion — for theater. At Rollins she studied stage management and lighting, and after graduation became a freelance stage manager for Mad Cow Theatre, Orlando Ballet and other companies. In 2009, she left for a job as assistant lighting coordinator at the new Winspear Opera House, home of the Dallas Opera. Two years later, Russell — then Emily Jarrell — came home to be with the man she would marry, Tim Russell. "I drove by the Emily Fountain [in Central Park] and stopped at the Farmers' Market for a bagel," she recalls. "Looking around, I realized how lucky I was." In 2012, after another stint as a freelancer, she joined the Garden Theatre in Winter Garden as director of operations and stayed until 2016, leaving for an executive title and better pay at StackPath, a Dallas-based software engineering firm with an office in Winter Park. "That opened the door for me to be more generous with my time," says Russell, 33. She feels "a moral imperative" to continue stage managing Park Maitland School's annual musical production at the Bob Carr Theater and The National Young Composers Challenge at the Dr. Phillips Center for the Performing Arts. The "composium" and the land trust were both launched by Winter Park tech entrepreneur Steve Goldman, who clearly knows talent when he sees it.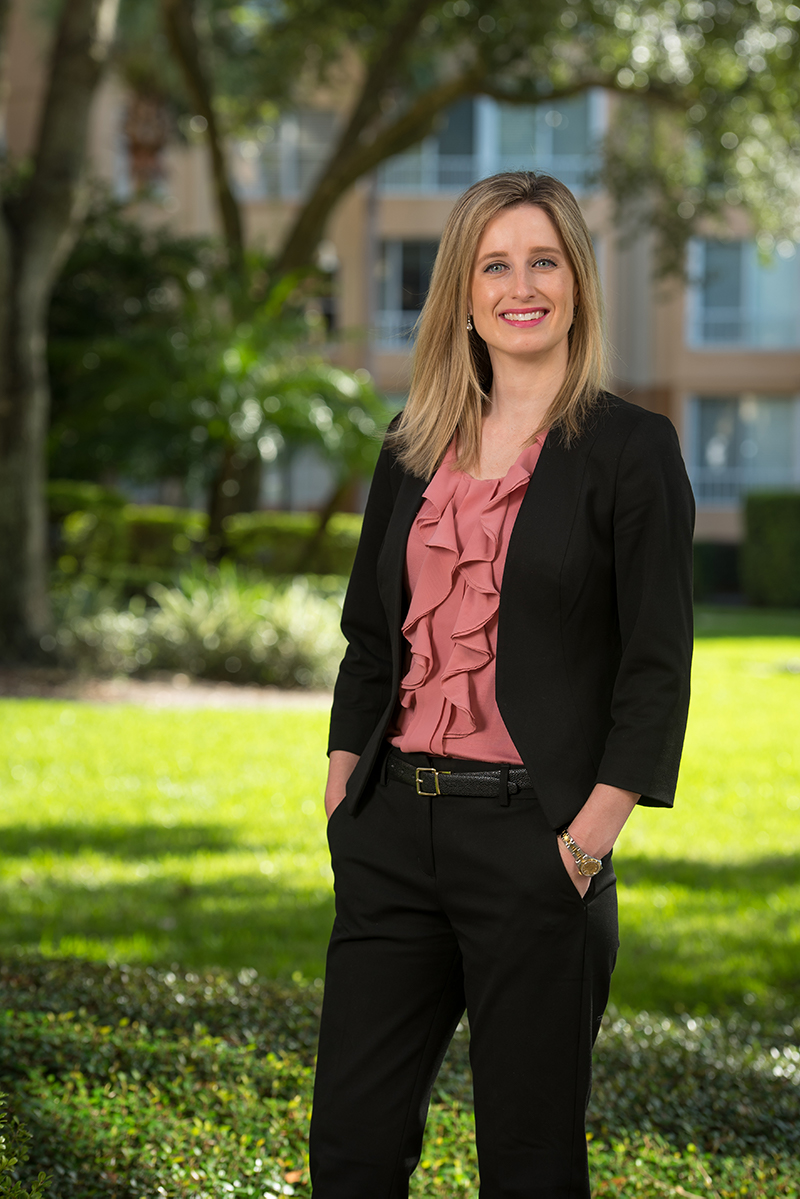 Taylor Womack
Director of Sales and Marketing,
The Mayflower at Winter Park
For Taylor Womack, enthusiasm comes naturally. Womack, 32, was captain of the cheerleading squad — one of the best in the country — at the University of South Florida in Tampa, where she majored in communications and minored in public health. When she graduated, she focused all that positive energy on helping others through sales and marketing roles in skilled nursing and assisted living facilities in the Tampa-St. Petersburg area, where there's a heavy concentration of retirees. "I knew I wanted to help people," says the can-do Womack, who earlier this year was named director of sales and marketing for The Mayflower at Winter Park. "So, I left something good to become a part of something great." The Mayflower, founded in 1989 as a nonprofit retirement community by members of the First Congregational Church of Winter Park, has 336 residents who range in age from 60ish to an astonishing 108. Womack's arrival coincides with the most significant expansion in the facility's history: the addition of a new neighborhood, Bristol Landing at The Mayflower, which will encompass 47 two- and three-bedroom waterview apartments, a 9,800-square-foot clubhouse and an 84,842-square-foot health center that will include a 24-unit memory care operation and a 60-bed skilled nursing and rehabilitation center. The $105 million expansion, which is taking shape on a 16-acre site just west of the main campus, will feature walking trails, water features and plenty of green space. The Mayflower has always taken corporate citizenship seriously, so Womack — who was raised in Windermere — is settling into her new job while also learning about the unique nature of civic life in Winter Park. Next year, she says, she plans to enroll in Leadership Winter Park, a program of the Winter Park Chamber of Commerce through which many up-and-coming community leaders have passed. Says Womack: "I'm looking forward to exploring Winter Park and learning how I can contribute." She'll undoubtedly get plenty of guidance from Mayflower residents — a fascinating cross-section of accomplished people including many long-time Winter Parkers. "It feels like home here," says Womack, whose husband, Danny, is a financial planner. The couple has a 3-year-old daughter, Taytum. "The team here is really strong, and the residents are very smart and have stories to tell. I want to work here for the next 30 years."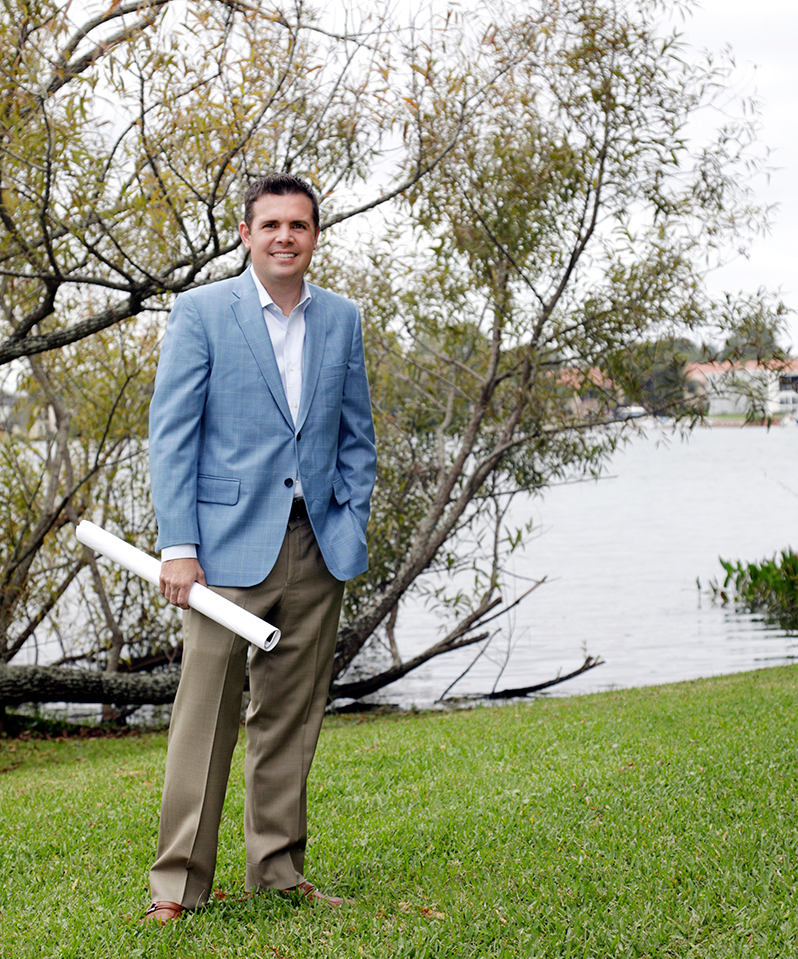 Adam Wonus
Partner,
Atrium Management Company
When Adam Wonus was a youngster, he traveled the country with his mom, Linnette Reindel — now a business coach and a vice president of marketing for Tupperware Brands — who had worked her way up the corporate ladder to become senior vice president of sales and marketing for the Longaberger Company, an Ohio-based manufacturer and distributor of handcrafted maple wood baskets and other home and lifestyle products. One of Reindel's jobs was to scout locations for employee incentive trips, which required trips to far-flung resort properties. "I fell in love with hotels," says Wonus, 36, whose family struggled until his mother's career picked up steam. "We were always treated so well. I never forgot how special those places made us feel." One day, Wonus dreamed, he would build a one-of-a-kind hotel that offered a comparable experience for its guests. That's the inspiration behind the Henderson Hotel, a proposed 118-room boutique showplace on 2.6 acres south of Beachview Avenue, east of Killarney Drive, west of U.S. 17-92 and north of Fairview Avenue, next to Hillstone. The finely detailed Victorian-style structure would replace several unoccupied houses, and the site plan would create public open spaces along Lake Killarney. At press time, the project had several hurdles to overcome — particularly from the Planning & Zoning Board and, ultimately, the City Commission, which must approve rezoning and conditional-use requests for the hotel to get built. But Wonus, whose optimism and enthusiasm are contagious, says the project is an homage to the city's grand turn-of-the-century hotels as well as to the 60-plus family-owned motels that once stretched along U.S. 17-92's so-called Million Dollar Mile. Even the Henderson Hotel name has significance; the Henderson family operated the now-demolished Lake Shore Motel on a portion of the site now owned by Wonus — who began his career as a banker specializing in small-business loans — and his partner and mentor, restaurant entrepreneur Eric Holm. Wonus's holdings through Atrium Management Company and A.T. Wonus Development Group — which he owns with his wife, Monica — reflect his aesthetic. Many of the apartment complexes he has bought in downtown Orlando are in renovated old buildings. And the infill townhome projects he has developed in the Milk District, a hipster enclave just east of downtown, won a 2017 Community Impact Award from the Orlando Business Journal.